We know that like us, you consider you dogs to be a part of the family; And as such, you wouldn't dream of leaving them out of the holiday festivities!
A huge part of our mission here at MyDogLikes is sorting through the enormous quantity of dog products on the market in order to let you know what is worthy of your hard earned money. At the end of each year we like to recap some of our best new finds as well as highlight a few old favorites.
We hope you enjoy and can find inspiration in our latest compilation!
Our Favorite Gifts for Dogs – 2019
We have broken this list down into several categories for easy browsing and to help you locate something perfect for your dogs individual personality. We have also added links on where each item can be purchased for your convenience. Note that some of these are affiliate links, so MyDogLikes will earn a commission if you choose to make a purchase.
Keep your eyes peeled for some exclusive discounts as well!
Click the buttons below or scroll down to begin browsing!
Food & Treats Toys Accessories Health & Wellness
Dog Food & Treats
The Farmers Dog Homemade Food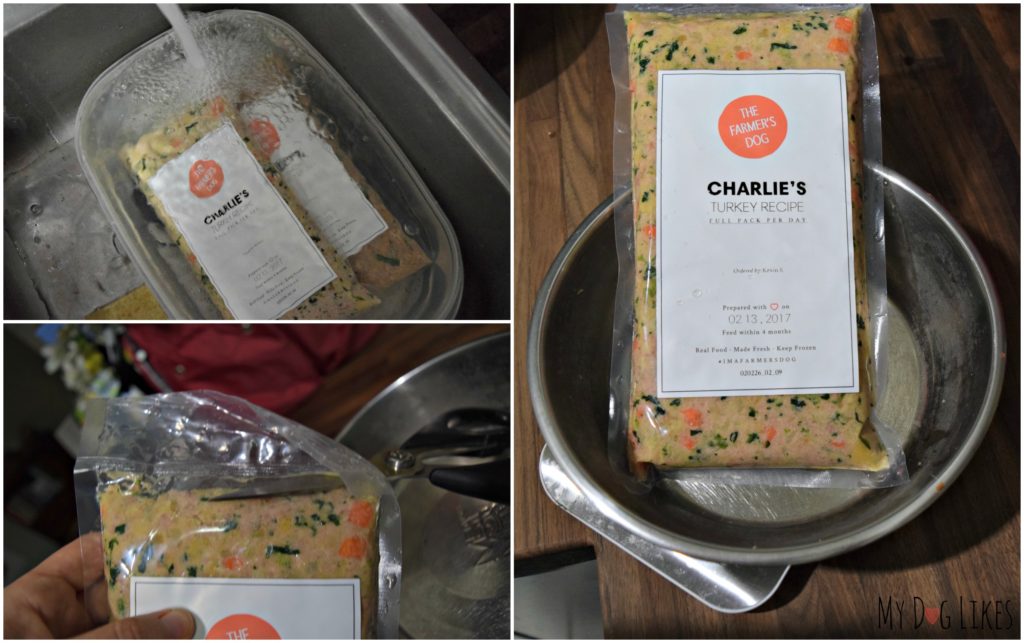 We know you want to give your dog the best… but cooking homemade meals can be difficult and time consuming.
The Farmer's Dog is a subscription service that creates and delivers balanced, freshly made, and vet approved meals formulated specifically for your dog. Each shipment is made to order and portioned to give your dog just what he or she needs for optimal nutrition each and every day.
Click Here to Save 50% on Your First Order!
Dr. Harvey's Coconut Smiles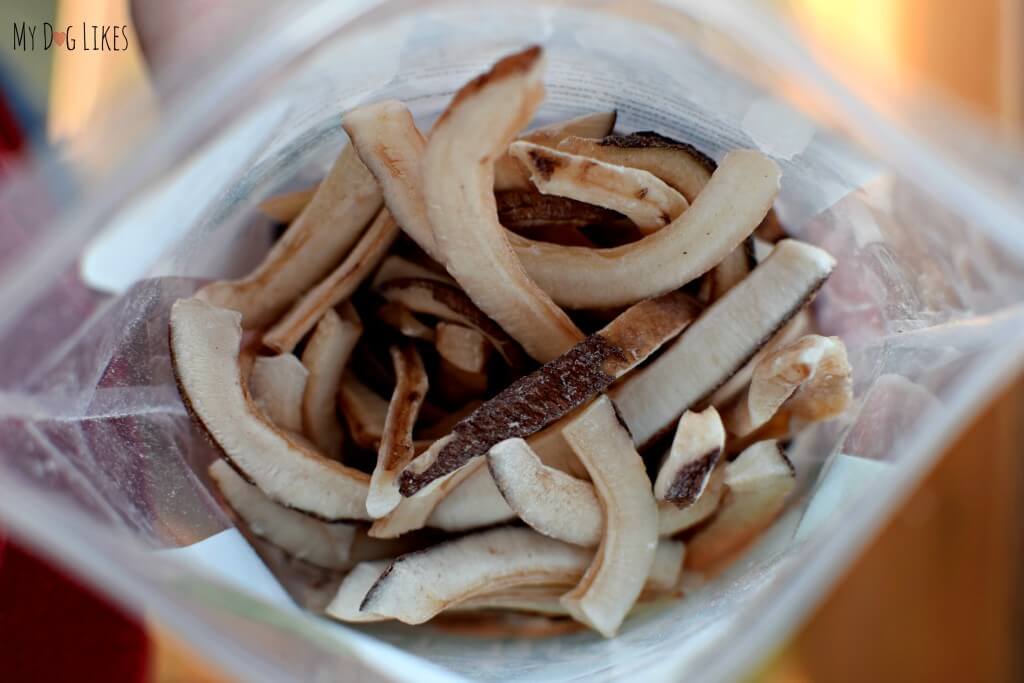 Coconut as a dog treat?
That's right, and dogs love it! Coconut smiles from Dr. Harvey's are simply slivers of dehydrated coconut. Your dog will love these small crunchy treats and you can feel great about feeding them due to the wide variety of health benefits they provide.
While these are very low in calorie already, they can be easily broken into smaller pieces if desired. 100% Organic and human grade!
Click here Visit Dr. Harvey's and Learn More
Dr. Harvey's Power Pops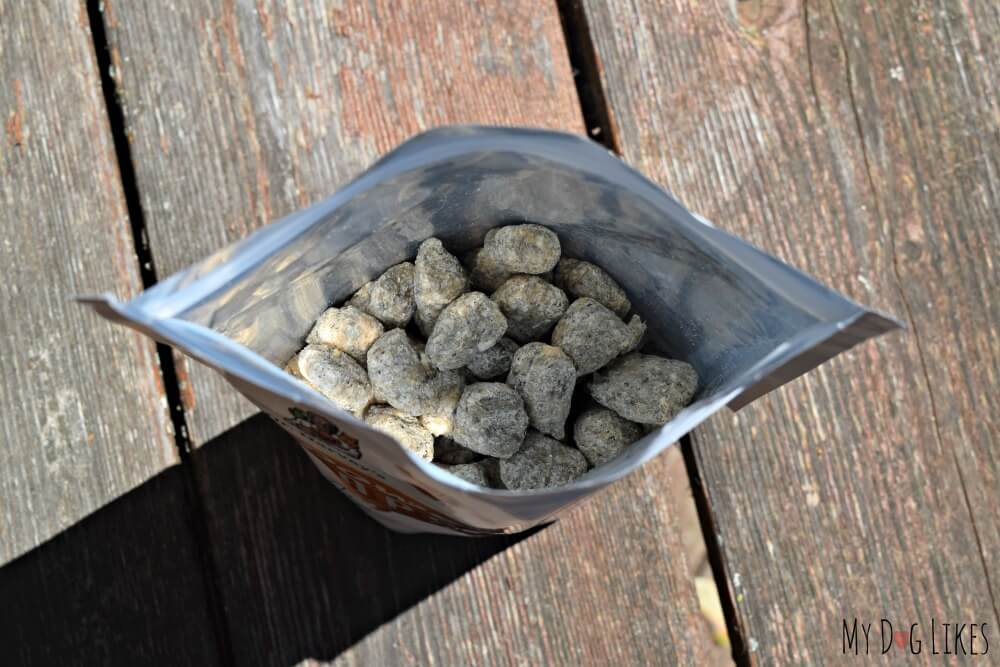 Another great single ingredient dog treat from Dr. Harveys!
Power Pops are made from 100% Green tripe which has been shown to have a huge number of health benefits for dogs. These freeze dried treats are small and lightweight making them perfect for training as well.
Click here Visit Dr. Harvey's and Learn More
Merrick Power Bites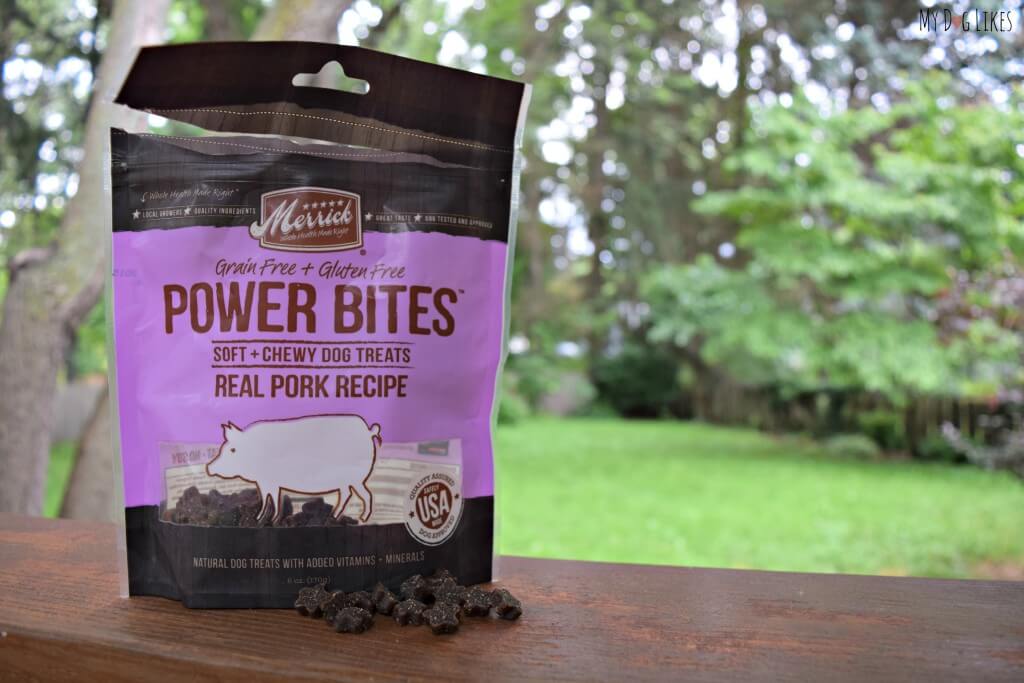 The best dog training treats are small, low calorie and enticing.
Merricks Power Botes check all 3 boxes and are available in several different flavors including pork, chicken, beef and salmon. They are all natural and free of wheat, corn or soy. Our favorite part? There are TONS in every bag so you are definitely getting your moneys worth.
Click here to Pick up Some Merrick Power Bites on Amazon
Himalayan Dog Chew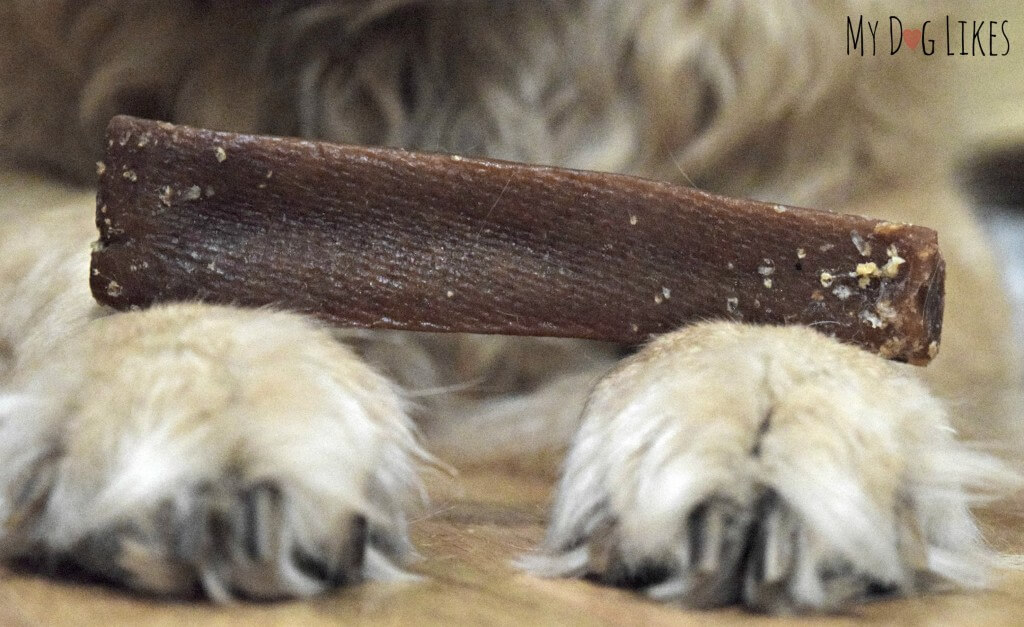 Himalayan Dog Chews are an all natural and safe rawhide alternative. 
Unlike some chews which are full of unsavory and unhealthy ingredients HDC are made with only three ingredients: non-dairy solids from yak milk, salt, and lime. HDC's come in several different sizes and are appropriate for dogs of all different chewing strengths. 
Sometimes little pieces break off from the chews. While these are safe for your dog to eat, they can also be thrown into the microwave to create a fun popcorn style puff treat!
Click here to Pick up a Himalayan Dog Chew on Amazon
Cow Hooves from Jones Natural Chews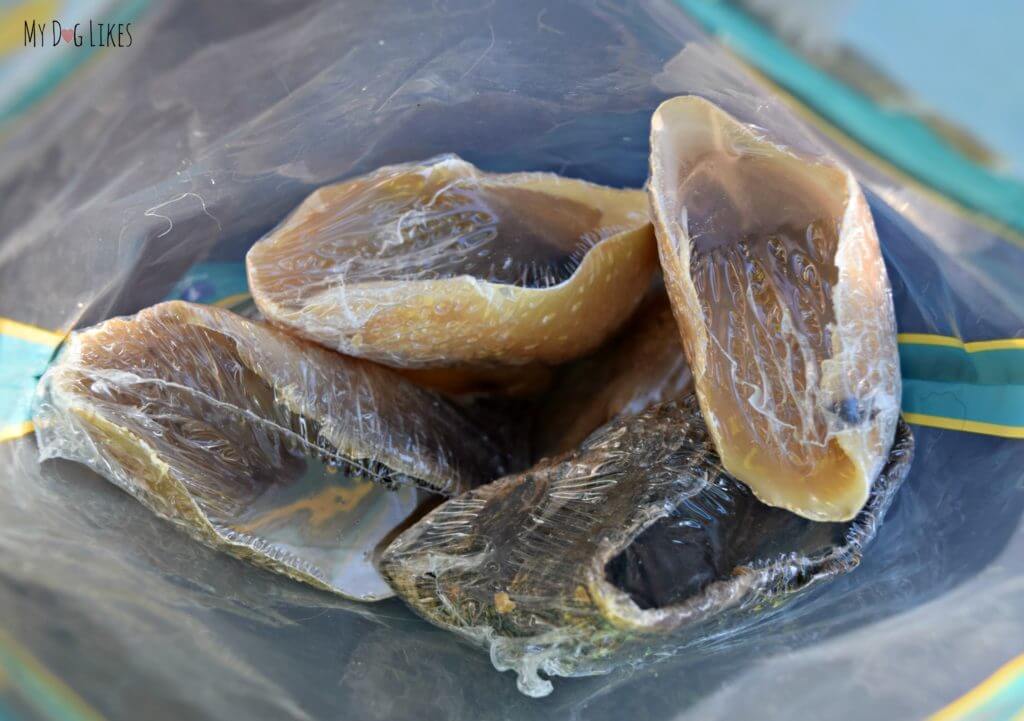 Jones Natural Chews (JNC) Cow Hooves are a great treat for dogs of all shapes and sizes. While Cow Hooves can be a little stinky we (and the boys) love these chews so much that we don't care! We love that JNC's Cow Hooves are cost effective and long lasting (often lasting around the house for a week or more) and because they are not bones, there is no risk of splintering. 
While all chew time should be supervised, we give the boys a little more freedom with hooves and just monitor the size of the overall treat and take it away when it gets small enough that they could swallow it!
Click here to Pick up Some JNC Hooves on Amazon
Best Bully Sticks Jumbo Bully Sticks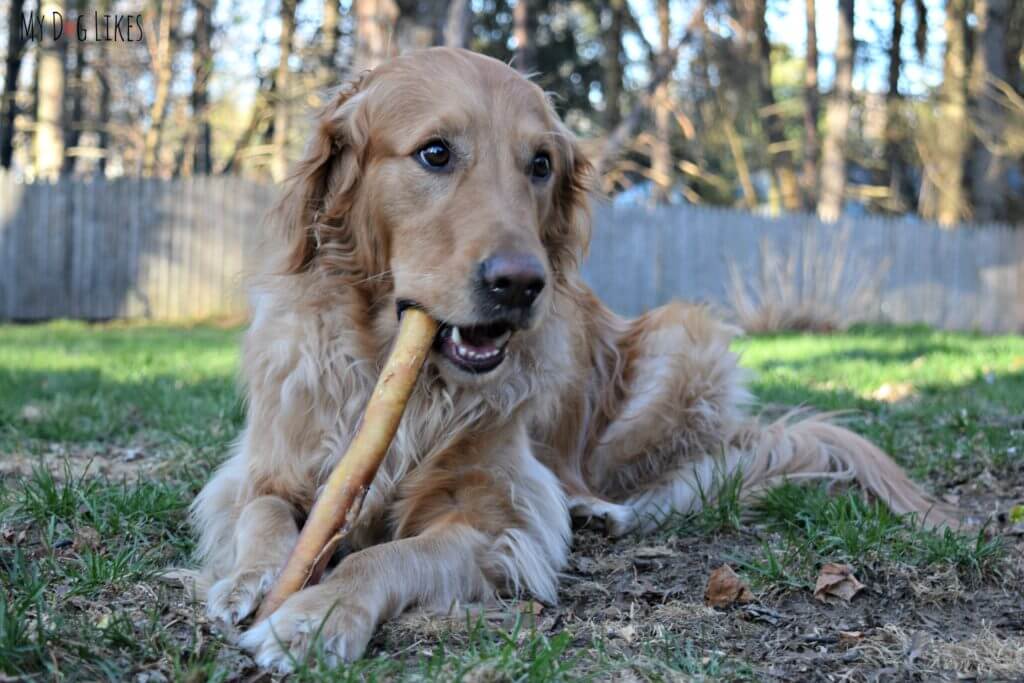 We have tried all sorts of Bully Sticks and these by far are the BEST! 
Our heavy chewers were able to enjoy these bully sticks on two separate occasions. By far the thickest and most heavy duty bully sticks that we have encountered. We love that Best Bully Sticks are single ingredient and sourced from free-range cattle. 
Maybe your dog isn't as big of a chewer as ours dogs? Best Bully Sticks offers lots of options of varying thickness and toughness! While the Jumbo bully sticks are not cheap, we actually find them to be among the best bangs for our buck when it comes to longevity.
Looking to save a few more dollars? Plan out how many your dog will go through and use their autoship option to save an extra 25% on your chews!
Click here to Visit Best Bully Sticks
Puppy Scoops Ice Cream Mix

This is a really cool treat that may be as much fun for you as it is for your dog.
Puppy Scoops is a dry ice cream mix that is prepared by simply adding water and freezing. Because it is shelf stable before being mixed, you don't need to worry about long term freezer space. Available in 3 different flavors including carob, peanut butter and vanilla.
Healthy, natural and made in the USA.
Click here to Check out Puppy Scoops on Amazon
Yaky Charms "Pupcorn"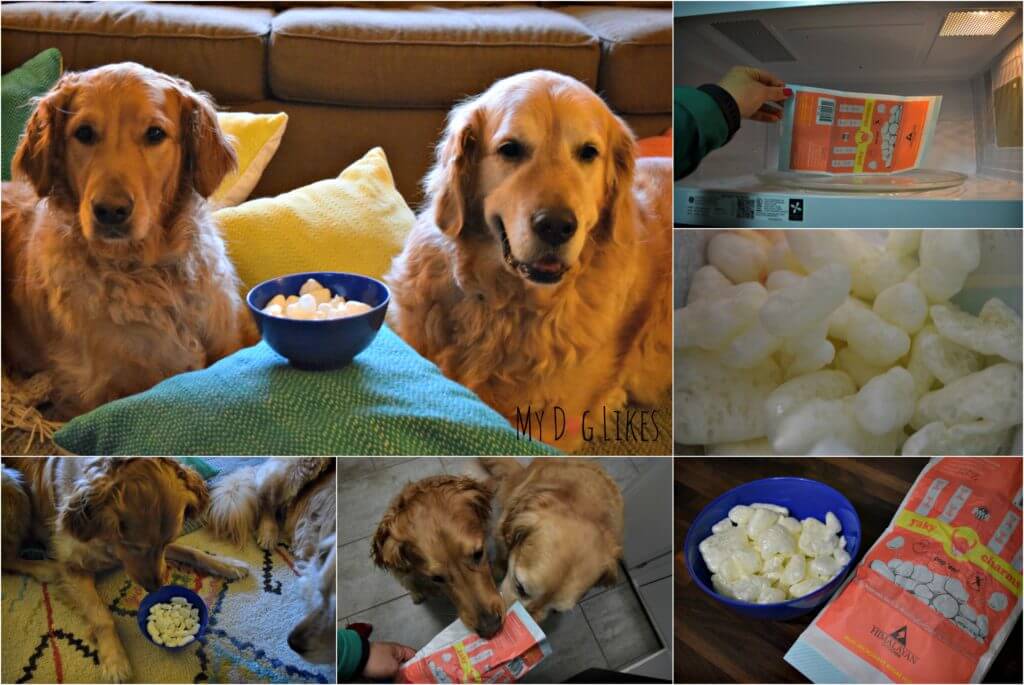 Another cool treat that actually turns into a fun experience with your dog.
Remember those Himalayan Dog Chews that we mentioned above? Well like we said, small pieces of these dense chews can be placed in the microwave where they will "pop" and become lighter than air treats. Yaky Charms consist of a pre-made pouch of such pieces ready to be tossed in the microwave.
Now you can enjoy movie night with your pet – while they get their own all natural and healthy snack. Plus, these treats make an awesome sound when your dog crunches them!
Click here to Pick Up Some Yaky Charms on Amazon
Dog Toys
PrideBites Dog Toys

Every dog should own at least a few PrideBites toys.
They come in TONS of fun and quirky designs that you are sure to enjoy as much as your pet. Some designs can even be personalized with your dogs name and likeness!
PrideBites toys have a unique feel due to a multilayer construction and are much tougher than they first appear.
Best of all? Our readers save 20% on any PrideBites order using our exclusive coupon code!
Save 20% on Your Order Using Code "MyDogLikes"
WO Design Dog Toys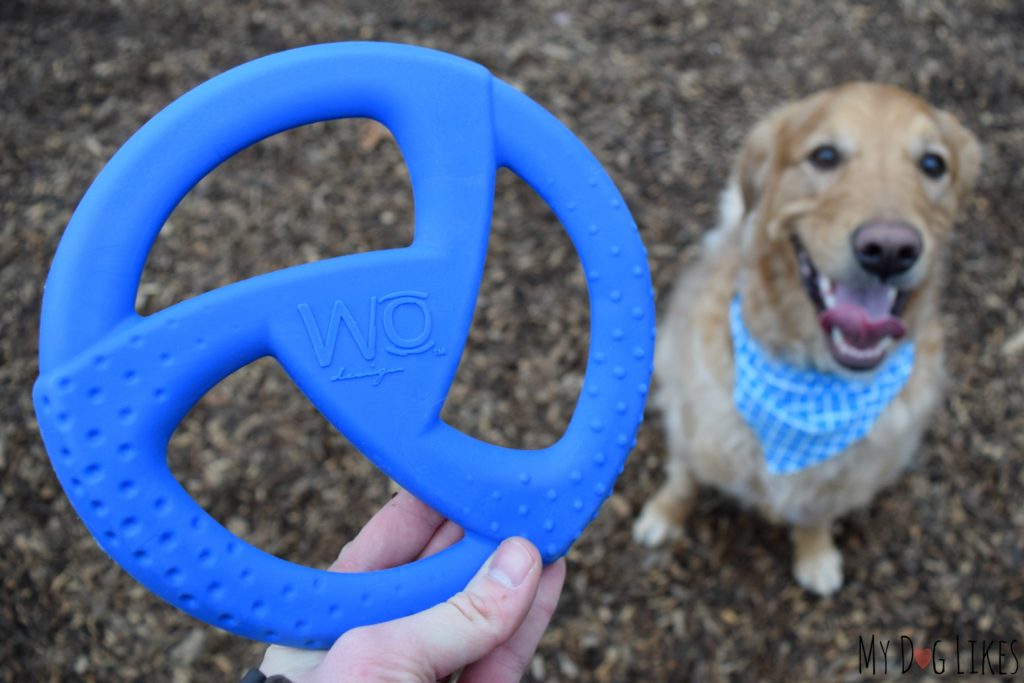 WO Design is about more than just great dog toys.
Through an organization called Bring Love In, they donate and distribute 2 meals to women and orphans in Ethiopia with every dog toy purchased.
That is a cause we can get behind, and it doesn't hurt that they make some of the TOUGHEST dog toys around!
Click Here to Shop WO Design on Amazon"
Tuffy Stuffed Toys
Self described as "The Worlds Tuffest Soft Dog Toy," and we don't disagree. These are no ordinary stuffed animals!
Tuffy's have been a favorite in our home for many years and every one we have ever purchased is still floating around more or less intact. Each Tuffy toy comes with a rating from 1-10 to signify just how durable they are. The strongest of which have several layers and upwards of 7 stiched seams!
Tuffy's come in TONS of different styles from Aliens to Barnyard Animals so you are sure to find the perfect fit for your dogs personality! Be warned – some of these toys are HUGE so make sure to check the dimensions ! 🙂
Click Here to Browse the Tuffy Line on Amazon
Jax and Bones Rope Toys
Jax and Bones have put a new spin on an old standby with their collection of adorable rope creations. Choose from more than a dozen fun designs from land mammals to dinosaurs to crustaceans.
While your dog will love the durability and feel of these toys, they can actually serve another purpose as well.  Jax and Bones rope toys are made from cotton and will actually help to clean your dogs teeth while they tug and chew. This is because as small lengths of rope unravel during play, they will act as a sort of "doggy dental floss!"
That is a win-win all around!
Click Here to Browse Jax and Bones Rope Toys on Amazon
KONG Wubba
In our opinion, one of the most well designed dog toys ever created.
The Wubba consists of two squeaky balls covered in fabric with several loose strips hanging off. This design will play on your dogs natural instinct to shake – as they grab the balls and get the excess material flapping about. Wubba's are great for fetch and tug and even float in water.
While the original was covered in a tough canvas like material, Wubba's are now also made in neoprene (specifically for water play) and plush (for those dogs who like to carry and cuddle just as much as play!). Available in several different sizes for all types of dogs.
Click Here to Browse KONG Wubba's on Amazon
Skinneeez Crinklers Stuffingless Dog Toys

If your dog loves stuffies but can't resist the urge to tear them apart, then you need to try Ethical Pets Skinneeez Crinklers.
These plush toys are actually not stuffed at all and only have a squeaker and a bit of crinkle material inside. Skinneez come in a wide assortment of animal designs and are 14″ long.
They may not look like much, but trust us, your dogs will LOVE to grab and shake them!
Click Here to Browse Skinneeez Crinklers on Amazon
Chuckit! Indoor Ball




Do you have a fetch fanatic in your home?
These Chuckit! indoor balls are perfect for those days when you can't make it out to the park due to time or weather. They can be tossed, rolled or bounced and are soft and lightweight so you don't have to worry about damaging your walls or home decor.
Made from a textured chenille fabric. 5″ in diameter.
Click Here to Pick up the Chuckit! Indoor Ball on Amazon
Teethy Grinz Balls
These unique balls from Rogz will give you a hearty laugh while your dog is carrying them around. Plus – your dog will love them, too of course! 🙂
Made from a dense material called SEBS, Grinz balls bounce, float and can even be filled with treats. They are available in multiple sizes and 5 bright colors.
Click Here to Pick up a Grinz Ball on Amazon
You may have seen us rave about West Paw Design's zogoflex dog toys in the past. They are made of an extremely durable (and non-toxic) material that even comes with a one time product replacement guarantee. Everything from West Paw is also made in America. The Tizzi (seen above) is our new favorite from this line.
This uniquely shaped toy is great for tossing, tugging, chewing, and even has a spot that can be filled with treats. Learn more about why we love this toy so much in our Tizzi Dog Toy Review.
Click Here to Check out the Tizzi on Amazon
NERF TPR Flyer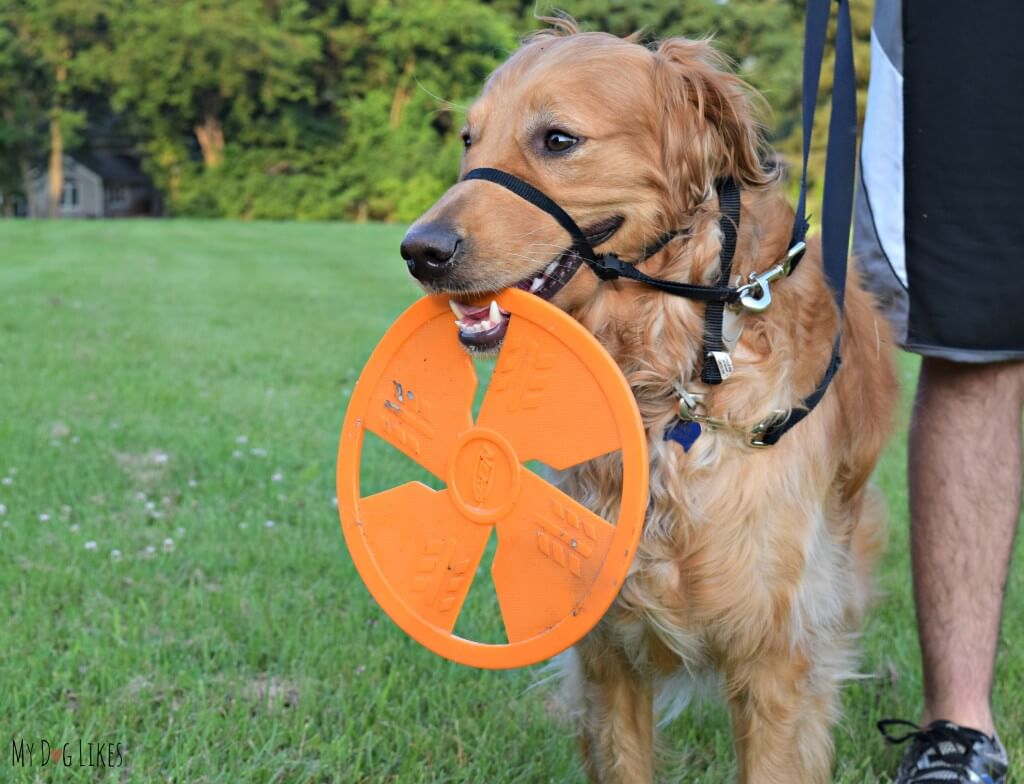 Charlie insisted that we include this one – his favorite find of the year!
The NERF TPR flyer is a durable dog disc that flies fast and far. It has a unique flight pattern that causes it to turn over and roll upon landing. (Click here to see a video of it in action!). One of our favorite features is the interior cutouts that make it very easy for your dog to pick up and carry. The TPR flyer is also flexible enough to be bent in half, but tough enough to withstand sharp puppy teeth!
Available in multiple sizes and colors.
Click Here to Pick up the TPR Flyer on Amazon
The Puller

The Puller is more than just a dog toy. It also serves as a dog training and exercise tool at the same time.
Consisting of a set of 2 large foam rings, this toy is lightweight yet shockingly durable. While it can be used just for play, the manufacturer recommends a routine of running, jumping and tugging to give your dog a great workout.
Also available in a mini size for smaller dogs. Check out our full Puller review to learn more.
Click Here to Pick up the Puller on Amazon
Benebone
If your dog loves to chew, a brand new Benebone should be at the top of their list.
These bones are made from Nylon – right here in the USA (just like we love to see!) The real standout features however are the uniquely patented shapes. Each is designed with a curved shape so that one end will pop into the air for easy chewing. We have both the wishbone (seen above) and dual handle version and the boys are constantly fighting over them!
Hours and hours of chewing fun!
Click here to Browse Benebone Dog Chews on Amazon
PetQwerks Flavorit Bones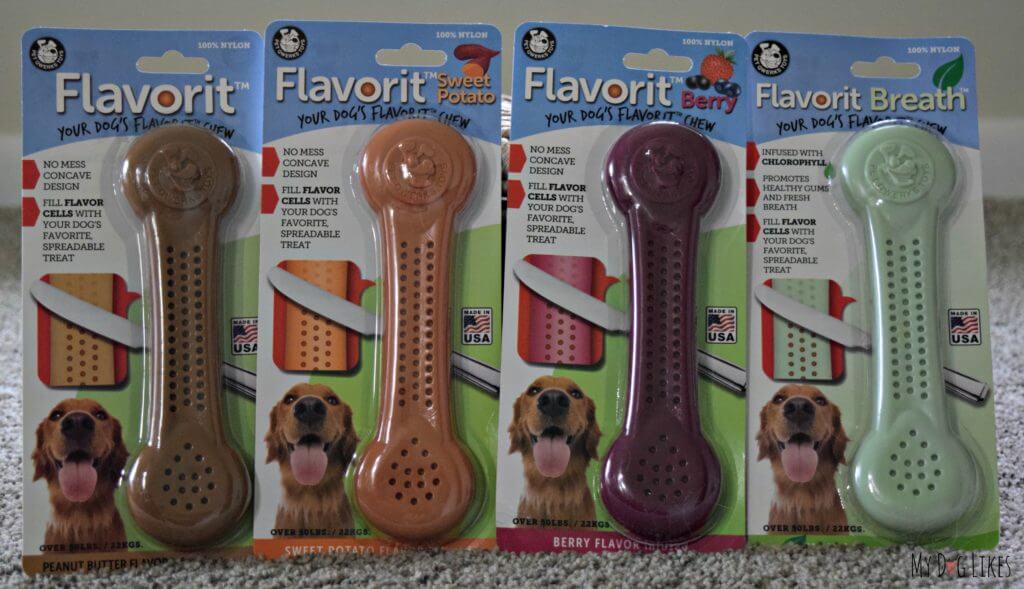 Another great nylon chew with a unique twist.
Flavorit Bones are covered in patented "flavor cells" which can be filled with your dogs favorite spread to entice them to chew. They also available with several embedded flavors themselves including sweet potato, berry, peanut butter and mint.
Click here to Check Out Flavorit Bones on Amazon
KONG SqueakAir Balls and Toys
Dogs love tennis balls, but did you know that the felt covering can be abrasive to their teeth?
KONG's squeak air line of toys have the familiar feel and resistance of a tennis ball, but they are designed specifically for dogs. This means that their fabric is softer and will not wear down enamel. They also have embedded squeakers for added fun.
Available in tons of fun shapes that go way beyond tennis balls!
Click here to Check Out KONG Air Squeaker Toys on Amazon
Chuckit! Ultra Balls
Looking for something that can hold up a bit better than a tennis ball? Or that doesn't have a felt cover that can be peeled off!
These Chuckit! Balls are made from a natural rubber and are bouyant, bouncy as well as durable. They have the perfect amount of "squish" to satisfy a dogs urge to chew and hold up great over the long term. Chuckit! Balls come in several different sizes suitable for all types of dog breeds.
Click here to Pick up Some of these Balls on Amazon
Busy Buddy Treat Dispensing Dog Toys
PetSafe's Busy Buddy line contains some of the most versatile dog toys out there.
They come in tons of unique shapes all with interesting methods of treat dispensing to challenge your dog and stimulate their mind. This is why many shelters use them for their behavior enrichment programs. Busy Buddy toys are made from a tough rubber that can stand up to some pretty intense chewing.
Click Here to Browse Busy Buddy Toys on Amazon
Hol-ee Roller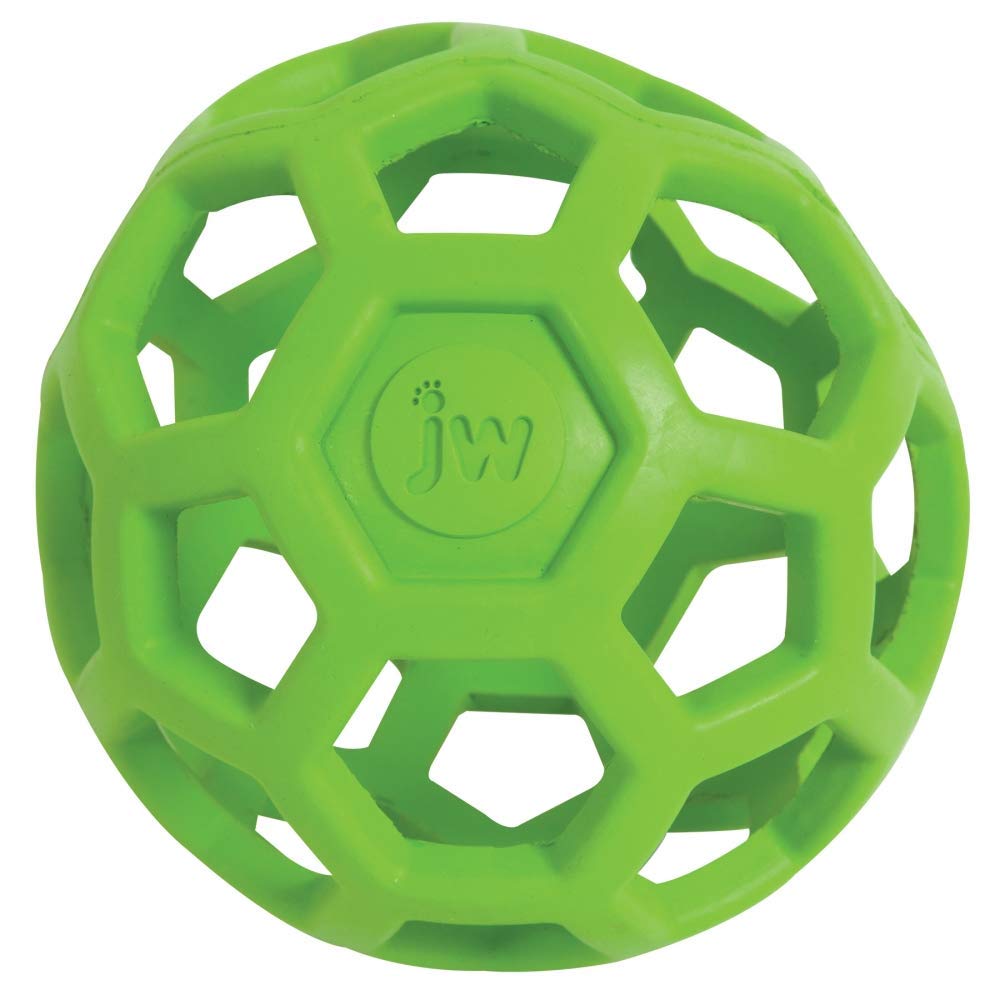 This interesting rubber toy is designed for treat dispensing. Just toss some of your dogs favorite treats into the center and let your dog have a blast working them out of the many holes.
Our favorite thing about this toy is that it can also be filled (and refilled) with scraps of fabric for dogs who like being a bit "destructive." They will love using their paws and front teeth to manipulate the ball and pull out the fabric pieces one by one. (Just keep an eye out so they don't eat them!)
Not recommended for tough chewers as the rubber mesh is quite thin – much better for supervised puzzle type play.
Click Here to Pick up a Hol-ee Roller on Amazon
BUSTER Activity Mat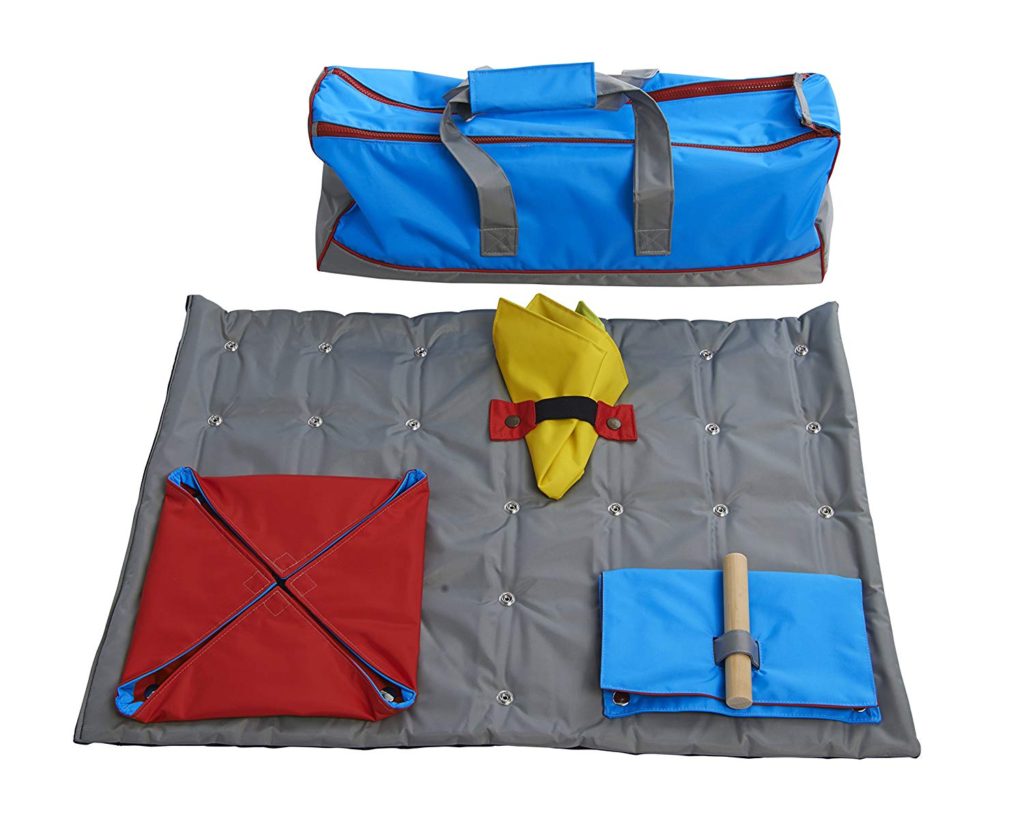 This one is really cool…
Keep your dog stimulated indoors with one of these awesome play mats from BUSTER.
The mat itself is made of nylon and covered in press studs where you can attach a wide variety of different "tasks" or challenges. This makes the mat endlessly customizable so you can create a new experience for your dog each time. The starter kit comes with the mat, a travel bag and 3 tasks. Tasks include things like opening pockets, lifting flaps or pulling tabs and there are tons of add-ons available.
The perfect gift for your doggy Einstein!
Click Here to Pick up one of these Activity Mats on Amazon
Wooly Snuffle Treat Mat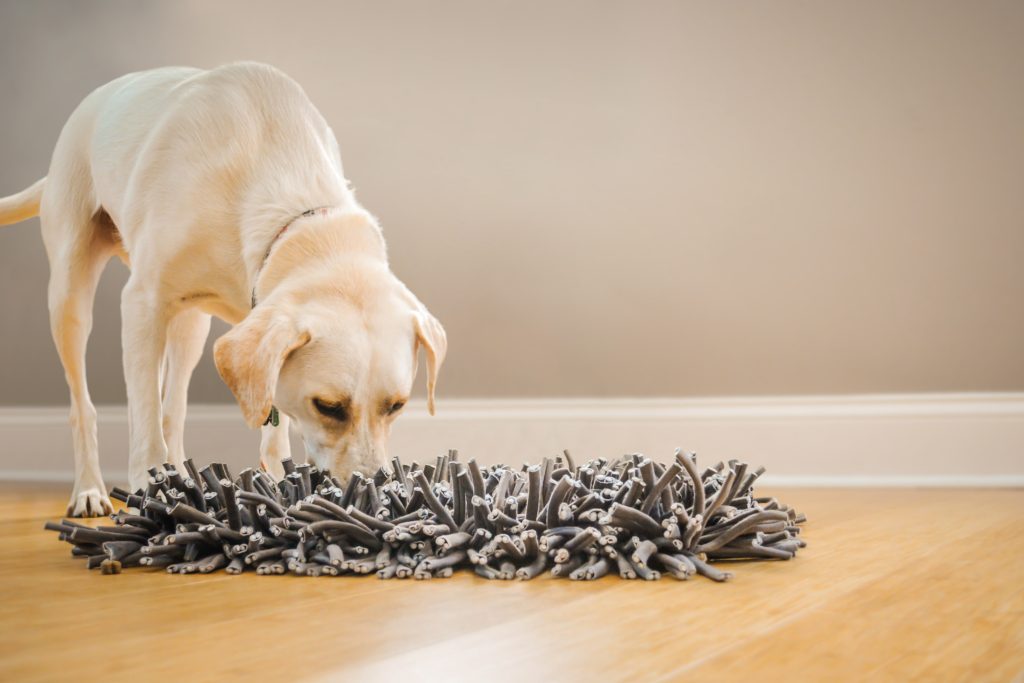 Photo courtesy of Paw5
Another great option to keep your dog busy and to sharpen their skills.
This wacky looking mat from Paw5 is actually designed to hide treats deep within its woven shag. Simply toss some of their kibble or favorite treats onto the mat and they will quickly disappear. Let your dog loose and they will have a blast sniffing around and "foraging" for their food.
Perfect for getting dogs to eat more slowly, practice their nose work, or just use their noggin a bit!
Click Here to Visit Paw5 and Learn More
Kyjen Interactive Toys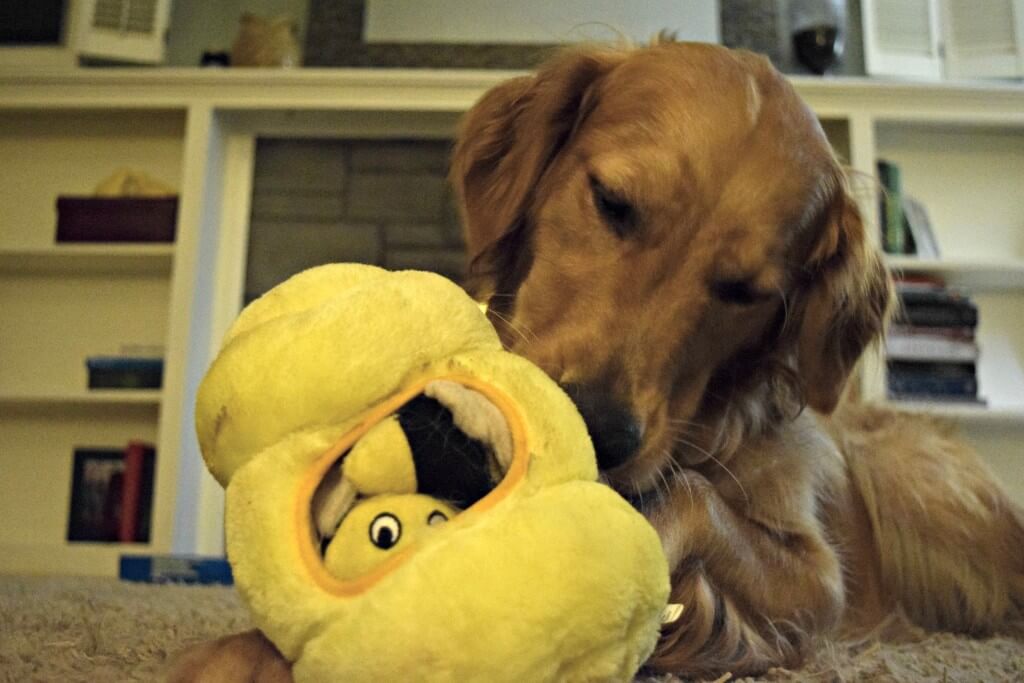 When it comes to interactive dog toys, you can't be the "Hide-A-" Series from Outward Hound.
Our boys love to play individually with the components of this toy (the hive and bees) and also as it was intended as an interactive toy, all together. This interactive aspect of the toy is designed to allow your dog to pull the bees out of the hive, an activity that has largely prevented our dogs from wanting to rip the toy to shreds! To encourage this, we throw some small training treats in the inside along with the bees and let the boys go to town! Individually, the hive commonly becomes a tugger between our two and Charlie loves to collect all of the squeaker-filled bees in his mouth.
Also available as a Hide-A-Squirrel and Hide-A-Bird.
Click Here to Check out these Interactive Toys on Amazon
Bob-A-Lot Interactive Dog Toy
Keep your dog entertained for hours as they work to get treats out of this durable interactive toy from Starmark. Comes in multiple sizes and can be adjusted for various levels of difficulty. Thousands of positive reviews on Amazon!
Click Here to Purchase on Amazon
Toppl Puzzle Toy
The second West Paw toy to make an appearance on our list!
This cup shaped zogoflex toy has a rounded bottom with interior ribbing designed to hold treats. The idea is that your dog must use their nose and paws to knock it around in order to receive their reward. The Toppl comes in 2 different sizes which can be connected to form a more challenging treat dispensing puzzle toy.
Completely non-toxic and dishwasher safe.
Click Here to Pick up a Toppl on Amazon
Dog Accessories
Custom Dog Jacket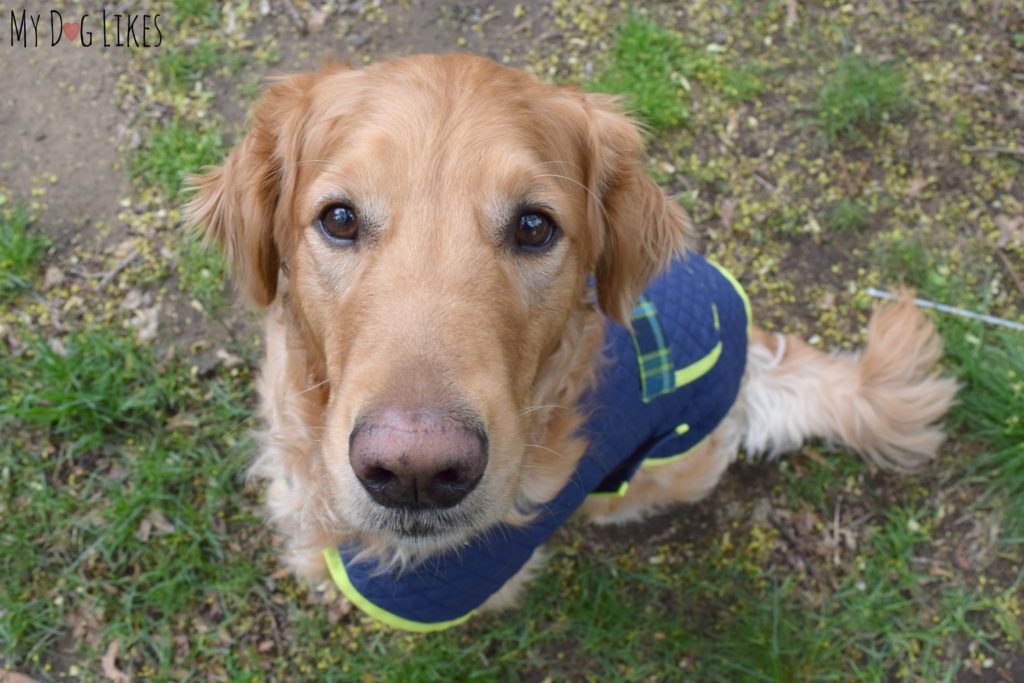 To ensure a perfect fit, these gorgeous jackets from D&M Dog Fashions are made to order based upon your dogs specific measurements. They are lined with fleece or flannel, use heavy duty velcro and stitching, and even include a built in pocket.
Available in tons of different colors and amazingly affordable considering the quality! We HIGHLY recommend!
Pawz Dog Boots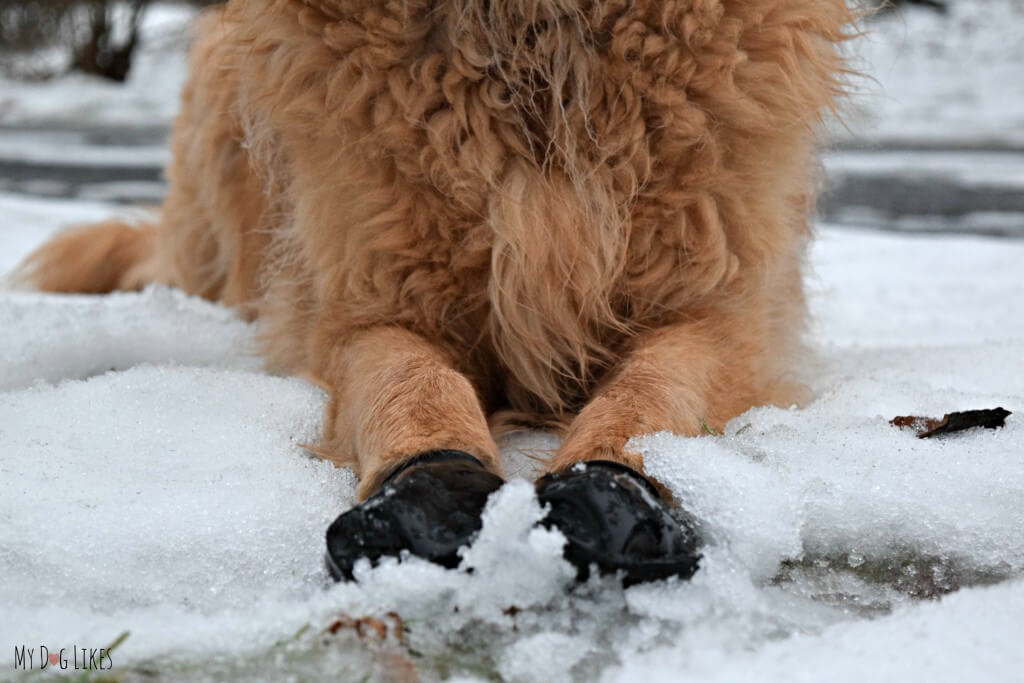 Not only is regular exercise an important part of keeping you healthy, it helps to keep your dog happy, healthy, and stimulated. Unfortunately, depending on where you live, extreme weather conditions can impact how often you get out with your dog. 
Luckily, Pawz dog boots are the answer to your exercise dilemma! These lightweight, biodegradable, semi-disposable natural rubber dog boots come in lots of different sizes and are sure to fit any dog ranging in size from miniature to extra large!
Because these boots are thin and pliable, there won't be any wacky adjustment period. Simply put them on (with some treats) and go! The boots come in a 12 pack so there is no stress if one is lost or ultimately gets worn through. We use PawZ dog boots in the winter, to protect our dogs' paws from the ice and salt that is spread on the road, and in the summer when pavement temperatures can burn paws.  
Click here to Pick up Some Pawz Boots on Amazon
HUND Denmark Dog Collar and Leash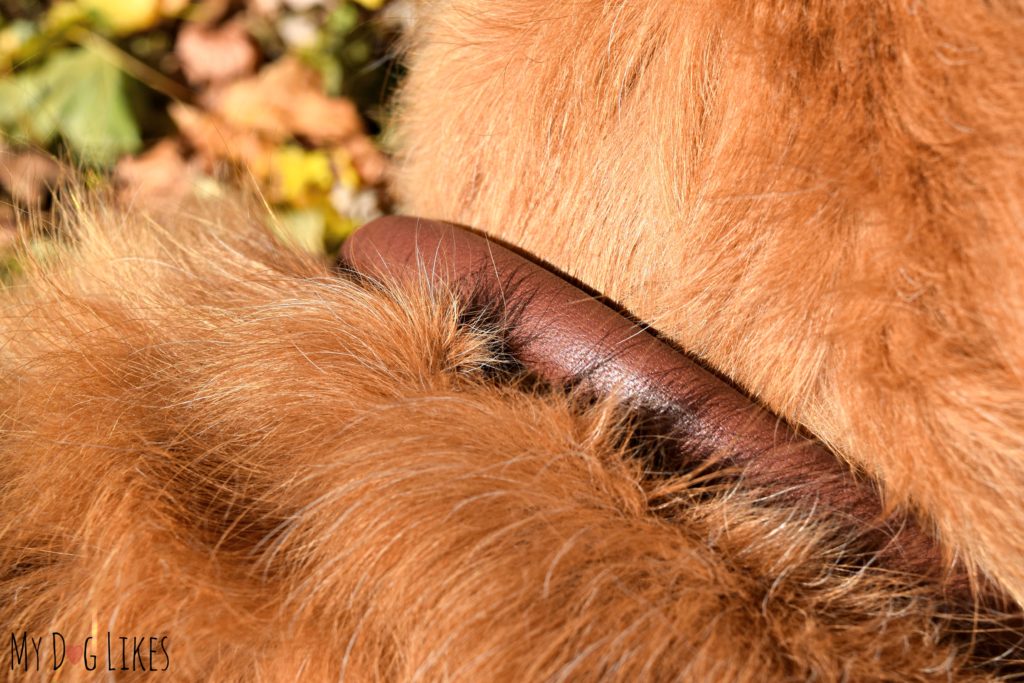 These are the perfect accessory for those dogs who enjoy a more sophisticated look.
HUND collars and leashes are handcrafted in Denmark from eco-friendly leather. This means that they don't use harsh chemicals in the tanning process, but instead opting to dye the leather with natural plant oils. Not only is the resulting product gorgeous and ridiculously soft, but durable as well.
Their gear is also highly functional – they even make a 5-in-1 multifunctional dog leash which can be used as a 4′, 5′, 6′, cross body, or multi-pet lead!
Click here to Visit HUND Denmark
MightyPaw Active Dog Gear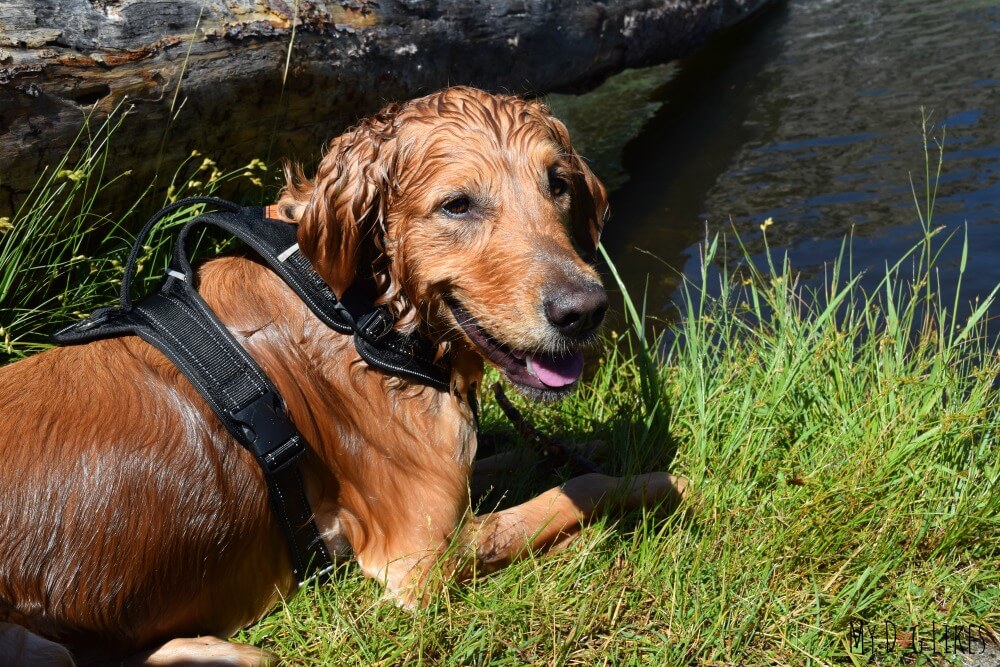 If you like to hike, run or adventure with your dog, Mightypaw has the perfect gear for you!
Their products include hands free bungee leashes, padded harnesses, vehicle safety gear and more. We have tried out several of their products and can attest that the quality is top notch. Plus we love that they are a local Rochester, NY company!
Check our our Mightpaw review to learn more!
Click here to Browse MightPaw's Selection on Amazon
Pet Stairs
Does your dog join you in bed from time to time? (Hey, we don't judge!)
If they are getting up there in age or having difficulty jumping up onto the bed, a set of pet stairs is the perfect solution. They come in tons of different styles from plastic to carpeted to gorgeous wood like shown above. You can also choose between fixed and foldable options depending on how much space you have.
Click here to Browse Amazons Selection of Pet Stairs
Car Ramp
Jumping into and out of a van or SUV can be difficult on a dogs joints – especially as they get older.
Vehicle ramps will allow your pet to simply stroll right on in! There are tons of options available most of which fold flat so they can be carried in your vehicle without taking up too much extra space. Make sure to choose the length, width and weight capacity carefully.
Click here to Browse Amazons Selection of Pet Ramps
West Paw Design HeyDay Dog Bed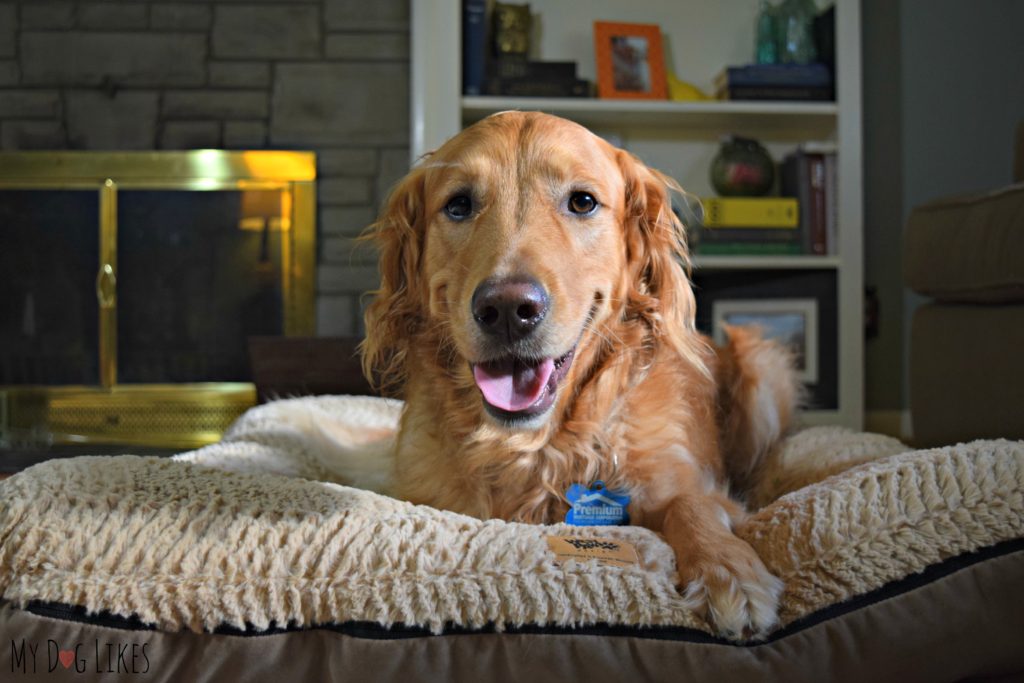 All dogs deserve a cozy place to sleep!
If you are trying to regain control of your bed, we highly recommend the HeyDay bed from West Paw Design. This bed is incredibly soft, and has a built in bumper that your dog will love to use as a headrest or to curl up against. Our boys have been using this bed for a couple of months now and they are always fighting for it.
Available in lots of great colors and both plush and microfiber materials.
Click Here to Browse Heyday Beds on Amazon
Kurgo Roll Up Travel Bed
It can be hard to get your dog to settle in an unfamiliar place.
Dogs often feel the most comfortable in their beds but they aren't designed to travel easily. The Kurgo Roll up Travel bed is the perfect solution!
When rolled out, this lush and soft bed is a place of comfort for your dog while easily rolling up for travel. We took the Kurgo Roll Up Travel Bed on a recent cross-country trip full of lots of outdoor time. We loved the ease of use and portability of this bed and also the fact that it had a waterproof backing and could easily be cleaned for all of life's messes. In our opinion this travel bed is THE PERFECT balance of comfort, portability, and, and durability!
Click Here to Check out The Kurgo Travel Bed on Amazon
Reflective Dog Vest
Walking in the dark can be dangerous for both you and your dog. Unfortunately, during this time of year it is basically unavoidable. Make sure your dog is highly visible with their own reflective vest!
These vests are available in multiple colors with reflective trim and cuts for all sizes.
Click Here to Browse Reflective Dog Vests on Amazon
LED Safety Light 
Pair an LED light with the reflective vest above to really stand out in the dark. This safety light from Ruffwear
 has 3 different light modes: Always On, Slow Flash, and Fast Flash.
Comes with 2 batteries – Clip it onto your dogs collar or leash and you are ready to go. For convenience, the battery is replaceable without the use of tools.
Click Here to Purchase this LED Safety Light on Amazon
Clicker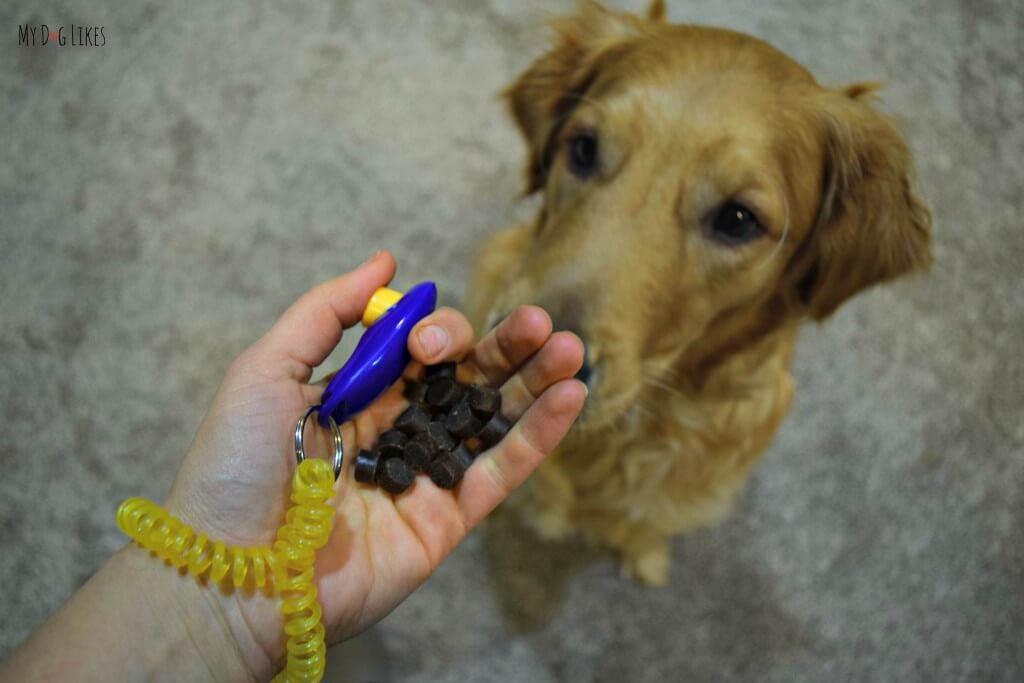 You may think of training as hard work, but your dog likely does not see it that way. Most dogs love to please and are eager to have something to do.
Clickers are a positive reinforcement tool that when paired with praise or treats help to associate positive feelings with particular behaviors. Learn more about clicker training and how to encorporate them into your training regimen here:  Karen Pryor Clicker Training.
Click Here to Browse Training Clickers on Amazon
Food Storage Container

If you feed kibble, a food storage container is a must. Most food storage containers can fit a large bag of kibble, keeping it optimally fresh and safe from pests who may try to take a little off the top and ultimately make your dog sick. If you have an eager eater, a food storage container also helps keep nosy pups out of the food stash between meals!
Click Here to Check out Airtight Storage Bins on Amazon
Cooling Pad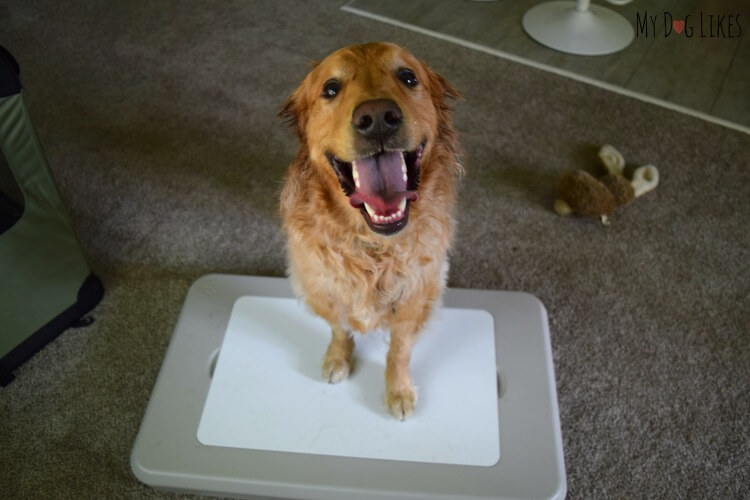 If you live in a hot climate, the Chillspot is a product you should seriously consider.
Dogs aren't able to regulate their temperature in the same ways as humans can and can be especially susceptible to heat stroke. The Chillspot is a dog cooling station that consists of a large insulated base with an aluminum top. There is a large removable ice pack that fits inside and keeps the exterior surface cool for up to 12 hours!
Give your dog a place to beat the heat!
Get an Extra Chillpod with Purchase Using Code "mydoglikes"
Paw Wash
Tired of your pup leaving muddy paw prints all over your floors?
The paw wash is a simple but ingenious device designed to quickly clean their paws after they come in from the outdoors. Gentle brushes inside help to remove dirt and debris while a 
squeegee top helps to keep the water inside. Just fill with a bit of water and a drop or two of gentle pet-safe soap and you are ready to go!
Click Here to Purchase a Paw Wash on Amazon
Pop Up Travel Crate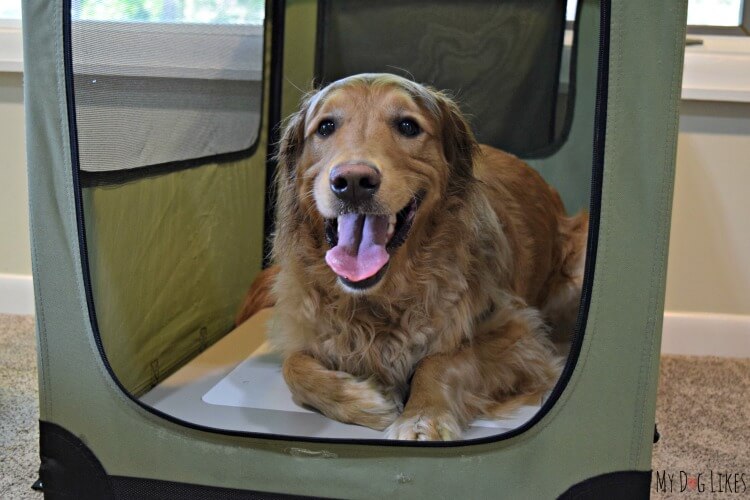 This pop up crate from Noz2Noz is a life-saver! Unlike metal crates that are heavy and bulky, this crate is lightweight, folds up/assembles easily, and is very durable; making it ideal for travel and on the go pet parents. We love that this crate is a little more shielded than others on the market and has lots of vents, allowing us to create an escape from the sun and heat when spending time outdoors too!
Click Here to Get a Pop Up Crate on Amazon
Health and Wellness
Waggletooth Dog Toothbrush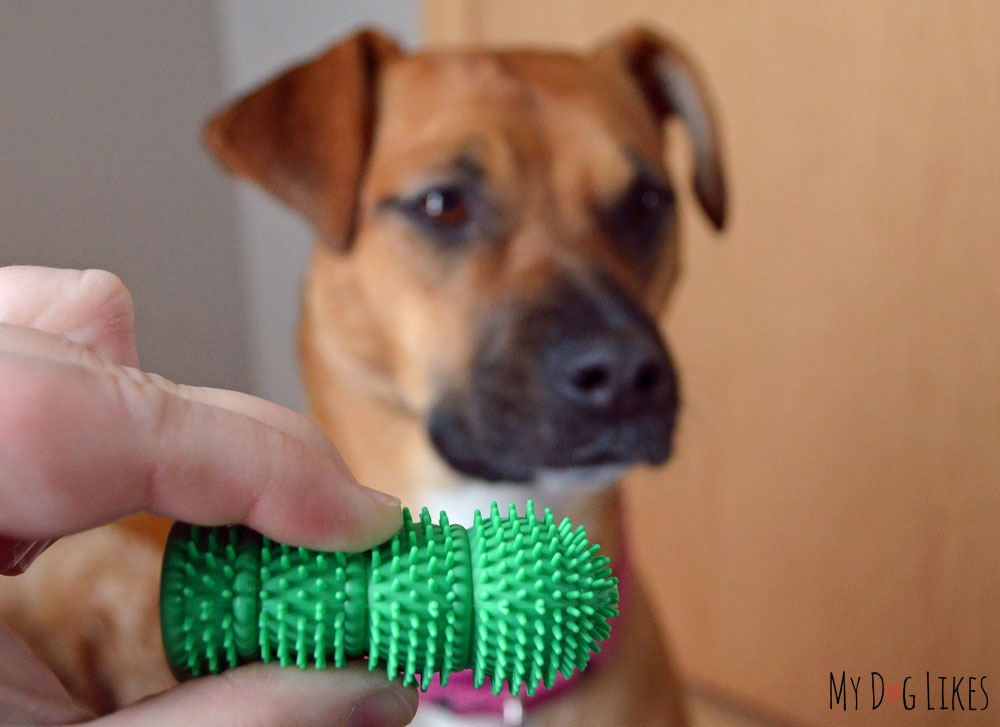 Waggletooth is not your standard dog toothbrush. 
Designed by a dentist, the unique finger cot design slides over your finger and has 360-degree bristles on the exterior. It is made from TPE (BPA-free, FDA-compliant), is non-toxic dye and bite resistant. Particularly important if you have a non cooperative pup!
This handy little instrument is sure to make your next brushing session go much more smoothly.
Click Here to Purchase on Amazon
Isle of Dogs Waterless Dog Shampoo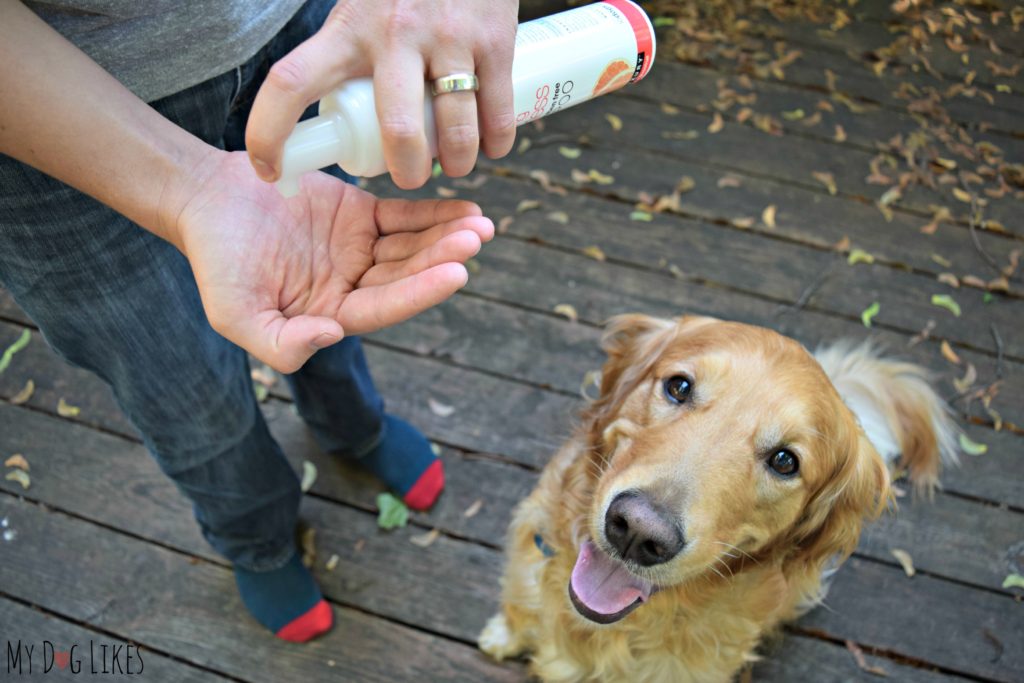 Not all dogs are fans of bath time – but sometimes they just can't be avoided.
Thankfully, there is an easier and less stressful option for those times when the messes or smells are not quite as severe. Isle of Dogs Waterless Dog Shampoo is a foaming solution that allows you to "bathe" without water or a tub. All you need to do is work the foam into their coat, let sit for a few minutes and towel dry. After that your dog will be clean, fresh, and ready to go!
Perfect for traveling!
Click Here to Pick Up Some Waterless Shampoo on Amazon
Wagglies Dog Nail Clippers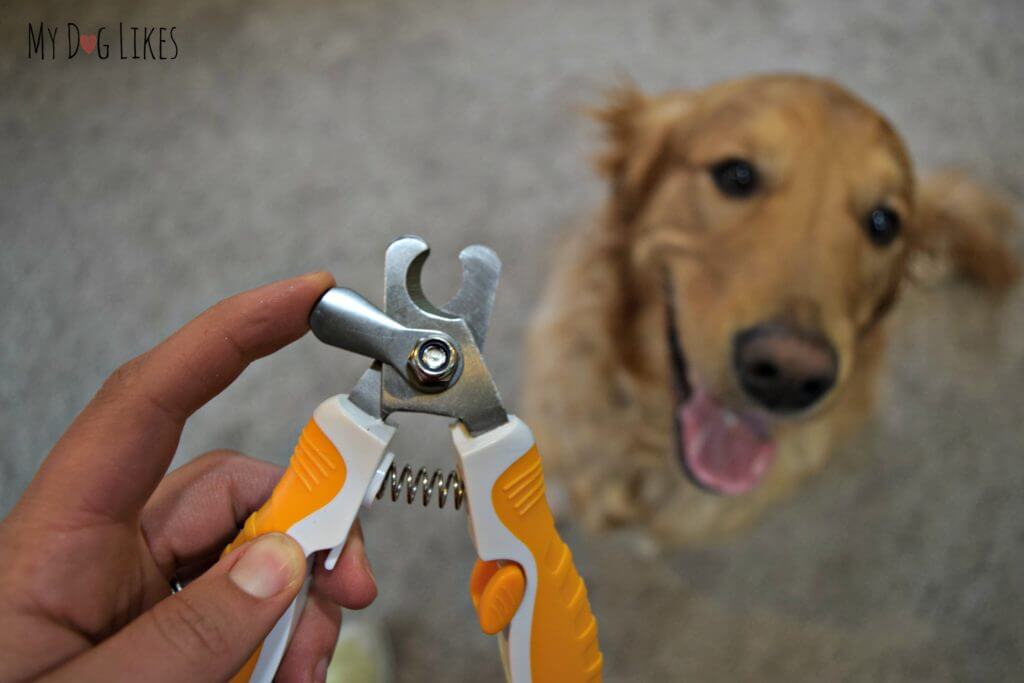 Not all dogs are fans of getting their nails trimmed – but the proper tool can make it a much more pleasant experience.
Wagglies dog nail clippers have an angled head to make cutting much more convenient and comfortable for both you and your pet. They also have a built-in guard to help prevent accidental cutting of the quick. On top of all of this is the ergonomic, comfort grip handle!
Click Here to Pick Up Wagglies Clippers on Amazon
FURminator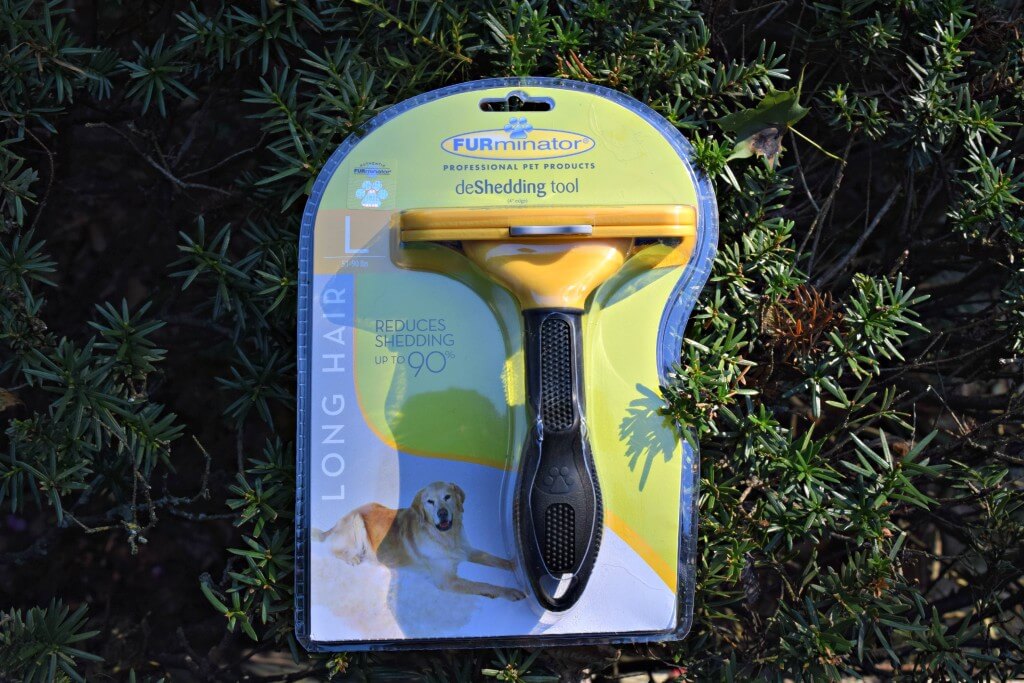 If you have a serious shedder on your hands, you really need to pick up a FURminator.
This uniquely designed brush allows you to get proactive against shedding by removing loose hair beneath the topcoat. You will be amazed at the quantity of fur that this brush will pick up. There is even a FURejector button that will push the fur out of the comb between strokes.
The FURminator comes in several different sizes for both short and long hair.
Click Here to Pick Up the FURminator on Amazon
FURminator Dual Brush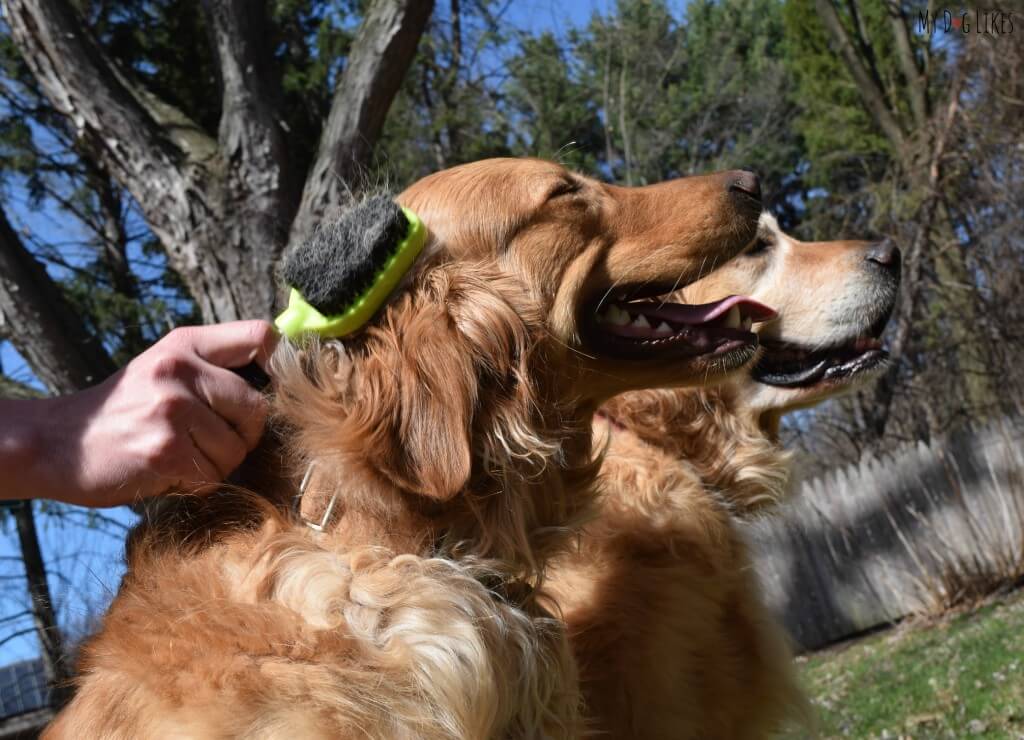 The second prong in our brushing attack and the one we recommend for daily use.
FURminator's Dual Brush has a pin brush on one side and a bristle brush on the other. This works amazingly on silky coats like Golden Retrievers. The brush also has a flexing head to better follow the contours of your dogs body.
Click Here to Pick Up a Dual Brush on Amazon
Walters Dog Balm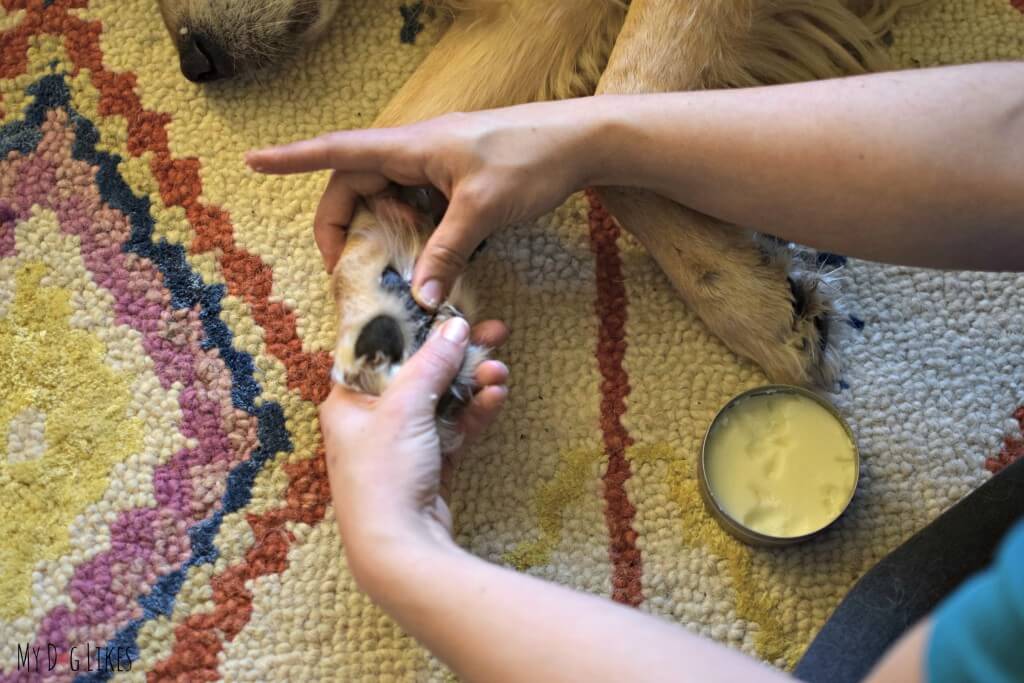 Walter's dog balm is an all-natural soothing balm for dry dog paws, noses, and elbows. Walter's Dog Balm can be used prior to spending time outdoors to prevent dryness from creeping in or after the fact when harsh weather conditions can naturally dry out your dog's most sensitive parts. This chemical free dog balm is safe for all animals in the house and there is no worry if your dog licks his paws or nose after application.
Purchase 2 or more tins and save 40% with code "MYDOGLIKES"  
Dr. Harvey's Healing Cream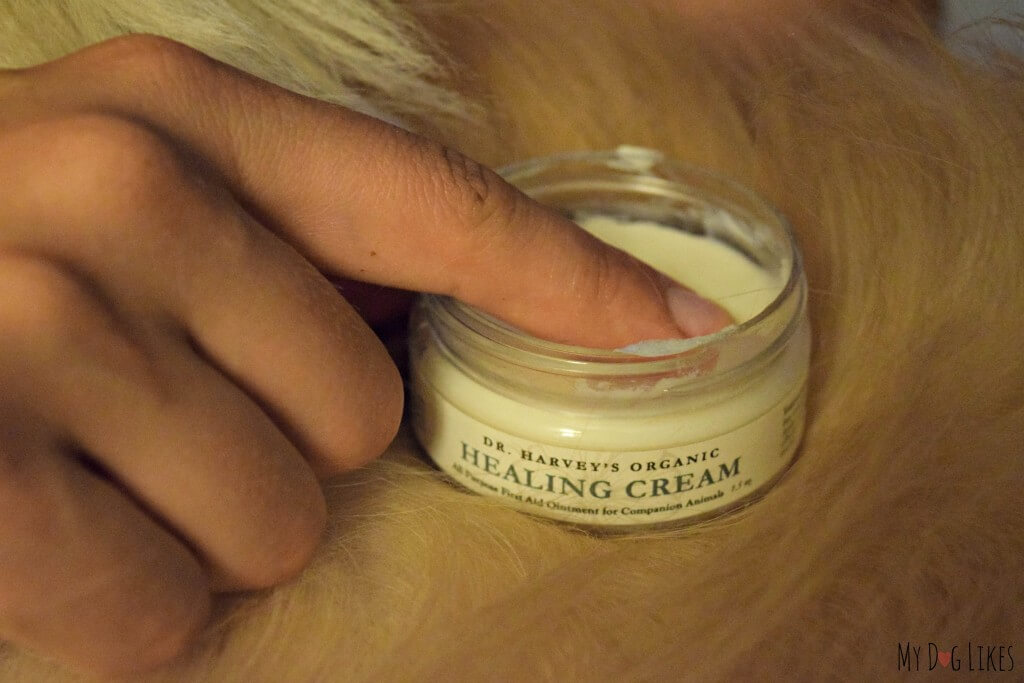 Dr. Harvey's Organic Healing Cream is on our "can't live without" list. This blend of organic shea butter and herbal extracts is a must have for every First-Aid kit and can be used on just about any kind of malady your dog may encounter including dry skin, cuts, rashes, hot spots and so much more. We use this salve for everything and are always shocked and how quickly it clears up minor to major problems skin problems. Because the ingredients are all-natural and organic, you can apply this healing cream regularly without worrying about your dog becoming sick if he licks it!
Don't tell the dogs, but the humans of the house use it too!
Click here Visit Dr. Harvey's and Learn More
Looking for More Gift Ideas? 
Make Sure to Check Out our Top Gifts for Dog Lovers as well!