Have you ever noticed that your dog is drawn to hardwood or tile floors on hot days? Unlike carpet, hardwood and tile floors don't hold onto heat. While these surfaces provide a bit of relief, they don't stay cool for long, and depending on your home,  may not even available.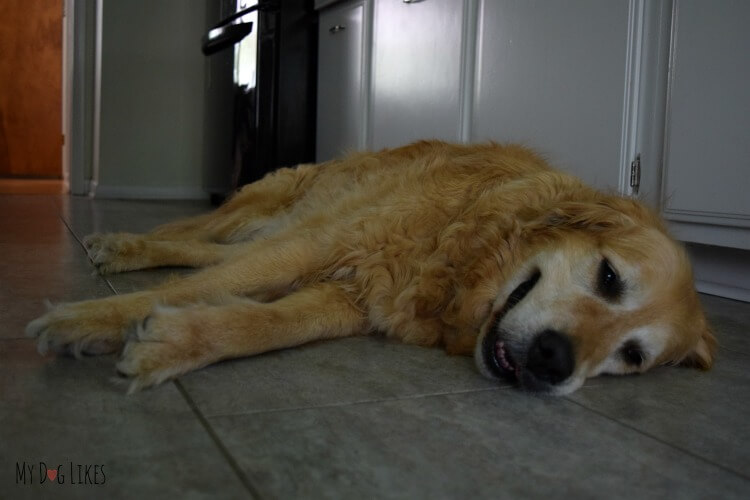 Wouldn't it be nice to be able to offer your dog a truly cool place to rest and relax on balmy Summer days? Something that would keep him or her cool for long periods of time and keep them safe from the dangers of heat exhaustion or overheating.
Introducing the Chillspot Dog Cooling Station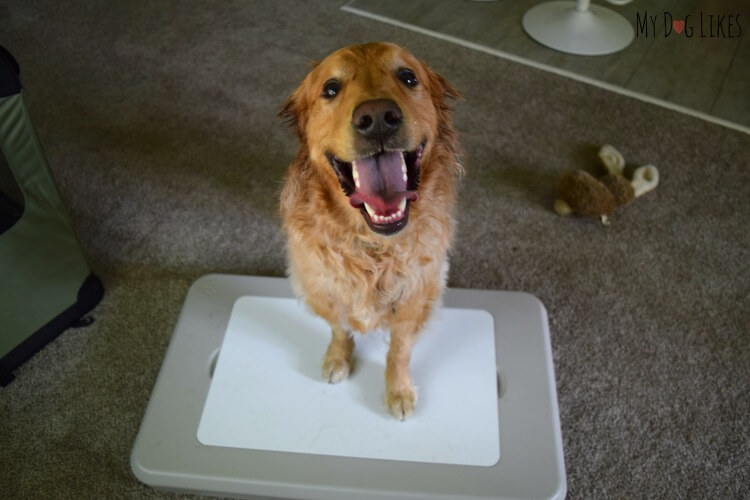 The Chillspot is a unique cooling pad made especially for dogs. Chillspot was kind enough to send a unit to test out with the Golden boys and share with our readers. Chillspot is also sponsoring a giveaway for one lucky reader (so make sure to enter below)!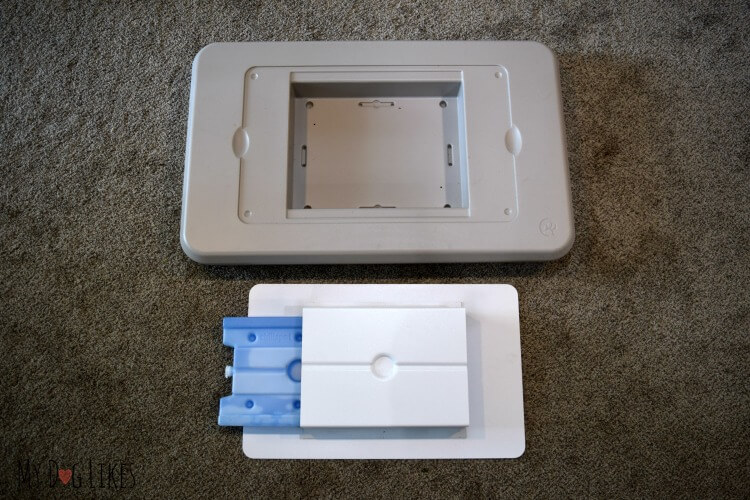 The Chillspot consists of 3 components:
Insulated Base – The base of the unit consists of a heavy duty (but lightweight) plastic shell. This will hold the Cooling Tile in place and help it to remain cool.
Cooling Tile – The cooling surface is a powder coated aluminum tile, making it extremely durable and allowing it to stay 20-30° cooler than ambient temperature for 8-10 hours!
Chillpod – The source of the cooling action is a large removable freezer pack or "Chillpod." The Chillpod slides right into the bottom of the cooling tile to provide hours of relief from heat. While the Chillpod is built to last for hundreds of heating and cooling cycles, should it ever become cracked or punctured, no worries – the contents are water based and non-toxic.
About Chillspot – Breaking down the Features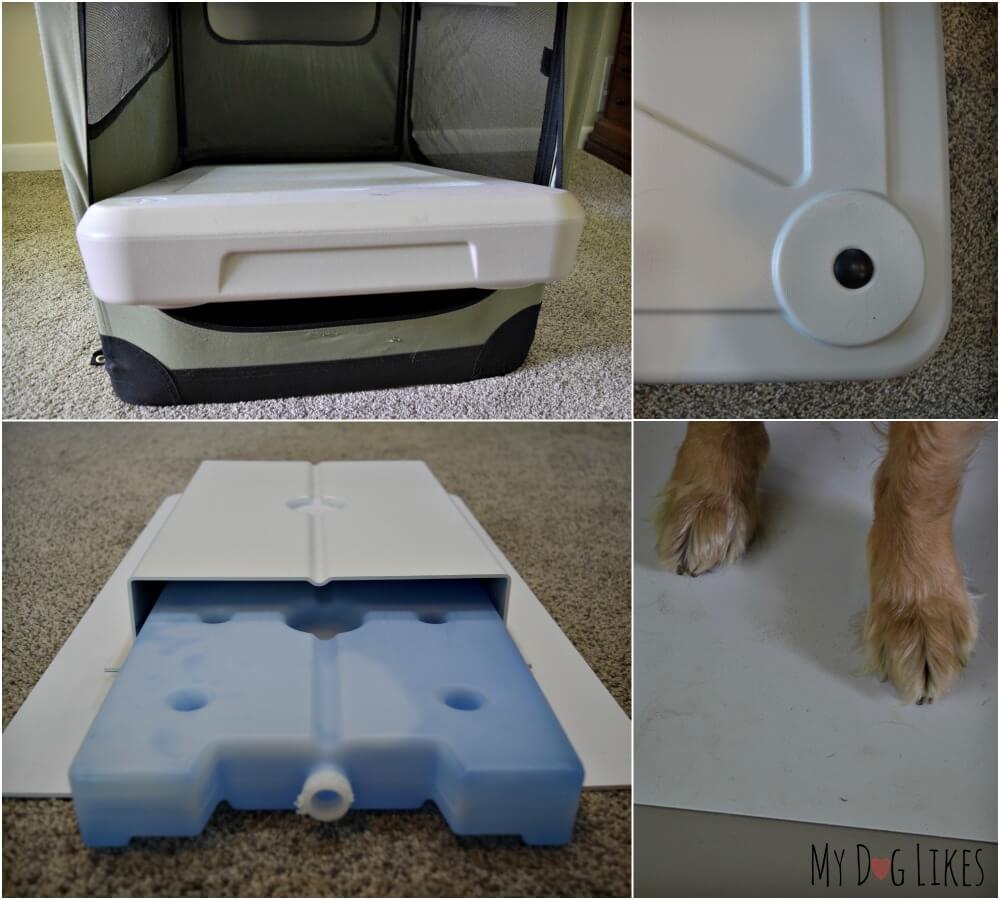 Large size
The Chillspots 34.75" X 21.75" dimensions make it ideal for all but the largest of dogs. It is perfectly designed to fit into a standard size crate, allowing you to keep a crated dog cool. With a relatively thin profile of 4.5" it is not prohibitive to the space inside either.
No Battery, Power, or Water Required
The Chillspot does not need to be plugged-in to function. Instead, it operates with a removable system of cooling packs allowing it to be used anywhere. A frozen chillpack provides 8+ hours of cooling to the Aluminum chill tile – which is also non-slip and easy to clean. This is a huge advantage to other cooling pads on the market which do not stay cool for nearly as long!
Rubber Feet and Non-Slip Surface
Four rubber feet on the bottom of the Chillspot help to keep it right where you want it. The aluminum tile also has a textured surface helping to prevent accidental slips. This is especially important if you will be using it in a humid area which may be prone for the cooling surface to "sweat."
Using the Chillspot
Initial Thoughts
As soon as you remove the Chillspot from its packaging you will notice the high quality construction and choice in materials. It is sturdily built with a very clean look that blends in nicely with any home decor.
The cooling cell (Chillspot Chillpod) is large but has a low profile, making it easy to fit into any standard size freezer. It is just about the same thickness as a standard ice pack, and in our case, conveniently fit right in our side compartment or flat on top of everything else.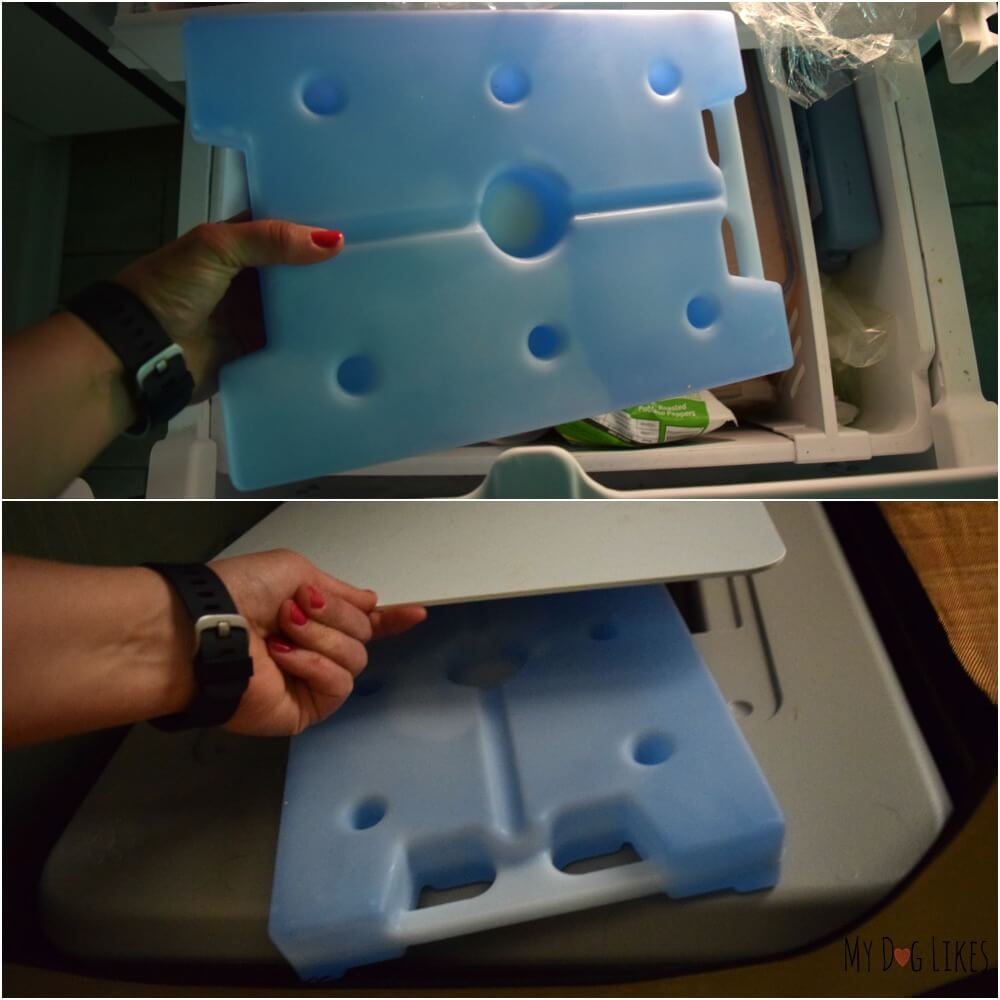 Introducing your dog to the Chillspot
It is best to help your dog become accustomed to the Chillspot before trying to get them to use it for its intended purpose. We put the Chillspot out on the floor of the living room for a few days (without the cooling pack) to allow them to sniff around and get used to it's presence. After that, we used treats and a clicker to encourage the boys to first touch, then get on top, and finally, lay down on top of the Chillspot.
It didn't take our boys too long to get used to it, but please be patient. It helps a great deal if your dog has a "place" or "spot" command. Another tip is to lay down a blanket or towel over top to create somewhat of a bed for them. This should remove any hesitation they have about the surface and encourage them to snuggle in.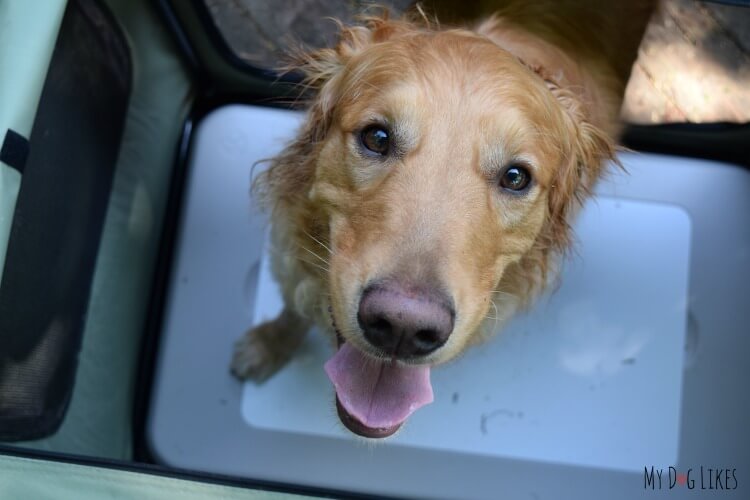 We also found that our large dogs were more inclined to lay on the Chillspot after it was placed in our travel pop up crate. Smaller dogs would not have an issue lying on a standalone Chillspot, but our big boys were a little nervous and struggled to balance themselves and get comfortable when outside of the crate. Using the Chillspot in a crate allowed the boys to lean against the side walls and gave them the ability to flop over and feel more secure and comfortable.
Cooling Down a Hot Dog
After introducing the boys to the Chillspot, all we had left was to wait for the weather to warm up! Last week, we decided it was time to put the Chillspot to an actual test. We froze the Chillpad overnight, inserted it into the insulated base to begin the cooling process, and were ready to go.
Looking to get the boys all fired up, Charlie and I headed out on a run while Harley and Kevin took a long walk.
When we returned, we encouraged the boys to have rest on top and cool themselves off. As expected, it did take a bit of convincing, but once they gave it a shot they settled and seemed to really enjoy the cooling!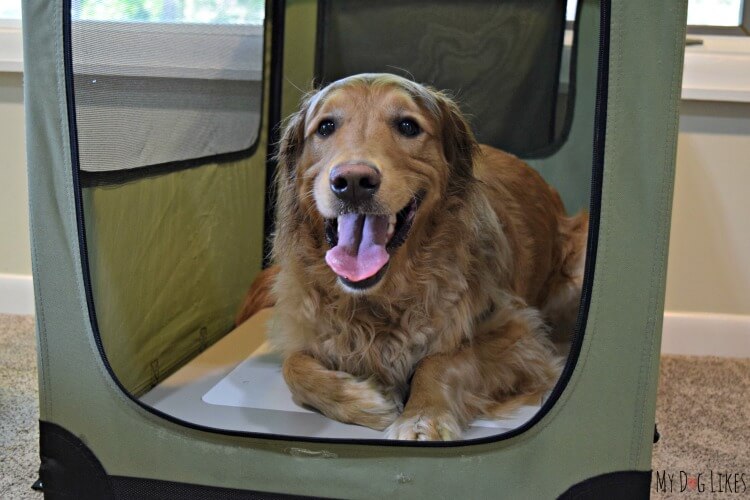 We were amazed at how long the Chillspot stays cool for – it really stays true to the claim of 8+ hours. The Chillspot team did a great job choosing the insulation and materials!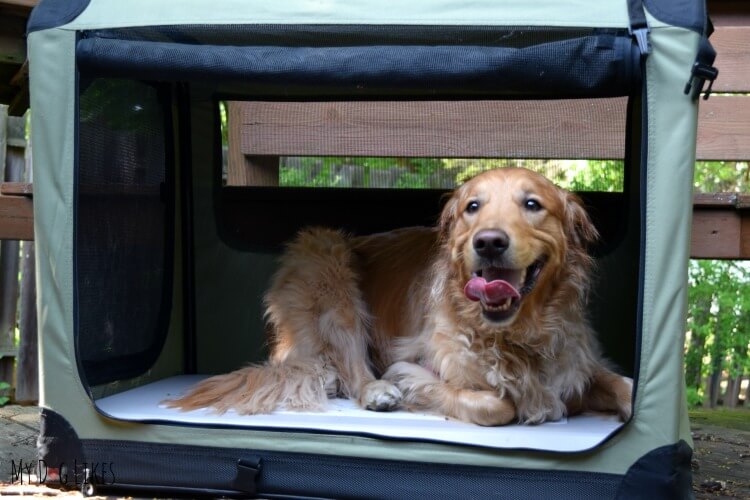 Though we have a shady backyard, we are known to spend a significant amount of time outdoors doing yard work and decided to give it a try there as well. Using the travel crate we created a "retreat" on our deck that the boys really seemed to enjoy!
Why MyDogLikes the Chillspot Dog Cooling System

With two large double coated dogs, you can imagine that the Summer temperature can get a bit uncomfortable – even here in the Northeast! The Chillspot allows us to always have a spot available for the dogs to cool down after activity! 
We love that the Chillspot does not require power and can be placed anywhere we want. We also love that the cooling cell is easily removable and involves nothing more than freezing it overnight. With the addition of a second Chillpod, pet parents could easily swap them in and out and keep a cool spot all night long! We are excited to have this on hand for the summer as temps start to really heat up!
Whether you routinely deal with high temperatures or not, we highly recommend the Chillspot to provide a safe haven for pups after exercise and other activities.
Want to try out the Chillspot for yourself?
Click Here to Purchase on Amazon!