Did you know that July is Pet Hydration Month?
For the second year in a row, we are teaming up with our friends from PetSafe ® Brand to help spread the word about the importance of pet hydration!
Last year we went over some common signs of dehydration and answered the question: "How much water do dogs need?"  This year we are going to be showing you one of the best ways to assure that your dog is getting enough water – a Pet Water Fountain!
PetSafe was kind enough to sponsor the post and to send us a Drinkwell 360 Fountain for review!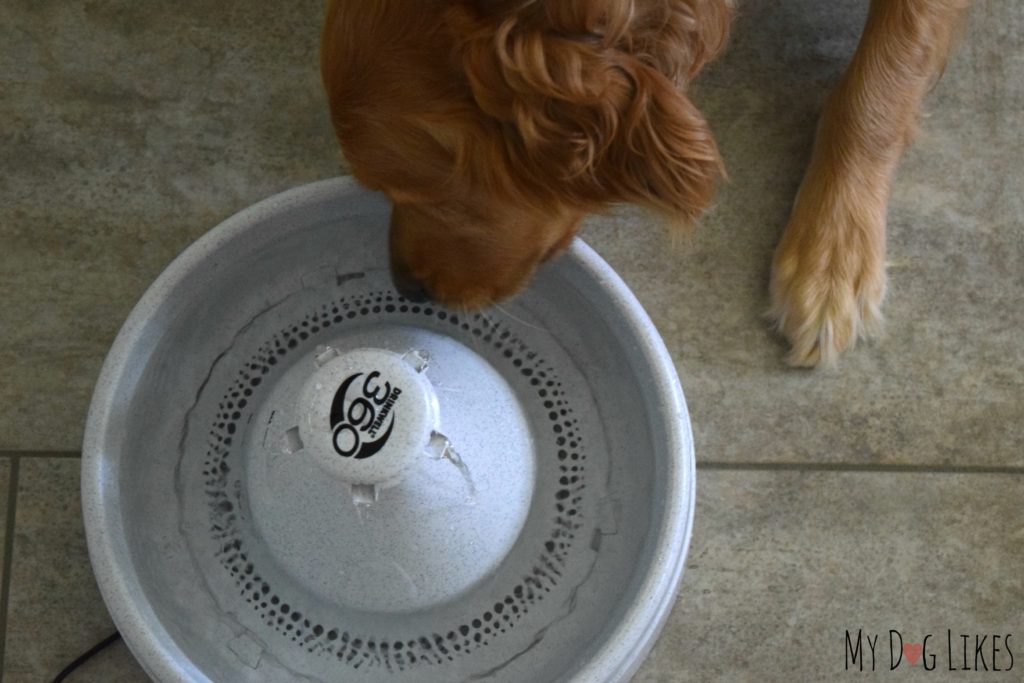 Why Do you Need a Pet Water Fountain?
Pet fountains achieve 2 main goals (which we will be elaborating on below) – keeping your pets water bowl clean, and encouraging them to drink.
Hygiene
How often do you wash your dog's bowls?
If you're like most pet parents, probably not very often, and this can lead to the growth of some pretty nasty bacteria. I know you love your pet, but let's face it – sometimes their mouths are not the cleanest. Take a minute to think about how they drink from and return to the same bowl day after day after day! GROSS!
Pet fountains keep water circulating which inhibits bacterial growth. They also have internal filters which help to clean the water and remove odor and debris
Encouragement
Not all pets will drink as much water as they should without some extra encouragement. One of the primary reasons for this is that animals have a natural instinct to drink from flowing water. This makes sense from an evolutionary standpoint as stagnant pools are much more likely to harbor disease.
Pet water fountains provide both visual and auditory cues to your dog, making them more likely to stop on by for a drink.
Introducing the Drinkwell® 360 Fountain
Now that we have (hopefully) convinced you of the merits of pet water fountains, lets take a closer look at the new addition to our home: The Drinkwell 360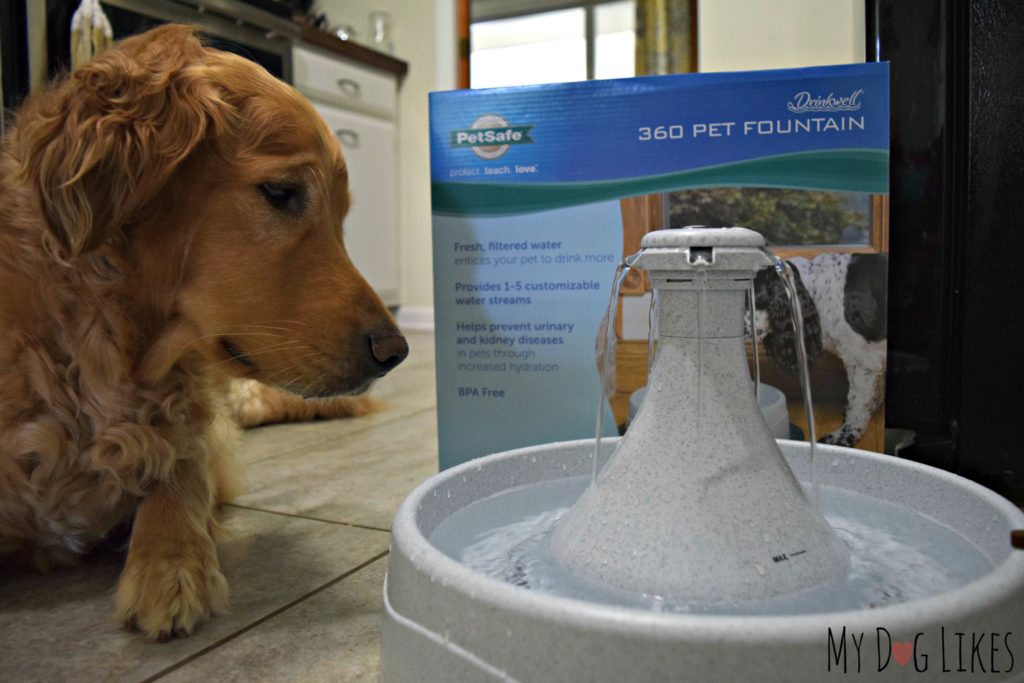 As the name suggests, this fountain can be accessed from all sides – something that we really love for multi-pet households like ours.
Other features of the Drinkwell 360 include:
1 Gallon Capacity
5 Different Water Stream Setups
Adjustable Flow Control
Cartridge Carbon Filter
Additionally, the unit is constructed of a BPA free plastic and has rubber grips on the bottom which prevent it from sliding around.

Our Drinkwell 360 Review
It only takes about 5 minutes to get this fountain set up out of the box, though I did opt to wash it with soap and water first. Once I had everything cleaned and dried, I put it all together and filled it up. The assembly process is fast, intuitive and requires no tools whatsoever.
You have the option to choose between 5 different spout setups, each with an additional falling stream. Swapping these out only takes a second, and your flow can be further refined with a twisting cap on the top of the unit.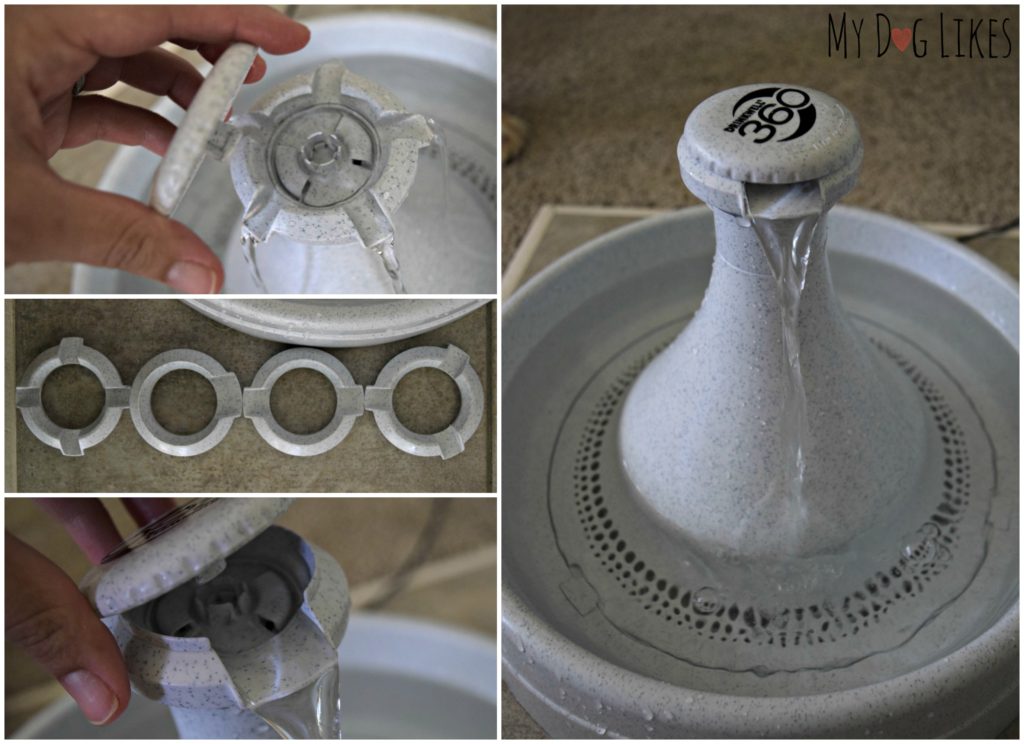 As with most new items in our home, when I start to mess around with them I draw a crowd. By the time I had the Drinkwell 360 filled up, both the dogs and the cat were right by my side. I decided to install the 5 spout ring so that they would all be enticed to stick their heads in and check it out!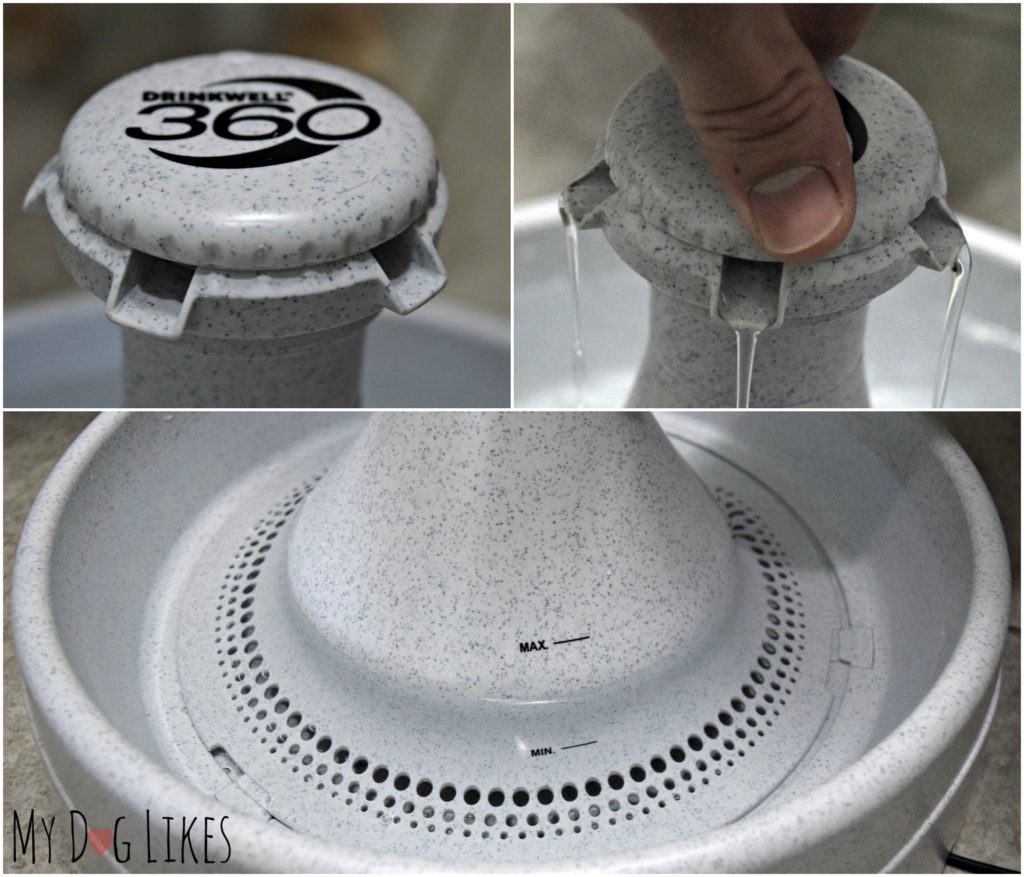 Once you plug in your Drinkwell fountain, it will begin to flow in only a few seconds. I thought the flow rate was in a great range and loved that we had the option to fine tune it even more. I also loved that it is not too noisy, and thanks to the ramp which the water hits, you only hear a pleasant sound of flowing water.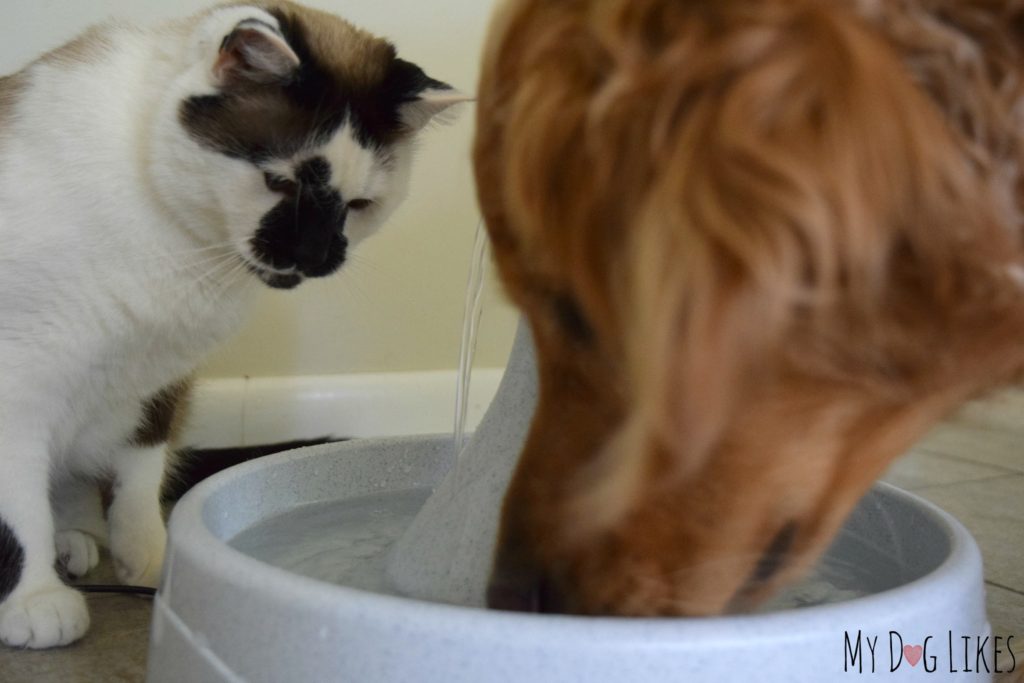 Harley, Charlie, and Lucas were drawn in right away, and though there is plenty of room to share, they began fighting over their new fountain!
We always have to encourage them to drink, so were quite amazed at the effect this fountain seemed to be having.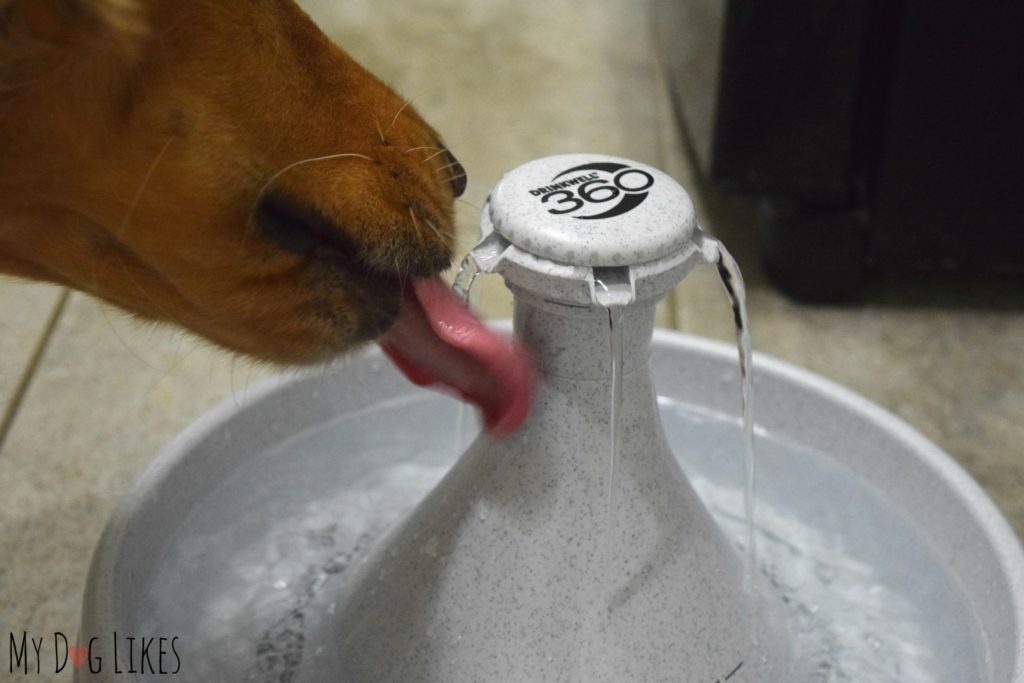 The entire crew has continued to enjoy the fountain every day since, and it will be headed to school with Charlie when he begins his therapy work in the Fall!
Why MyDogLikes the Drinkwell 360 Pet Fountain
Keeping your pets properly hydrated is a huge factor in keeping them healthy as a whole. Did you know that 80% of cats and dogs body weight is water?!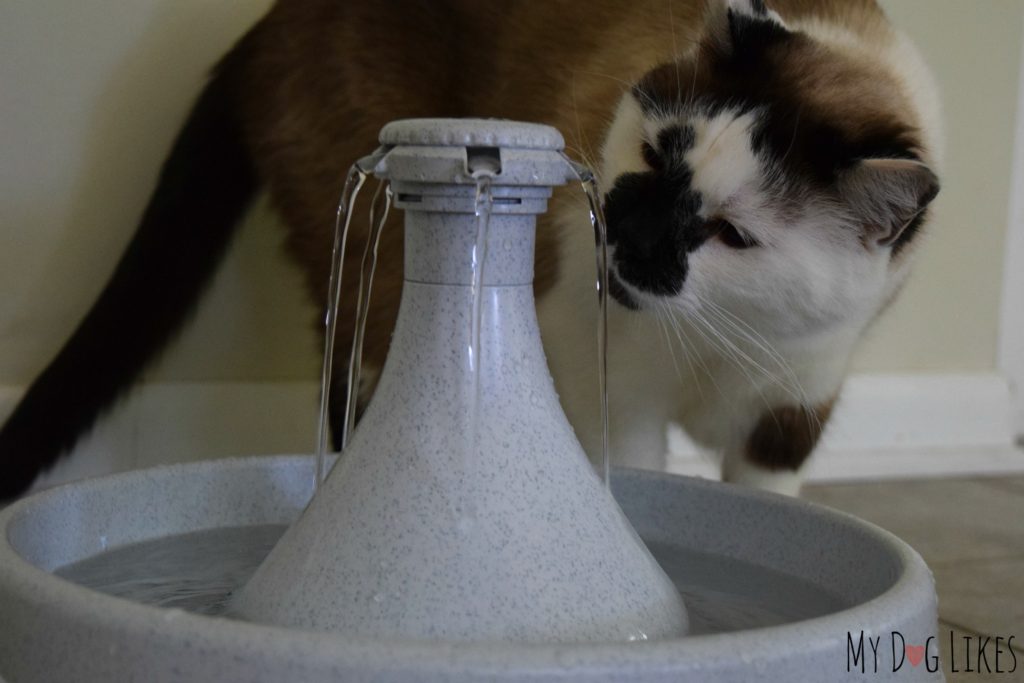 Pet water fountains are a great way to make sure that your pets are getting the water they need, and PetSafe Brand makes the best of the best. They have a TON of different models but we LOVE the Drinkwell 360 in particular. Not only is it easy to setup and use, but it is extremely versatile as well.
We highly recommend picking one up for your home!
Click Below to Browse PetSafe Fountains on Amazon
Follow PetSafe on Facebook, Twitter and Instagram for more helpful tips on pet hydration!