When walking with the boys it seems like I am constantly adjusting the length of their leashes by wrapping them around my hand.
I adjust the length of the leash for a number of reasons: we may be passing near another dog or person, encounter traffic, or because I may sense a potential danger on the ground that I want to keep them away from.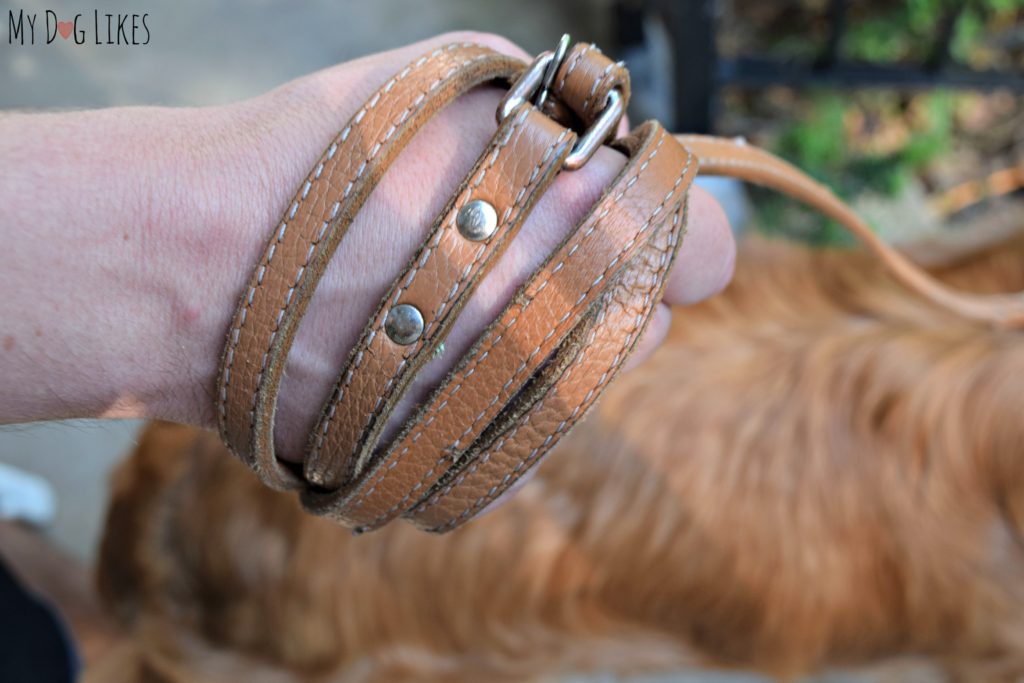 Wrapping a leash around your wrist isn't exactly comfortable and could cause serious injury to your wrist and hand should you be pulled by your dog suddenly. In instances where I want to choke up on the leash and wrap it around my wrist, I often find that its not very time effective either. As every dog owner knows, seconds matter in dog-dog interactions.
Wouldn't it be nice to be able to quickly adjust between 2 lengths without having to stop? Thankfully, we were recently approached by a company who had a great solution to this problem…
Introducing the Lucky & Co. 2 Handle Dog Leash
While at first glance it looks like a standard 4ft leash, the Hand-in-Hand leash adds a very important feature – a second handle close to your dog's body. Lucky & Co. was kind enough to send one over for us to review (and they are also sponsoring a great giveaway below!).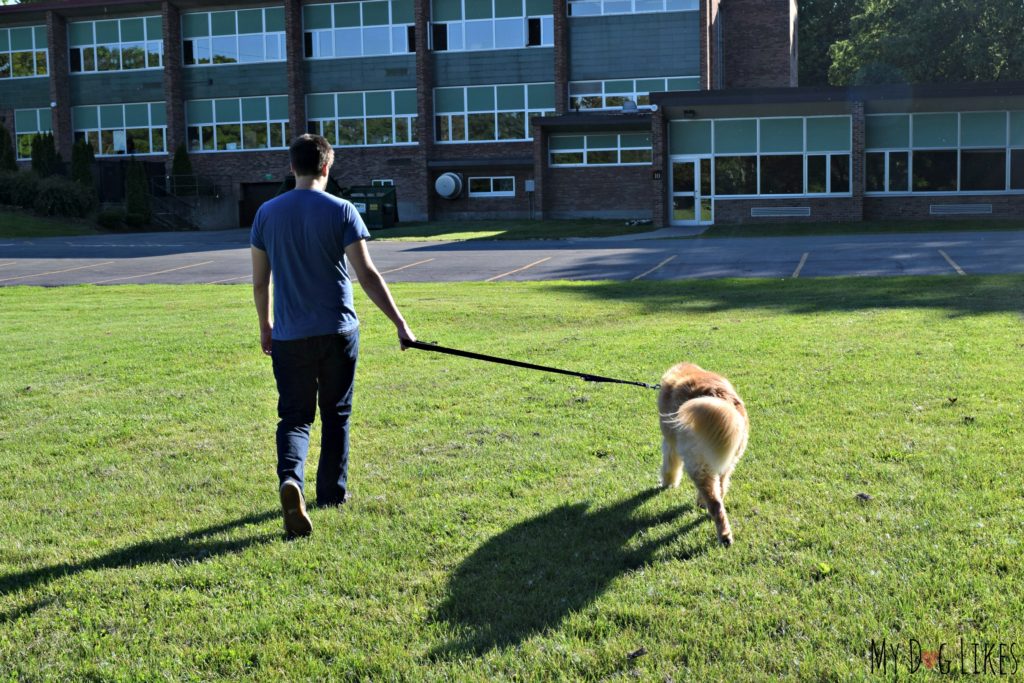 Why 2 Handles?
Well, to put it simply, different situations require different levels of control.
Sometimes you need to keep your dog right by your side, while other times they can casually walk several feet away. This leash allows you to easily reach down and bring them close whenever the need arises!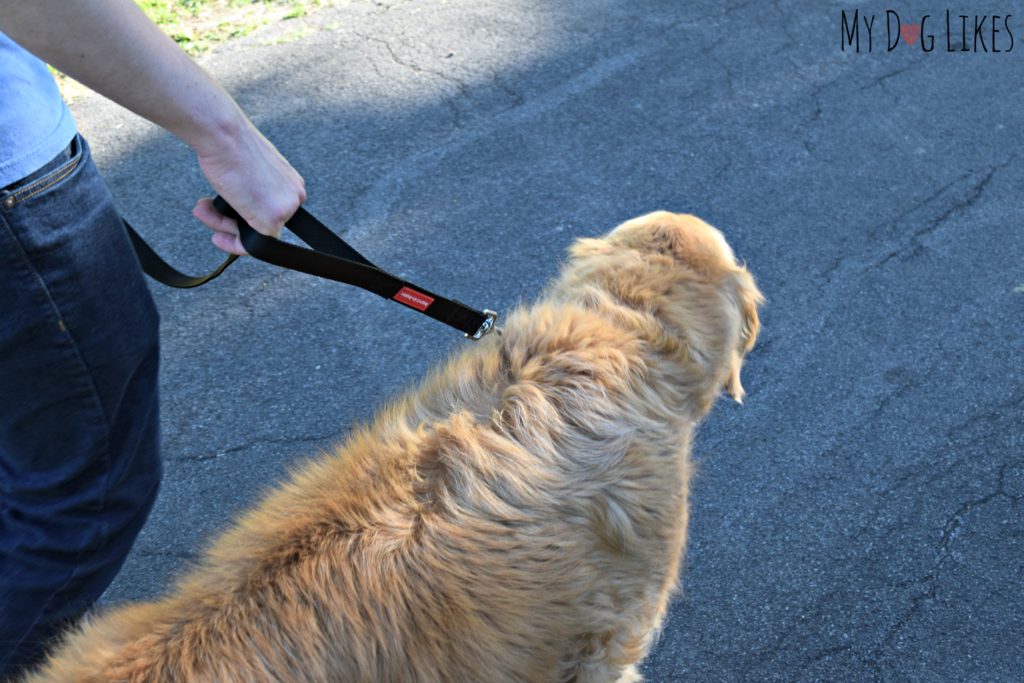 The Problems with Most Adjustable Length Leashes
Perhaps you have seen the leashes on the market whose length can be adjusted? Well, we have tried several, and they all require releasing and reattaching the snap to change lengths. While these certainly have their place, it's not exactly something which can be done mid-walk!
What about retractable leashes?
Well, we don't recommend these for a number of reasons, including:
The extra slack can give your dog the sensation of being off leash. If they forget they are leashed and begin to run they can become seriously injured when they reach the end of the line and snap back.
The corded line can give SERIOUS rope burn if it travels against you. Rachael can tell you this first hand – and show you a nasty scar!
The retraction mechanisms tend to malfunction over time – perhaps leaving you in a very difficult situation.
Here is a great resource to learn about more potential retractable leash dangers!

Hand-in-Hand Dual Leash Features
Besides the obvious second handle (which is located about 12″ away from the latch clasp), this leash has several other unique aspects which make it perfect for daily walks.
Double Layered
Traditional nylon leashes are single layer and can fray over time. Because little Charlie has been know to chew on a leash when he is anxious, we love the added thickness of this lead. We also love that it is still lightweight!
Padded Handle
The main leash handle has a cushy rubber lining which not only makes it easy to grip, but extremely comfortable as well. Once you get used to this luxury you will have trouble going back to a standard nylon handle!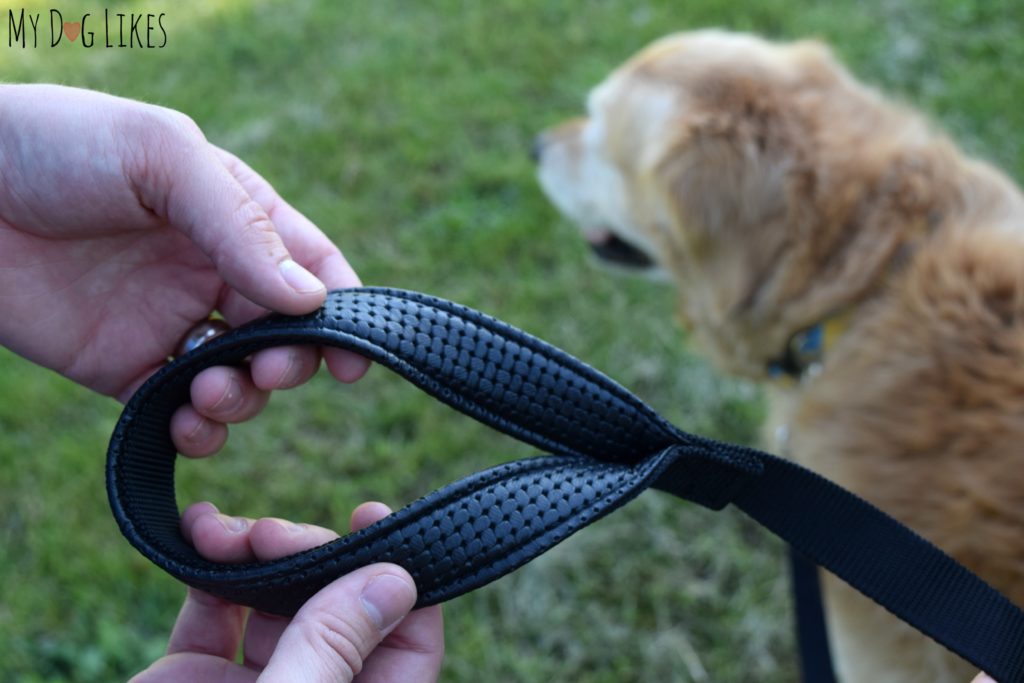 Durable Hardware
The Hand-in-Hand leash has an ultra thick clasp for added durability. No skimping on materials here!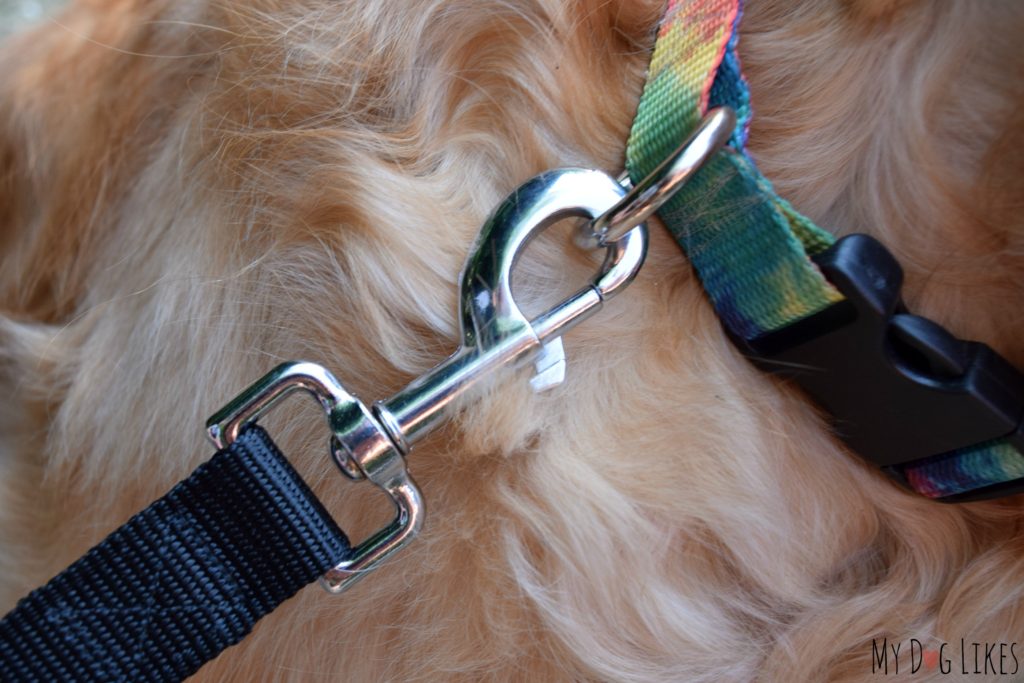 Our Dual Handle Leash Review
The Lucky & Co. Hand-in-Hand leash comes neatly packaged in a cardboard box. I was immediately struck by the padded handle and couldn't wait to test it out. Even a well behaved dog will pull from time to time which can hurt and lead to callouses on your hand.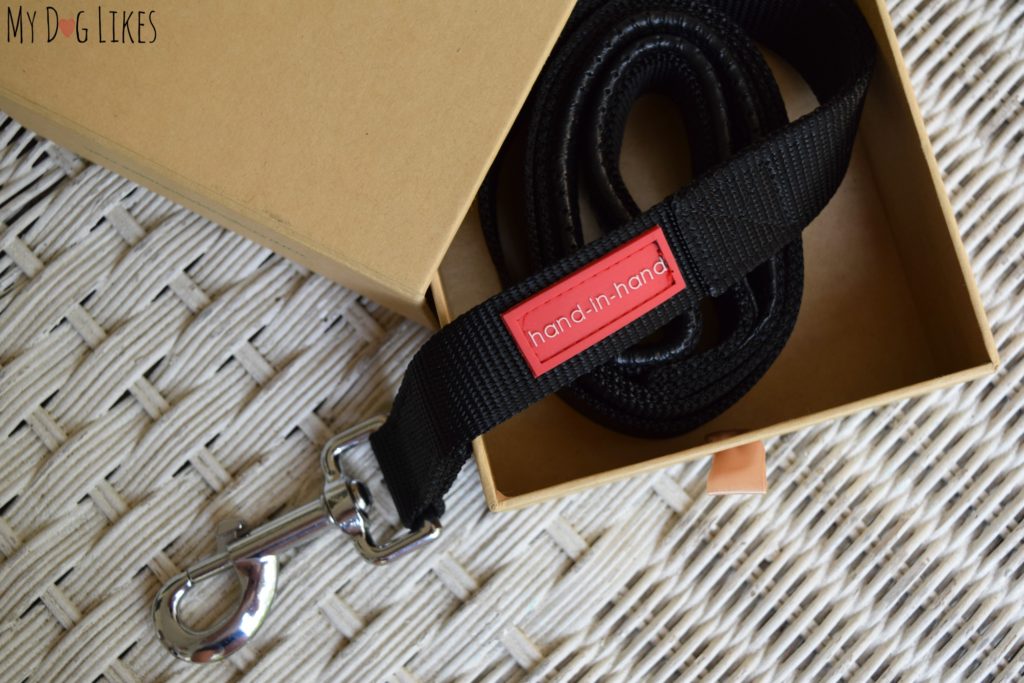 As expected, the padded handle felt great in my hand and I also liked the overall weight of the leash. The clasp movement was smooth and I was impressed with the thickness of the metal. I hate to see an otherwise quality product finished with cheap hardware! Not the case here, this latch clasp will no doubt last for many years to come!

I decided to test out the leash with Harley, whose hearing has gotten a bit more selective in old age. Several times during the course of a walk I need to pull him close to keep him from demanding pets from passersby or acting tough in front of neighborhood dogs.
While walking with the Hand-in-Hand Dual Leash, I found that it was convenient to reach down the length of the leash and grab the close handle when I needed to keep Harley under control. I actually kept finding myself wrapping the end of the leash around my hand out of habit before realizing that it was no longer necessary.
I am very excited to have this leash in our arsenal, and it has become my go-to for our daily walks!
Why MyDogLikes this Dual Handle Leash
We love to see a new take on a classic item, and the Hand-in-Hand Leash manages to add a whole new level of practicality to the standard leash. The ability to pull your dog in close is something that all dog owners require from time to time. Even though an extra handle may seem pretty common sense, I have never before seen a leash with this feature!
The Lucky & Co. leash is well made, easy to use, and makes life much easier for busy pet parents! We would highly recommend picking one up for yourself or a friend!
Want to give the Hand-in-Hand Leash a Try?
Click Here to Purchase from Amazon