It's no secret that dogs love to sleep.
As a matter of fact, it's how they spend the majority of their time. When you think about it that way, it only makes sense to invest in a quality dog bed. This is something that we waited far too long to do for our pups but now that we have done so, we can't imagine going back…
So when we were recently contacted by eLuxurySupply – a new (to us) company to see if we were interested in testing and sharing one of their orthopedic dog beds, we excitedly agreed. (Plus, Harley would have never forgiven us if we said no!)
Taking Comfort to Another Level
Even though we have tried out a wide variety of beds over the past few years, from simple roll up mats, to stuff-it-yourself duvets, and even plush bumper beds, we have never seen anything quite like this. Our pampered pups were about to become quite a bit more spoiled …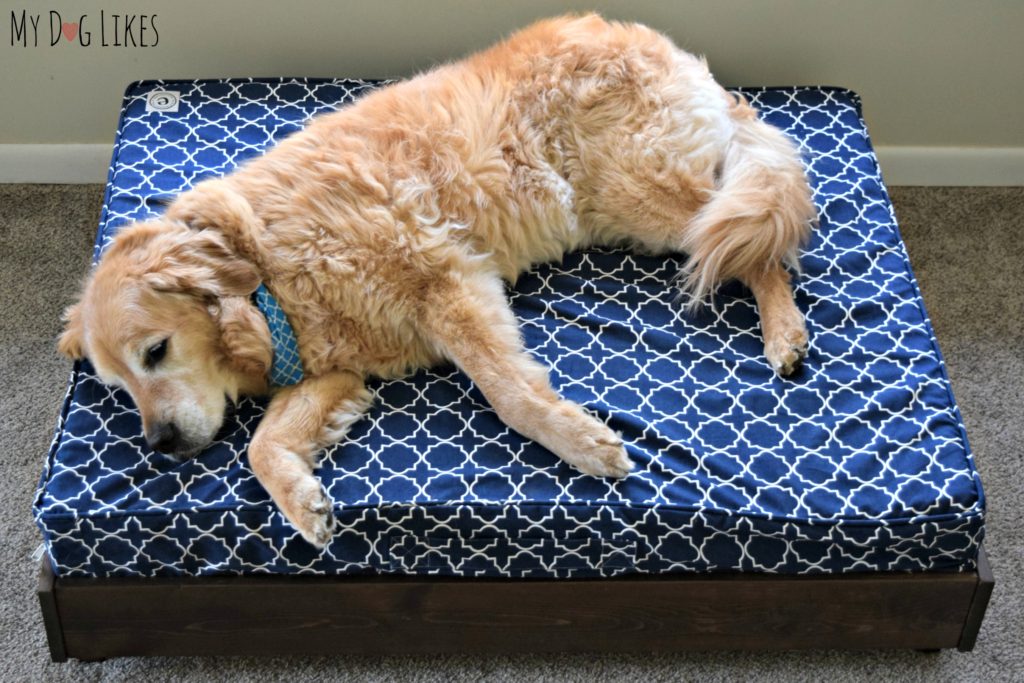 About eLuxurySupply
Founded by a Marine veteran in 2009 as an e-commerce provider of specialty linens, eLuxurySupply has quickly grown into much more than that. They now offer hundreds of products in the home and garden space, from sheets and drapes to towels and mattresses. Since acquiring a mattress pad company a few years back, eLuxurySupply has crossed over from simply selling goods and now manufactures many of their own products as well.
In house manufacturing allows them to offer goods of the highest quality for more affordable prices than many of their competitors. This move has paid off big time and they are now officially one of the fastest growing companies in America!
Not bad for a company that started out of a garage in Evansville, Indiana!
Recently, eLuxurySupply decided to take their bedding expertise to the pet market with the introduction of a line of orthopedic dog beds and crate pads. They were kind enough to send over a bed (with corresponding wooden frame) for us to take a closer look at!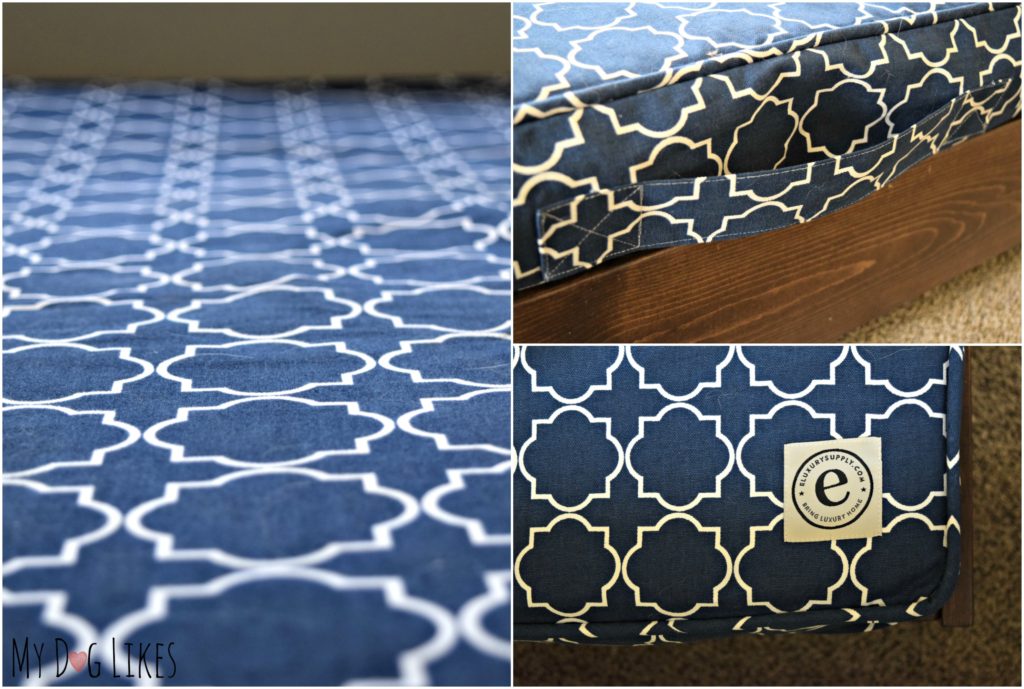 eLuxurySupply's Orthopedic Dog Beds
A quick browse of their website (and the countless five star reviews) had us pretty excited about the quality of products that eLuxurySupply had to offer. When we began to browse the brand new pet bed section of their site, we were amazed at all of the gorgeous fabric choices as well.
While paw prints and dog bone fabrics can be lots of fun, in our house we like the dog accessories to fit in with the decor. eLuxurySupply's pet bed fabric choices did not disappoint and come in an nice array of modern and fashionable fabrics and patterns. So, what fabric did our fashionable pups choose? Royal Blue – so chic!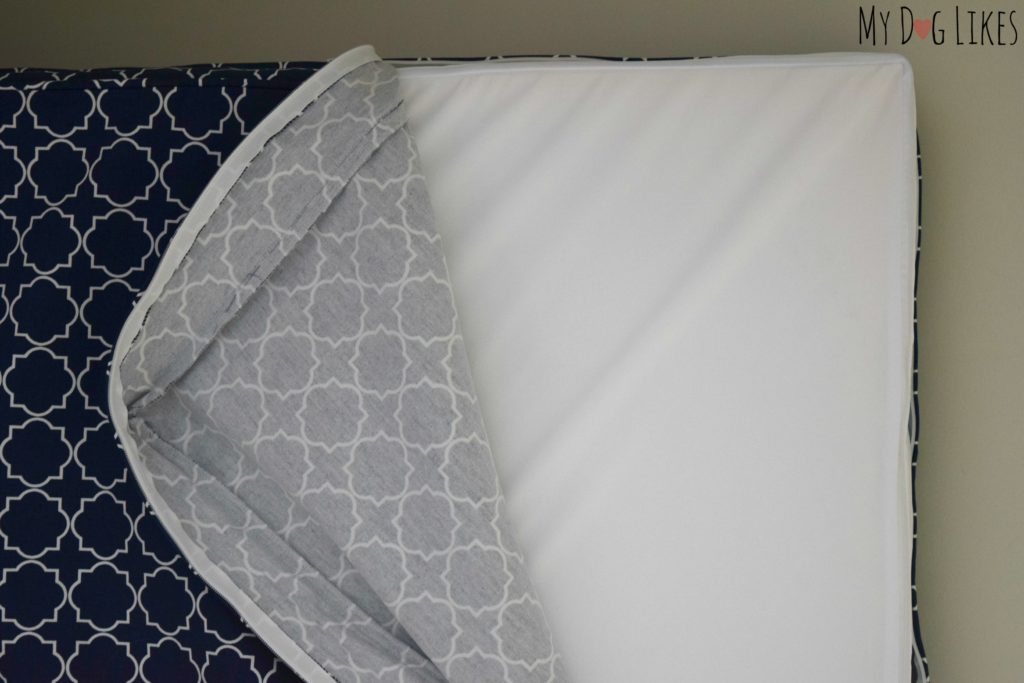 It was then time for our second choice…size!
eLuxurySupply's beds come in three different sizes: Small (22 x 27), Medium (27 x 36), and Large (36 x 45). Our larger than life (well, and just plain large) dogs definitely needed to go with the biggest size available, especially since they often have to share their lounging space with a certain cat…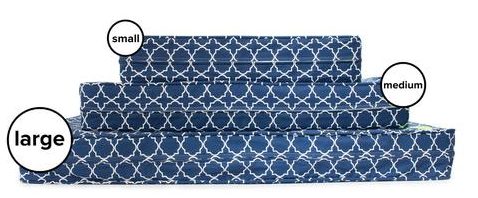 The new bed arrived at our house in just a few short days. A quick examination of the 5″ mattress and solidly constructed wooden frame and it was clear that the "Luxury" in eLuxurySupply's name was no joke…this bed was the real deal!
These beds are more than just a pretty face- the most important aspect is the mattress itself! Each mattress has a multi-layer construction which combines high density foam with gel memory foam providing choice and optimal comfort for your dog. How you ask? The two layers of foam each have different levels of firmness!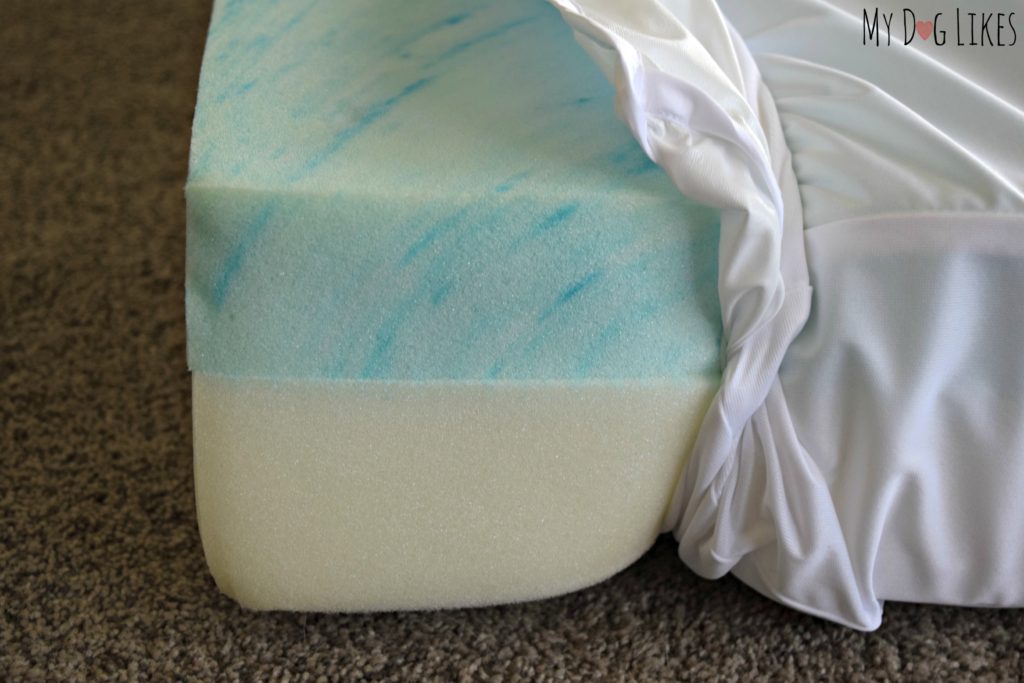 Our Favorite Bed Features:
Lightweight – Thanks to a foam construction, this bed doesn't weigh more than a few pounds. If you have ever had a different type of large dog bed you know that they can be a real challenge to move around!
Easy to Clean – The fabric cover can be easily removed with a zipper to be thrown in the washing machine. The mattress is further protected by a waterproof cover for more serious accidents.
Reversible – Keep the gel side of the mattress facing upwards for a custom soft formed experience or the high density foam side for a stiffer more supported feel.
eLuxurySupply's Wood Frame
If you are looking for a more elegant solution to really "elevate" your dogs bed, eLuxurySupply's solidly constructed bed frame is the perfect addition! Constructed of North American Pine with a Walnut finish, this frame assembles with clever interlocking brackets (shown in the photo below) and a series of wooden slats that drop in to pre-cut notches to support the load of the bed.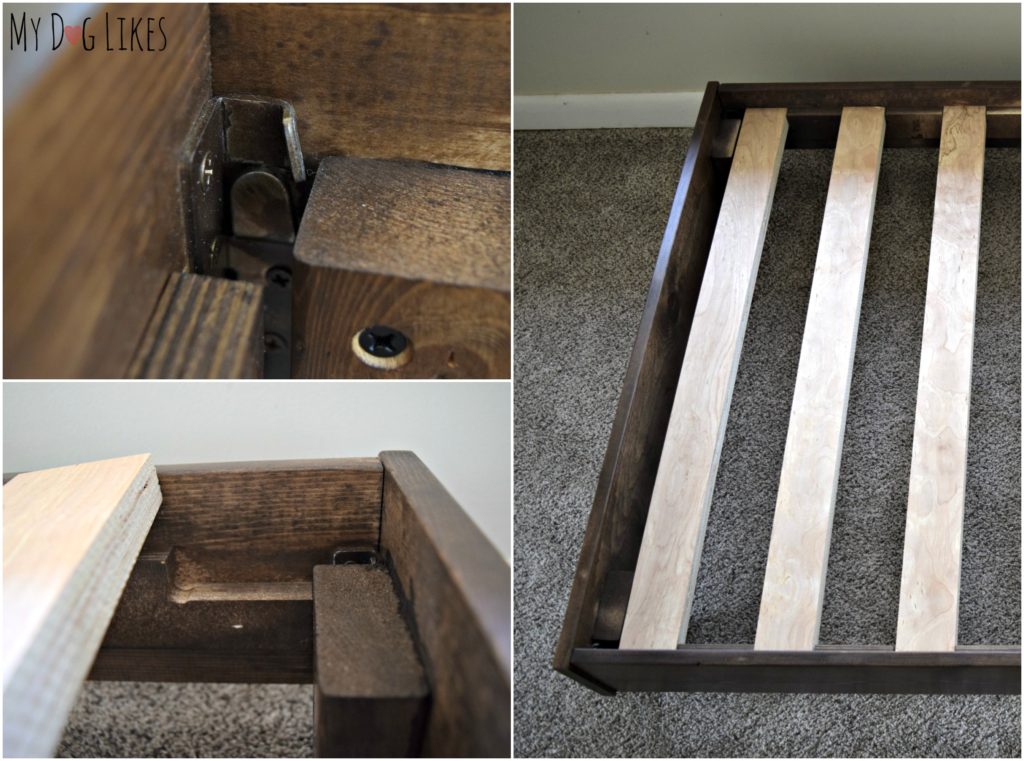 The frame is absolutely GORGEOUS and really makes the bed look like a custom piece of furniture in your home. As we unpacked the frame from its box we were at first a bit nervous – there were lots of pieces! The bed frame looked like it was going to be a big project requiring drilling and screws! We looked through the whole box for assembly hardware before discovering that there weren't any! It was really nothing more than a puzzle – no hardware or drilling required!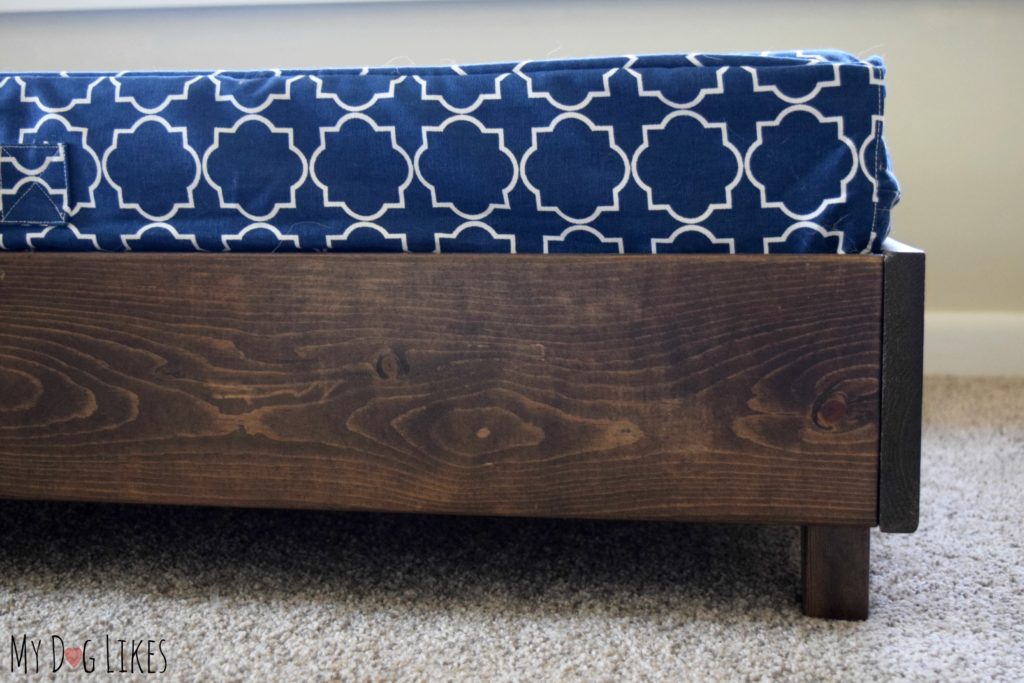 Our Favorite Bed Frame Features:
Beautiful – While the fabric cover of the bed is beautiful on its own, the frame takes this bed to the next level and makes it look like a high quality piece of furniture.
Simple to assemble – It only took about 3 minutes from taking it out of the box to getting it all put together. Best of all? No tools required!
Heavy Duty – 7 evenly spaced wood slats provide plenty of support for even the largest and heaviest of dogs. We have tested it with more than 300 pounds with no issues whatsoever!
Elevated – We have recently added a little human to our family and I love that the dogs have a bit of separation from the floor. This will be great as we teach our son that the dog's bed is their safe (no baby) zone! Elevation is also really handy to allow for air flow. All dogs can be drooly, messy, and occasionally have bathroom accidents. We loved that the bed could be spot cleaned and we don't have to worry about getting mold or mildew on the underside of the bed. Lastly, I love that this bed is elevated off the floor because I am clumsy and often stub my toes on furniture. The elevation of the bed is great for people like me!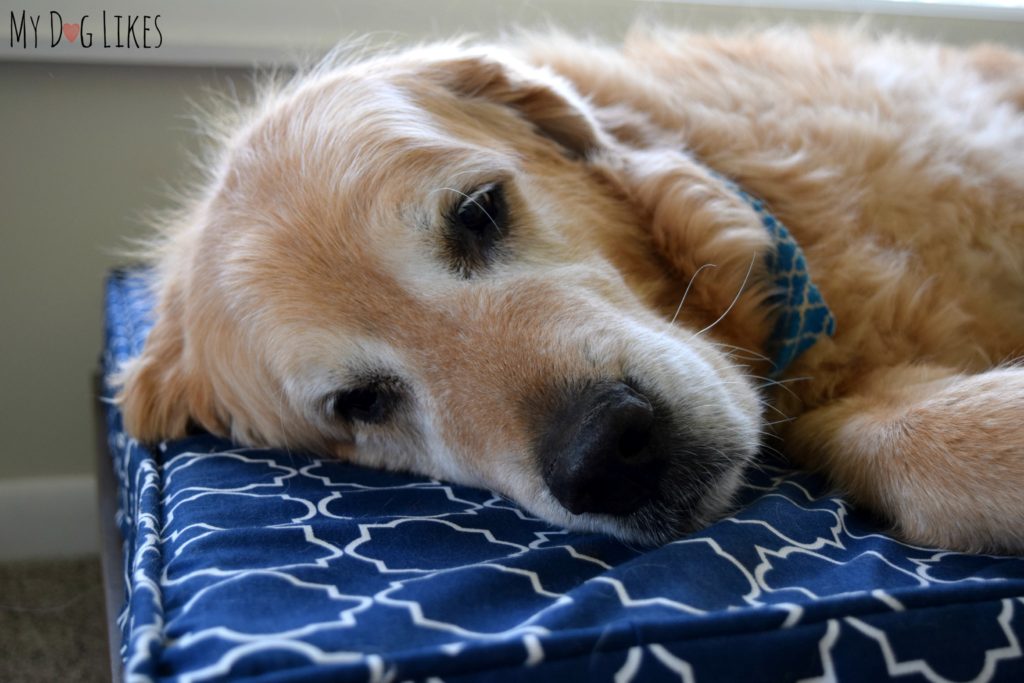 Why MyDogLikes eLuxurySupply
We have tried out a lot of dog beds over the years, but hands down, the orthopedic bed from eLuxurySupply.com is the best. Not only do our dogs love it, but it looks like it actually belongs in our home. This bed is not cheap, but as usual, you get what you pay for.
The dogs have taken to it right away, and we love the additional support that it provides – especially for Harley's aging bones!
Want to give eLuxurySupply a try for yourself?
Click the banner to check out their great selection!