We have a bit of a confession to make.
Our little Charlie does not have a "real" dog bed. Before you judge too harshly, let us explain…
When Chuckie first came to live with us as a young pup, he was quite keen on sharing our bed. Take one quick look at his face and you will see why we could not resist.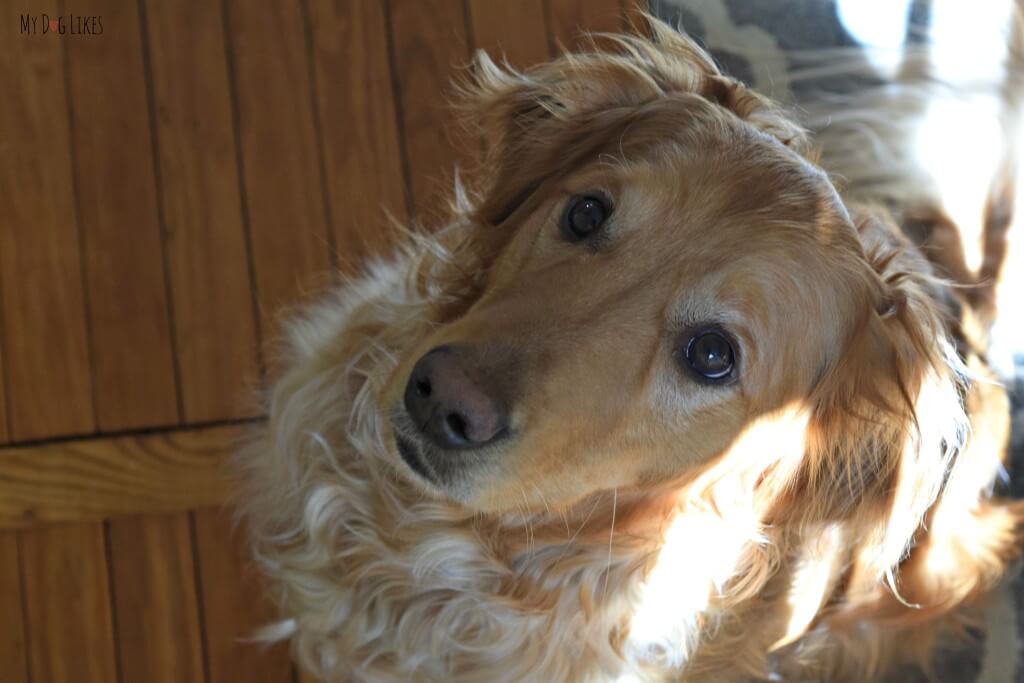 This pattern continued for nearly a year before he started spending the occasional night on the floor.
We created an improvised bed (made of pillows and blankets) while we searched for the perfect solution. As things tend to go, fast forward nearly another year (whoops) and that is where he still sleeps. We have always felt a bit bad about this – although in our defense he does seem to like it!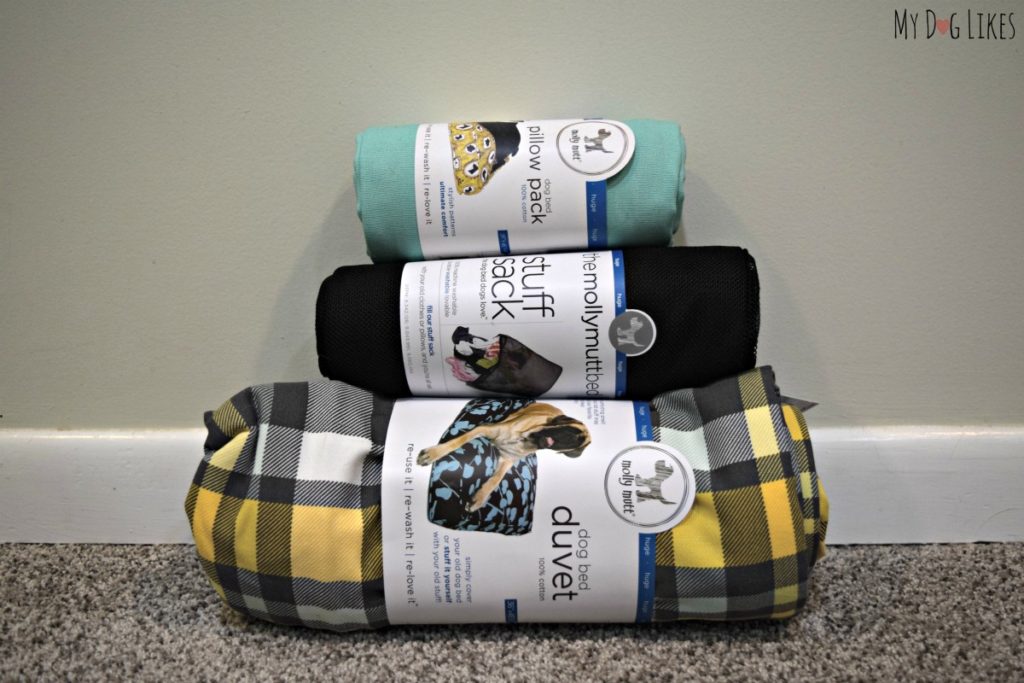 Molly Mutt to the Rescue
As if by some miracle, we were recently contacted by Molly Mutt to review their duvet style dog bed. Naturally we jumped at the chance. Charlie was finally going to get a "real" bed of his own!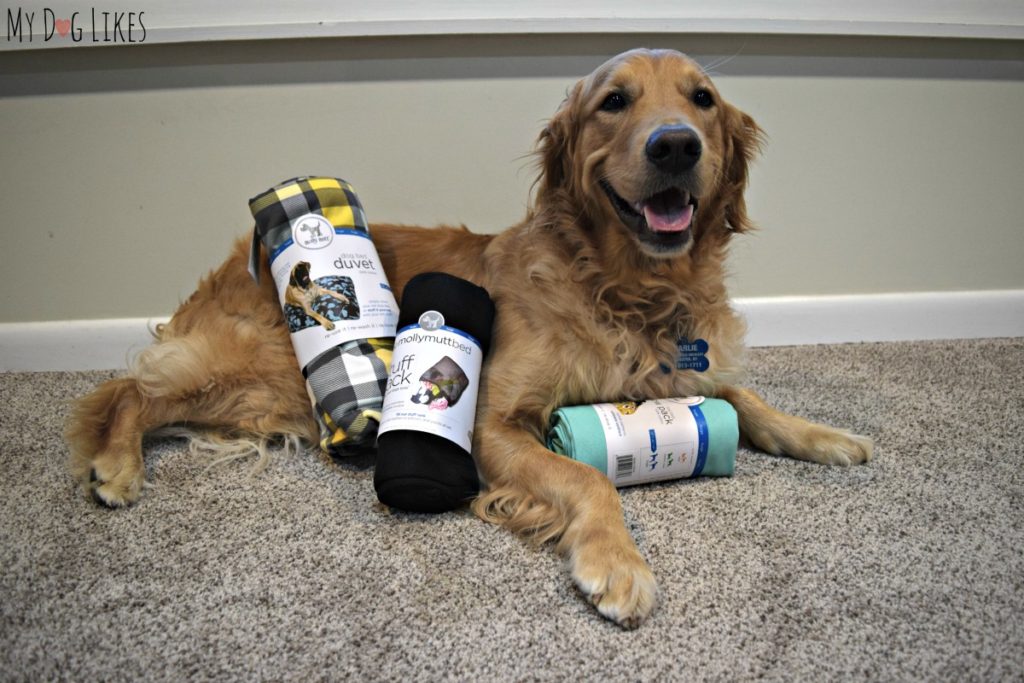 Molly Mutt sent us a few items from their line including a stuff sack, dog bed duvet and dog bed pillow pack to test out and share with our readers.
Molly Mutt Dog Beds Overview
These are truly unlike any other dog beds we have tried. In fact, at first glance they look more like blankets than dog beds. That's because Molly Mutt leaves the stuffing to you! No doubt you already have the material lying around the house – extra pillows, blankets, sheets, towels – it doesn't matter! Not only does this make their beds particularly economical, but environmentally friendly as well.


While some other beds on the market use recycled materials in their stuffing, the simple fact of creating this new material is a net energy loss and contributor to greenhouse gases. By allowing customers to upcycle items that they already own, Molly Mutt keeps old material out of landfills, instead of creating more that may eventually end up there. Duvet style beds also greatly reduce shipping costs and transportation related emissions.
Other Features 
Machine Washable – 

Let's face it – our dogs can stink! Having a washable dog bed is virtually a necessity. Molly Mutts duvet covers are easy to remove and can be thrown straight in the washing machine. Better still – they are pre-shrunk so you don't have to worry about it coming out a different size!

Tons of Style Options – The real fun of these beds comes in selecting your design. With dozens of different patterns available, you are sure to find a Molly Mutt Dog Bed Duvet to match your decor.
Personalized – Want to add that special touch? Get your dogs name embroidered right onto their bed so they feel right at home.
How to Use a Molly Mutt Bed
Choose your favorite pattern and color

Collect old clothing, pillows or blankets

Fill the stuff sack

Insert into Dog Bed Duvet cover
Seems simple enough, right?
Molly Mutt Duvet Dog Bed Review
Duvet Bed Cover
The toughest thing about these beds is choosing from their numerous stylish designs. We ended up going with the Northwestern Girls duvet which is a plaid print in grey, yellow, mint and white. Their beds come in 3 different sizes: small, medium/large and huge. We opted for the Huge and boy do they mean it! This bed measures in at 36″ x 45″ x 5″!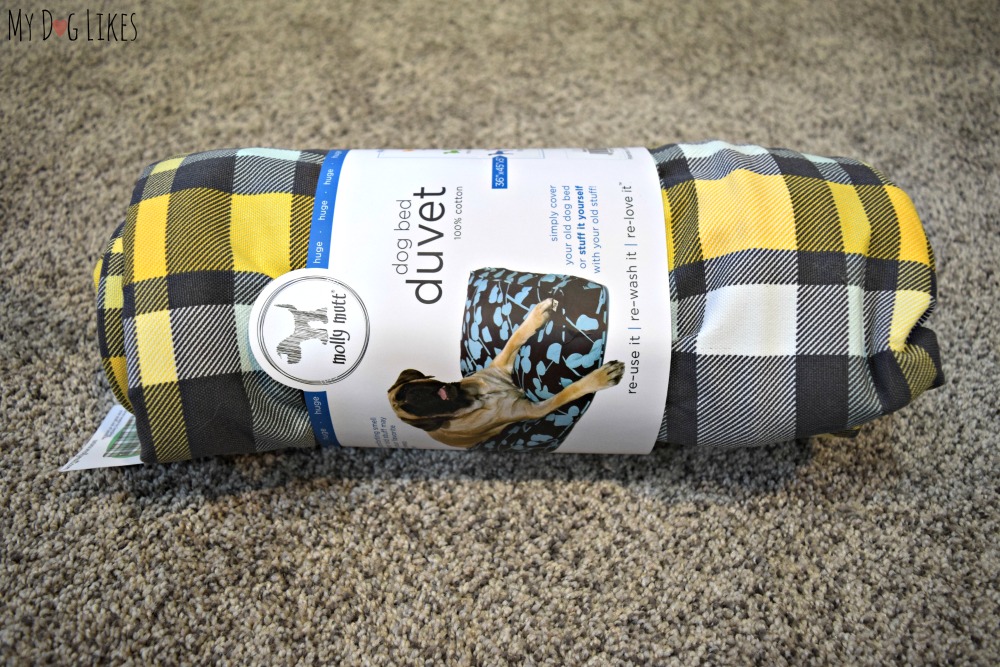 Molly Mutt Duvet's are made of a 100% cotton canvas material which can be washed in cold water and tumble dried on low.
Molly Mutt Stuff Sack
To make stuffing and cleaning your bed even easier, Molly Mutt has created a Stuff Sack made of a mesh canvas material. This goes inside your dog duvet cover and keeps all of your assorted stuffing material conveniently contained.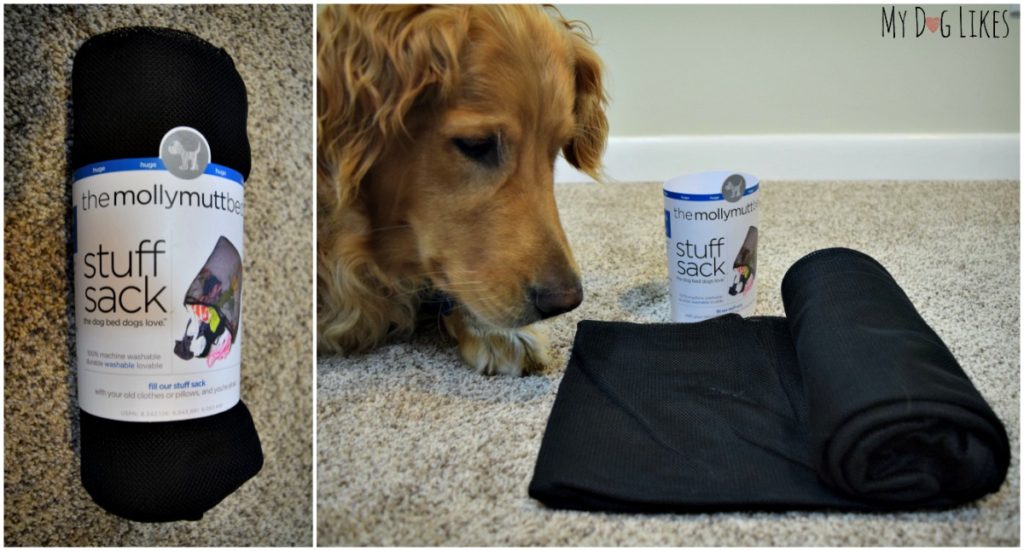 We used a few old pillows to make a nice smooth top, and then stuffed old sweatshirts, beach towels, and clothing underneath. One of the best things about stuffing your own bed is that you can adjust the firmness by simply adding or removing material. We've noticed that even with the air conditioning on, the dogs typically prefer the bare wood floor to their soft, squishy beds in the summer months. What we like about this bed is that we can adjust the filling to make a bed that is firm in the summer so the dogs don't get too hot and a slightly squishier bed in the winter when the dogs prefer to snuggle and burrow deep into their beds for extra warmth. 
Plus, there is another huge advantage…
Think about this for a moment. What is your dogs favorite thing in the world? No, not food or walks, toys or treats. It's YOU! Molly Mutts understands this and that is why they recommend throwing in an item or two with your scent on it. This will make their new bed particularly inviting and familiar.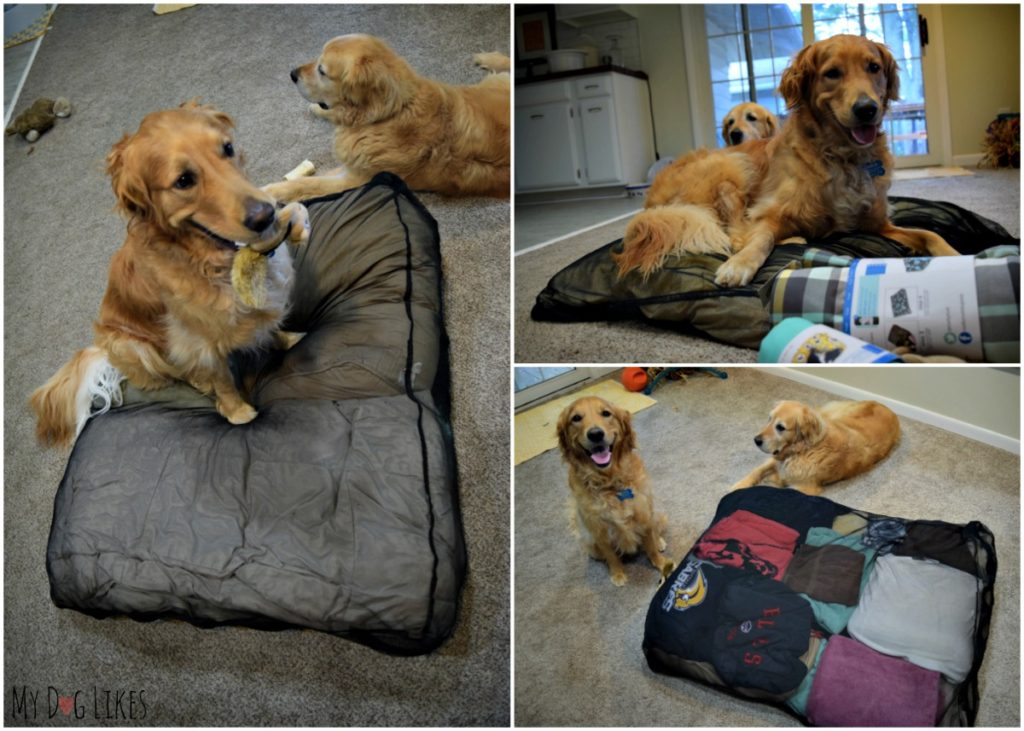 Charlie seemed to know exactly what we were up to because every time we left to grab more "stuffing," we returned to find him lying on his new, partially filled dog bed!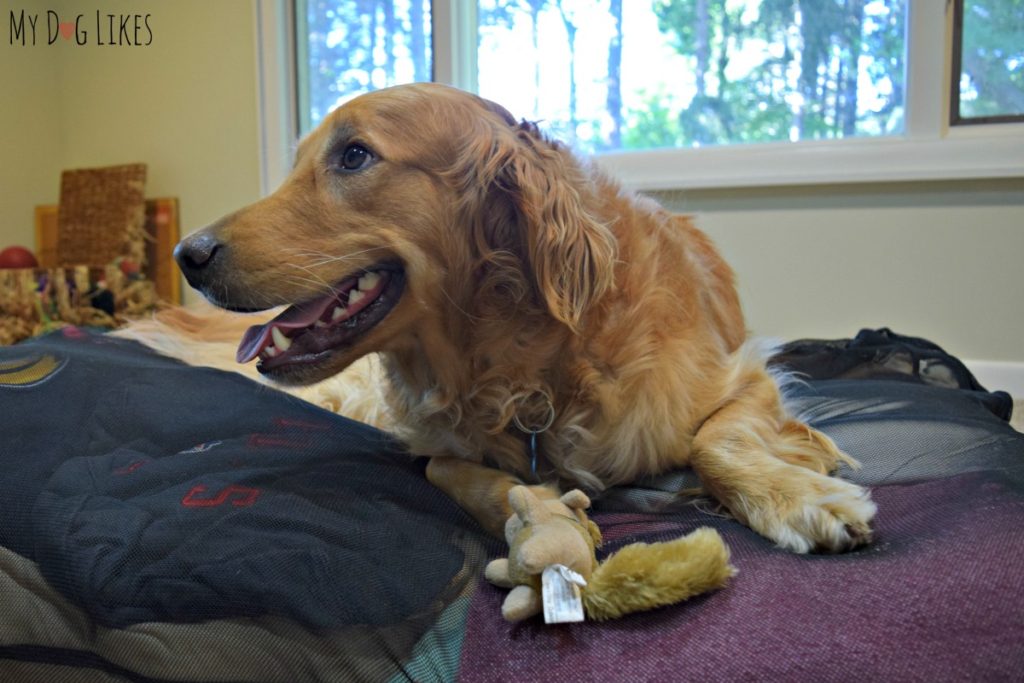 Looks like somebody is excited!
After filling your stuff sack to the desired firmness, it can then be inserted into your Molly Mutt Duvet. While this can be done with one person, a second set of hands may help because the stuff sack gets heavy!
Dog Bed Pillow Pack
Molly Mutt also offers a special Pillow Pack which is designed to slide right over the duvet dog bed. This makes the bed more of a bumper style and is great for those dogs who enjoy resting their head on something. Naturally, in true Molly Mutt style, they also come unfilled!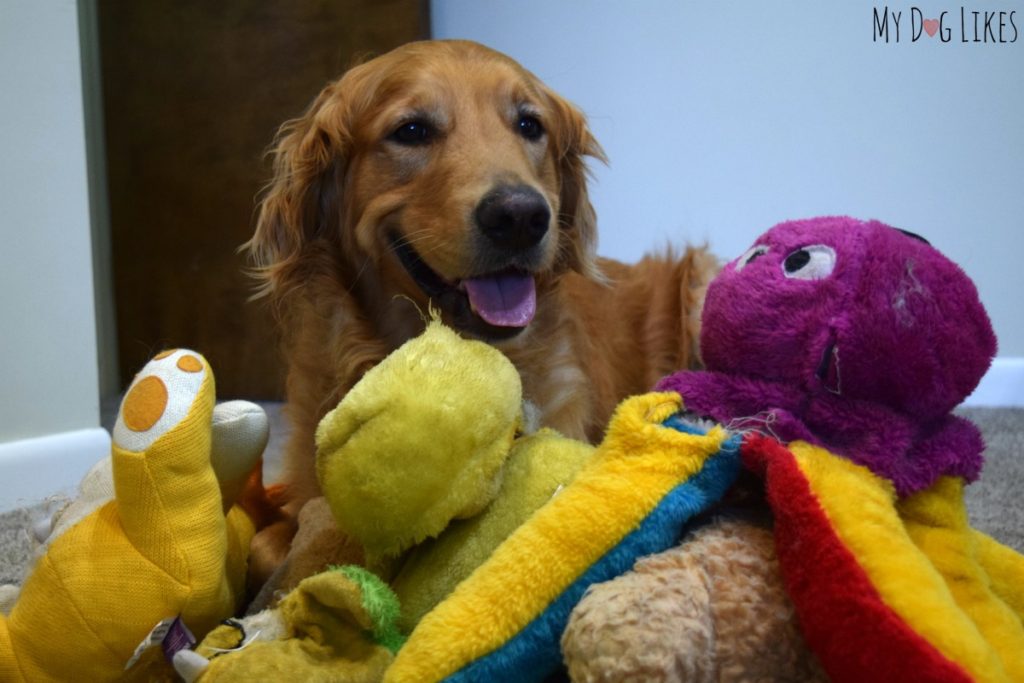 To fill our Pillow Pack we decided to use some "retired" toys from the toy graveyard. As you can see, Charlie was quite excited when we pulled out all of these old friends again!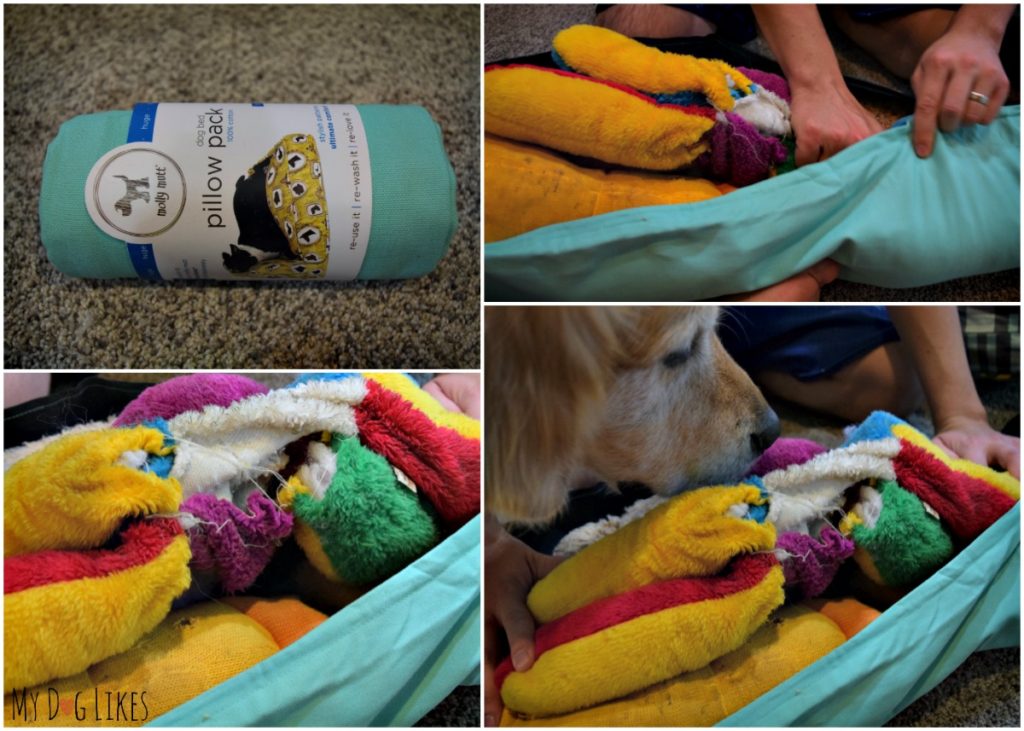 Once your dog gets over the disappointment that their toys are going right back into hiding, they will quickly get the point of this added pillow. So cozy and comfortable!!!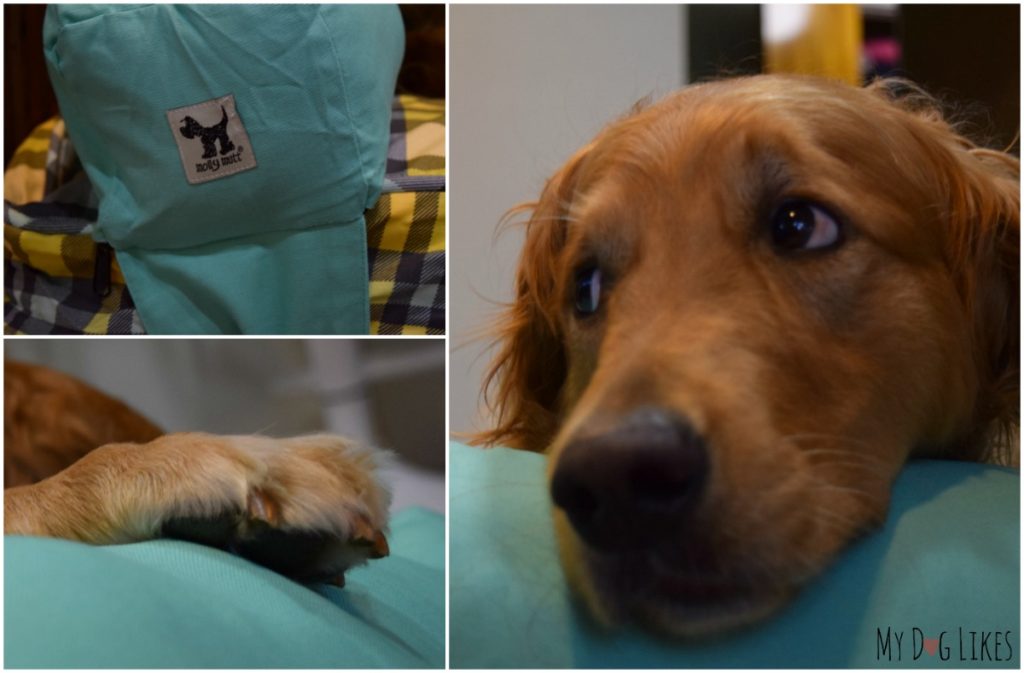 The pillow pack has a velcro strap along the bottom allowing it to be easily moved to wherever your pup prefers.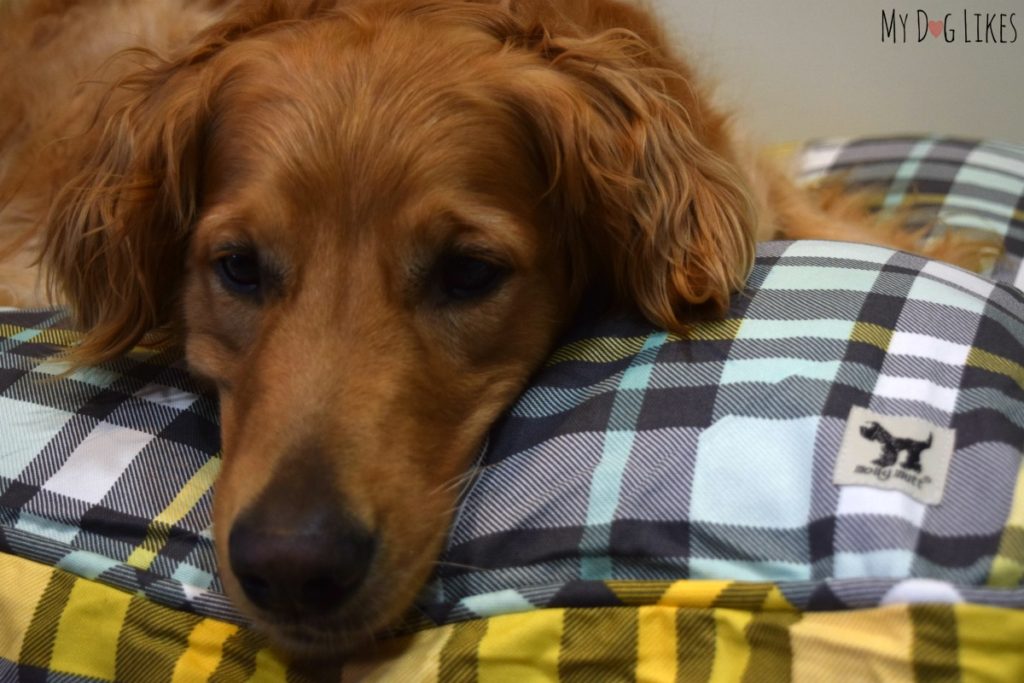 Why MyDogLikes Molly Mutts
Despite our past behavior, we are firm believers in giving your dog a quality bed. Just think about the percentage of the day they spend sleeping! While many dog beds on the market are quite pricey, Molly Mutt's duvet covers are extremely affordable. This is not due to a lack of quality, but simply a smart design. Molly Mutt only includes what is necessary, and allows you to create your own dog bed exactly to your liking. Everyone has plenty of extra textiles around the house – why bother creating and shipping even more? While some products like blankets and clothing can be donated, there are lots of things that we had around the house that we felt guilty throwing out like pillows and destructed dog toys. Rather than ending up in the landfill, these "past their prime" items could be reused and stuffed inside the bed. I love finding another use for items and keeping waste out of landfills!
To put it simply, Molly Mutt Duvet Dog Beds are innovative, stylish, environmentally friendly and affordable.
Want to get your paws on a Molly Mutt Dog Bed?
Click here to shop Molly Mutt on Amazon