The goal for day 12 was to make our way from Blacksburg to Charlottesville, VA. Though it's only about a 2.5 hour drive, we would be taking our time and enjoying the journey.
With the Blue Ridge Mountains on one side of our route, and George Washington and Jefferson National Forest on the other, we knew that there would be plenty of opportunities to hike along the way!
Making a Plan
Before hitting the road and leaving the Blacksburg area, we wanted to check to see if Cascade Falls had reopened. You may remember from yesterday's travel log that the park was closed due to flooding from all the recent heavy rain. Well, we were pretty bummed to find out that it was still closed, so that experience would have to wait for another visit.
Crabtree Falls 
Next on our list was Crabtree Falls, which had been highly recommended by family who used to live in the Charlottesville area. I pulled it up on the map and it was practically on the way – Perfect!
But not so fast – Trying to avoid another Rickett's Glen incident (where Harley was pushed too far), I wanted to research the trail itself before heading straight there. As it turns out, the main trail has an elevation change of roughly 1,200 ft. and includes lots of steep stairs. As beautiful as it appeared in the photos, we were going to have to pass!
After eliminating both Cascade and Crabtree Falls, we were back to the drawing board. We decided to start driving and figure out something along the way!
Virginia's Natural Bridge State Park
While driving down I-81, we began to see signs for Natural Bridge State Park and ran a quick Google search to see what it was all about.
Turns out that this property, once owned by Thomas Jefferson, is home to a 215 ft. high and 90 ft. long natural bridge which was carved out of the surrounding limestone by Cedar Creek. The pictures were impressive and I couldn't believe that we had never heard of this place before! 
Seeing that it was only minutes off our route and dog friendly, we decided to stop and check it out.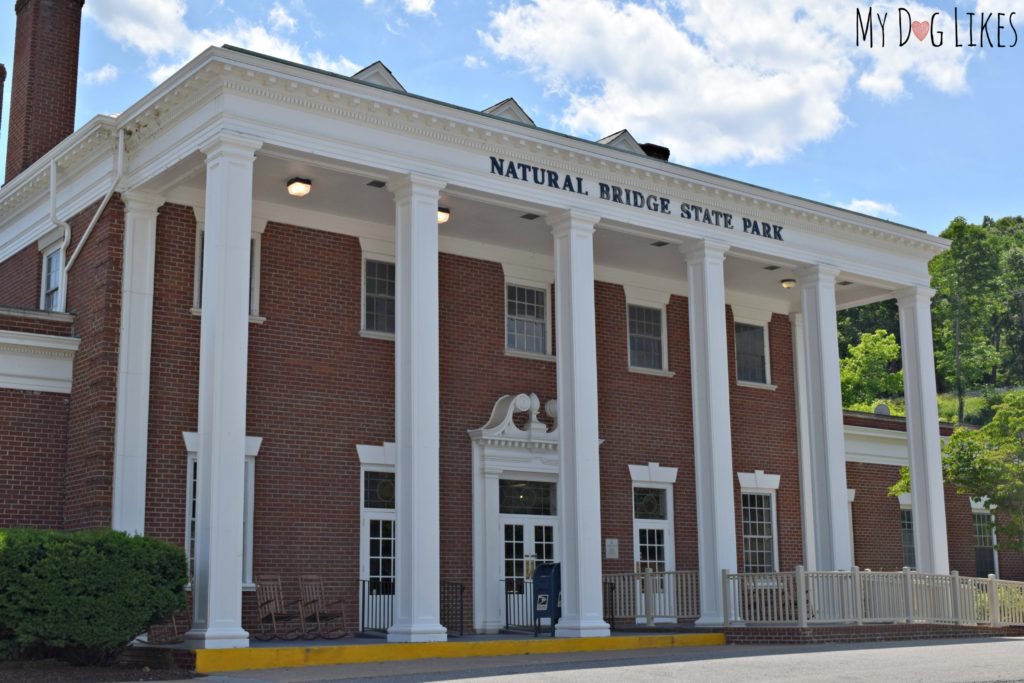 When we pulled into the parking lot we were immediately struck by the gorgeous Rockbridge Center. Inside you will find the visitors center, shopping and restaurants.  This is also where you purchase tickets to the park (Note: Dogs are not allowed inside the building!).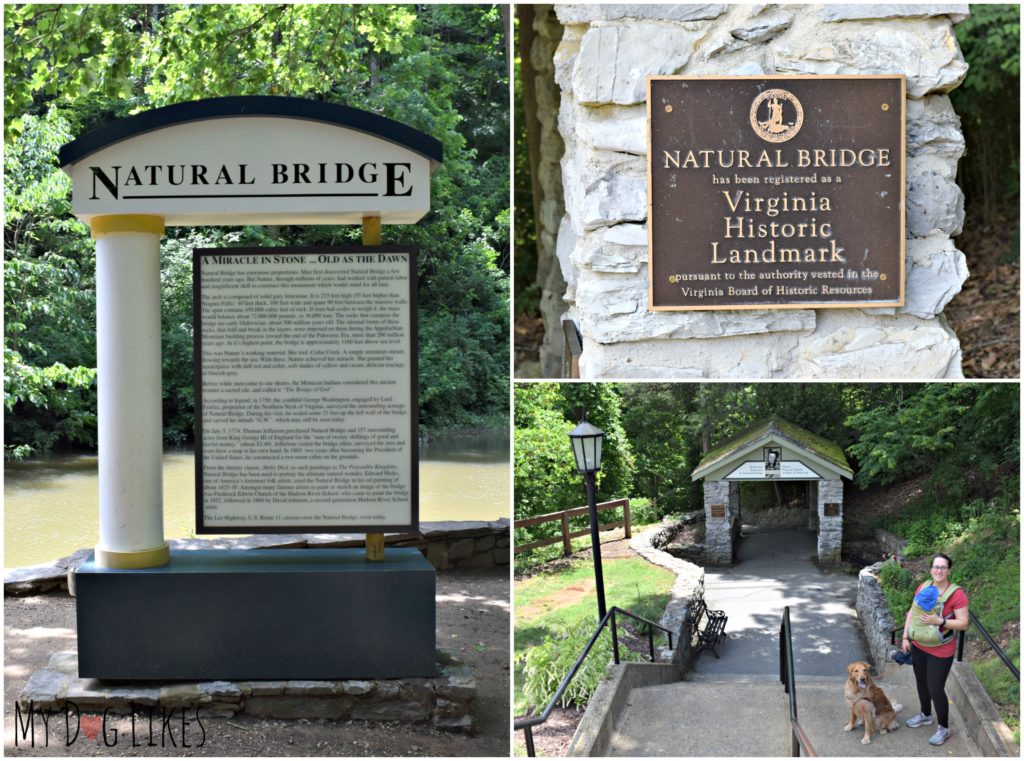 Head around the left side of the building to access the stairs leading to the Natural Bridge. After passing under the small archway designating the area a Virginia Historic Landmark you will begin the Cedar Creek Trail.
Cedar Creek Trail
The trail begins with more stairs descending alongside a beautiful cascading Falls. This area has a very peaceful feel and there are several small landings to stop and enjoy.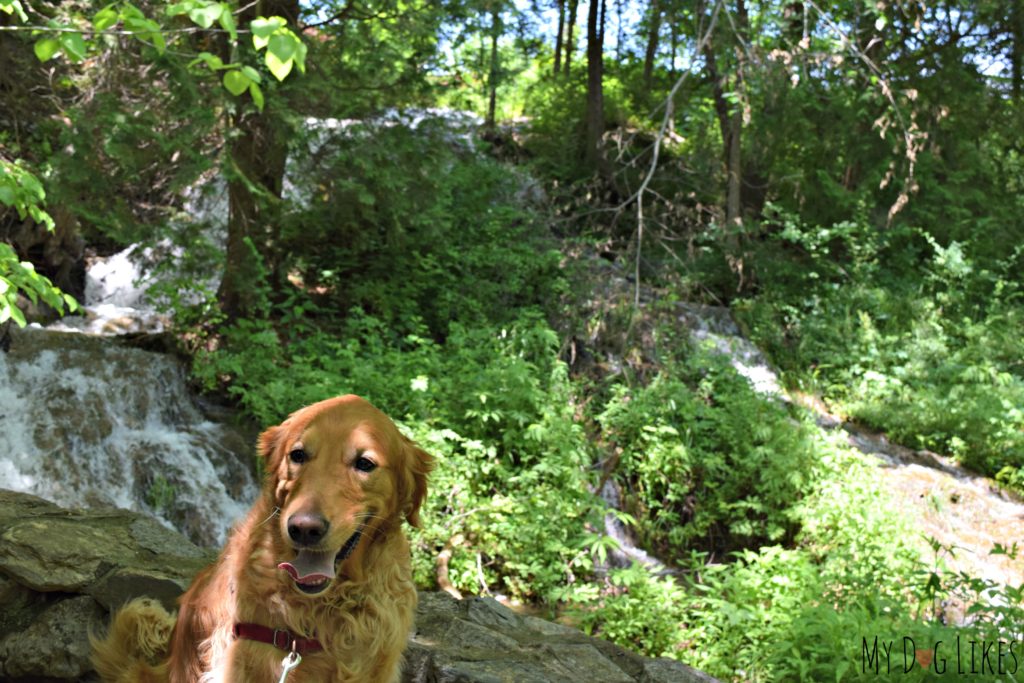 At the bottom of he hill is where the park ranger collects your ticket and we were happy to see that not only are dogs allowed in the park, but ours were warmly welcomed by the staff!
If feels nice to know that you aren't being judged for bringing your best friend along! They even had water bowls out for our furry friends to keep hydrated.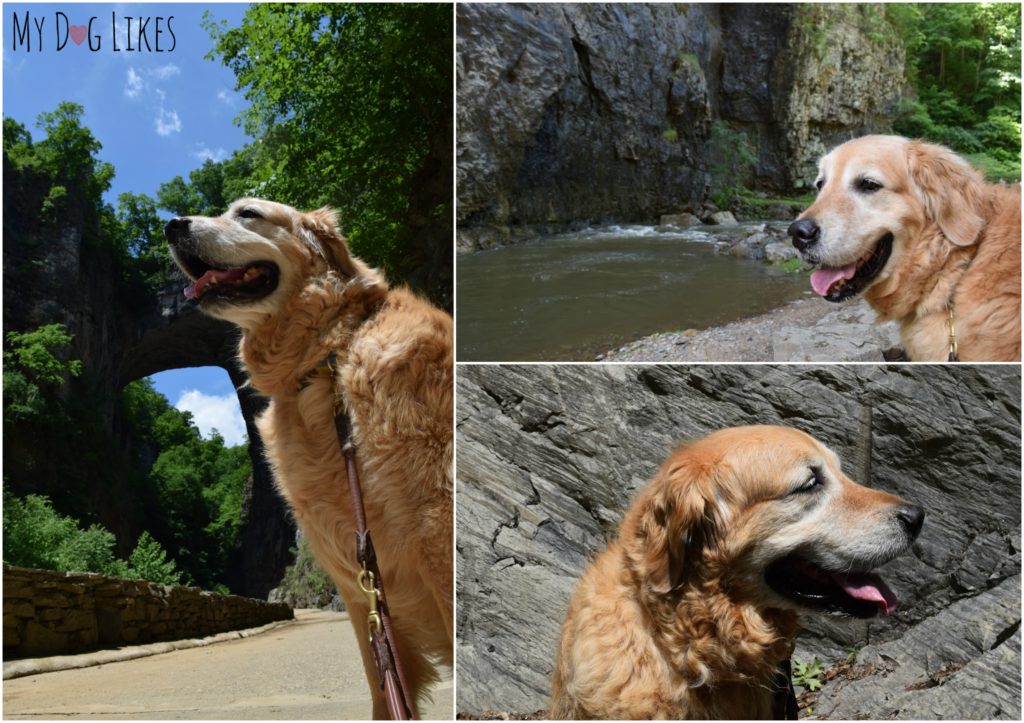 Just around the corner from the ticket collection, the Natural Bridge comes into view. It is a seriously impressive sight and you can see why it has been included on many Wonders of the World lists.
It's tough to really capture the scale of this arch on a photo, but note just how small Charlie and Rachael look in the photo at the top of the page!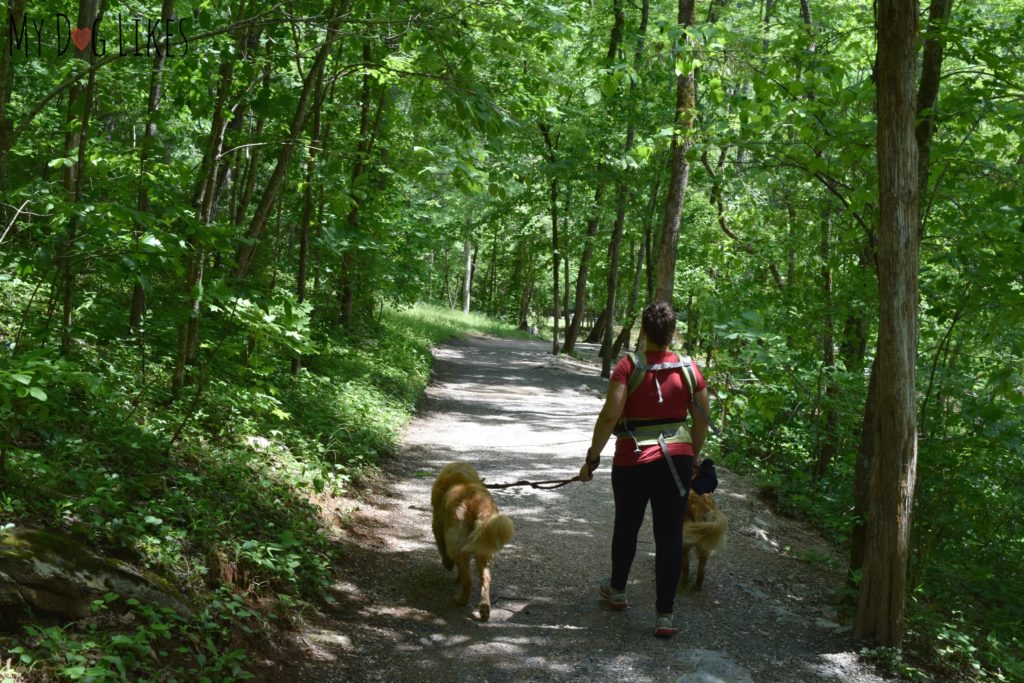 Monacan Indian Village
After passing under the Natural Bridge, the Cedar Creek Trail continues past a small exhibit of an 18th century Monacan settlement.
Here the dogs were welcomed inside once again and we were able to see demonstrations of basket weaving, home construction, cooking, and more.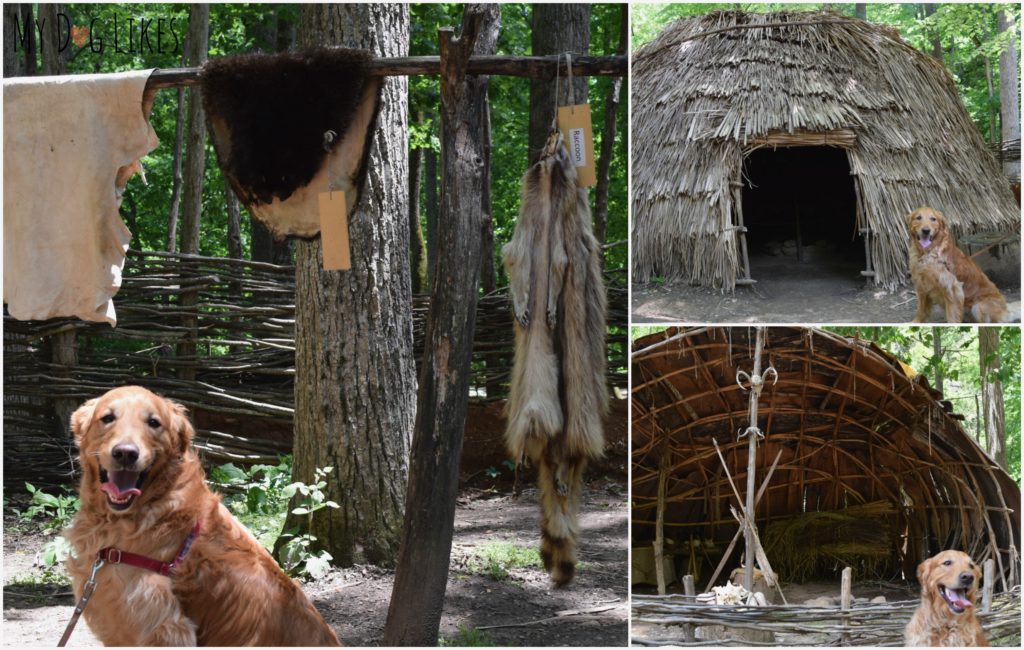 Lace Falls
The Cedar Creek trail continues for another .5 mile or so before ending at an observation area for Lace Falls. This 30 ft waterfall can be seen at a short distance ripping around the bend.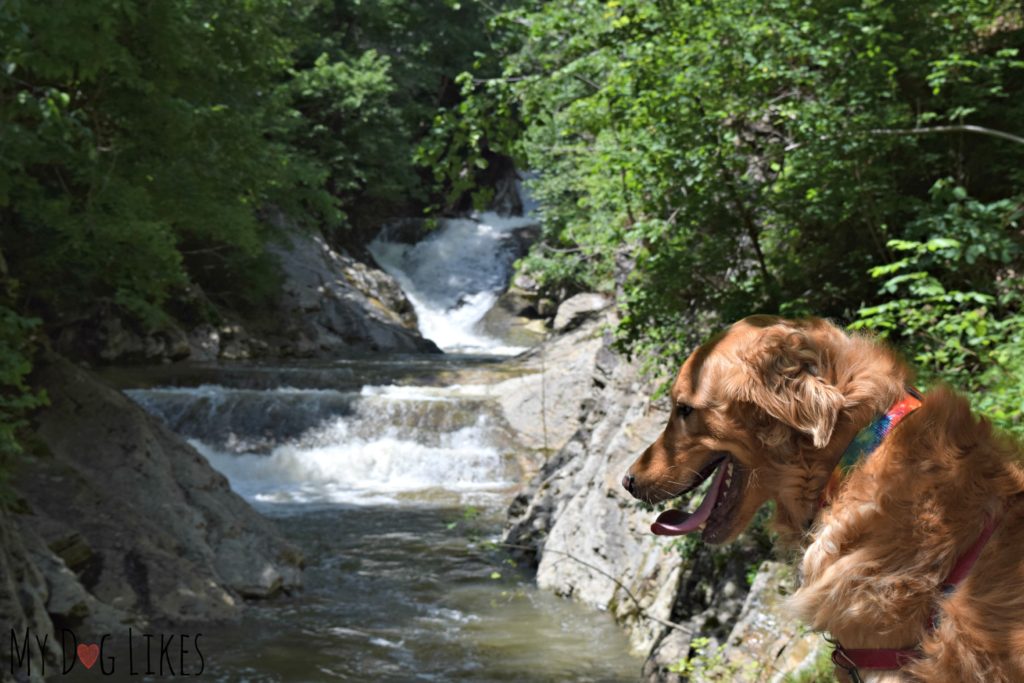 The Cedar Creek Trail is roughly 2 miles out and back and relatively flat throughout. It is a well groomed path and would be considered a very easy hike. Perfect for dogs and people of all abilities, and easy to tackle in just a couple of hours.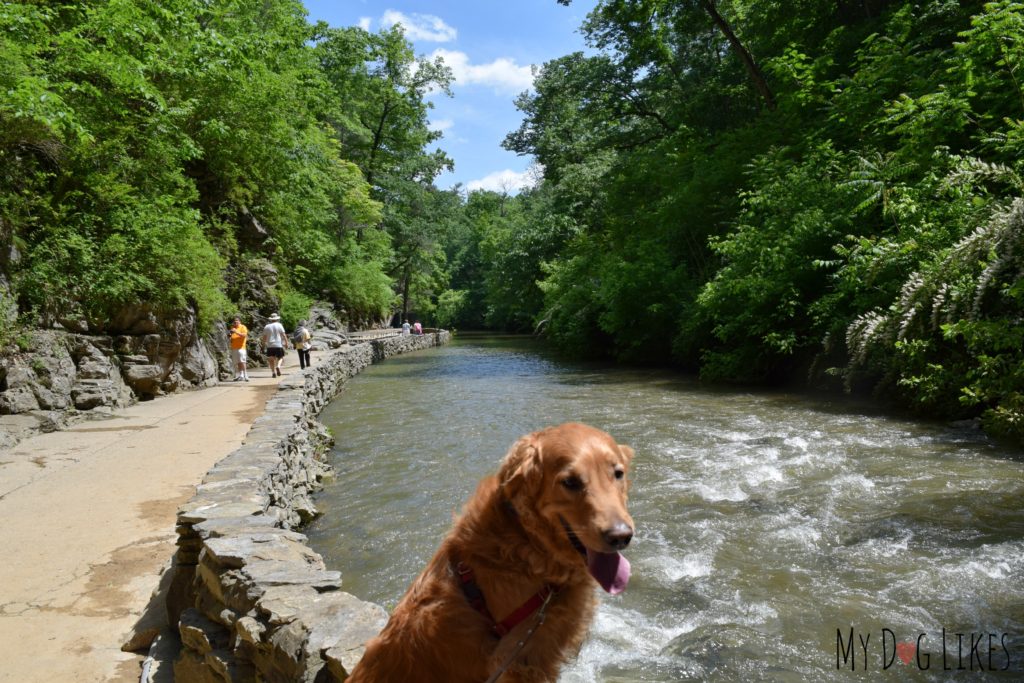 Onward to Charlottesville
Since it was such a clear day, we decided to take the scenic way up to Charlottesville via the Blue Ridge Parkway. This gave us a chance to catch a glimpse of the mountains we had missed the other day in the fog!

The views were breathtaking and it seemed like we had picked a great location to be wrapping up our trip!
What we Learned on Day 12
Homewood Suites – This was our first stay at a Homewood Suites and we were very impressed. Our room had a full kitchen, and was actually similarly priced to other standard hotels in the area. A full sink with utensils made preparing Oracle dog food a breeze, and we loved having a microwave and refrigerator for ourselves. This chain would be particularly great for an extended stay.
We picked up some dinner from the nearby Maharaja Fine Indian Cuisine and were blown away. This was the best Indian food we have ever had and would highly recommend. If you visit don't miss the Saag Paneer!
Quick Stats
Miles traveled: 146
States passed through: VA
Gas fill-ups: 1
What's Next?
Tomorrow we search for a dog friendly hike around Charlottesville, VA!