As proud brand ambassadors for Dr. Harvey's, we are excited to share some exciting news about their Oracle dog food line; the food our boys eat in rotation with a Dr. Harvey's assisted homemade diet.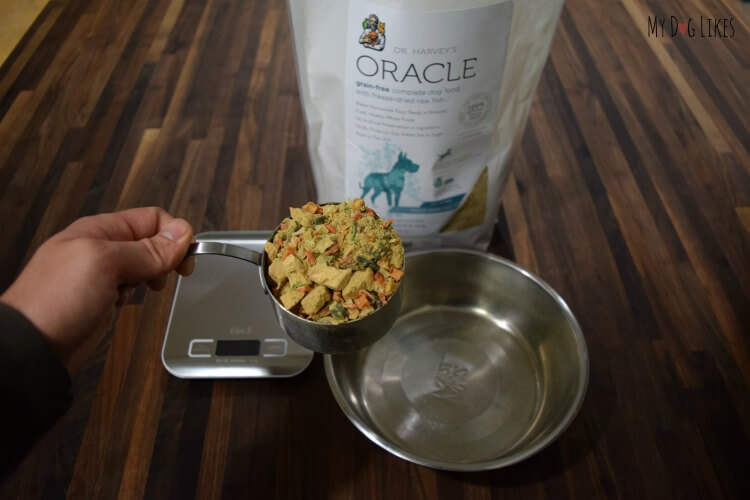 Dr. Harvey's Oracle Freeze Dried Raw Dog Food
For those of you who have not seen our previous Oracle food review, in short this is some of the best dog food money can buy. The easiest way to serve a raw diet at home, Oracle is a dehydrated premix that forms a completely balanced diet for dogs. Best of all, you can see the quality as soon as you look into the bag. Oracle is minimally processed and it is clear to see what each piece actually is. This is what REAL FOOD should look like!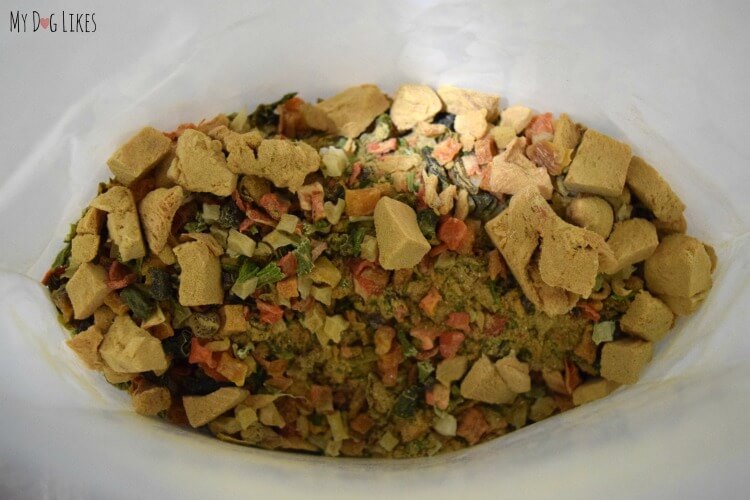 To prepare, all you need to do is scoop, add water, mix and serve!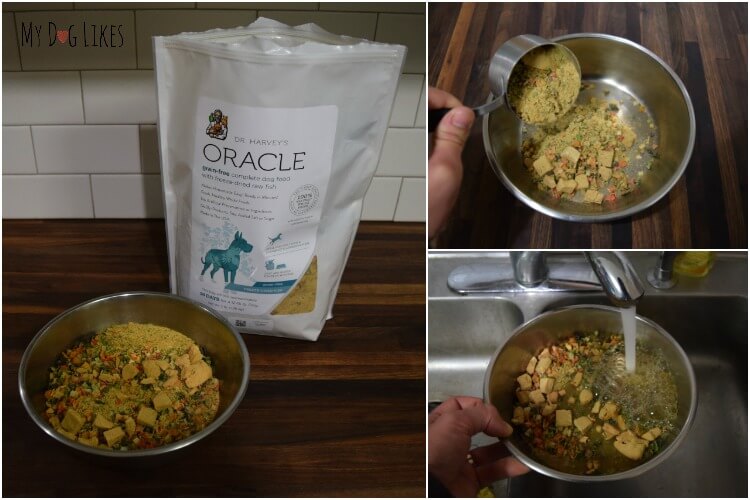 Some of our favorite things about the Oracle line:
Made in the USA

Free of artificial preservatives, dyes or coloring agents

Can be fed in a rotation of proteins

Whole chunks of meat and vegetables
Allows you to adjust the water content of the food to give your dog the consistency that they prefer or to encourage water intake
Oracle – A Major Overhaul
Everything we love about Oracle has remained the same, but now there are more protein options, even better ingredients and it is much more affordable!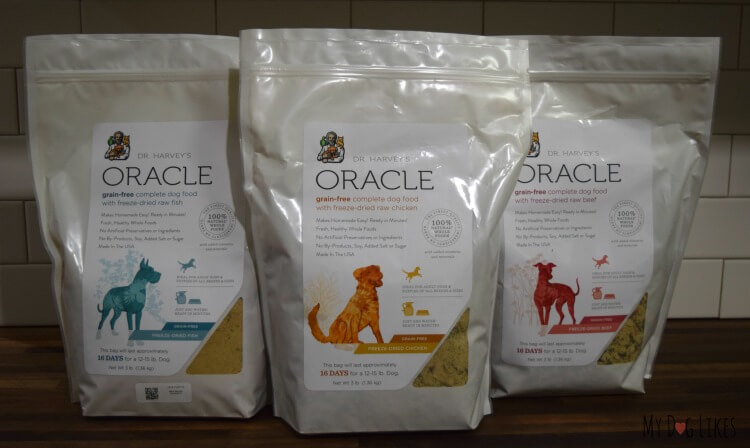 The new and improved Oracle line: grain free fish, chicken, and beef
New Flavors and Proteins

Previously, Oracle was available in Tripe, Beef and Chicken formulas. We were big fans of the Tripe and though our boys love it, if you have ever served Tripe before you know that it can be a bit stinky! Oracle now comes in the following 3 flavors:
Freeze Dried Raw Beef
Freeze Dried Raw Chicken
Freeze Dried Raw Fish – This formula consists of Wild caught Salmon and Sardines. Known for being low-mercury fish, they are both also great sources of Omega-3 fatty acids. This is also an excellent option for dogs with food allergies or sensitivities.
Dr. Harvey's has also added a selection of wonder fruits to each recipe. These include banana, apple, cranberry, blueberry and coconut. Fruits are great sources of healthy fiber, vitamins, enzymes, and antioxidants. They have also been shown to provide unique health benefits to dogs including helping to fight off disease, boosting energy levels, aiding muscle growth, and improving metabolism! Fruits aren't just healthy for your dog, we bet that they really love the taste of them too. Our boys regularly enjoy fruit as part of their healthy diet!
Click here to read more about the benefits of coconut for dogs!
25% price reduction!

Served at varying consistencies
One of the biggest concerns we have heard from readers wanting to make the switch to Dr. Harvey's Oracle has been the price. As a premium food with incredible ingredients it is certainly on the expensive side. We make no attempt to hide that fact and always encourage pet parents to do the best they can for their furry friends. As our knowledge about nutrition has grown we have made it a priority to always feed the best we can realistically afford. That being said, we couldn't have swung it as poor college students!
We are thrilled to share that part of Oracle's overhaul includes a 25% price reduction!
This will make this amazing food (and the health benefits it provides) accessible to a much larger population of dogs.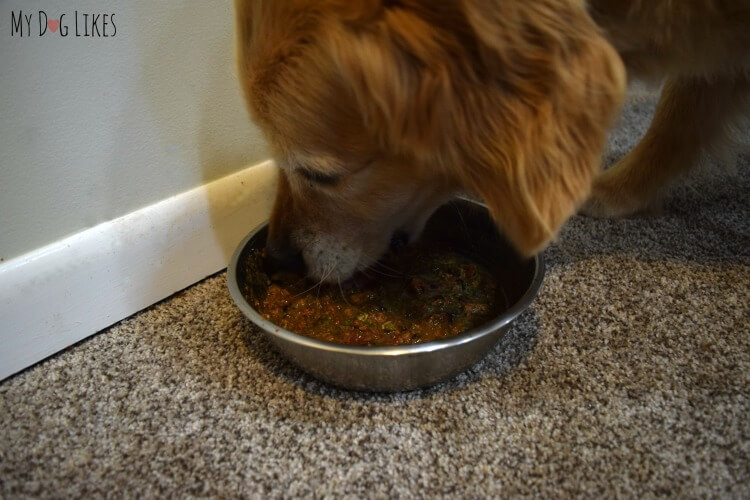 Harley enjoying the new Fish formula
Why MyDogLikes the Changes to Oracle Dog Food
With two large dogs totaling ~150lbs, feeding a premium dog food like Oracle can really stretch the budget. That is why we are so excited that they have been able to cut manufacturing costs and offer the new and improved Oracle at a 25% price reduction. This will make a huge difference to those pet parents already feeding it and also make it a realistic option to a whole new segment of the market.
Of course, these changes have all been made without sacrificing quality. In fact the new Oracle is even better than before. You can still see the chunks of whole fresh meat in every scoop and we love the addition of wonder fruits for optimum health. Last but not least, the introduction of a fish option is welcome news for our allergy prone Golden Retrievers.
For anyone that has been on the fence about making the switch, hopefully these changes will encourage you to give Oracle a chance. You won't be disappointed!
Click here to save an additional 10% with our exclusive code: MDL1231