Wouldn't it be nice to take one more errand off your ever expanding list?
How about that monthly trip to the pet store where you find yourself wrestling with a huge bag of dog food?
Well, today we are going to be checking out a new service which may be just what you are looking for…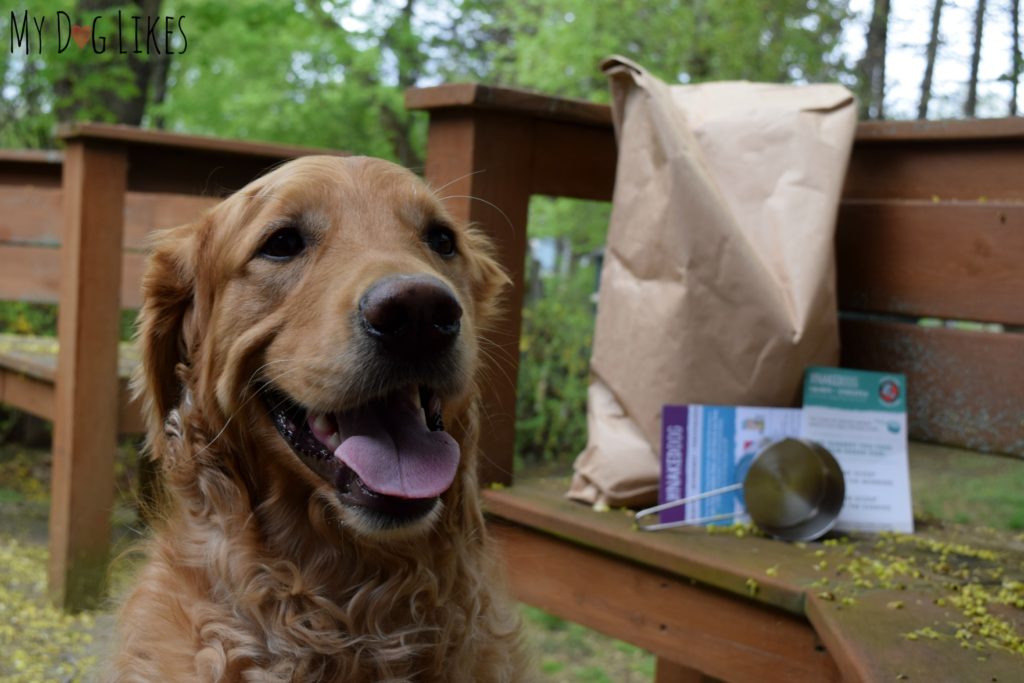 Introducing The Naked Dog
The Naked Dog is a healthy pet food retailer out of Southern California. Since their founding in 2014, they have quickly expanded to include 11 retail stores, and an online portal.
As part of their mission to provide the very  best nutrition for pets, The Naked Dog decided to start making their own dog food as well. Their vision was to make one of the highest quality foods on the market, at an affordable price – made right here in America!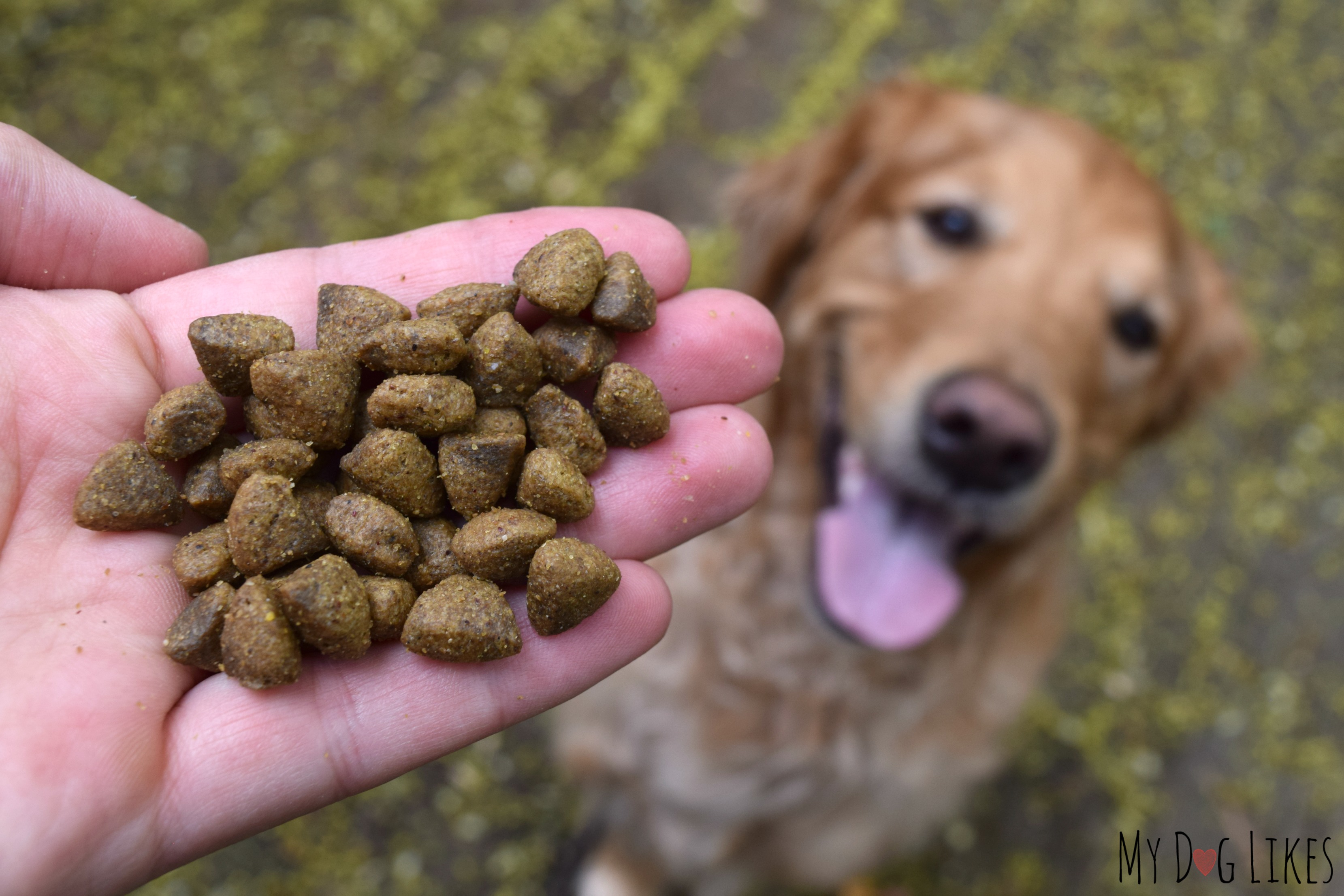 They dubbed the line "Naked" meaning that it was stripped of all the garbage that is found in most commercial foods. After offering this food in bulk at each location for a few years, they decided to make it available to those outside the geographic regions of their retail stores…
The Naked Dog Box was born!
They reached out to see if our boys were willing to test it out, and are sponsoring this post so that we can help spread the word!
What is The Naked Dog Box?
The Naked Dog Box is a pet food delivery service that sends premium food straight to your door every two weeks.
That's not all – each Naked Dog Box also comes with a surprise toy or treat! You can even avoid the pet store all together with optional add-on's for other pet supplies that you are low on!
How Does it Work?
To get started simply visit their webpage and fill out the short form. You will be asked a few general questions about your dogs size, age and activity levels before they recommend a food formulation and caloric requirement for them.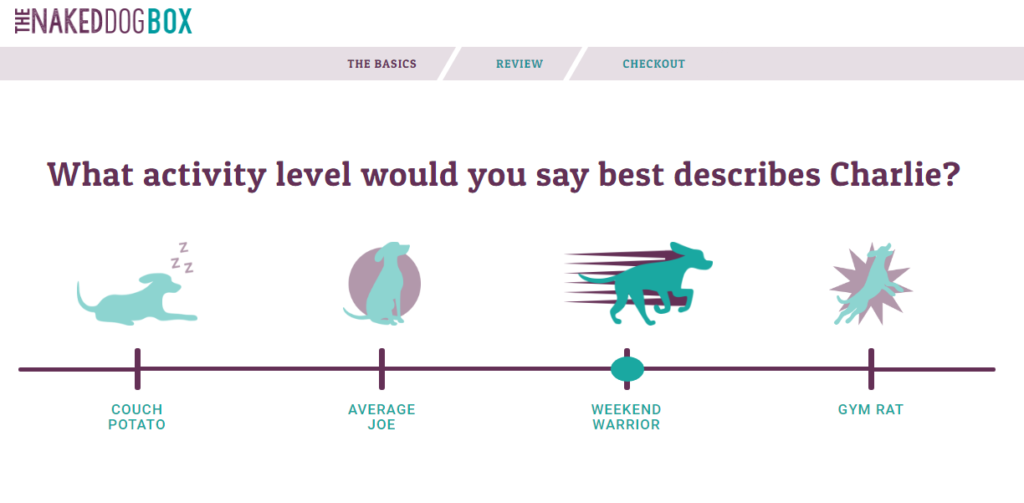 Next, you can move forward with their recommendation or choose another flavor option if you like.
That's it! Your dogs food will be automatically shipped to your house every two weeks – though you can of course cancel at any time.
If you are a pet parent who tries to go to the store for food as little as possible and as a result buy your food in large bags, a delivery every two weeks may seem a little strange. You may be surprised to know that veterinarians and pet nutritionists recommend buying in quantities that your dog can consume in 2 weeks. Why you ask? Kibble is designed to be shelf stable but can go bad when stored improperly and is only optimally fresh and safest during this period of time!
You can also log on to make changes to your order or add other pet items you might need at the time such as poop bags or flea and tick medications!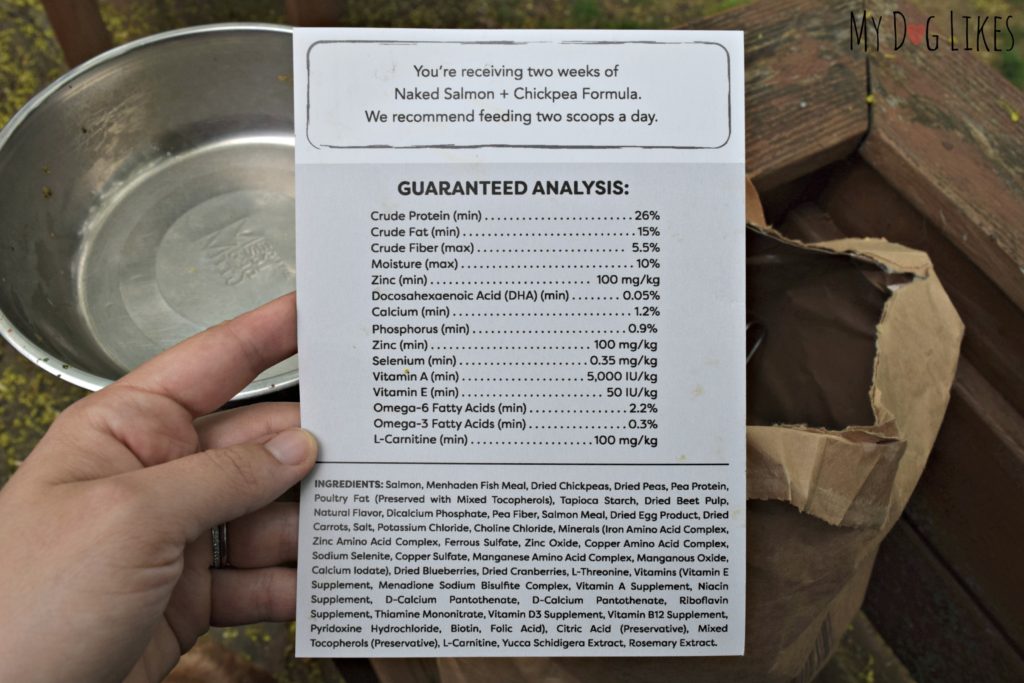 Taking a Look at The Naked Dog Food Ingredients
The Naked Dog food is all natural, grain free, and gluten free. Best of all, you won't find any fillers like potato, corn, or soy!
Naked is available in 3 different varieties, each with only a single protein source:
Chicken and Chickpea
Lamb and Brown Rice
Salmon and Chickpea
Our Naked Dog Box Experience
Filling out the order form took only a couple of minutes and left us with the recommendation of Salmon and Chickpea formula for Charlie.
We were amazed to see that the 2 week supply cost only $30 for a large dog! Those of you who are used to feeding premium foods will be shocked to see such an affordable price! Not to mention that every box comes with FREE shipping!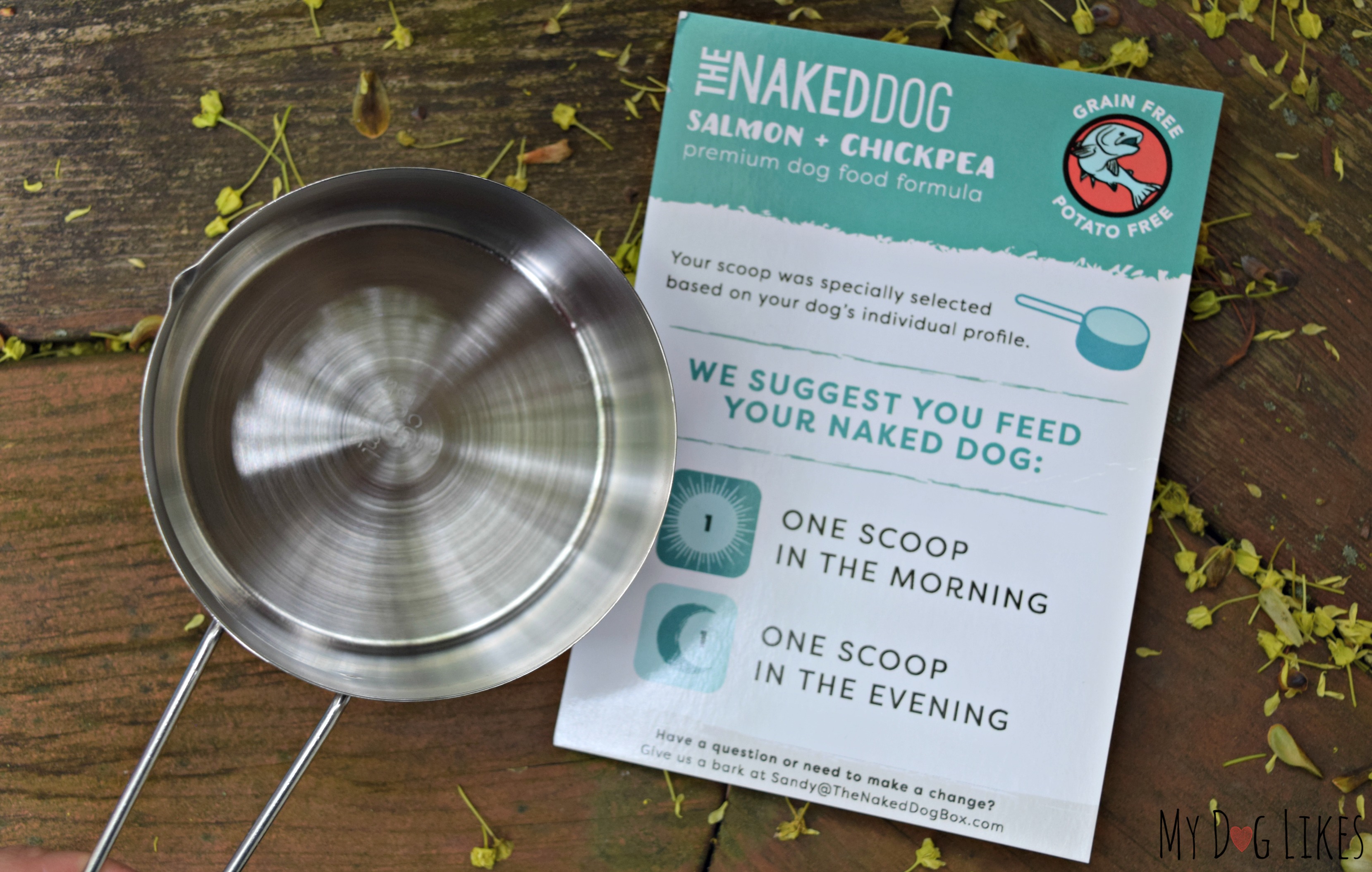 The box arrived in just a couple of days and included our bag of food, as well as a bag of healthy treats and a toy for good measure!
Each box also comes with a scoop which has been sized just for your dog. 1 scoop = 1 meal served twice per day. It can't get any easier than that.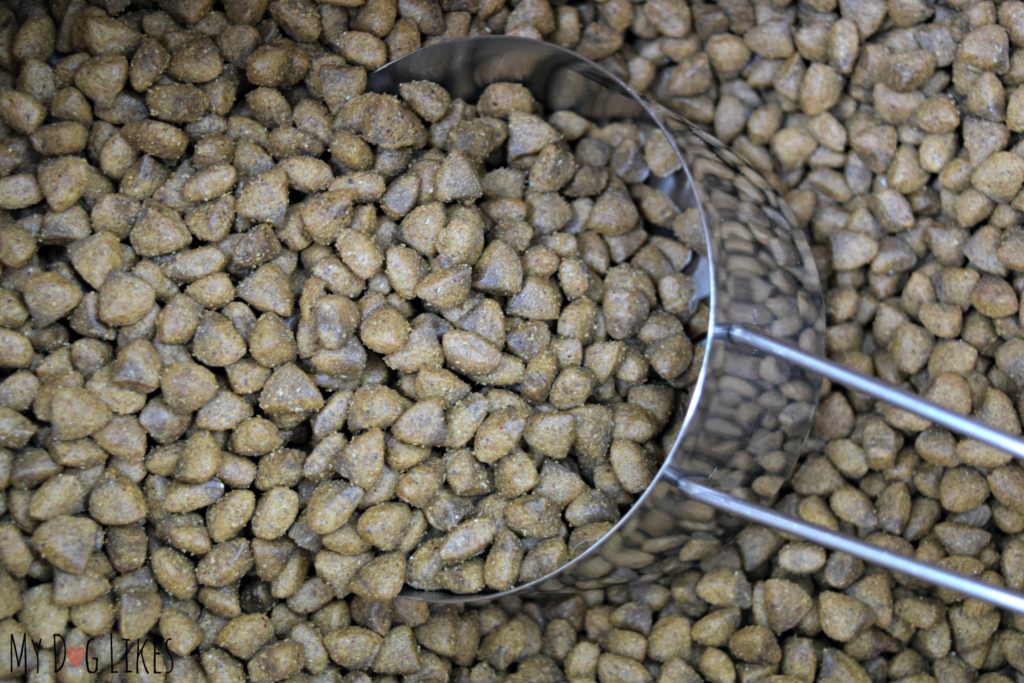 The food is packed in simple brown paper bags with no marking other than the production date and information. We love that this not only makes the bags more recyclable, but lowers the cost and fits nicely into their "Naked" branding.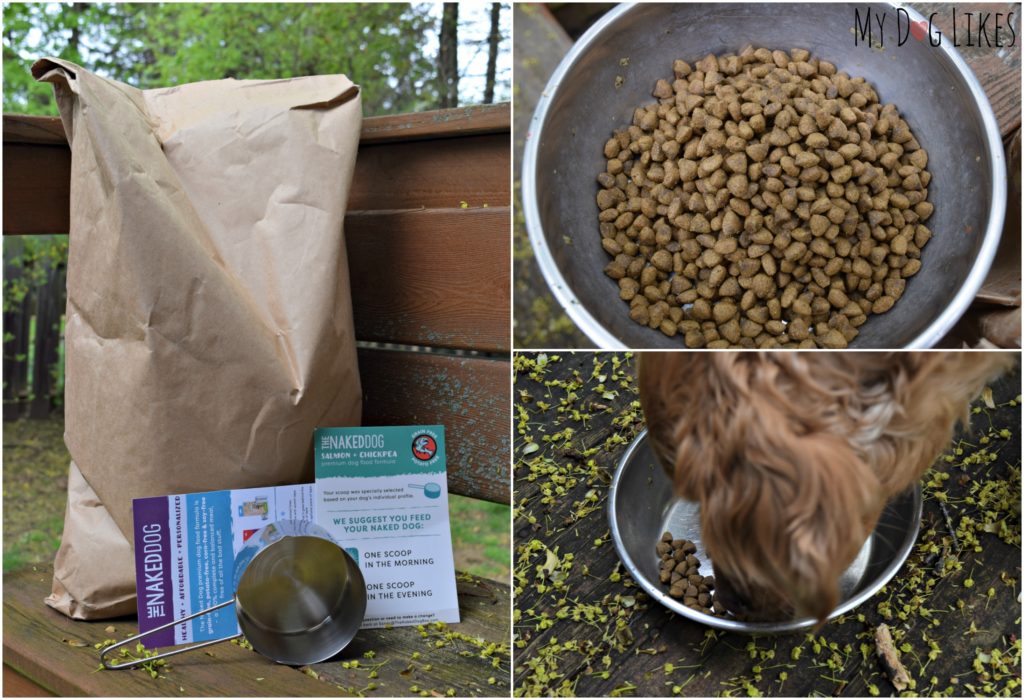 Charlie was very eager to try it out and dug in as soon as we set the bowl down. He gobbled it up in no time showing us that this food had earned his seal of approval!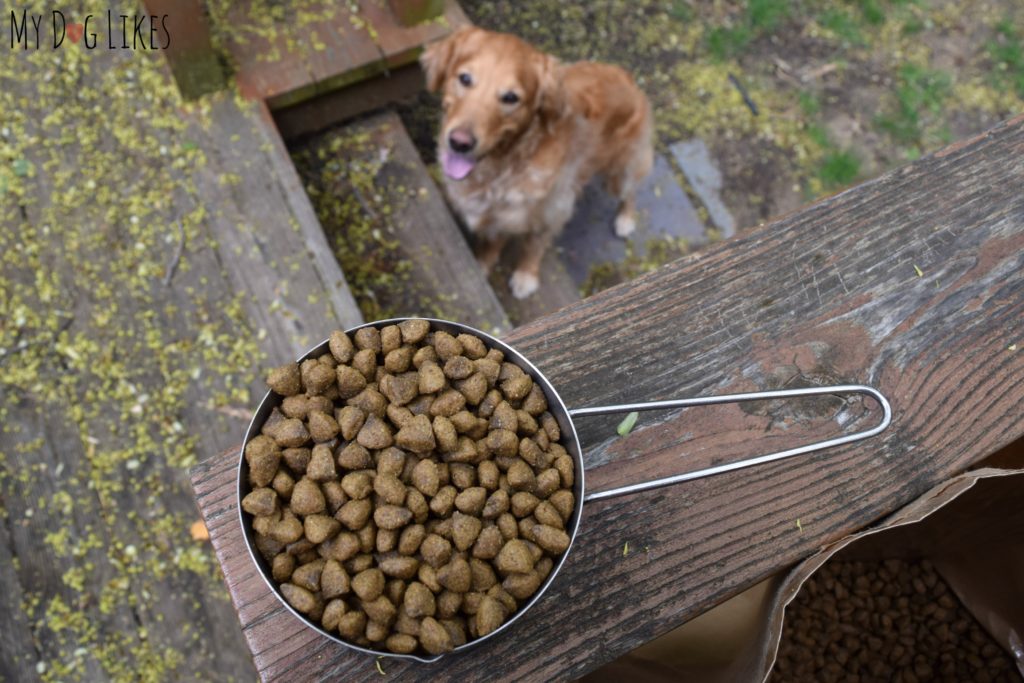 Why MyDogLikes The Naked Dog Box
We always love companies and products that help to make a pet parents life easier; The Naked Dog Box is a great example of this. No more worries about running out when the pet store is closed – with the Naked Dog box you will always have the perfect amount of food on hand!
We also loved that each box contains a meal sized scoop so that you don't have to worry about over or underfeeding. Pet obesity is a huge problem that can easily be corrected with proper measurement.
Last but not least are the ingredients! The Naked Dog Food gives your dog the nutrition they need without all the other junk – all at an extremely affordable price!
Want to give The Naked Dog Box a Try?
Click the banner below and use code mydoglikes10 to get your first box (of any size) for only $10!
or enter the giveaway to win a full sized box for your dog!