Dr. Harvey's changes lives.
It really is that simple. After trying out their food for ourselves, we (and thousands of other passionate pet parents) have seen drastic improvements in the health of our companion animals. We credit Dr. Harvey's with completely shifting our view of what makes a healthy dog food.
Dr. Harvey's has made such an impact on us that we simply couldn't keep it to ourselves. Last year, we joined up with them as brand ambassadors to help espouse the benefits of a whole food diet – a cause that they have been championing for more than 30 years!
The Kibble Conundrum
Though we keep telling everyone about the benefits of a whole food diet, we know that we are fighting an uphill battle. The major pet food brands have done a great job convincing the general population that highly processed kibble provides the optimum nutrition for their pets. Meanwhile, rates of obesity, cancer and diabetes have never been higher.
Think about it this way… Cereal is probably the closest thing in the grocery store to pet kibble. Yes, it may be fortified with all sorts of vitamins and minerals, but would you really feed it to your children for every meal? Something in your head certainly tells you that this is not a good idea. These dry processed bits can't really be better than fresh, whole foods!
So why do we treat (and assume) that our pets are any different?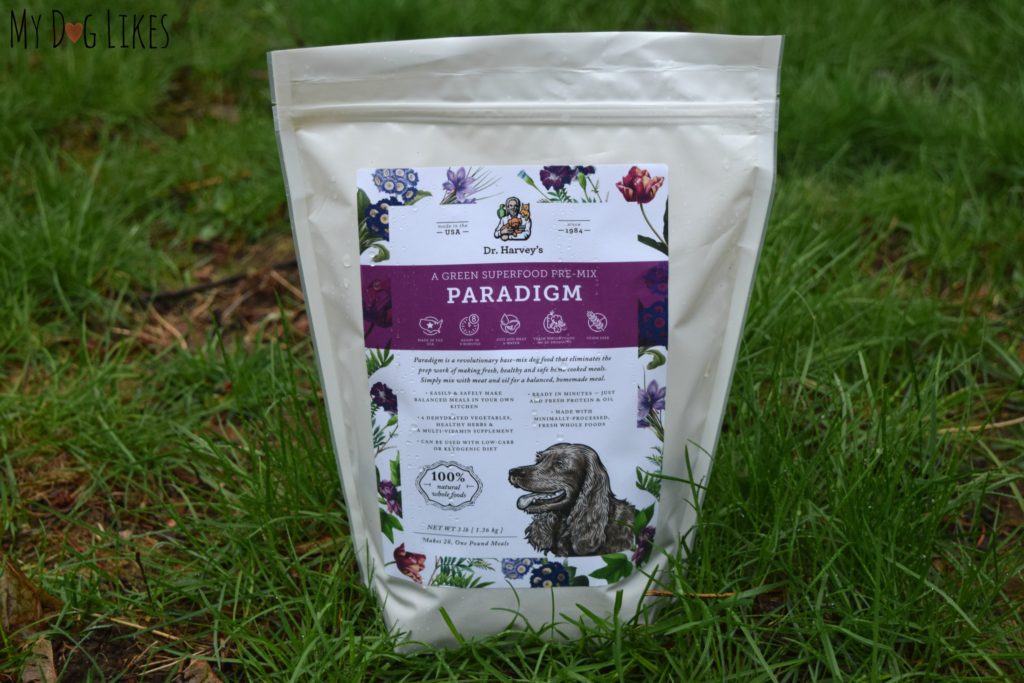 Introducing Dr. Harvey's Paradigm
Paradigm is a brand new green food pre-mix designed specifically for dogs who require a low carb diet. This food contains no wheat, corn, soy, grain, starch, or other fillers. Instead, only a holistic blend of dehydrated vegetables and herbs. Simply add meat, oil, and water to create a fresh balanced meal for your dog.
What's the thought behind it?
Well, there is a growing body of research showing that sugar and carbohydrates worsen many of the most common health issues faced by our canine companions. Serious conditions such as:
Cancer
Diabetes
Seizures
Obesity
A ketogenic diet which is low in carbs, moderate in protein and high in fats, changes the way your body processes energy. Instead of burning carbohydrates for energy, you will begin to utilize fats. Sugar from carbohydrates is the primary fuel feeding cancer cells, so a ketogenic diet may essentially starve the cancer cells of their energy source. This type of diet has been showing very promising results for the treatment of canine cancer!
Dr. Harvey's Paradigm Ingredients
There are 6 primary vegetable in Paradigm – all with a low glycemic index in order to digest slowly and prevent glucose spikes. The formulation is rounded out with herbs and a multi-vitamin supplement.
Full Ingredient List:
Broccoli, Green Beans, Bone Broth, Red and Green Bell Pepper, Cabbage, Pumpkin, Celery, Kelp, Alfalfa, Turmeric, Spirulina, Ginger, Red Clover, Milk Thistle, Slippery Elm, Dandelion, Cinnamon, Tricalcium Phosphate, Zinc Proteinate, Iron Proteinate, Vitamin E Supplement, Manganese Proteinate, Vitamin A Acetate, d-Calcium Pantothenate, Thiamine Mononitrate, Pyridoxine Hydrochloride, Riboflavin Supplement, Biotin, Vitamin B12 Supplement, Vitamin D3 Supplement, Folic Acid
Our Paradigm Review
We are currently using Dr. Harvey's Veg-to-Bowl pre-mix as a foundation for a home cooked diet. As soon as we found out about Paradigm, we were very excited for Harley and Charlie to give it a try.
Just like their other pre-mixes, Paradigm comes in dry form which must be mixed with water to re-hydrate. Though this only takes a few minutes, we typically like to prepare several days worth at one time so it is ready to go when the pups are hungry.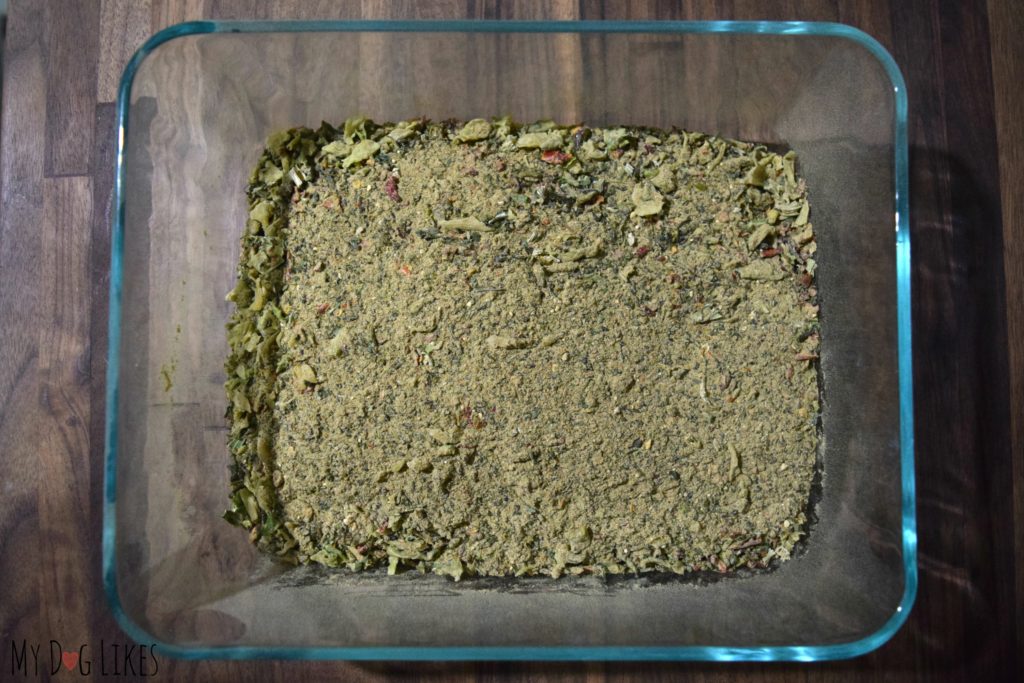 Using the ratio's suggested on the back of the bag, we mixed the food with water in a large glass dish. After about 5 minutes and a few stirs you are left with a consistency similar to oatmeal – though you can always add more water to fit your dogs preferences and needs.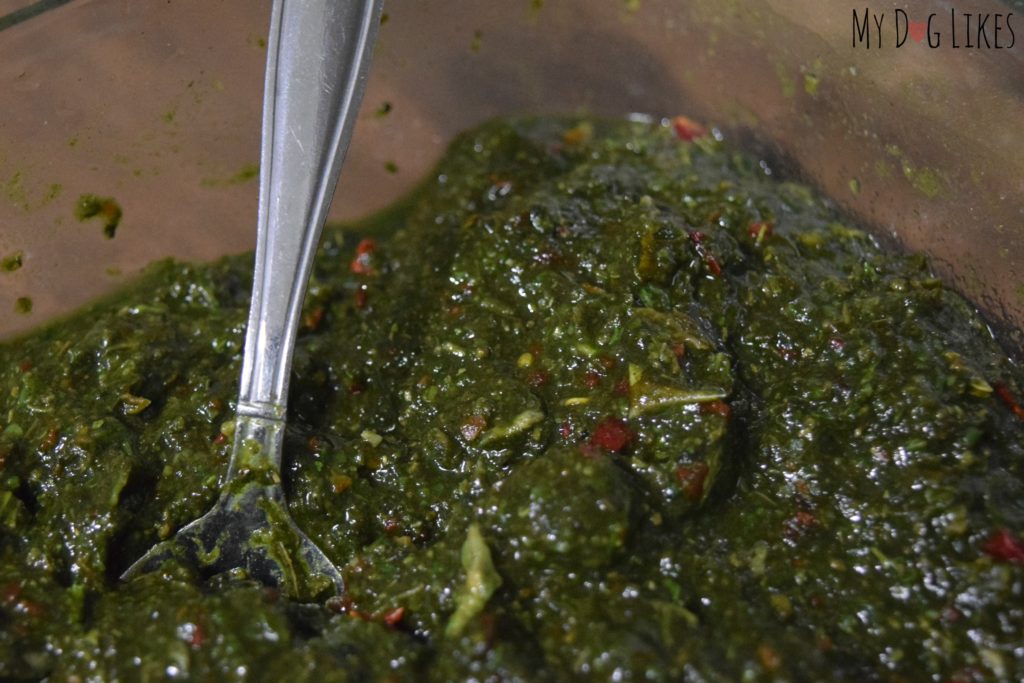 Next up, you need to choose a protein to add to the meal. We opted for chicken thighs which are relatively inexpensive and easy to cook (especially in our Instant Pot!). Just make sure to take out the bones and remove most of the skin before giving to your dog!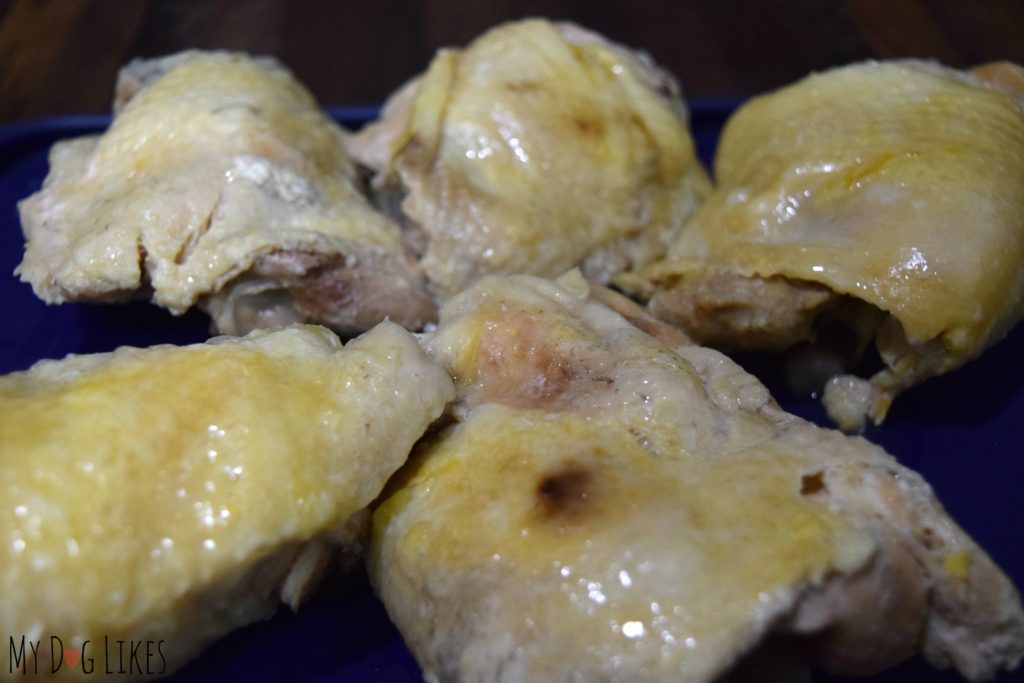 After the chicken had cooled, we stripped the meat off the bones, added Dr. Harvey's fish oil as a fat source and mixed these with our re-hydrated Paradigm.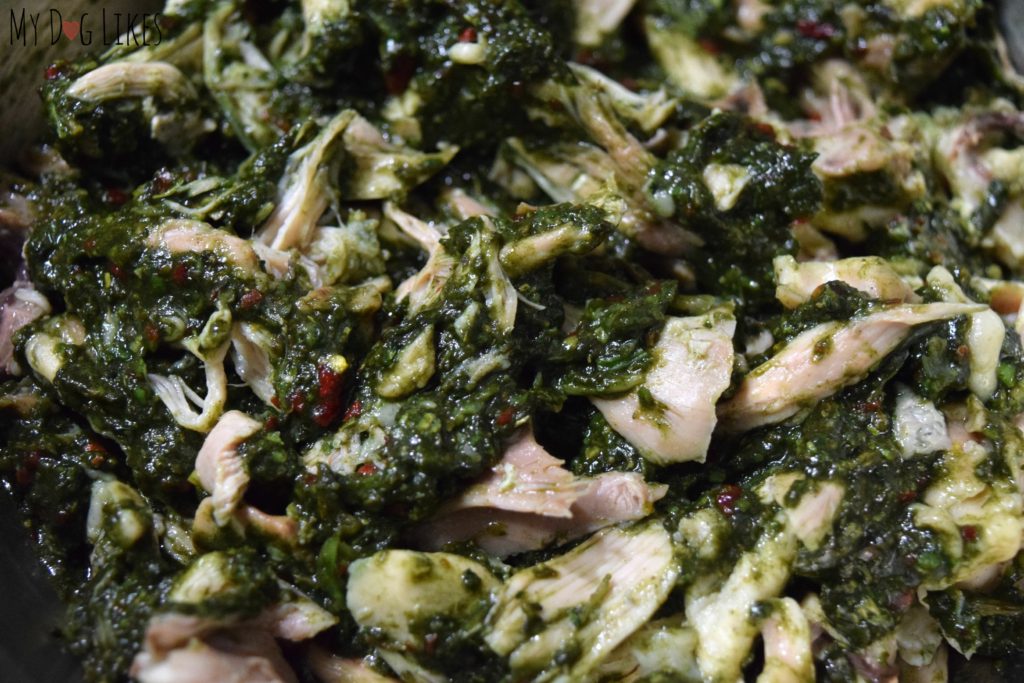 Wow, doesn't that look good? And judging by the picture of our bi-pedal twinkle-toes below, Charlie thought so too!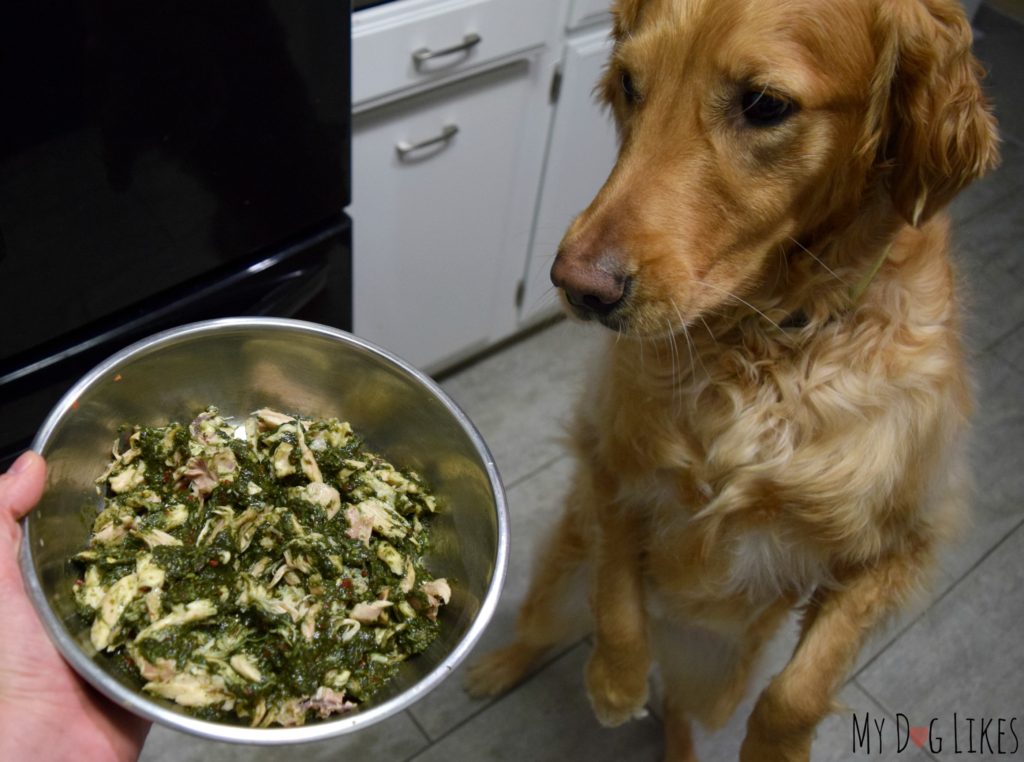 Finally it was time to eat, and both boys dove right in. They ate with enthusiasm and in no time the bowls were clean enough to be put back in the cupboard!
It's no wonder – this is REAL FOOD – what dog wouldn't go crazy for it?

Why MyDogLikes Dr. Harvey's Paradigm
Dr. Harvey's has been ahead of the curve in pet nutrition for decades now and Paradigm is yet another example. This pre-made mix serves as the perfect foundation to a low carb or ketogenic diet and helps assure that your dog is still getting the nutrition that he or she requires. The ingredients are unparalleled in terms of quality and our boys loved it!
Though Paradigm would be great for any dog, we are particularly interested in the application of this type of diet as a treatment for cancer, diabetes, and other illness. Dr. Harvey's has made us firm believers in the power of whole food when it comes to pro-actively managing health and we are very excited to have another option at hand.
Want to give Paradigm a Try?
They are currently offering a free trial!
Or you can use code "MDL1231" to save 10% on your Dr. Harvey's order!