This post is sponsored by PetSmart and the BlogPaws Professional Pet Blogger Network. We are being compensated for helping spread the word about PetSmart Grooming Salons, but MyDogLikes only shares information we feel is relevant to our readers. PetSmart is not responsible for the content of this article.
It's not easy to be a celbri-pup.
When you live your life in front of the camera, just a few bad hair days can make people SQUEE with delight. Lately, things have been looking a little "ruff" around here.  Before I knew it, my windblown hurricane ear hairs were all that people are talking about on social media.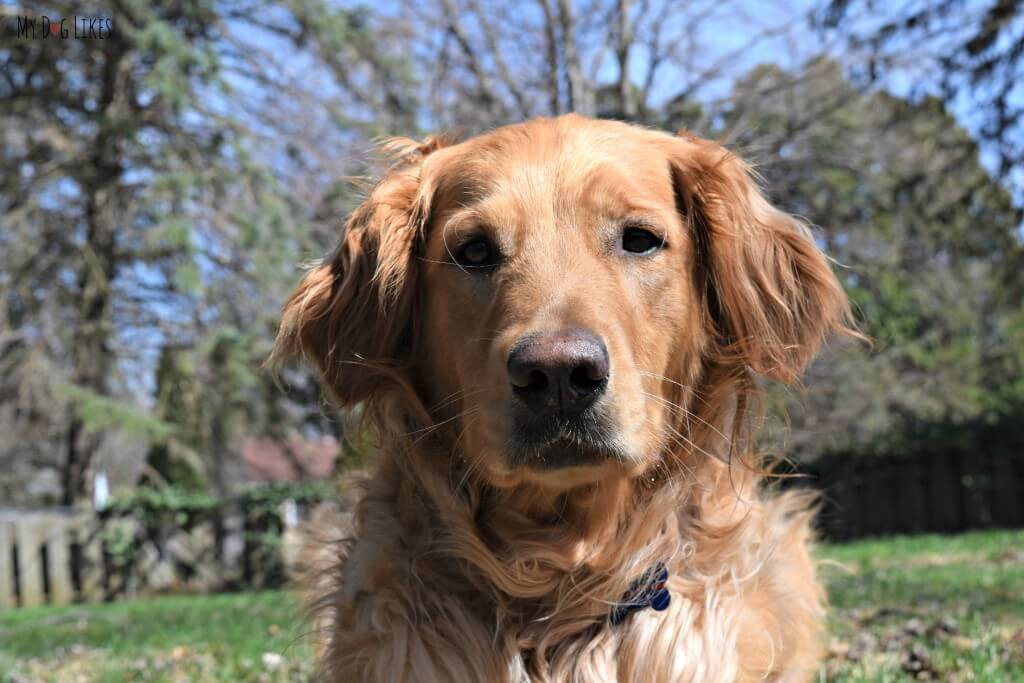 I've always found when dealing with the puparazzi it is best to be honest. You know, address the questions everyone is dying to ask. So, let's get it out of the way…
No, there is not a Wind Machine in my home that creates the "windblown" effect
No, I do not wear a wig.
Yes, my ears naturally flip inside out; I have not had any cosmetic procedures performed. There was however that one unfortunate procedure that I prefer not to talk about.
No, I did not fire my stylist (Mom). Truth be told, I am a bit of a wigglebutt and don't like to hold still. With time and maturity (on Mom's part) I have decided that she may brush me. Unfortunately, the rump is still a sensitive area that is far too ticklish for a Mom to handle.
Bad Press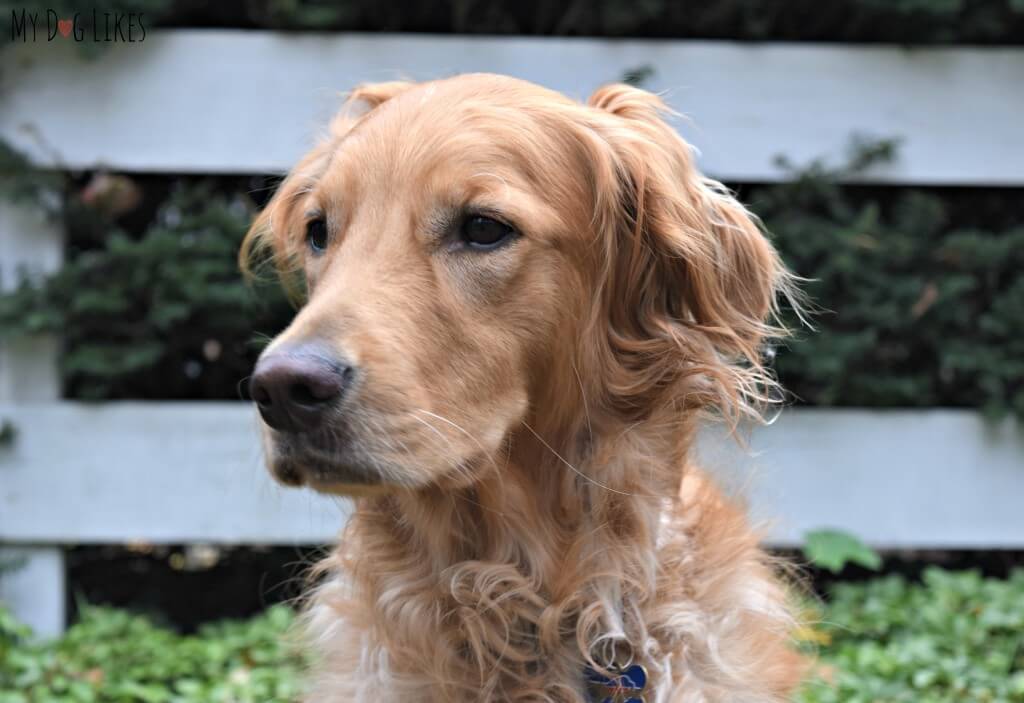 When I started to get some bad press, I knew it was time to take matters into my own hands. I mean let's face it, Mom is great at a lot of things (belly rubs, treat giving, walkies), but she is NO grooming professional. I needed the full dog spa experience.
Calling in The Professionals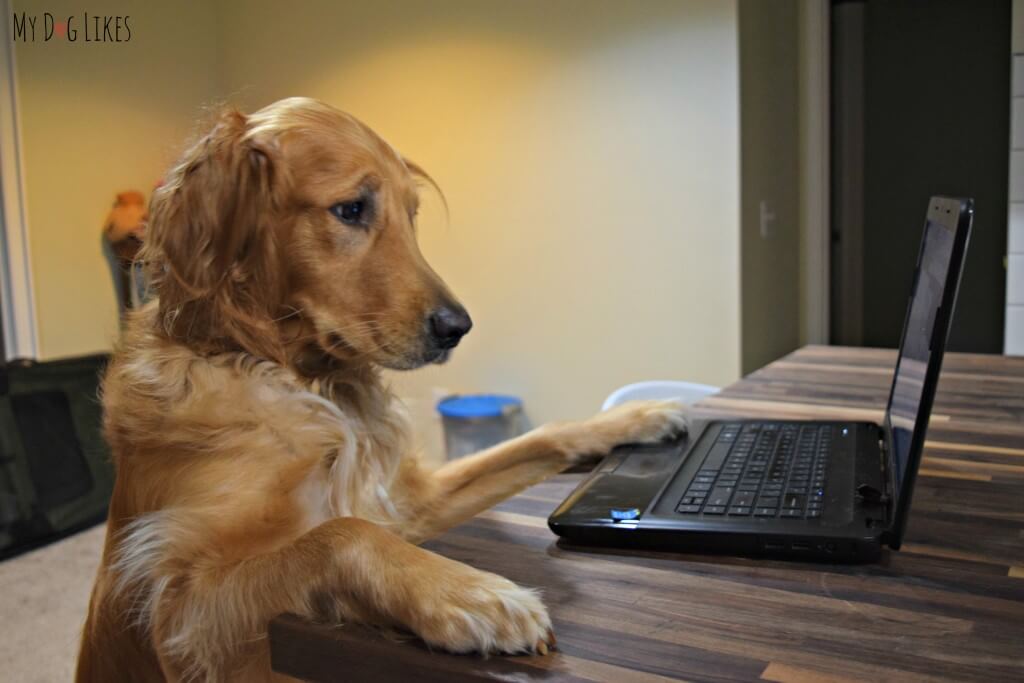 I started my search online and quickly found that there were several PetSmart® Grooming Salons nearby. I wanted to make sure I got the best so I read everything I could about the grooming services they offer. 
During my research, I found out some interesting facts about #PetSmartGrooming:
All PetSmart Salon Associates receive special course work where they learn about dog anatomy, signs of stress, and common medical conditions. They also get annual safety certification.

PetSmart Groomers (those that give the haircuts) receive an additional 400 hours of hands on training.

PetSmart even offers a "look great guarantee" which is their promise that I (and my many adoring fans) will be completely satisfied with the services, or they'll do whatever it takes to make it right-including a refund if necessary.
Booking an Appointment – So easy my 

assistant

 can do it!
With a little bit of help from my assistant (Mom) I got on the internet and booked a Grooming experience with the professionals over at PetSmart! Booking online was very easy. I simply entered in some basic information and chose my groomer.  
I really liked that I could book the exact groomer that I requested. I went with Rachel, the name sounded nice, and familiar – although I can't place why. I easily selected a package fit for a king.
Bath, Brush, Groom with Top Dog (Add-On) which included special oatmeal shampoo, teeth brushing (and extra kisses too).
Forget me Not
While it's true that I never forget dinner or walkie time, occasionally, I have trouble remembering all of my appointments. What we LOVED about PetSmart Grooming is that we received email and text reminders that we had an appointment! We love reminders in our house!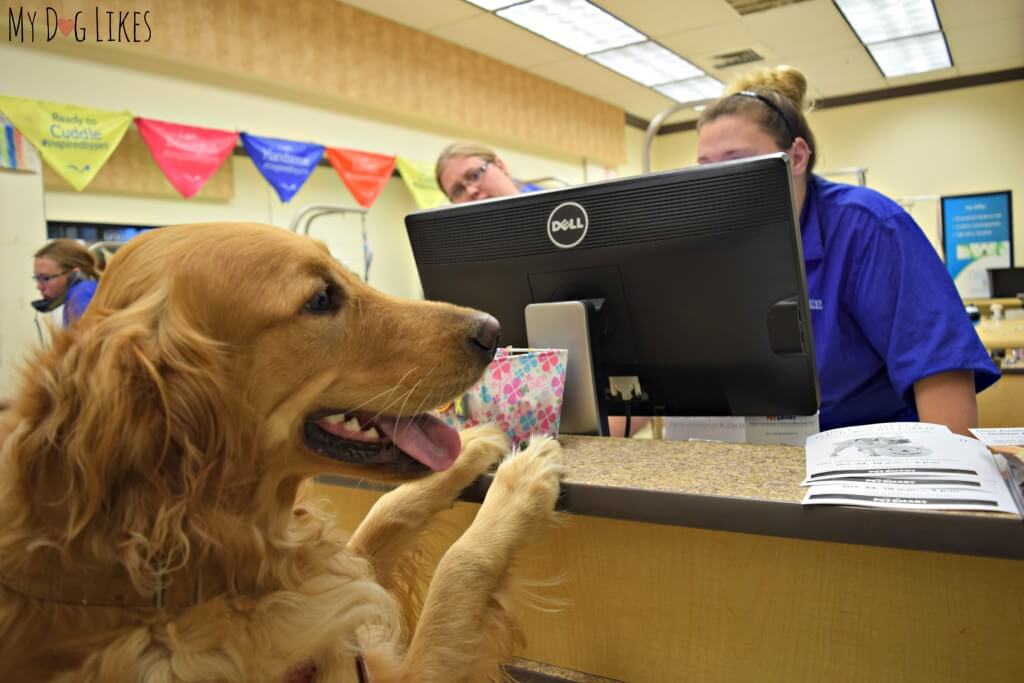 Charlie – Party of 1
When my spa day arrived, I was thrilled. There were a lot of people there when we arrived (apparently I am not the only dog who knows about PetSmart Grooming) but Check-in was a breeze. In order to keep all dog friends and groomers/associates safe, PetSmart requires proof of vaccination. All of my paperwork was in order so getting through that step was pretty easy.

Next thing I knew Rachel was petting me all over. Apparently, it was a "wellness check" to look for any signs skin irritation, hair matts, or lumps and bumps. If you ask me, I think it was just an excuse to pet my adorable body all over.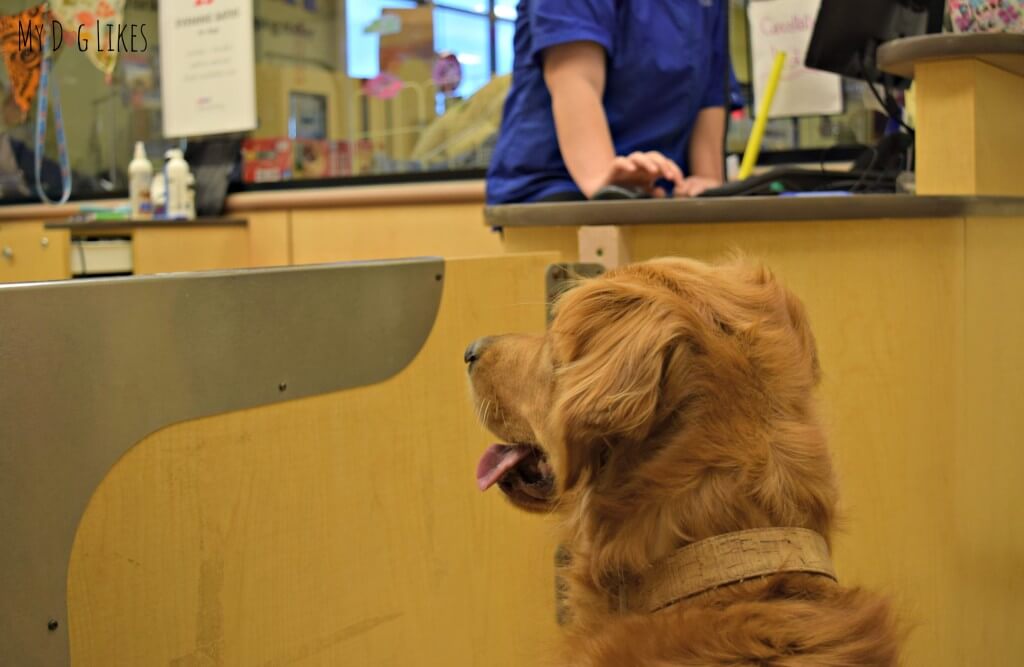 Rachel was really thorough with Mom too. She asked her all sorts of questions about what she wanted me to look like in order to ensure that the outcome that we both wanted was clear. There is nothing worse than getting a different haircut than what you expected.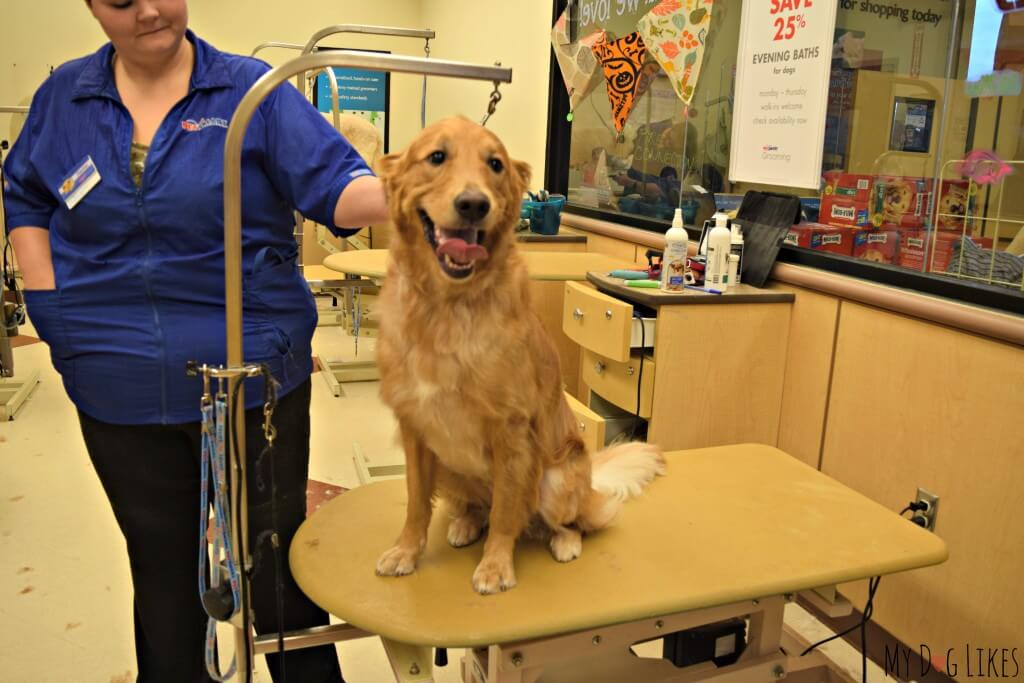 Mom – The Worrier
Mom always worries a little when leaving me someplace, but I felt comfortable and safe with my groomer, Rachel, right away.  I've always felt like I was a good judge of character, but Mom must have felt good about it too since she left me there while she ran errands (buying me things no doubt).
The Big Reveal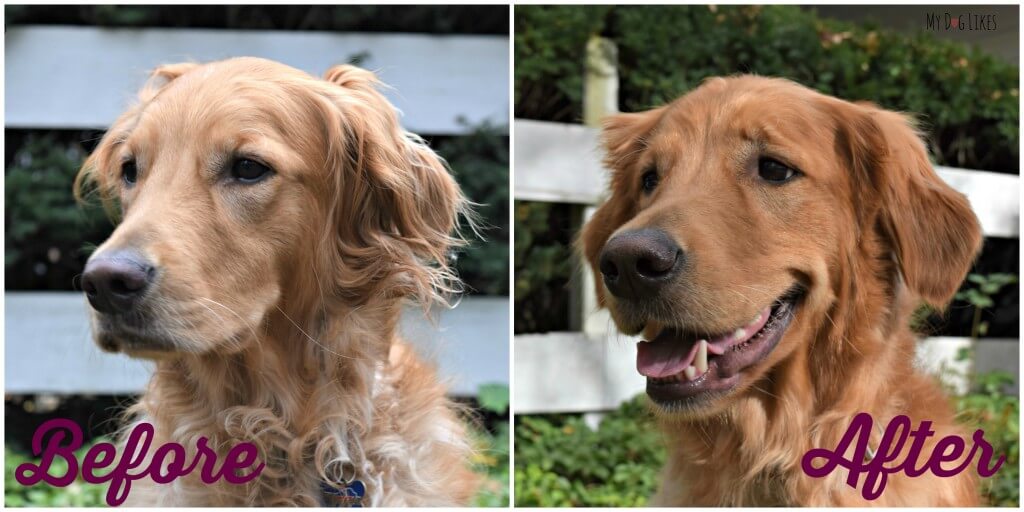 When it was time to pick me up, Mom could not believe her eyes! She said I looked FABULOUS! What do you think? I tend to agree – time to update my headshots?  
Report Card 

– Rachel wrote me a really nice report card. She said I was "A really good boy, Pleasure to groom"- Ha, so there Mom! I got my teeth brushed (which I am always a good boy for) and even got a little tooth brush to take home as a reminder to take good care of my pearly whites!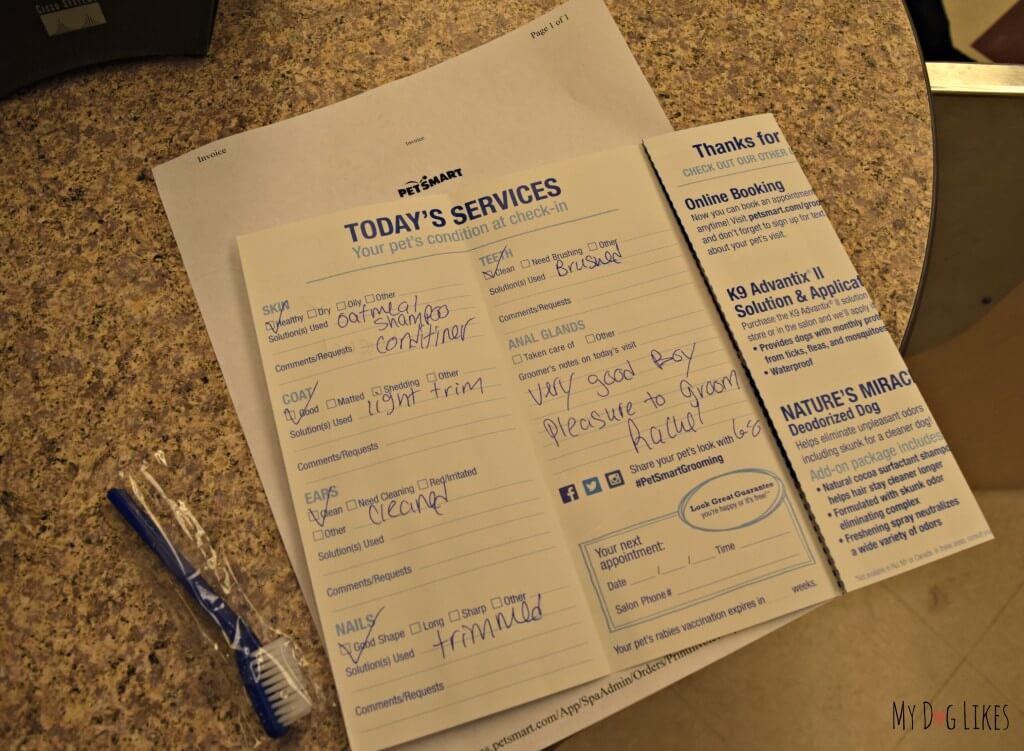 Looks 

– I mean seriously, did you look at the photos? I looked like a million bucks. I have a super fluffy butt and the crazy ears have been tamed. Beyond just looking good, I felt really good too! I couldn't wait to get home and run after a Frisbee!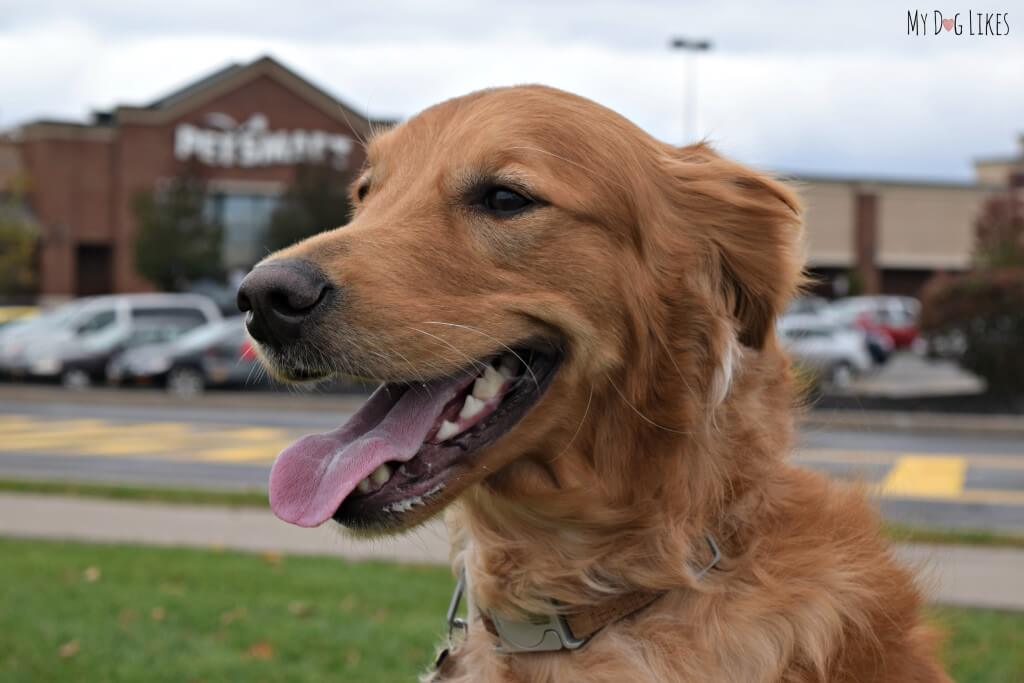 Experience 

– When Mom picked me up, I was nothing but happy. I wanted Mom to be sure that she knew how much I liked Rachel so I was sure to give her some extra lovin!
Why MyDogLikes PetSmart Grooming
Anytime something that takes as much skill, talent, and training as grooming is done on larger scale, it's natural to wonder about the consistency and quality of the service. We were skeptical about the whole process but felt so much better after learning about the extensive training that their groomers undergo and then meeting our groomer, Rachel. You could tell that she was a great lover of furry creatures and made Charlie and I feel right at ease.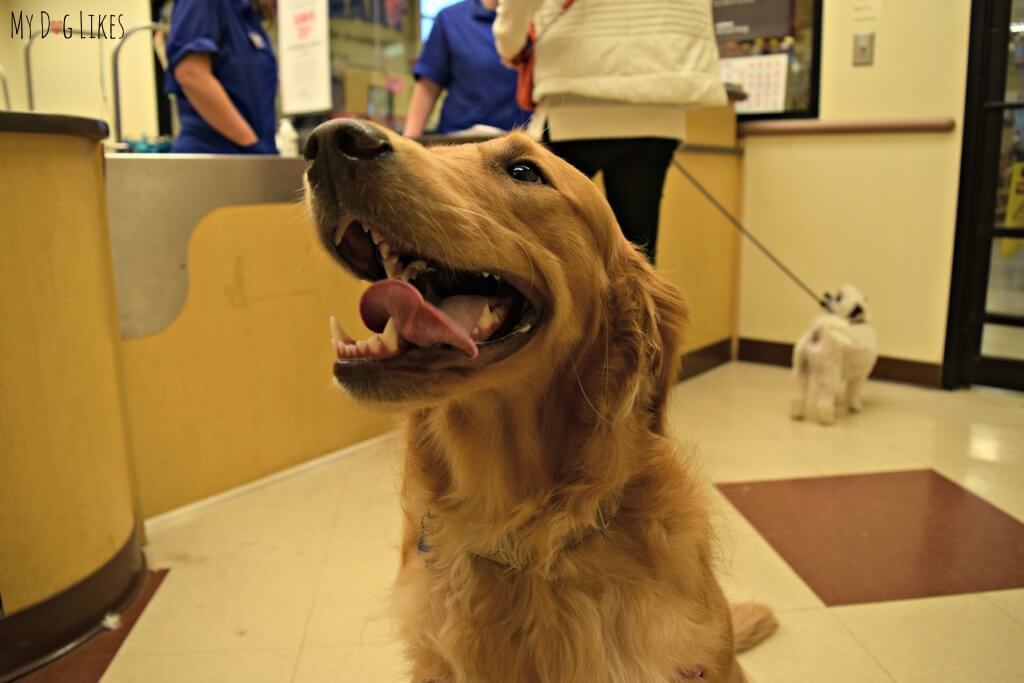 As a busy pet mom, it was nice to have so many options and appointments available throughout the day and I was able to get in for an appointment so much sooner than in previous experiences with smaller groomers. Things get busy around the holidays and getting the dog groomed and bathed is always one of the last things I accomplish from my To-Do list. Overall, we could not have been more pleased with the end result. Charlie looked so fresh, clean, and extra loveable!
Could your dog use a spa day of their own?
Click Here to Book an Appointment at a PetSmart Grooming salon near you!
Still want to learn more? Follow PetSmart on Facebook!