It has been a busy year.
Rach and I are still getting used to this whole parenting thing, and juggling that with our day jobs, side business, and household chores is not easy! Combine that with the bevy of events and get-together's that each Summer brings along and we have had just about ZERO time to relax.
Despite our best efforts, this means that the pups are feeling a bit left out from time to time…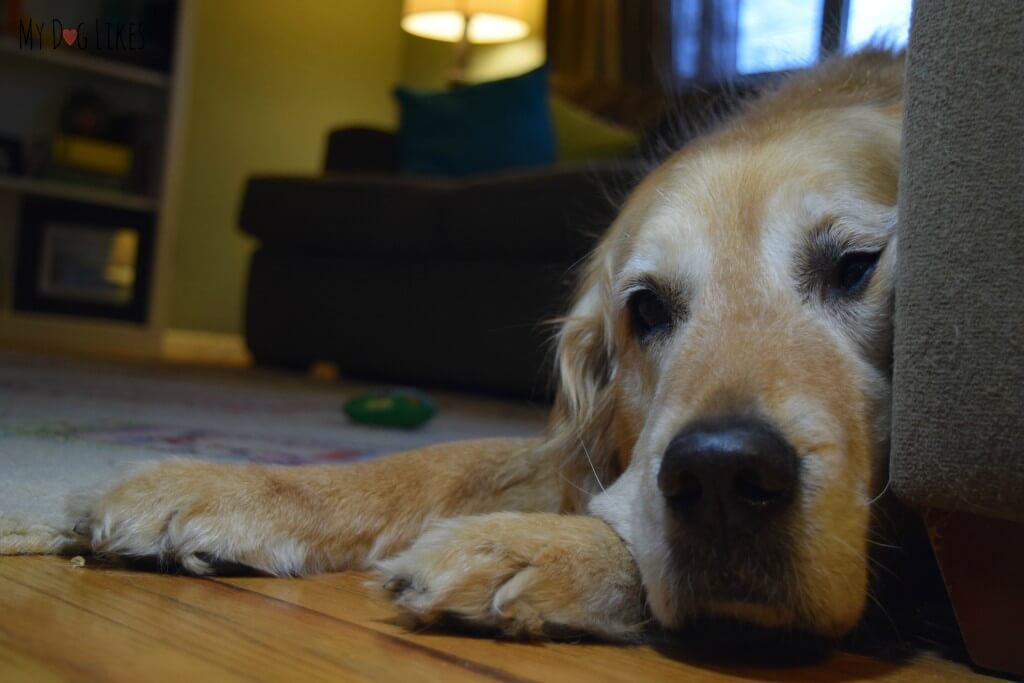 Thankfully, we recently had the chance to try out a new dog subscription box, which gave us the ability to create a very special afternoon for Harley and Charlie – without too much effort on our part!
This box comes from a company, Dee-O-Gee, who was kind enough to send us a sample and sponsor this post, so that we could tell you more about our experience!!
Introducing the Dee-O-Gee DOG BOX
Dee-O-Gee is an award winning boutique pet store chain out of Bozeman, Montana who recently began offering boxes of some of their favorite items as a special treat to dogs around the country. This is perfect for families (like ours) who want to give their dogs a special surprise, but don't always have the time to make it out to the store.
Plus, you can rest assured that you are only receiving the best of the best – items that have been tested and chosen for their safety and quality.
Each Dee-O-Gee DOG BOX contains 4-6 toys, treats, and chews and they are available in 3 different sizes based on weight: Bigs, Middles, or Littles!
Potential buyers can set up a subscription and receive a new box each month, saving 30% off the retail value with free shipping! Not interested in a subscription? Dee-O-Gee also offers themed boxes as a one time purchase. An awesome idea for a special occasion or gift for the dog lover in your life!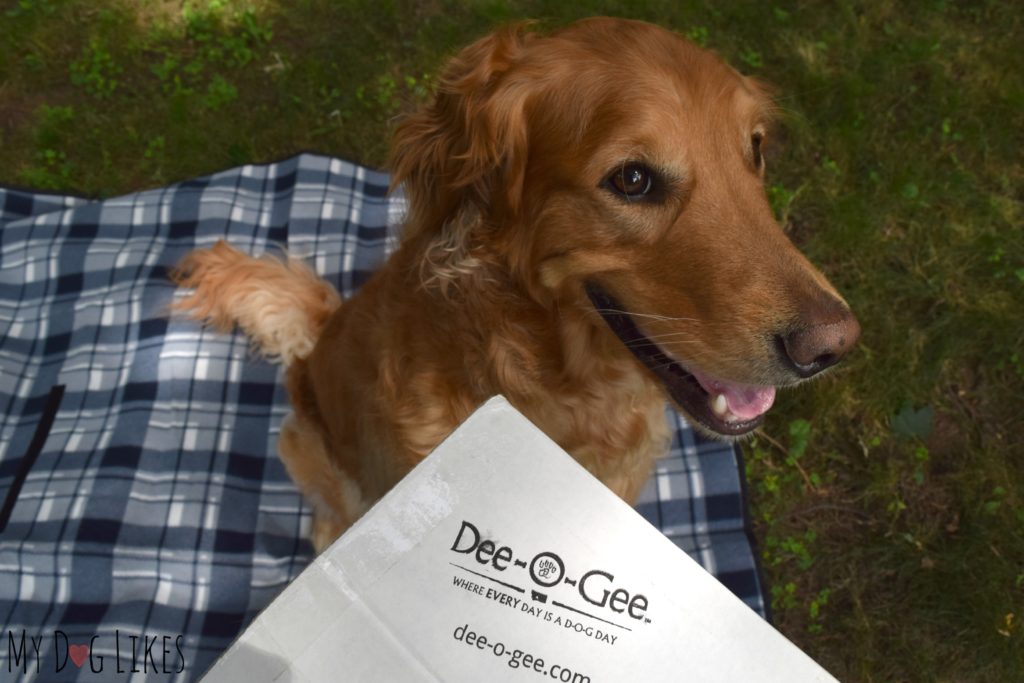 Trying out the Dee-O-Gee DOG BOX for Ourselves
We received the June 2017 box for review and were very excited to see that it had a picnic theme – perfect for Summer time!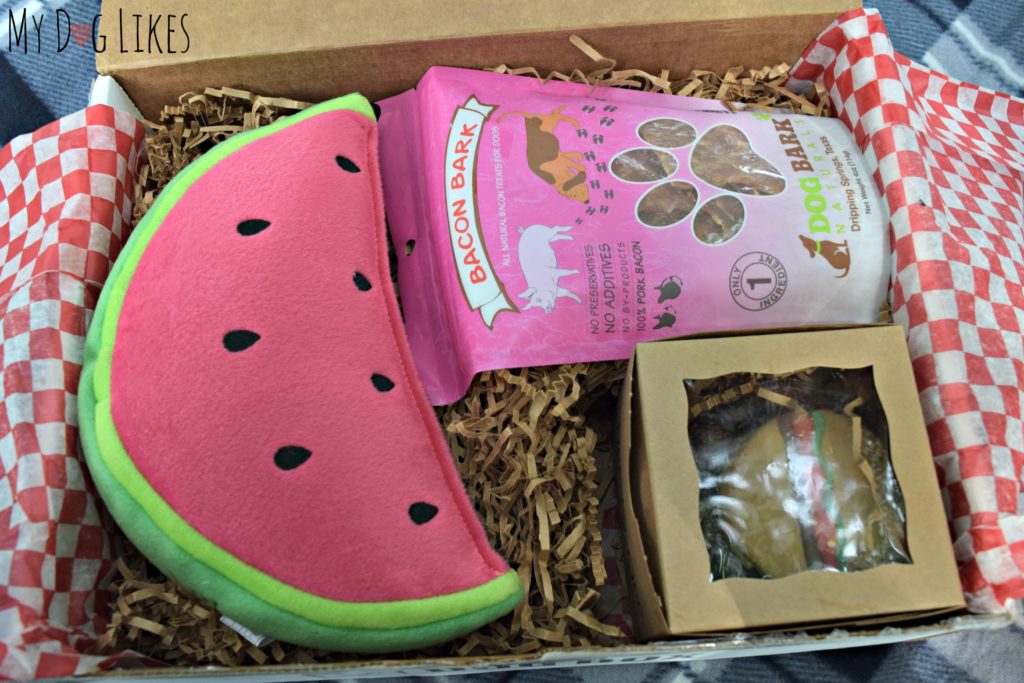 We decided to set up an impromptu picnic in the backyard to really make an experience out of it, and we will be showing you each item in detail below!
As you can imagine the boys were pretty excited as soon as we laid a blanket out and sat down!
Lulubelles Plush Summer Toy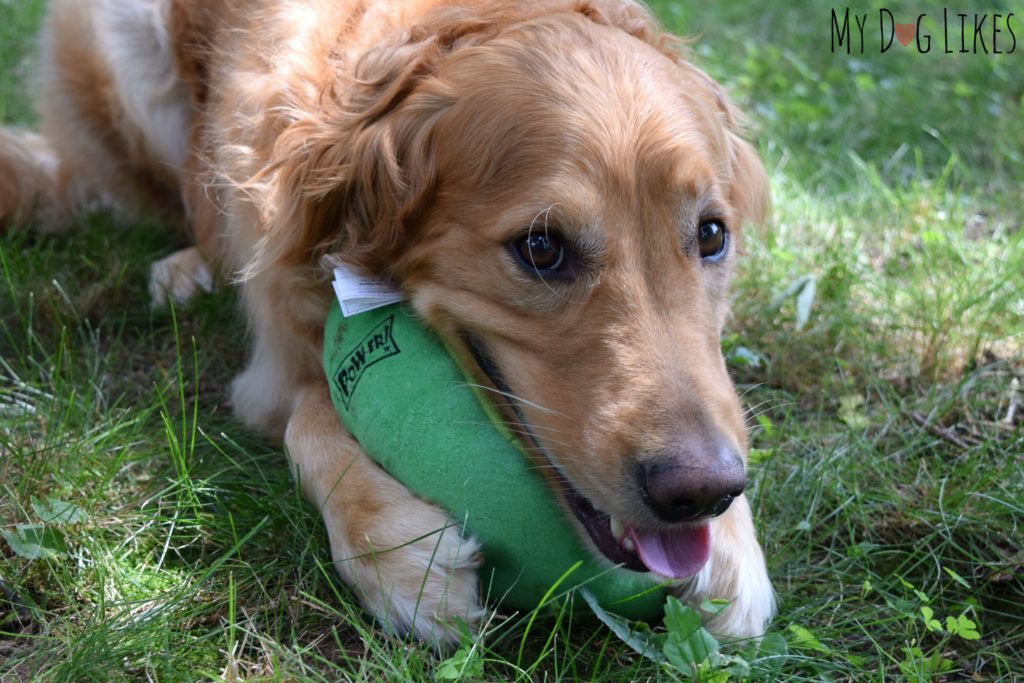 The first thing to catch our eye (and Charlie's), was this adorable, stuffed watermelon dog toy. Part of the Lulubelles line by Huxley and Kent, this toy is large – measuring roughly 12″ x 6″ x 4″. Perfect for our big boys to carry around!
After taking a closer look at the tag, we learned that it also has Power Plush Core. This is a layer of durable mesh on the inside which helps to resist those puppy teeth and keep your toy intact! (Refreshing to hear after last weeks incident of ingesting a toy!)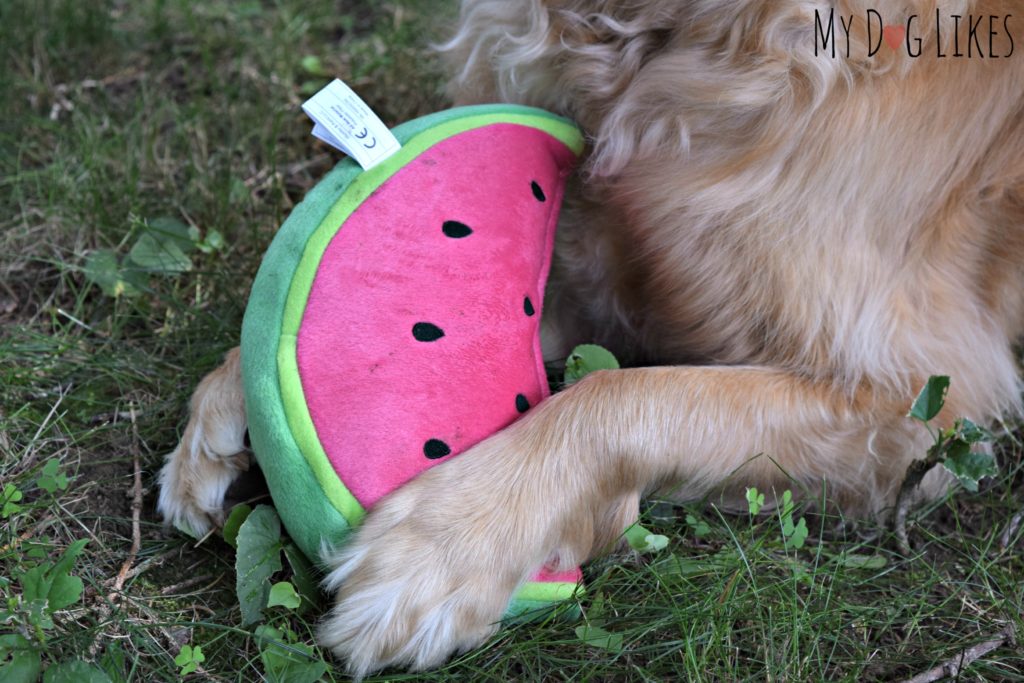 Charlie could hardly stop himself from grabbing the watermelon while we tried to snap a few photos. As soon as we let him, he was off and away – Trotting around and snuggling with his brand new toy.
Now, over a week later, both of the boys are still carrying this toy around and it is the official doorway greeting toy! This toy also has a great squeaker/quacker that the boys love to sound! Hands down, this toy is the current favorite in our house and has the PERFECT amount of plush!
Picnic Bakery Treat
Next up, we pulled out the small cardboard box, which we could tell had a tasty treat inside. Turns out it was a "doggy hamburger" – keeping with the picnic theme!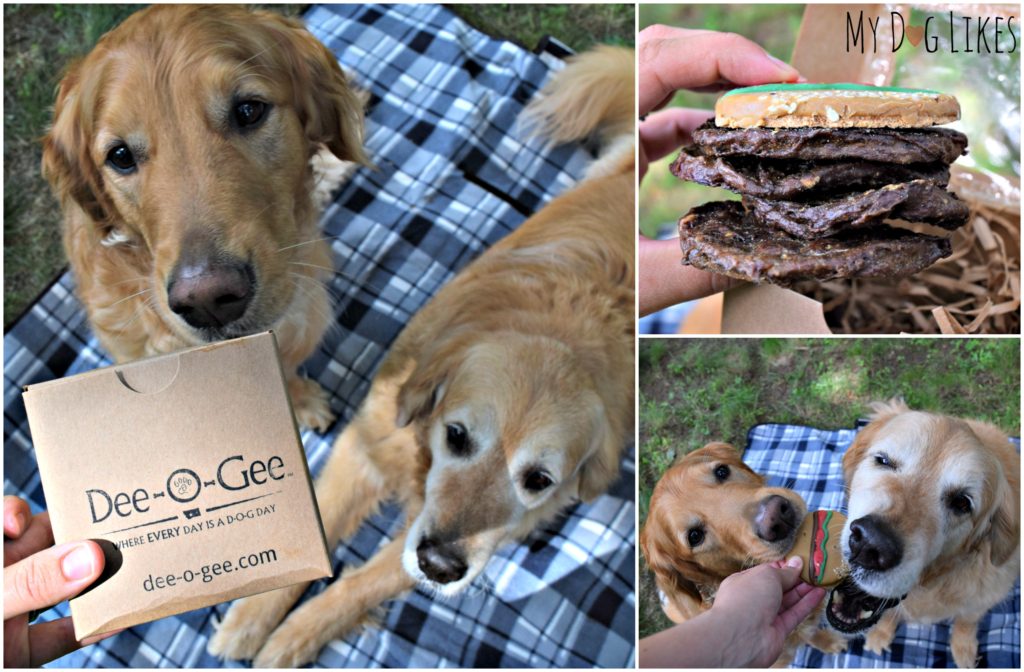 This doggy burger consisted of a frosted bakery treat made to look like a hamburger, on top of a whole stack of Happy Howie's Hamburger Chews! These limited ingredient treats are all natural and made using American beef.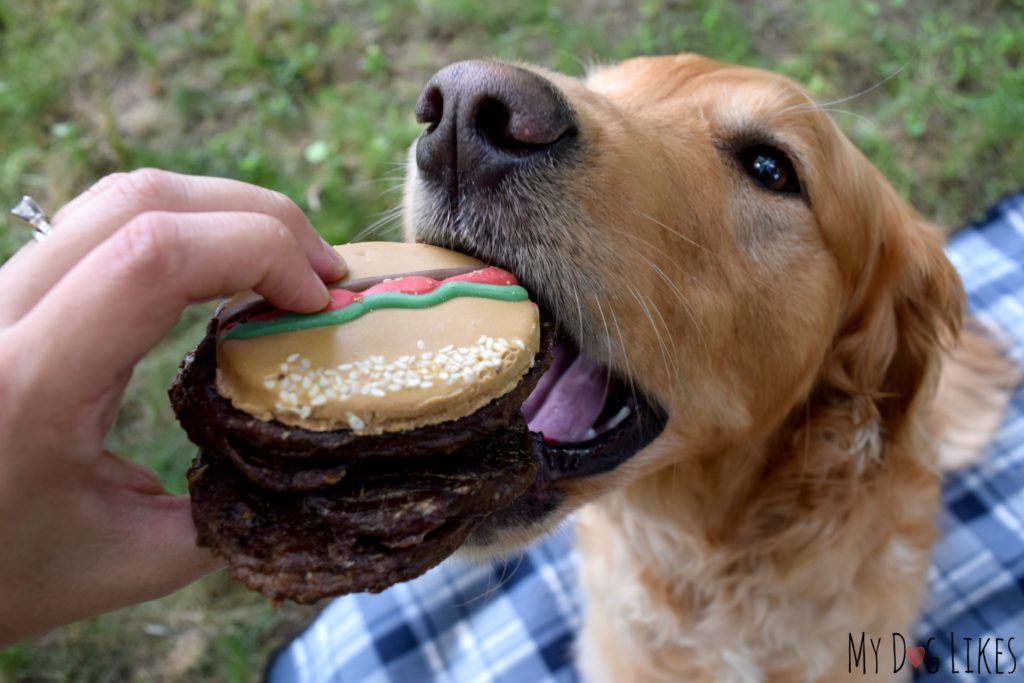 Don't worry, we didn't actually give this to him all at once!
As you can probably imagine, both the biscuit and the burger patties were a big hit! The boys ate their sweet treat right away and have been sharing a "patty" every day for the last couple of days. We really loved these patties because they were flexible enough to be broken in half for smaller, waistline friendly serving sizes, but had enough firmness to be a substantial chew that lasted for a couple of minutes each!
Dog Bark Naturals Bacon Bark Treats
Last but not least, was a package of Bacon Bark dog treats from Dog Bark Naturals. These smoked, lean muscle treats contain no preservatives, hormones, or by-products.

Can you believe that these two weren't full from the burger?!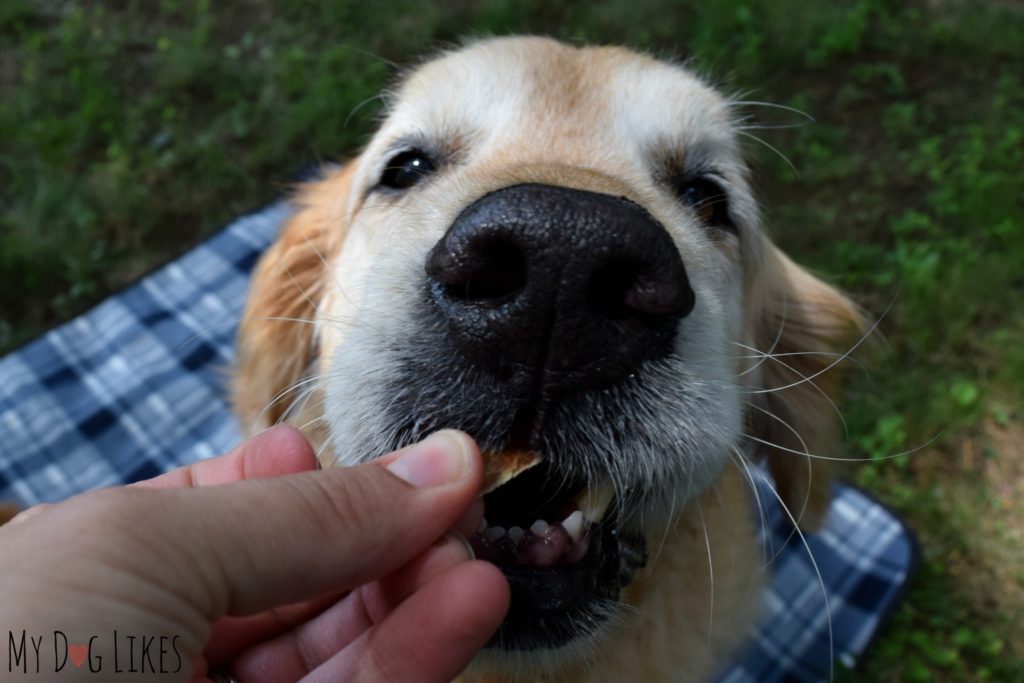 Harley and Charlie loved these treats (they smell good enough to eat) and we really loved the ingredients. While the picture makes it look like jerky, these treats were much thinner and crispier (think pancetta not bacon). The thickness of these treats make them more "crunchy", not chewy, and easily breakable. This was our first experience with this company and we will definitely be checking out more of their meat treats in the future!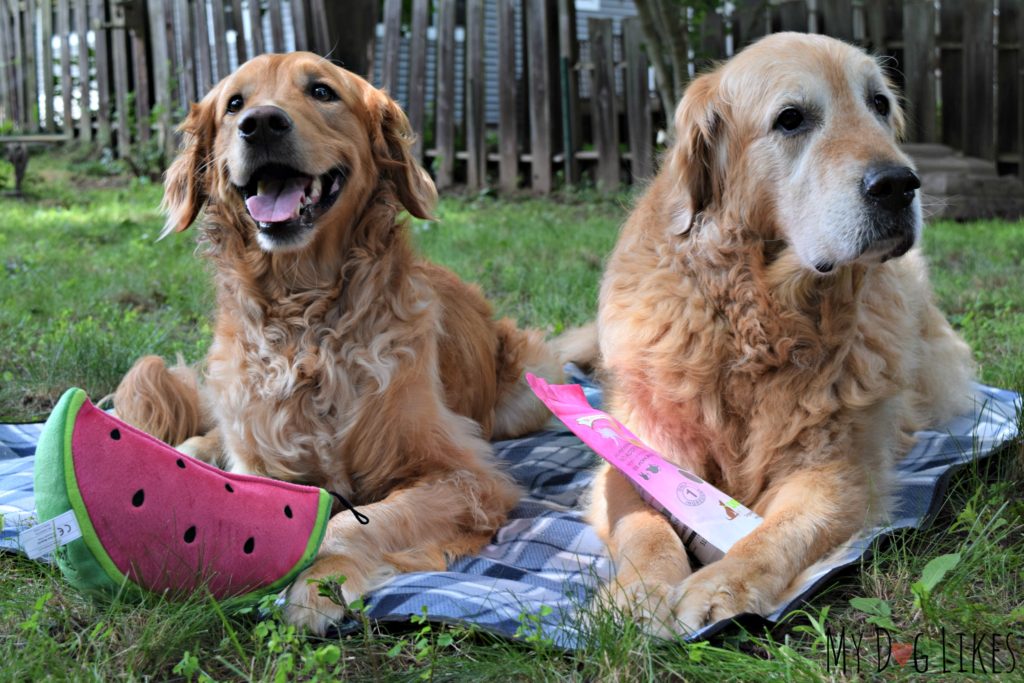 Why MyDogLikes the Dee-O-Gee DOG BOX
Subscription boxes can be touch and go. In theory, they are great because they give access to items that you might otherwise not have. Unfortunately, sometimes you like a couple of the products, but others are not a good fit. Another problem can be that they often feel a bit disjointed,  or a lacking a theme…kind of just "stuff in a box".
With the Dee-O-Gee Box, neither of these were the case! The size and quality of the goodies within the box were thoughtfully assembled for large dogs and we imagine this would be the case for the other available sizes . We loved that everything inside of this box were things that we would choose for our boys…if we had the time.
This box would be a great addition to your home and an even better gift for the dog/dog lover in your life, especially if they don't have local access to the kinds of high quality treats and goodies that they prefer to give to their dog.
Want to try the Dee-O-Gee DOG BOX for yourself?
Save $5 with code "mydoglikesdogbox"