Looking for something special for that dog lover in your life? Does it already seem like they have everything that a dog owner needs? Well, you have come to the right place!
We have been hard at work compiling dozens of our favorite gifts for dog lovers to help put you on the right track.
Our Favorite Gifts for Dog Lovers – 2016
We have broken this list down into several categories for easy browsing and to help you locate something to fit the personality of the dog lover in your life. We have also added links on where each item can be purchased for your convenience. Note that some of these are affiliate links, so MyDogLikes will earn a commission if you choose to make a purchase.
Click the buttons below or scroll down to begin browsing!
Accessories Apparel Artwork Books & Media
For the Home Miscellaneous Travel Tech
Accessories
We are all stressed out, especially during this time of year. What follows are some of our favorite dog related accessories designed to make a pet parents life just a little bit easier.
Dog Walking Bag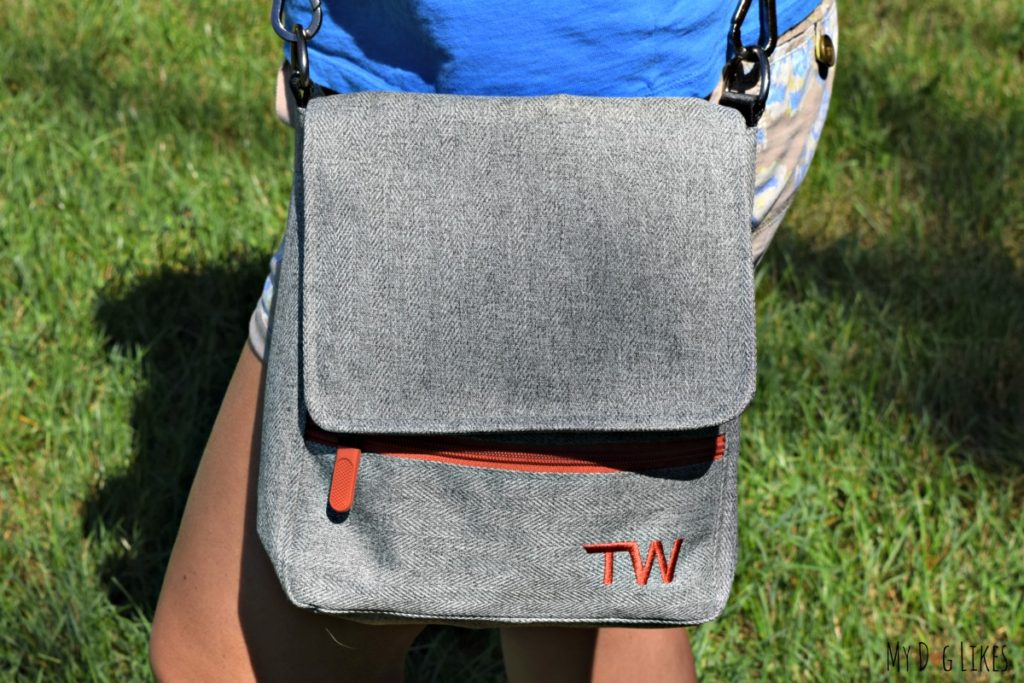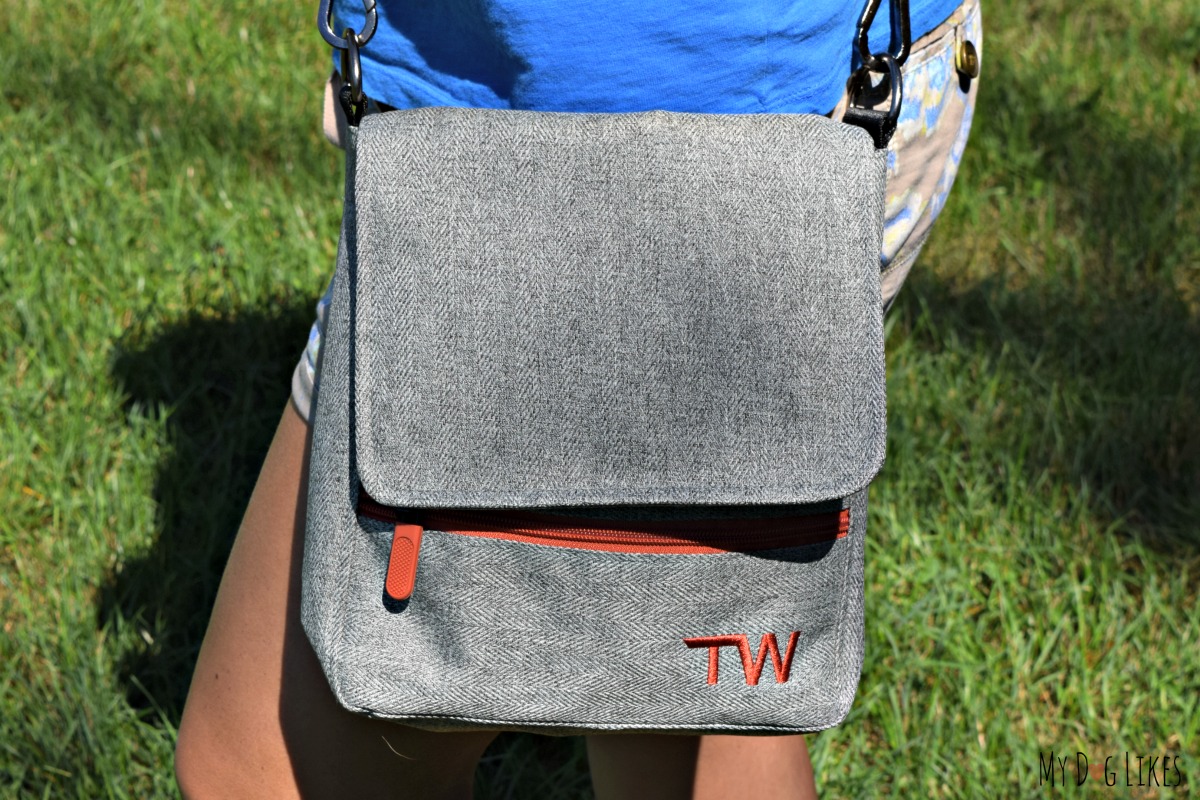 It can be a pain to lug around all the gear needed for a walk let alone an afternoon out with your pup.
TravelWags dog walking bag is the perfect stylish solution that was built just for the job. There are tons of easily accessible pockets to store treats and dog gear, plus their is plenty of room for your own accessories like a wallet, keys and phone.
They have even included a custom made flat water bottle, to make sure that your dog stays hydrated while out and about. Read our TravelWags review to learn more!
Click here to Visit the TravelWags Store
Dog Tote Bag
Let everyone know that a dog owns your heart with these adorable Tote bags from Tote Tails. There are over 150 different breed options available in black and white silhouettes or full color portraits. Heat transferred onto 100% cotton fabric.
Click here to Shop ToteTails on Amazon!
Dog Sihouette Necklace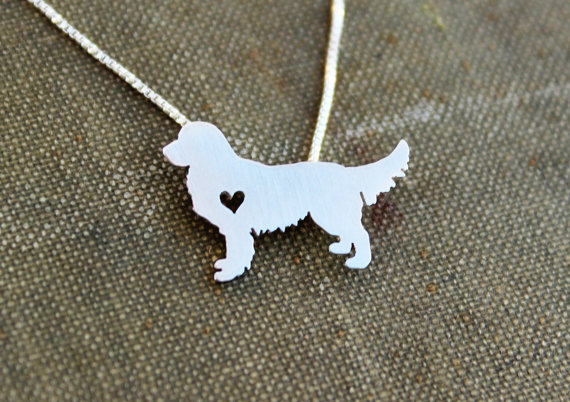 These adorable necklaces from JustPlainSimple are available in dozens of  patterns to represent different dog breeds. I purchased a Golden Retriever necklace (obviously) for Rachael and it still looks great after years of daily wear.
Hand cut, soldered and polished right here in America. Made from Sterling Silver.
Click Here to Visit thier Etsy Store
Dog Walking Reflective Vest
OK, so not the most stylish of clothing choices, but hugely important nonetheless. Show your loved ones how much you care by making sure they stay seen at night while out walking their dog!
Especially important this time of year when it's a real struggle to fit those walks into daylight hours!
Click Here to Browse Reflective Vests on Amazon!
Turdlebag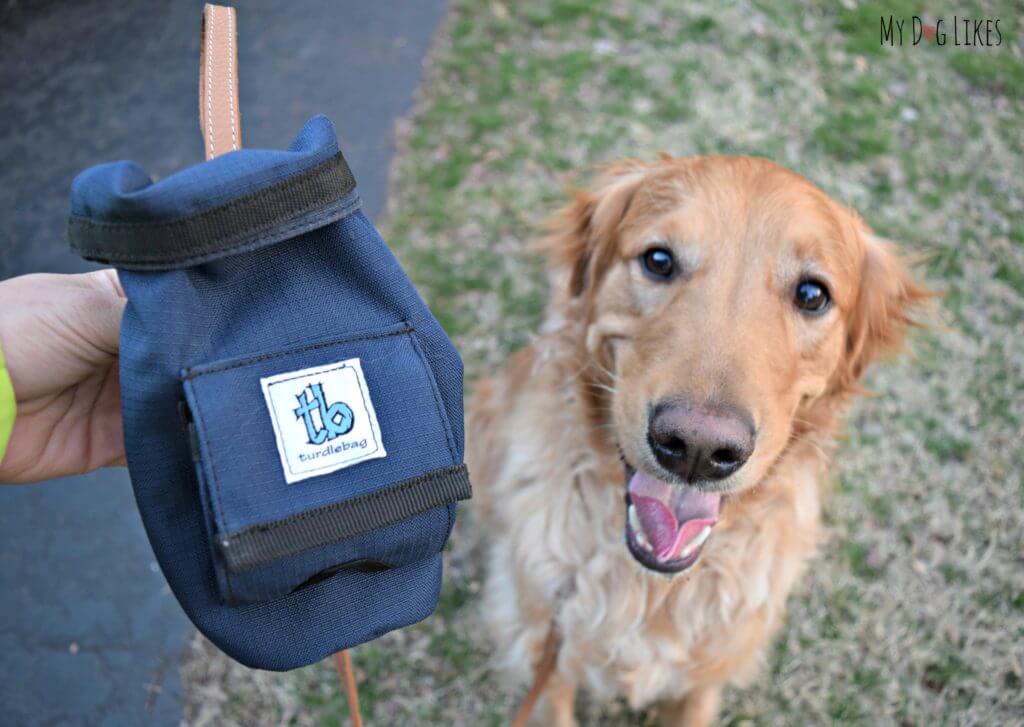 Dogs never wait until a garbage can is nearby to take care of business – and it is annoying to have to carry around the poop bag for the rest of the walk.
The Turdlebag is a convenient leash attachment designed to hold used poop bags while out and about. Simply drop the bag inside and fold over the top to keep the smell contained. Turdlebag also has a built in poop bag dispenser, so you are always prepared when the time strikes.
Read our full review to learn more about how this product has made our walks much more enjoyable!
Click Here to Pick Up a Turdlebag!
Fetch It Tennis Ball Holder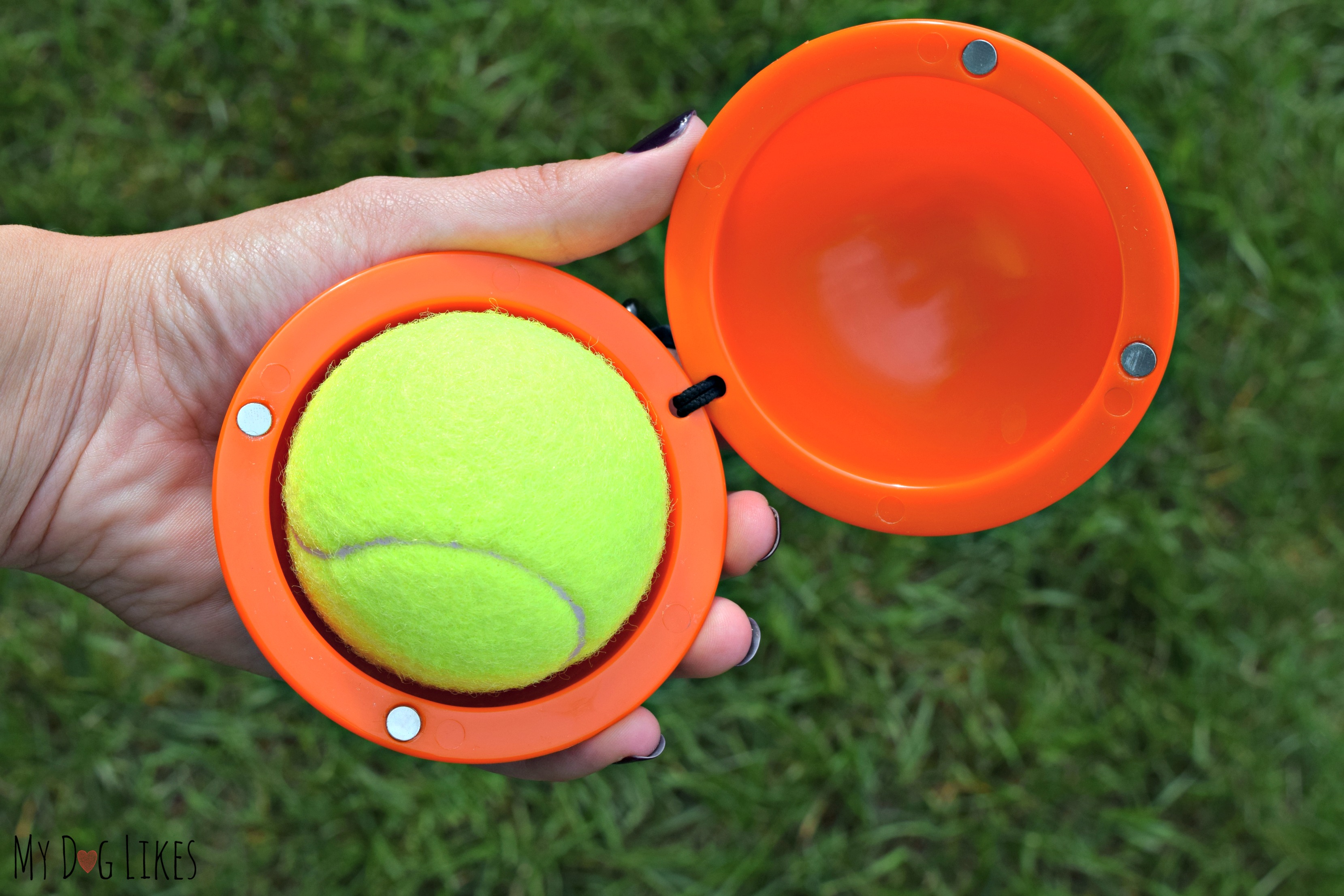 Nobody likes carrying around a wet, slobbery ball after playtime!
The Fetch it Case solves that problem by holding onto it for you – and it even stays closed with a magnetic clasp! Attach it to your leash or bag so you always have a ball on hand!
Fits standard size tennis balls and Chuckit! Medium balls too!
Click Here to Pick Up a Fetch It on Amazon
Apparel
For the unabashedly dog obsessed – some of our favorite dog themed clothing designs! Not enough options for you? Check out our huge guide to the best t-shirts for dog lovers!
The Mountain Dog Tee's
From the makers of the famous three wolf moon, The Mountain has tons of funny dog shirts that are sure to draw some attention. As recurring sponsors of the BlogPaws conference, we have several of their shirts and can attest to their  high quality. These shirts are thick, vibrantly colored and do not fade or shrink in the washing machine.
Click Here to Browse The Mountain Shirts on Amazon
Look Human Dog Tee's
Look Human has tons of fun and witty dog gear – most of which are available as t-shirts, sweatshirts and tanks.
I'm sure that like for us, when you look at these designs someone immediately comes to mind!
Click Here to Browse Dog Shirts on Look Human
"Namastay At Home With My Dog" Tank's and Tee's

Perfect for that Yoga fanatic on your gift list! These cute tanks and tees come in tons of fun colors and styles, and are not just for working out!
Click Here to Browse these Shirts on Amazon
Artwork
A little dog inspired decor is always stylish in our opinion. Below are some of our favorite items to let all your guests know who's house it really is!
Customized Paper Cut Portrait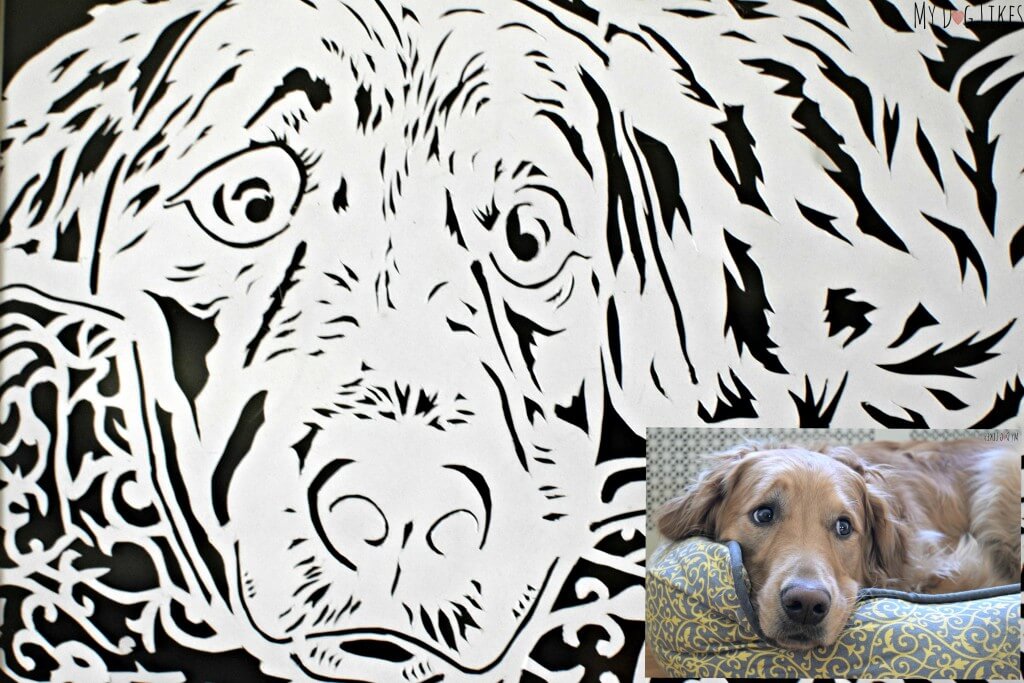 Every dog owner thinks that their pup is the MOST beautiful being on the planet – and they are ALL right! Don't you think that gorgeous mug deserve to adorn the walls of their home?
Transform any photo into a one of a kind, hand cut portrait. These delicate papercuts are crafted from a single sheet of paper and make for a truly special and heartfelt gift.
Limited quantities available so get your orders in soon!
Click Here to Place Your Order
MyPoochFace Custom Pet Portrait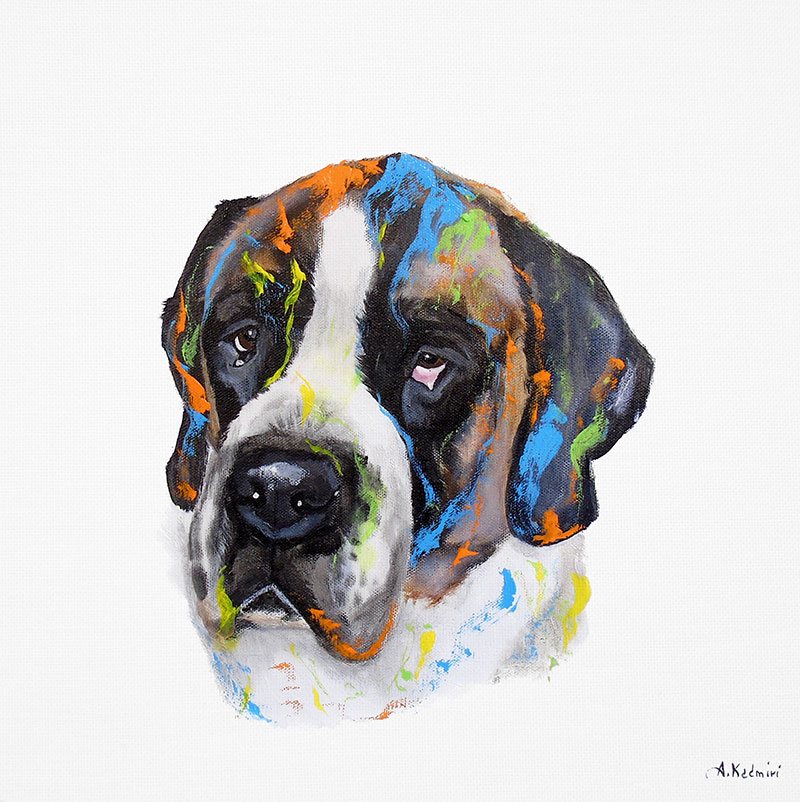 Photo Courtesy of MyPoochFace
These gorgeous pop art paintings will add a splash of color to any wall. But best of all – they are made in the likeness of your best friend!
Just send them a photo and it will be transformed into a one of kind, hand painted piece of art that any dog lover would adore.
Use code "MDL10" to Save 10% on your Order!
Blueprint Dog Breed Art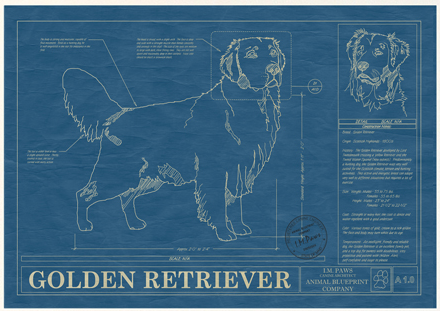 Photo Courtesy of Animal Blueprint Company
We love these "dog breed blueprint" pieces from artist Robert Redding, which would make the perfect gift for the engineer or architect in your life.
Each design is a highly detailed line drawing with call-outs of physical characteristics and personality traits.  They would look great in any office at home or the workplace!
Choose from well over 100 different breeds and mixes, multiple sizes and they can even be customized with a dogs name. Prints come inside poplar frame with acid-free matting.
Click Here to Visit Animal Blueprint Company
Books and Media
Looking to unwind? Below are our top picks for books and media to inform, inspire and entertain the dog lover on your list.
Being a Dog: Following the Dog Into a World of Smell

The latest by Alexandra Horowitz is a journey into dogs amazing olfactory abilities. Learn how their sense of smell shapes how they see and interact with the world.
-You may remember Alexandra Horowitz's book from a few years back Inside of a Dog: What Dogs See, Smell, and Know. If you enjoyed that title you will love this one as well!
Click Here to Pick up "Being a Dog" on Amazon
The Secret Language of Dogs: Unlocking the Canine Mind for a Happier Pet
Written by canine behaviorist and positive training advocate Victoria Stilwell, "The Secret Language of Dogs" focuses on bettering communication between you and your dog.
Learn how to better understand canine visual and vocal cues to improve your relationship with one another!
Click Here to Pick up "The Secret Language of Dogs" on Amazon
Dogster Magazine Subscription
Stay up to date with the latest in the dog world with a subscription to Dogster magazine. This bi-monthly periodical features news, health tips, product reviews, recipes and more!
Click here to Set Up a Dogster Subscription on Amazon!
For the home
Just because dogs live in your home, doesn't mean that it needs to look that way! There are plenty of stylish and functional dog product options these days so you can get what you need without clashing with your home decor.
PrideBites Dog Toy Bin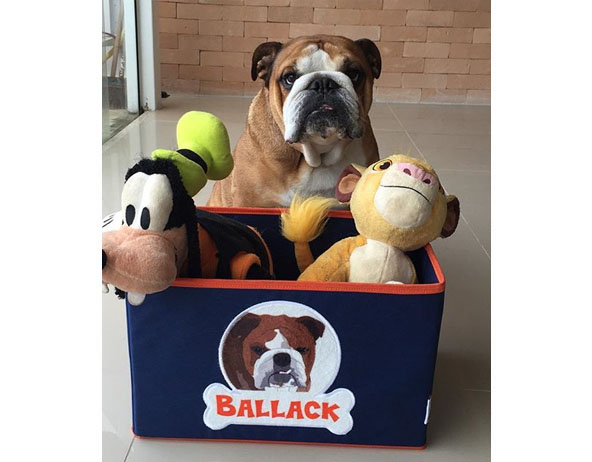 Photo Courtesy of PrideBites.com
Keep things tidy with a dog toy bin from PrideBites. 
With tons of color options for the background and piping detail, these can be customized to look great in any home. You can even add your pets name and likeness for that extra special touch!
Save 20% on Your Order Using Code "MyDogLikes"
Dog Welcome Mats
All visitors will be greeted with a smile with these cute dog themed door mats. Plus, they get a heads up that they are entering a dogs home, so they better get used to it!
Click Here to Browse Dog Mats on Amazon
Dog Themed Coffee Mugs
Hand painted stoneware that is also dishwasher and microwave safe!
Click Here to Browse Dog Mugs on Amazon
Personalized Dog Treat Jar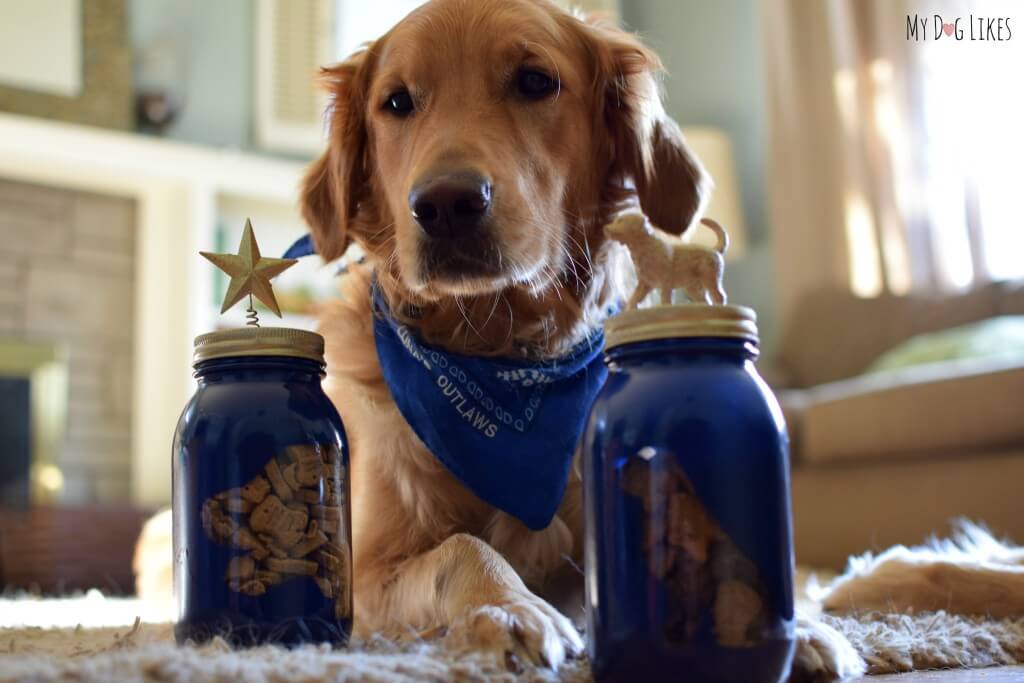 Nobody likes the look of treat bags on the kitchen counter. Your friend will be thrilled to replace them with a custom dog treat jar – made to match their home decor!
Choose from a variety of color options, transparent silhouettes, lid toppers and even personalize with their pets name!
Click Here to Place Your Order
Dog Throw Pillows
They are available in tons of adorable holiday and non-holiday designs. Made from 100% New Zealand wool with a velvet backing. 16″ x 16″
Click Here to Browse Peking Handicrafts Amazon Store
Leash Hooks
Dealing with a cluttered entryway? Tripping on leashes, harnesses, vests and other dog gear? We love these cute dog leash hooks from IKEA, that will give these items a convenient home.
Available in several different colors and can be installed on almost any surface.
Click Here to Pick Up These Leash Hooks on Amazon
Walk through Dog Gate
Know a dog that is sometimes relegated to a certain room or section of the house. Know an owner who is tired of tripping over the gate when they need to pass through!?
This Safety 1st brand walk through dog gate has a built in hinged door allowing you to pass through with ease. It also has an auto-close feature perfect for when you have your hands full, or children who may forget to close the gate behind them.
Click Here to Pick Up a Gate on Amazon
Pet Safe House Cleaners
For the eco-conscious person on your shopping list.
Pl360's pet safe house cleaners are derived from plants and contain no harsh chemicals. They are completely non toxic and safe for your pet, while working great at the same time.
Available in an all-purpose spray, carpet cleaner, and surface wipe.
Click Here to Browse PL360's Cleaning Products on Amazon
Deodorizing Candles
These candles from One Fur All are specially designed to help tackle those lingering pet smells. Made from 100% soy wax, completely nontoxic and produced in America. One Fur All candles come in 15 tantalizing scents including Vanilla Creme Brulee, Lilac Garden and Pumpkin Spice.
Click Here to Pick Up these Candles on Amazon
Dog Drinking Fountain
Encourage your dog to drink more with a dog drinking fountain from PetSafe. Proper hydration is an extremely important aspect of health and animals have a natural attraction to running water.
These fountains are available in tons of different sizes and styles, all with built in filtration systems. We have had the Drinkwell Everflow for several months now and have been extremely happy with it!
Click Here to Browse PetSafe's Fountains on Amazon
Pet Eraser Handheld Vacuum Cleaner
Fighting a constant battle against pet hair?
This Pet Eraser from Bissell is specially designed to tackle pet hair around the home. The flexible rubber tip conforms to curved surfaces like furniture upholstery and stairs. Weighing in at only 4 lbs, you will be amazed at how much suction power it can deliver!
Click Here to Pick Up the Pet Eraser on Amazon
Miscellaneous
Looking for something small? The following fun or heartfelt items are inexpensive but will still pack a punch in terms of novelty or meaning! Perfect stocking stuffers!
Hot Paws Glass Casting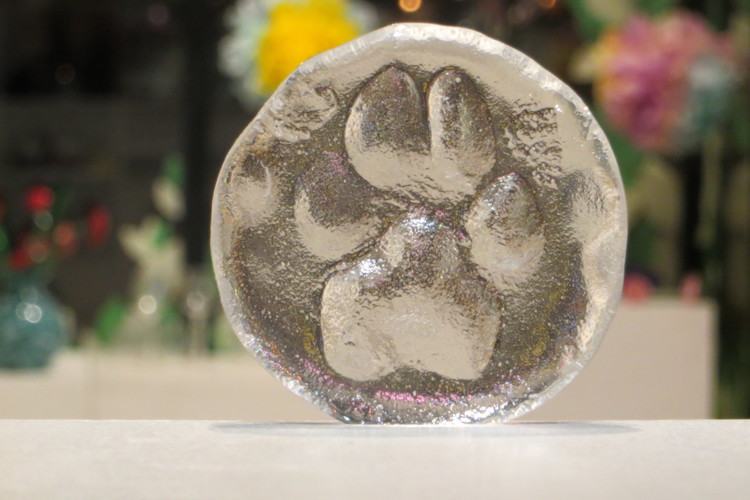 Photo Courtesy of Hot Sand
This unique gift also doubles as a fun bonding experience. 
The brainchild of a glass studio in New Jersey, Hot Paws is a unique dog paw print molding kit. After forming the print from their moldable material you send it right back to Hot Paws in a prepackaged container where it will be cast in glass. After a couple of weeks your friend will receive a gorgeous glass impression of their dogs paw which can be used as a paperweight or hung as an ornament.
Click here to order a Hot Paws Kit
Dog

Refrigerator

 Magnets
OK, so maybe we are a bit obsessed with dog butts, but you have to admit that these are adorable! Add a bit of humor and depth to your refrigerator door with those adorable dog butt magnets.
Also available as dog heads and other animals.
Click Here to Pick Up these Magnets on Amazon
My Dog Is Home Alone Wallet Card
Every dog owner should carry one of these cards in their wallet in case of an emergency.
This simple piece of paper could be a lifesaver by letting EMT's and first responders know that you have a pet at home in need of care.
Bright color to grab attention and room for emergency phone numbers and contact info on the back.
Click Here to Pick Up these Wallet Cards from Amazon
Save My Pets Window Decal
Along the same lines as the wallet card, this window decal can be a lifesaver in an emergency situation. Take a quick moment to fill it out and stick to your front door or window to let firefighters or emergency personal know that their are animals inside your home in need of rescue.
Every pet owners greatest fear is that something will happen while they are not home. These simple stickers can help give a bit of peace of mind.
Click Here to Pick Up these Window Decals from Amazon
"Did you Feed The Dog?" Slider
Help keep fights to a minimum and dogs from being over fed!
This little widget is designed to keep track of one simple task: daily dog feeding! Mount this bad boy in your kitchen or wherever you feed your dogs so that everyone in the family is on the same page.
Click Here to Pick This Up on Amazon
Dog Themed Thank You Notes
Perfect for the ones who always seem to have things together. Each thank you note features a unique and adorable image of a dog wearing glasses.
(10) 4″ x 5.125″ blank cards – also available in other artwork options!
Click Here to Pick Up these Note Cards on Amazon
Travel Gear
Pet lovers know that any adventure is improved when you bring your dog along. The following items will help make traveling with pets easier, safer and more enjoyable.
4Knines Dog Car Seat Covers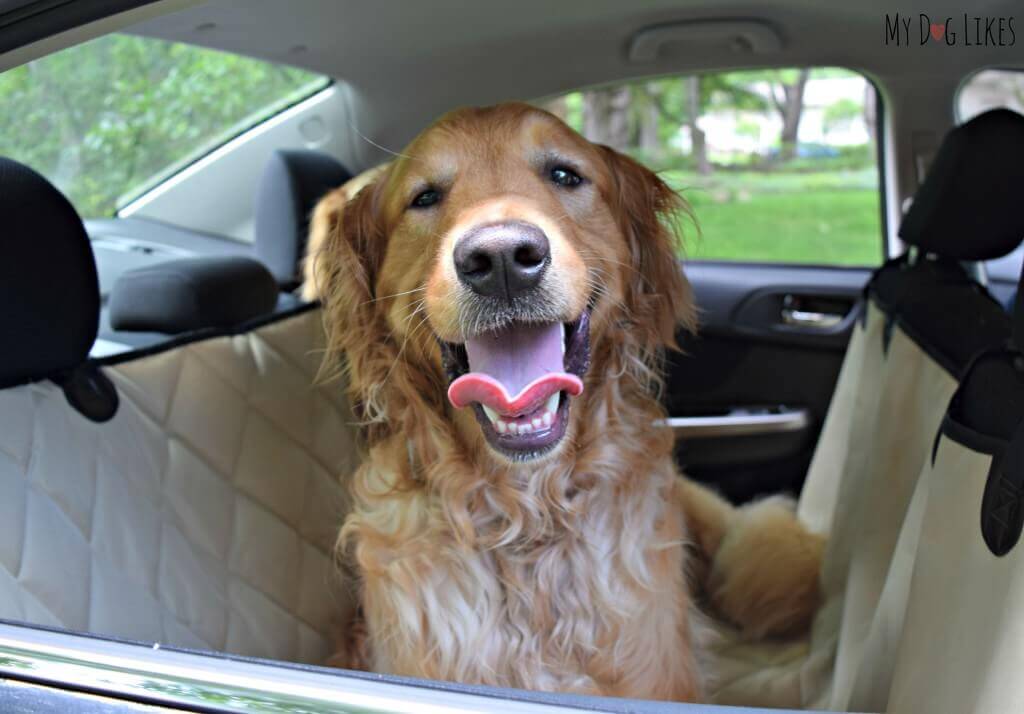 You spent a lot of money on your vehicle. Doesn't it make sense to keep it protected?
We use 4Knines covers in both our car and SUV to protect the floor and seats from muddy paws, sharp nails and errant dog hair. They look fantastic and to put it simply, the quality can't be beat. Highly recommend for ALL dog owners!
Click here to Browse 4Knines Seat Covers on Amazon!
Be Forever Furless Brush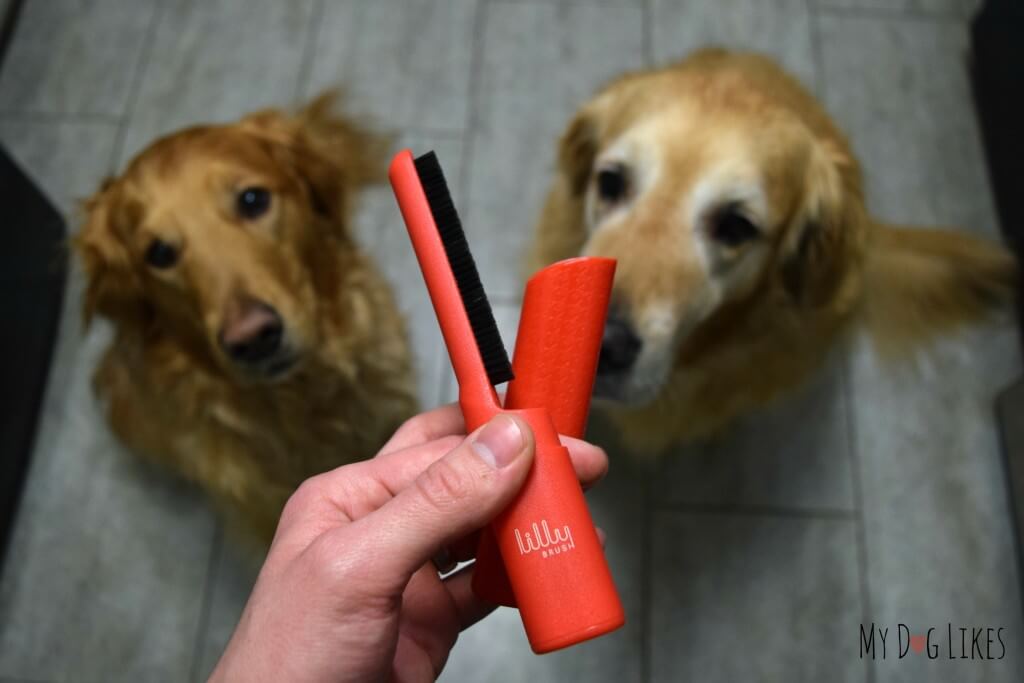 Tired of walking around covered in dog hair? Or embarrassed by the look of you car seats or furniture?
The Be Forever Furless brush from Lilly Brush works wonders at collecting stray dog hair. Get the bristles damp and it works even better!
Comes in a full size for use around the home or a travel size perfect for the purse or car.
Click Here to Browse Lilly Brush on Amazon
Tech Gear
Now for the really cool stuff – and the dog owner who seemingly has it all! The following products will have any tech lover drooling just like their beloved pet!
Vimtag Webcam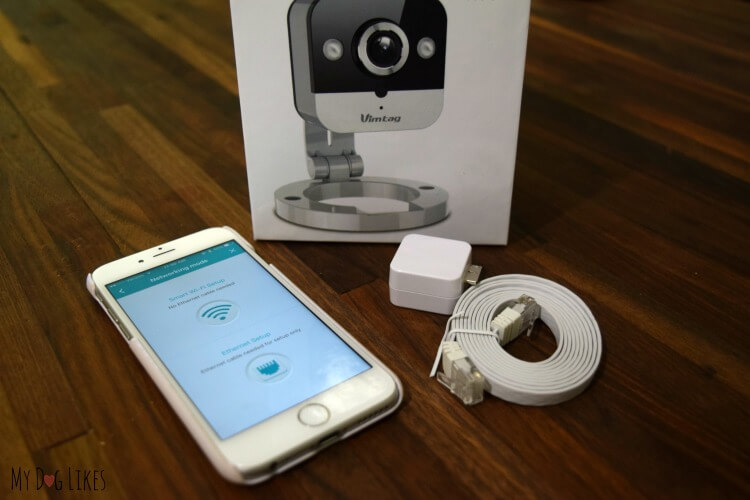 Nobody likes to leave their pets at home when they head off to work. Not only do you miss their company, but you worry about them as well. Internet connected cameras give you the ability to check up on your pet when needed.
We have this Vimtag MV1 camera which even has the capacity to speak to your pet with 2-way sound.
Click here to Browse Vimtag Webcams on Amazon!
Petzi Cam and Treat Dispenser
Want to take it a bit further?
The Petzi Treat Cam is an internet connected camera with a treat dispensing option! Show your pet that you are thinking of them whenever you wish, by calling them over and popping out a dog treat! Best of all is that you get to watch them enjoy it as well!
Click here to Check out the Petzi on Amazon
Nuzzle GPS Tracking Collar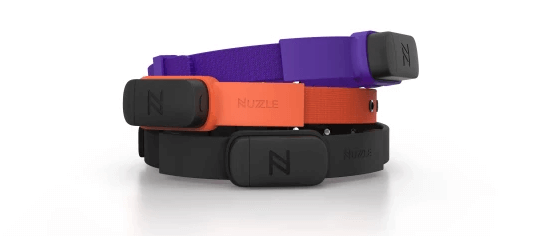 Give the gift of peace of mind with a Nuzzle GPS Pet collar.
This collar and app system will let you know just where your dog is located at all times. It uses GPS and 3G from your current cell phone plan (no additional monthly fees) and can be even set to alert you if your dog leaves a specific area. Lightweight, waterproof to 10′, impact detection, and activity tracking included as well.
Act fast! The Nuzzle is in very high demand and you don't want to miss your chance! 
Click here to Order your Nuzzle Now
FitBark Dog Activity Monitor
Know a pet that could spare a few pounds, or an owner always worried if their dog is getting enough exercise?
The FitBark is a dog activity monitor designed to fit right onto your dogs current collar. Small sensors within the device will measure various aspects of their movement and sleep patterns throughout the course of the day. Share this information with your veterinarian for accurate data and better diagnosis.
This nifty little device weighs only 8 grams and has a battery life of 14 days!
Click here to Pick Up a FitBark on Amazon
iFetch Automatic Ball Launcher
Give the gift of a rested arm with the iFetch Automatic Ball Launcher!
This device allows a dog to play fetch by themselves. Simply teach them how to drop their ball into the top of the unit instead of your hand, and  it will be launched in just a few seconds! Can be used indoors or out, with launches of 10, 25 or 40 feet!
Click here to Check out the iFetch on Amazon
Looking for More Pet Gift Ideas?