Featured photo courtesy of Annabelle Denmark Photography
Although we were up early on Friday for the first full day of the BlogPaws Conference, it felt great to get a full night of sleep and know that we wouldn't have to pack everything up and get on the road again. Compared to our other stops which were only about 6 hours, the Sheraton Grand Wild Horse Pass was beginning to feel like home!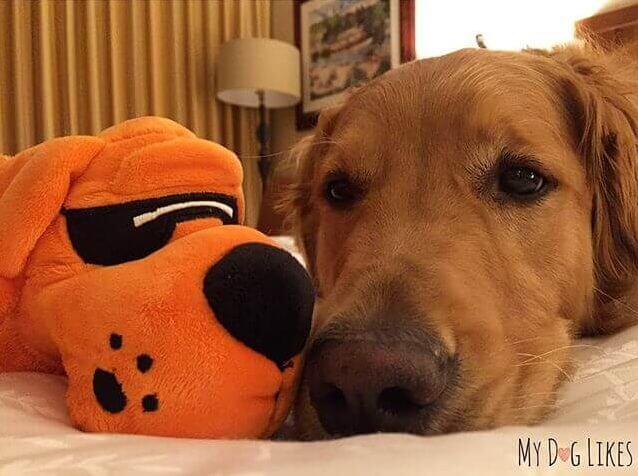 As I already shared, our room was amazing and the hotel was so welcoming to all 4 legged friends including dogs, cats and even ferrets and rats. However, no matter how accommodating a hotel, there are always some challenges in taking care of dogs on vacation like coordinating potty breaks, feeding the dogs (especially if you feed raw/homemade), and keeping the dogs stimulated and exercised. We will share some of our favorite tips with you in another post, so if you are thinking of traveling with your dogs, check back in later!
BlogPaws Social Media & Pet Blogging Conference 

BlogPaws Pet Blogging Conference is a 3 day event packed with educational sessions by leading industry professionals. On top of that is a booming exhibit hall that gives bloggers/influencers an opportunity to connect face to face with some of the top brands in the pet space – so that we can continue to learn more about the wonderful products and services that are helping pets to be healthier and happier. By far, one of our favorite things about the BlogPaws Conference is that it gives us an opportunity to connect in person after forming relationships online.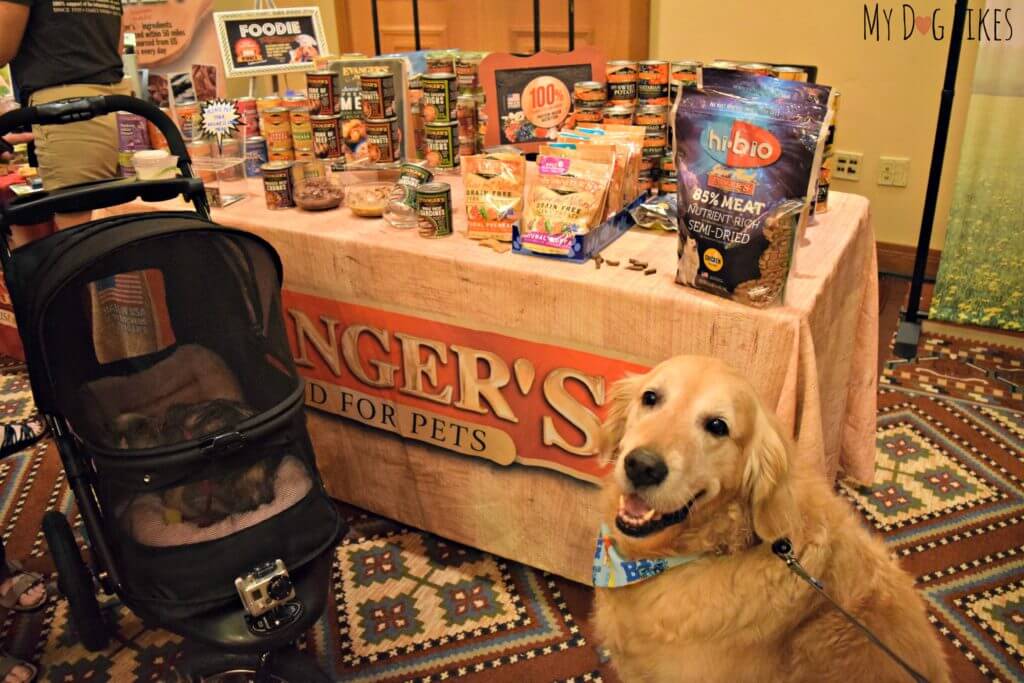 Our Favorite BlogPaws Sessions
Photography – I took a photography session with Monique Rodriguez from Silver Paw Studio, which I LOVED. At the end of the session, I only wished that it had been a 3-hr workshop!  I know that it would be a HUGE success because in a session that was half as long, Monique provided several practical tips for improving my photography of pets that could be implemented right away.  Monique was also so down to earth and approachable, it totally made me think "I can do this too"!
Website Development – Kevin took a class with Jessica Shipman from Beagles and Bargains which he described as amazing! Jessica was able to take some scary topics to bloggers (web development, security, and back end administration) and explain them in a way that was not at all intimidating! Jessica just launched her own company where she provides technical assistance, coaching, and support to bloggers. Check out her beautiful site, here.
Social Media Hacks and Tactics #Hactics – Kev and I signed up for a session together on social media with Carol Bryant (Fidose of Reality) and Maggie Marton (Oh My Dog Blog). These two experts also work for BlogPaws, the organization who put together the entire conference. We learned some great tips on how to maximize our reach and grow our audience. We also learned some helpful shortcuts and "hacks" to reduce the amount of time that we spend on Social Media while still connecting authentically and sincerely with our online community.
Keynote Speakers
Pamela Slim is an award winning author, speaker, and business consultant who has worked with major companies as a consultant and also with entrepreneurs to propel their businesses forward. Pamela spoke about reaching the ideal audience and telling your own personal story. She was inspiring and engaging! If you want to know more about Pamela check out her website, here. If you are at all interested in kicking the "office job" and pursuing a passion, check out her site, Escape from Cubicle Nation
Pamela Wilson is a successful business woman who founded Big Brand System, a web community that teachers business owners how to use marketing and design to create and hone their brand. Today she is Executive Vice President of Educational Content for Rainmaker Digital, formerly Copyblogger Media. Pamela shared a 4 day approach to writing content. Kev and I hope this new process will help us to improve how we work and produce better quality blog posts on a consistent schedule for our readers.
What the Dogs did During the Sessions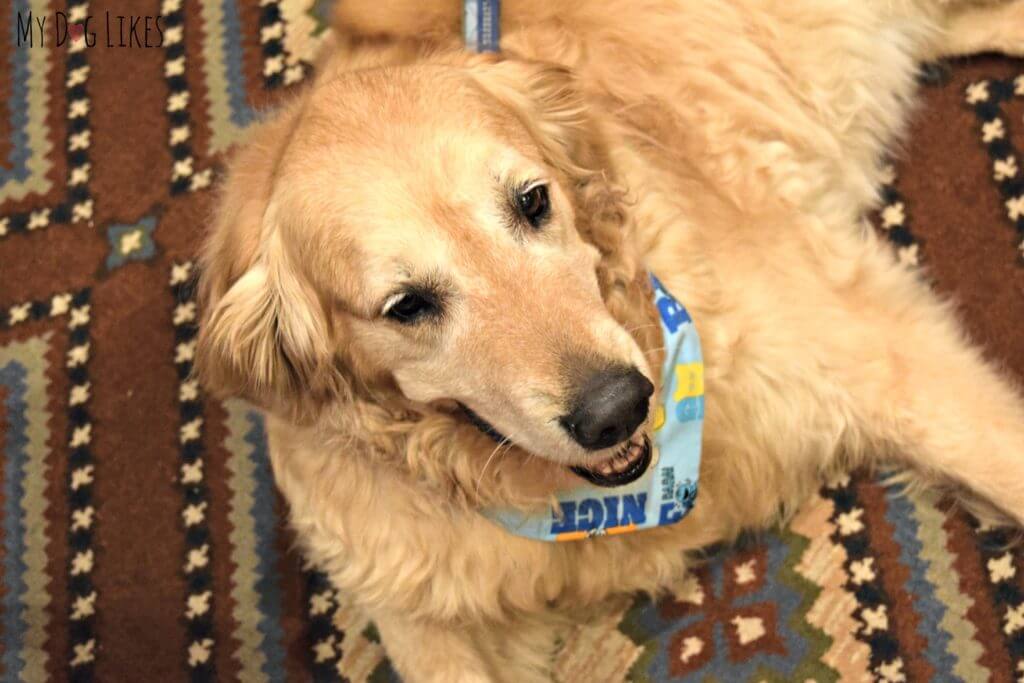 Blogpaws offers "dog park" rooms for play or quiet rest, but the dogs are also allowed to stay with you and attend sessions. Harley and Charlie are so adaptable that we opted for this route and we were so proud of how they behaved during the classes – although I did catch them dozing a few times!
VIP Events
Every year a select group of bloggers are chosen to participate in VIP events hosted by conference sponsors. This year we were invited to attend a number of VIP events with brands/organizations like PetSmart, AAHA, and Wellness. Unfortunately, we had to decline a few events because of our travel schedule. We were so excited to be able to sit down with Wellness and learn more about some of the new treats they have coming to the market!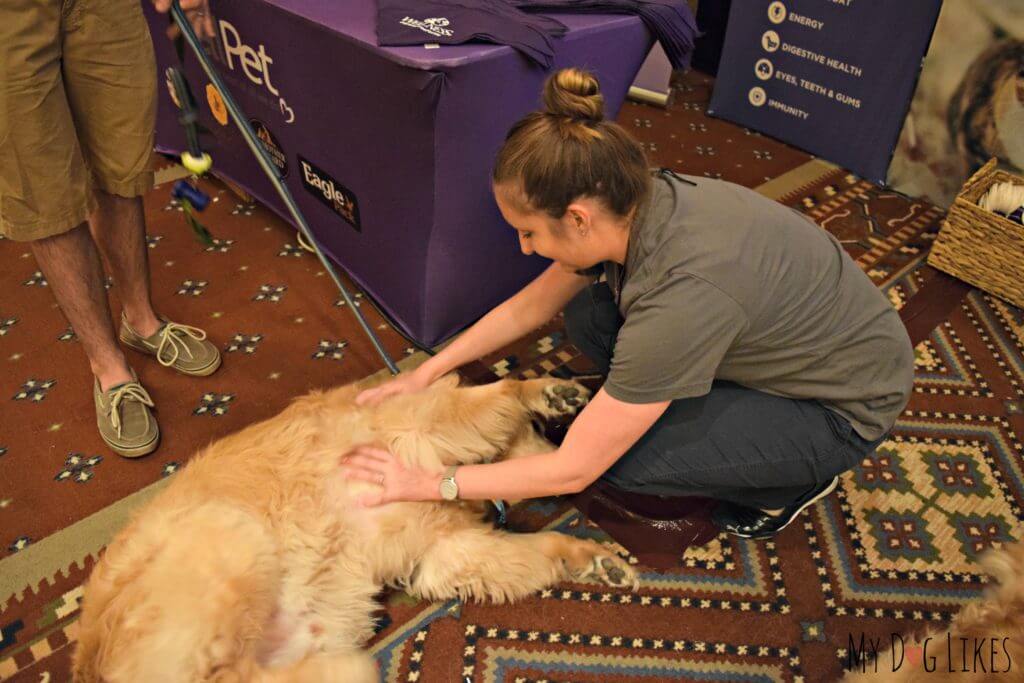 This year we were also generously offered the opportunity to be sponsored at the conference by a brand which would have paid for our all of our travel expenses and registration fees. While we know that this brand is popular with many dog parents, we didn't feel that it was as closely aligned with our mission and graciously declined.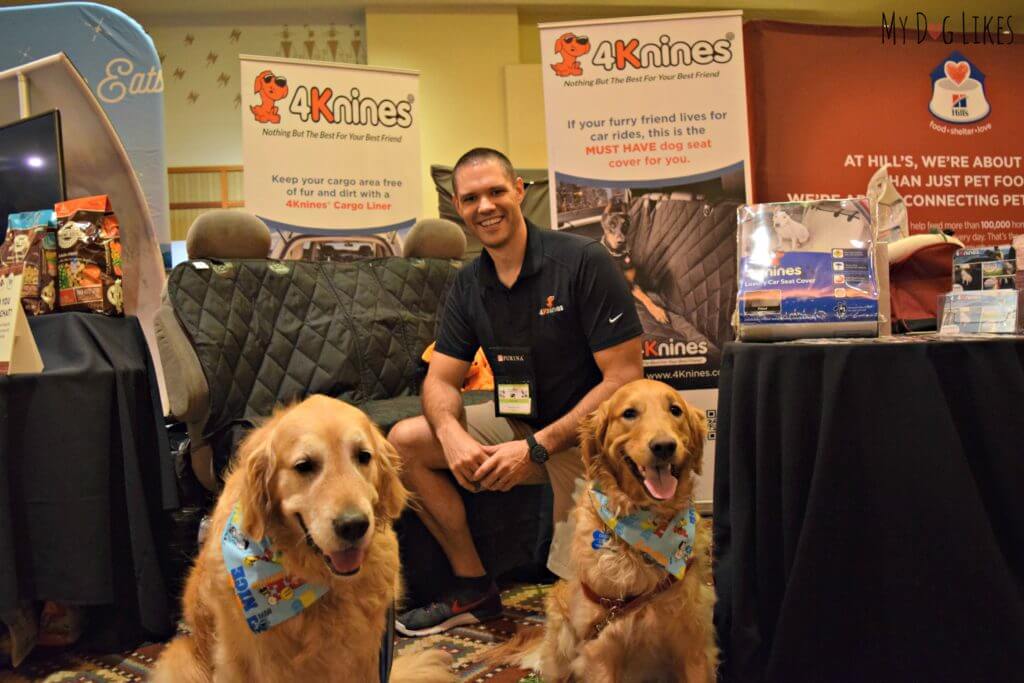 Overall, we want to give a big shout out to all of the sponsors who helped to make this conference happen. Conference sponsors/brands help to make the magic happen at BlogPaws, while keeping the costs of attendance low. I have attended many conferences in my career none of which compare in value. One low registration fee covers three days of events, speakers, and food. All of this is possible because of the wonderful sponsors who value the voice and influence of pet bloggers!
Birthday Pawty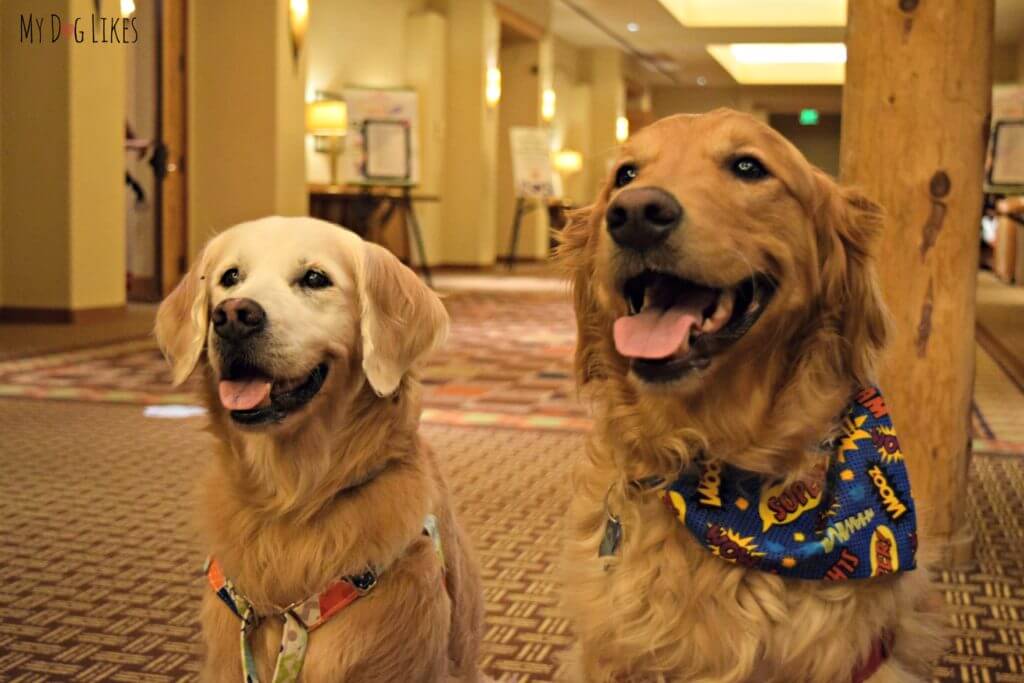 Guess who is turning 15? Sugar, from GoldenWoofs, who also happens to be one of our favorite golden gals! We had the opportunity to celebrate Sugar's 15th birthday and gave her lots of golden hugs and kisses. We just love Sugar and were so happy to FINALLY meet her and Mom (Rosalyn) after being online friends for so long!
Red Carpet
BlogPaws would not be complete without a red carpet event! The Nose-to-Nose Awards were created to honor and recognize individuals who have achieved excellence on their blog or social media accounts. We were not nominated this year, but its always fun to dress up, have fun with the pups, and honor our peers who have been recognized! If you are looking for some new blogs to check out, this list of nominees will not disappoint.
Until Next Year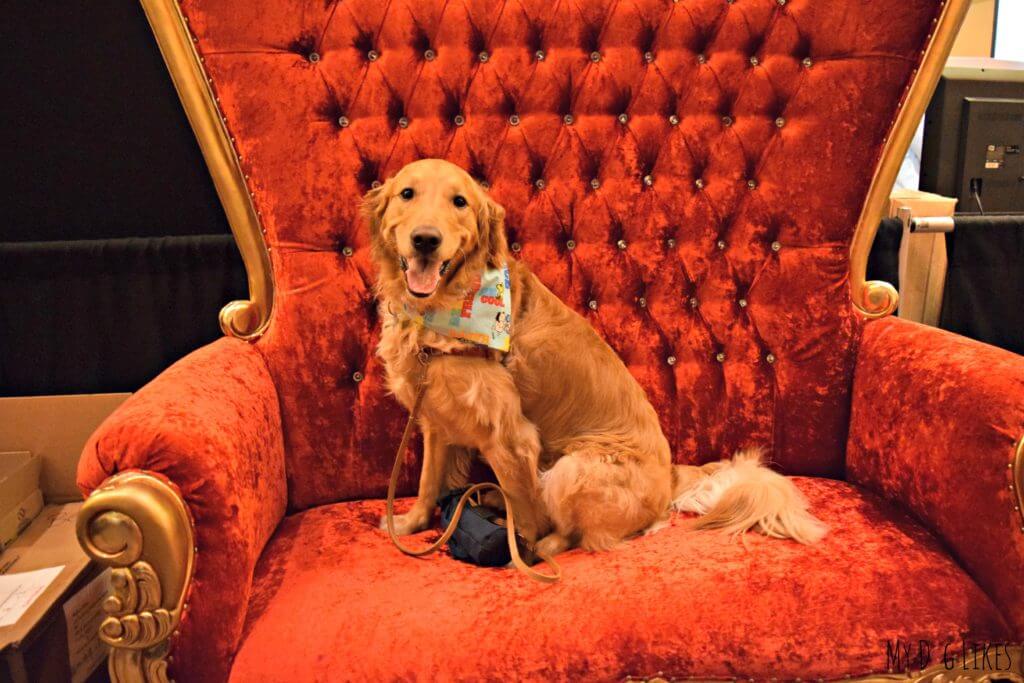 One of our favorite parts of the BlogPaws conference is connecting and catching up with our online blogging family. Throughout the year we spend a lot of time working together and helping each other out. There are a lot of behind the scenes connections that help all of our blogs run better and connect with you, our readers, more. We were so happy to talk to friends, new and old, because it helps us to feel refreshed and invigorated about what we do. We are excited to see how we will grow personally and professionally before the next BlogPaws conference in Myrtle Beach (May 18-20)!
What we learned:
Arrive Early: We were disappointed that we were not able to attend some special VIP events that were taking place on the Wednesday before the conference. Next year we will make sure to book an extra night. Not only will this give us the opportunity to attend any special events (should we be invited!) but also more time to visit and catch up with friends.
Quick Stats
Miles traveled: 0!
States passed through:  1 (AZ)
Gas fill ups: 0!
Stop back tomorrow to see what we're up to on Day 6…
Visit our Road Trip Home Page  Enter our Grand Prize Leaderboard Contest