Having traveled 1,200 miles over the past week (and already packing/unpacking several times) we were definitely ready for a bit of relaxation when we arrived in Burnsville last night.
The timing couldn't have been better for our Glamping with Pets stay!
Glamping with Pets
As we mentioned before, this leg of the trip was being sponsored by Glamping Hub – who was kind enough to put us up for 2 nights so that we could get a sense of what a Glamping experience was all about!
For those unfamiliar with the term, Glamping is a mashup of the words Glamorous and Camping. If you love the outdoors, but the thought of going without modern amenities scares you off, then Glamping might be for you.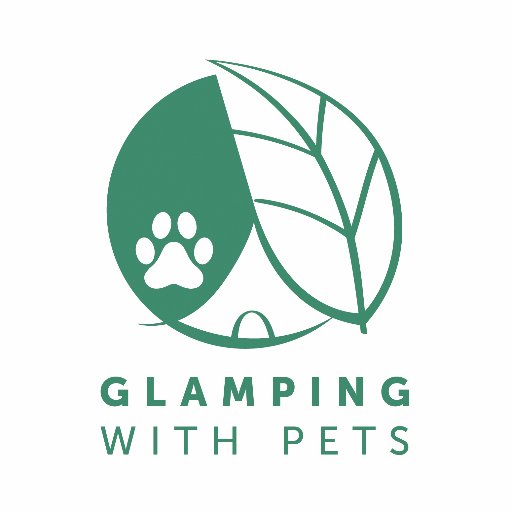 Glamping properties run the gamut from permanent structure tents, to cabins, cottages, vacation rentals and even tree-houses! (Seriously!) If there is one thing that they all have in common its an intimate connection with nature – without having to "rough it." A large number of these properties are also pet friendly. So many that Glamping Hub recently launched a spinoff site called Glamping with Pets to collect all of these properties (worldwide) into one place.
Once we had a rough idea of our route for the road trip we jumped on the site and were happy to find quite a few properties near Asheville and along the Blue Ridge Parkway. We settled on a place near Burnsville which would mark the midpoint of our trip.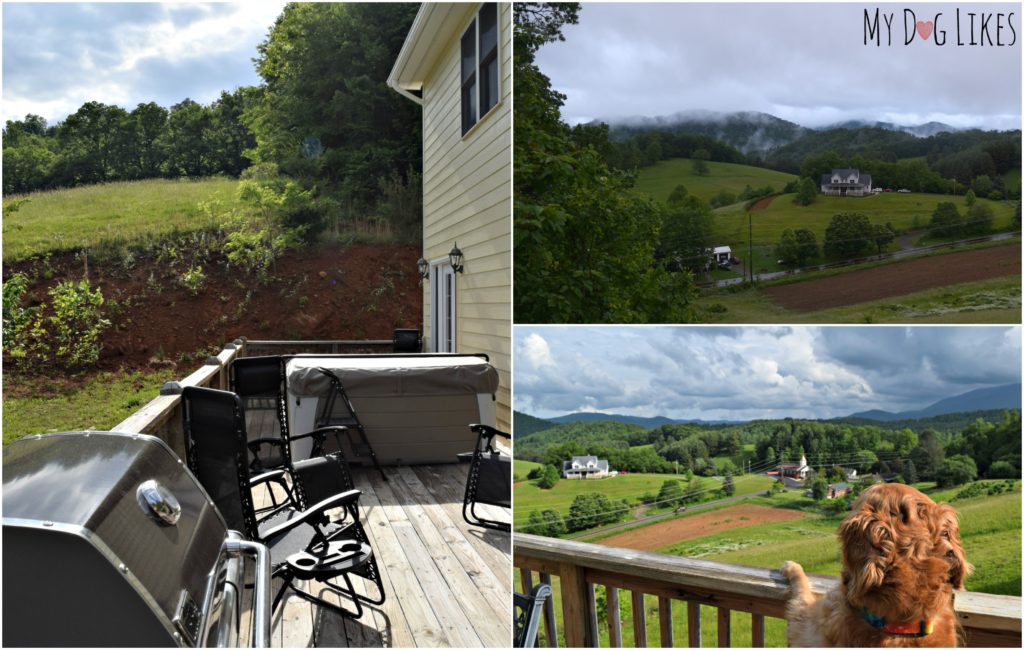 Green Mountain Chalet
Our listing described itself as a luxury cabin in Burnsville overlooking North Carolina pastureland.
Our first thought when we arrived was that this is not what I would call a cabin! Located on Green Mountain (up a long and steep driveway) this place was gorgeous and extremely spacious! Most of the home is surrounded by a wraparound porch with stunning panoramic views. You can even see Mount Mitchell prominently out the back windows!
Click Here to Watch our Virtual Tour!
Though it was only the 3 of us (plus the dogs) there would have been room for 2 other couples at least.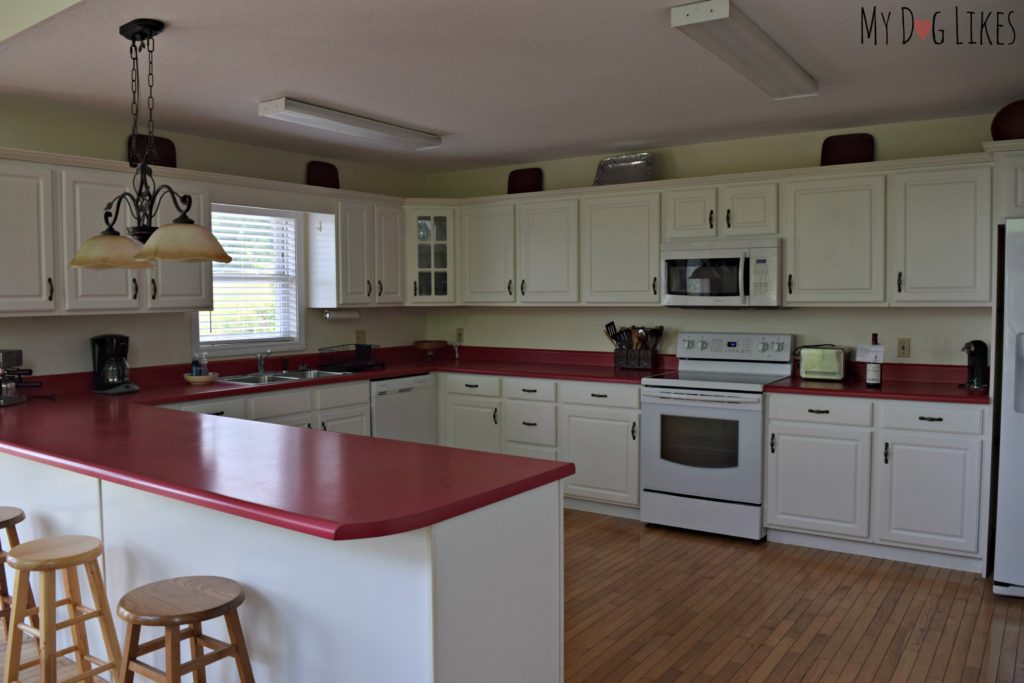 Everything was clean and well stocked with plenty of personal touches like a bottle of wine on the counter and a sampling of local craft beers in the fridge. They sure guessed right with us! We felt quite at home as soon as we walked through the door!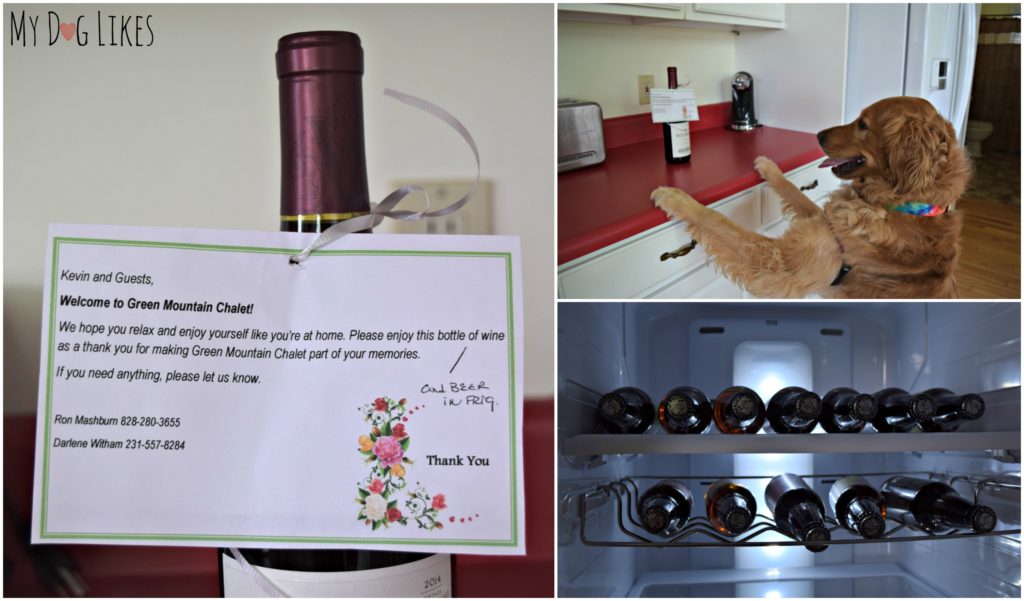 This property has a huge master suite with King bed and access to the deck. There is also a large bathroom with tub and shower. Upstairs you will find the other 2 bedrooms – both with their own bathrooms as well!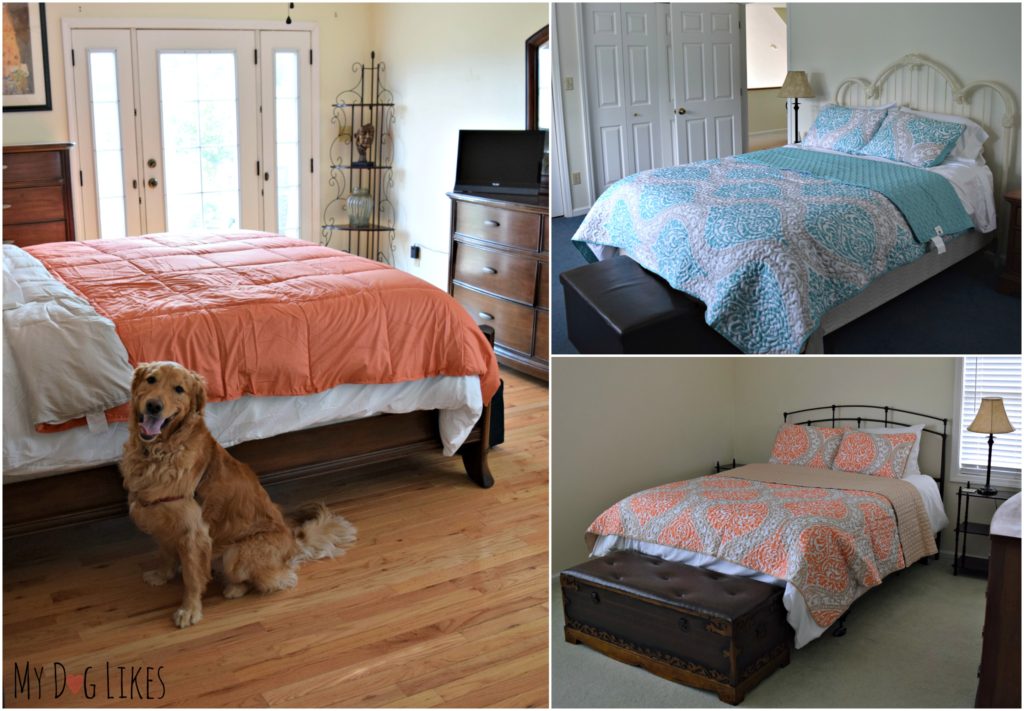 The second floor balcony looks out over the living and dining rooms, and Charlie loved running up and down the stairs and peeking down at us.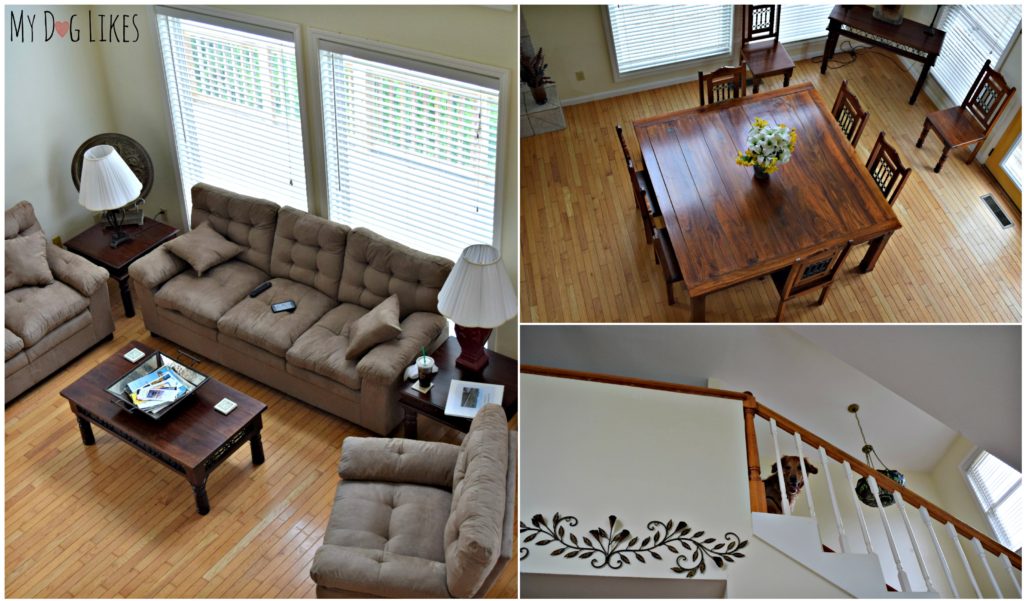 Other Amenities
Washer/Dryer
Air Conditioning
Fireplace
Gas Grill
Hot Tub
Wi-Fi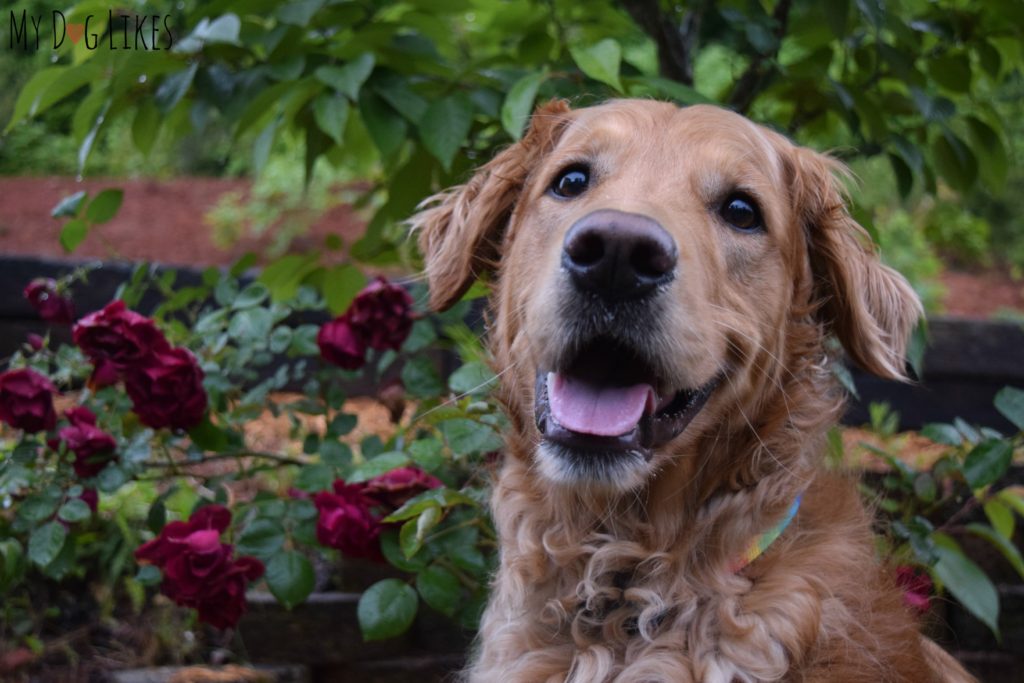 The grounds of the property were beautifully landscaped and there was plenty of room for charlie to run and fetch his favorite frisbees.
What to Do in Burnsville, NC
While our initial plan was to hike the surrounding Pisgah National Forest, we were once again thwarted by huge amounts of rain. The fog you can see settling into the mountains below was about as clear as it would get all day!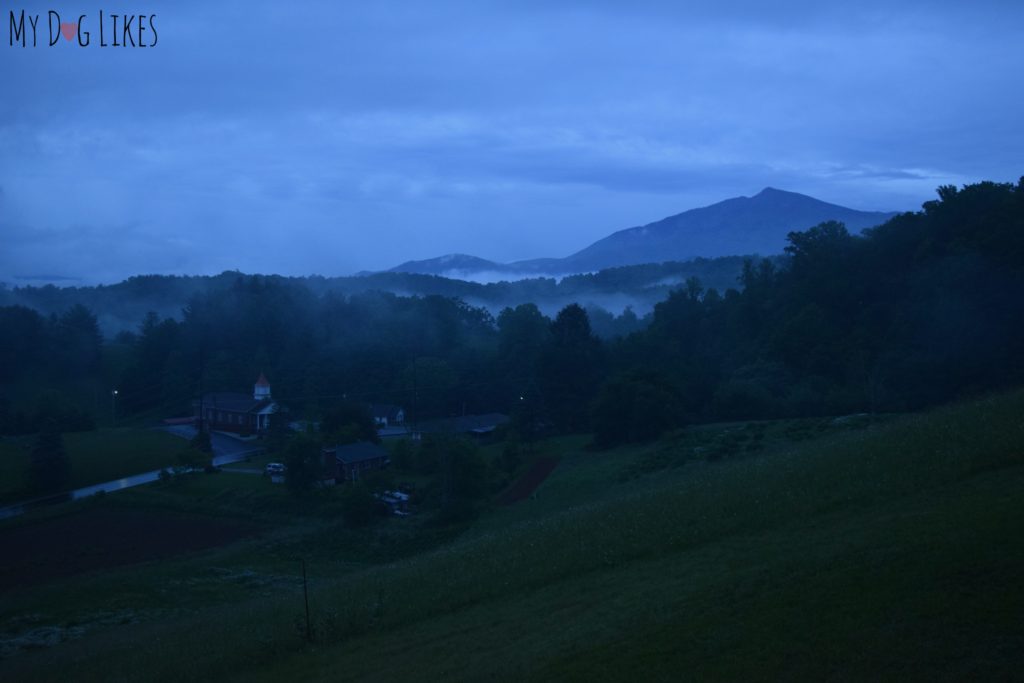 Oh well, if there was a place to be stuck inside, this was it, so we decided not to stress out about the weather and just relax and enjoy ourselves. Thankfully we had plenty of interactive toys to keep the pups busy while we rested and enjoyed some peace and quiet!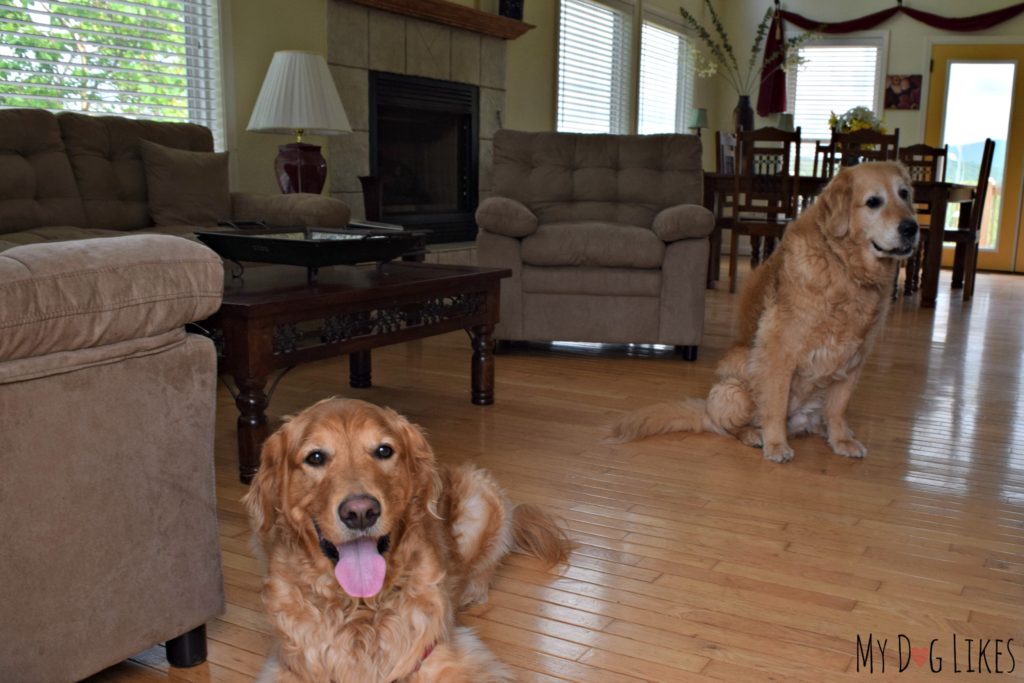 We had an awesome day and knew that we would not want to leave tomorrow morning! This is the way to vacation with pets! If you are ever in the area we would HIGHLY recommend a stay at the Green Mountain Chalet!
What we Learned
Grab a meal at Pig and Grits! We made one and only one excursion for the day, down into the quaint village of Burnsville for breakfast. Our hearty southern style breakfast was so good that we almost drove back down to try their BBQ for dinner!
The Lotus portable crib/ playard is a must when traveling with babies or small children. Though we have been using it daily, we haven't mentioned it yet! This thing folds up and snaps together in seconds, weighs just over 10 pounds and packs up into a small rectangular bag! SO CONVENIENT!
Quick Stats
Miles traveled: 18
States passed through: NC
Gas fill-ups: 0
What's Next?
Tomorrow we drive the Blue Ridge Parkway on our way up to Christiansburg, VA!