The spirit of giving is alive and well over at MyDogLikes!
Wondering how "Santa Paws" ensures that our pups are surprised this holiday season? By making sure that all of those dog gifts are wrapped up nice and pretty!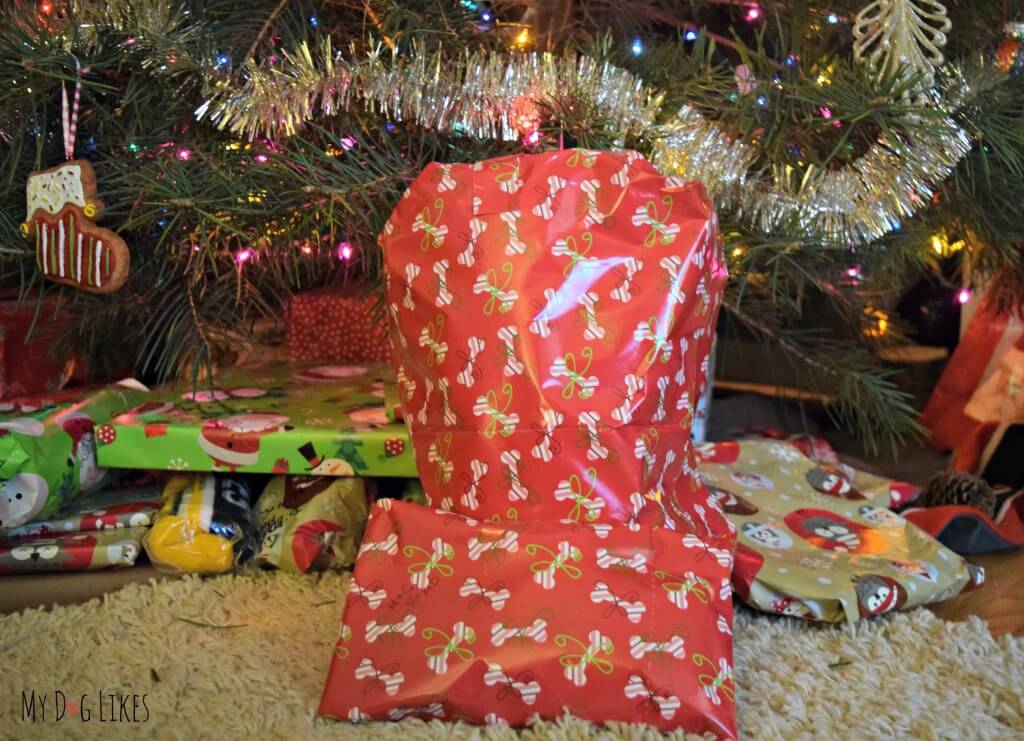 Peace on Earth of Mind
Unwrapping presents is lots of fun, especially if you have an enthusiastic pup to watch do it! We have met some pups that unwrap with laser precision. Unfortunately, as we recently found out, Charlie is more of a tear-and-chew kind of un-wrapper. He enjoys eating the wrapping, just as much as tearing it to shreds!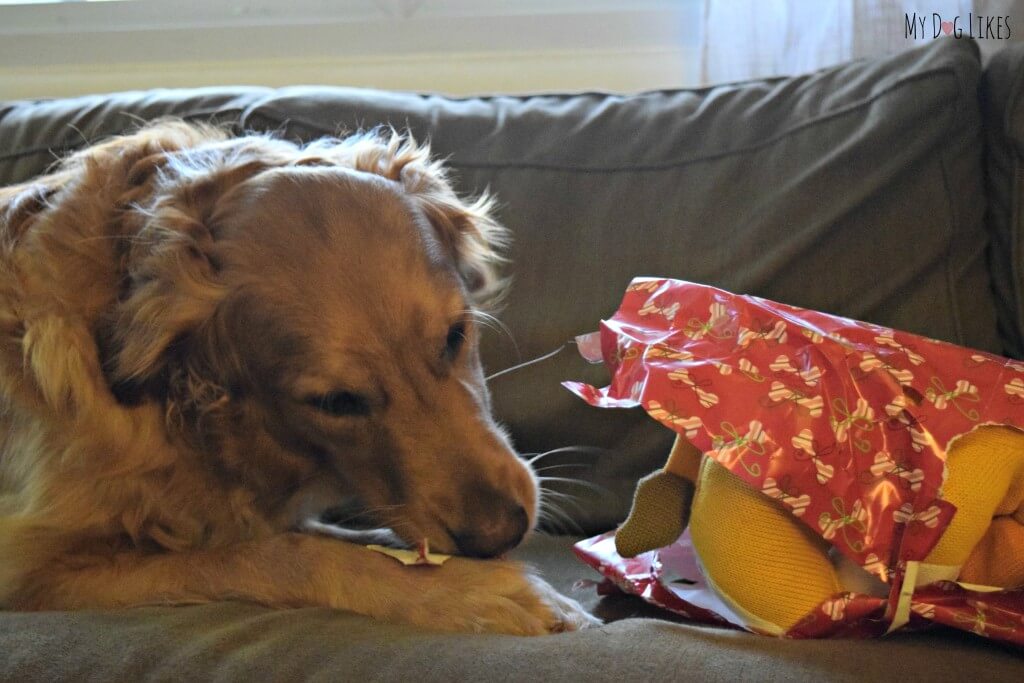 As Charlie ate and tore away at his Christmas presents, we had peace of mind this year knowing that the wrapping was safe AND pet-friendly!
Traditional Wrapping Paper
Though previously unknown to us, traditional wrapping paper is often treated with bleach and chlorine. In addition, the tape that we use to secure gift wrap can pose a choking hazard (and in the case of Max the cat who insists on eating tape, digestive upset).
Introducing Pet Party Printz

One holiday season in 2006, a man named Dave, was frustrated by the lack of playful, pet-friendly gift wrap for his dog, Sami's, gifts. Dave figured if he was having this problem, surely other pet parents were too. Dave shared his initial brainstorm for a pet-friendly gift wrap with his business associates, David, and Bob, who ultimately joined him in bringing this idea to market.
DH2 International moved forward with the mission to offer sophisticated pet owners creative and playful pet-inspired designs while also offering a safe alternative to traditional gift wrap. After many man-hours, DH2 International ultimately engineered a completely pet-safe paper, ink, and adhesive. With your dog's safety AND style in mind, Pet Party Printz Gift Wrap was born!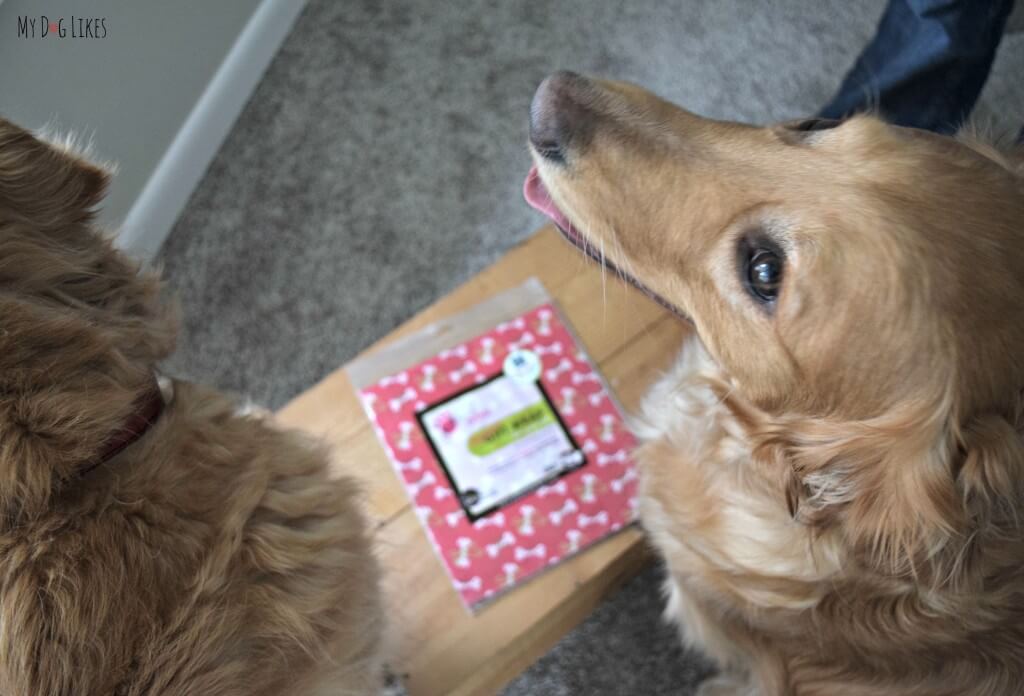 What is unique about Pet Party Printz?
Soy-based ink

No toxic chemicals were used to treat the paper

Rip-N-StickTM self-adhesive edge – No tape is required to eliminate the choking hazard

Made in the USA

Holiday, Everyday, & Birthday Prints (which are completely adorable)
So…What did we think?
Design – We loved the Rip-N-StickTM self-adhesive edge and the fact that it was right on the paper (attached with an easy-to-tear perforated strip). Pretty much everything that you need is right at your fingertips, which is great when trying to wrap in a house full of fur friends!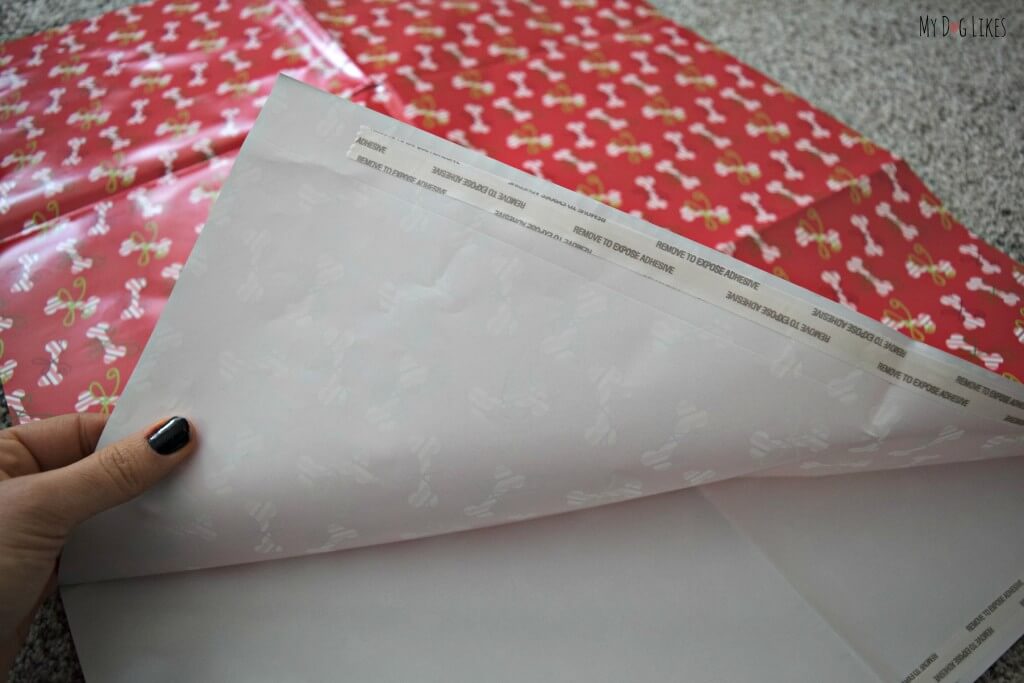 At an initial glance, the Rip-N-StickTM edge adhesive looks questionable, after all, I am used to using so much tape when wrapping. My fears were unfounded because what initially looked like a thin strip of adhesive, provided a shockingly strong connection and secure wrapping for our goodies.
While you certainly can wrap things nice and tight with it, we also loved it when wrapping more irregular shapes, creating an "easy to tear into" pouch. Because the entire seam of the present is not covered with tape, it helps your pups find corners to sink their tiny front teeth into!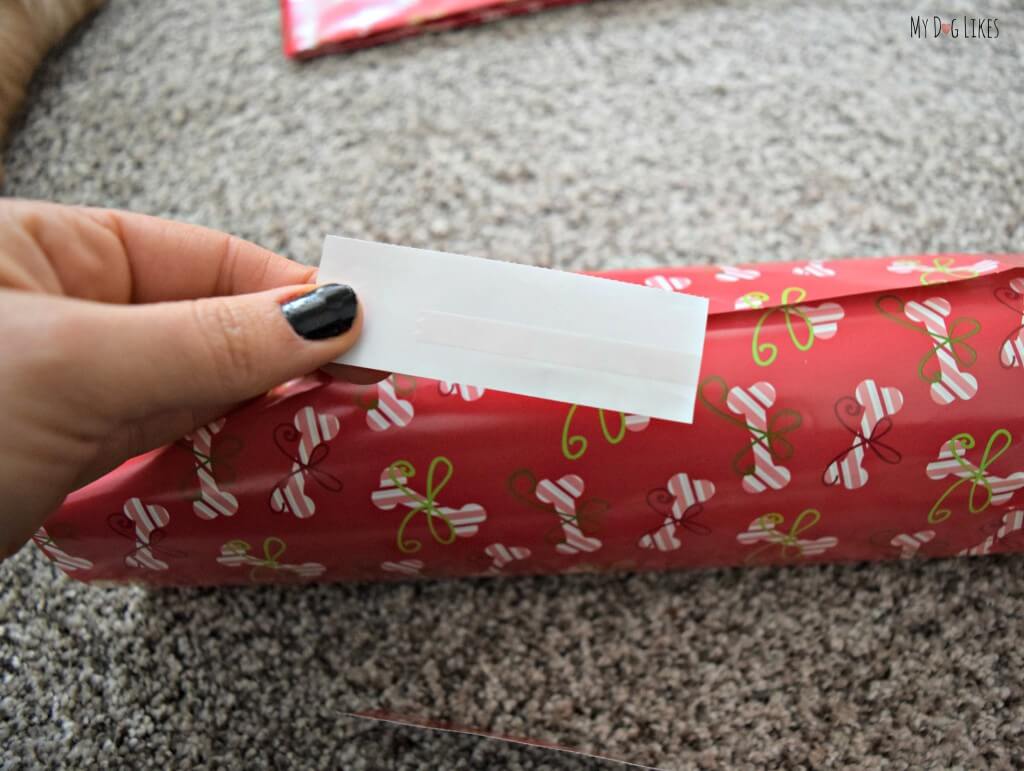 Aesthetics – We love that Pet Party Printz offers a holiday, birthday, and everyday line of gift wrap. Giving gifts to your pup is fun year-round and we see no reason why we shouldn't have year-round options to accommodate this?! Each of the gift wrap designs is fun, modern, and playful!

Safety – We love products that also increase our knowledge and awareness. We didn't know that bleach and chlorine were used to make most commercial wrapping papers that crisp white color. For us humans, it's not such a big deal, we don't tend to eat the paper our gifts are wrapped in! Our pups, on the other hand, love to eat the gift wrap. We feel that if there are safer alternatives out there, why not use them? We have seen firsthand that tape is a choking hazard, and when consumed, can cause stomach upset (Max always throws up after eating tape).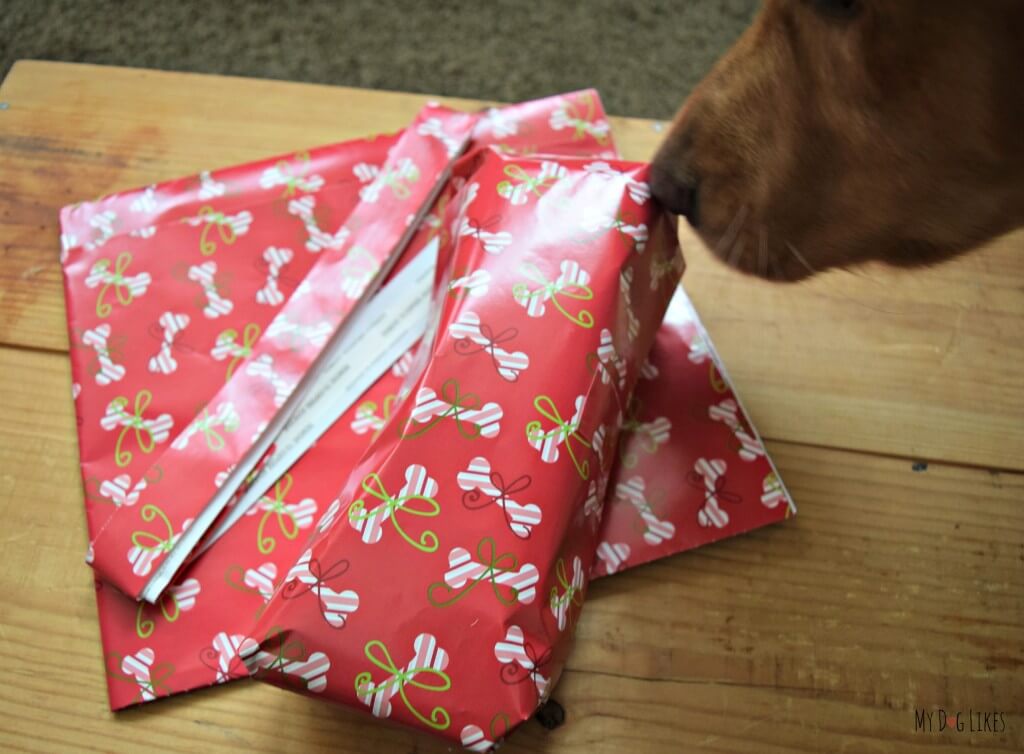 Quality/Value – The 7 sq. ft of gift wrap is thick and richly colored. The $5 price tag includes "tape" and is comparable in cost to other novelty gift wrapping. To give you an idea of the coverage, I was able to wrap 6-7 oddly shaped gifts (ranging from bones to large stuffies for Harley) and had left-overs for next year
Why MyDogLikes Pet Party Printz
Pet Party Printz offers fun, high-quality, pet-themed and pet-friendly wrapping for year-round fun. Whether you are giving gifts or simply want something to entertain the pups for a few minutes, the act of unwrapping ANYTHING provides tons of fun!  
We were totally unaware of the potentially dangerous chemicals (chlorine/bleach) that are used to make the crisp white of many commercially available wrapping papers. Now that we know, we see no reason not to use this fun and stylish wrap. The paper was easy to use (as easy as wrapping is with 4 animals in the house) and the Rip-N-StickTM adhesive was not only convenient but held on tight! If you like to treat your pups to some unwrapping, this is a fun, safe, and convenient thing to have around the house!
Don't forget about the pet lovers in your life too. The patterns are cute and modern; I know a couple of my dog-loving friends would like to see their gifts wrapped in it too!
Interested in giving Pet Party Printz Pet Safe Gift Wrap a try?
Click here to shop Pet Party Printz on Amazon!