A lost dog is every pet parents worst nightmare. Try as we might to keep them safe and out of harms way, accidents happen and dogs sometimes break free or escape.
While microchipping works well, you are still reliant on someone capturing your dog AND taking them to a proper facility for identification. What about for those times when your dog is simply making the rounds through the neighborhood, or if they can't be caught? Wouldn't it be nice to be notified of their exact location so that you can retrieve them immediately?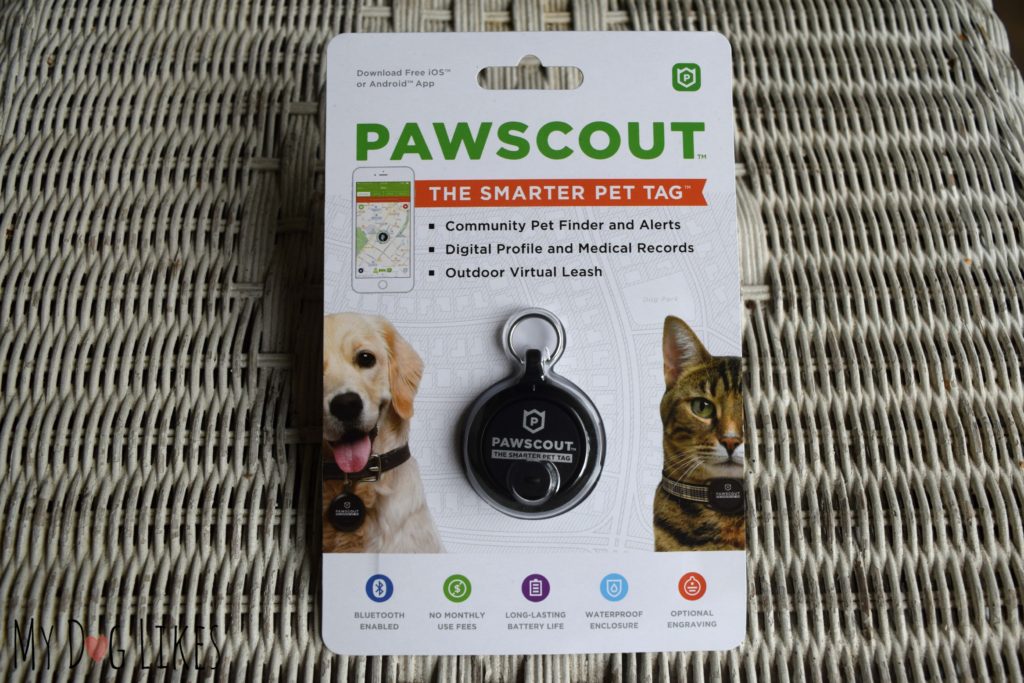 Introducing The Pawscout Bluetooth Pet Tracker
Pawscout dubs itself as "the smarter pet tag" and allows you to easily keep tabs on the whereabouts of your pet. The company recently sent us 2 units to test out, and they are sponsoring this post so that we can help spread the word about this potentially life saving technology!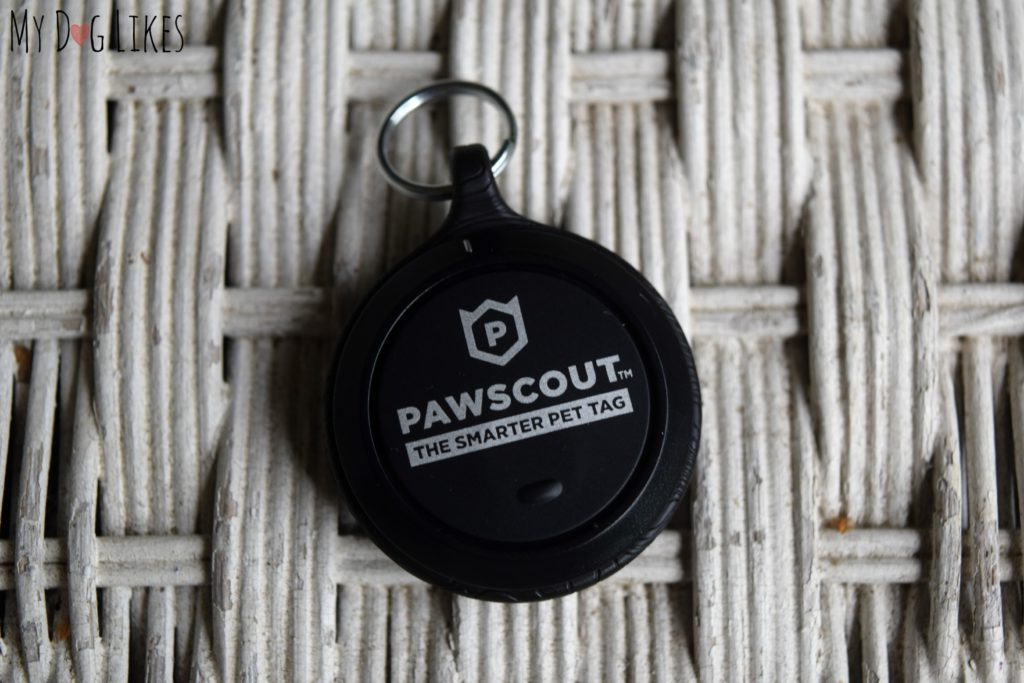 How Does the Pawscout work?
Pawscout is roughly the size of a standard dog tag and attaches to your dogs collar in exactly the same way. It works by emitting a low frequency Bluetooth radio signal which can be picked up by any smartphone within range and tracked using the Pawscout app. This allows you to check on the location of your pet in real-time, or assist you in locating them if they are lost.

The tag has a built in battery which means it does not need to be charged and should last 6-12 months. You will be alerted when it is running low so that you can pick one up at any drug store or online for less than a dollar.
What is the Pawscout's Range?
The Pawscout signal reaches roughly 300 feet, or the length of a football field.
While you may initially wonder what good this device would be should your pet become lost, the real genius of this device lies in the app.
The Pawscout app links you up with its entire user base to create a meshed network of coverage. Anyone who downloads the Pawscout App strengthens the overall network by adding another bluetooth connection point. The app is completely free and you don't even have to own a pet (or a Pawscout unit) to help others whose pets may become lost.
If your pup is out of range and you mark them as lost, you and anyone with the Pawscout app will be alerted when someone comes within 300 feet of your dog. They will also be prompted with your dogs digital profile and how to get in touch with you – their owner.
Unlike GPS or cellular based trackers, the Pawscout utilizes Bluetooth technology which requires no monthly service fees and comes at a significantly lower cost.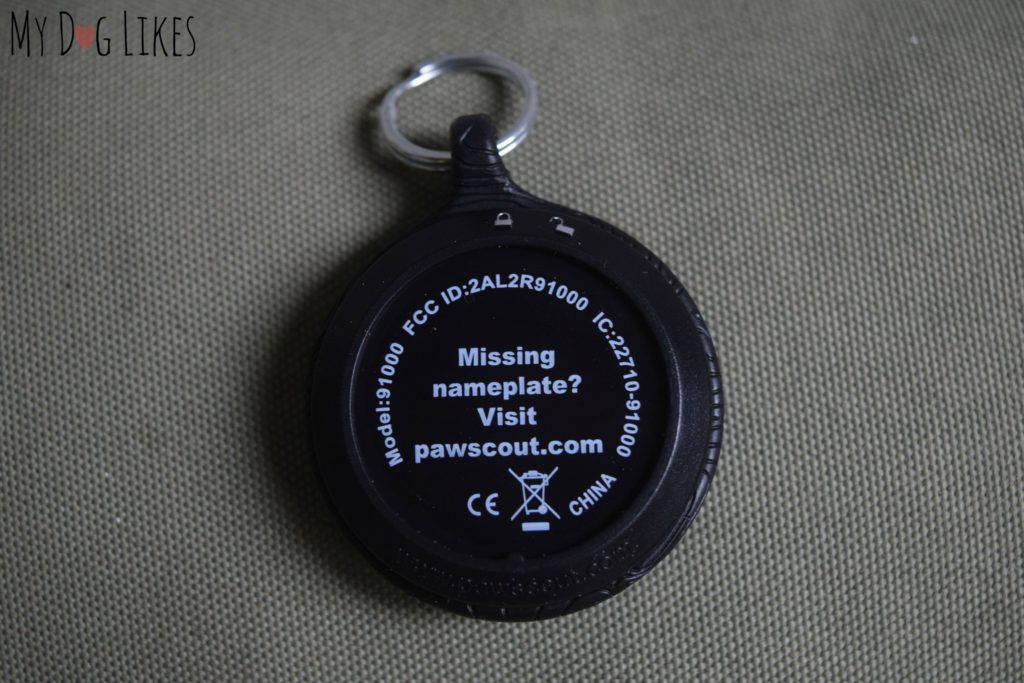 Custom Nameplates can be snapped into the back
Features of the Pawscout Pet Tracker App
As we mentioned above, the real key to the Pawscout's functionality lies in the corresponding mobile app, which has some really cool features:
Create a Digital Profile for Each Pet – The PawScout App allows you to create a digital profile for your pet with any pertinent behavioral or medical information. Is your pet weary of strangers? Let someone know not to approach and scare them off, but to stay back and keep an eye on them until you arrive. Do they have any allergies? Include this information in their profile to avoid a potentially dangerous situation when they are found!
Set a Virtual Leash – Intended for outdoor use, setting a virtual leash will let you know if your pet strays more than 300 feet away from you. Perfect for a picnic or get-together where your pet can be safely off-leash, but you still want to make sure that they aren't trying to wander too far!
View a Coverage Map – Check the strength of your local Pawscout network by viewing nearby app users.
Walk Tracker – Track and view statistics of your daily walks.
Setting up the Pawscout
Getting your Pawscout up and running takes only a couple of minutes and is super easy to do. Follow the steps below to get your pet protected in no time!
Step 1: Install the App
First things first, you need to download the Pawscout app which is available for free from iTunes or the Google Play store. After installation you will be prompted to set up your pets digital profile with important physical and behavioral characteristics.

Step 2: Pair with your Phone
In order to track with your Pawscout, it must first be paired with your smartphone.
First, make sure that your Bluetooth is ON, then navigate to the Connect your Tag screen. Next, set your tag right on the screen, pressing the button on the front of the Pawscout, and then press start. You should see a blue light flash on the tag while it is in the process of pairing.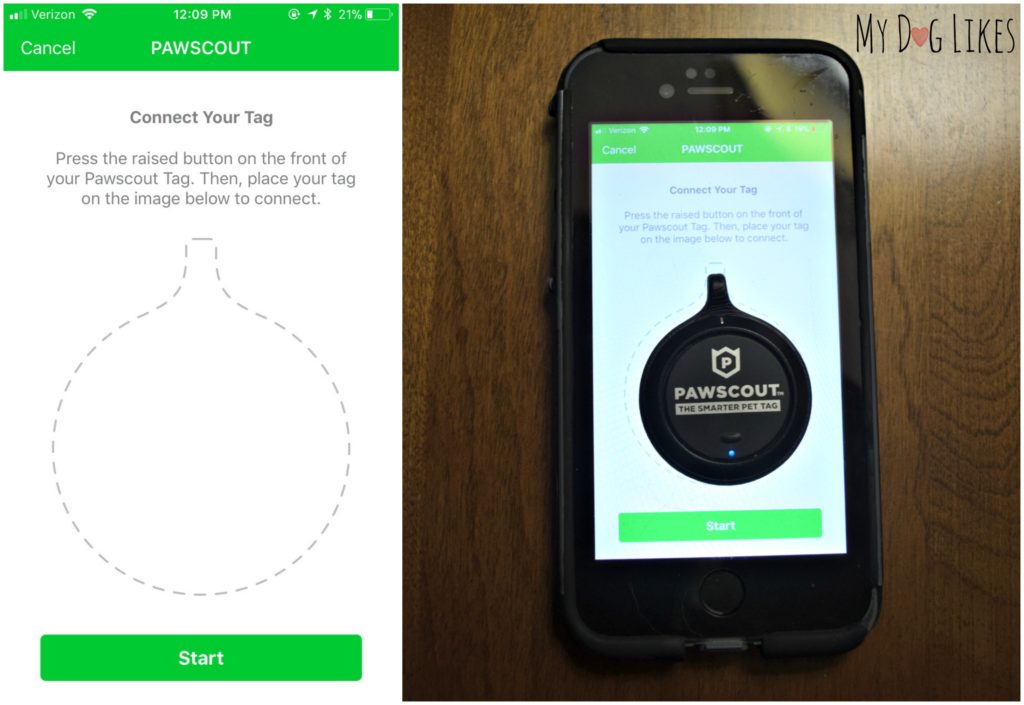 This should take less than 30 seconds to complete. If it doesn't pair on the first try, flip the tag over and you may have better luck – not sure why, but this worked for us!
Step 3: Attach to your Dog's Collar
Now that the Pawscout is connected, it's time to attach to your dogs collar.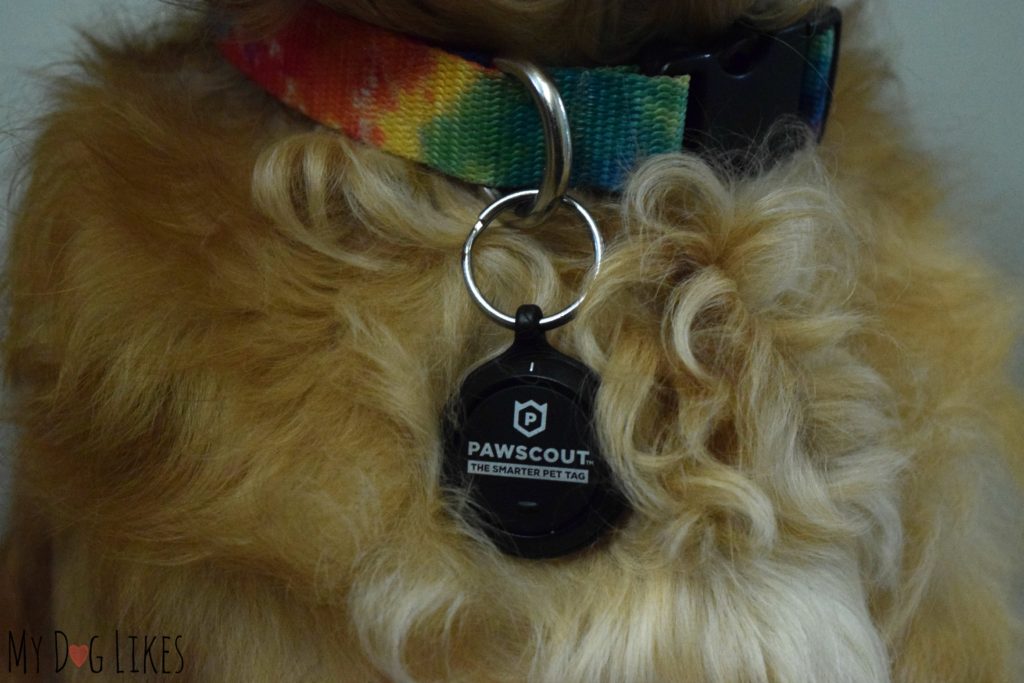 Since Charlie's collar has a really thick D-Ring, I used a different ring than what came with the unit, but you can also use the several slide on tag holders which are included.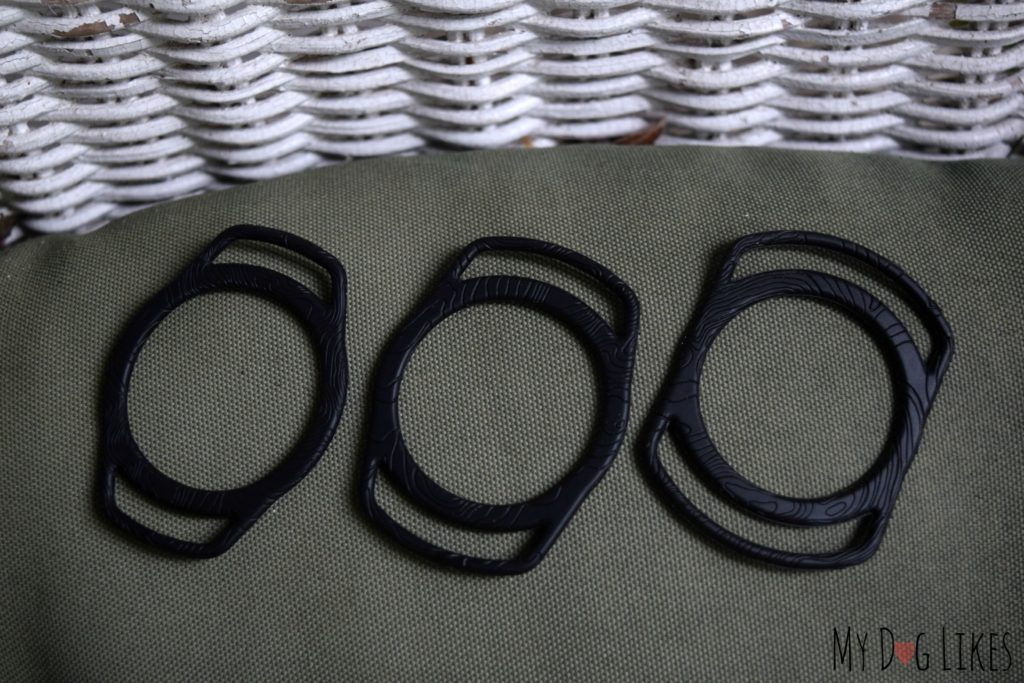 Step 4: Spread the Word! 
The more people with the Pawscout app installed, the better, so we recommend asking friends, family and neighbors if they would add it to their phones. This way you will have better coverage in your area and a greater likelihood of being alerted quickly should your dog escape.

Now that your Pawscout is paired to your phone, you can dig into all the app features that we described above. We particularly loved being able to see the coverage map of our local area, and were pleasantly surprised at the number of users already!
Our Thoughts the Pawscout Tag and App
We absolutely love the idea of a community based solution to lost pets. We envision that as word spreads about this technology, the coverage maps will become quite extensive, as it is such a small ask for people to have this app installed – whether they are dog owners themselves or not.
The Pawscout tracker is inexpensive, easy to setup and requires no monthly fees. This is a great option for pet parents to gain some priceless peace of mind.

Why MyDogLikes the Pawscout Tracker
This device hits us particularly close to home as we know of a dog who was lost a few years back. This particular pup was very skittish and shy of new people and although there were multiple sightings over several weeks, he was never found and brought back home. This was despite an extensive search and Facebook campaign. 🙁
Had this pup been wearing a Pawscout tag, and the local community urged to install the app, perhaps it's owners could have been alerted those times where he was approaching peoples homes looking for food. This way they could have attempted to coax him in as opposed to a stranger.
Whether you are considering purchasing a unit or not, we would encourage everyone to download the app, so that you can help reunite lost pets with their families!
Want to protect your pet with Pawscout?