As the pet parent of two large dogs, the struggle to find clothing and accessories that are stylish AND functional is all too real.
Don't get me wrong, I have purchased a few coats, sweaters, and bandannas in my time, but I'm rarely satisfied with all aspects of the product. It seems like I always have to choose between the fit, fashion, or function.
Sometimes I wonder whether pet accessory manufacturers think about the actual proportions of large dogs or simply make a larger version of a small dog accessory?! The problem with large scale manufacturing is the wide variety in dogs builds. While a Boxer with a huge barrel chest and a poodle with a tall, slender frame may fall within the same weight range, their bodies are built very differently!
Large and difficult to fit dog pet parents, rejoice! There is an answer to our fashion conundrum!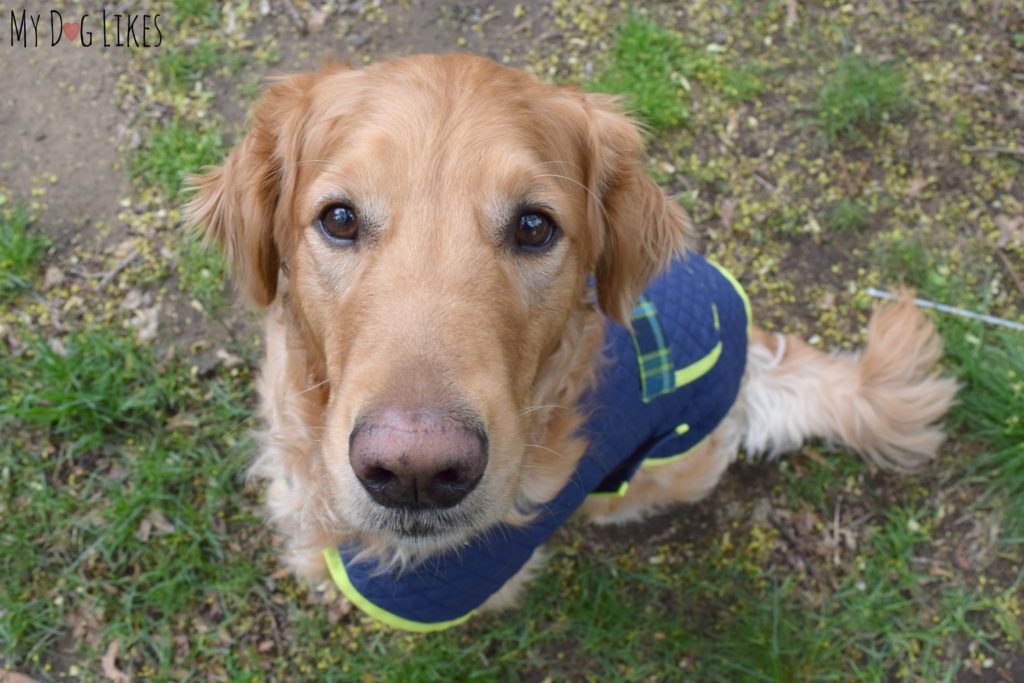 Introducing D&M Dog Fashions
With a love of sewing and the desire to help friends who had expressed similar frustrations with the fit of standard dog accessories, Maria and David started D&M Dog Fashions!
After experiencing local success in their Maryland neighborhood, David and Maria took their goal of "seeing all dogs warm and well dressed" to the internet, expanding their business to include an Amazon Handmade Shop that carries the highest quality jackets, bandannas, collars, and toys!
Imagine how excited we were when Maria asked if we would test out their amazing products and share our thoughts with readers! They are sponsoring this post and a wonderful giveaway below so make sure to read all the way through!
What Makes D & M Dog Fashions Unique?
Customization
Everything from D&M Dog Fashions is custom made for your large or difficult to fit dog! Simply measure your dog, choose your favorite patterns and colors, then prepare to be amazed as Maria creates your dog's tailor-made items!
Craziest of all, Maria accomplishes this with an average shipping time of just 2-3 days!
Attention to Detail
D&M Dog Fashions has thought of everything in designing their products! Read below to see some of the features that make their products stand out.
Breaking Down the D&M Product Line
Coats and Jackets
Each double-lined jacket is constructed out of quilted cotton and fleece or flannel. Perfect for those cold fall, winter, and early spring days!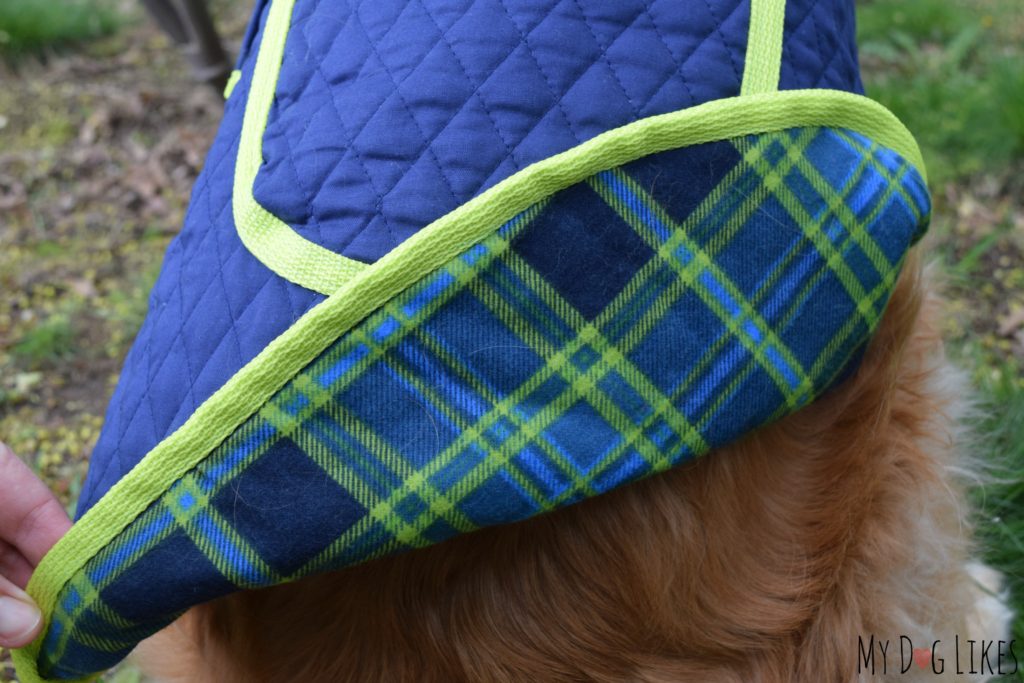 Jacket color, trim, and fabric can be selected from a wide variety of options to create a truly personalized look! However, these jackets are so much more than just nice to look at! No detail is overlooked in their construction, and they are closed with an extra thick, reinforced Velcro that won't easily come off during wear.
Last but not least, you will never again get caught without a doggy bag on a walk! Each jacket is fitted with a large pocket on the back for keeping bags (or other accessories) on board!
Bandannas
D&M Dog Design bandannas are made from two complimentary fabrics so you get 2 looks for the price of 1. Putting the bandanna on is a breeze-simply slide your dogs collar through the 1″ pocket sewn into the rim.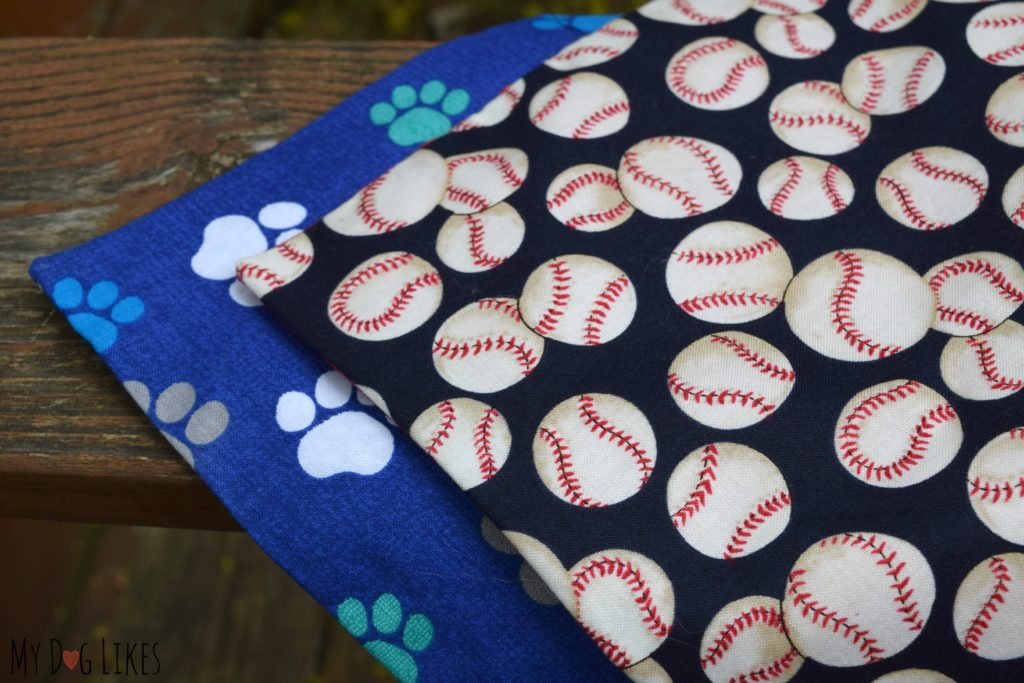 Not only are the bandannas reversible, but the two fabrics make them slightly heavier so that they do not blow around and stay nicely in place.
Collars

While most colorful collars are made of sewn ribbon, each of D&M Designs collars are constructed of utility webbing which is fade resistant, washable, and brightly colored! Durable and beautiful!
Rope Toys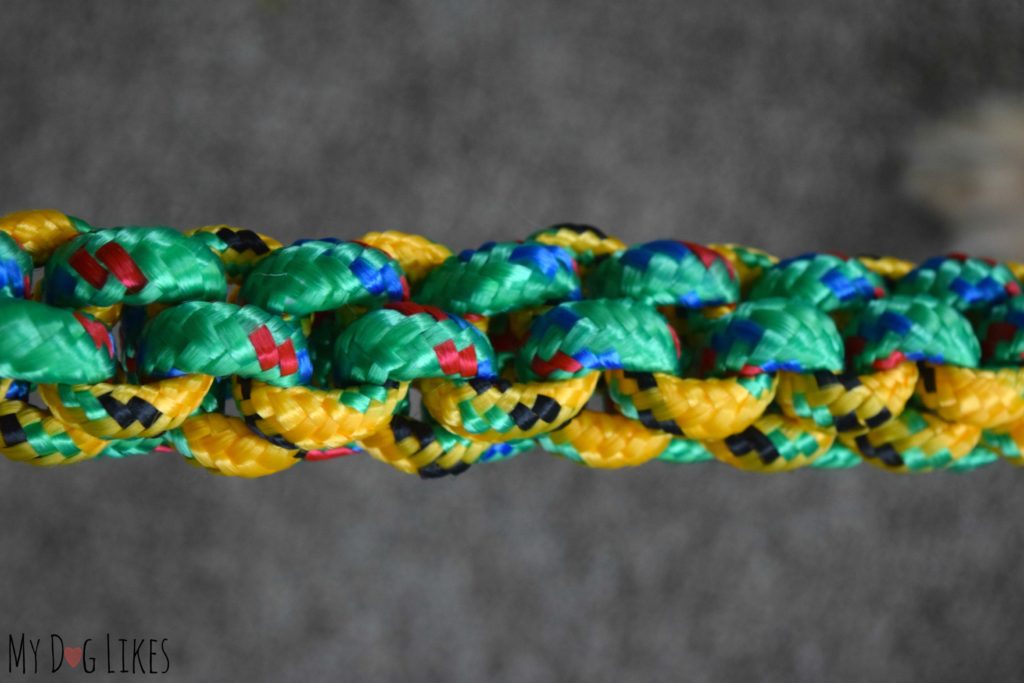 D&M's rope toys are constructed of polypropylene that is braided together to create a durable dog toy that is perfect for the toughest and roughest playmates!
Trying D&M Dog Fashions for Ourselves
Upon opening our package from D&M Dog Fashions, the quality of each item was immediately apparent. The jacket was thick and soft but still had a nice structure to it. Looking at all the details, I was really impressed by the thick Velcro closure, as this area is typically a weak point on an article of clothing.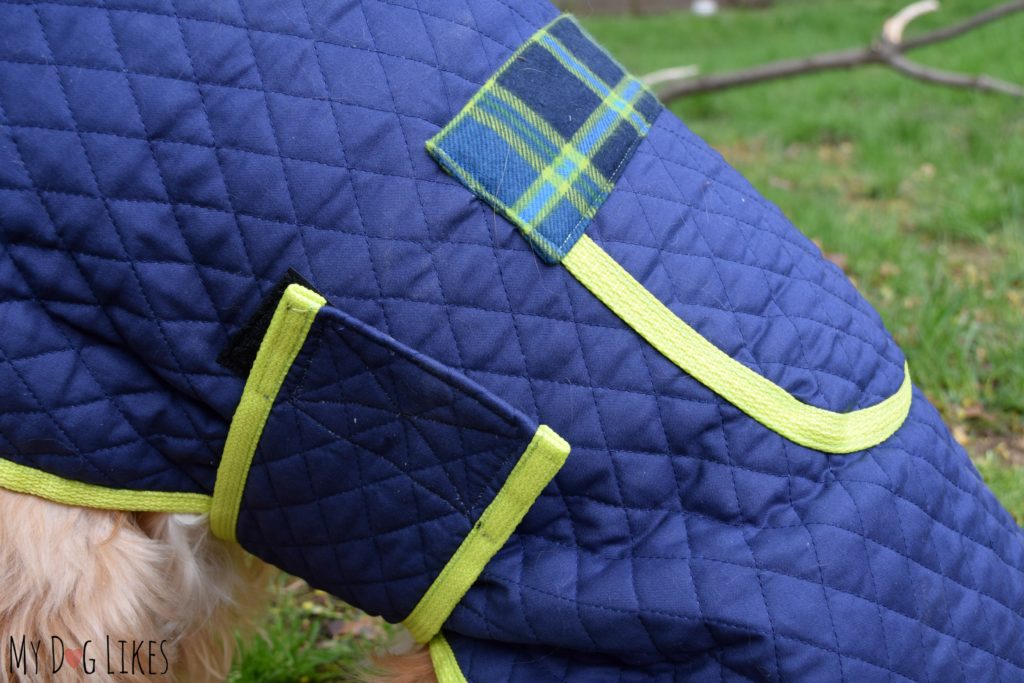 They looked and felt amazing but the real test of course, was whether the jackets would fit!
I am so happy to report that the jackets fit like a glove, being the perfect size for each individual dog. I loved the way they looked in them  too – like little packages that I just wanted to squeeze!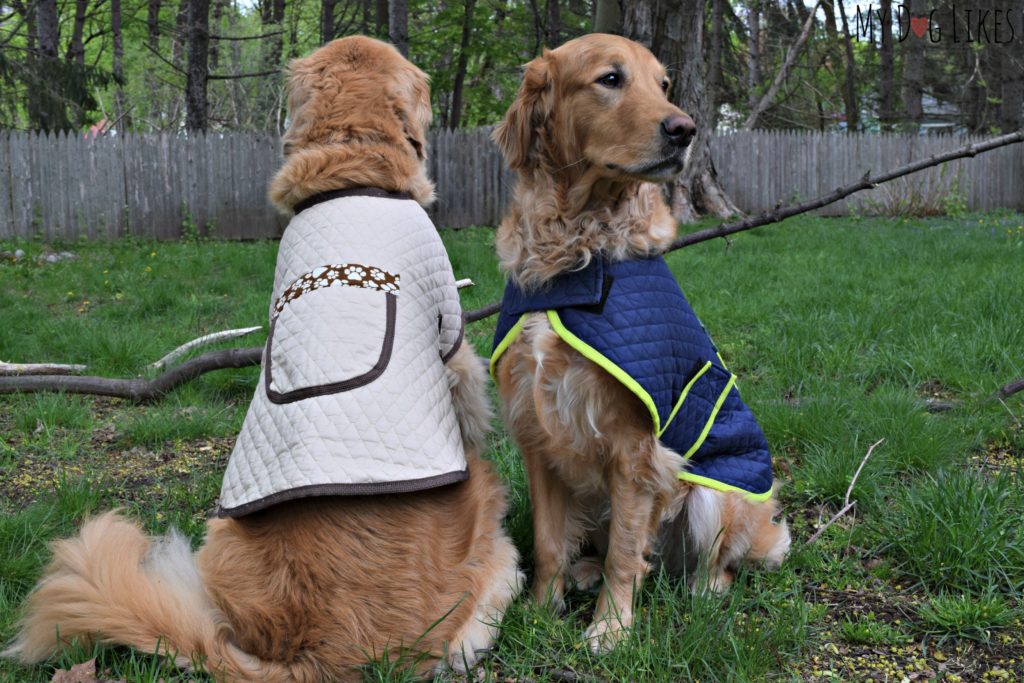 Would the jacket hold up to the cold and wet spring weather? YES! Even after wearing it to the park, Charlie could run and tumble in his coat without it falling off! I also wasn't worried about the jackets getting dirty since cotton is so easy to care for!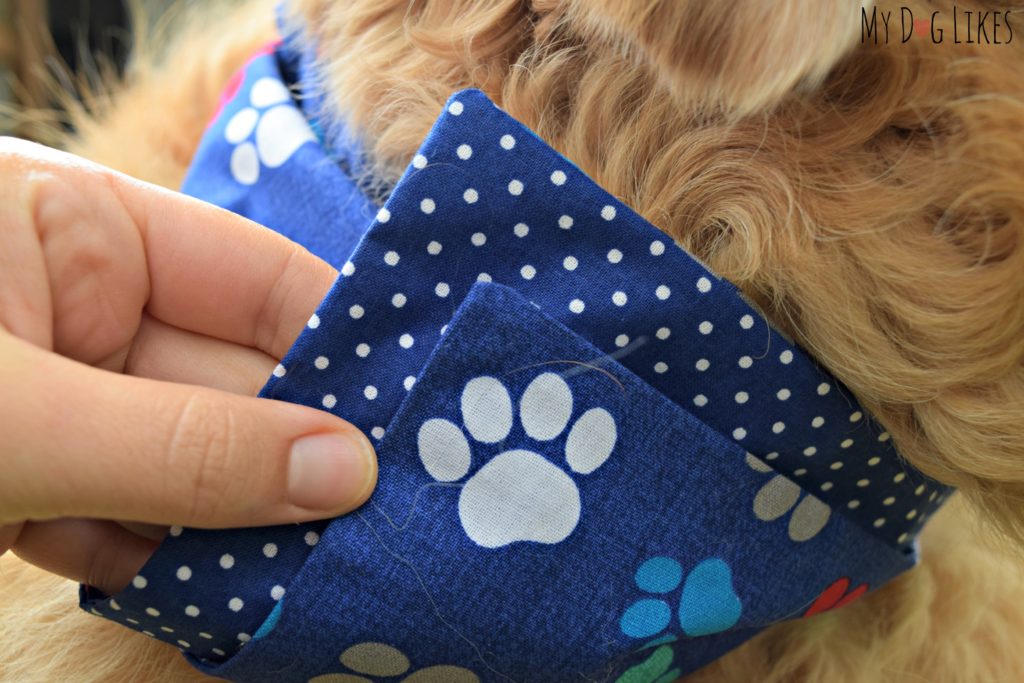 The bandannas were nice and thick and we loved that they had two different fun patterns. Taking them on and off was also super easy.
Best of all, the fit was perfect! Wondering how a bandanna could possibly not fit? Trust me, it's a real thing. Our boys have big barrel chests and if a bandanna is not created thoughtfully it can be too narrow and crinkle up on them.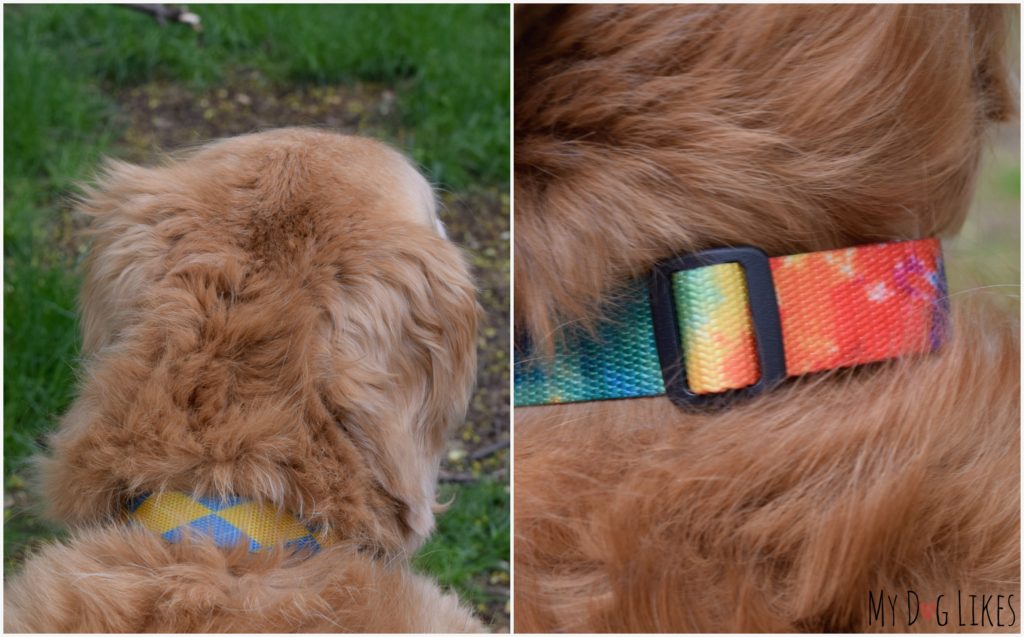 We love patterned collars at MyDogLikes but with thick luxurious fur, it's hard for most to stand out against all that hair! What we LOVED about these collars is that the patterns were bright and bold (actually popping against their fur)!
D&M's collars are also constructed using heavy duty utility webbing rather than the traditional sewn ribbon collars we have purchased in the past.  With sewn ribbon collars, we have found that repeated neck scratching causes the ribbon to fray, and they just don't hold up.
I have no concerns at all about these collars standing up to the test of time!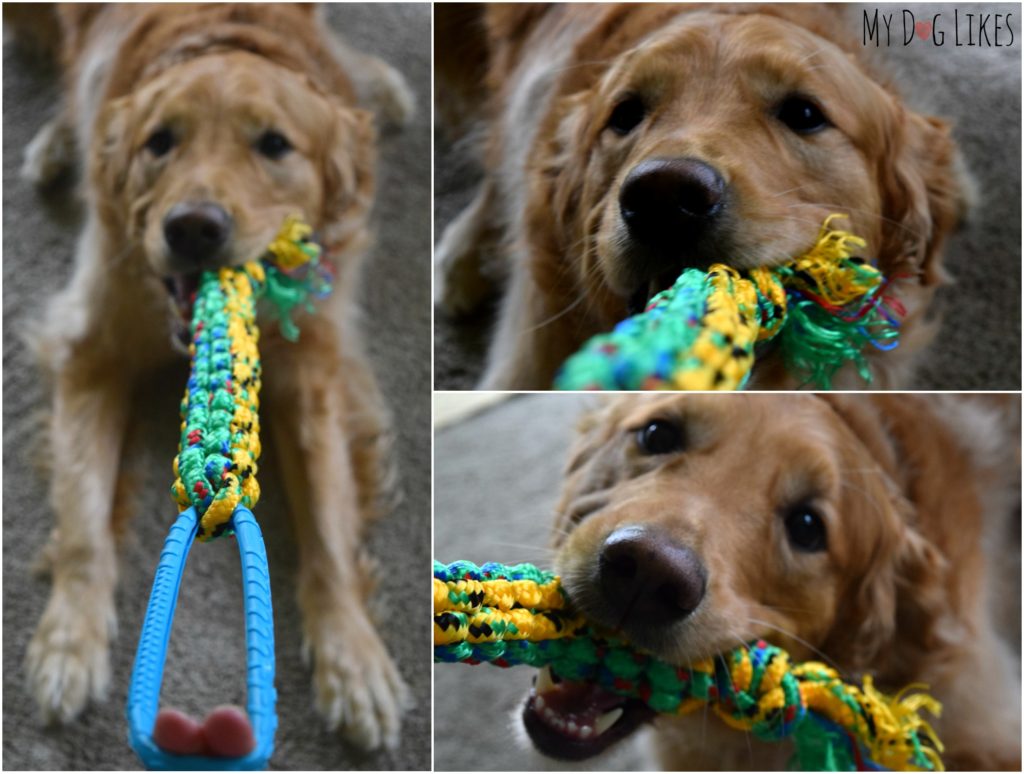 Last but not least, Charlie loved the tug toy! I loved that it had a handle for me to hold as he pulled me across the room. Even with all that tugging, there were no signs of weakness. The braided design seemed to distribute the force of pulling. It's going to take a lot more than a few determined dogs to break this toy!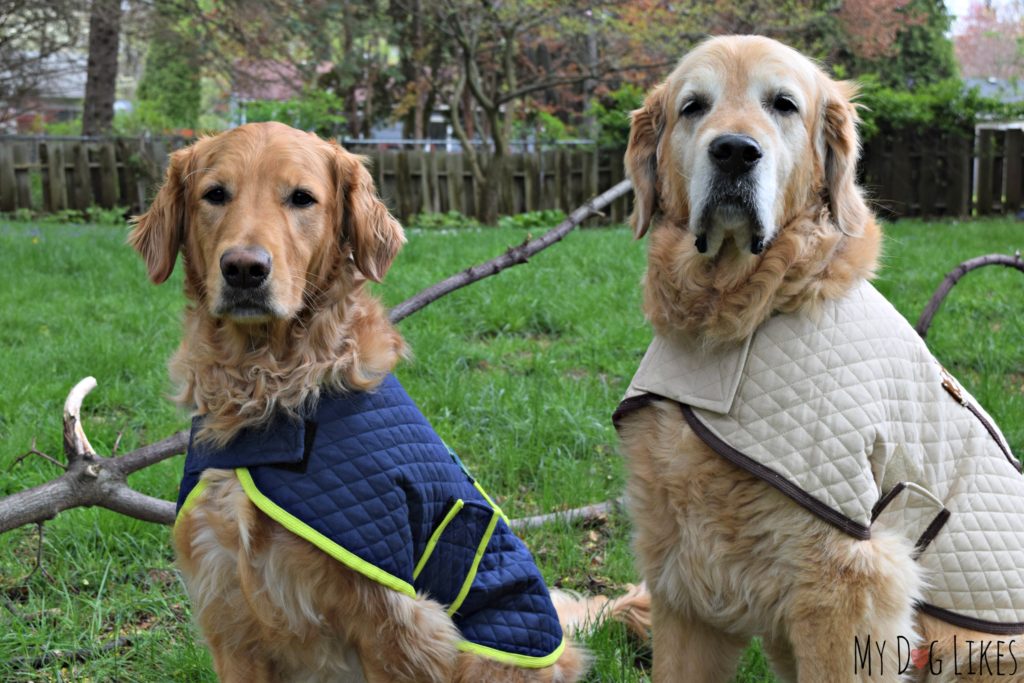 Why MyDogLikes D&M Dog Fashions
So often, pet parents need to choose between quality, functionality/fit, and fashion. With large and hard to fit dogs it feels like you either end up with a accessory that fits well but is kind of ugly, or it looks really good, but doesn't meet quality standards. We loved that each of the items that D&M Dog Fashions made met all of the standards that we had. The boys looked fantastic and and the quality of these items is unlike anything that you can find in a big box store. You really just can't beat handmade!
We also loved that despite the high quality of the items, they were very affordable! The quality of the jacket, toys, collars, and bandannas could easily cost twice as much! Also, despite being homemade – these orders were fulfilled extremely quickly! So if you aren't great at planning ahead, D & M Dog Fashions has your back!
We love to support small businesses and find over and over again that the quality of items just does not compare to what can be purchased elsewhere. We wholeheartedly recommend D & M Dog Fashions for all dogs, but especially those who are large and hard to fit!
Want to Give D&M Dog Fashions a Try?