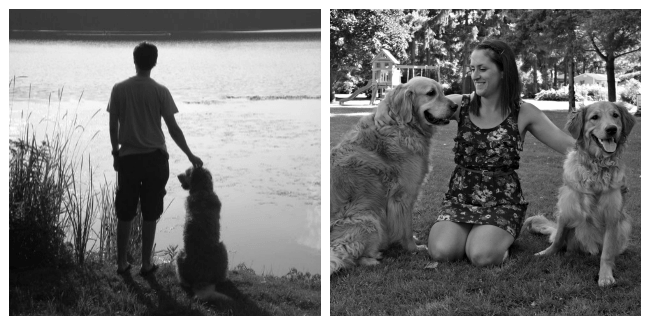 MyDogLikes is designed for dog owners looking to provide the best possible lives for their furry friends. Here you will find comprehensive dog product reviews, dog friendly travel guides, and tips for proper dog care.
We strive to provide a variety of perspectives, and our team includes product design experts, animal behaviorists, veterinarians, pet industry entrepreneurs and even regular pet parents. With more than 10 years of publication under our belts we've become a trusted resource for dog lovers across the globe.
Meet the MyDogLikes Crew
Editors
Kevin Sando
Kevin is a mechanical engineer with a degree from the Rochester Institute of Technology. He has move than a decade experience in new product design, prototyping and early stage manufacturing. Pairing this background with his love of dogs, gives him a unique perspective to evaluate the design and execution of new and interesting pet products.
He discovered his love for dogs later in life, and after some early experiences with poor quality dog products felt compelled to found MyDogLikes as a place for pet parents to get honest, and reliable information about their canine companions.
Rachael Sando
Rachael is a School Psychologist with degrees from the University of Rochester and RIT. Though a lifelong dog lover, this passion has taken on a new direction through the utilization of therapy animals in her day job. Charlie, our Golden Retriever, works with Rachael as a school therapy dog in a local primary school where he brings comfort and support to students and staff on a daily basis.
---
Contributors
Jeanne Melanson
Jeanne is a Nova Scotia native, who moved to the United States over 20 years ago. Her animal experience is vast as over the years her family has included 13 Alpine Goats, 40 Chickens, 20 Turkeys, 3 Vietnamese Pot Bellied Pigs, a number of Turtles, 2 Raccoons, 1 Opossum, countless Cats, 2 very special Dogs, and a Bearded Dragon. She is founder of AnimalBliss.com.
---
Our Canine Inspirations

Harley
AKA (Harles, H-Dog, Harles Barkely, Baxter)
Harley was our first dog. A gentle giant who acted like an old man for most of his life. He was the inspiration for this site and you can read more about him here. Sadly, we lost Harley in December of 2017 just shy of his 12th birthday.
Charlie

AKA (Chuck, Chuckles, Monster, Robocop)
Charlie is the newest member of our family, who we adopted from a dog rescue group 6 years ago. After several years of supervision from Harley, he has stepped into his role of Sr. Product Tester with enthusiasm. In his time off Charlie enjoys zooming, licking faces and is a well known stick connoisseur. He also excels in his work as a therapy dog at a local school.
---
Want to Help Support our Work?
We spend a lot of time and money putting all of this together, but it is our passion. We want to improve the lives of humans and dogs everywhere by celebrating our relationships with one another.
That being said, there are a couple of very simple ways that you can help support what we are doing…
Shop at our partner sites!
We have set up affiliate relationships with some of our favorite pet brands – allowing us to earn a small commission for every product (that we refer) sold.
It costs you no more to shop through these links (which can often be found throughout our articles) – and as a matter of fact, you can often save money with our exclusive coupon codes!
Share with your friends!
Simple to do, but it still helps us a great deal! If you enjoy our content please consider passing it along to a friend or sharing on your social media accounts!
The greater our reach the more dogs we can help and the more great content we will be able to provide!