Chances are that If you have found your way to this page you are either a Rochester local or planning a trip here soon. In any case, we hope that this list of dog friendly hikes in Rochester, NY will inspire you to get out and explore with your pup!
The Rochester region is packed full of great adventures for humans and dogs alike!
NOTE: This list is in no particular order!
1. Daffodil Trail at Powder Mills Park 

Simply a must visit in the Springtime.
Powder Mills Park is located in the town of Perinton (just South of Rochester) and is home to several great trails. Our favorite however is the Daffodil Trail which winds around Irondequoit Creek before emerging into a small field of flowers. These gorgeous blooms provide a pop of color that is truly rejuvenating after a long and grey Western New York Winter!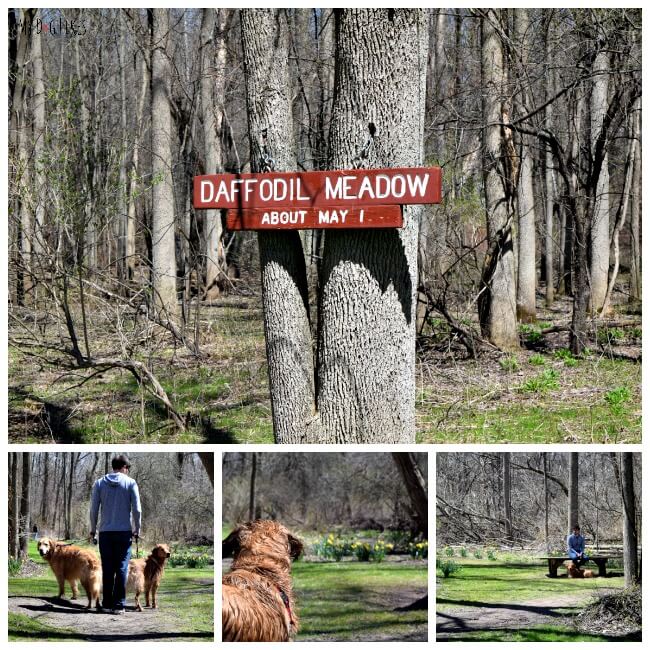 This is a quaint hike which is rarely busy and almost entirely flat. It is well marked and has a small parking lot for easy access. Last but not least, there is water access for your dogs to take a quick dip (as long as no fisherman are around!)
Difficulty:
Easy – Flat and well groomed
Great for:
Relaxing Walk – Quiet and secluded
Quick Dips – Runs along a wadable creek
Spring Flowers – Pretty and morale boosting!
2. Boardwalk Trail at Turning Point Park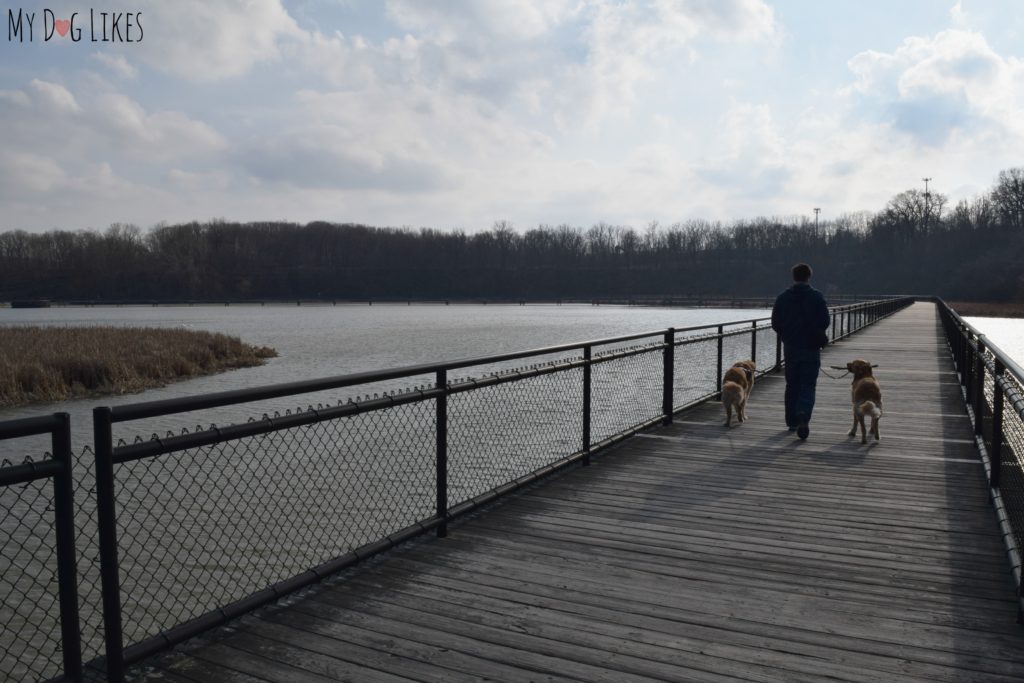 If you are looking for a peaceful walk in a really unique setting, we would highly recommend heading to Turning Point Park in Charlotte.  The highlight of this park is the nearly 3/4 mile long boardwalk which winds right over the Genesee River! With tightly spaced planks and full coverage fencing on both sides your dog should be plenty comfortable and you won't have to worry about their safety.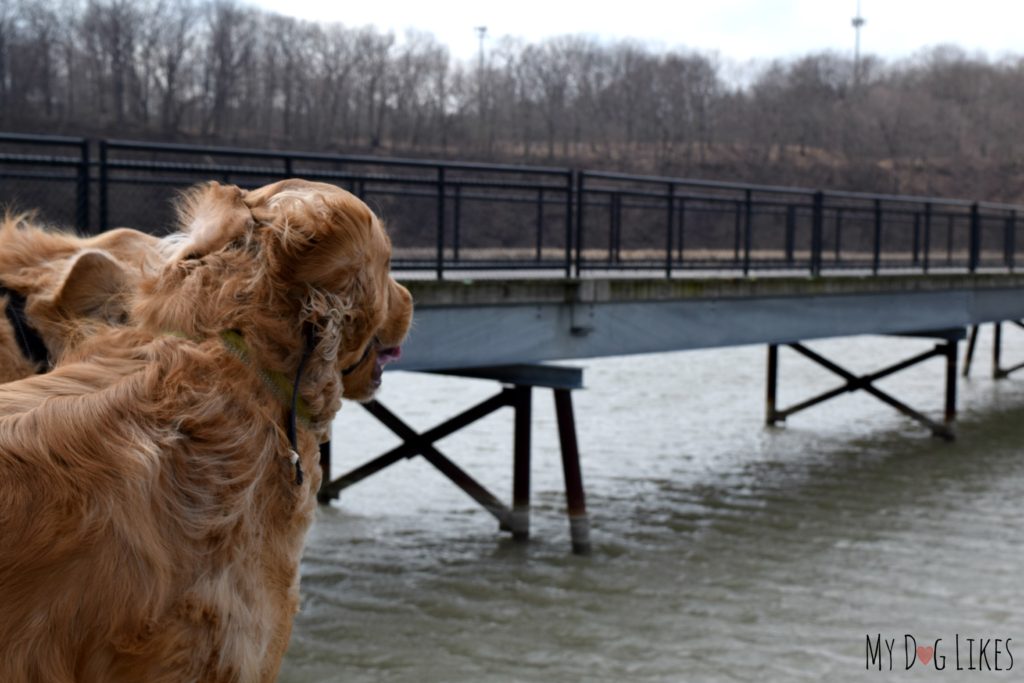 One of the best parts of Turning Point is that it connects to the Genesee Riverway Trail on both the North and the South. This allows you to extend your walk dozens of miles if you would like – even all the way up to the beach on Lake Ontario!
Difficulty:
Easy – This trail is almost entirely flat (besides the walk down from the parking lot) and would be great for older dogs, small dogs, strollers, etc.
Great for:
Casual Stroll – Relax and enjoy the calm water
Beating the Heat – The proximity to the Genesee River and Lake Ontario help to keep this area a bit cooler and more breezy year round.
After a Rain – So many other parks and trails become a mess after a storm, but the paved pathways and elevated boardwalk keep Turing Point accessible.
Bird Watching – Ducks, swans, hawks and all sorts of water fowl can be spotted here
3. Devil's Bathtub Trail at Mendon Ponds
Being our favorite park in Monroe County, it was difficult for us to pick just one trail from Mendon Ponds for this list!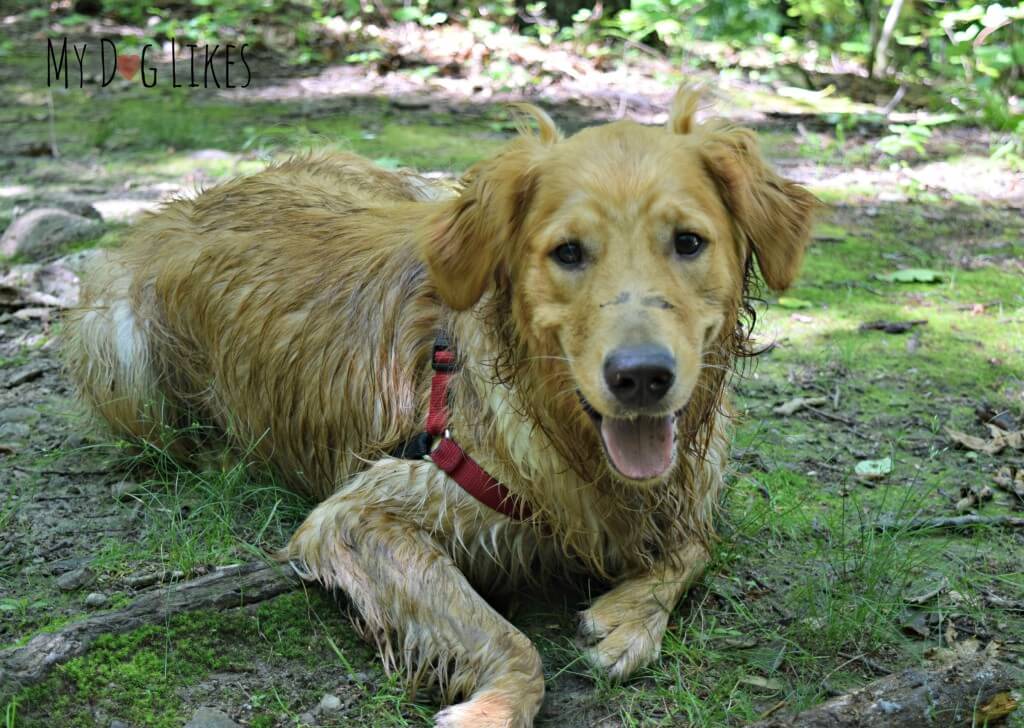 That being said, we are going to go with the Devil's Bathtub Trail because it is quite unique and also makes a great starting point for further exploration of Mendon Ponds.
From a small dedicated parking lot, the Devil's Bathtub Trail begins by winding down a steep staircase into a kettle hole and peat bog. After walking along the water for a bit, you will find yourself climbing up and over a few semi-steep eskers before making your way back to the staircase. We have found this to be one of the more secluded areas of the park and rarely encounter other hikers along the trail.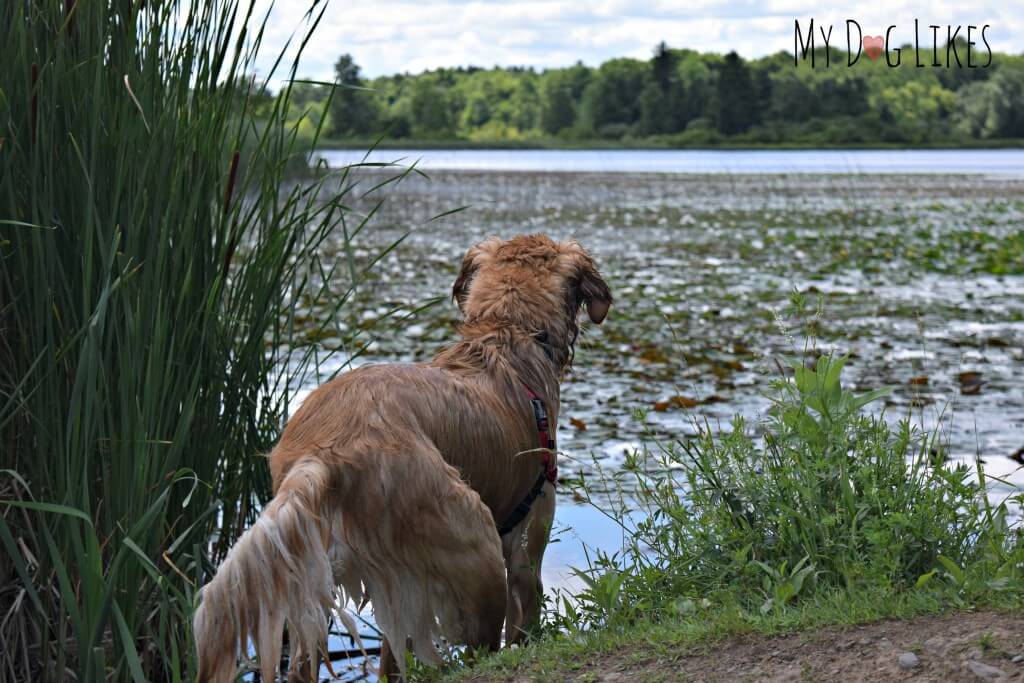 The hike itself is under a mile, but due to the hills takes a bit of time to complete. We like to pair it with a visit to hundred acre pond (shown above) so the pups can take in a quick swim!
TIP: The Devil's Bathtub area can get quite muddy, so wear boots if there has been recent rain!
Difficulty: 
Moderate – Steep stairs and muddy sections add to the difficulty of this trail 
Great for:
Exercise – 

Stairs and inclines are sure to burn some calories

Solitude – This trail is quiet and peaceful, away from some of the more popular attractions
Nature Watching – Plenty of unique flora and fauna make its home in this damp environment
4. Perimeter Trail at Corbett's Glen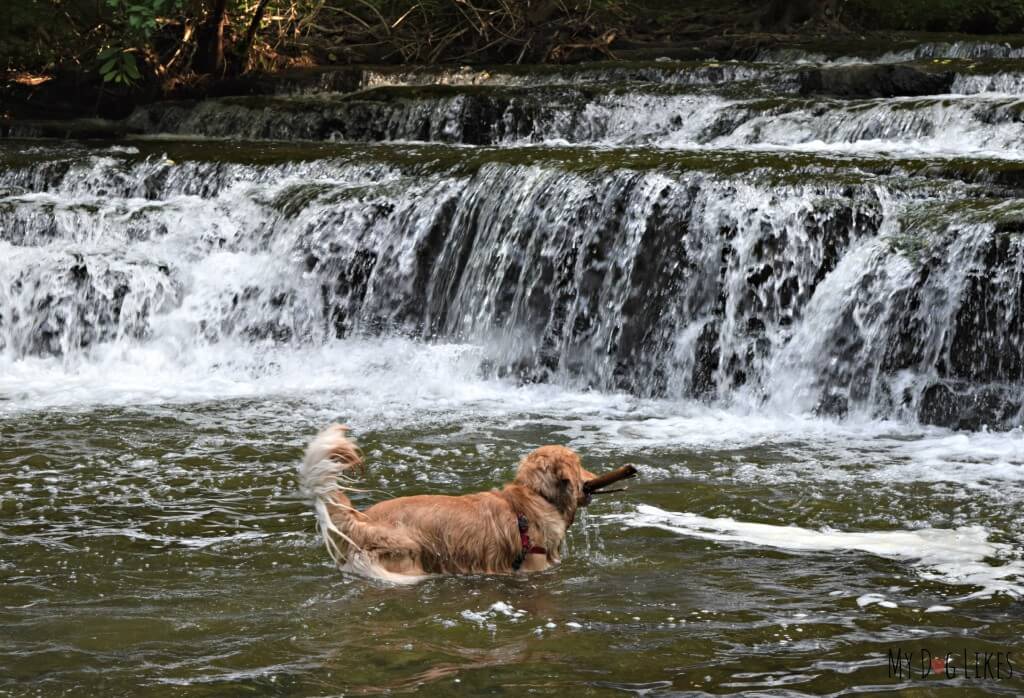 Would you believe that this beautiful waterfall is only a couple of miles outside of the city?
Well it's true and there are several more just like it! Located between Brighton and Penfield, Corbett's Glen is one of our favorite spots in the region. The Perimeter Trail is located near the South Entrance and passes along Allens Creek (and these gorgeous waterfalls), a large field, and a small wetland area.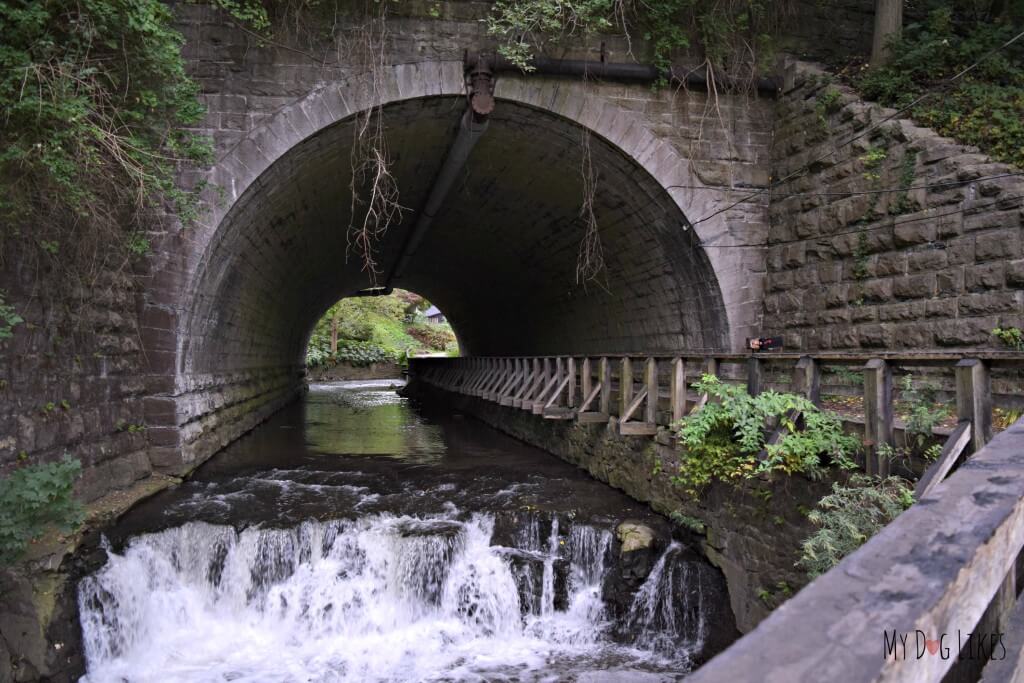 The pathway consists of well groomed dirt, stone and wood chip sections making it very accessible for people (and pets) of all ages. The best part however is that the creek has several shallow and (usually) slow moving areas which are perfect for the dogs to cool off and wade around a bit.
Difficulty:
Easy (Moderate if accessing from the North Entrance where you will need to navigate a couple of steep hills!)
Great for:
Relaxing Walk – The sound of rushing water makes this spot particularly special
Quick Dip – There are several great swimming holes and shallow areas for dogs to wade
Photography – Capture some gorgeous shots of the running water
Picnics – Bring along some lunch and relax in the large field which is surrounded by this trail
5. Eastman Lake Trail at Durand Eastman Park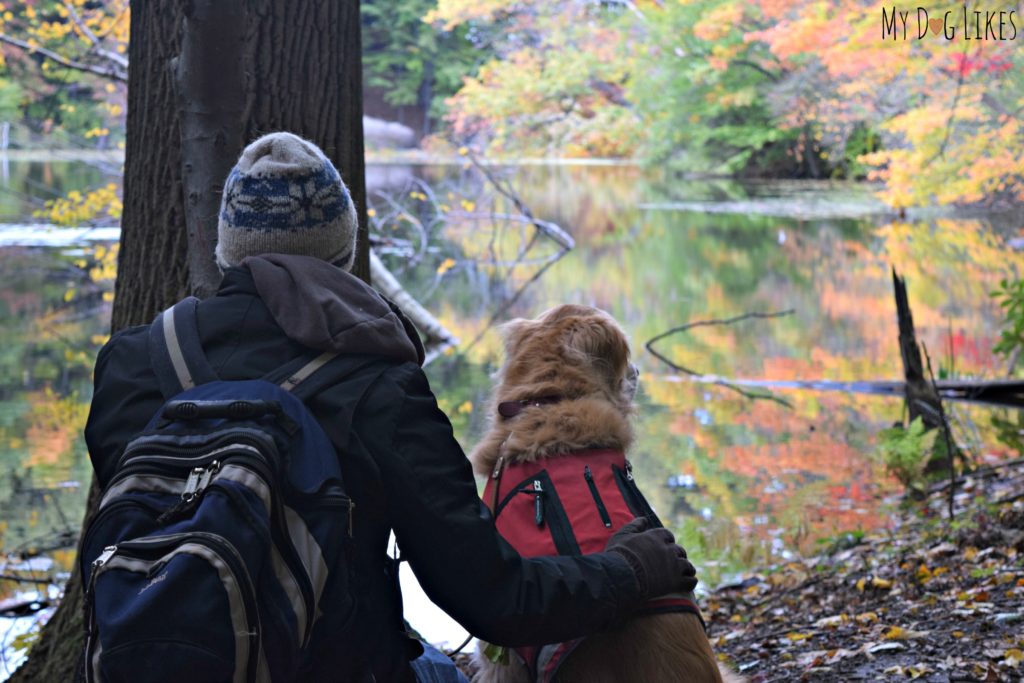 Durand Eastman Park lies right on the shore of Lake Ontario and contains a lake, golf course and many ponds. There are several short trails throughout, but our favorite hike is the Eastman Lake Trail which is accessed off Log Cabin Road.
This 1.5 mile trail winds through a forest of maple and oak trees right alongside Eastman Lake. The views across the water are gorgeous year round, but especially striking in the Fall. While the walk around the lake is relatively flat, accessing the trail from the parking lot involves navigating a fairly steep hill.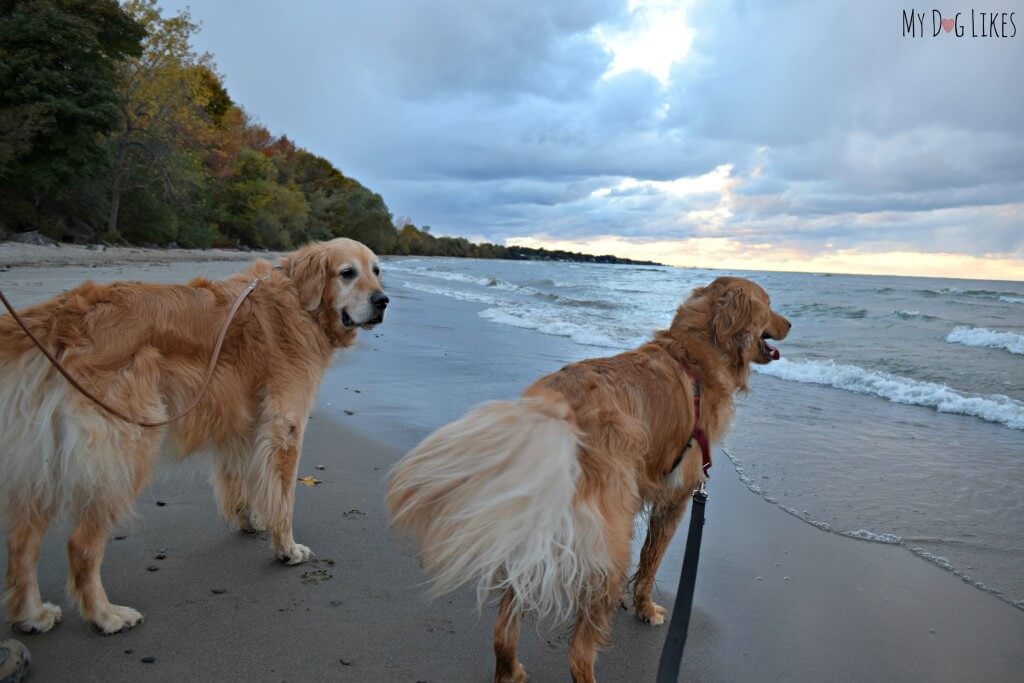 And what's more? You can take a stroll along the beach right across the street!
Difficulty:
Moderate – The hill from the upper parking lot can make this trail a bit more challenging 
Great for:
Fall Foliage – One of the best spots in the area to catch some colorful leaves
Exercise – The hills between trails can pose a bit of a challenge
Bird Watching – Great place to see swans, seagulls, ducks, herons and even migrating raptors!
6. Big Field/Woods Trails at Gosnell Big Woods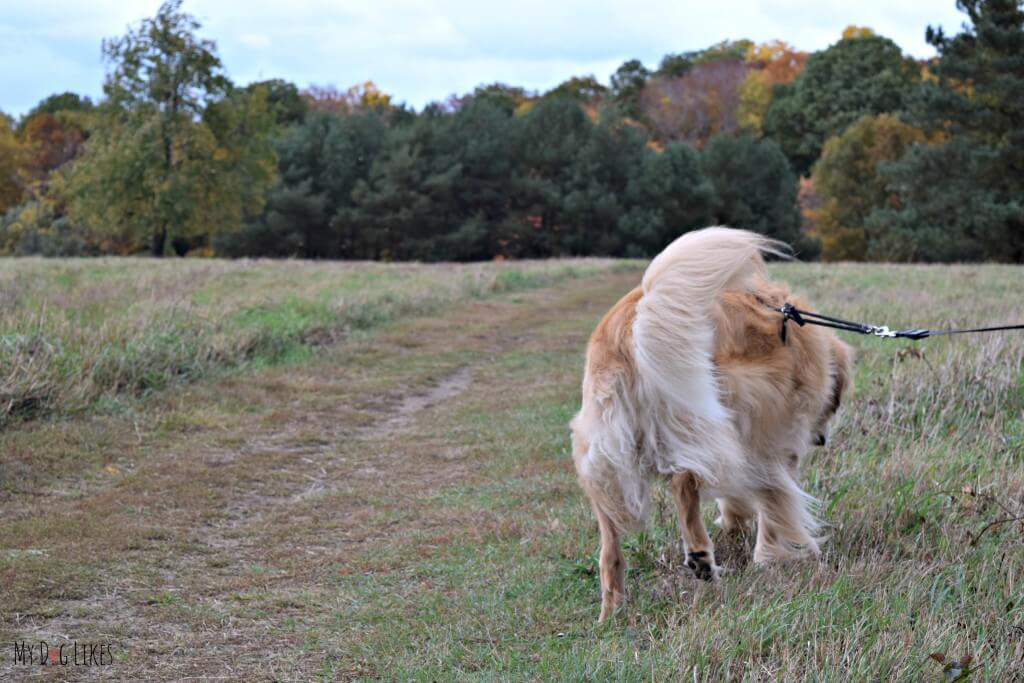 A much lesser known park in the area, Gosnell Big Woods Preserve is located in Webster NY and part of the Genesee Land Trust. We love all the trails, but particularly the out and back jaunt through a heavily wooded forest
To access the trail you must first walk across the Big Field trail from the main parking lot. This is a stunning wide open space spotted with a few huge trees. When you approach the forest you will see a signpost for the Big Woods Trail, which travels half a mile through the trees and up and over a couple ravines.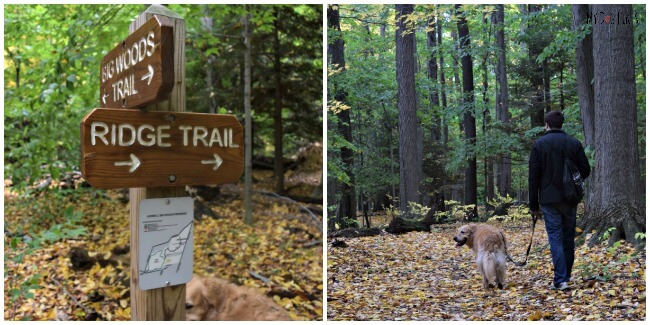 This land is relatively untouched (by design) making you feel like you are really exploring. We rarely encounter other hikers here as well, adding to its secluded charm.
Difficulty:
Moderate – Pathways are not particularly well defined in places. Also watch for large roots and be careful navigating a few steep hills!
Great for:
Solitude – This is a very quiet park, perfect for a walk through nature
Exercise – The Big Field Trail lends itself well to repeated loops to really get some mileage in
What Did We Miss?
Please tell us about your favorite Rochester hike in the comments below!