Springtime is a big deal in Rochester, NY.
After what seems like an endless winter, everyone is excited to get outside at the first hint of warm weather. One of our favorite places to visit this time of year is Powder Mills Park.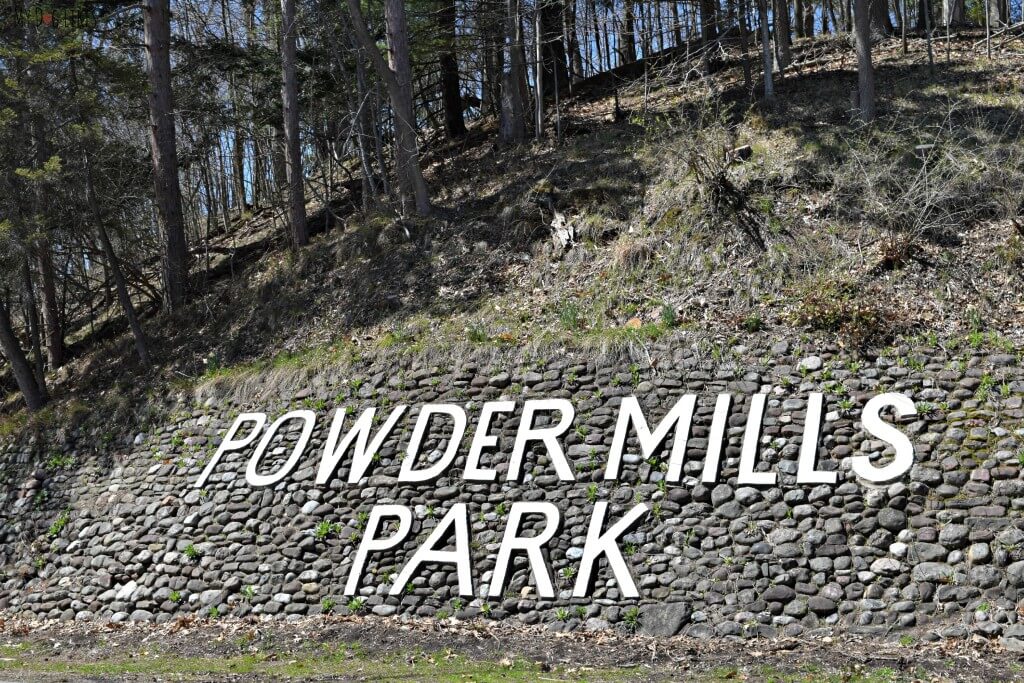 About Powder Mills Park
Located just south of Rochester in Perinton, NY, Powder Mills Park encompasses 380 acres of hillsides, meadows and wetlands. Powder Mills Park's facilities include 6 lodges and 4 shelters which are available to rent for the general public.
This park is active at all times of year! A popular fishing spot in the spring and summer, Powder Mills even has a small downhill ski hill for beginners to learn on during the winter.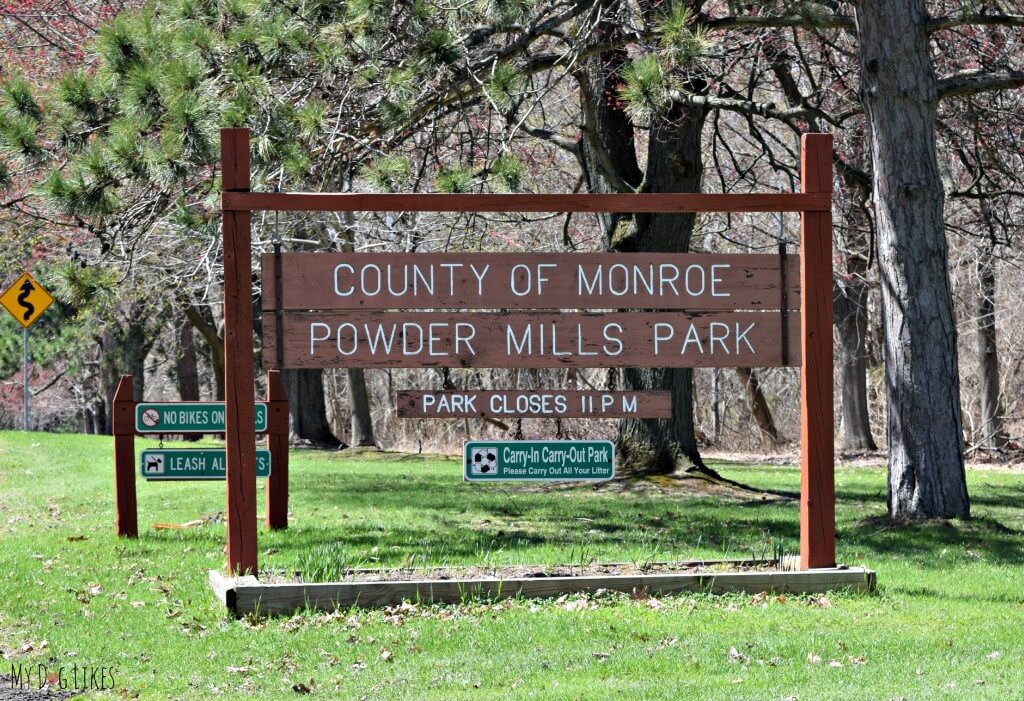 The main park entrance is off Route 96 just South of Bushnell's Basin. You will notice a sign for Powder Mills as you make the turn onto Park Road.
The Mushroom House
As you travel down Park Road it would be tough to miss the Mushroom House on your left. Constructed in the early 1970's, this home consists of several 80 ton "pods" resting on 14-20 ft. concrete pillars. This unique home has been featured on national television broadcasts and has been named an official Town of Perinton landmark.
(Photo  courtesy Zillow.com)
It also just so happens to be on the market. Have an extra $730,000 to spare? If so, it can be yours! (UPDATE: It looks like the Mushroom house has since sold!)
Fish Hatchery
Just a bit further down the road you will come across the Powder Mills Fish Hatchery which has been operating (almost continuously) since the 1930's! Currently the hatchery is operated through a partnership between Monroe County and the Riedman Foundation.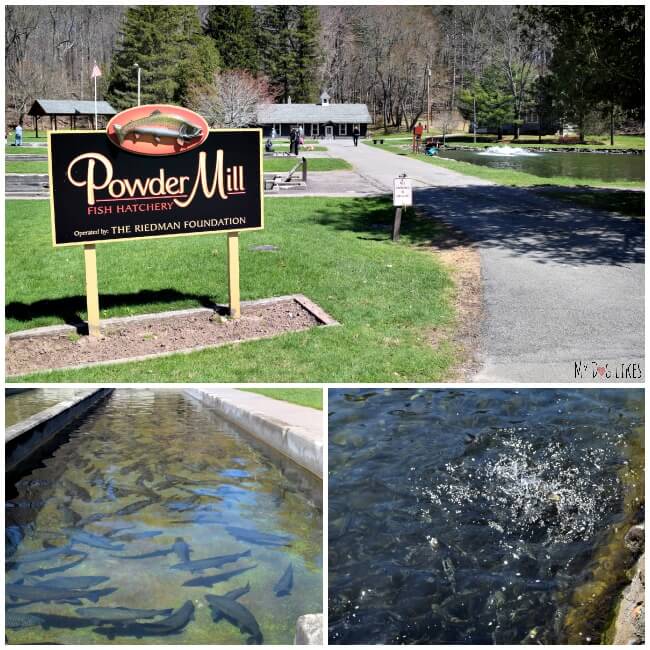 Open year round, this is a very popular spot for families to visit and marvel at the more than 20,000 Trout, Chinook Salmon and Perch being raised here. Food pellets can be purchased on site to feed the fish and is not at all uncommon to see children excitedly watch the fish jump out of the water to get every last morsel. 
If you have never seen a fish hatchery before it really is a sight to see!
Daffodil Trail
We thought we would keep this post relatively short and focus on our favorite trail – one that is particularly beautiful this time of year!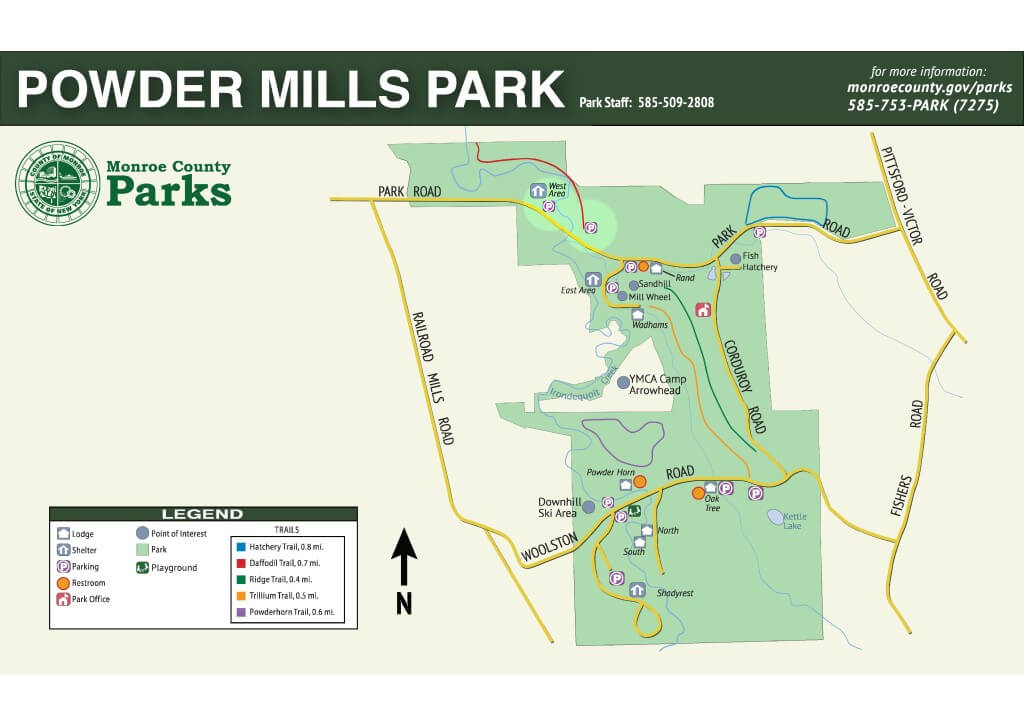 If you travel just a bit further down Park Road you will find 2 small parking lots on the Right hand side (highlighted in the map above).  These spots provide access to the Daffodil Trail which is marked in red above.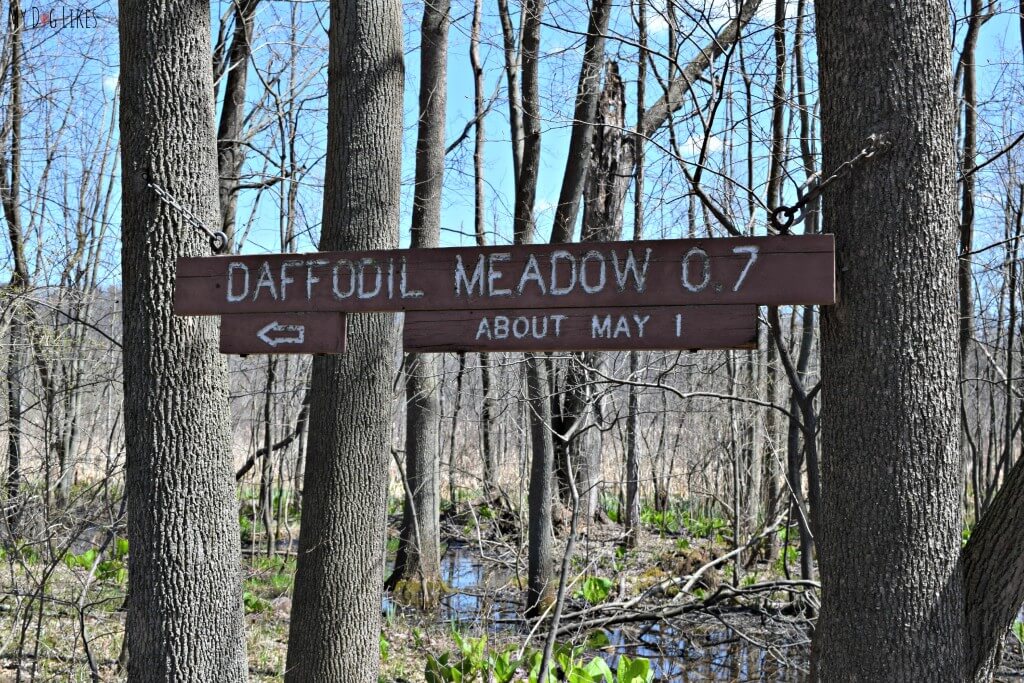 The first part of the trail will bring you past the creek on one side and if you veer right, adjacent to a wetland area on the other. This is a very pretty spot to grab some photos of the unique landscape. Try as they might, the wetland area would not be a great place to let the dogs romp around/swim.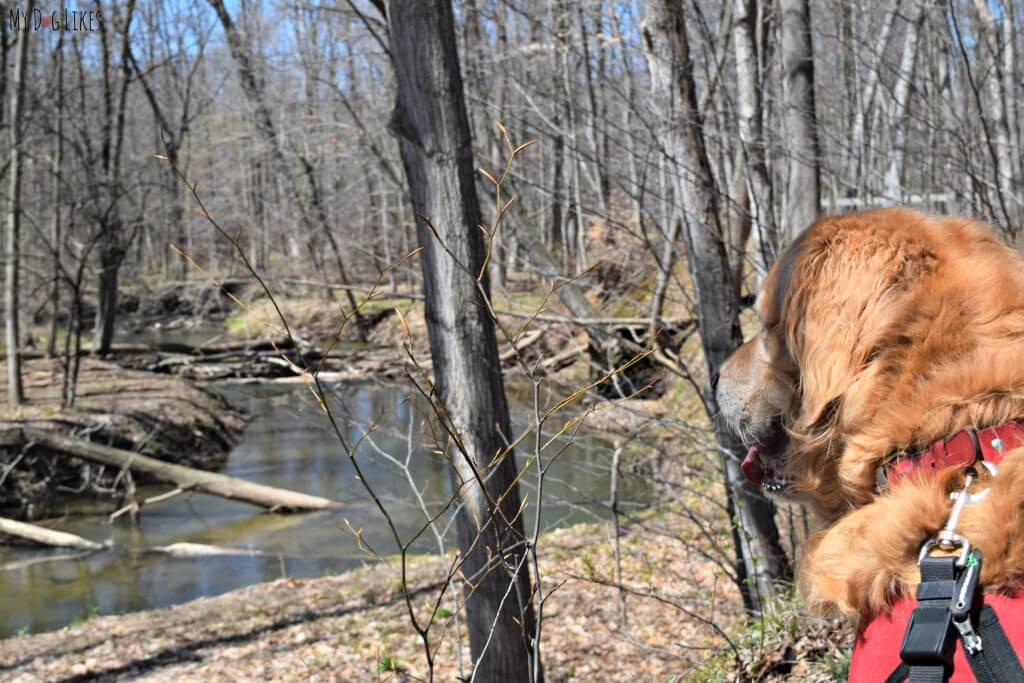 After winding along the Irondequoit Creek for another half a mile or so, the trail will open up into a beautiful daffodil meadow. Here you will find a couple of benches where you can sit, relax, and enjoy the view. We were probably about a week before the peak bloom this year but it was so nice to see a bit of color!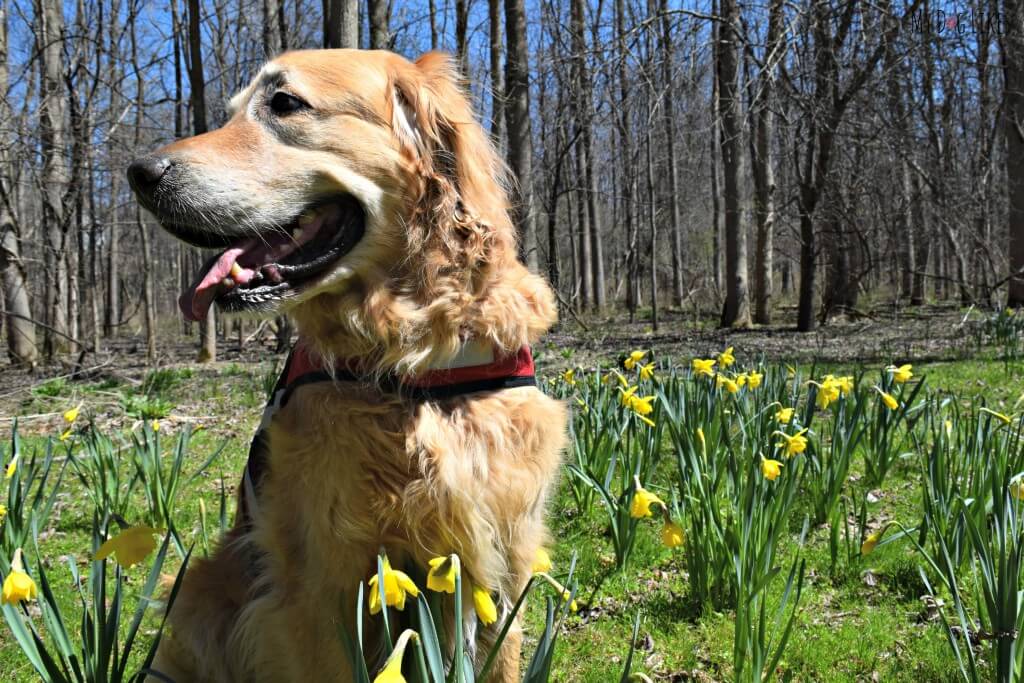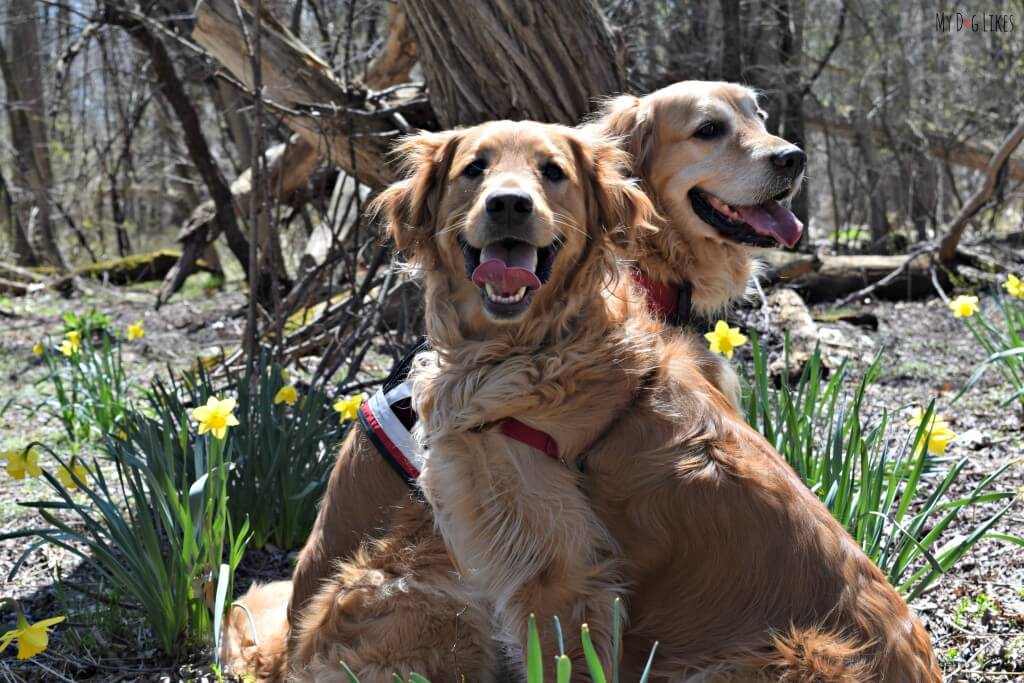 As you can guess our boys were a bit tortured walking next to water for all this time, so we finally relented and let them take a quick wade in the creek.

NOTE: You will want to make sure that you can find a secluded spot if you are going to let your dogs walk the creek so as not to disturb any fisherman that may be nearby!

Although it certainly did not seem like swimming weather yet, our boys were not bothered at all by the temperature and seemed quite refreshed by the dip!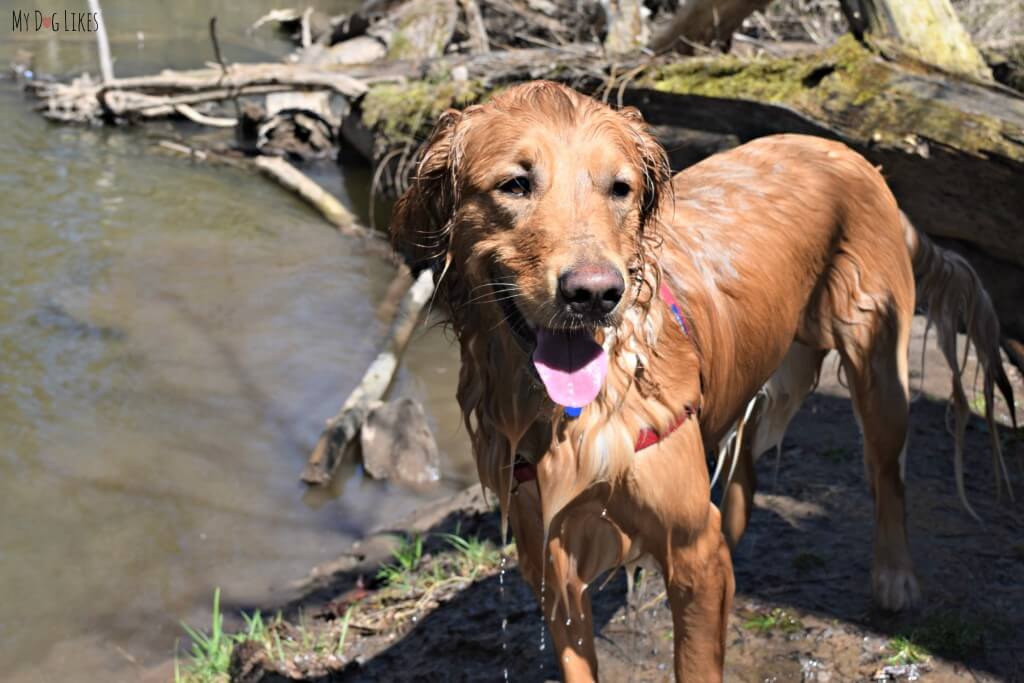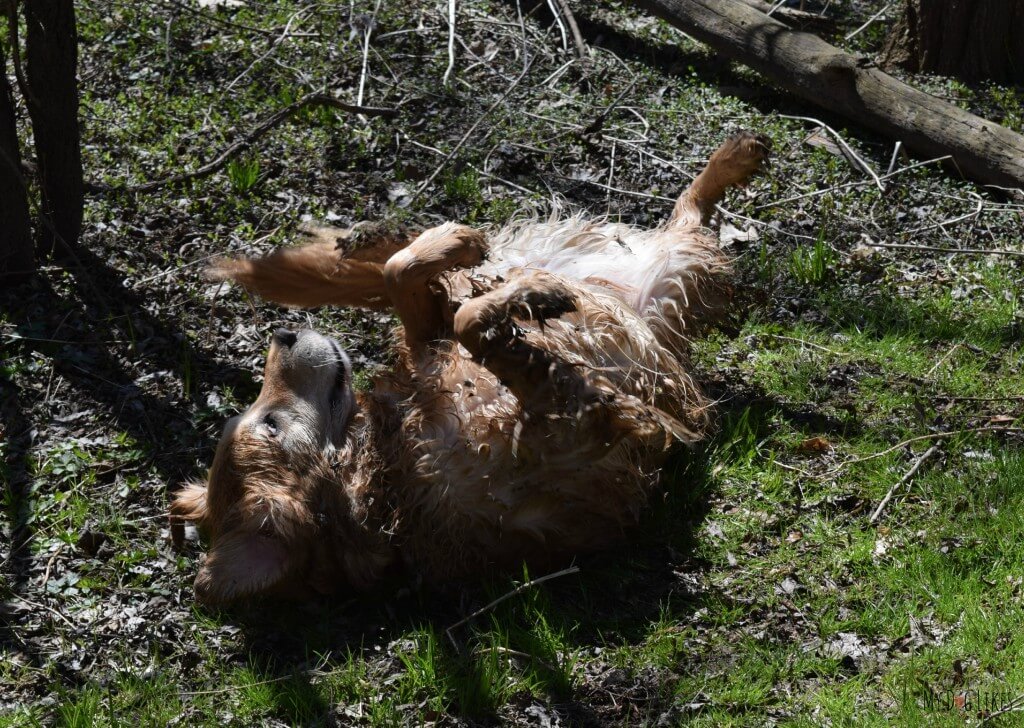 We took a slightly different route on the way back again veering Right at the only V. This leads through slightly different terrain closer to the creek before joining back up with the main trail near the entrance. This route is marked a little bit more clearly and has slightly easier terrain than our trail to the meadow. While parts of the trail would be easy to use a wheelchair or stroller on, the ground can be uneven and inaccessible to people with limited mobility. Overall, the trail would definitely be considered "easy" and family friendly. 
Why MyDogLikes Powder Mills Park Daffodil Trail
This is a beautiful place to hike any time of year, but especially in the Spring, where it is so nice to see the pop of color after a long, dreary Rochester Winter!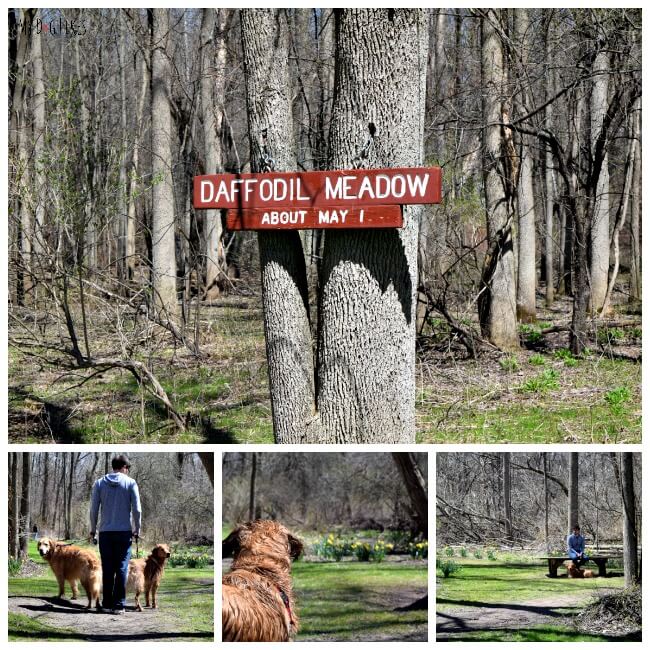 The trails at Powder Mills park are clearly marked with colored squares and are also quite secluded. It is likely that you will also see a bit of wildlife during your visit including a wide variety of birds, butterflies and deer. We drove through more of the park than ever before on this outing and were surprised to see how expansive Powder Mills really is! We are excited to visit again soon and explore some of the other hiking trails and picnic in one of the large meadows.