Fall in Western New York is a special time of year.
The vibrant colors of the foliage are truly among the best in the country.  We usually try to get out on a handful of hikes each season, but you know how life can get in the way. Since October was quickly approaching its end, we recently decided to take advantage of (likely one of the last) beautiful Fall days and squeeze in an adventure before the snow starts falling.

Durand Eastman Park
Where is Durand Eastman Park?
Durand Eastman Park is located in just North of Rochester, NY up against the shore of Lake Ontario. This land was dedicated in 1909 and now encompasses nearly 1,000 acres. Park features include nearly a mile of Lake Ontario waterfront, as well as several small inland lakes amidst steep wooded hills and valleys.
Park facilities include 8 shelters and 1 lodge which are available for rent.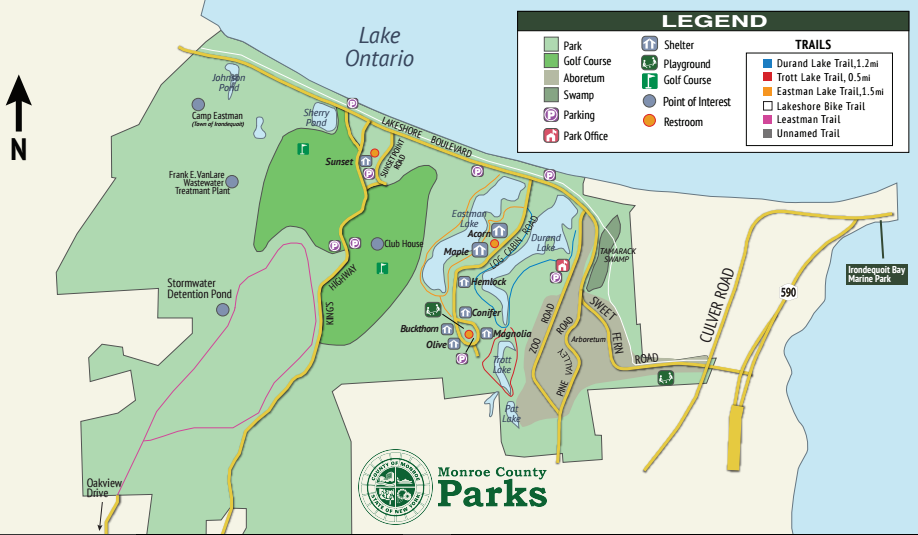 How Do I Get There?
There are several entrances to Durand Eastman Park, with the two main access points being from the South Via Kings Highway and from the North via Lakeshore Boulevard. Kings Highway takes you through the Durand Eastman Golf Course which consists of 18 scenic holes designed by famed course architect Robert Trent Jones.
Are Dogs Allowed at Durand Eastman?
They sure are, but as with most parks, they must be leashed at all times. And of course you MUST clean up after them!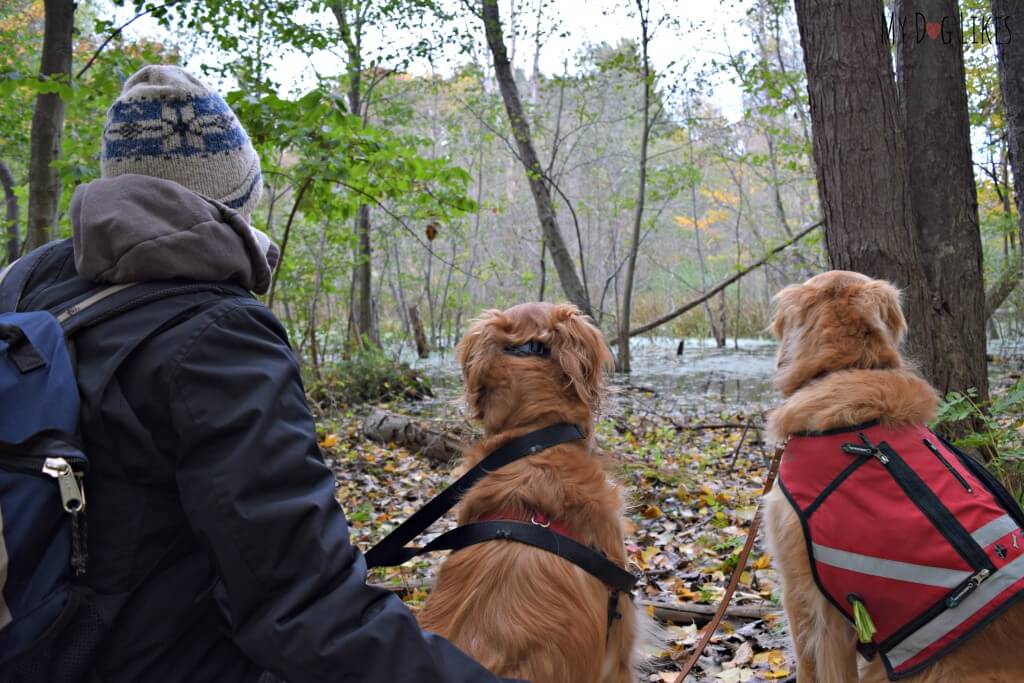 What to Do at Durand Eastman
Hiking
Cross-Country Skiing
Geocaching
Snowshoeing
TIP: We would strongly recommend printing a map before you go, as the trails are not exactly well marked!
Hiking at Durand Eastman Park
Below we describe our route, and one that we would recommend to maximize your experience at the park.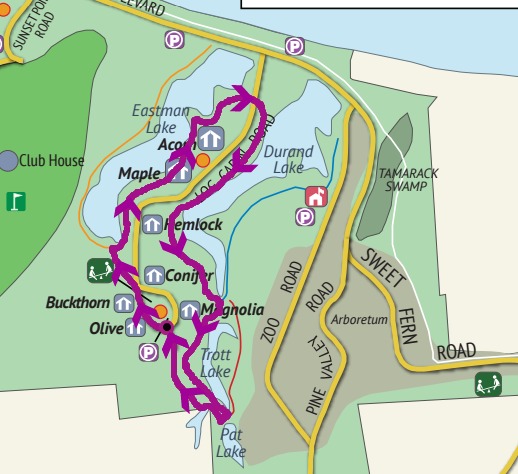 Eastman Lake Trail
If you are looking to get some hiking in, the majority of park trails are located off Log Cabin Road. To access, you will want to turn in from the North via Lakeshore Boulevard. While there are trailheads near the start of the road, we would suggest continuing up the hill to the loop at the top where there is more parking (Indicated by the black dot in the map above). From here you can head back down (on foot) via the Eastman Lake Trail.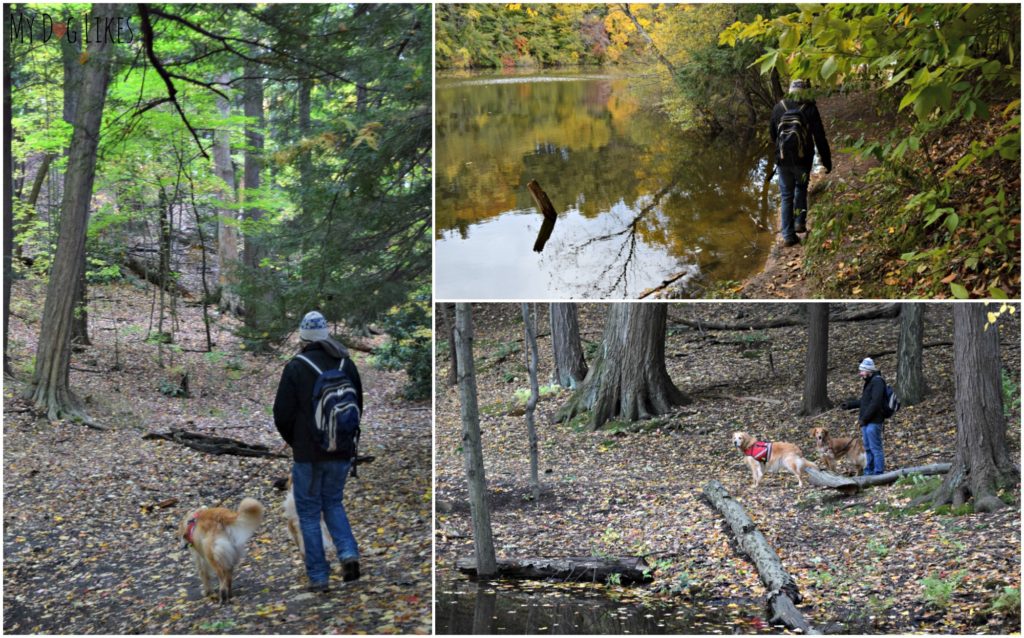 This is a semi-steep, and heavily wooded trail, so wear proper hiking gear. Much of the trail winds very close to the lake and has a tendency to get muddy and slippery. The majority of the trail is shaded under a canopy of maple, oak, cherry, and beach trees – so make sure to dress for a lack of sunlight.
Veering right when you reach Eastman Lake will keep you along the Eastern shore and allow you to avoid having to double back once you reach Lakeshore Boulevard – or walk along what is a fairly busy road. This cuts off about half of the 1.5 mile trail, but if you pair it with the rest of the route we describe, you will get in plenty of distance!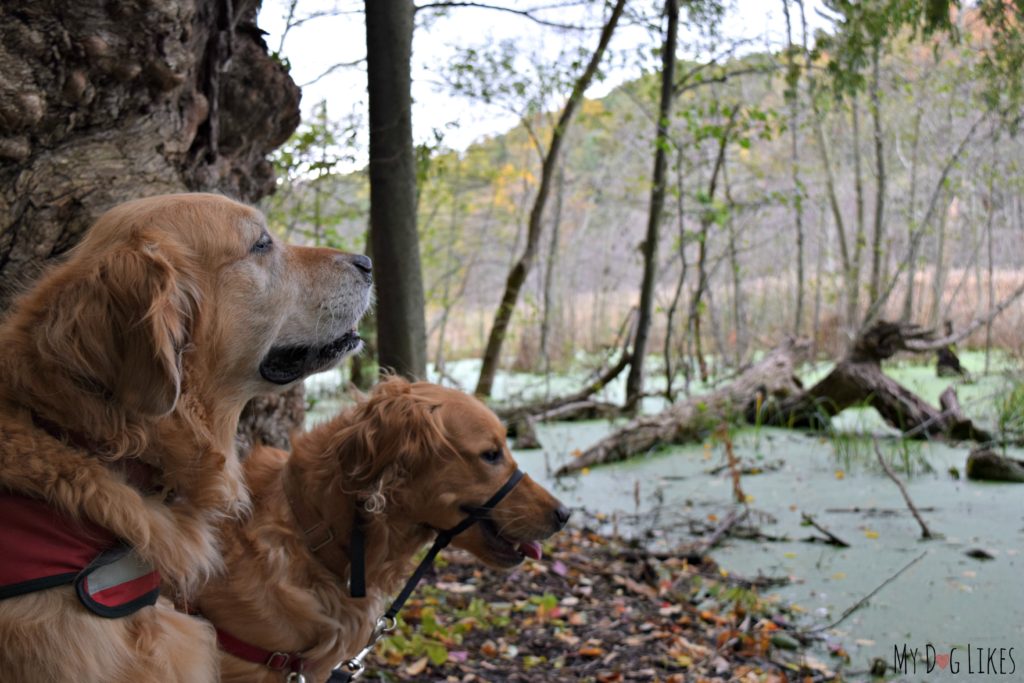 At this point (on the South side of the lake) the water is murky and a great place to spot painted turtles, frogs and toads – so keep your eyes peeled. However, due to the high algae concentration, I would not recommend allowing your pup to wade into this area!
As you continue along a bit more, the water gets more clear and the views open up revealing some great shots of the lake. If you are visiting in the Fall, the reflections of the foliage off the lake is worth the trip alone.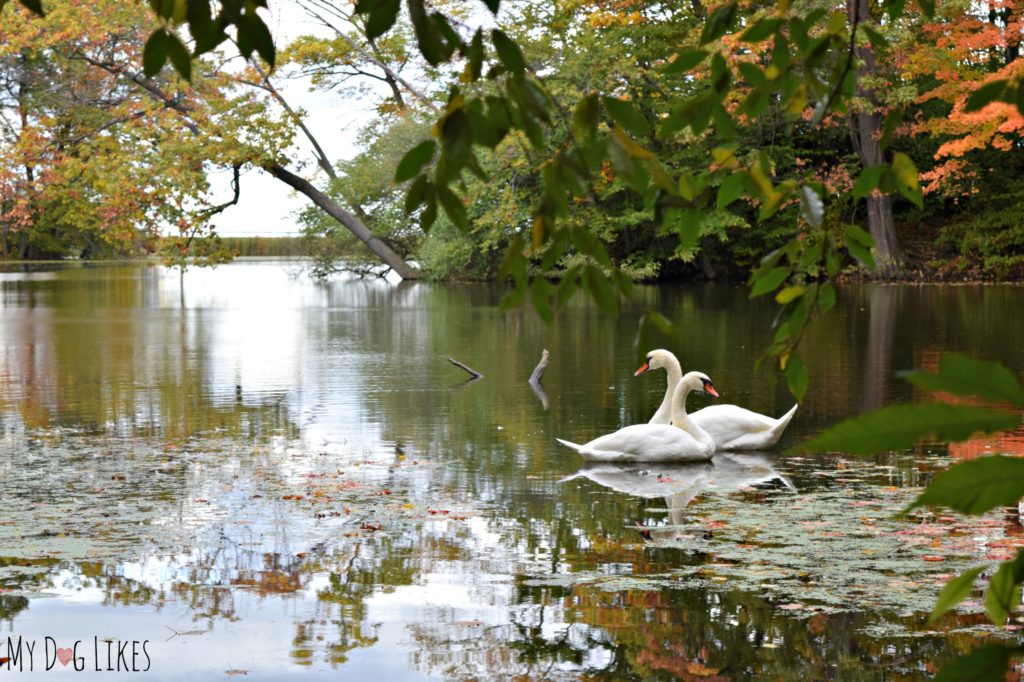 This area is also a great place to catch a variety of water fowl which make a home in the area (or pass through during migration) including swans and warblers.
Owens Point
Roughly halfway along the Eastman Lake Trail you will see a small path on a strip of land jutting out into the lake. This leads to Owens Point, which is one of the best spots to enjoy the view of Eastman Lake. There is a also a bench out here so its a great spot to relax and take a water break.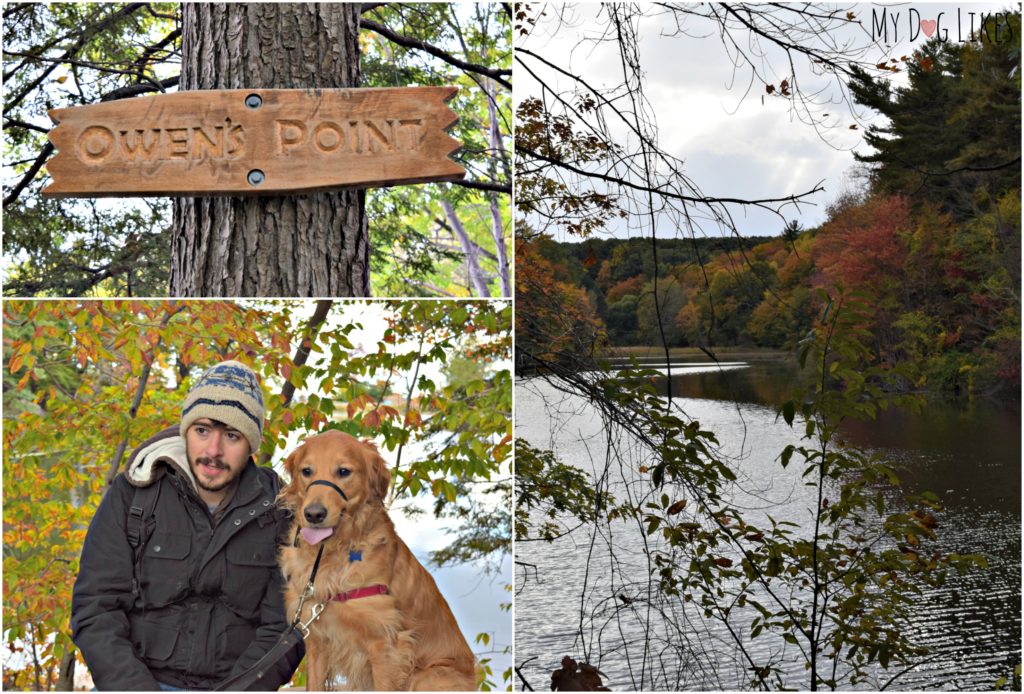 Durand Lake Trail
Once you reach Log Cabin Road, head straight across to get started on the Durand Lake Trail. This trail is a bit more rugged than the Eastman Lake, and a bit harder to see. Just hug the lake until you see red trail makers indicating the Trott Lake Trail. At this point we would suggest veering off onto this trail as opposed to continuing around the lake toward Lakeshore Boulevard.
Trott Lake Trail
Whether you head left or right on the Trott Lake Trail, continue hugging the lake until you reach the Southernmost portion where there is a large open field. This was a great spot to let the dogs roam around a bit and really appreciate the smells of the wild.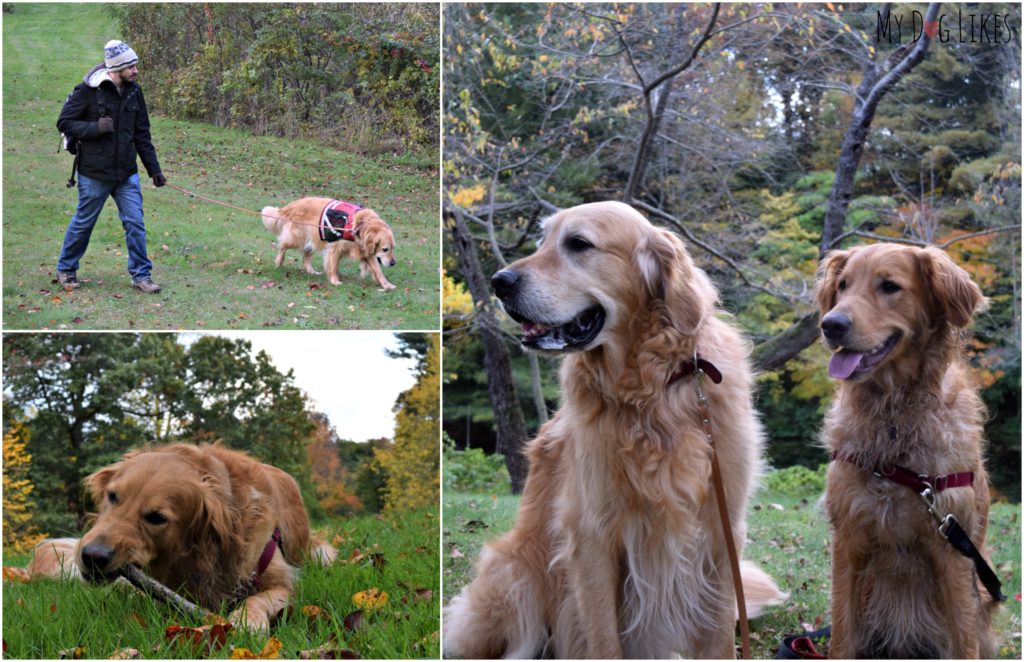 There was absolutely nobody around when we reached this spot, so we hung around for quite a while. We even had the chance to catch the first snowflakes of the year!

Log Cabin Road
After making your way to the southernmost portion of this field a small cut through the woods will lead you back onto Log Cabin Road. Once you have made your way onto Log Cabin Road you can simply follow it back up the hill (to the right) to where your car is parked. This portion of the road is often closed to vehicles, but keep an eye out just in case.
Trimble Lake
When you hit Trimble Lake (along Log Cabin Road) you can be sure that you are headed in the right direction.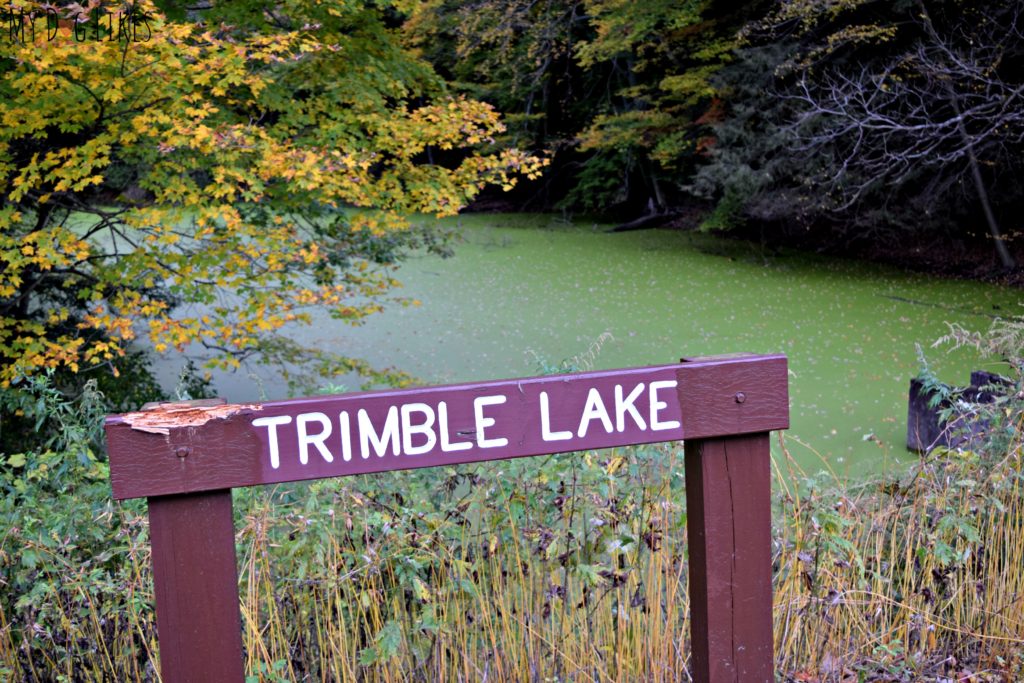 Once we got back to our car, we had a bit of daylight left so decided to check out one other spot in the park…
Durand Eastman Beach
As we mentioned above, one of the main highlights of Durand Eastman is the beach access to Lake Ontario. Head out on Log Cabin Road the same way you drove in and cross Lakeshore Boulevard where you will find several large parking lots. Any one of these is only roughly 100 ft. from the beach so go ahead and park where convenient.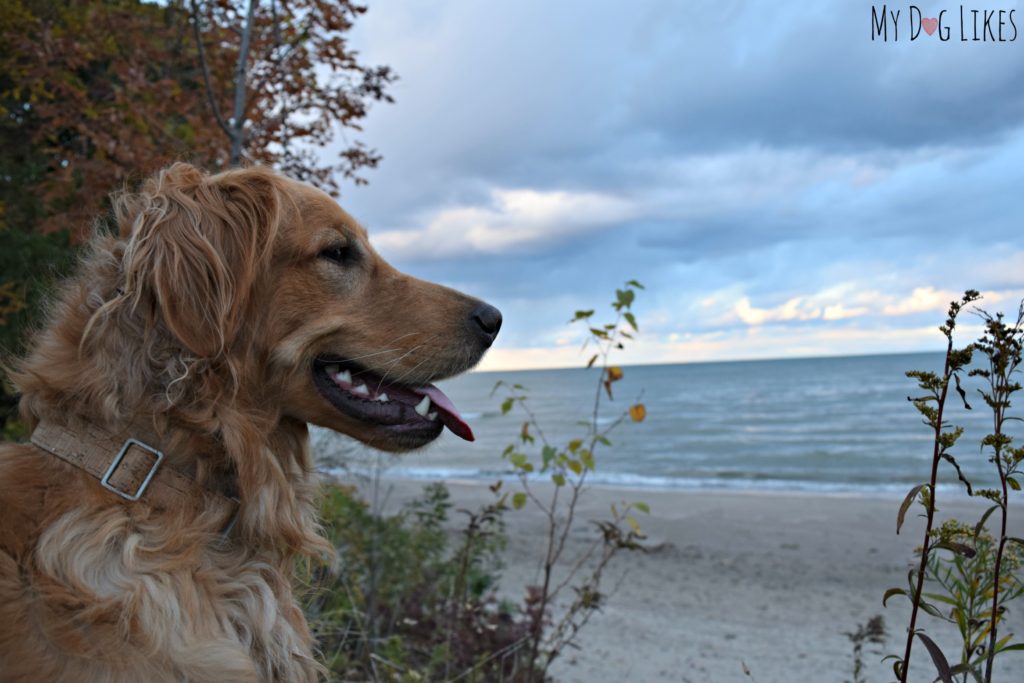 Above is the view from the parking lot, so you can see just how short of a walk to the beach you are dealing with!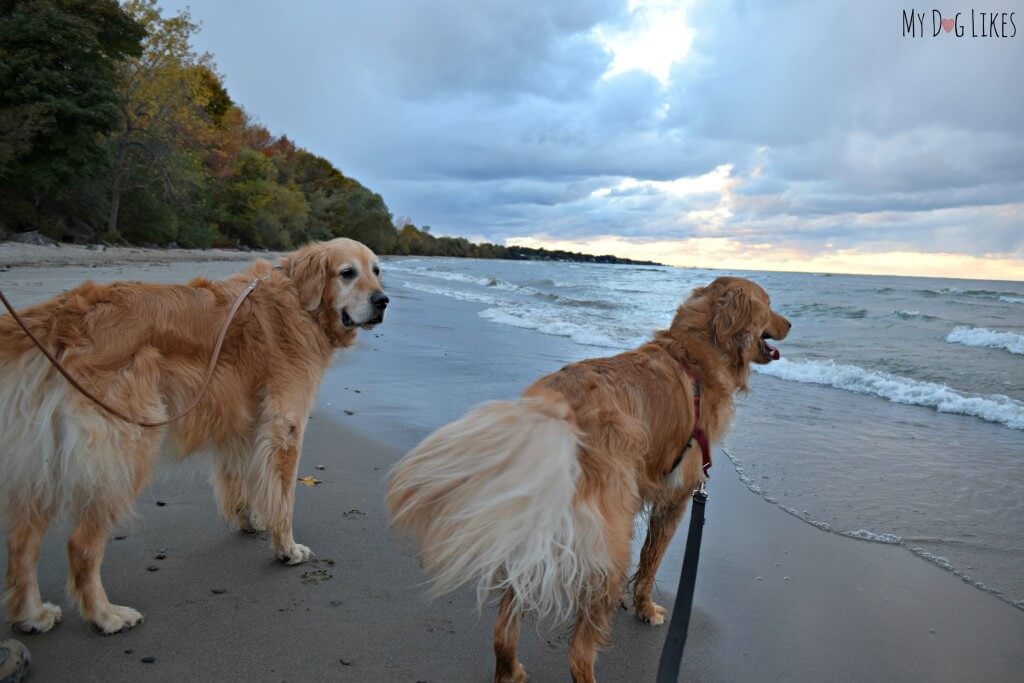 Harley and Charlie had a blast walking on the sand and digging around a bit. This was Charlie's first experience with waves, so he was a bit hesitant to enter the water – even barking at each crest as they approached the shore! Once he settled down however, we let them both get their feet wet. Seeing as it had just been snowing, we figured just a taste of water was enough!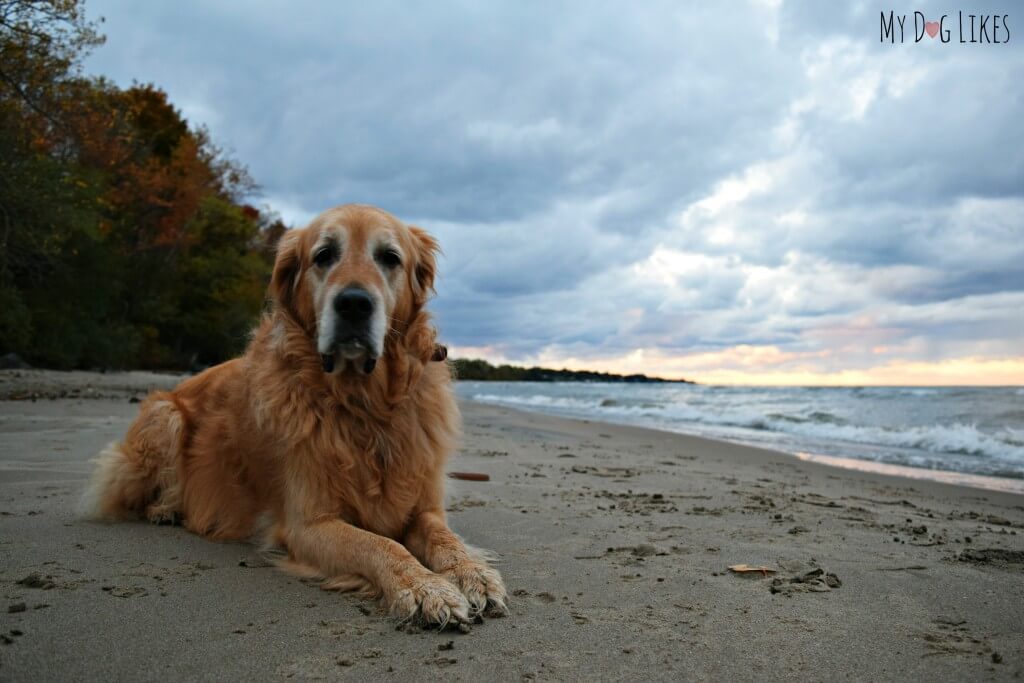 Light was fading fast at this point so we took a few moments to really take in the view and enjoy the crisp Lake air before heading back home.
Why MyDogLikes Hiking at Durand Eastman Park
While the beach is a very popular destination in the Summer months, the rest of the park across the street is much less well known. This was our first visit to the park and we will without a doubt be back. (Perhaps even in the winter for some snowshoeing?) The views were spectacular and it is the perfect spot to catch the fall foliage in the Rochester, NY area.
All in all, Durand Eastman is a relatively small park where you can get a lot of bang for your buck (figuratively speaking – as there is no entrance fee!). Each trail is only between .5 and 1.5 miles long and even if you combine a few together as we describe above, it can easily be tackled in a couple of hours.
Have you ever visited Durand Eastman?
Let us know in the comments below and of course please leave any questions you may have!