It has been a while since we last featured a dog friendly park on the site. Primarily this has to do with the fact, that Rochester, NY seems to have migrated north to become a part of the frozen tundra. With temps steadily below zero, walks have had to be kept brief and the boys have been getting a bit stir crazy.

So on a particularly balmy 20 degree day a few weeks back we decided to break out of the house and let the boys do some real exploring.  We headed out to Black Creek Park on the west side of Rochester for an afternoon of snowshoeing.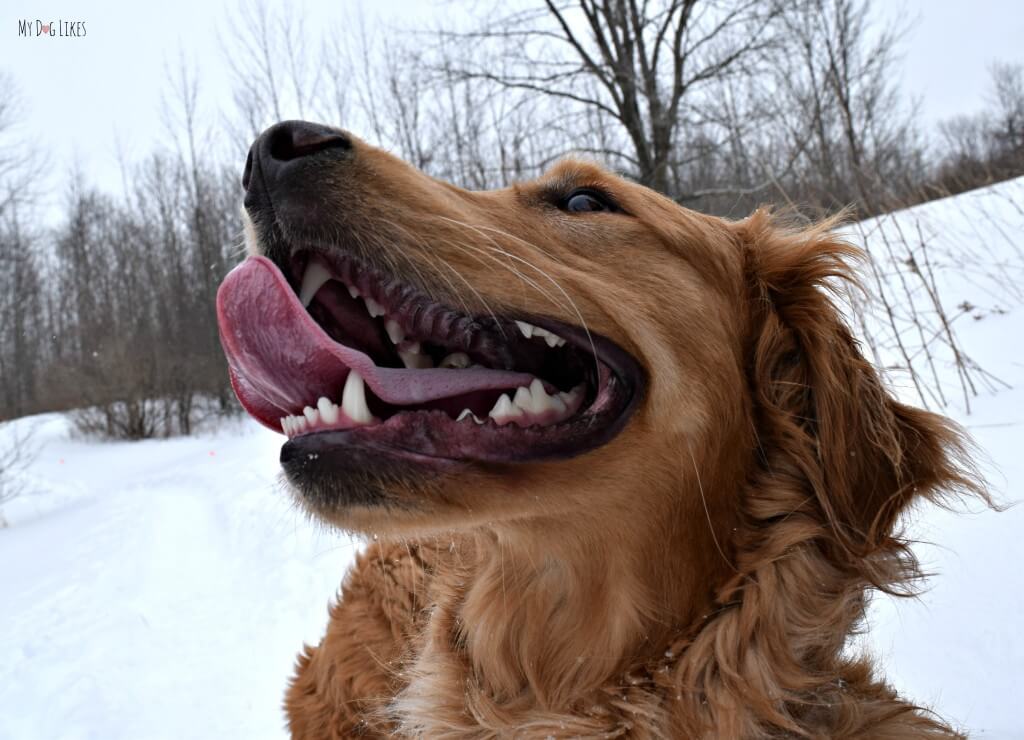 About Black Creek Park
Black Creek Park is located in the town of North Chili and covers more than 1500 acres.  It is relatively undeveloped and a popular destination for bird and animal watching. We have always loved it for its seclusion. It is relatively rare to run into other hikers along the trails, which makes it a great place to let the dogs explore and run around a bit. Black Creek Park is a year-round destination. Its beautifully remodeled lodges are popular spots for hosting large reunions and get-togethers and it is a popular destination for snowshoeing, cross country skiing, and sledding in the winter.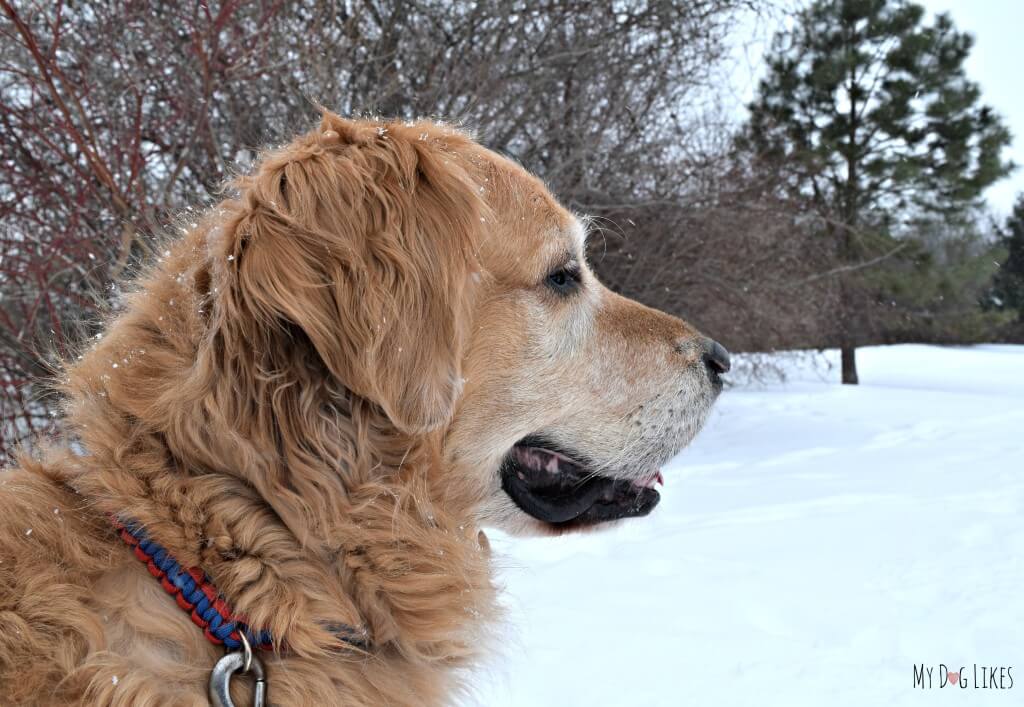 There are several trails to choose from, but our favorite is the Creek Trail winding along – you guessed it – Black Creek.  The boys were whining as soon as we pulled into the park, so we wasted no time in getting on our gear!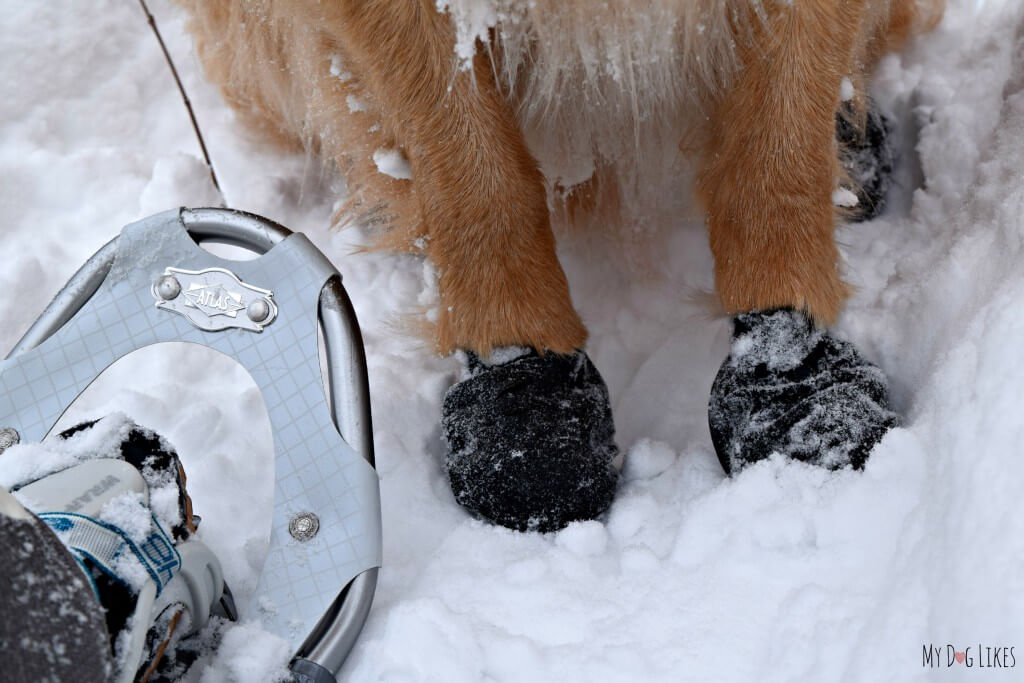 We strapped on our snowshoes, the boys slid on their Pawz Dog Boots and as soon as we reached the open trail – they were off!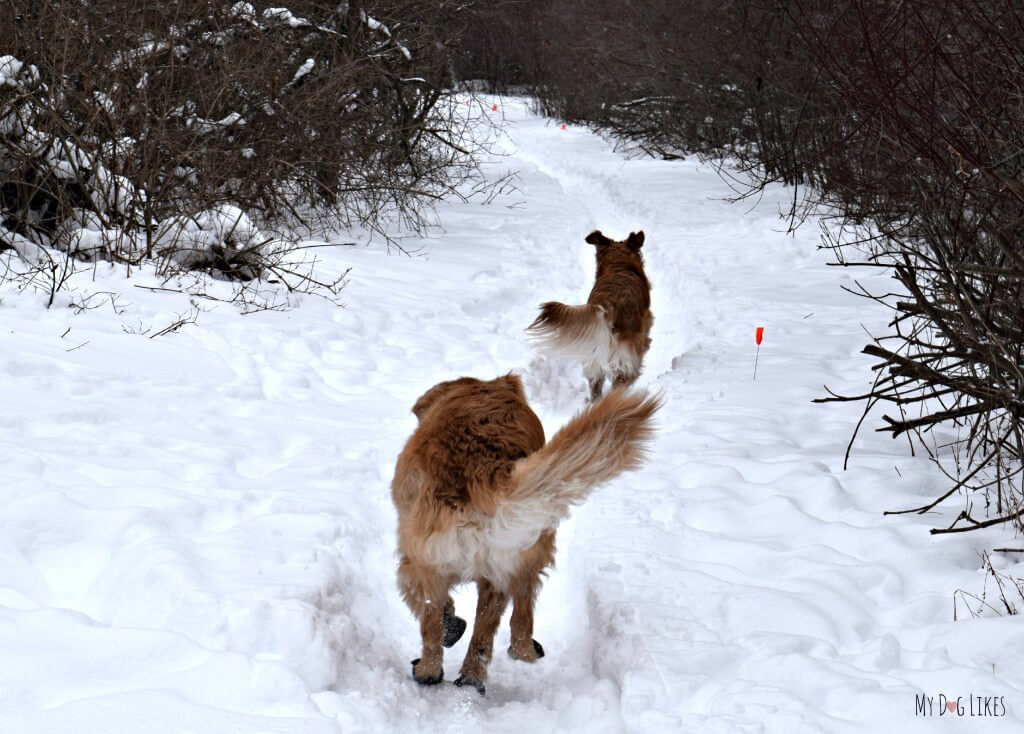 But not too far!
While Harley loves to lead us on a trail he never gets out of sight.  He runs ahead – stops to look back to make sure we are coming – and excitedly runs back to us! We have always joked that he travels about 3 times the distance that we do on any given hike.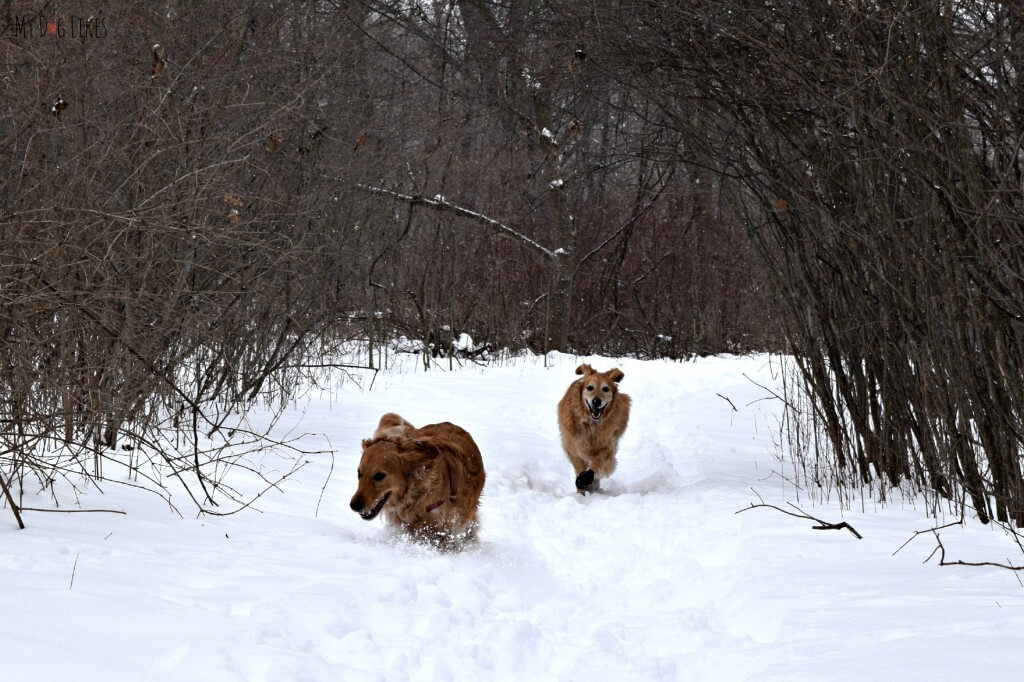 We are very pleased that Charlie seems to have picked up this habit of Harley's and also refrains from straying too far! Good boys!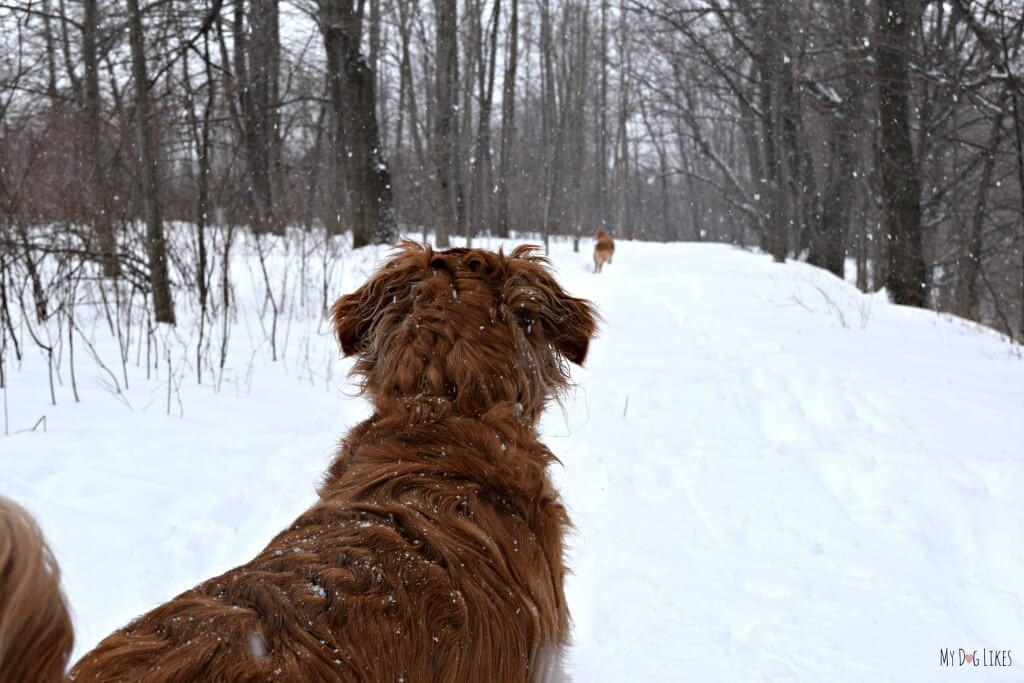 Don't let that sweet lace face fool you – Harley may be getting older but he is completely in his element when outdoors. He runs, sniffs, and explores just like he always has.  While he definitely still has great stamina we always try to make sure that he doesn't overdo it, which can result in sore and achy bones the next day.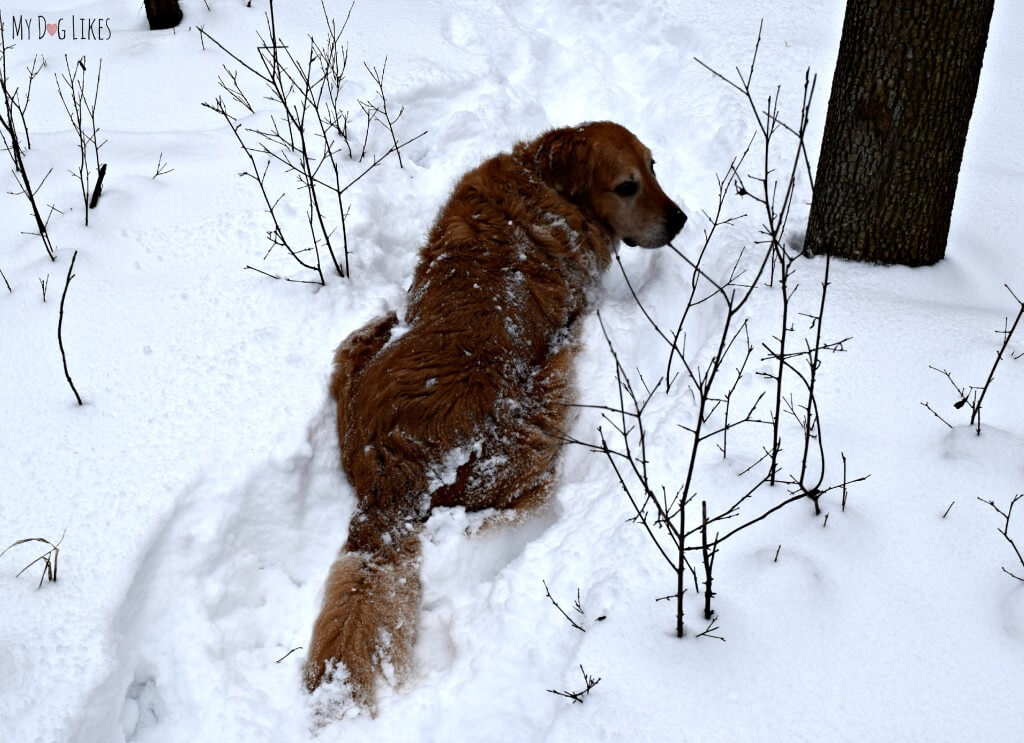 The snow was deep and Harley was showing signs of being a bit tired (though he wouldn't admit it), so we veered off the Creek Trail before getting too far out.  While running in sand or snow, it is always important to watch for signs of fatigue as the extra resistance requires significantly more energy for you and your pup!
We knew roughly the location of a side trail but it was quite hard to distinguish under all that snow! No problem, the dogs can do some trailblazing of their own!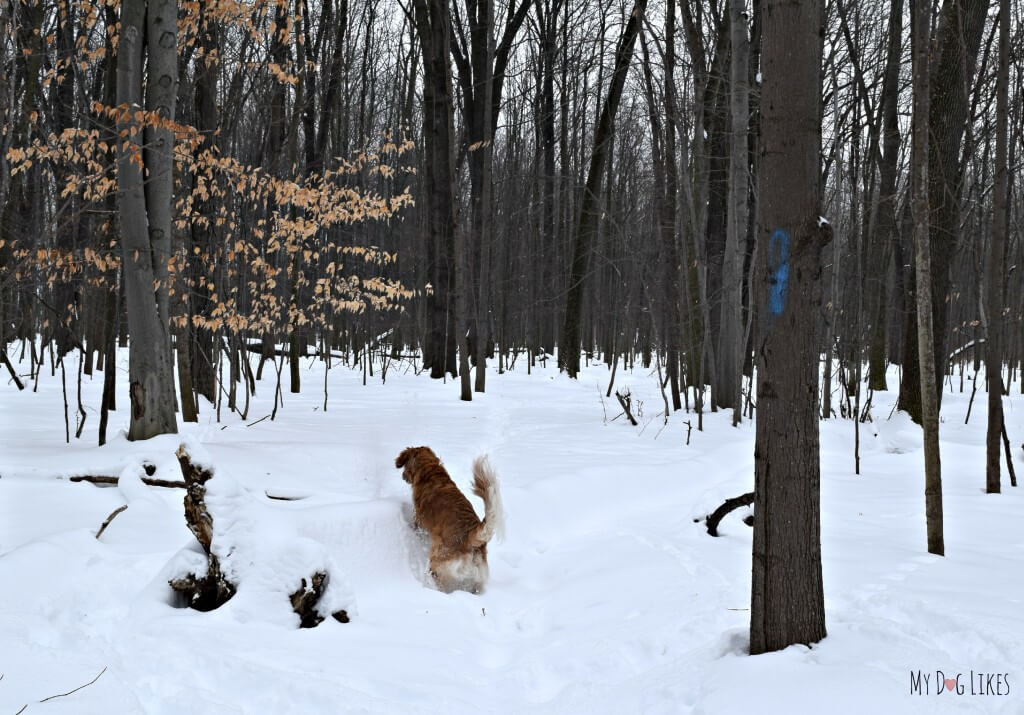 Finally, we reached the clearing we were looking for and Charlie got his much needed frisbee time. After all, what good is a trip to a park with out some good old fashioned fetch?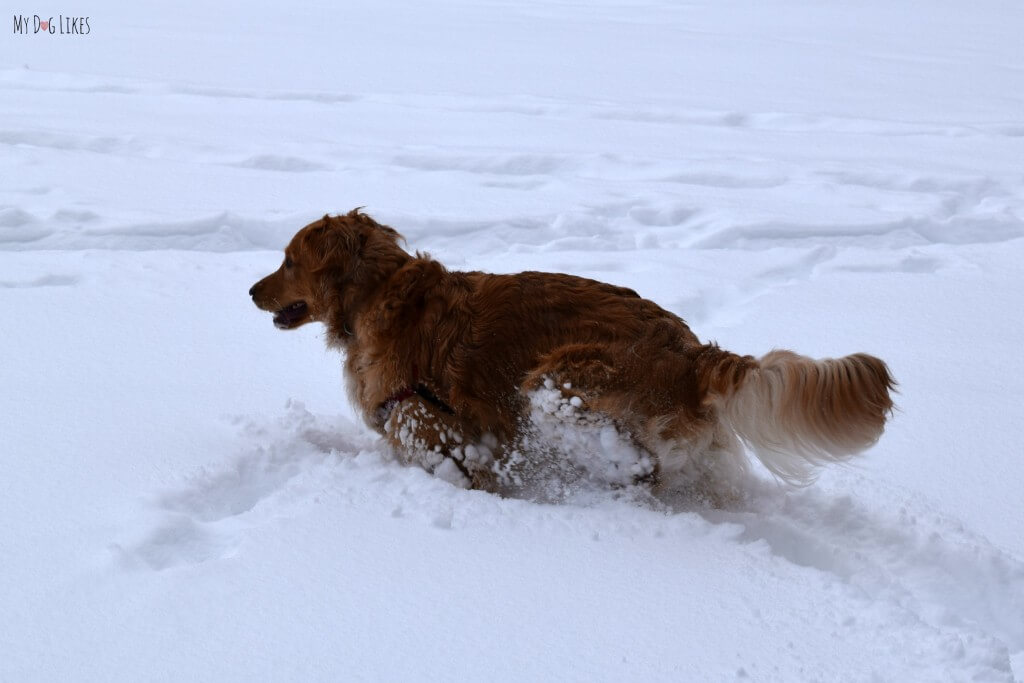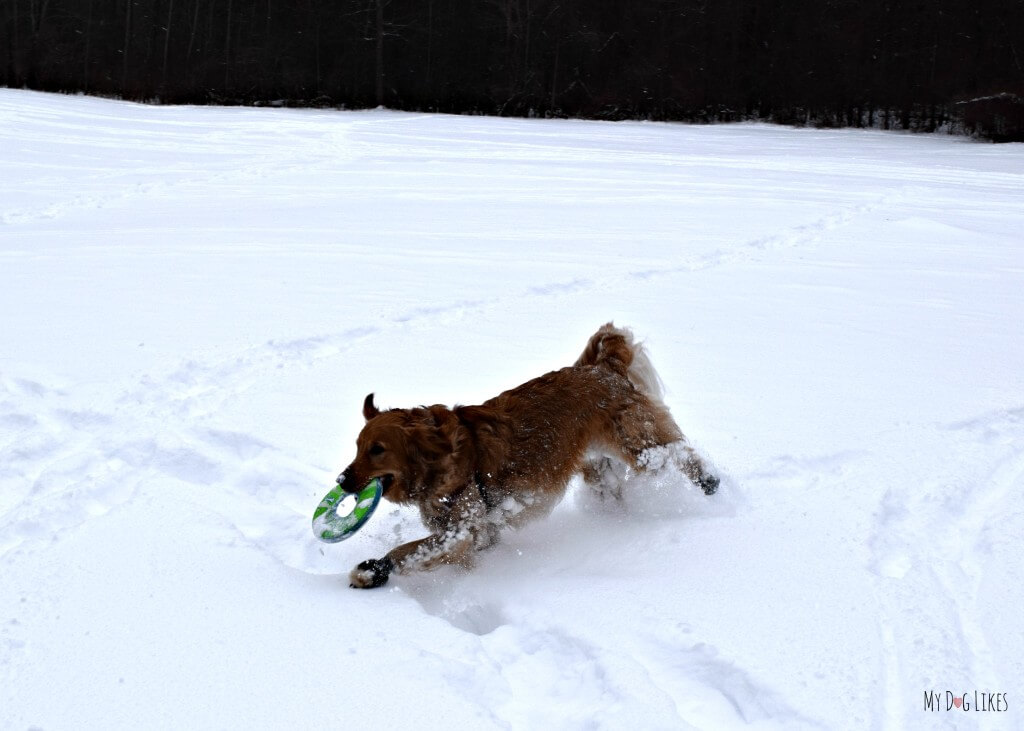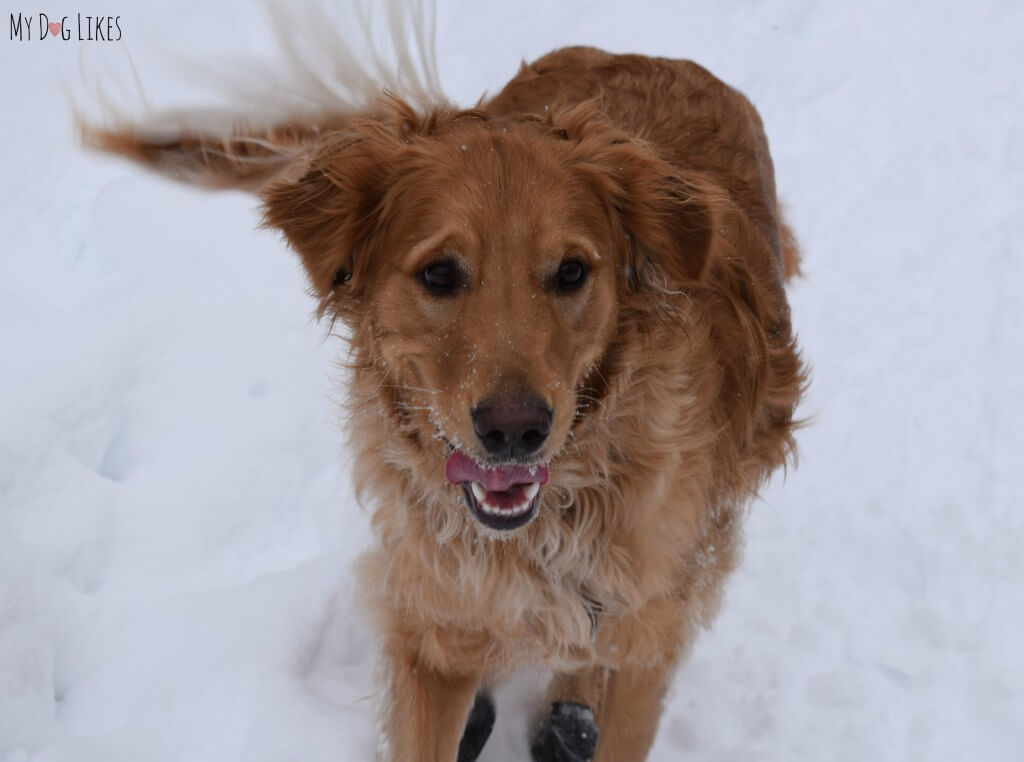 By this point we were getting close to the popular sledding hill at Black Creek Park. We could hear lots of laughter in the distance and showing no signs of slowing down, Charlie was eager to see what was going on. We still had a long walk back to the car so I decided to give Harley a bit of a rest while Rach and Charlie ventured on.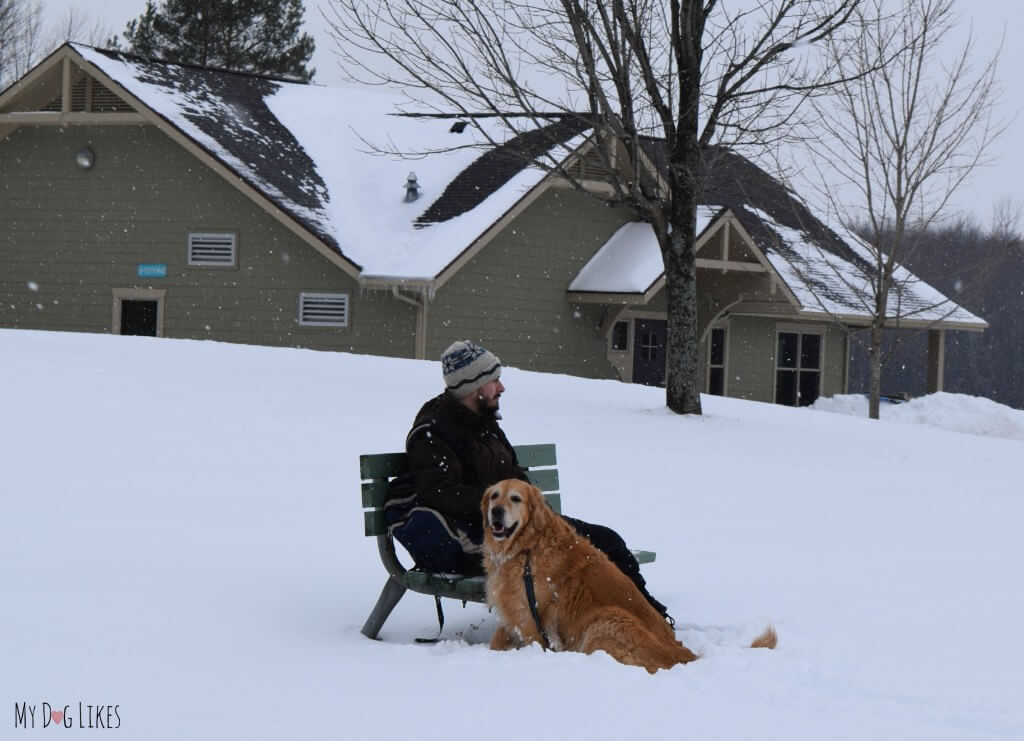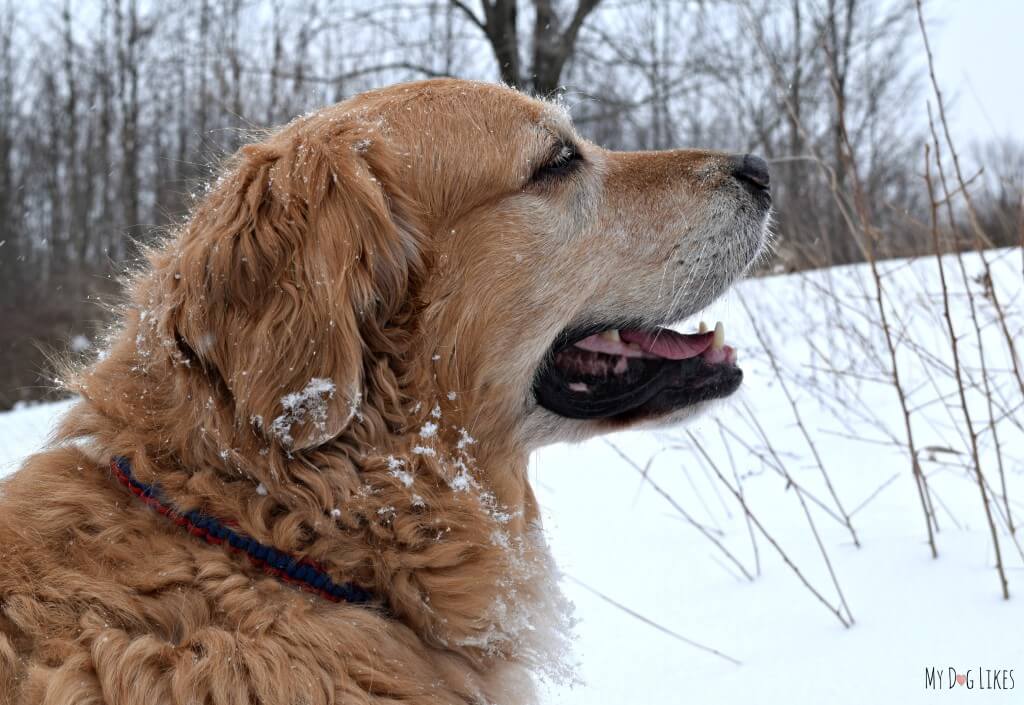 Don't worry, he was perfectly content to sit by my side taking in the sights, sounds and fresh cold air!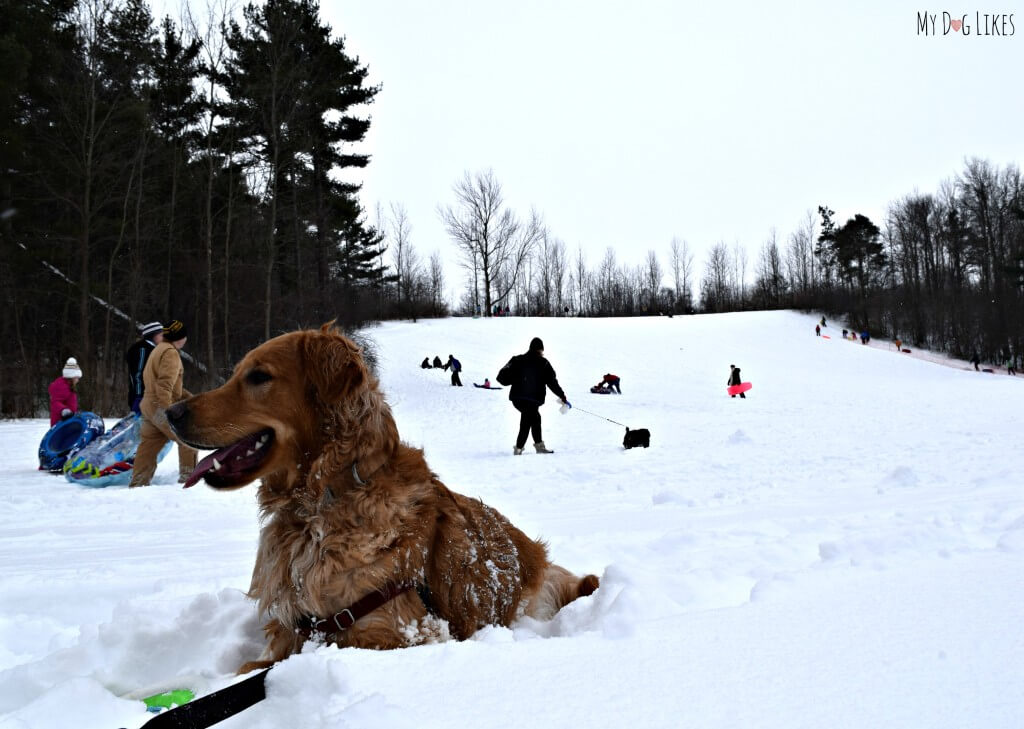 Charlie was pretty stoked when all of a sudden there were lots of people around. These were no ordinary people… these were little people, the kind that have lots of pets, energy for frisbee throwing, and silly baby talk. Needless to say, I think he would have been happy sitting here all day soaking up all of that attention from the kids!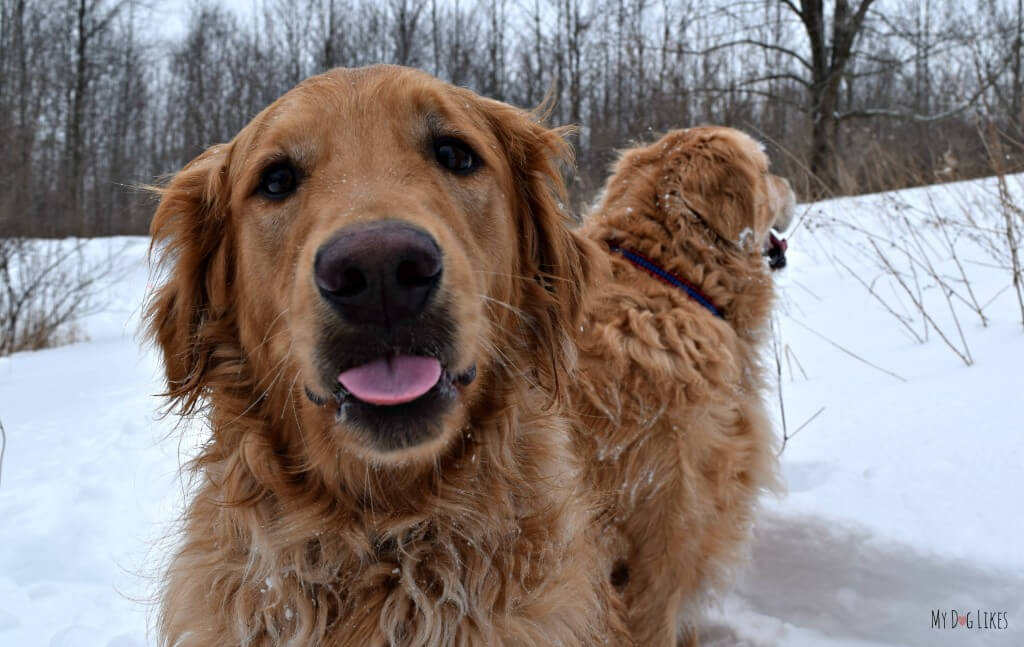 Why MyDogLikes Black Creek Park
With a terrain of beautiful rolling hills, ponds, creeks and fields Black Creek Park is the perfect place to get out and stretch your legs a bit! Especially when you have been huddled indoors for what seems like forever just trying to keep warm! There are several miles of well kept but quiet trails to explore, and while hiking them you will feel particularly close to nature.  Black Creek Park is a favorite of ours (and the dogs) at all times of the year!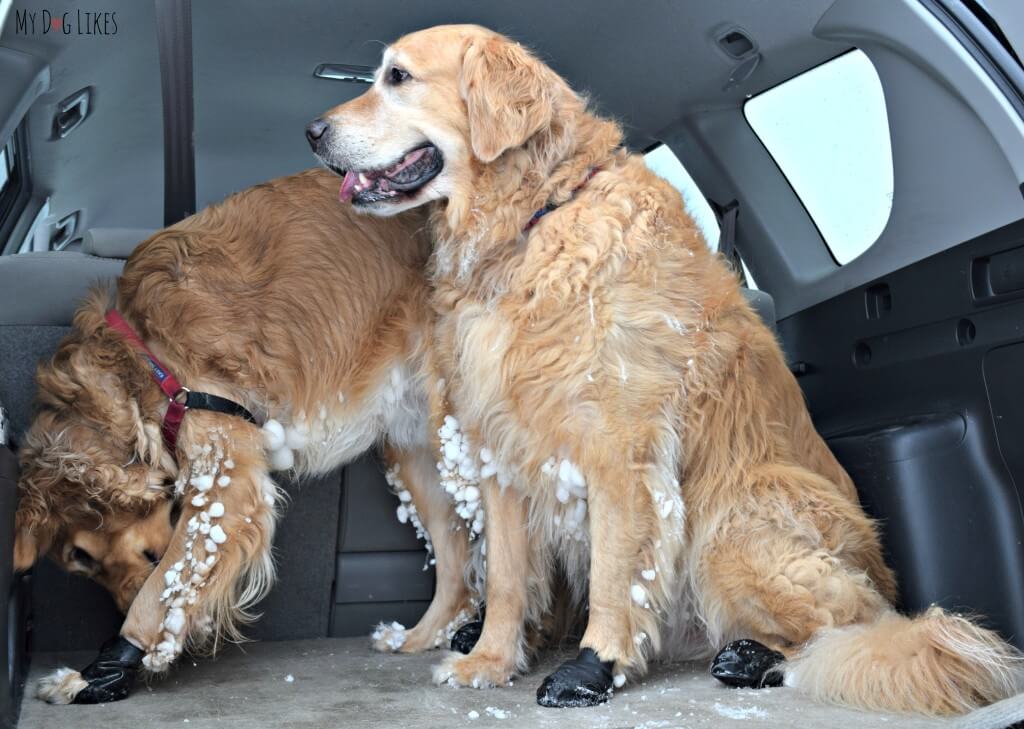 The boys were quite satisfied, but looking a bit disheveled when we finally loaded them back into the car. Off to the PetSaver Superstore self wash to get cleaned up!