If you have been watching the national news recently, you have probably seen the Northeast getting hammered with snow!  The boys love it of course, but such a deep snow pack can make hikes and walks in the park quite difficult!
Winter Hikes = Dirty Dogs
We headed out to Black Creek Park and had a blast hiking and exploring some of its more than 1500 acres! Now you may think that with frozen ponds and snow covered ground the dogs would keep from getting too messy.  Well, as any Golden or other long haired dog owner know, the snow itself leads to another problem: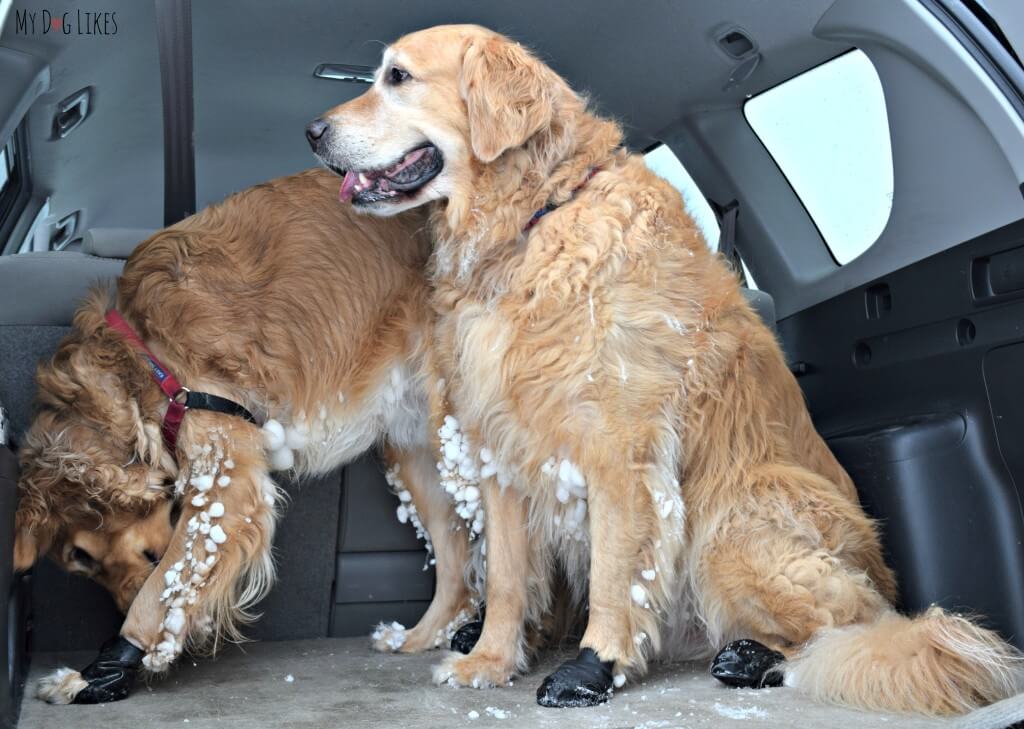 "SNOW PANTS"
If you have ever dealt with snow pants, you know, there is no combing these balls of snow and ice out of their fur. Allowing them to simply melt is not only uncomfortable for your pup, but it can be dangerous for their skin. Adding to our snowy problem, was the classic "wet dog" smell! After loading into the car we decided that a quick stop for a bath would not be a bad idea at all!
Working at the
Car
Self-Wash
After a short drive, we arrived at our favorite pet store, PetSaver Superstore, which just so happens to have great (and newly remodeled) self-wash stations. These self-wash stations have been designed to take the fuss out of giving your pet a bath. Their motto: "You provide the dog, we provide the clean-up" says it all.
Spa Day
The room is brightly lit and contains 4 walk-in tubs (no lifting-big dog owners rejoice). The friendly staff is eager to show you around and walk you through the whole process. They give you plenty of time to complete the bathing processing and show you all of the bathing supplies and grooming products that are at your disposal during a wash!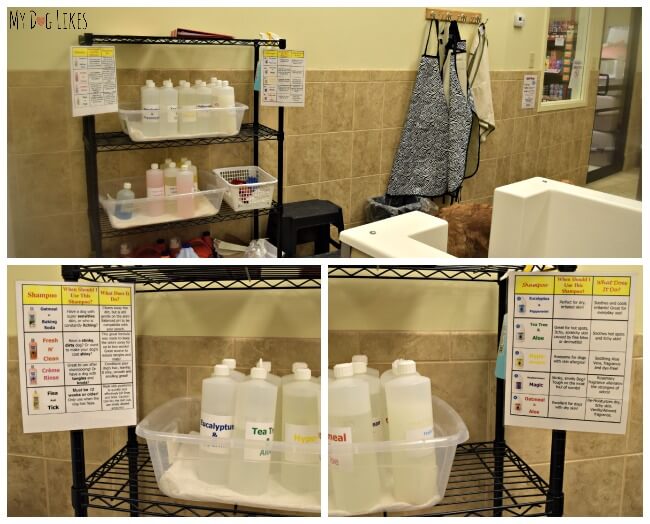 For the price of $9.99 you get it all: Shampoo, Conditioner, Towels, APRONS (Hallelujah), Grooming Tools, and anything else you might need to help get your pooch clean. Even better, if you are part of their responsible dog owner club, you earn points toward store rewards (Cha-Ching!).
It was all hands on deck, for these two little snow bunnies!
Though PetSaver provided us with lots of great shampoo/conditioning options, after meeting the folks from Organic Oscar at Backer Total Pet Expo, we were eager to try the two bottles they provided to us!  Let's see how the boys (and their sensitive, allergy prone skin) responded to this new wash!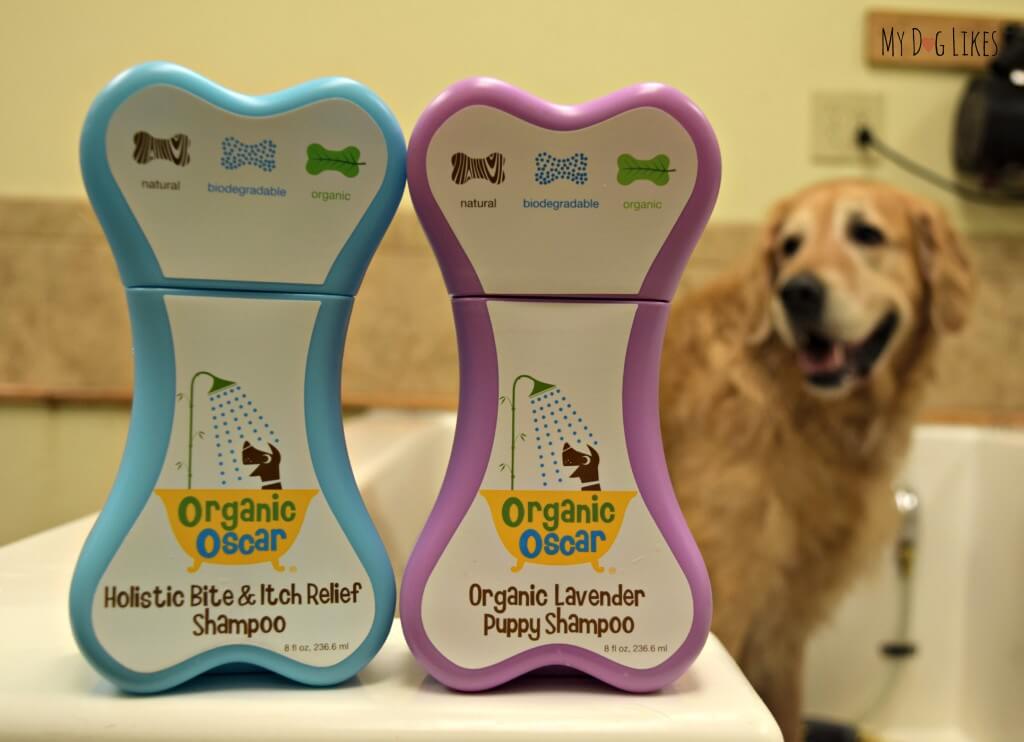 About Organic Oscar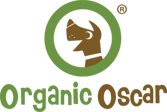 Organic Oscar was founded in 2007 by Marie Svet. Shortly after moving from Europe to California, she fell in love with the health conscious lifestyle around her. When it came to her dogs however,she felt stuck. They were a loved part of her family, and she wanted to provide the same level of care for them as she would anyone else in the home. She looked high and low but could not find a shampoo or conditioner that was a good match for her dogs' sensitive skin. As her faithful companions,her dogs provided their unconditional love, in return they asked only for her care. With their simple devotion  in mind, Marie used her years of experience in the cosmetics and perfume industry to create Organic Oscar:  high-quality, affordable, organic pet products!

Integrity & Altruism – Not just what they say, its what they do!
Organic Oscar operates with these two values in mind. How you wonder? Read on…
Integrity – Organic Oscar provides accurate, complete information on all of their pet grooming products. There is no fine print; their organic pet shampoos and conditioner are made only with the finest and purest ingredients. In addition, all Organic Oscar products are certified cruelty free, meaning NOTHING (individual ingredients or final product) has ever been tested on animals.
Altruism – A portion of Organic Oscar proceeds goes to charitable organizations and events that support the humane treatment of animals.In addition they are committed to the health of our environment, which is why their packaging is 100 percent recyclable, and they are working to create a compostible bottle and refillable option as well!
The Goods
All Organic Oscar products:
Are organic, all-natural, biodegradable formula

Are made with 90% certified organic ingredients

Contain no soap, parabens, sulfates, petroleum-based ingredients, dyes or artificial fragrances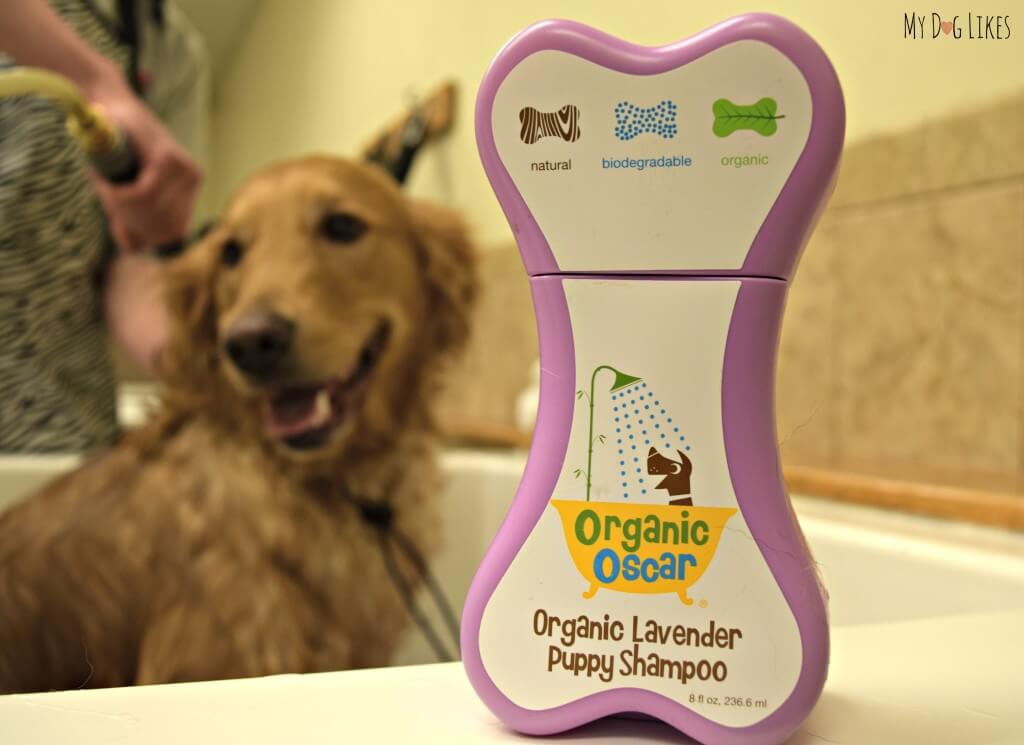 Organic Lavender Puppy Shampoo
Extra mild shampoo designed to be safe and gentle for a puppy's sensitive skin

Formulated with organic lavender to calm puppies during baths

Leaves skin moisturized and fur feeling soft and fluffy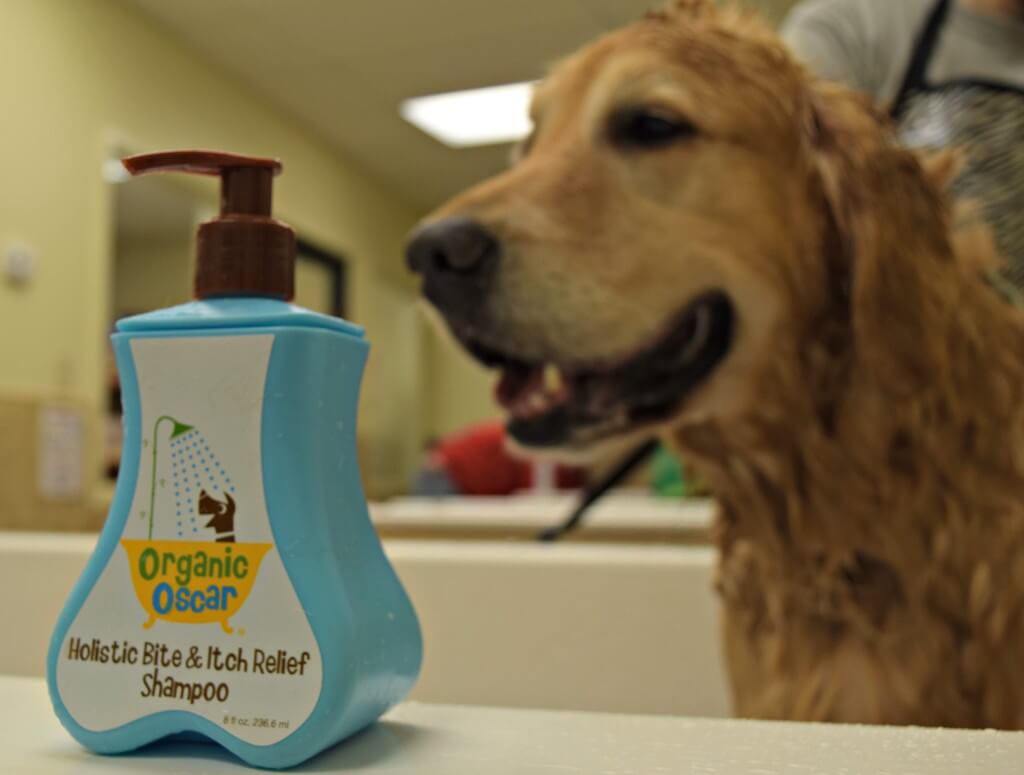 Hollistic Bite & Itch Relief Shampoo
Great for smoothing and soothing environmental skin irritations

Formulated with organic citronella, organic neem, and organic tea tree oils, known for their natural properties to restore the skin, and reduce itching symptoms

Soothing peppermint and aloe vera calms and cools itchy skin
Scrub-a-Dub-Dog – Let the Bathing Begin!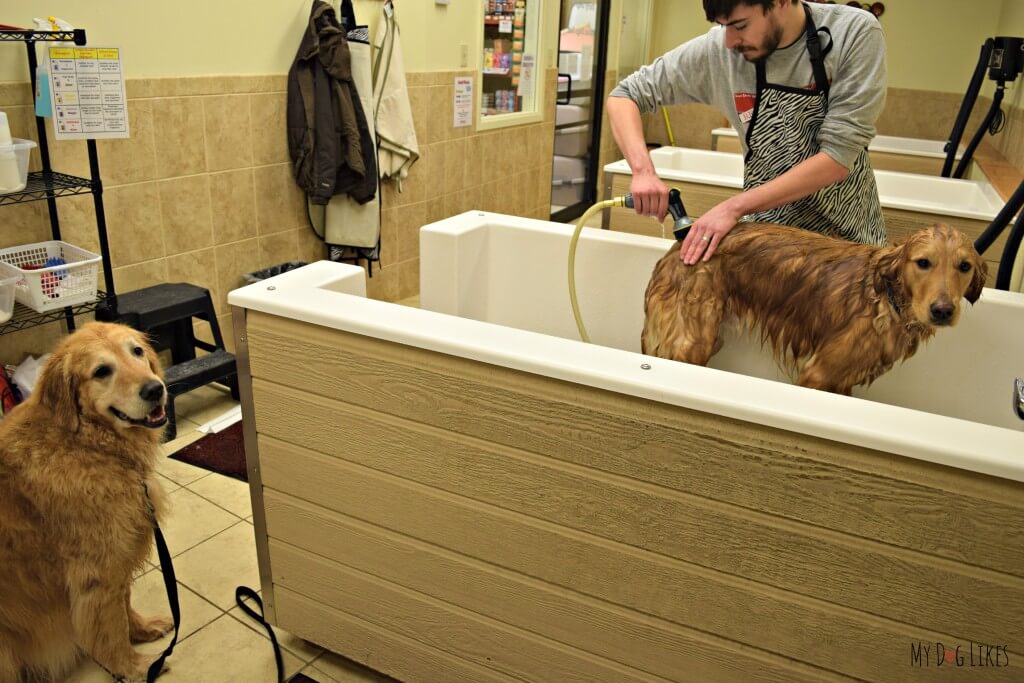 We love that the self-wash unit is in the back of the store, in its own separate room (fewer doggy distractions). We needed all hands on deck for these pups and it was nice to let one sit outside the tub (with his leash on), while we worked on the other together – After all teamwork makes the dream work!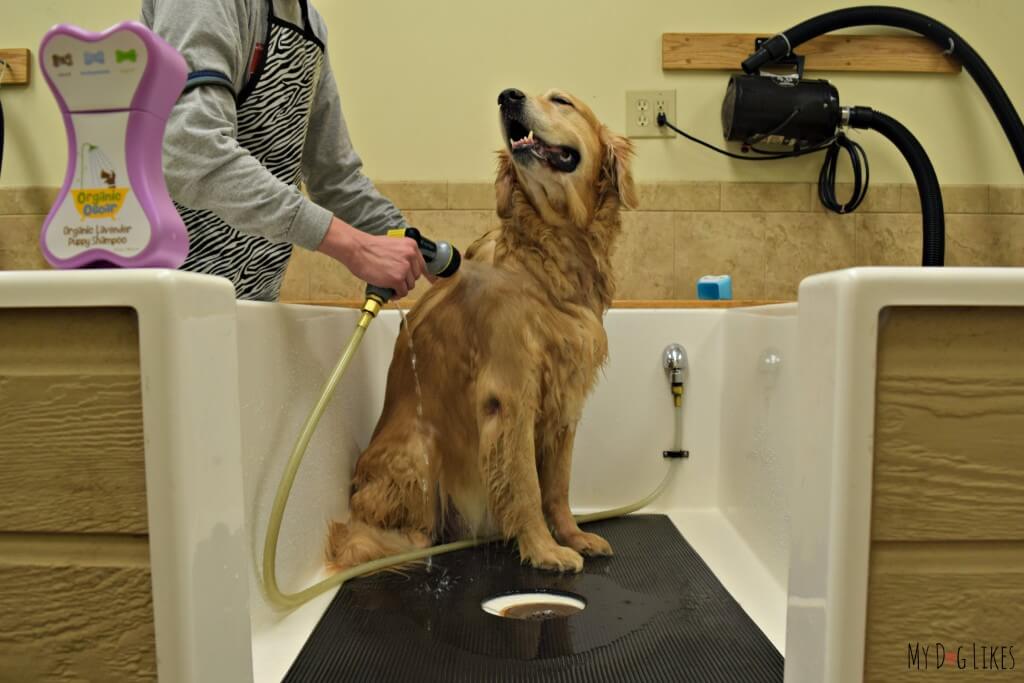 Climbing into the tub was easy, even for our sweet senior, Harley. The stairs and tub are covered in a no slip mat, taking away the fear that our sometimes cautious canine has on slippery surfaces. We love that the tub is an easy walk in style with no door, the boys climbed right in. Each tub is equipped with a gentle sprayer hose and an adjustable tethered leash, to make sure your best friend stays safe (and in place).
Wet n' Wild
After securing the pups, it was time to get wet! Click here for our step-by-step guide to bathing a dog!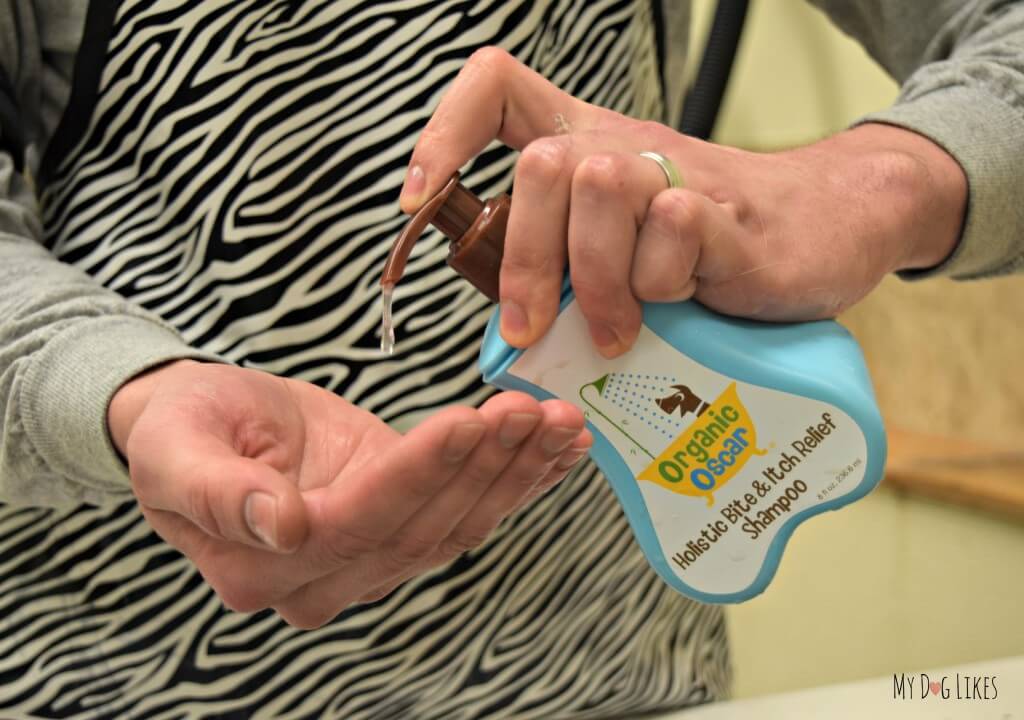 A few pumps of Organic Oscar Shampoo and we were in love. Its clear formula, helps you to know that here is no added junk like dyes.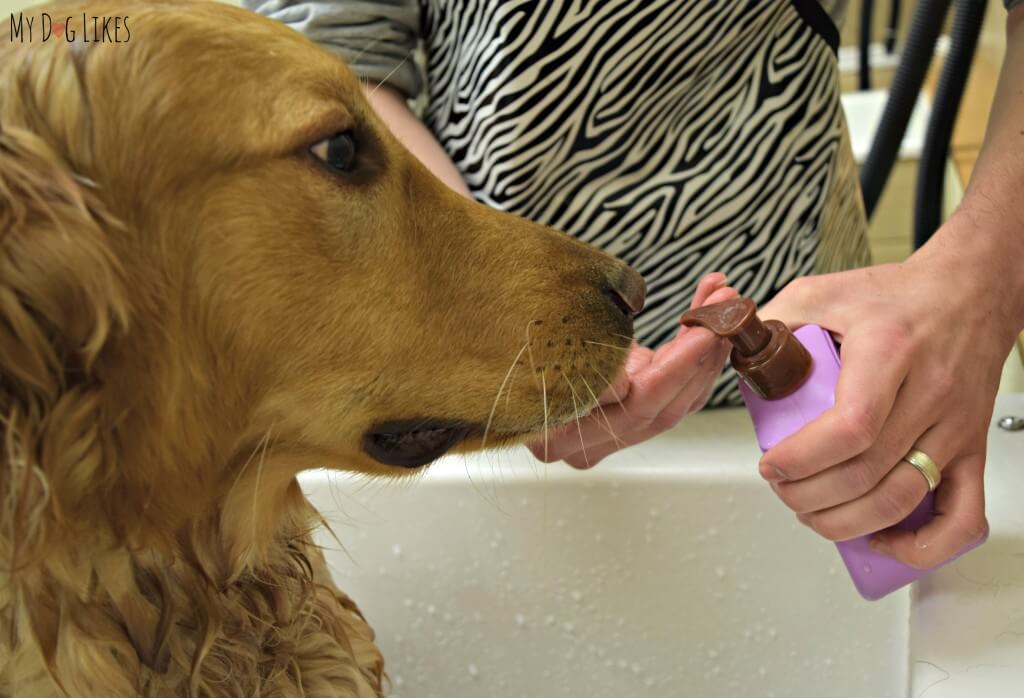 Both Organic Oscar products have a gentle scent, different from the sometimes harsh or heavily perfumed scent of many shampoos. The Lavender scent of the puppy shampoo and the minty scent of the Bite & Itch Relief come alive with some warm water and scrubbing!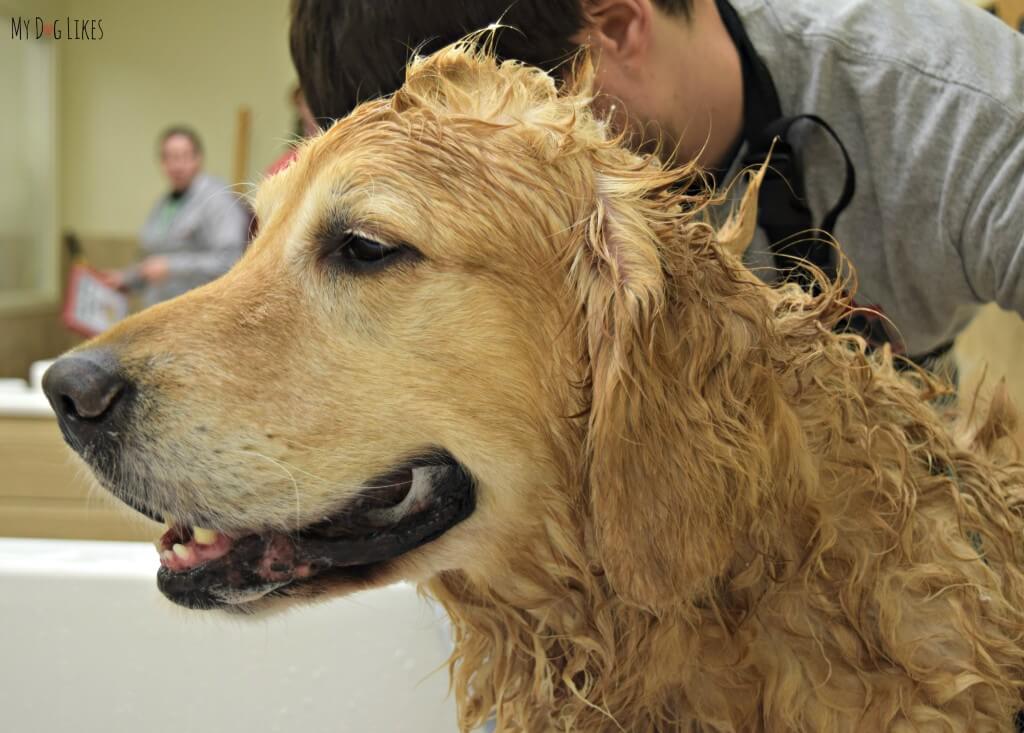 Because of the ingredients, both shampoos are not nearly as "sudsy" as what you might be used to, but it easily spread through those golden locks, creating just the right amount of suds to know that you had thoroughly covered an area.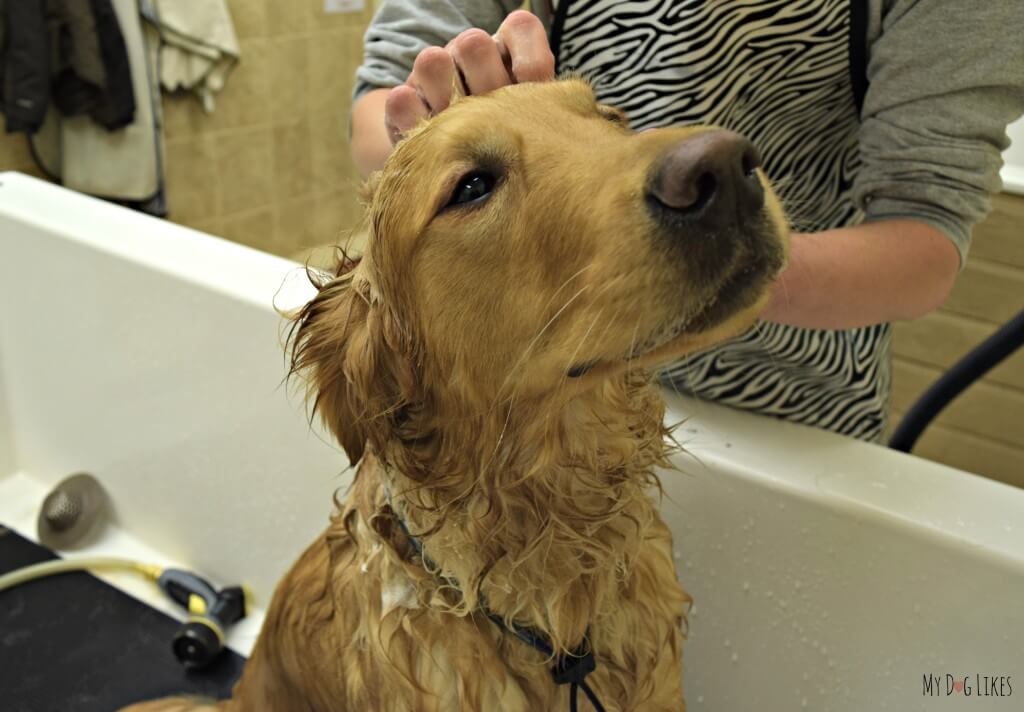 We took care to make sure that no soap or water got in their eyes and ears, but our resident wiggle-butt, Charlie, squirmed his way right into a sudsy eye. Dog panic…I think not-it was no big deal and no tears were shed (by him or me)!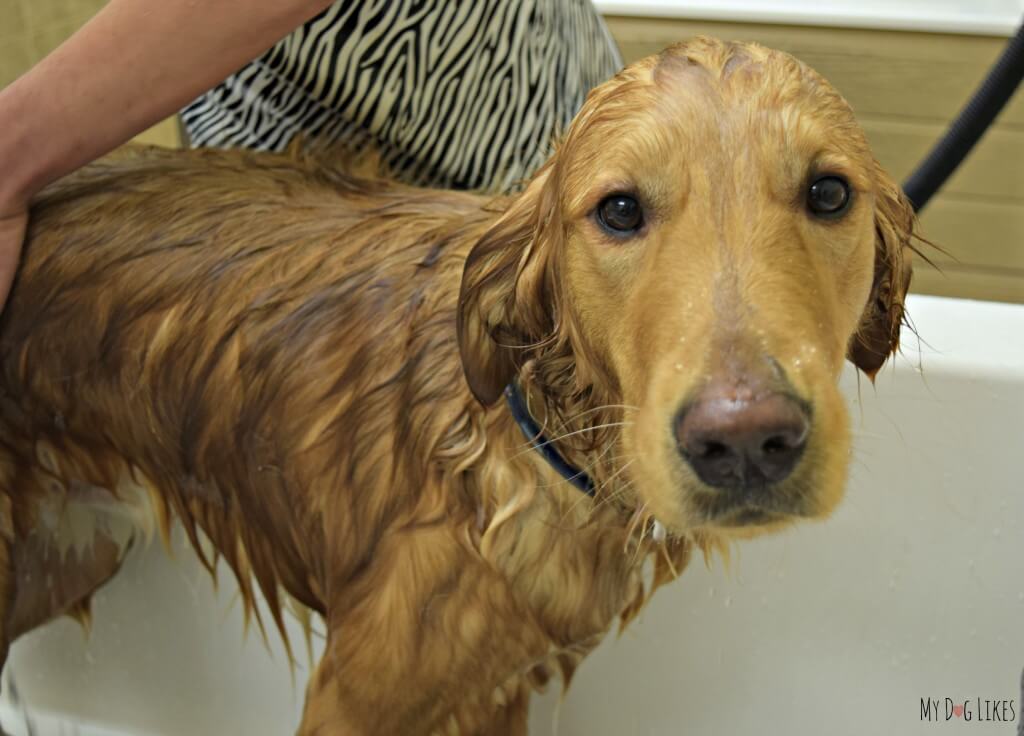 Green Clean – No Sacrifice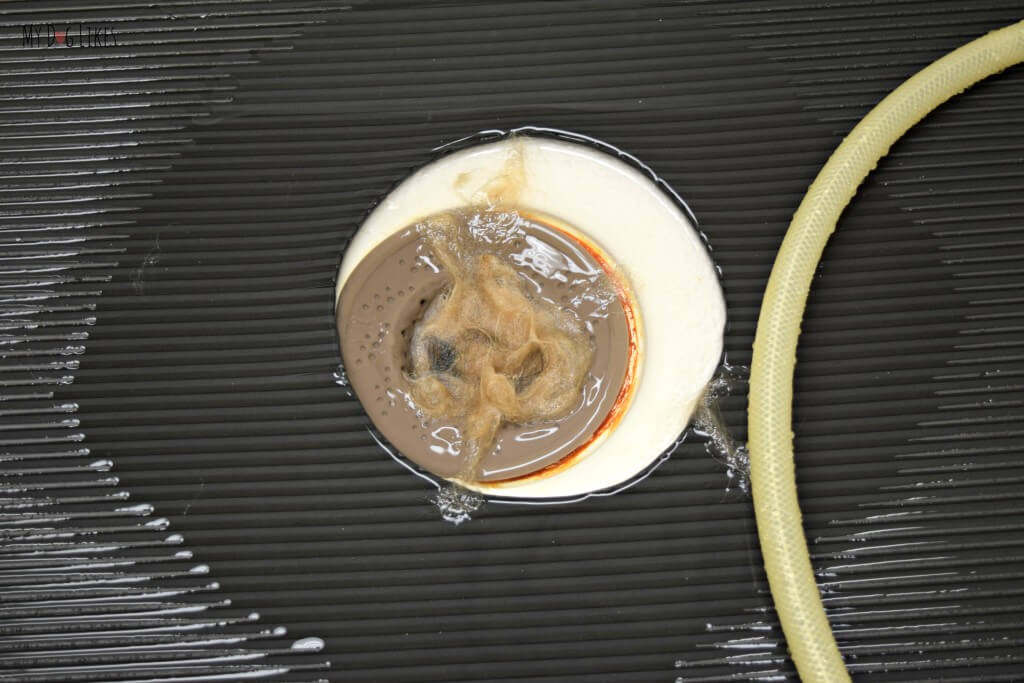 Though the formulas are gentle, organic, and natural, there is no sacrifice in their cleaning power and both easily tackled the daunting golden task before them: washing all evidence of messy transgressions right down the drain.
Its A Breeze!!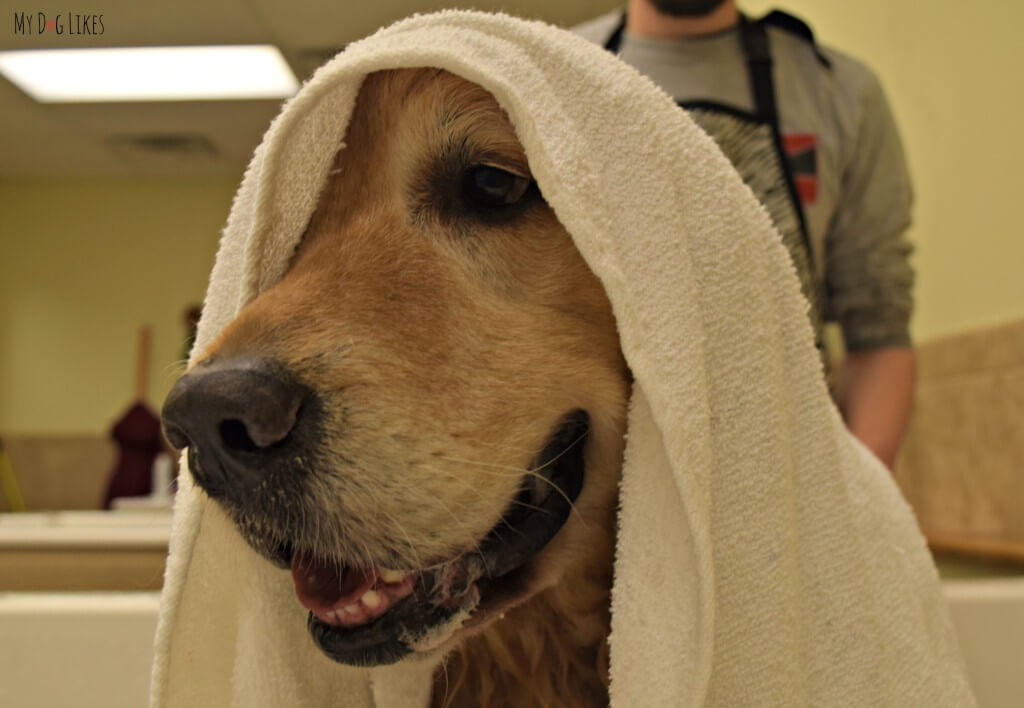 With the pups nice and clean, it was time to be dried. PetSaver provided us with all the towels we needed to start the process. After the towel, it was time for a blow dry! The blow dryers are gentle and not so noisy that it scared the boys….In fact I would say they enjoyed it quite a bit!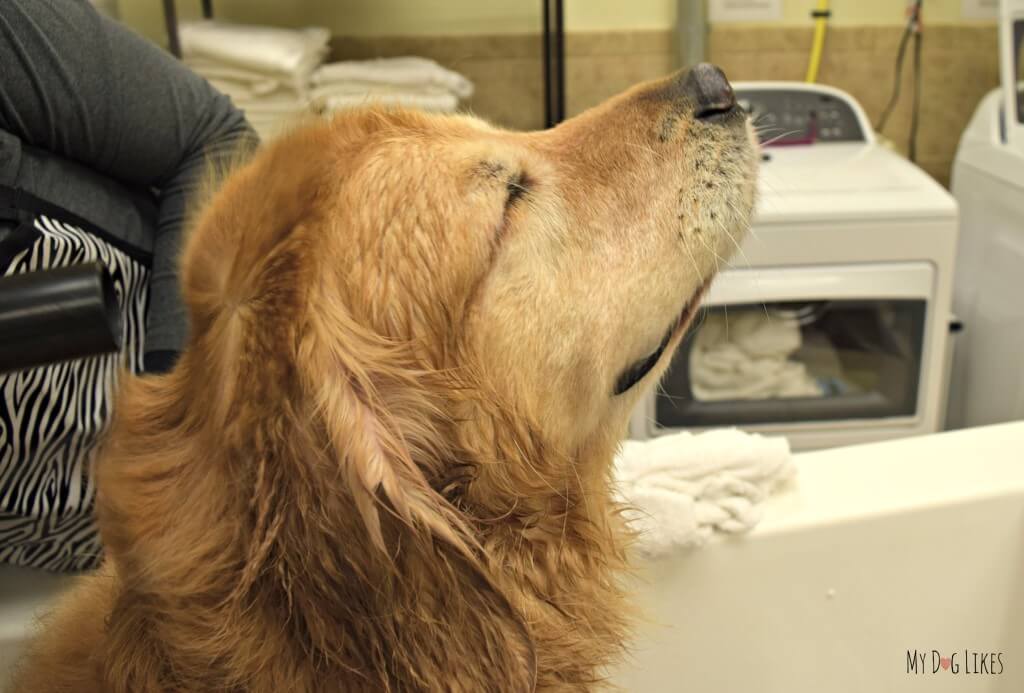 As we worked through those golden locks, we were able to use some of the handy grooming tools to remove and knots or mats that eluded us before. Having everything right there really made it easy!
Nothing but Clear Skies Bellies!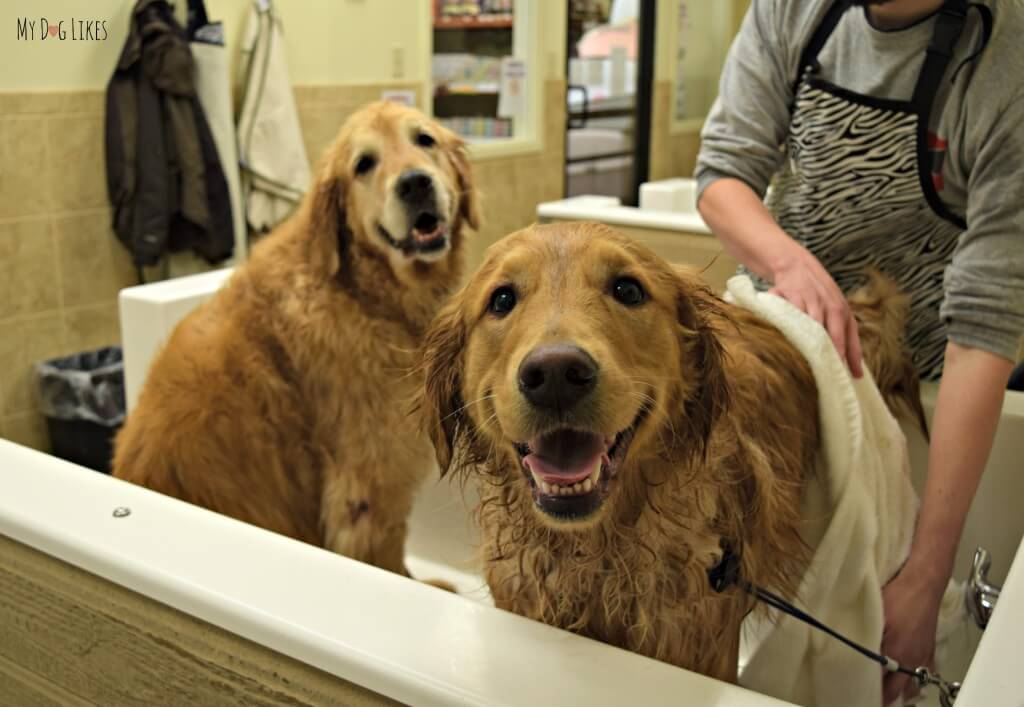 Well the end result was pretty kissable – We had two fluffy, soft, super yummy smelling puppies, ready for extra smooches and cuddles (I just wanted to stick my face in their furry bodies – and yeah, I pretty much did!!). Typically after a bath or groom, our boys are itching and licking their pink bellies, no matter the shampoos that we have tried. After our Organic Oscar bath – nothing but clear bellies and no itching!!!
Why MyDogLikes: PetSaver Self-Wash & Organic Oscar 
We love taking the boys to the self-wash. For adventurous pups who like to explore and get dirty, its a great option when you don't want the great outdoors, brought indoors! Not only does the pricing include all of the supplies you need, but you earn points toward free store rewards! The facility is clean, well-kept, and flexible! Best of all, no worries about clogging your pipes with all the loose fur!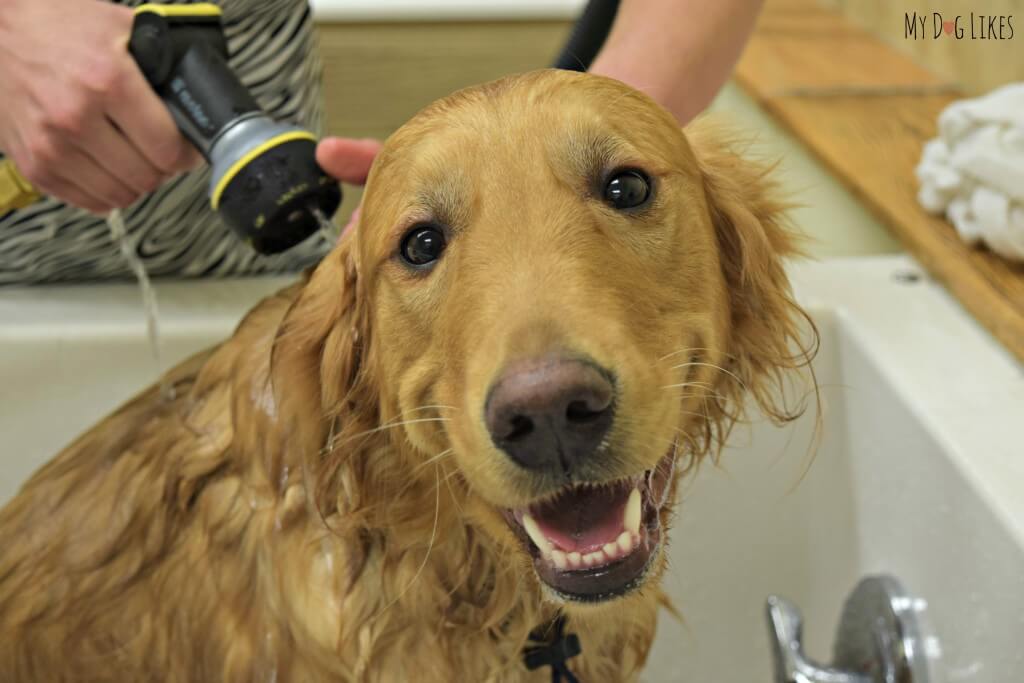 Though PetSaver has great options for shampoo and conditioning, we were eager to give Organic Oscar a try. We love that the ingredients are transparent and support the health of our boys and the earth. There are no "extras"like soap, parabens, dyes-its all natural and left our boys feeling soft and smelling great! Despite its organic and natural origin, there is no sacrifice in cleaning power and Organic Oscar was up to the difficult task of getting our boys clean! What we loved MOST of all was that there was no red or itchy skin after the bath. Their sensitive skin was soothed and not at ALL irritated. When you can get the same or in Organic Oscar's case, a better result, at a similar price-why would you use anything else!?
Want to try out Organic Oscar for yourself?