As we make our way into the dog days of summer one of the best and easiest ways for Spencer to cool off is by heading to one of Minnesota's 10,000 lakes.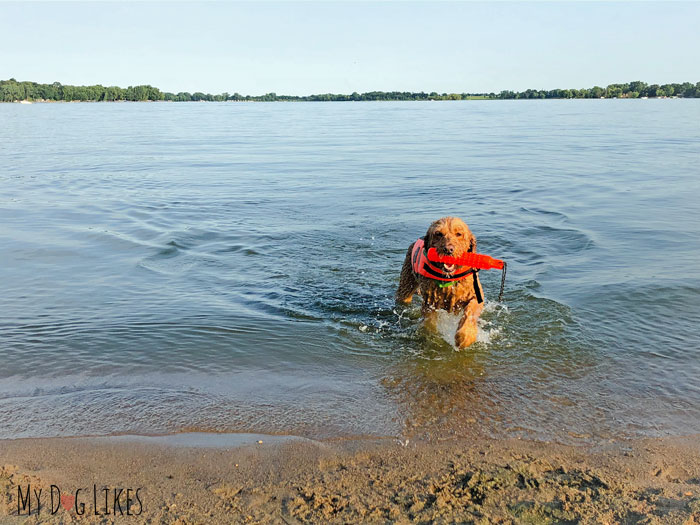 Spencer loves hanging out at the lake – playing fetch, swimming, and rolling in the seaweed makes for a great time. Unfortunately, even after we rinse him off, he still smells like a wet, soggy dog with a hint of fish! Not to mention, these trips to the lake leave his fur FULL of tangles!
For pet parents who have experienced these post-swim issues we are very excited to share with you a new dog shampoo that is helping us keep Spencer looking (and smelling) good!
The Barking Muse has sponsored this post so that we can help spread the word about their line of organic and all natural pet grooming products. Rest assured however, that the MyDogLikes team never promises a favorable review and gives our honest opinion on all product tested.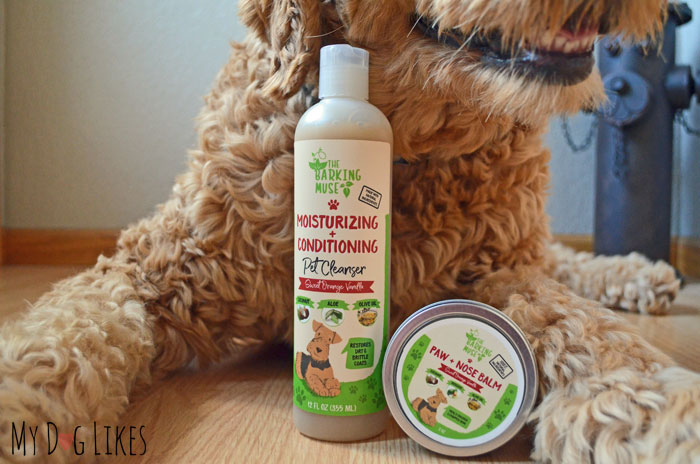 Introducing The Barking Muse
The Barking Muse was founded by pet parents, who were frustrated with the harsh, chemical-laden solutions available for their dog's itchy skin issues. When none of the commercially available options were doing the trick, they looked into a more holistic approach. When they couldn't find any grooming products on the market which met their standards, they decided to create their own!

Currently, The Barking Muse offers 2 different products:
Moiturizing & Conditioning Pet Cleanser
Paw and Nose Balm
They were kind enough to send us both products to test out, and we dive into our experiences below…
The Barking Muse Shampoo
This gentle and mild formula was designed to clean your dog's entire body – while nourishing organic botanicals simultaneously soothe their skin. It is 100% natural and thus completely safe for the environment.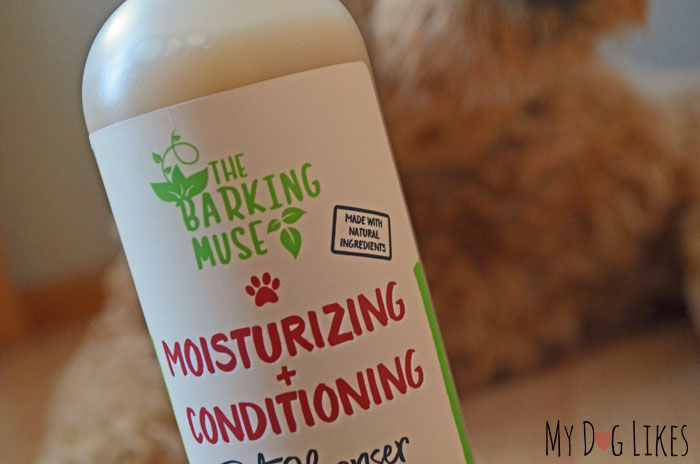 Digging deeper into the ingredients:
PH balanced for all ages & breeds

Organic Aloe to eliminate itching & dryness

Organic Coconut to moisturize & protect

Organic Jojoba to strengthen & fortify

Organic Olive Oil to soothe & nourish

Vitamin E to restore damaged hair follicles
Ingredients you will not find in The Barking Muse Pet Cleanser:
No Soap

No Parabens

No Sulfates

No Artificial Fragrances or Dyes
Putting the Pet Cleanser to the Test
Wanting to see what The Barking Muse was really made of, we hit the beach to get him sufficiently stinky before bath time. If this stuff can get rid of that dog-lake-water smell we would be seriously impressed.
The first thing I noticed about the product was that the consistency was thinner than normal shampoos that we are used to.
Why the thinner consistency?
The Barking Muse cleanser contains no sulfates – an ingredient that thickens shampoo and boosts lather in the shower.
Just because you don't get a lot of lather doesn't mean the cleanser isn't working. Instead, I found it was actually easier to scrub the shampoo into Spencer's fur.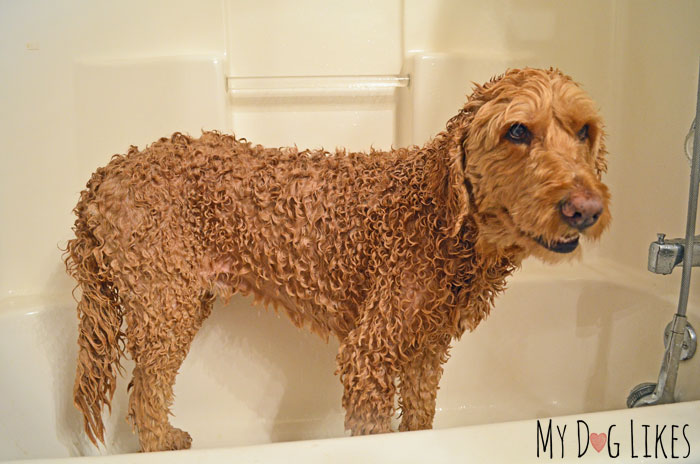 After scrubbing the shampoo all over, rinsing Spencer off was quick and easy. Spencer came out of the shower smelling clean and not fragrance-y.
Next, we dried him off and brushed out his golden, curly locks. While brushing him, I was amazed and surprised how easy it was to brush out his tangles.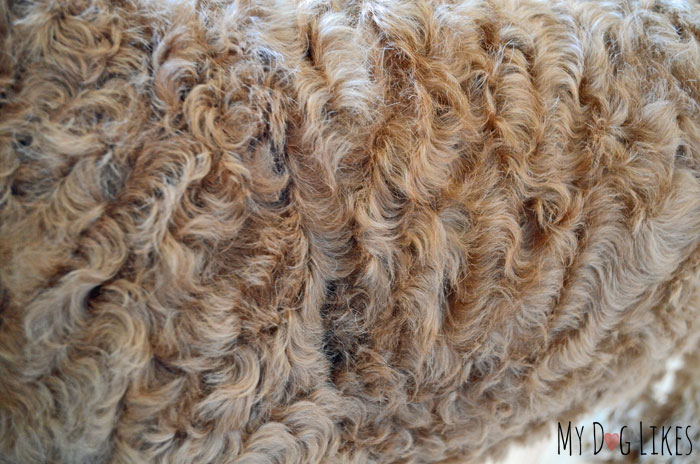 I'm used to applying an excessive amount of conditioner to make it tolerable for him, but this time I only applied one coat of the cleanser and rinsed him off, nothing else. Once combed out, Spencer fur was left fluffy and soft.
The best part – there wasn't any odor coming from him. A real testament to the cleansing power of The Barking Muse!
The Barking Muse Paw + Nose Balm
From hot pavement to stepping on different elements, Summer can really take its toll on your dog's paws. One way to protect them is by applying balm to them daily.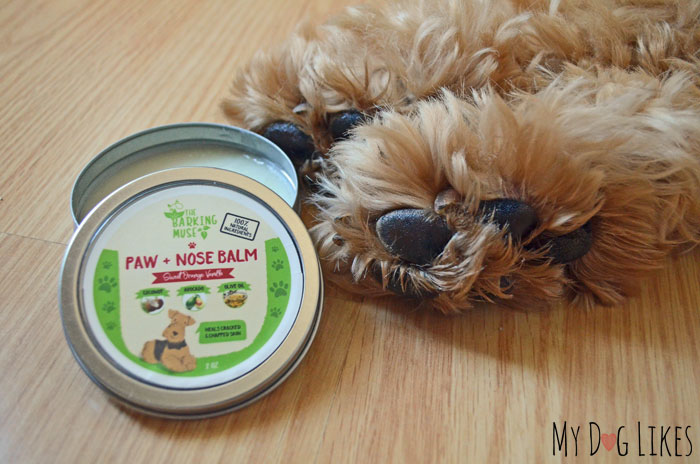 Check out these 100% natural ingredients:
Coconut Oil

Beeswax

Sweet Almond Oil

Avocado Oil

Olive Oil

Orange Peel Extract

Vanilla Essential Oil

This Paw + Nose Balm is perfect for:
Treating Dry, Irritated, and Cracked Skin

Treating Hyperkeratosis

Hot Spots

Bug Bites
Since the balm is made with human-grade and natural ingredients, no worries if you dogs happen to find it irresistible to lick.  Each ingredient has been carefully sourced to not cause harm if ingested.
Putting the Paw Balm to the Test
It was easiest to have Spencer lay down on his side to apply this balm. Using my figure tips I rub about a dime size amount on at a time to each of his pads.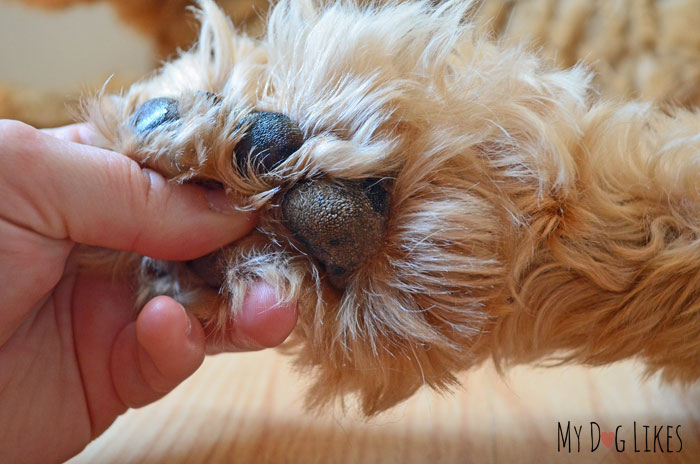 Dry Paw Pads Before Application
I was amazed how fast Spencer's pads soaked up the balm. I continued to apply until it was no longer soaking up and there was a thin layer on each pad. It was clear to see that this balm was doing a great job getting some moisture back into those dry paw pads!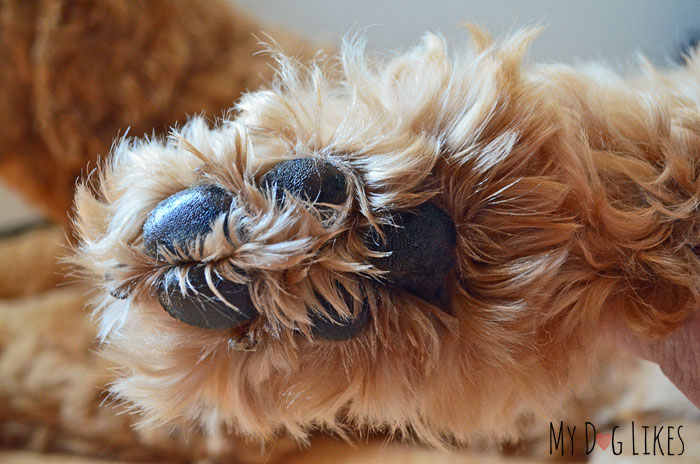 Paw Pads AFTER Moisturizing!
I was surprised to see afterwards Spencer left his feet alone not licking at all. However, knowing this balm was made with 100% natural ingredients provided comfort in case he did lick.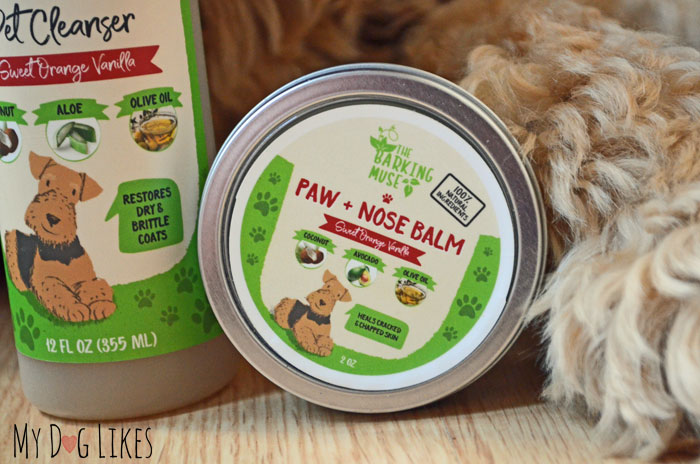 Why MyDogLikes the Barking Muse
Being the first time, I've tried an organic shampoo and balm, I was amazed by the overall quality of the product.
The cleanser has a pleasant (but not overpowering) scent which did a great job at eliminating the fishy lake smell from Spencer's coat – It even made brushing him after a bath much easier. While we would recommend it for all dogs, a gentle formula like this would be especially beneficial for those pups with allergies or skin conditions.
The Paw balm did a great job moisturizing his paws and I look forward to using it throughout the remainder of the Summer and beyond. Those dry, cold Minnesota Winters can also be tough on a dogs paw and nose!
Most importantly, I love the fact that with The Barking Muse I know that what I'm putting on my dog is not only safe, but will actually improve the overall health of his coat and paws. 
Want to try out The Barking Muse for Yourself?
Click Here to Browse the Line on Amazon!
or enter the giveaway below!