We have taken a few in depth looks at Isle of Dogs shampoo and grooming products over the years and have always been very impressed with both the quality of ingredients and performance.
What we did not realize however is that IOD offers several lines of treats as well – part of their commitment to the all around health and well-being of our dogs. They recently reached out and offered to send over a sampling of these treats (and a few of their latest grooming products) to test out and share with our readers.
They are also sponsoring a special giveaway, so make sure to read through to the end!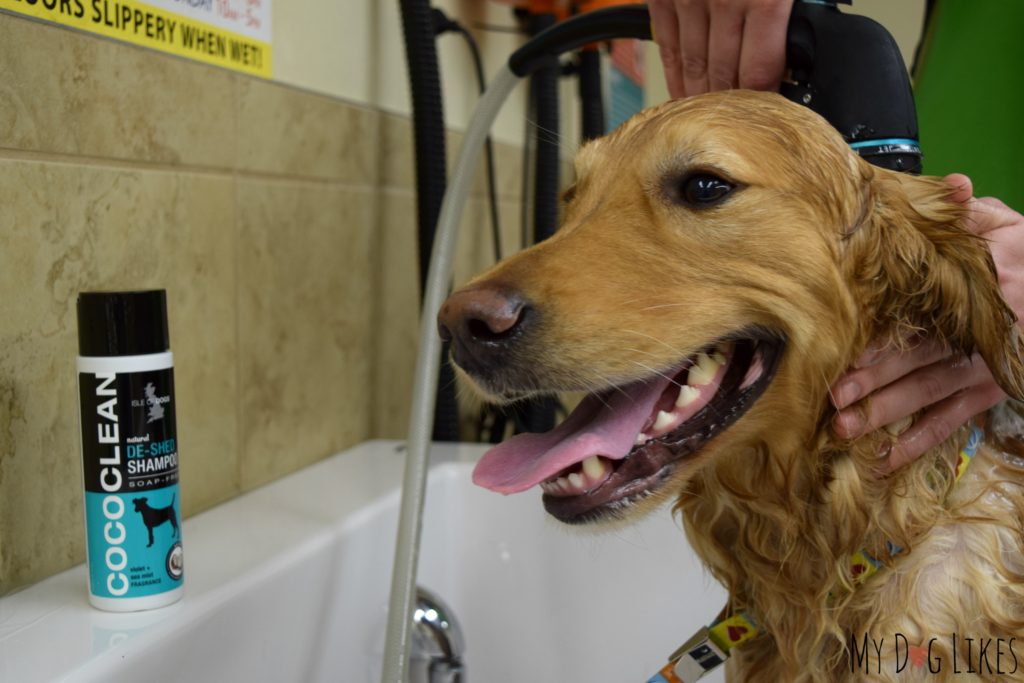 I don't need to tell you which products Harley and Charlie were more excited about trying, but putting up with a bath was a trade-off that they were willing to make!
Isle of Dogs Coco Clean Line
Coco Clean is a new line of shampoo, conditioner, and coat sprays from Isle of Dogs which is completely free of soap, sulfates, and parabens. The entire line is also infused with coconut oil which has been shown to provide several benefits to a dogs coat, including:
Relieving dry, flaky skin
Reducing protein loss
Strengthening hair
Deodorizing coat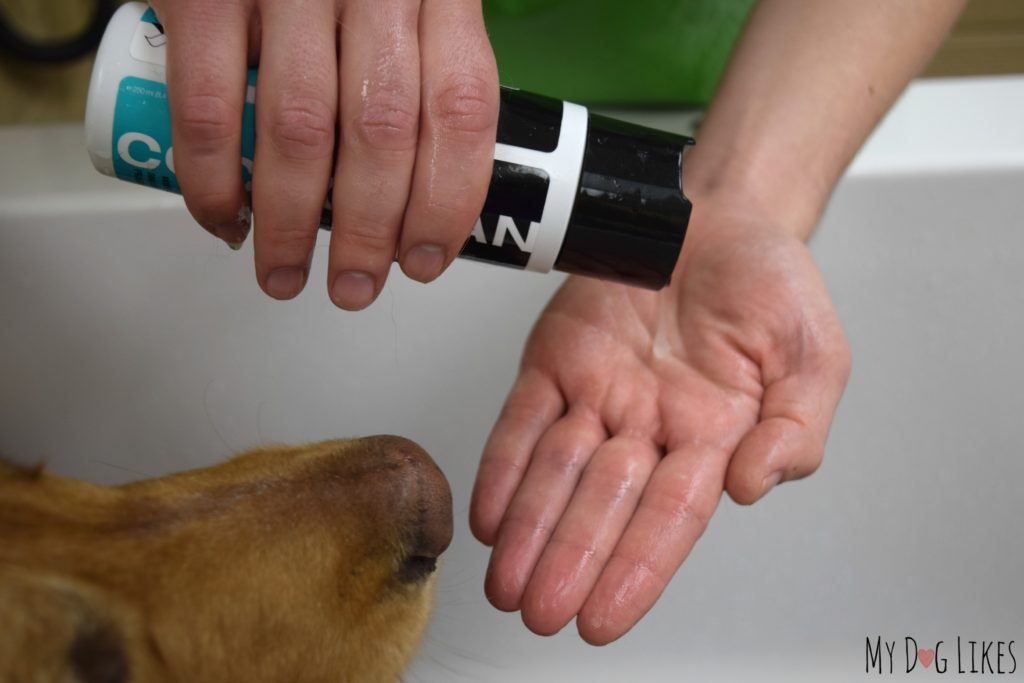 Coco Clean Deshedding Shampoo 
IOD chose the De-Shedding Shampoo from the Coco Clean line for us to try. This product is designed to help reduce excessive shedding – as you may imagine, a constant battle in our home!
We tested out the shampoo at our local self-wash station and were very pleased with its foaming action and how well it rinsed out of the coat. It didn't hurt that it smelled great as well with a fragrance of violet and sea-mist? Wondering what that might smell like? Rach said it reminded her of a mild men's deodorant-a bit of a masculine scent.

Coco Clean Brush Spray
Isle of Dogs recommends following your de-shedding bath with an application of their Coco Clean Brush Spray. This fine misting spray is designed to be brushed through your dogs coat to help keep it looking smooth, silky, and static-free.
TIP: Did you know that you should never brush a dry coat? It can lead to damage or breakage!
The Brush Spray has the same wonderful violet scent as the shampoo plus an odor neutralizing compound they call ExtenScent. This little addition helps to keep your dog smelling fresh for longer!
It has only been a few days since we tried these out, so we will keep you posted on whether we see a difference in terms of their shedding over the long haul, but we did notice that there was plenty of hair in the drain and on the brush afterward!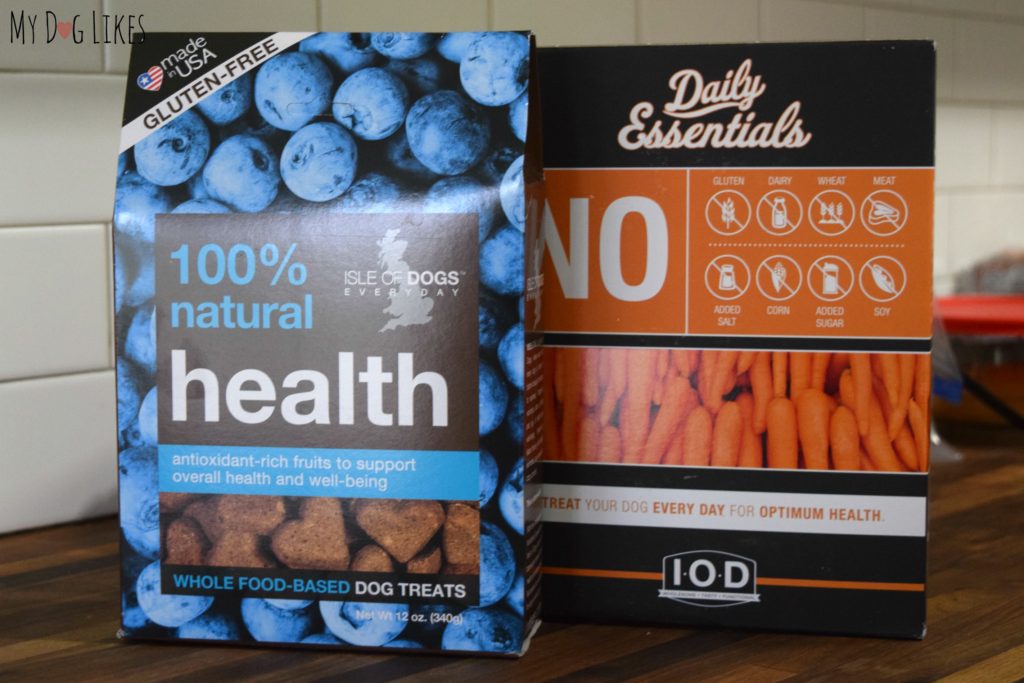 Isle of Dogs Treats
Any dog that puts up with bath time deserves a reward, don't you think?
Well, Isle of Dogs has you covered in that regard with several different lines of dog treats. Since this was our first time trying out their treats, we were very excited to see if the quality lined up with that of their grooming products!
Isle of Dogs Health
Health is a whole food dog treat which is packed with ingredients like blueberries, sweet potatoes, apples, dried kelp and whole grains. This means that not only will it taste good to your dog, but it packs a nutritional punch as well.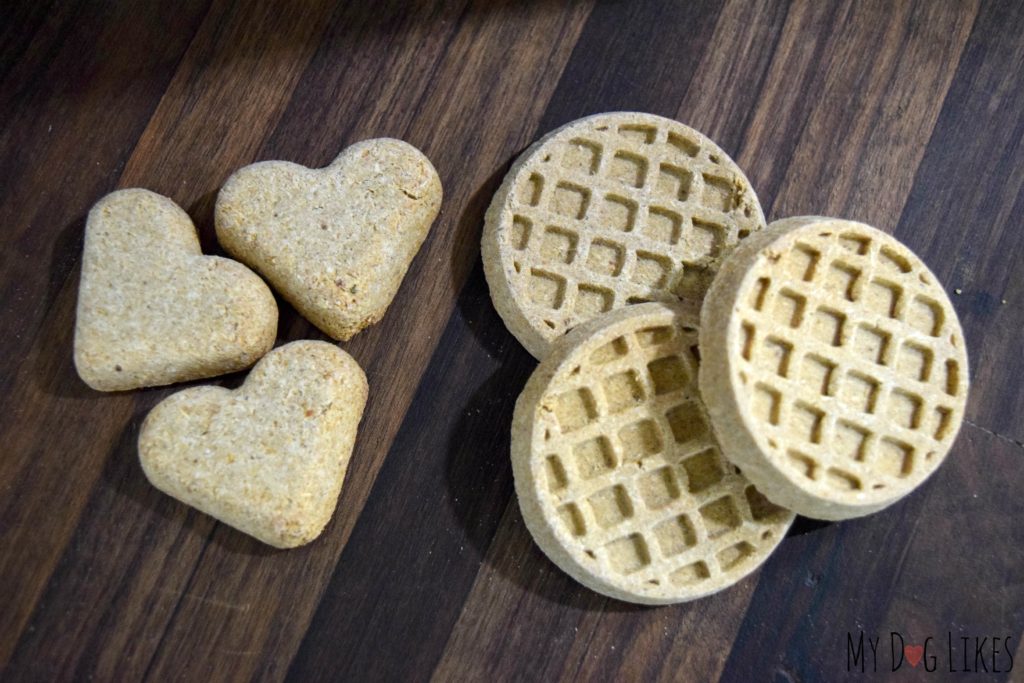 These treats come in a 12 oz. package and clock in at 22 calories a piece.  They are a part of Isle of Dog's 100% Natural Dog Treats line, which includes other flavors like those pictured below:
Harley and Charlie gobbled up these heart shaped dog treats with a very satisfying crunch!
Isle of Dogs Healthy Skin & Shiny Coat
Part of their Daily Essentials Line, this pumpkin based treat features carrots, cranberry and rosemary. It is rich in beta-carotene and Vitamin A and specially formulated to promote a healthy skin and coat.
One quick look at the box shows you what else sets these treats apart…
No Gluten
No Dairy
No Meat
No Wheat
No Added Salt
No Corn
No Added Sugar
No Soy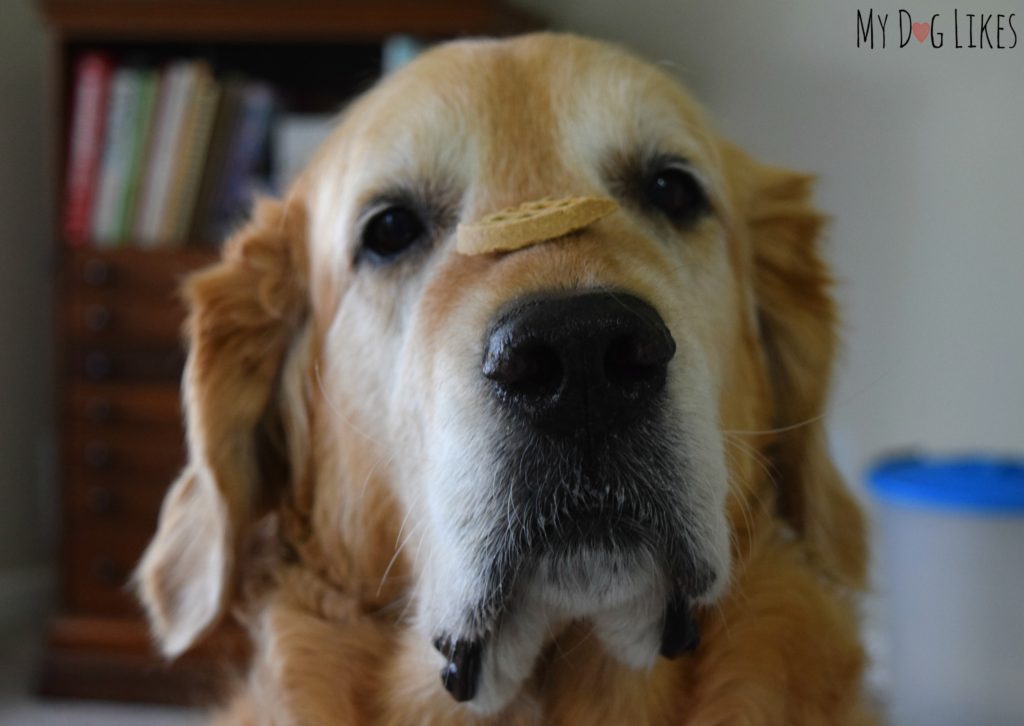 Daily Essentials are biscuit style treats, clocking in at 32 calories a piece and coming in 14 oz. boxes.  These treats are large and flat, allowing dog moms and dads to easily break the treats into smaller bites for little friends. They are available in several other flavors as well, all designed with a specific health aspect in mind:
We made the boys bust out a few of their classic tricks to earn these tasty treats – which they happily obliged. As expected, they were a bit hit!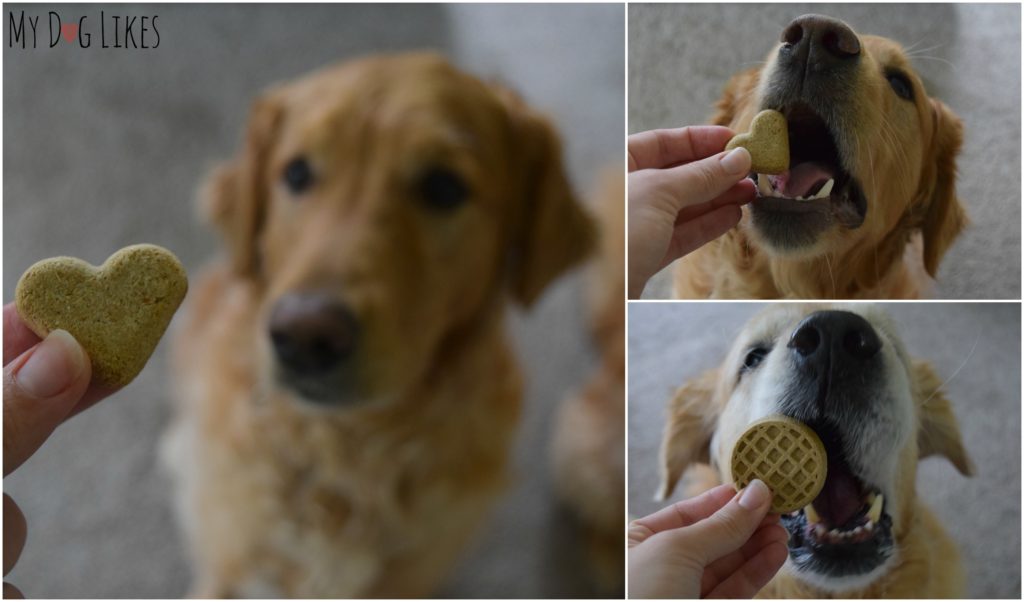 Why MyDogLikes Isle of Dogs
We already knew that we were big fans of their grooming products, but after trying out their dog treats, we are even more impressed with Isle of Dogs. While teaching a dog a trick often requires a smelly, high moisture and high value treat, everyday treating is best with a crunch! We love that these treats have all of the crunch of traditional boxed biscuits, but are jam packed with healthy stuff for your dog! Looking at their site a bit more and we learn that they actually offer food and supplements as well – showing that they are committed to our pets all around well-being.
Want to try out some Isle of Dogs Treats or Shampoo's for yourself?