One of the best parts of a road trip is the spontaneity and flexibility that it affords. Heading out on the open road with only a rough plan in place is an experience like no other!
This is exactly how we approached our dog friendly road trip last Summer. Instead of putting together an hour-by-hour itinerary, we decided that we would simply play it by ear; traveling as little or as far as we wanted each day, and exploring whatever struck our interest along the way. While it may seem a bit intimidating at first I would highly recommend that you give this a try at least once in your life – In my experience it is the best way to REALLY see the country and all of the little things that make it so unique.
Keeping an Open Mind
We didn't have a whole lot planned ahead of time for the last leg of our road trip – except that we were allotting several days to make our way home from the Eastern edge of Wyoming back to Rochester, NY.
As we entered South Dakota, the only real item on our list was Badlands National Park. However, a bit of cell phone research while on the go told us that Badlands was not going to be particularly dog friendly, and we really wanted to hit a spot where we could get out of the car to do some hiking and exploring with the dogs.
In our search for dog friendly hikes in the Black Hills area we came across Custer State Park and decided to give it a shot. Here we ended up spending almost the entire day and having one of the most memorable experiences of the entire trip!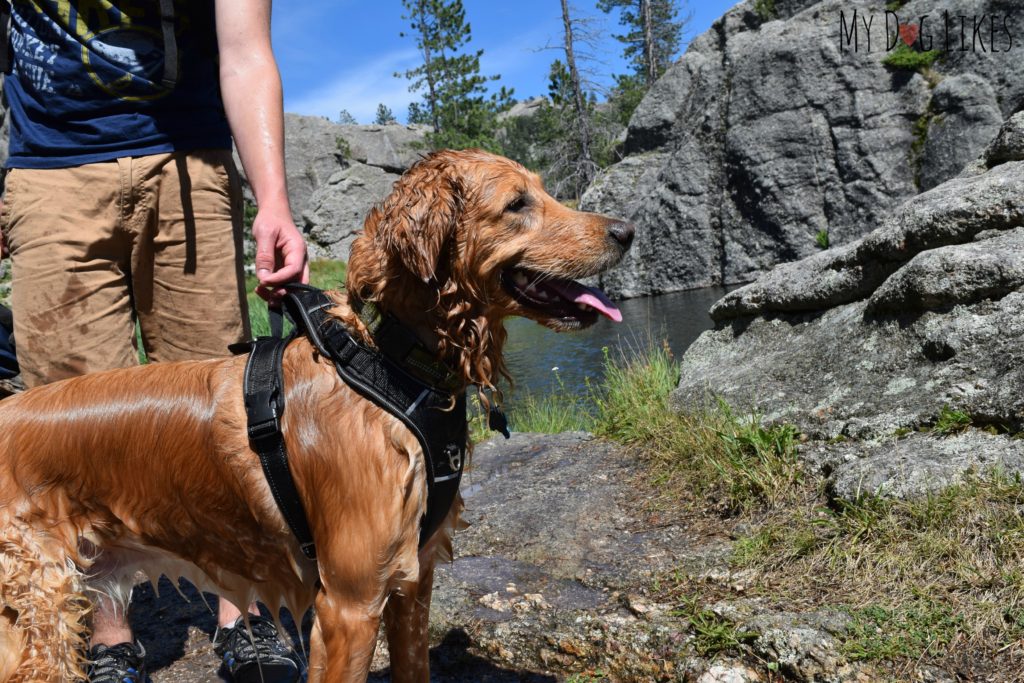 Custer State Park – The Basics
Located in the
Black Hill region of South Dakota
, Custer State Park encompasses 71,000 acres of sweeping plains, prairies, forests, mountain lakes and breathtaking granite spires. It was designated in 1919 and has the distinction of being the first and still largest of South Dakota's State Parks.
Just as remarkable as the scenery is the vast amount of wildlife that make their home in the park. From one of the largest buffalo herds in North America to the massive colonies of prairie dogs, nature lovers will surely get their fill at Custer.
Where is Custer State Park?
Custer State Park is located in South Western South Dakota, along the edge of Black Hills National Forest. Due to its proximity to Mount Rushmore (~30 miles) and Badlands (~90 miles) it is often overshadowed by its more famous neighbors. Don't miss out however – this is a must see and can easily be paired with the others!
Are Dogs Allowed in Custer State Park?
YES! Leashed dogs are allowed throughout Custer – a welcome departure from so many of the National Parks which we had visited over the past 2 weeks!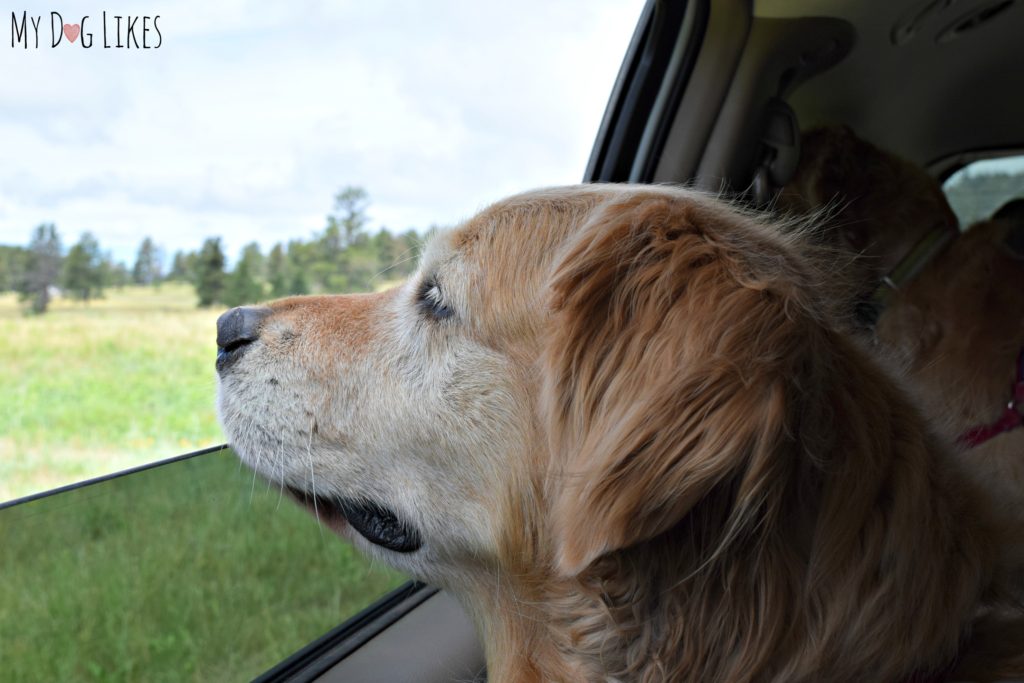 Custer State Park Admission
The cost of admission for a single vehicle is $20 which is good for 7 days, and an annual pass costs only $30. There are several entrances but the most common of which is off Rt. 36 along the Eastern edge of the park. This is also where you will find the main Visitors Center and Peter Norbeck Outdoor Education Center.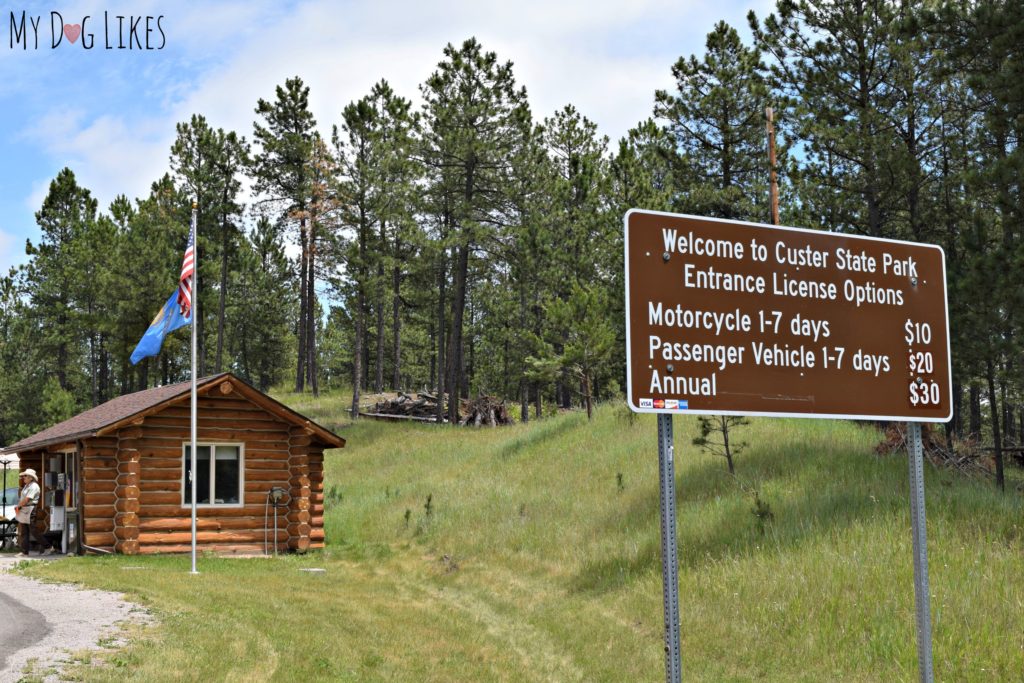 Planning Your Visit
Where to Stay – Custer Pet Friendly Lodging
Rapid City, South Dakota

Roughly 30 miles Northeast of Custer State Park lies Rapid City which can serve as a great central location for a trip to the Black Hills region. It sits just off Interstate 90 which makes it a convenient stop whether you are traveling from the East or the West. There are also plenty of hotels, motels and restaurants in Rapid City to make for a stress free experience.
Custer, South Dakota
If you would like to stay right in the midst of the Black Hills, then Custer would be your best bet. This historic town is only 4 miles away from the State Park, 20 miles from Mount Rushmore and also a short drive from Jewel Cave and Wind Cave National Parks. Custer is an especially great place to stay with children as there are tons of museums and adventure activities right in town.
What to Do at Custer State Park
Custer is a popular destination for hiking, fishing, camping, rock climbing, and wildlife viewing. The easiest way to experience the park however is to take advantage of the 3 scenic drives: The Wildlife Loop, Needles Highway, and Iron Mountain Road.
Driving the Wildlife Loop
Since we entered the park near the visitors center, we started off on the 18 mile Wildlife Loop which takes you through the Southern portion of the park. This drive will give you expansive views of the grasslands and hills of ponderosa pine.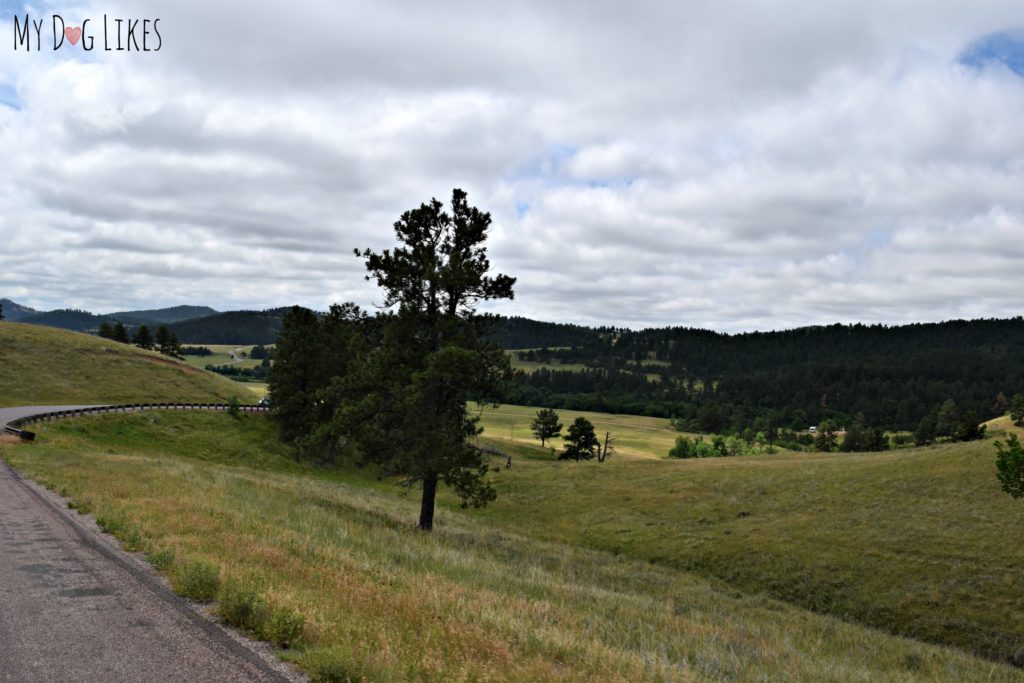 You will also have the opportunity to see plenty of animals, of course! Right away on our drive we saw elk, pronghorn antelope, and mule deer.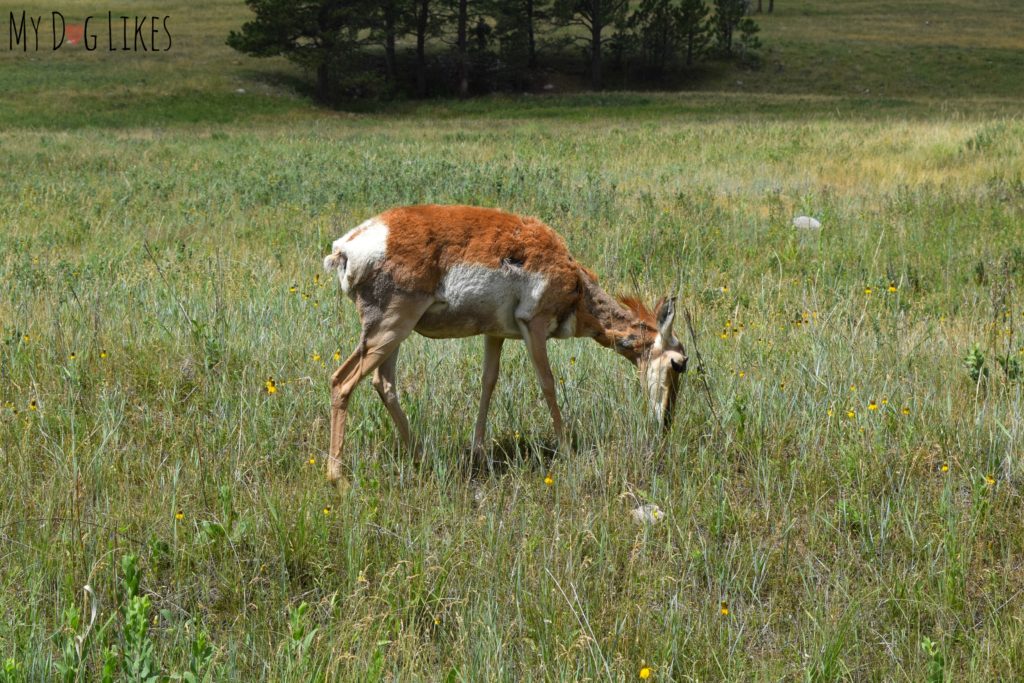 This is also where you will typically catch a glimpse of the parks 1300 strong herd of Buffalo! We ran into a huge population with plenty of feeding calves!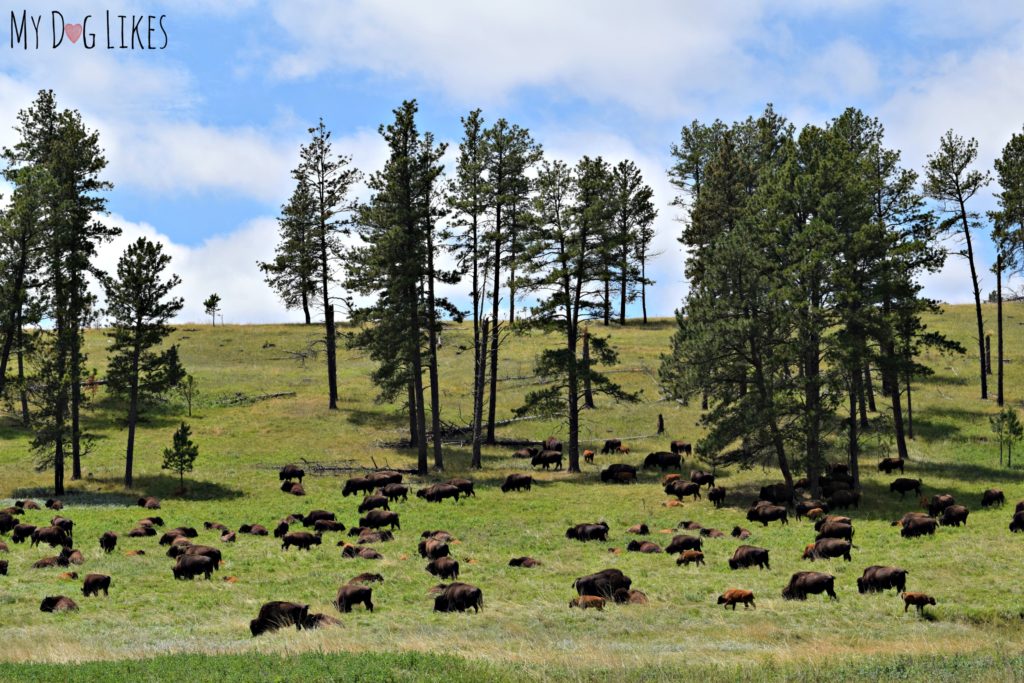 Last but not least were the adorable families of prairie dogs that make their home in the area! You will definitely want to stop and watch these guys go about their business for a little while.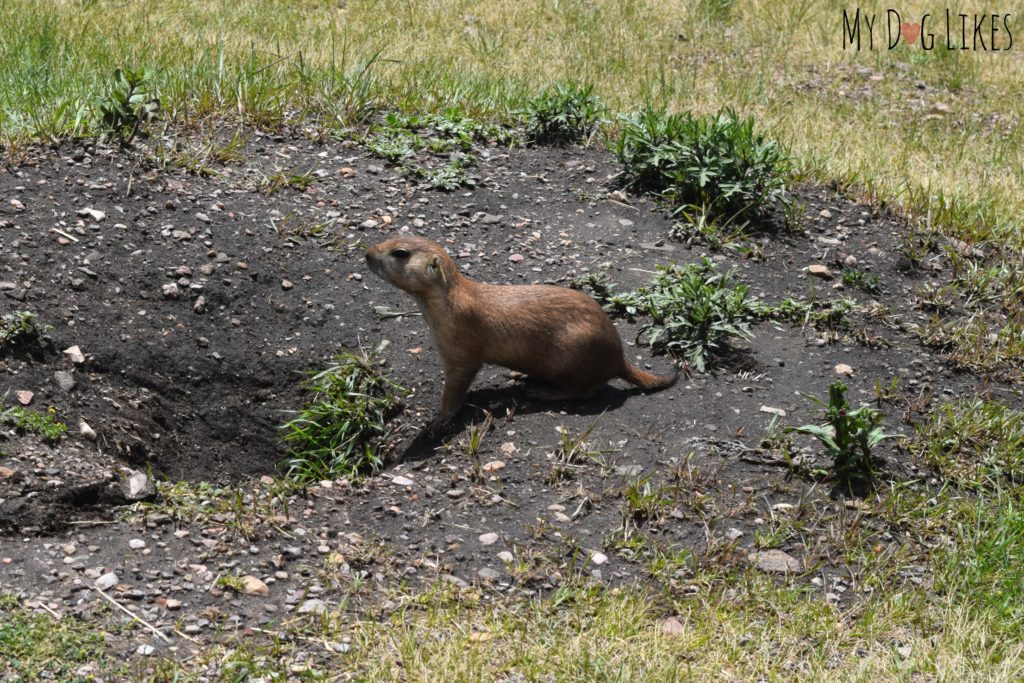 Driving the Needles Highway
After completing the wildlife loop we headed North on Rt. 87 or Needles Highway. This is one of the most interesting drives that I have ever experienced and may keep you on the edge of your seat! Be prepared for tons of sharp curves, steep grades and tight squeezes through stone tunnels!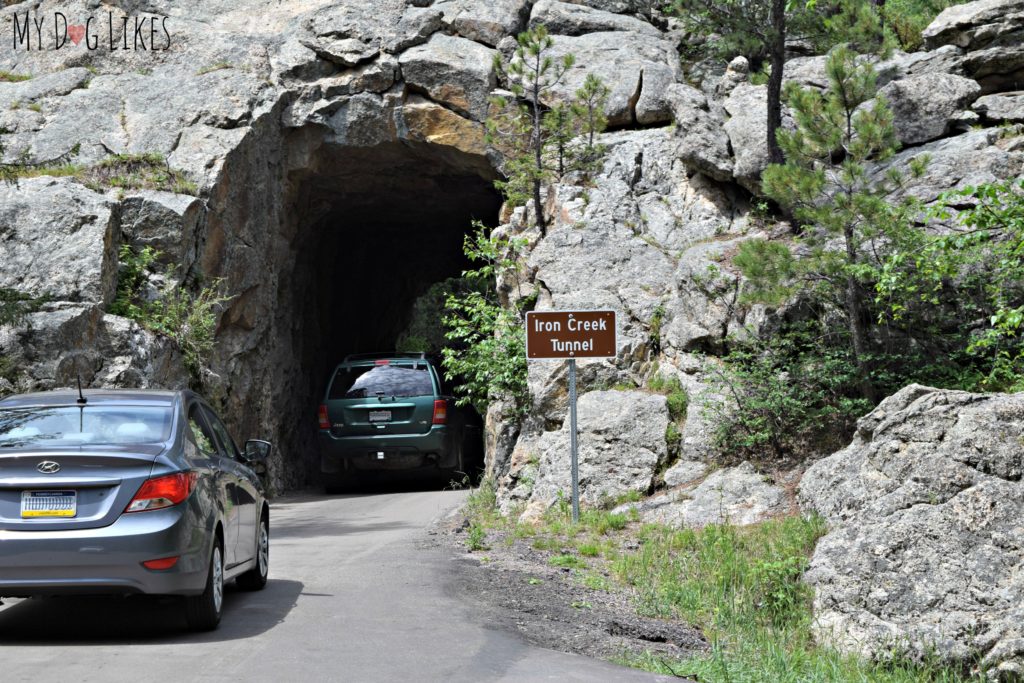 The views along this road are simply stunning. As you climb higher and higher up the mountain you will begin to see tall spires of granite popping up in every direction. This is a popular area for rock climbers but also a great place to stop to do some hiking of your own.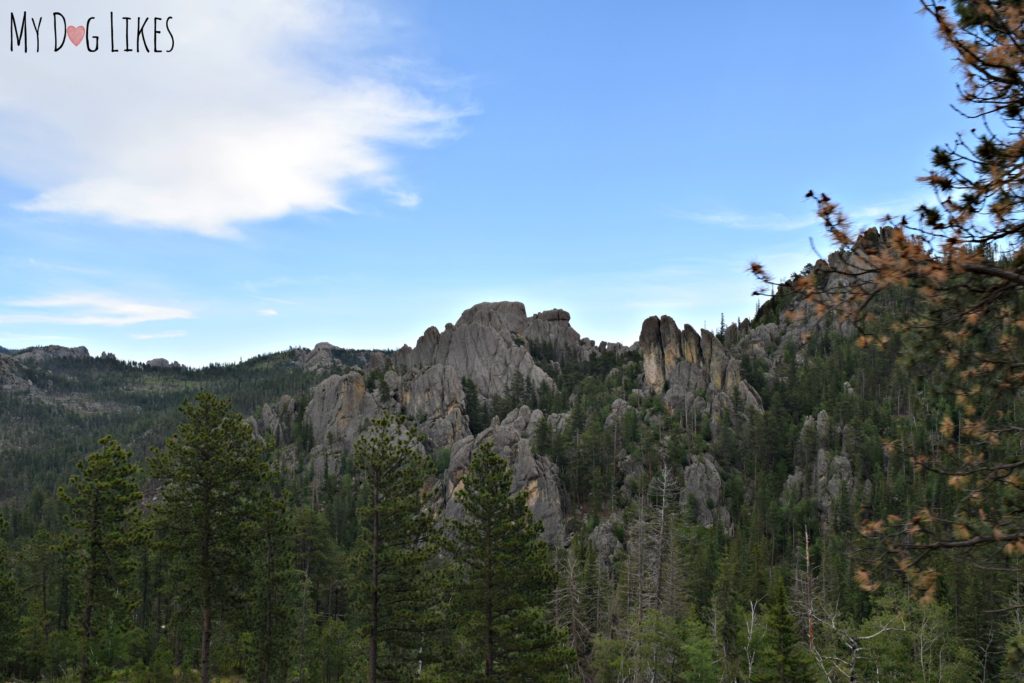 We got out to stretch our legs and walked with the dogs among several large outcroppings of rock. The views from up here are incredible and the varied terrain makes it a ton of fun to hike!
Sylvan Lake
After winding your way all the way up the Needles highway you will come across Sylvan Lake. DO NOT DRIVE BY! We turned in on a whim and fell in love with this spot!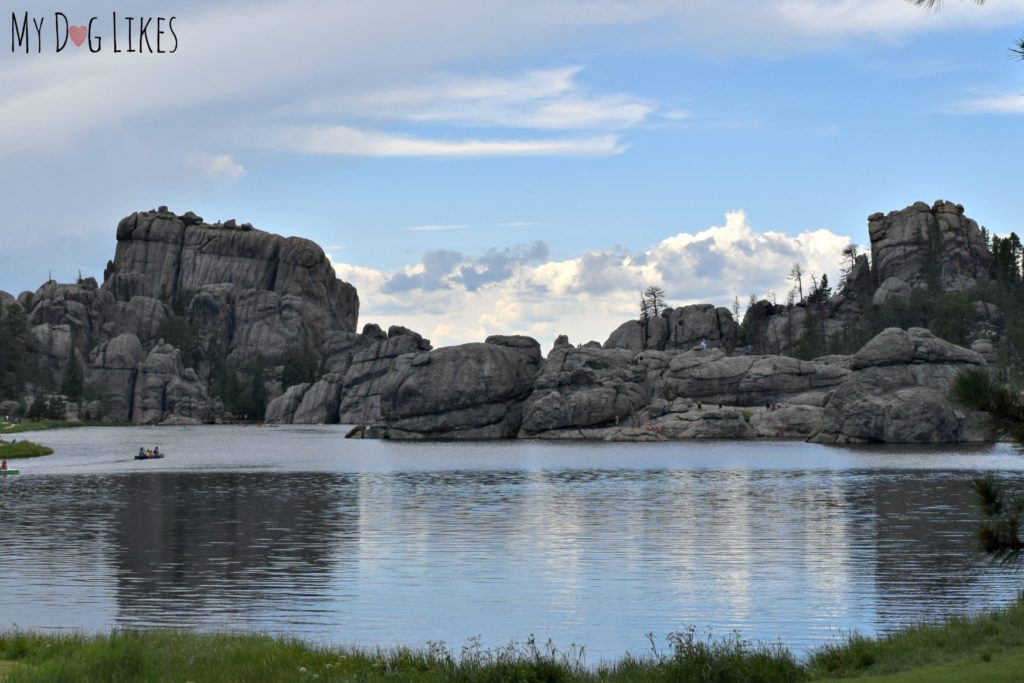 This large mountain lake is surrounded by huge granite spires and outcroppings. There are even some that shoot right up out of the water. There is a fairly large parking lot nearby which was great because as it turns out this is a very popular spot for sunbathers and swimmers. Even though it was very busy on the day that we visited, it was not difficult to find a relatively secluded spot along the lake. The huge number of rock formations lend themselves to a bit of privacy and serenity among the noise. One of the truly unique aspects of this area!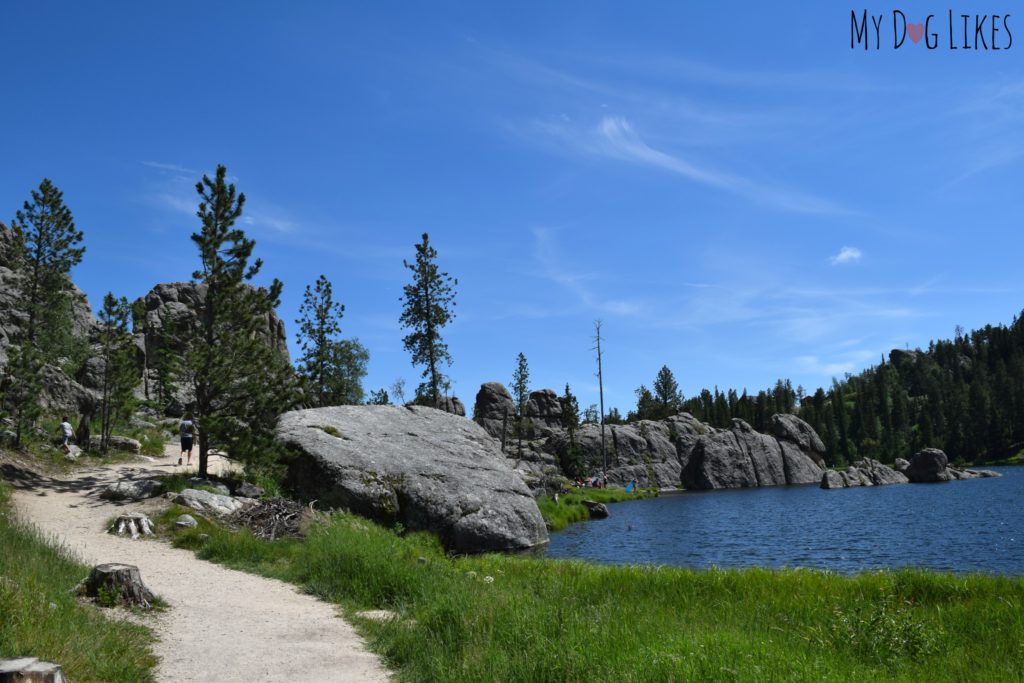 There are also tons of trails around the lake which we would highly recommend if you are visiting Custer State Park with dogs. On our next visit we would LOVE to camp or stay at one of the resorts up here and explore for several days.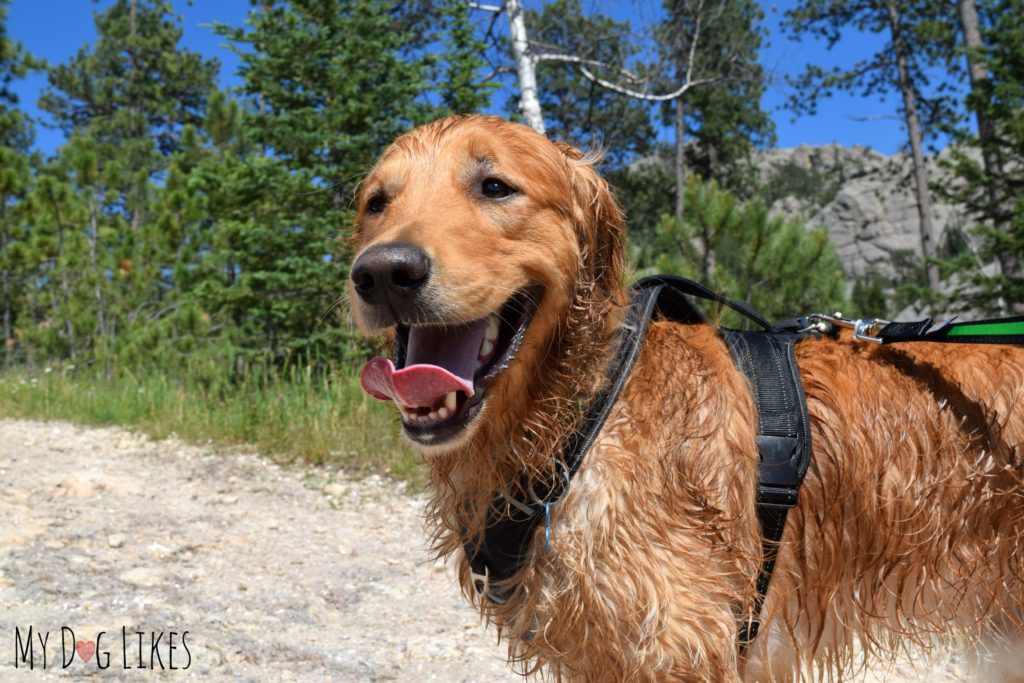 Driving Iron Mountain Road
After spending several hours at Sylvan Lake we did not have time to tackle Iron Mountain Road, but from what we hear this route allows you to catch 3 quick glimpses of Mount Rushmore – which by the way does not allow dogs at all!
Wildlife at Custer State Park
As we mentioned before, Custer State Park is home to a large number of animals including:
Bison
Mountain Lions
Bighorn sheep
Elk
Coyotes
Mountain Goats
Pronghorn
Mule deer
Prairie Dogs
Eagles and Hawks
For your best view of Custer's wildlife, you can even opt for an off-road Jeep tour! (Not applicable if the dogs are with you of course)
Bison 
As we mentioned above, the free range herd roaming Custer State park numbers over 1300 and is one of the major attractions in the park. Once a year this entire herd is corralled for the annual Buffalo Roundup where visitors are invited to watch (and feel!) this incredible moment.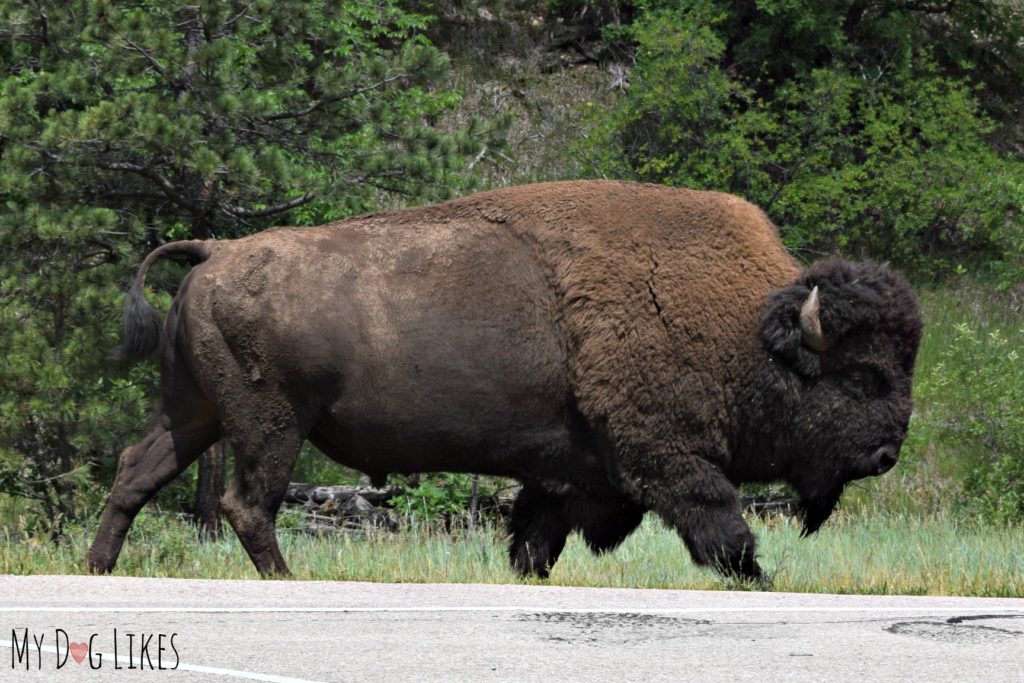 The population is kept carefully in check to remain sustainable on the land, and excess Bison are auctioned off each Fall to start or supplement new herds around the country.
Burros
One of the highlights of the Wildlife Loop is the pack of "begging burros." While not native to the area, these animals were brought to Custer in the early 1900's and used for trips up to the Harney Peak summit.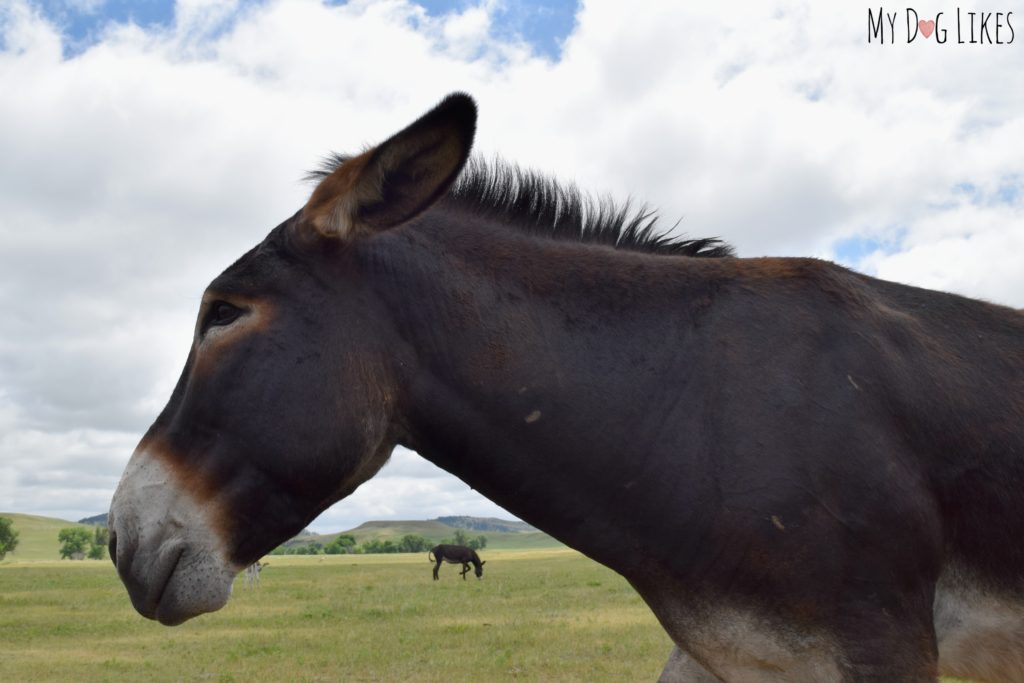 A small population has remained to this day, which now roam the park and tend to congregate in areas where they will get the most attention from visitors.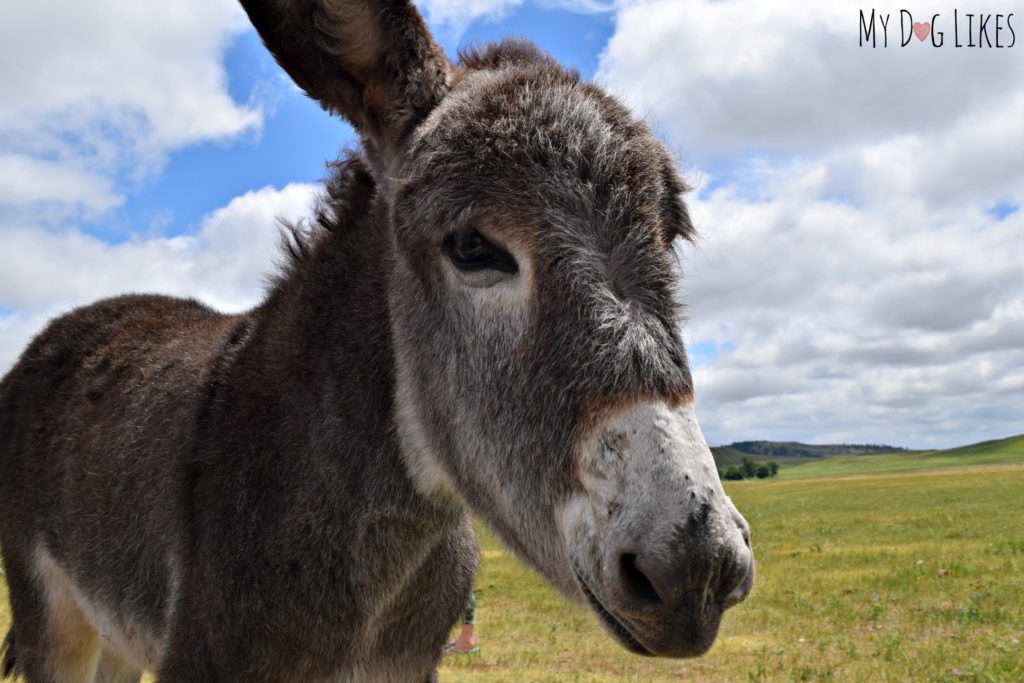 The Burros are extremely friendly and will stick their heads right into your vehicle if you let them. You can even get out to pet and feed them – though do be careful!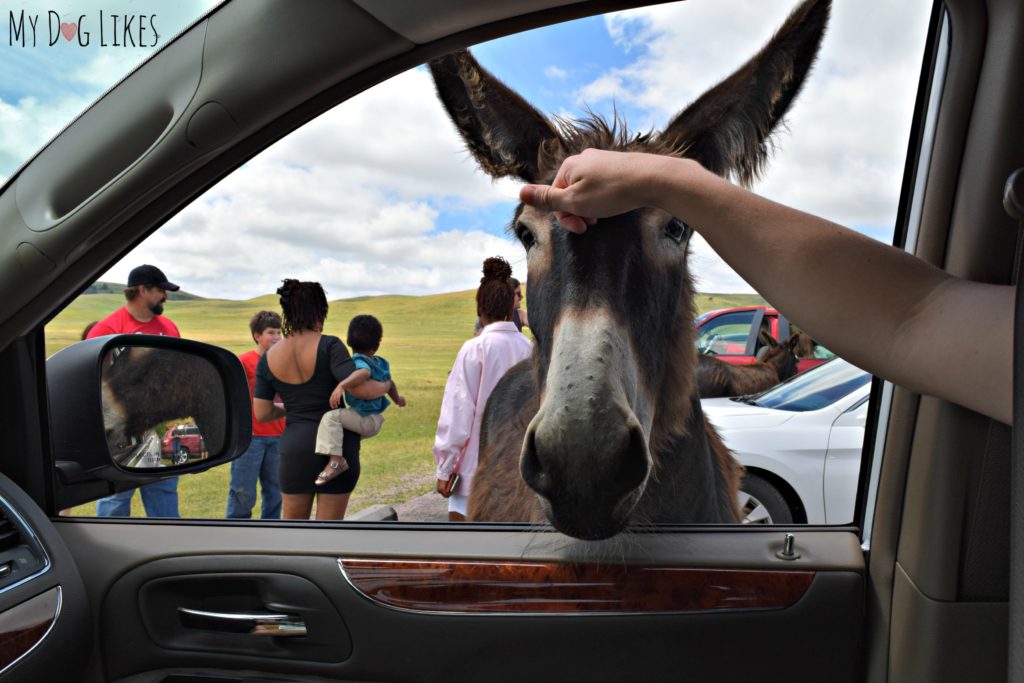 Why MyDogLikes Custer State Park
Most of the National Parks that we visited throughout our road trip were not what would be described as dog friendly. This was not the case at Custer State Park however, which gave us a big sigh of relief! Dogs are allowed on trails all throughout the park which we took full advantage of. There are also several different lakes in which they can take a dip to cool off.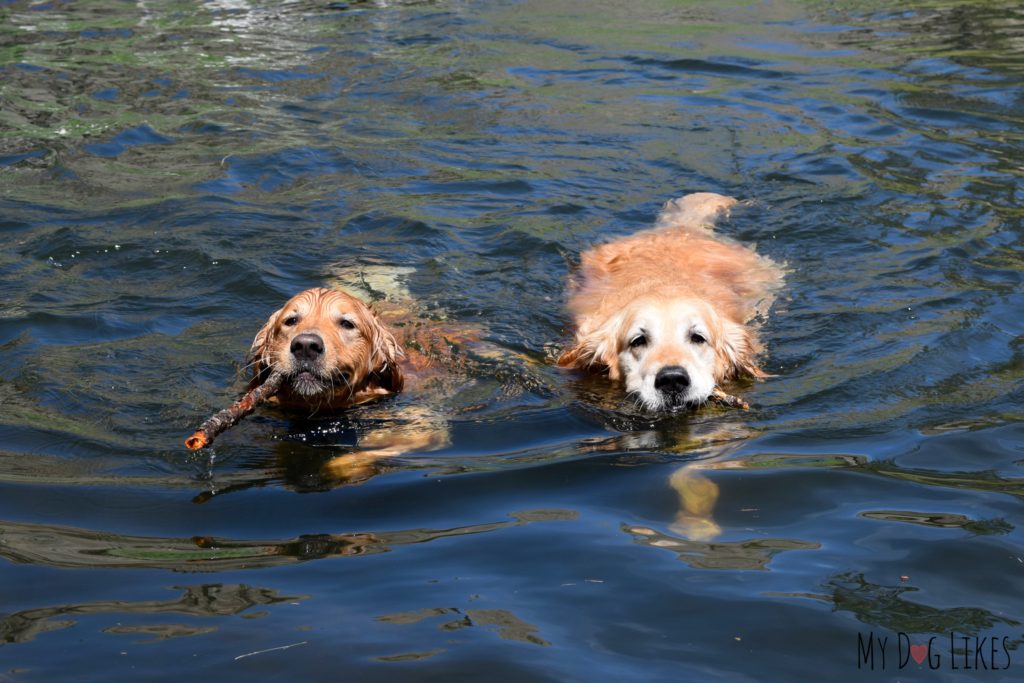 Though we didn't have a ton of expectations going in, Custer turned out to be one of our favorite stops on our entire trip. The land is gorgeous, the wildlife impressive and park very accessible for dogs. We will absolutely be back, and hopefully for an extended stay!
Have you been to Custer State Park or do you have questions about visiting?
Let us know in the comments below!