UPDATE APRIL 2021: Leanlix was acquired by Himalayan Pet a few years ago and it looks like they have rebranded the line to Click-n-lix


If you try it please stop back and let us know if they are the same!
---
Training a pup is hard work.
It takes a lot of practice, patience, and repetition.
Repetition requires lots of treats, and treats mean lots of CA$H and CALORIES.
Between our regular puppy classes and our practice sessions throughout the week, we have been going through lots and lots of Zukes Mini Naturals Training Treats.  I love these treats, and I feel good about giving them to Charlie, but at 3.5 calories per treat and $11-$14.99  bag, I worry about the costs and the pounds piling up.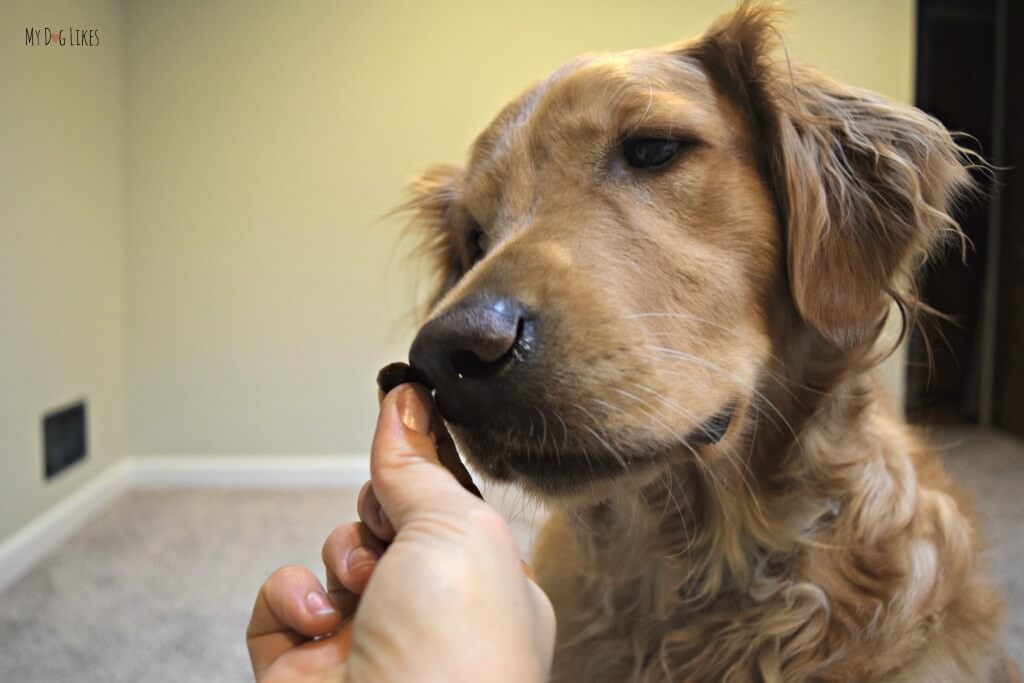 Our Biggest Training Issue…
Rewind to the cold winter months, specifically back to February when we first brought Charlie home. Well, despite the fact that he was a real sweet heart and trained pretty easily, he pulled so hard on the leash that I thought my hand was going to get ripped off or fall off because there was no blood flow in the cold weather. I tried using treats to encourage the loose leash walking, but the frigid temperatures kept me wearing gloves and stumbling around to get the treats to his mouth. Additionally, Charlie was just a little pup and was pretty low to the ground at this point, resulting in lots of dropped treats and frantic puppy behavior.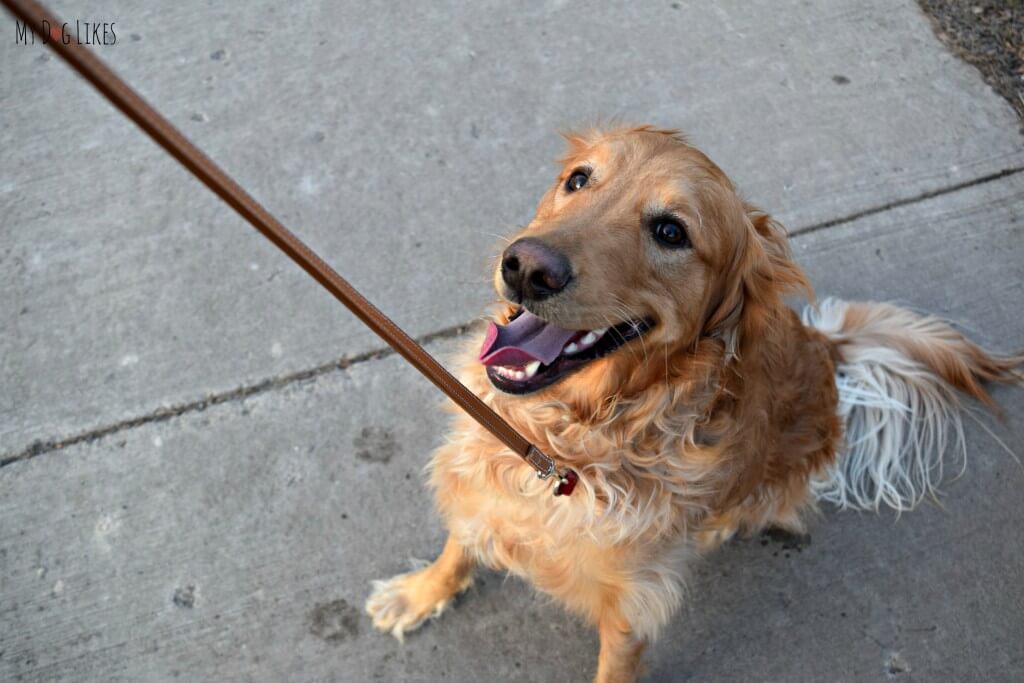 The first time I tried to walk with him resulted in frustration and tears…..all mine – Charlie had a great time. I came in the house and I asked Kevin "Do you think I could freeze peanut butter and just let Charlie lick it?" Neither one of us had the answer to this question but knew we needed something that would allow for quick, fuss-free reinforcement of skills. Fortunately, for Charlie and I-we invested in Petsafe's Easy Walk Harness which considerably lessened his pulling. For a period of time, I didn't really think about my idea again. That is not until I saw LeanLix…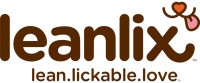 Introducing the LeanLix Treating System!
As you know, a couple of weeks ago we visited Saratoga Springs, NY and stopped in at a little boutique called Mini Me Pups. While browsing around the store, we came across the LeanLix Training Stick. Leanlix advertises as a low-calorie, dog reward system that works by allowing your dog to lick the flavored stick, rather than consume a treat.
When I saw this product, I had two thoughts 1.) Brilliant, and 2.) Must take home with me. You see, its as if creator Sharon and her canine companion, Grace, literally read my mind!!
After returning from our weekend away, an opportunity soon presented itself to use the Leanlix. While we were away, Charlie started to develop a hair mat behind one of his ears. We tried combing it out, but it soon became clear that we would need to cut it out. Well, we tried to do it, but sweet little Charlie started bucking like a bronco when he saw the scissors. It became clear that though we really needed him to be still, Charlie was not going to cooperate. While we tried to give him lots of treats, but we kept losing his attention and we really needed all hands on deck for this project. That's when the idea to use the Leanlix presented itself. I ran and grabbed it and positioned it so that he could concentrate on it, while Kev and I stabilized his head and cut the mat. While I know this is not the intended purpose of the leanlix, we were in love!!
Leanlix Company History
I decided to do a little bit of research and soon wandered over to the LeanLix website. There, I was able to learn all about Grace, chief dog, and her Mom, Sharon, the thumbs behind Leanlix. As I read a little bit more, I realized her story was not so different than our own. "Grace" shares the following:
"…I am an enthusiastic treat taker and eater! I am not sure why, but they really don't like when I slobber on them or chomp their fingers when they give me my reward. One snowy day in January, when we went out to play, my mom took an empty marshmallow jar that I could lick when I came to her when called. I was a "good girl" and came on command. When I obeyed my mom, she gave me a lick of the jar and it was a tasty treat…"
The marshmallow jar was just the beginning of a journey that would eventually lead to LeanLix, the lick to reward, low-calorie, finger/back saving, creation that is constantly evolving. A creative solution to an everyday problem, I love it! I was so excited after my first use with Charlie, I decided to reach out to Sharon and let her know that we would be reviewing the product. It is clear that customer service is very important to everyone at Leanlix, because I immediately received a response that was friendly, professional, and enthusiastic!! Sharon was so awesome she decided to send us a few more products AND offered to provide a giveaway for a couple of lucky readers!!!
When visiting their website, you can see that love for dogs is at the center of their entire operation. You can find links to articles about canine obesity as well as helpful training demonstrations for using Leanlix.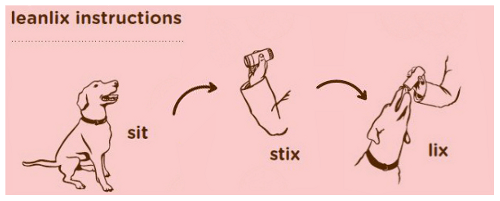 Tons of Flavor Variety
There are more than 10 different flavor options which have been formulated by veterinary professionals but are inspired by personal experiences of the family. These include Run-a-way Frank, Cupcake on the Counter, Bark BQ, and Dishwasher Dinner, my imagination doesn't have to work too hard to understand the real-life events that inspired these flavors! In addition, Leanlix has recently released a "Naturals" line which uses brown rice syrup and natural flavoring such as Free-Range Chicken and Grass-Fed Beef!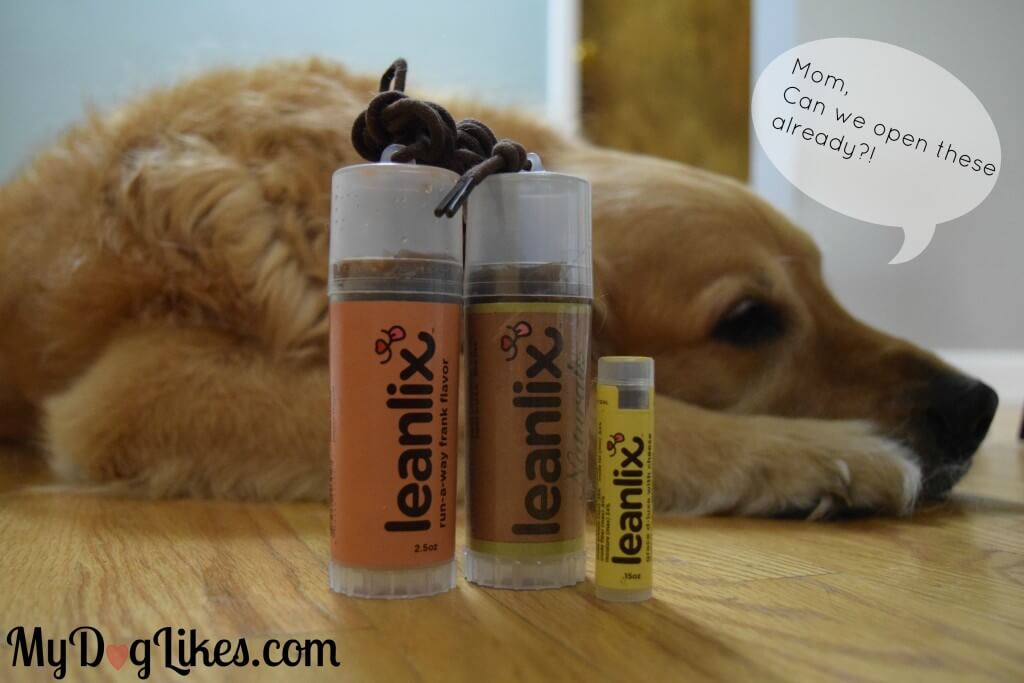 Leanlix comes in two different sizes: full size, 2.5 oz, and littlelix, .15 oz.  They can be purchased individually or as part of a multi-pack of littlelix which include options such as "Meat Lovers", "Spring Training", and "Party Pack". 
Click here to browse their selection on Amazon
Visually, the packaging is simple and beautiful. As if LeanLix wasn't already super convenient, the full size options also include a lanyard cap, allowing the product to hang around your neck for easy access during training sessions.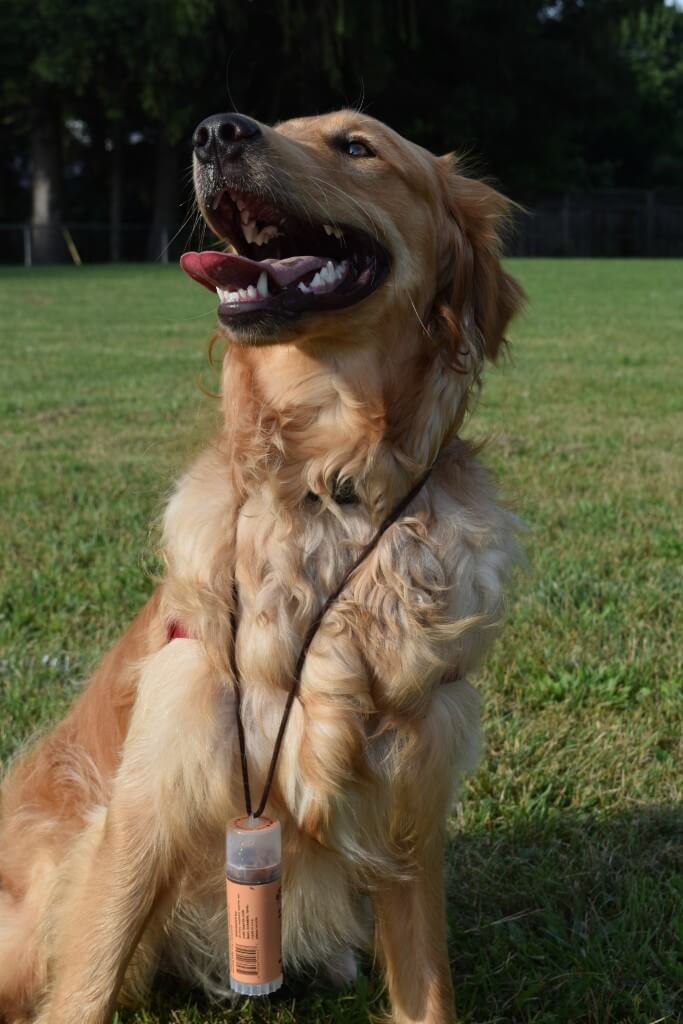 Not around YOUR neck, Charlie! 

Leanlix ranges in cost from $12.95 for a Full Size Leanlix to $18.95 for the 6-pack of littlelix. The cost per lick is low (pennies I would guess) as we have used it in puppy class, on walks, and training/grooming sessions at home and we have barely made a dent in the stick. Talk about a real bang for your buck!! When you open the package, it has a strong odor of the flavor that you are using. It didn't bother me at all and what was really great about it was that it got the dogs' attention! If you don't like higher odor treats, I would recommend getting one of the non-meat flavors, they just smell sweet.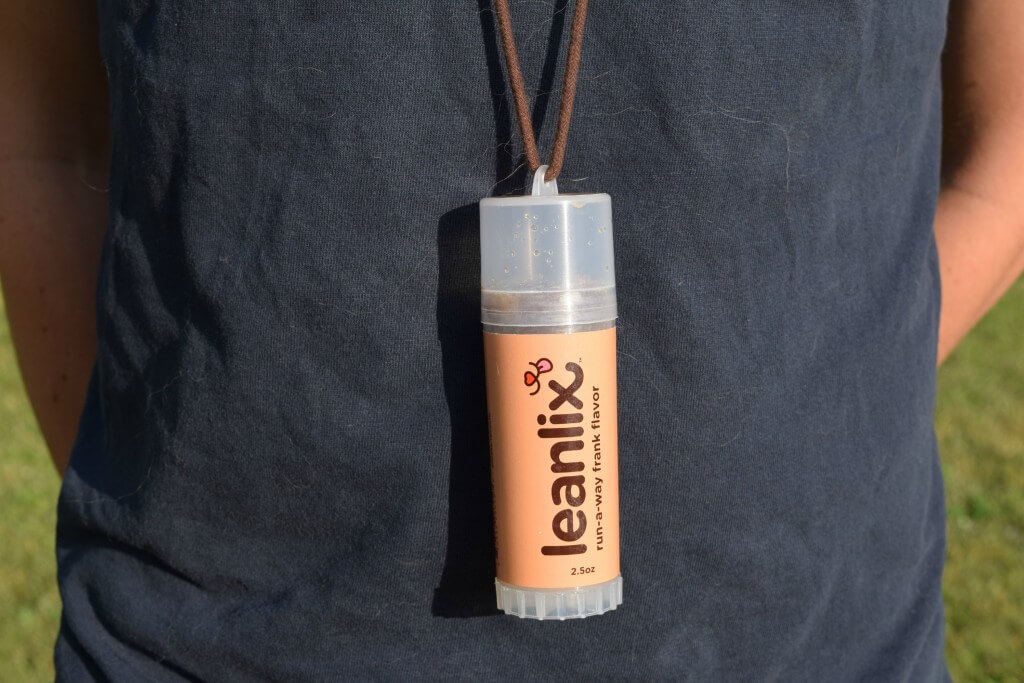 Time for the Test – Our Official Leanlix Review
As I shared before, the Leanlix was already very helpful at keeping our resident wiggly butt still during a grooming session, but I wanted to test it out in other settings to see how it would adapt and what kind of situations it would work best in. Our first trial was at puppy class. In one word, WOW! Was it really helpful or what!? Charlie maintained great eye contact and knew right where I wanted him to walk because I could hold a constant stream of treats right near my hip. Being the eager beaver that he sometimes is, there were times he lunged at it and also some times that he tried to take bites out of it but this was easily corrected for by pulling the Leanlix away after a quick lick. Charlie did much better using the Leanlix in class than he did walking around the neighborhood, but right now, that is true of any treats that we try (the outdoors are just too stimulating for this little puppy brain).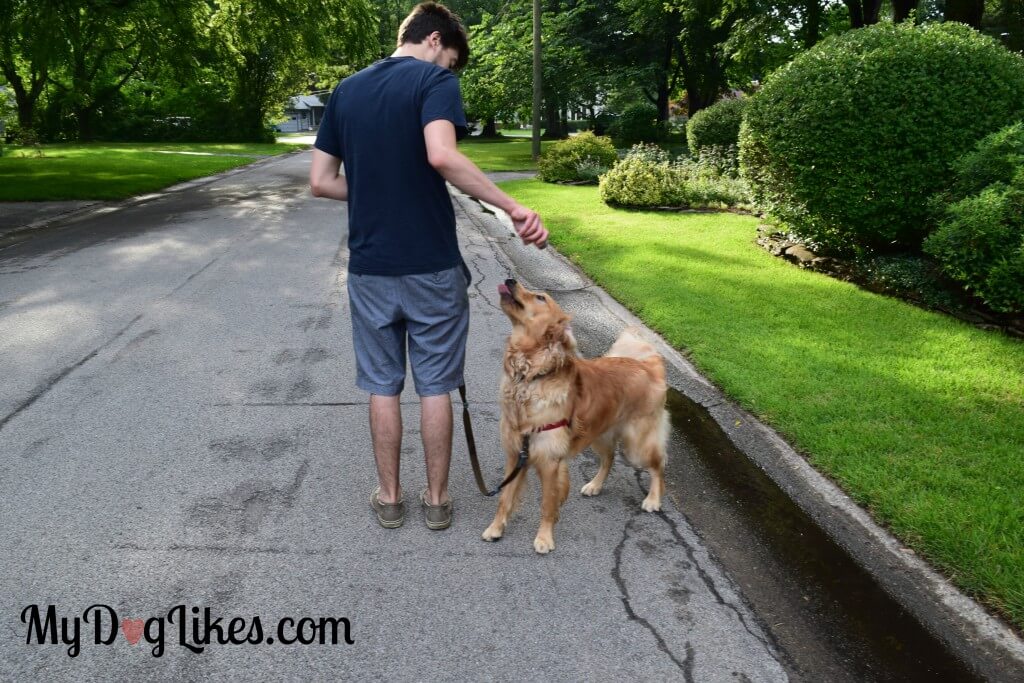 Harley is already a pretty good loose leash walker, but as you can see in the pictures below, using the Leanlix took it to the next level and our little sidekick stayed right in the perfect "heel" position, where he was supposed to be.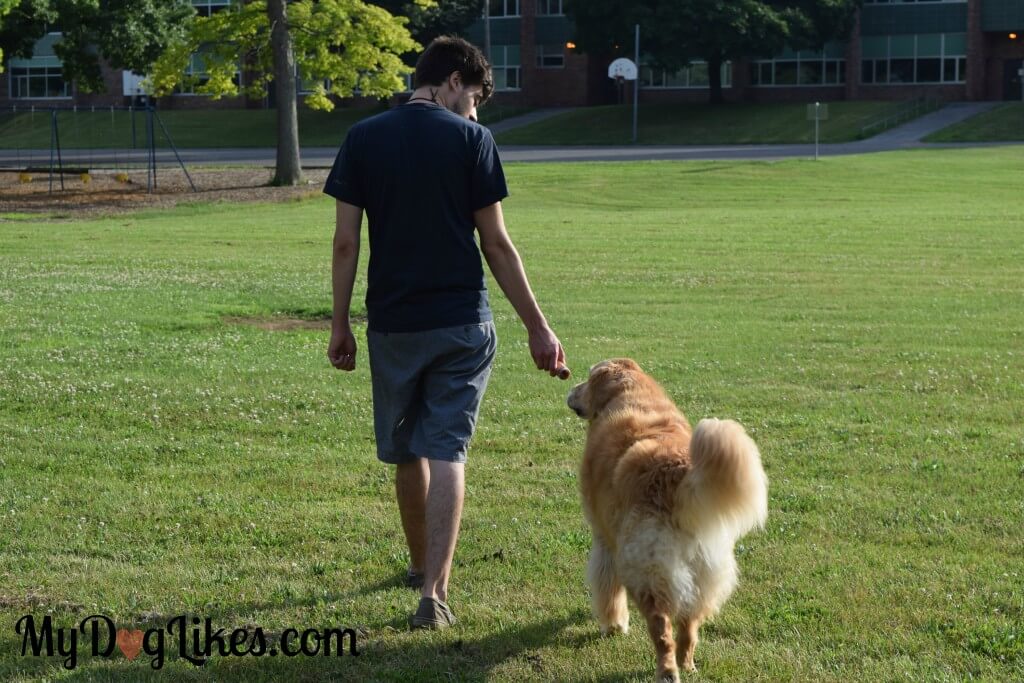 Other Great Uses for LeanLix
Traveling
Throw it in your dog walking bag, wear it around your neck….the Leanlix is no fuss no muss. No crumbs on your hands or bulky bags of treats to carry around. It worked really well to take to puppy class, to work with me, and out for walks!
Grooming
If you need your dog's attention (on or off of something) for a period of time, this is the treating system for you. I could hold the Leanlix between my legs or tipped at an awkward angle to get to all of those hard to reach or delicate spots. Because it is not how the dogs are used to being treated they are really intrigued and concentrate on the Leanlix intensely. Little buddy didn't pay attention to the fact that I was brushing/cutting a mat from his hair at all!
Continuous Treating
I think that this is really were the product shines. When teaching obedience skills that involve continuous treating (ie. Loose Leash Walking, greeting people appropriately), it can be so hard to keep a constant flow of treats coming to your dog's mouth. Leanlix makes this so easy!!! I've already shared how I use it to practice loose leash walking, but I have also kept a Leanlix stick hanging near the front door and open it up and use it when I walk in the door and greet Charlie for the first time, keeping that wiggling butt and those dancing toes on ground!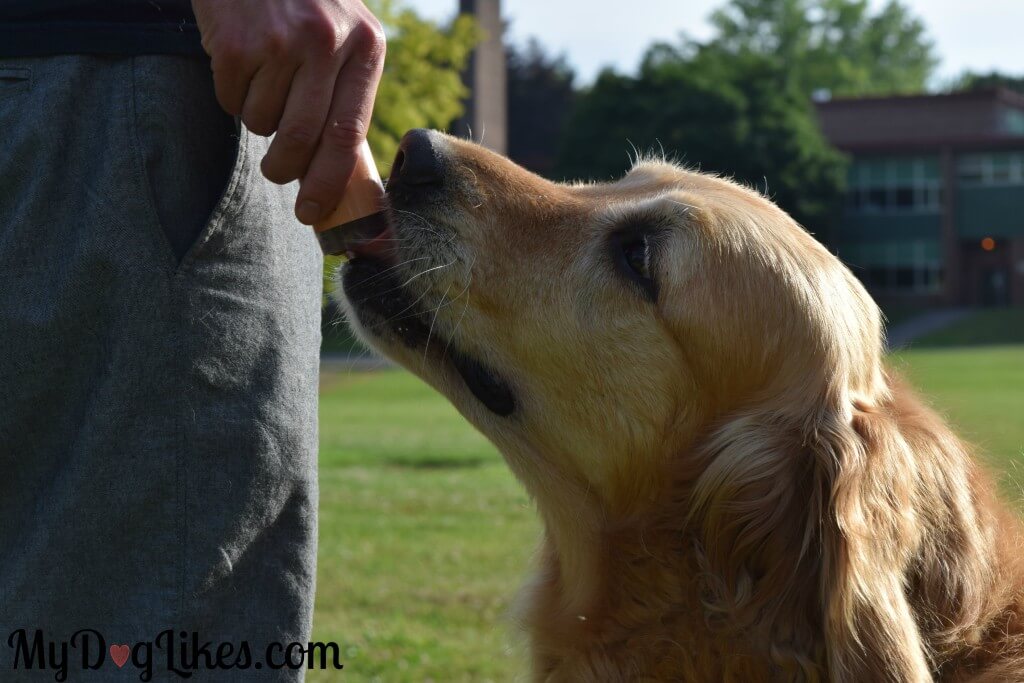 Why MyDogLikes the Leanlix Training Tool
Leanlix is an innovative product that allows you to conveniently treat your dog while keeping costs and calories down. There are lots of different flavors to keep things interesting for you and your pup. Customer service was friendly, enthusiastic, and dog-centered to the core. For us, Leanlix was best utilized in situations that involved continuous treating such as during loose leash walking and keeping all 4 paws on the ground while greeting appropriately. Additionally, it was great as a distraction for the dogs while we did some grooming and I could see it being great for situations such as nail clipping and hair brushing too. For these and so many more reasons, I would definitely recommend that you add this to the "bag of tricks and treats" used for training!!!
Interested in trying out Leanlix? Let us know how you would use it below!!