Charlie is a good puppy. Like a realllly good, sweet as molasses puppy.
Charlie is still, however, a puppy and suffers from a common condition of puppydom that we have affectionately named "Puppy Brain".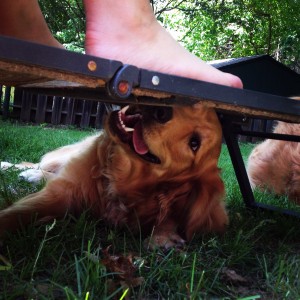 Unsure if your puppy has puppy brain? Run through the checklist below to see if your puppy suffers from the same condition.
Does your puppy:
Not seem to be in control of his body (falling off the sofa, tripping over his legs)

Suffer from "wiggle butt" when meeting new people or greeting you

Have a propensity for eating inanimate/non-food objects

Jump (when bored, tired, for a reason, or for no reason)

Bark at you for more playtime even though you just got back from a 2 mile walk and 20 minute fetch session

Pull on the leash like he is running as part of an Iditarod Dog Sled Team.
Did you answer "Yes" or "Sometimes" to these questions? Then I am proud to tell your four-legged best friend is suffering from this totally adorable condition!
The only known cure is time and maturity, but there is something that you can do today…it, my friends, is PUPPY SCHOOL!!!
I shared a couple of weeks ago that Charlie was going to be attending school (and had already gotten started with some preliminary class readings 😛 ). I chose to enroll Charlie in a Paws-I-tive Behavior Dog Obedience Training. Even though I have been able to do a pretty good job teaching Charlie basic obedience, I knew I needed additional strategies and help with those tough to curb behaviors. Before signing Charlie up for class, I spoke with his would-be trainer, Fran, and she gave me little background information about her practices as a trainer. Her opinion is that there are no "bad dogs", just dogs that have not been taught what is expected of them. With that philosophy at the core, Fran insists that dogs must be taught what to do using positive reinforcement and repeated, patient practicing. After speaking with her, I knew it was a fit!
Structure of Class: 45 minutes long-Lots of "Teen Puppy" play time with modeling and practicing new skills throughout.
The Verdict – So far we both have been loving it. Here is a run-down of our weekly sessions:
Week 1: No Dogs-Learn about Fran's approach for training dogs, get the CLICKER, practice using it with exemplar dog.

Week 2: Charlie's First Class-I was SO nervous. I wanted really badly for this to be a positive experience for both of us. Though Charlie is a good boy, I was scared that his training would go right out the door once he saw new people! I was pleasantly surprised! Charlie followed my directives and was even used as model dog a few times.

Week 3: Sensing his mother's competitive spirit, Charlie upped the ante and won a puppy obedience "musical chairs" game. He sat that little tooshie down so fast!!! Winner Winner Chicken Dinner, Charlie got to pick a toy from the basket. Class was pretty much over because he could focus on NOTHING ELSE but that toy!
4 weeks to go and we are loving class. We practice our skills several times weekly and read the many articles that Fran sends us with behavioral tips and tricks. Now that we are really rolling with class, I plan on keeping our readers regularly updated, so be sure to check back often!
As an aside, I CANNOT recommend enrolling your dog in class enough. Your dog is never too old to start.  In my opinion, raising well-behaved, obedient dogs, is one of the best ways that we as pet owners can advocate for our pets. Charlie so desperately wants to make me happy and it has been a wonderful bonding experience for he and I. I love to see how smart he is and how his little brain is learning what I want from him.
If you are considering enrolling your puppy/dog in class take a look at The Association for Professional Dog Trainers' website for tips on how to choose a trainer, FAQ about dog training,  and links to webinars/articles that will provide some good insight into the world of dog behavior.
Some of the questions they suggest asking a potential trainer include:
What method of training do you use?

What is your educational background in the area of dog training (and behavior if applicable)?

What is some recent continuing education that you have attended?

What equipment do you use?

What kind of follow-up do you provide to our clinic on your work with our clients?

Can you provide a list of clients we can contact for references?

Do you belong to any professional associations, and if not, why not?

What are your credentials and do you have any certifications?

What sort of services do you provide for pet owners? Do you provide specialized services? (i.e. therapy dog training, competitive dog sports training, service dog training)
Short on time? Use the APDT's handy "Trainer Search" to find someone near you!!!
Good luck!
Please let us know in the comments below-What kind of training has your dog undergone? What tips do you have?