Trick or Treating can be lots of fun for the humans in the house, but taking your dog out is probably not a good idea. Just because we don't advise taking your dog out for trick or treating, doesn't mean that he/she can't be part of the fun! How you ask? Teach your old dog a new trick!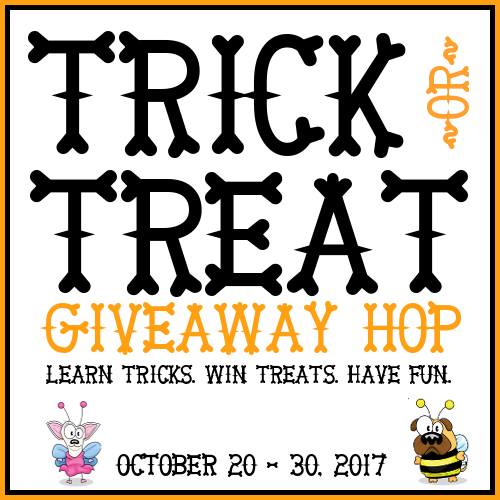 It's time again for the annual Halloween Trick or Treat Giveaway Hop! We, along with 19 other bloggers are teaming up to use positive reinforcement (and lots of yummy treats) to show you some great tricks you can teach your dog!
We can't call it a giveaway hop without some awesome prizes and sponsors, and this year there are over $850 in prizes up for grabs. Learn more details at the bottom of this page, but first, let's get to the trick!
---
If you know Harley and Charlie at all, you know that they are friendly guys who LOVE Halloween. No, it's not because we dress them up in great costumes…it's because of all of the children who come to our door looking for candy. They just love visitors! Every year we put a baby gate up in the doorway and allow them to answer the door when the kids come knocking! They love it and so do the kids!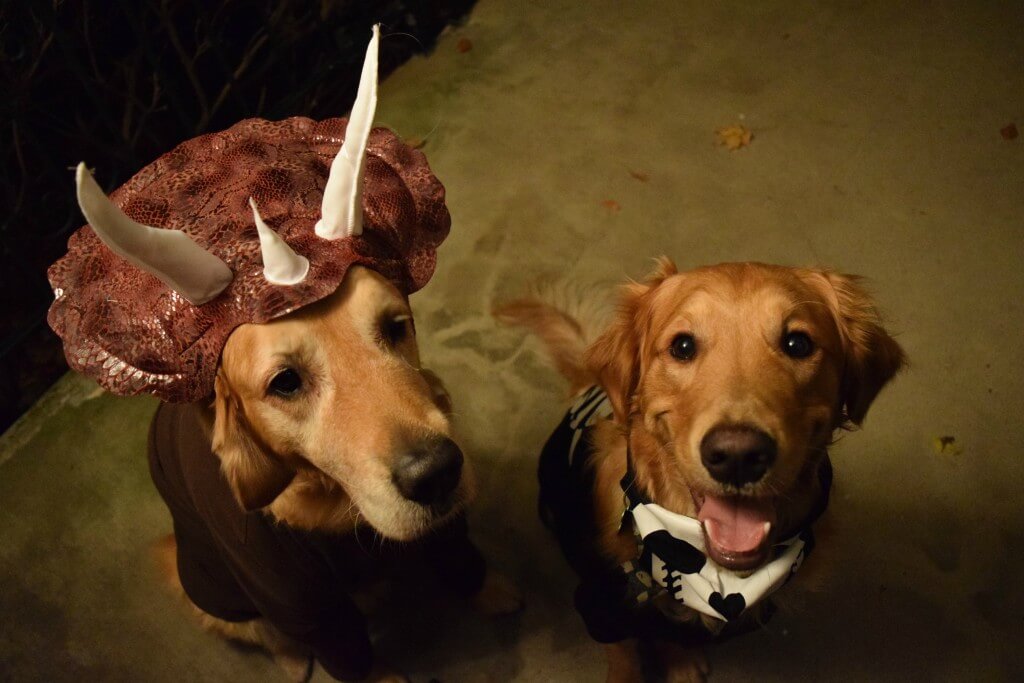 This year we decided that we would elevate the greeting a little and really get the boys involved by helping them carry the candy container to the door! In order to accomplish this, we are teaching the dogs to "Take It" and "Hold it".
How to Teach Your Dog to "Take It"
All teaching starts with a little bit of positive reinforcement. We are strong proponents of using a clicker for teaching a new trick because it helps to reinforce the exact moment that your dog does one of the approximations of the behavior that you are looking for.
What you will need
Clicker

High Reward Treats

Dog toys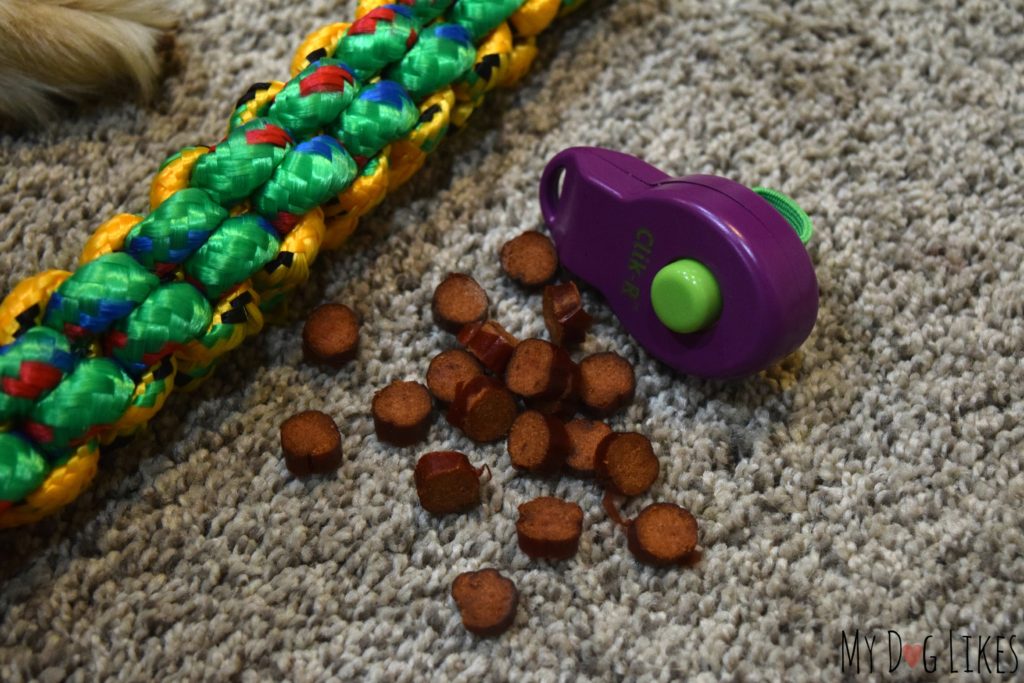 Step 1: Charge the Clicker
If your dog has never used a clicker before, or if they haven't used it in a while, start by "charging" the clicker. Charging a clicker isn't complicated, simply click then treat your dog. The click will start to get their attention. You will know that the clicker is "charged" when the sound of the click stops them in their tracks as they wait for a treat!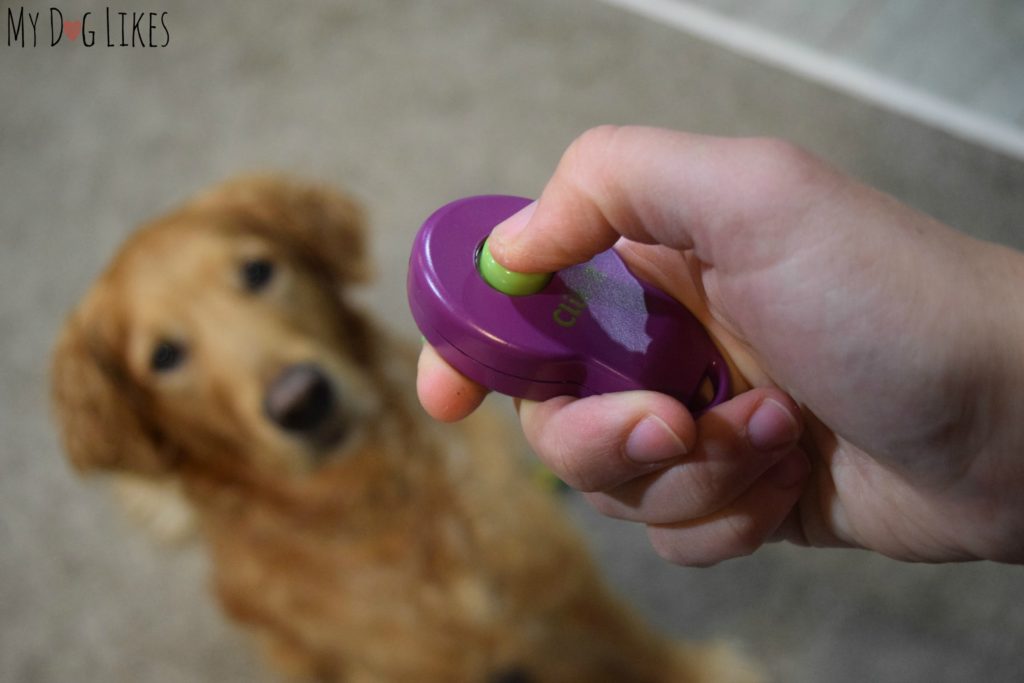 Step 2: Find a Toy, Click When He Touches It/ Picks it Up
The next step can be done in one of two ways. You can choose to have your dog pick up the object from the floor, or take it from your hand.
From the Floor
Clear the room of any other toys or loose objects that might be distracting or confusing. Place the toy between you and your dog. Your dog will look to you and try to figure out what you want them to do so that he can get a treat.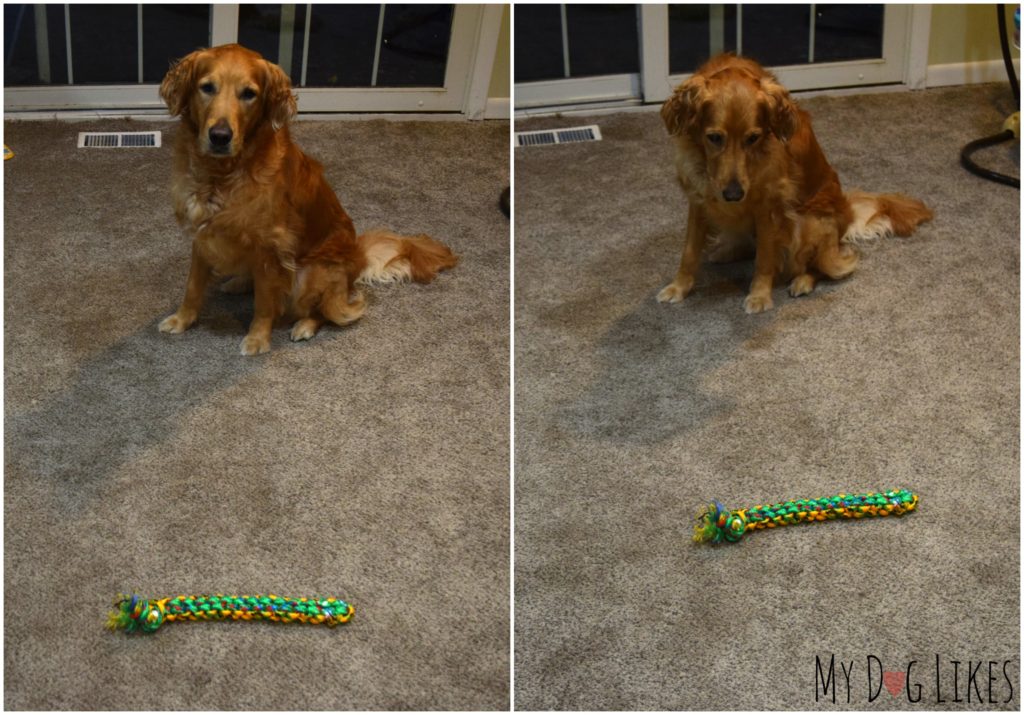 When Charlie started learning, he tried all of his tricks like sit, lay, paw, place, etc. in an effort to  figure out what I wanted. This is the hard part, but wait! Your dog will explore his environment and learn! As soon as your dog touches the toy with his mouth, click and reward.
If your dog needs a little help with this step, pick up the toy for a moment, point it out, or move it in some way to bring their attention to it. Once again, AS SOON as they touch it with their mouth/pick it up, click and reward!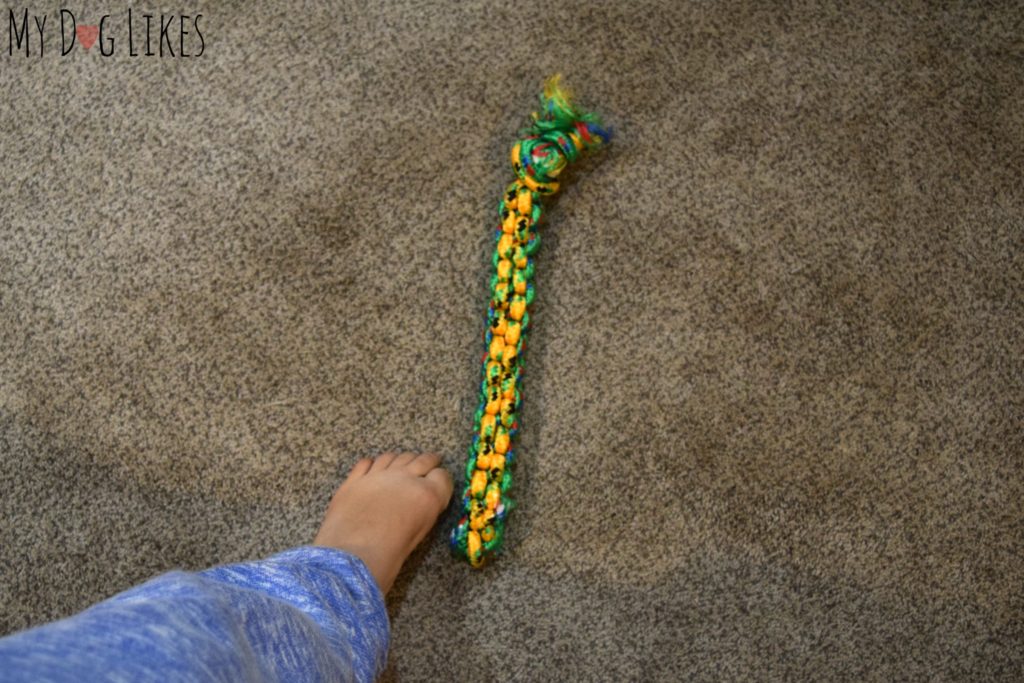 Keep doing this until your dog is consistently touching the toy with his mouth. Because your goal is to have your dog "take" the object, start to only click and reward when they pick it up. This is how you will shape the behavior!
From your Hand
To have your dog take something from your hand, the steps are similar. While holding an object in one hand, click and reward when your dog touches the toy with his mouth or puts it in his mouth! This can be a little harder because there is not as much separation between you, your dog, and the treats that you have, so he may be distracted by your treats!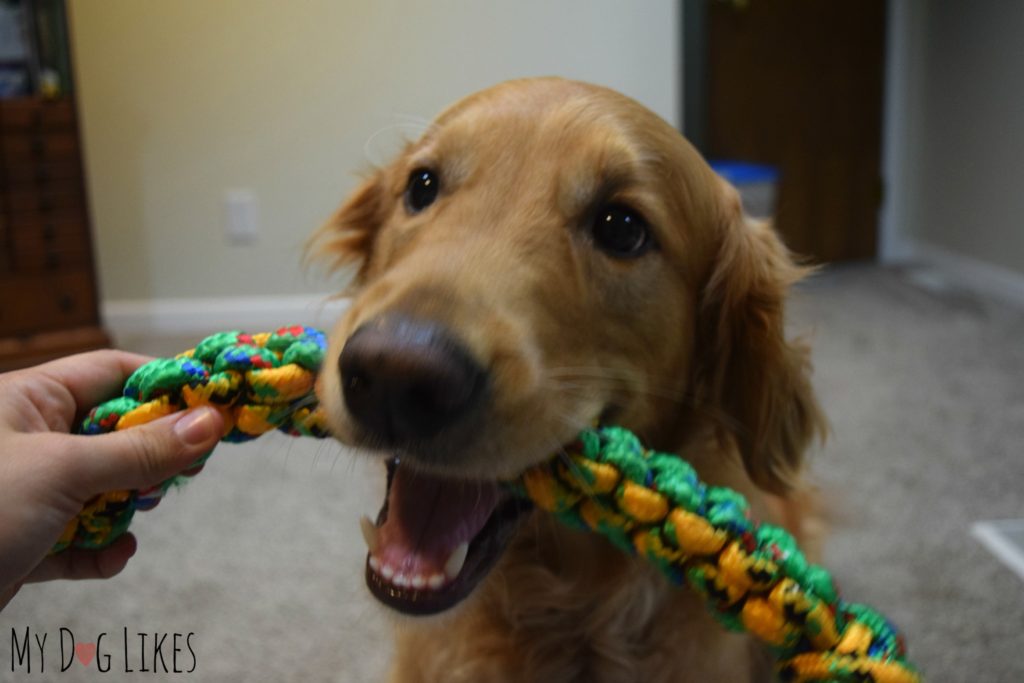 HINT: Use a toy or familiar object that your dog likes to play with already!
Step 3: Pair the Command "Take It"
Once your dog is consistently putting the object in his mouth and getting that you want him to work with the toy, pair it with a command such as "Take It" or "Pick It Up". Keep on clicking and treating until the command gets your dog to pick up the toy!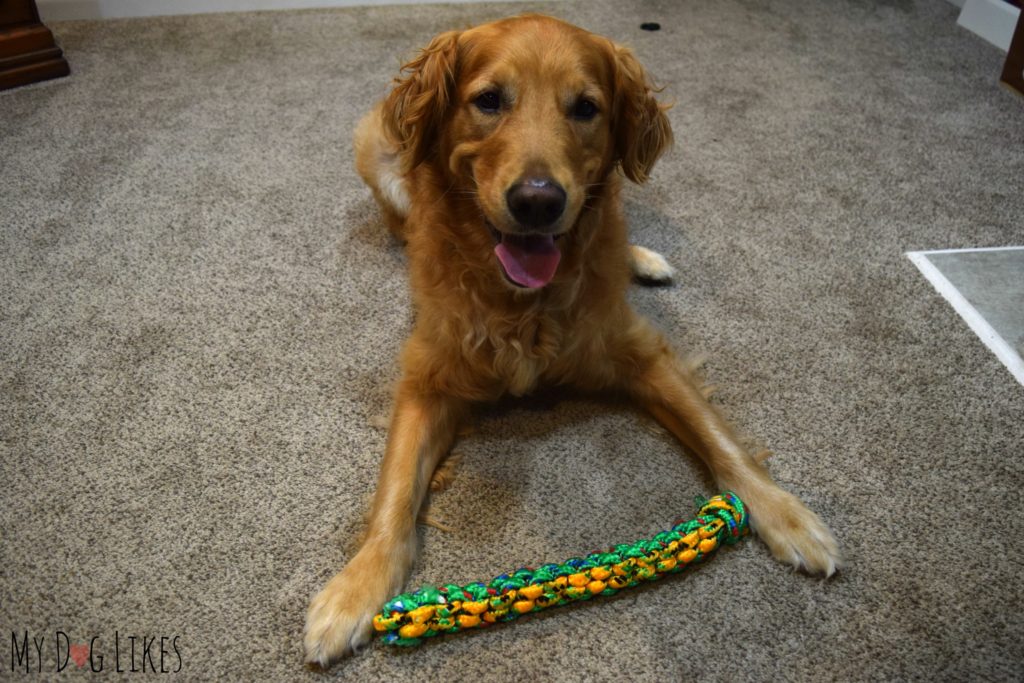 Step 4: Generalize – Try Different Toys
After your dog gets the verbal command, try to switch out the object that you are using. Be sure to take the toy that you had been using away so that it is not confusing. This will help your dog to learn that your command applies to lots of different things, not just the toy that you used at first!  Be sure to keep on clicking and treating!
Step 5: Increase the Time Your Dog Holds the Item
After lots of practice over several training sessions, you can shape the behavior so that your dog will hold the object in his mouth for a longer period of time. Simply place the item on the floor/hand it to your dog and only click and reward when he holds it in his mouth for a predetermined amount of time. Start small-like 2 seconds, then reward. Gradually, you can build up longer periods of time. When they start to get what you want them to do, you can introduce a command such as "hold it" to show them that you want them to keep the item in their mouth!
How Can I Use This Trick?
There are a lot of uses for this trick. This trick is a great foundation for more complex tricks like getting them to clean up their toys. Its also great if you love to photograph your dog with something in his mouth, pick up the newspaper etc.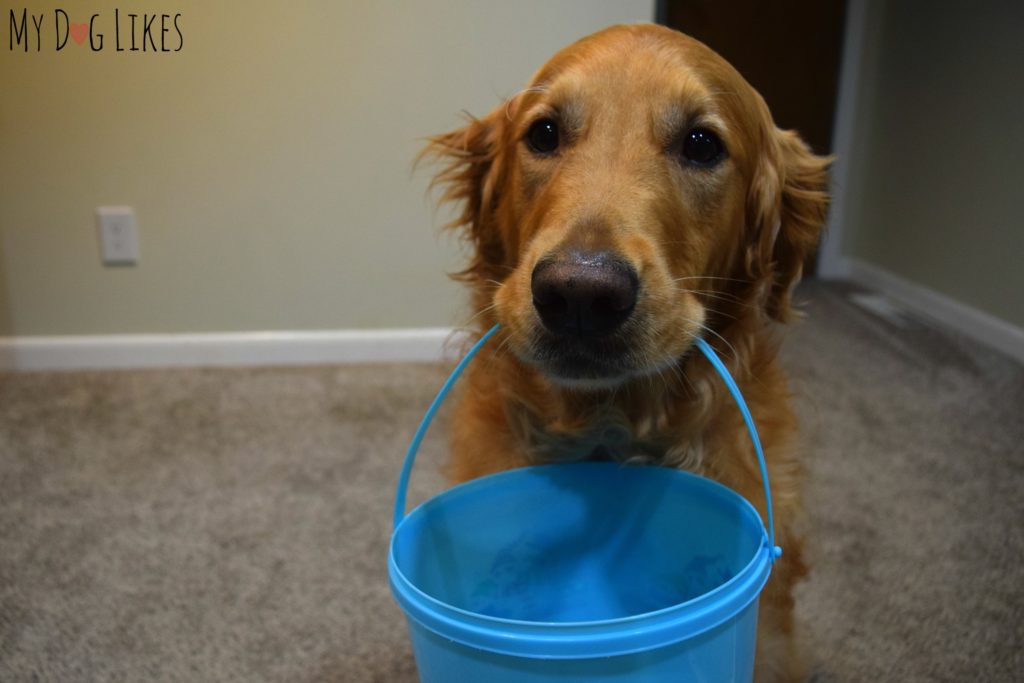 How Did We Use This Trick?
Halloween of course! We generalized this trick to a pumpkin bucket that we use for candy for our trick or treaters. We first practiced it by having them pick up the empty bucket, then by adding some weight so they would get used to it being a bit heavier. On Halloween they will be ready to go live with this trick and greet our trick-or-treaters at the door!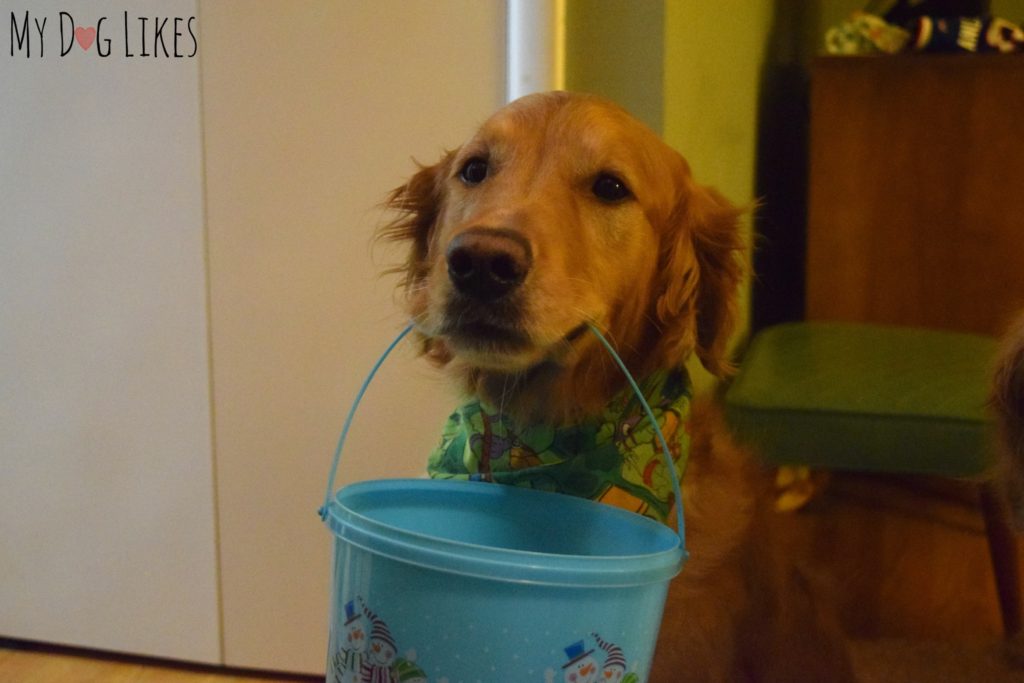 If you want to try something similar, awesome! Just be sure to hand your dog the bucket of candy and then take it away from them so they don't eat any of it!
---
Back to the Giveaway!
Wondering what is up for grabs?
Grand Prize – $300 Gift Card to PetSmart
2nd Prize – CleverPet Hub ($299 Value – sponsored by Cleverpet)
3rd Prize – 5 Bags of Dog treats from the Honest Kitchen ($68 Value – Sponsored by The Honest Kitchen)
4th Prize – 3 Toys from Planet Dog ($50 Value – Sponsored by Planet Dog)
5th Prize – 5 Bags of Dog Treats from Health Extension ($40 Value – Sponsored by Health Extension)
Instagram Social Media Prize – $100 Gift Card to PetSmart
Make sure to visit all of our blogging friends listed below for more chances to win! And don't forget to follow #TrickorTreatDogs social media for even more fun!
2017 Trick or Treat Giveaway – My Dog Likes
Learn to Crawl
by Kol's Notes
Learn to Calmly Ride in Elevators
by Beagles & Bargains
Learn to Not Freak Out When a Doorbell Rings
by A Dog Walks into a Bar
Learn to Ring a Bell
by ChiPets
Learn to be "Sassy"
by Dog Mom Days
Learn Whistle Recall
by Fetch for Me, Human
Learn "Beg", "Which Hand", and Indoor Exercise Trick Sets
by Fidose of Reality
Learn to Stand on Your Hind Legs
by Heart Like A Dog
Learn to Kiss
by It's Dog or Nothing
Learn to Touch
by Life With Beagle
Learn to Crawl Through a Tight Tunnel
by My GBGV Life
Learn to Shake Paws (for Dogs Who Don't Like Their Paws Touched!)
by Sarcastic Dog
Learn Puppy Push Ups
by Spencer the Goldendoodle
Learn Two Dog Tricks
by Tails from the Road
Learn "Paw" and "Shake Paw"
by Talent Hounds
Learn to Cover Your Eyes
by Tenacious Little Terrier
Learn to Jump Through a Hoop
by The Broke Dog
Learn to Spin
by The Daily Pip
Learn to Open Doors
by Wag 'n Woof Pets
The Trick or Treat Giveaway Hop is sponsored by CleverPet, The Honest Kitchen, Planet Dog, and Health Extension. The opinions and ideas in this post are my own and are uninfluenced by any other person or business. The individual sponsors are responsible for their giveaway prizes including shipping.