Take a quick moment to think about all of those dog essentials that you bring along with you on your daily walk. Leashes, poop bags, treats, keys, cell phone? Perhaps water for a longer walk or hike? It doesn't help the matter that athletic gear (especially women's) rarely has any pockets.
Juggling all of these things can be a real pain.
Wouldn't it be nice to have an easy way to carry everything with you?
Here at MyDogLikes we are all about living a dog friendly lifestyle. While the majority of our reviews tend to focus on items made primarily for the dogs, today we are going to be showcasing something designed specifically for pet parents!
Travel Wags "The Walker" Bag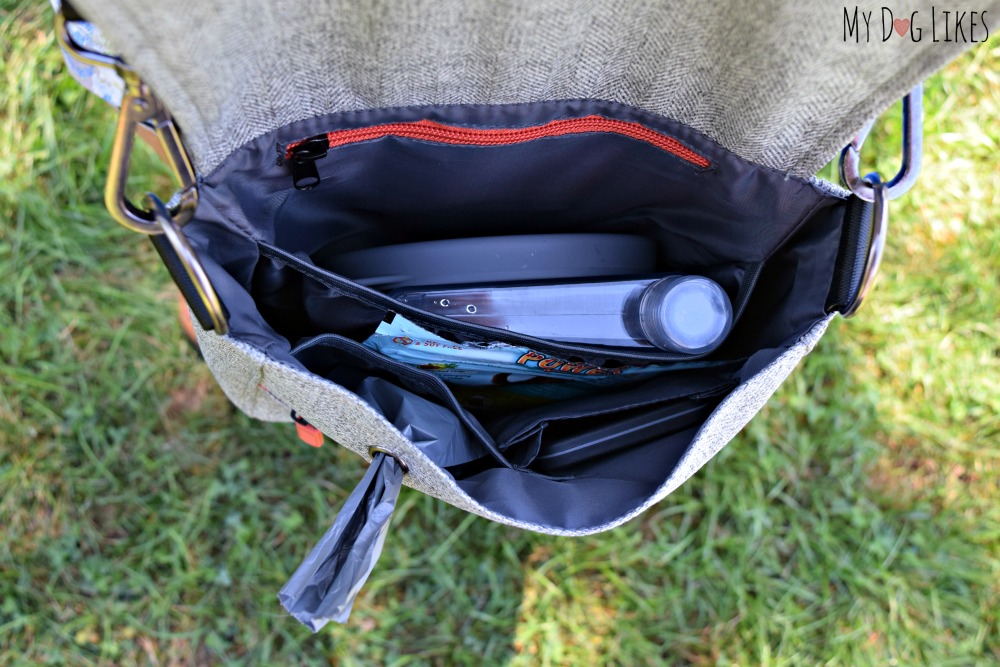 The Travel Wags Story
Travel Wags is a New Zealand based company that designs and sells a line of stylish AND functional bags for pet parents. The company was founded by Sarah Hall, a former television journalist ready to leave the broadcasting world behind. After spending years searching for the perfect dog walking and weekend bags, she decided that starting a business would be the next challenge in her life. Not only would she be able to create the perfect bags but she could spend more time with her precious pups. (Hey – we get it! That was a huge reason for us starting our business as well!)
Sarah teamed up with noted designer Sonya Cotter to make it happen, and after much hard work, Travel Wags was born! They now offer 2 different bags – The Walker and The Tote.
Travel Wags recently contacted us to see if we would be interested in reviewing and featuring their dog walking bag. Quite familiar with the difficulty of carrying everything we need, we were excited to check it out!
Travel Wags Bag Review
Simply put, this bag is designed to hold everything you need on a walk with your best friend. The Walker is spacious, but it is also compact enough to be perfect for daily use. Not only is it functional, but it is beautiful as well. No one would guess that this bag is designed to hold dog supplies.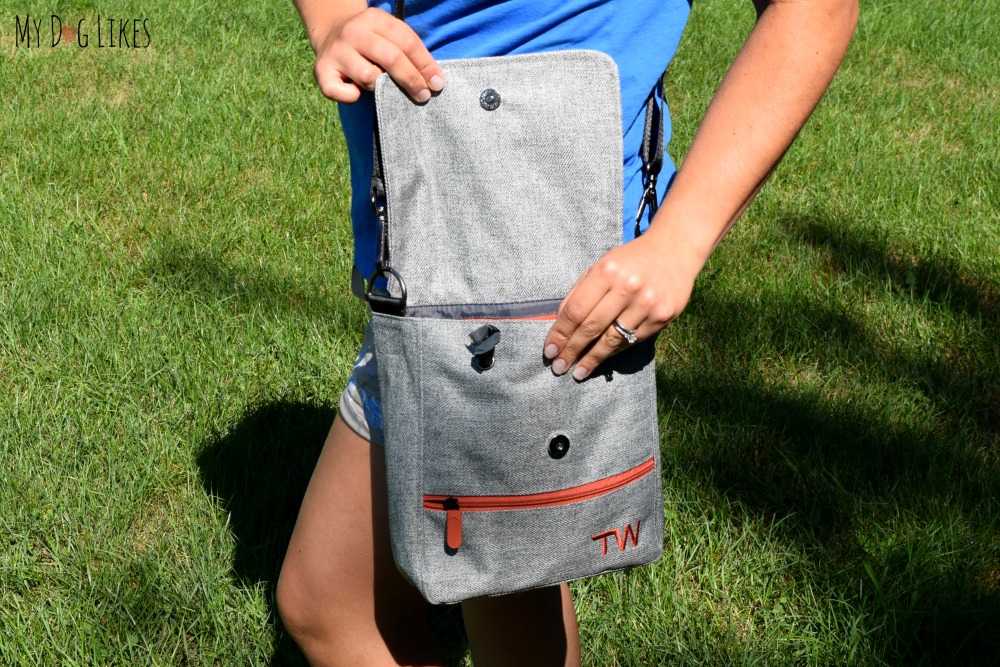 A Stylish Dog Walking Bag?
The Walker is a rectangular shaped tote-style bag measuring roughly 10″ on each side. It's grey herringbone fabric is classy and neutral while the orange accents for the zippers and lettering give a nice pop of color.
Breaking down the Features of the Bag
There is so much more than meets the eye with this dog walking bag! Let's take a look at each feature one by one to see why it will make your walks easier.
Shoulder Strap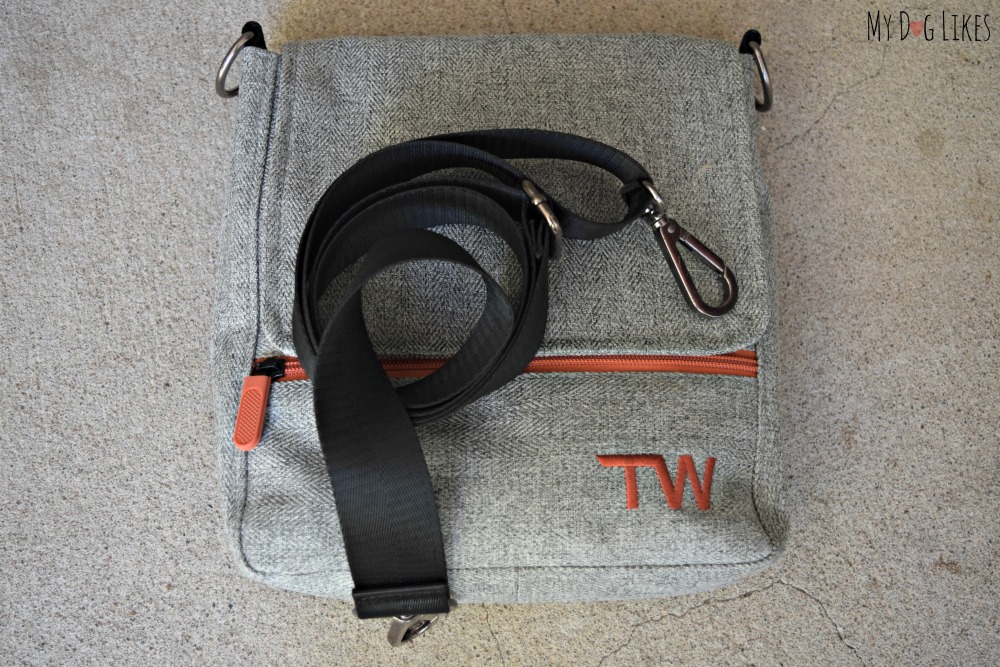 The Walker comes with a detachable, black, nylon strap for carrying. The strap is wide, smooth, and adjustable in length, allowing for the bag to be worn over the shoulder or cross body. I prefer to wear it cross body as it leaves both hands free for the dogs.
Magnetic Clasp
The flap of the bag folds over and secures quickly with the aid of a magnetic clasp. No need to struggle to find the snap, or worry about it wearing out over time. We found that the clasp held strong even when we loaded up the bag and put some strain on it!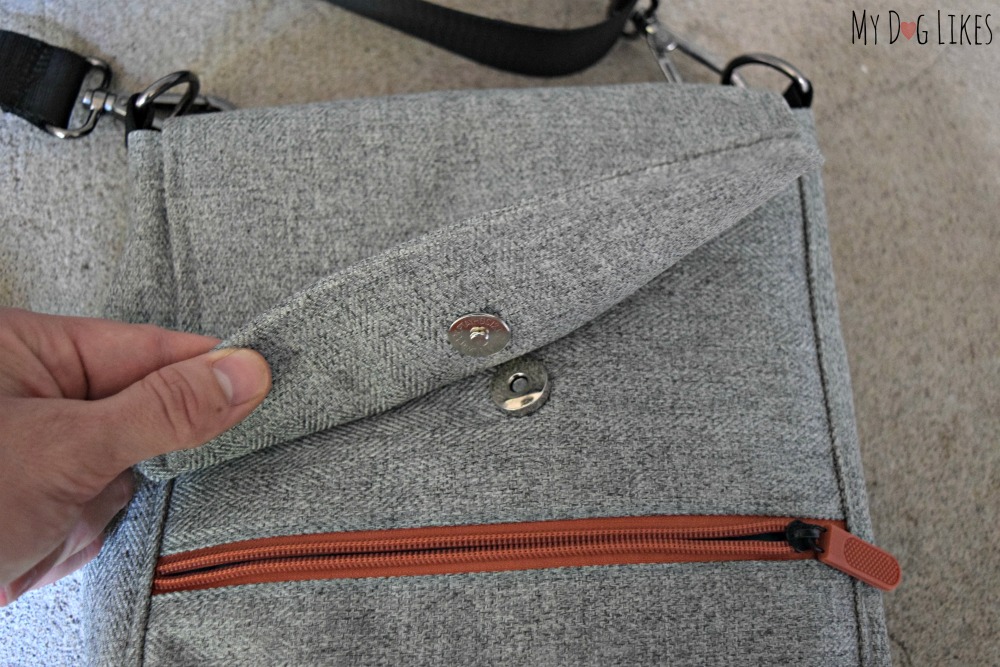 Exterior Pocket
On the front of the bag you will find a zipper accessible pocket. This compartment stretches along the width of the entire bag, and is perfect for storing something that you need easy access to – such as training treats!
Interior Pockets
Travel Wags has included a number of different interior pockets into The Walker. One designed to hold a roll of poop bags that can be dispensed out the front. Another perfect for a cell phone or keys. A third zippered pocket can hold things you would like to keep a bit more protected like keys, money and identification.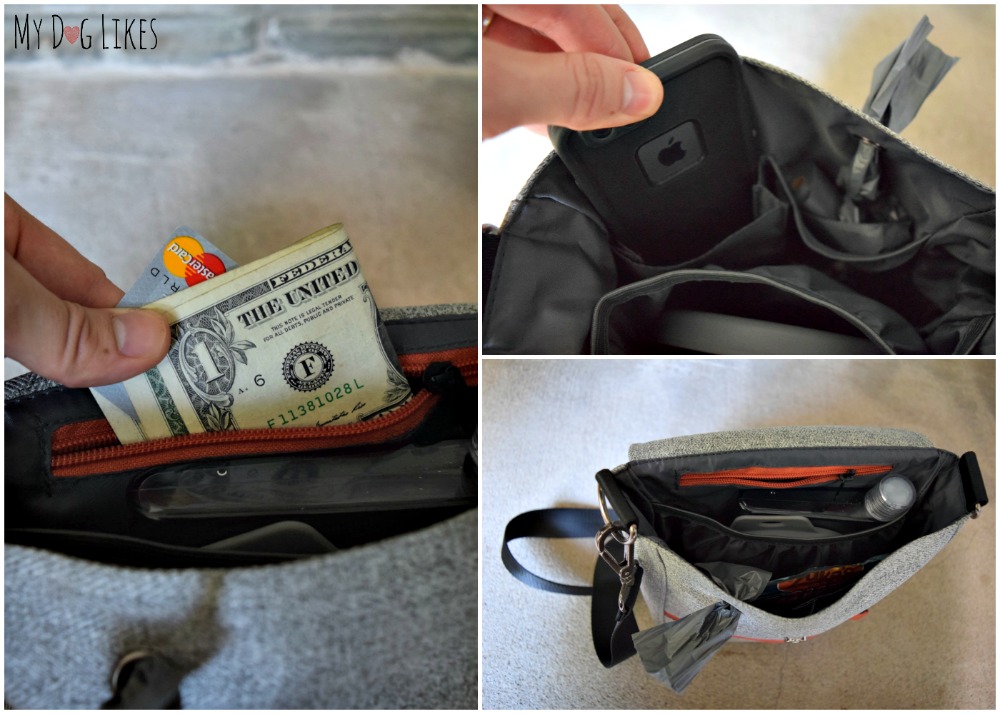 In addition to these pockets is a large open area giving you the ability to store a wallet, treat bag, book or anything else you may need while out and about.
Built in Poop Bag Dispenser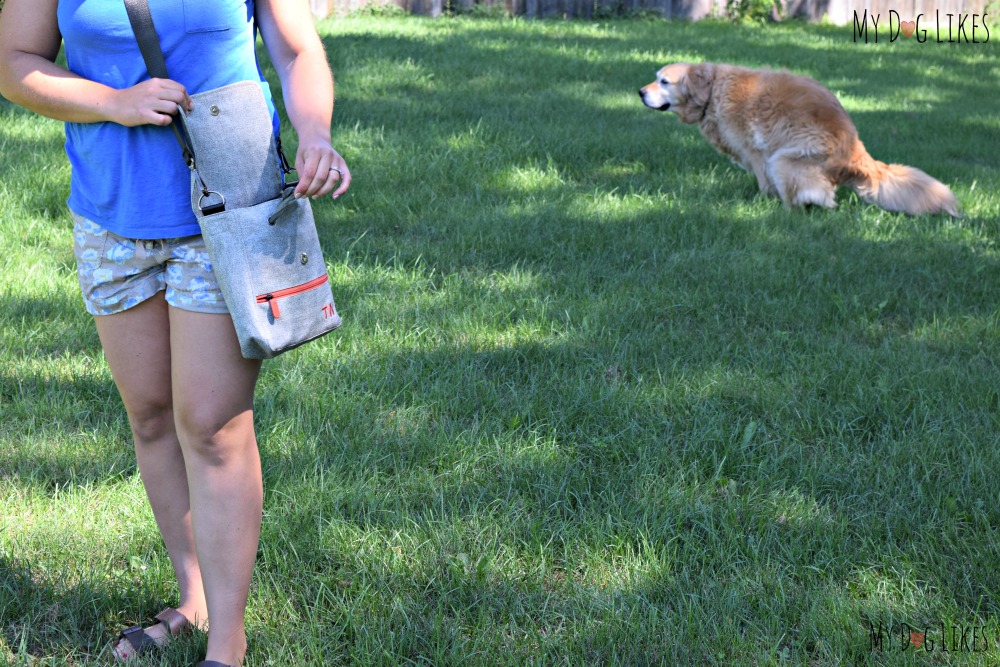 One of the most unique features of the Travel Wags bag is that there is a poop bag dispenser built right in! They even throw in a roll of bags to get you started!
What's Included with the Travel Wags Dog Walking Bag?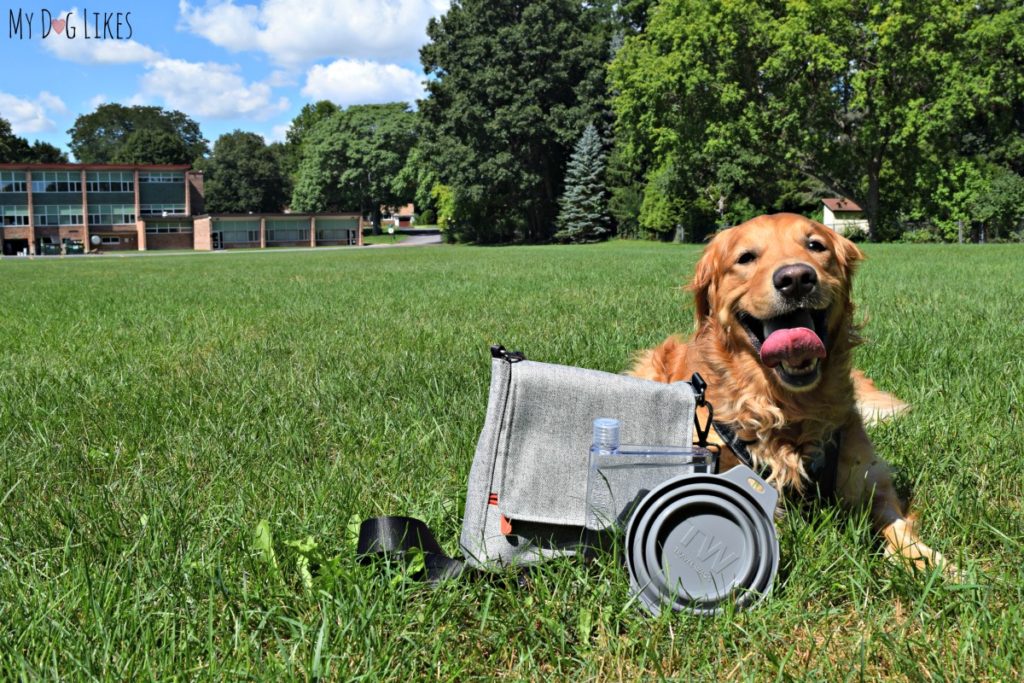 Ergonomic Water Bottle
Proper hydration is extremely important during exercise – especially in the heat of the Summer. But seriously, who wants to lug around a water bottle on a walk? Worse yet, if you were to bring a bag with you, most water bottles take up a ton of space.
Travel Wags has designed and incorporated a custom, flat, water bottle to fit in a special slot inside the bag. Not only does this save room in the bag for other items, but it helps to give the bag shape and form. Simply put, this was a brilliant idea! We measured the capacity and were pleased that it holds 16 oz.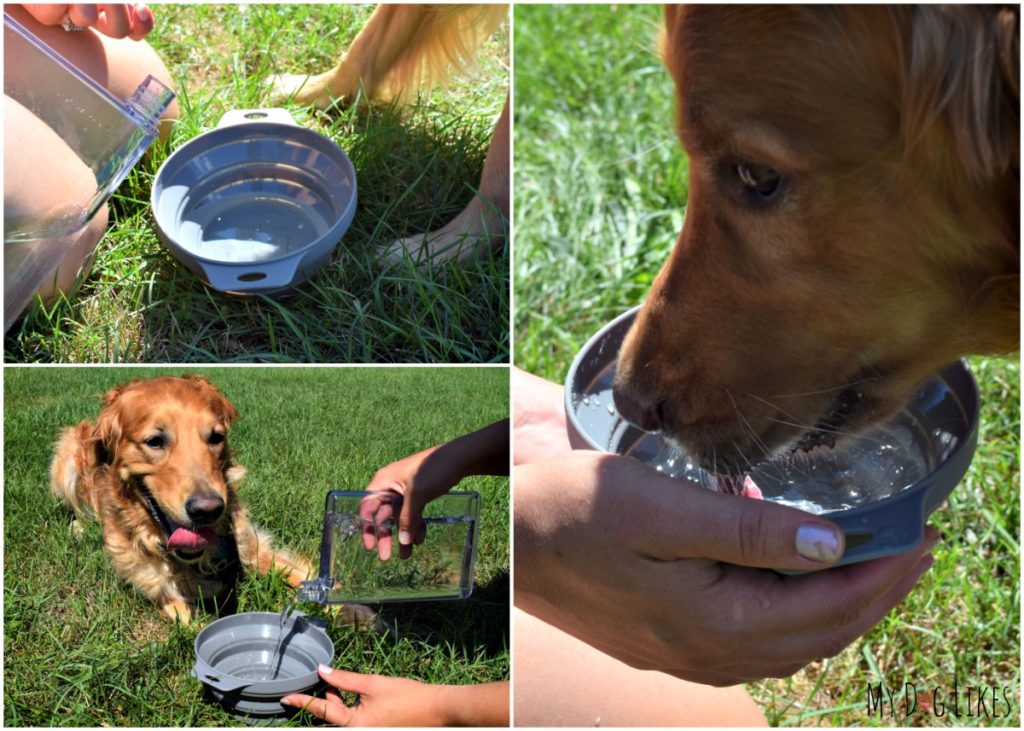 Collapsible Water Bowl
If you have water, your dog will need something to drink it from! The Walker includes a large collapsible dog bowl for that quick drink break on your walk.
Take a look at the size of this thing! Much larger than other collapsible bowls we have used in the past.

Why MyDogLikes the Travel Wags Dog Walking Bag
Anything that makes our lives easier is a huge plus in our book. The Travel Wags Dog Walking bag is the perfect accessory for pet parents. No longer will you need to struggle carrying all your dog gear, in fact you can conveniently bring along much more. While this bag is great for walks with your dog, its also great as an everyday bag. If your dog is as "on-the-go" as you are, you need this bag! Thanks to its classic design and stylish fabric, it easily and beautifully blends in as regular purse, while still meeting the needs of a busy pet parent!
I also love the look of 'The Tote', Travel Wags' larger bag. Though we didn't review it, I can see this bag easily accommodating a bigger day/overnight trip. I've been looking for a great bag for a while and am so happy that we now have this bag. If you are the mom of an infant or toddler, you know how important the diaper bag is, to me-this bag is just as important as a dog-mom!
Want to get your own Travel Wags Bag?
Click Here to Browse their Store