Let's face it: Bathing a dog can be a bit of a hassle – Especially if you are short on time or space.
At home it can be difficult to get your dogs into (and keep them in) the tub. Then afterward, you usually end up with a soaked bathroom and a huge pile of laundry.
As much as we love heading to the local self wash, the whole trip takes over an hour, and costs about $15 per dog.
What about when your dog gets into something while you are out and about? (Our furry friends don't always choose a convenient time to make a mess!) Who wants to bring a filthy dog into their vehicle?!
Today we are excited to let you know about a new way to get your dog cleaned up – anytime and anywhere…

Isle of Dogs Waterless Dog Shampoo
Isle of Dogs is a manufacturer of premium pet grooming products like shampoos and conditioners. We have been lucky enough to try out a few of their products in the past and have always been very impressed. 
Isle of Dogs recently sent over a waterless shampoo (part of their Everyday NaturaLixury line) for us to check out and share with our readers. We were very intrigued by the idea and excited to give it a try!
Make sure to read the whole review – Isle of Dogs is sponsoring a giveaway where you will have the chance to win your own bottle!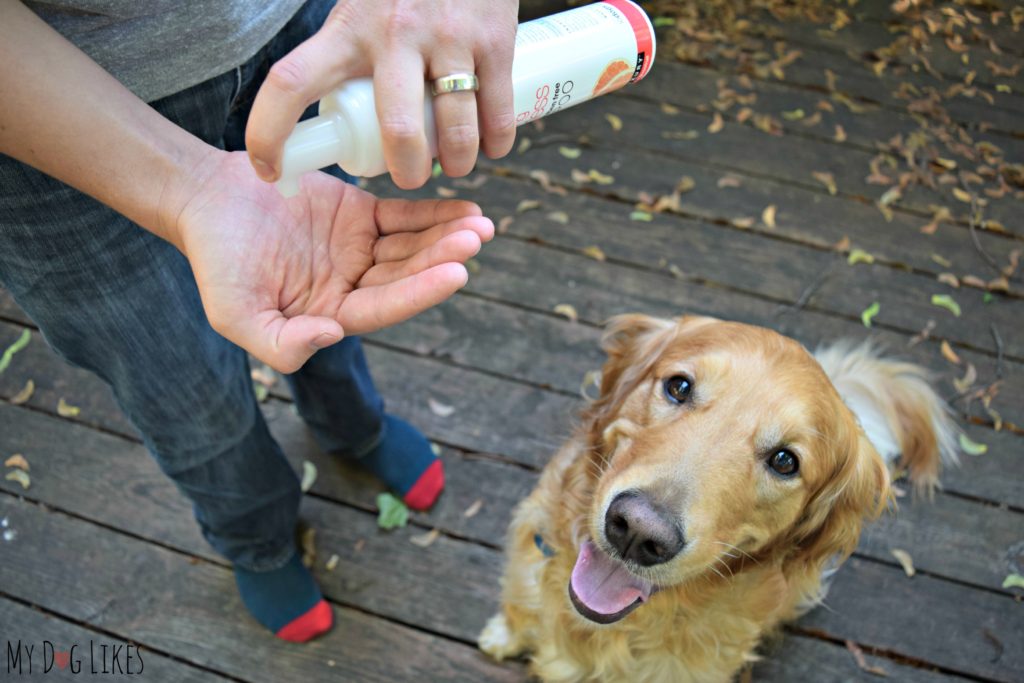 What is a water-less dog shampoo and how does it work?
Well, it's pretty much just what it sounds – a convenient way to give your dog a "bath" without water.
This means you don't need a tub or hose, and you don't have to deal with a sopping wet dog. Perfect for in-between regular baths or when your dog needs a quick cleanup. This shampoo works on all types of coats and according to Isle of Dogs is even great for lifting grass stains from light fur.

Isle of Dogs waterless shampoo is sulfate/paraben free, and just like all of their products – made in America. It also contains a natural odor neutralizer they call ExtenScent. This product is available in a 9 oz. pump bottle with foaming head and has a refreshing grapefruit scent.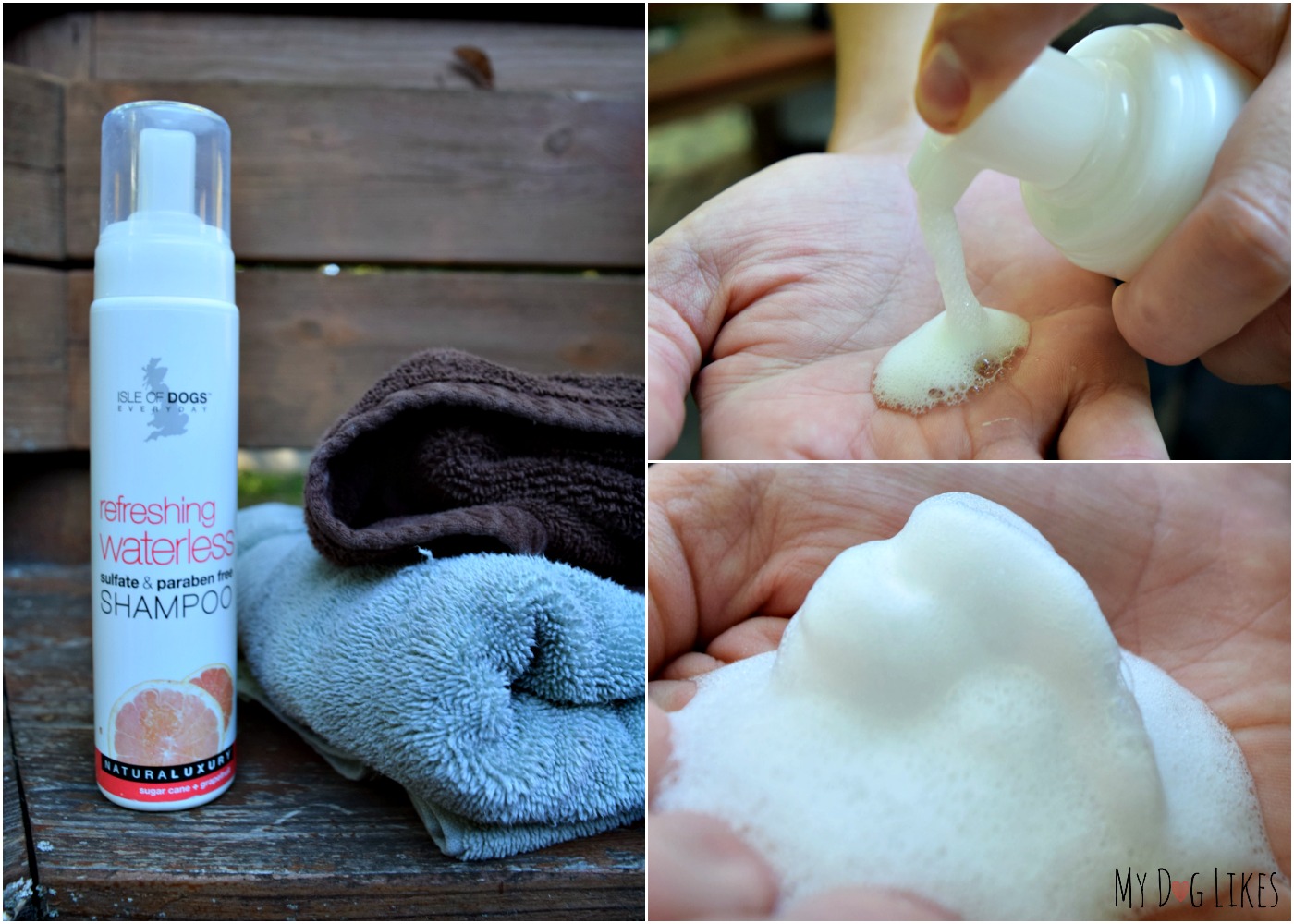 To use, simply pump a generous amount into your hands and work into your dogs coat. Next grab a towel to dry and lift out the dirt. This shampoo does not need to be rinsed out with water!
Seems simple enough…
Trying it Out – Isle of Dogs Waterless Dog Shampoo Review
Don't tell him we said so, but Harley has been a bit stinky as of late! I'm not sure what he got into, but we have been wanting to give him a bath for a while. Unfortunately an early season cold has had Rach and I both on our backs for much of the week!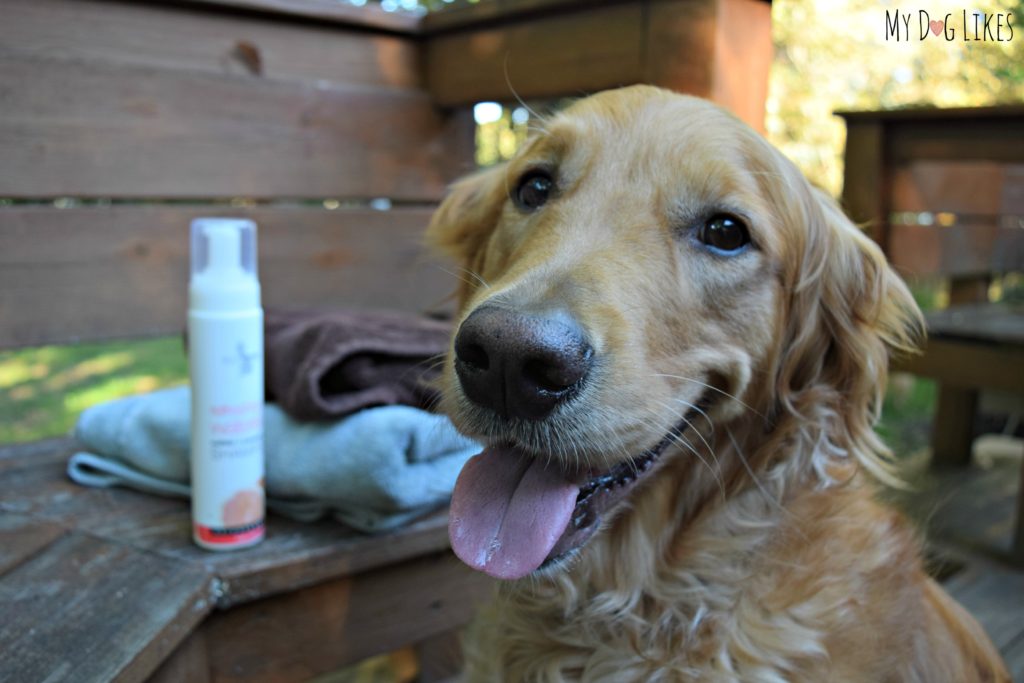 We thought this may be the perfect opportunity to try out the new waterless dog shampoo to see how well it performs in a pinch.
First Impressions
As soon as you take the cap of the bottle you will note the invigorating scent. It is not overly "perfumey" but quite refreshing. The foaming pump top works great and dispenses a good amount of shampoo with each push. We filled one hand and got right to work rubbing it into Harley's thick coat…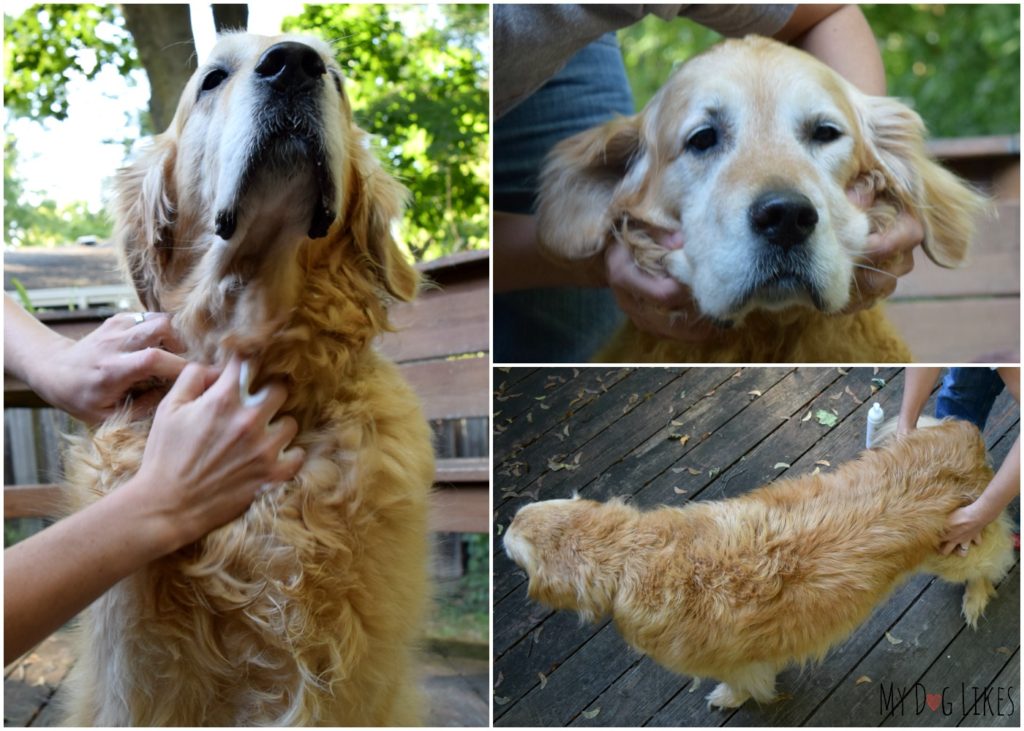 As you rub into the coat you will note that it does not lather like a regular shampoo. Instead it works right into the coat leaving only a damp appearance after a couple of seconds.
Since the foam works in so quickly and doesn't drip, you could literally use this product anywhere. Even in the middle of your living room carpet!
It will take several handfuls to work into a thick coat like Harley's, but the foaming action makes it seem like you are using much more product than you actually are. There is plenty of shampoo in the bottle to last at least a few washings.
After we worked into Harley's entire body  we let sit for a minute or two before drying. We wanted to make sure some of that awesome scent soaked in!
Drying Off
Using a towel to dry will help remove dirt and debris along with the moisture. We were prepared with 2 towels but 1 was more than enough as Harley ended up looking more damp than wet after using this product.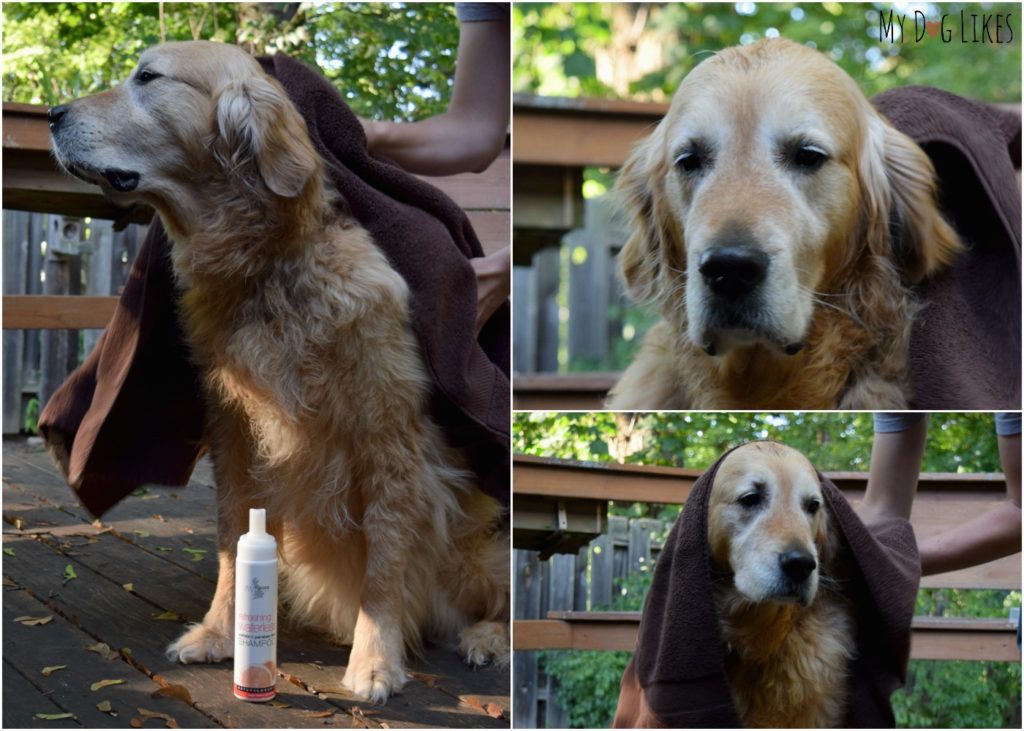 While Harley doesn't mind getting bathed, this waterless shampoo would be a great option for those dogs that do. Since there is no water or tub involved they are basically just getting a quick massage. As you can see Harley had no qualms about the entire experience. Plus, the whole process only takes a few minutes from start to finish.

Afterward…
Isle of Dogs waterless shampoo did a great job neutralizing the funky smell that Harley had going on. In fact, we found ourselves sticking our nose deep into his fur to enjoy the fresh scent for the rest of the night! Even now that it has been 24 hours, we are loving the way he smells.
If you have time, we would recommend giving your dog a quick brush after the shampoo. The simple act of washing tends to loosen a lot of hair. Plus, after drying, the hair will be a bit separated making it a great time to run a comb through!
Why MyDogLikes Isle of Dogs Waterless Dog Shampoo
If there is anything that we could all use, it's a bit more time. Our lives are jam packed with responsibilities and the unforeseen can really seem to put things over the top.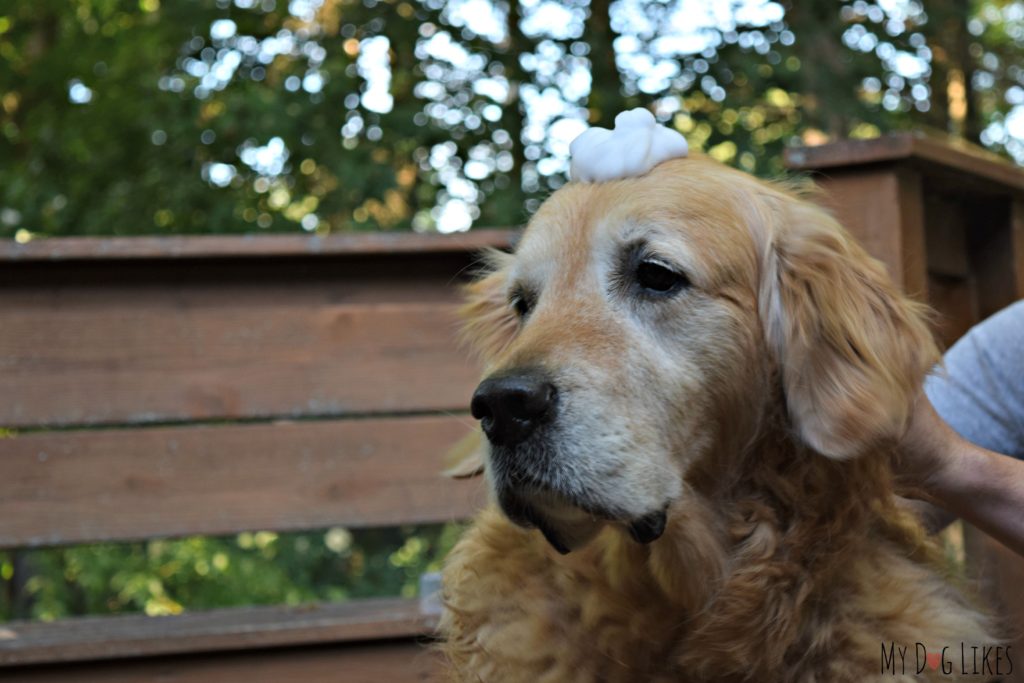 Doggie messes are just the type of thing that seem to happen during these busy times. That is why we are so excited to have a way to clean up the pups that is fast and reliable. Isle of dogs waterless dog shampoo is quick and simple to use – plus it leaves no mess. No matter where you are, in 5-10 minutes you can now have your pup looking and smelling fresh!
We would highly recommend keeping a bottle in the house, car and in your dog walking bag as well.
Want to try out this water-less dog shampoo for yourself?
Click here to pick some up on Amazon!