Dog owners know that Spring brings with it more than just warmer weather. It is also the time of year when mud and allergies show up with a vengeance and can wreak havoc on your dogs coat!
Whether your dog is prone to getting into messes or having issues with his skin, proper grooming is a key part of the springtime solution. As we enter the "bathing season" we want to make sure that you have the right products stocked up to stay on top of the job!
When choosing a dog shampoo it is important to find products that not only do a great job removing dirt and stains, but are gentle on the skin and coat. We recently had the chance to test out a new line of shampoo and grooming products that check both of those boxes and more…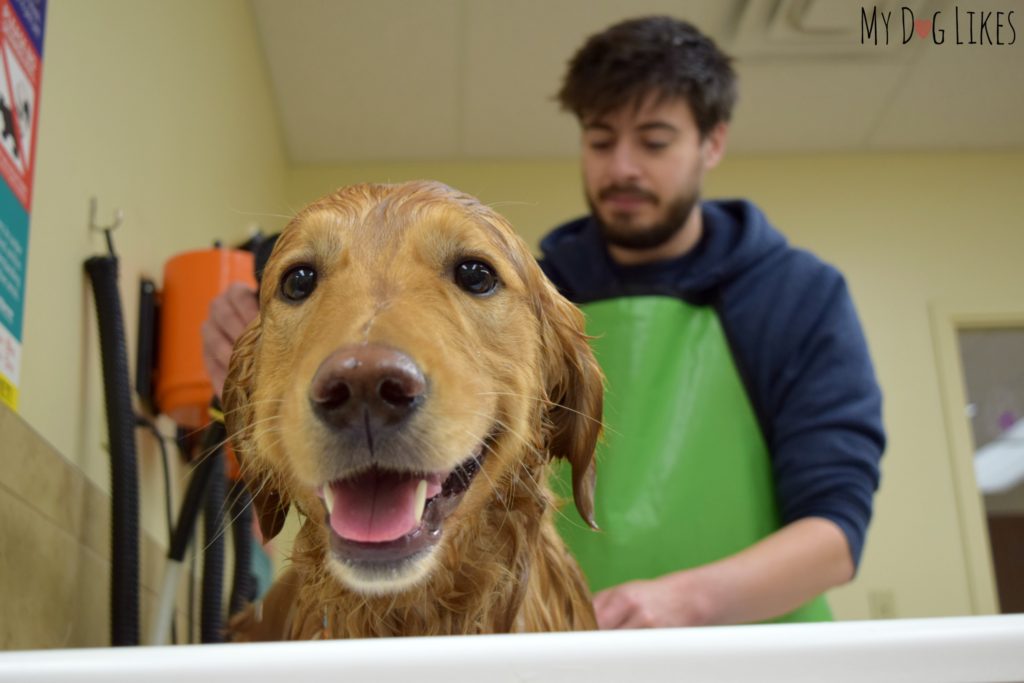 Introducing Underwater Dogs
An Australian company with a passion for pet hair, Underwater Dogs offers a unique line of grooming products which are soap free, pH balanced and finished with salon fresh scents. All of this packed into brightly colored green bottles!
If the name Underwater Dogs sounds familiar, there is good reason. You have almost certainly seen the famous coffee table books by Seth Casteel which feature quirky, high resolution shots of dogs submerged in water. Well, the founders of the Underwater Dogs, the dog grooming company, capitalized on this naming coincidence and got Seth on board as a partner!
Click Here to Browse the Line on Amazon!
Taking a Closer Look at the UWDOGS Line
Underwater Dogs is just starting to bring their products to the American market, but were kind enough to send over an assortment of products for us to test out and share with our readers. They are also sponsoring a giveaway for 5 lucky readers, so make sure to read through to the end of this post to enter!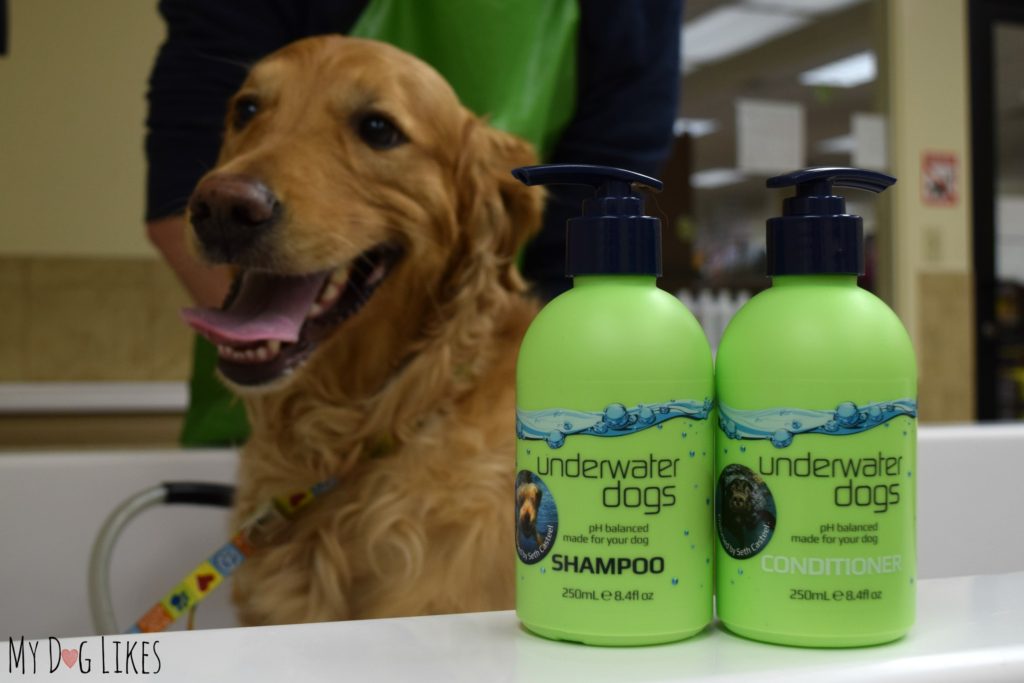 UWDOGS products can be broken into 2 categories – bath and between bath, so we decided that we would split our Underwater Dogs review between our 2 pups.
We flipped a coin and Charlie was the lucky dog, (depending on perspective of course) to test out the bathing line! So we headed on over to our local self wash to get started…
Underwater Dogs Shampoo
This shampoo has been specially formulated to be gentle on the coat, while still providing a thorough clean. It has a wonderful coconut-vanilla scent and comes in 3 different sizes – 4, 8 and 16 oz.
Additionally, the UWDOGS shampoo is:
Soap Free
Paraben Free
pH Balanced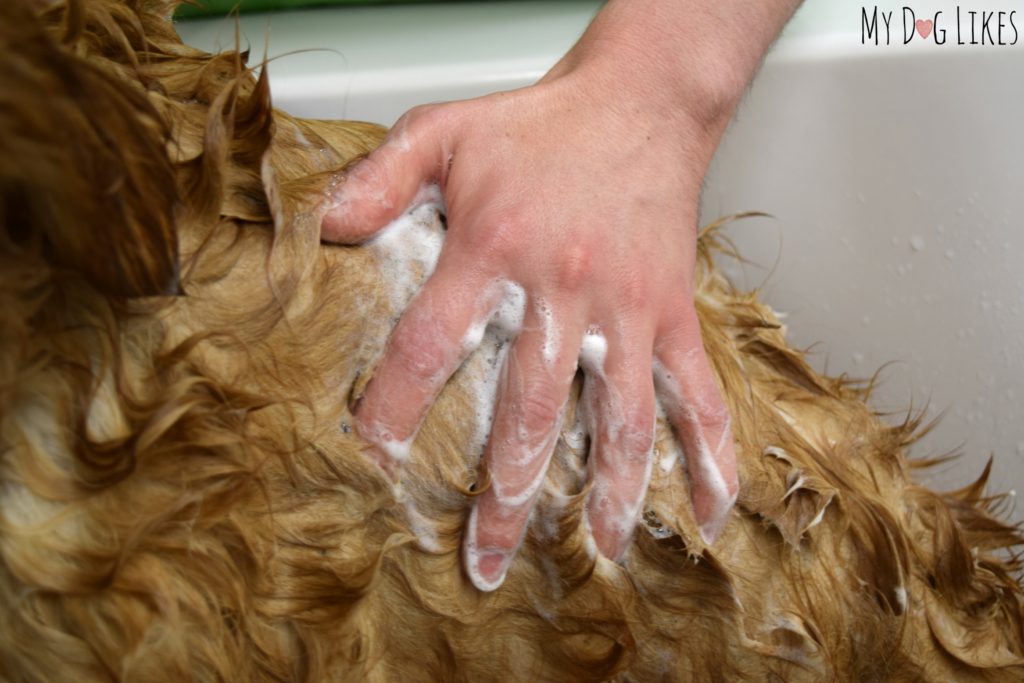 The first thing you will notice as you squeeze some of this product into your hands is the fragrance. I immediately felt like I was in a high-end salon and found myself taking in the scent with deep breaths! When we began to rub it in we were very pleased with the amount of lather that was produced. With our dogs thick curly coats it can be a big help in knowing where we have and haven't hit yet!
Underwater Dogs Conditioner
After giving Charlie a thorough wash and rinse, it was time to test out the conditioner which is designed to moisturize and revitalize the coat. It achieves this result by creating a protective barrier which helps to retain moisture in the coat.
UWDOGS conditioner has a white appearance and thicker consistency than the shampoo, but the same great scent.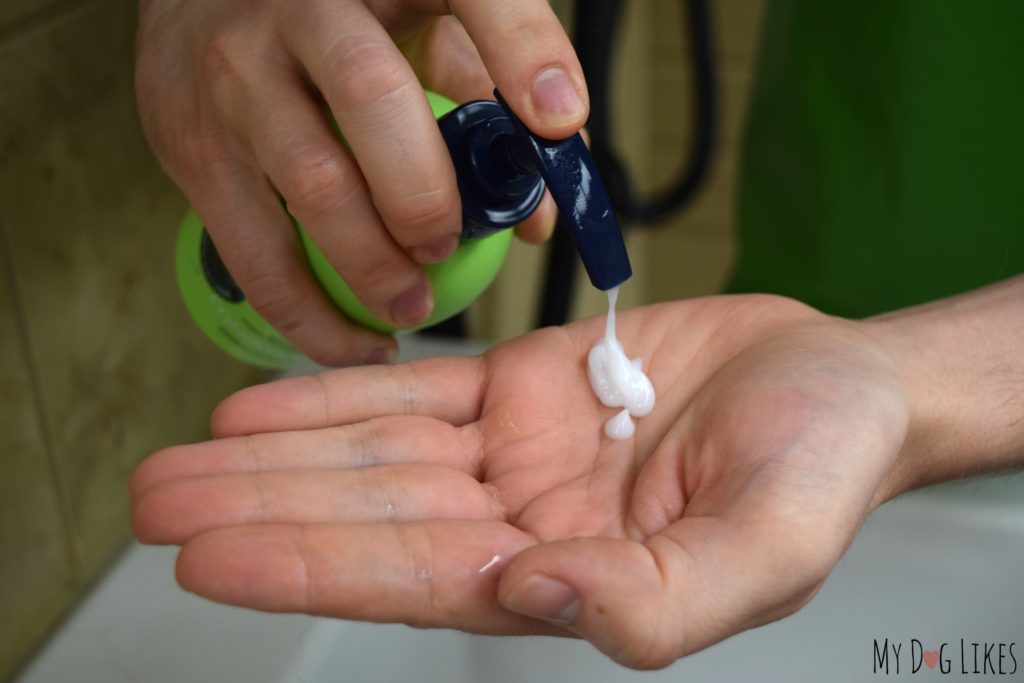 We worked it into his coat and even used a comb to help get the product all the way down to the skin. After letting sit a minute or two, we began to rinse and were very pleased at how well it came out of the coat. Underwater Dogs Conditioner didn't leave any slick feeling residue behind.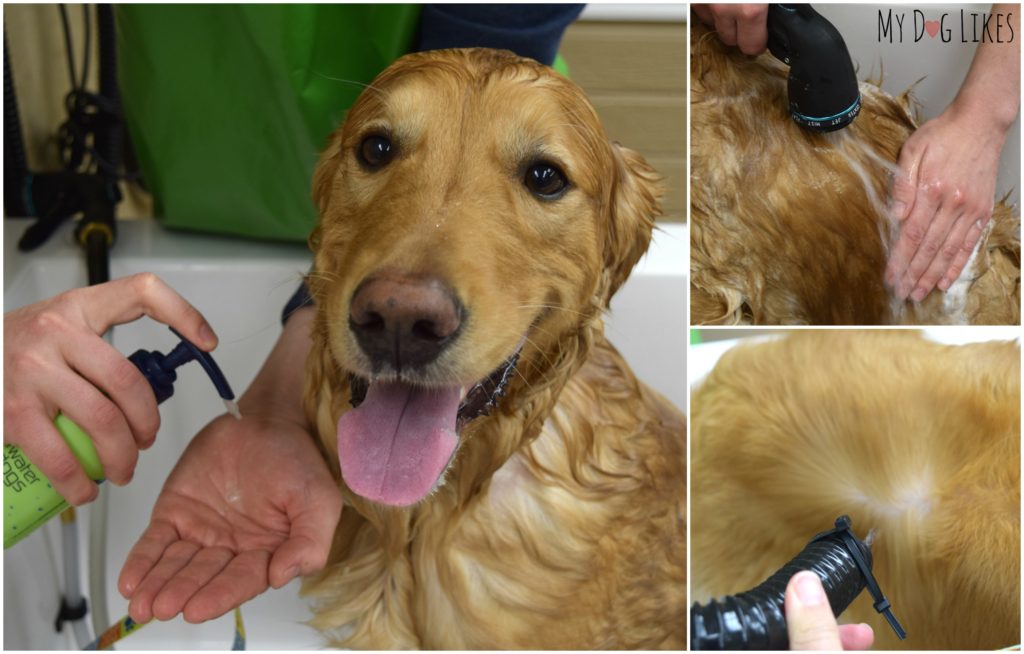 As you can see, Charlie had a great Underwater Dogs experience. After blow-drying his coat, we were pretty excited about the "just came back from the groomer" results! He left the grooming station feeling incredibly soft and smelling AMAZING! Several days later and he looks, feels and smells just as wonderful! Best of all, our sensitive skinned and itchy boy has had lasting relief on his skin!
Underwater Dogs No Knots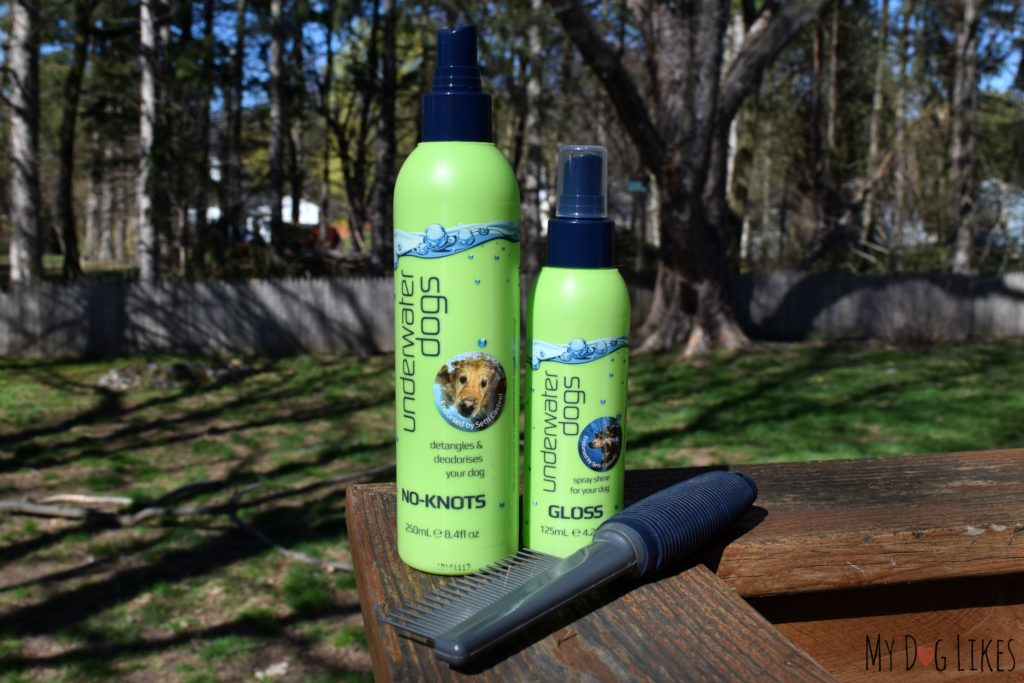 Bathing is not always an option, so we love products that allow pet parents to get through a sticky situation while on the go. UWDOGS No Knots spray performs double duty by helping to both de-tangle and deodorize your dogs coat. It can help with existing mats as well as preventing new ones.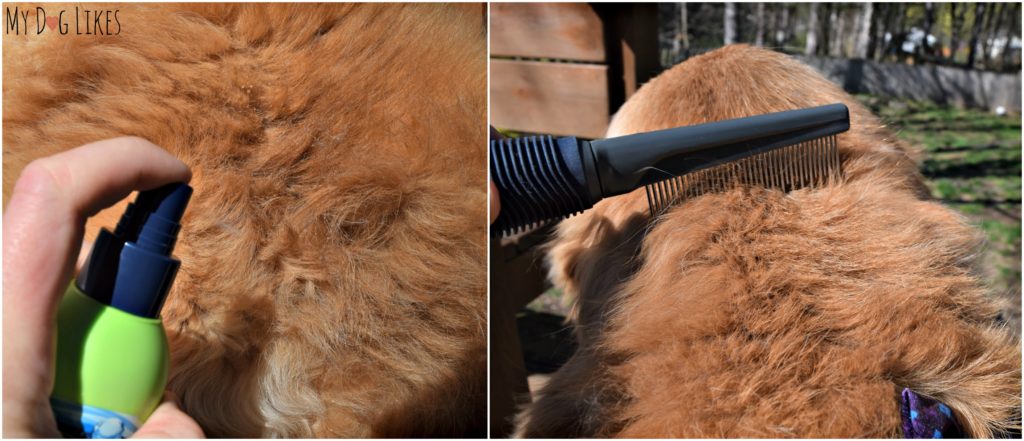 No Knots has a mandarin and coconut scent which left Harley smelling AMAZING! (Seriously, I wanted to eat him). Harley often gets knots behind his ears, which this spray was able to work through with ease. We plan on adding it his weekly brushes to prevent larger mats from forming! 
Underwater Dogs Gloss
Described as the final step in the Underwater Dogs grooming experience, the Gloss spray is designed to make your pups coat shine bright! Utilizing a silicone base, the spray has a pleasant pineapple and coconut scent that with a light spray, gave Harley a noticeable sheen on his coat. Preferring a natural approach to a shiny coat, this is not a product that we would use regularly with our dogs, but definitely works well for its intended purpose.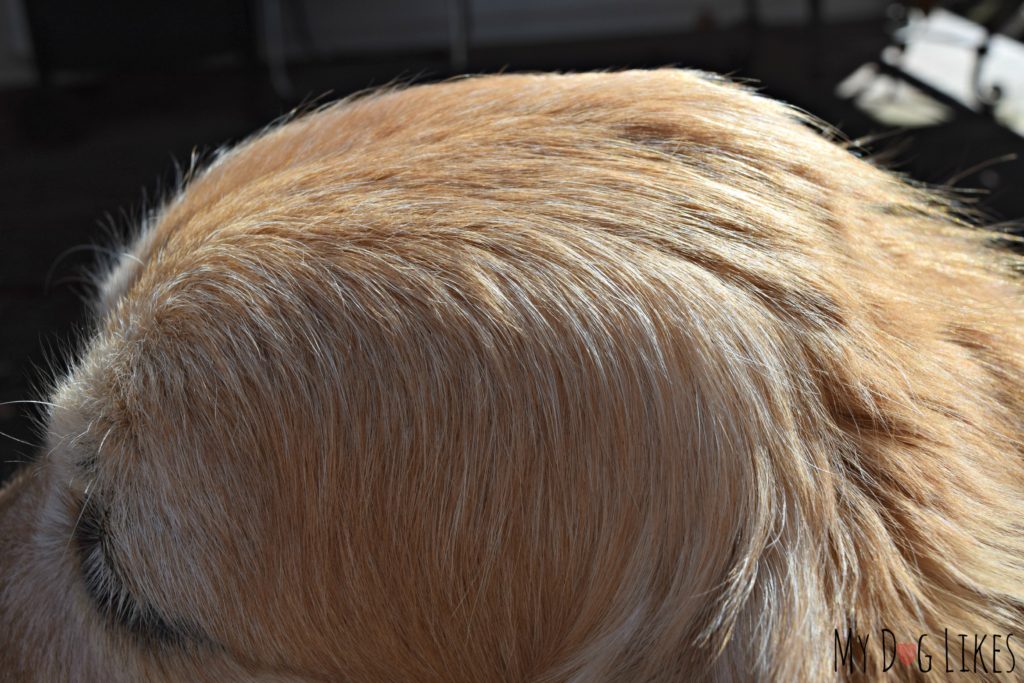 Why MyDogLikes Underwater Dogs
Our pups are very active and find themselves in their share of messes. They also both deal with skin allergies in the Summer time – especially after taking a dip. In order to keep their coats free of irritants we try to bathe them regularly all season long.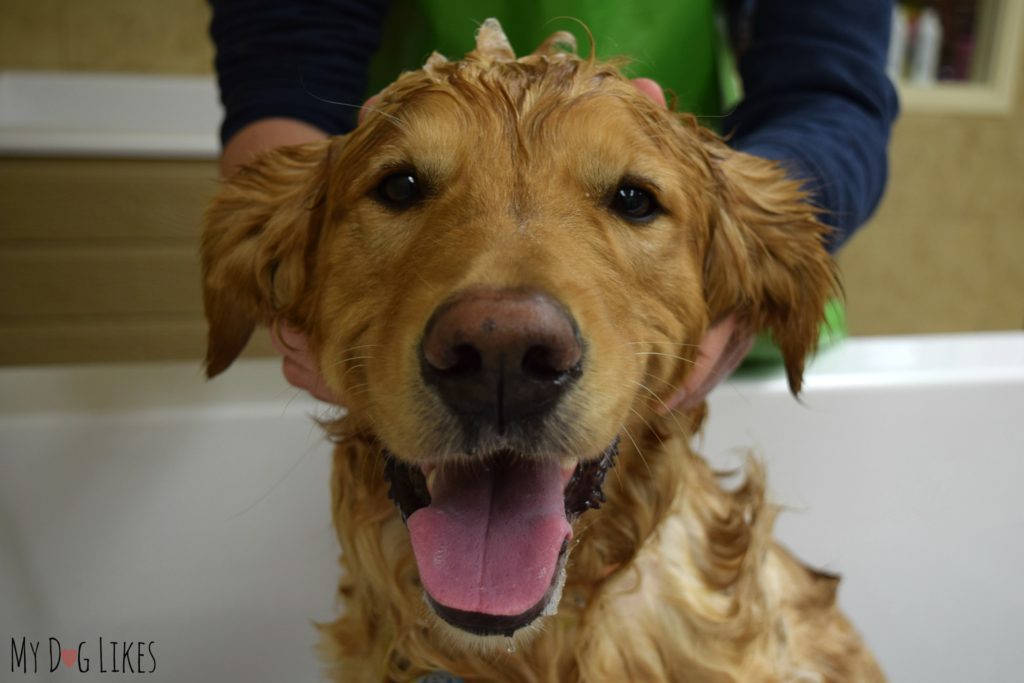 We are always looking for gentle solutions that still work great, and I have to say that we were very impressed with the entire Underwater Dogs line. The shampoo lathered well and rinsed out easily, and the conditioner left Charlie feeling soft and smelling great. The sprays were great for smoothing out Harley's coat and giving him a much needed freshening up as well!
Though we don't think you would need it, all of their products come with a 100% money back guarantee as well.
Want to give UWDOGS a try? 



or enter the giveaway below!