We all know that one of the best ways to keep cool in the summer is to take a dip in a local swimming hole.
Whether swimming in the deep end or wading in a creek, many dogs find summer swims to be equally refreshing. Following some basic tips will help your dog to be safe, have fun, and most importantly, be cool this summer!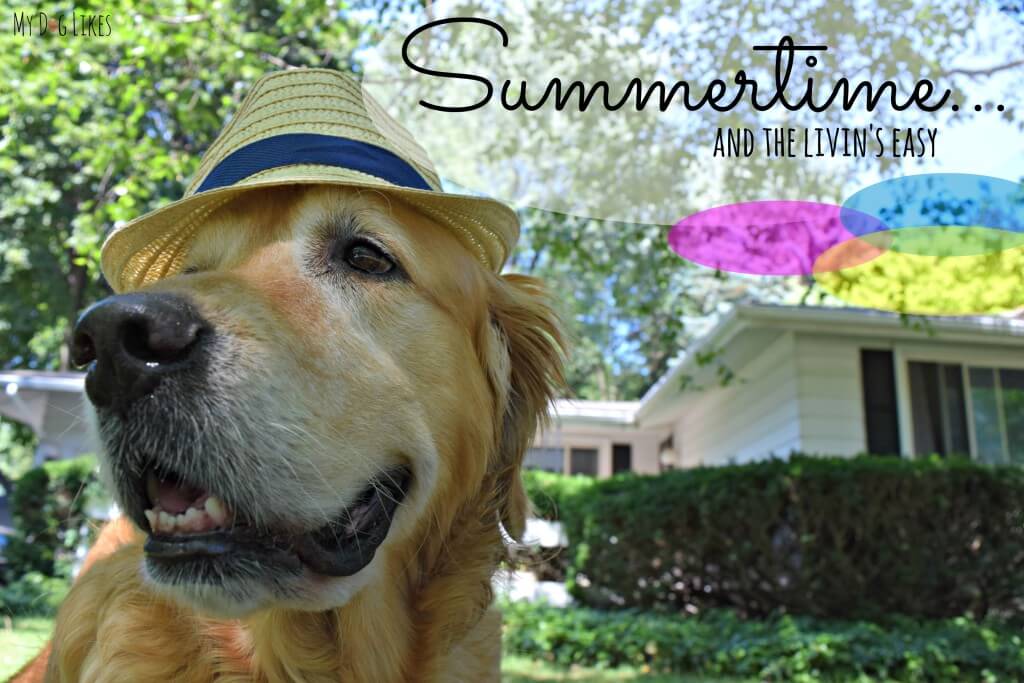 Dog Swimming Safety Tips
1. Don't Overestimate Your Dog's Swimming Ability
While our golden retrievers were built for (and thrive) in the water it's important for both new and experienced pet parents to be realistic about their dogs swimming abilities.
Some dog bodies are built for swimming, particularly those who have have ancestry in the American Kennel Club's working or sporting class. Many of these dogs (but not all) have been bred to possess physical characteristics like webbed feet, water repellent coats, and well balanced proportions that help them to be strong swimmers.
Other dog bodies are not built for swimming (I love the sweet temperament and playfulness of Boxers but have you ever seen one swim karate chop the water?) .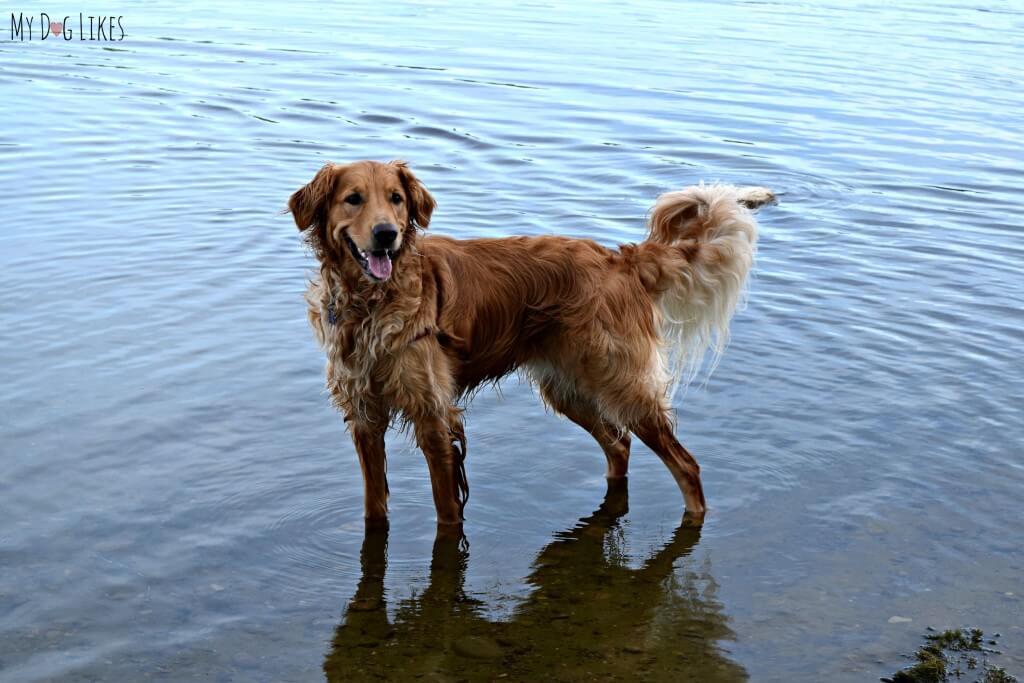 Whether your dog falls into the category of "proficient swimmer", "struggling swimmer" or somewhere in between, many factors can come into play in the water; confident swimmers can run out of steam, mobility issues such as arthritis can cause pain and fatigue, or hidden dangers like current/undertow can turn summer fun into serious tragedy in a matter of moments.
One of the best tips we can possibly give is to Use a Dog Life Jacket!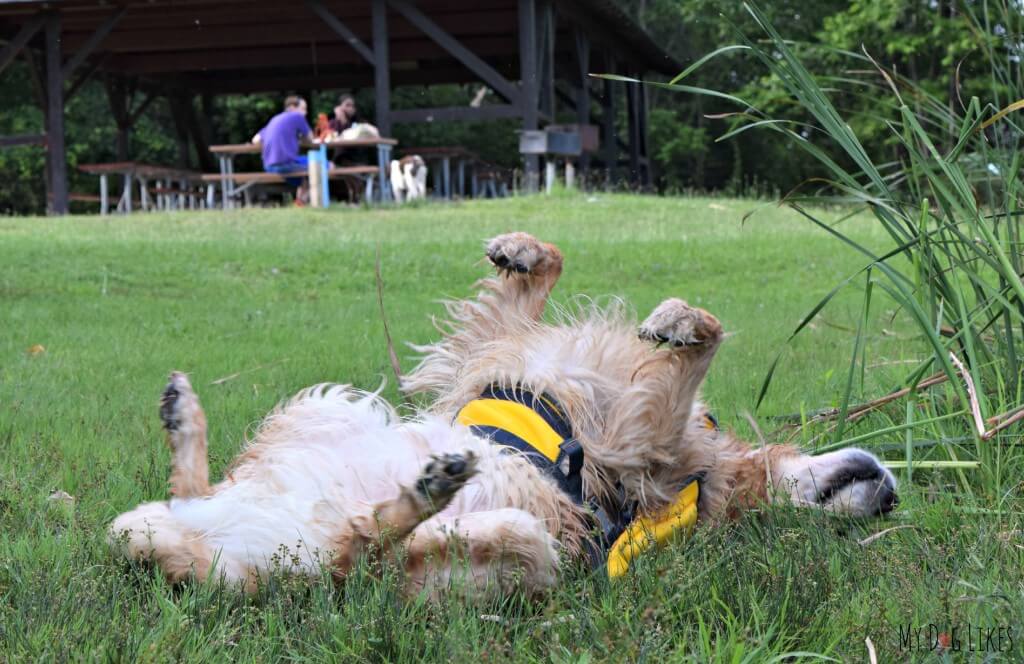 Not exactly the way its supposed to be used, but its a start. 
A dog life vest will help keep your dog afloat should they tire or face challenging water like a rapid or undertow.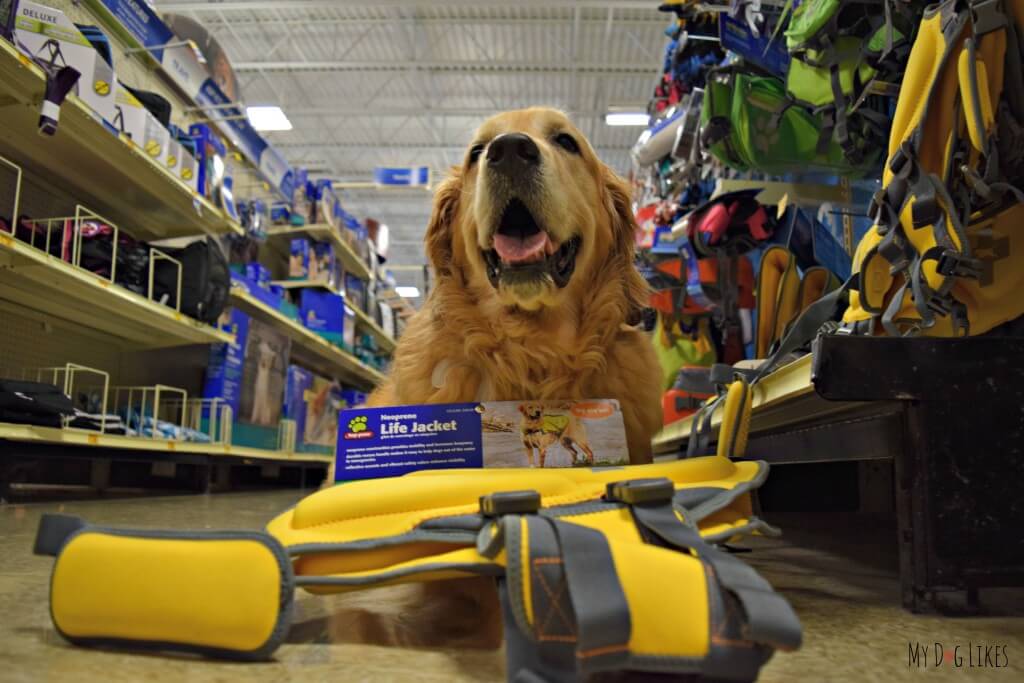 Thanks to PetSmart's generosity, we were recently able to pick up a Top Paw Reflective Life Jacket for Harley. At 9 years old, he is not quite as nimble or as confident as he once was. This life vest has multiple adjustment areas allowing for a snug fit without sacrificing mobility. Even better, this doggie life vest has a built in handle in the center of the back for lifting should an emergency arise. Last but not least, this vest is made of a vibrantly colored neoprene with reflective accents for better visibility.
Click Here to Pick Up this Vest from PetSmart!
2. Don't Push It!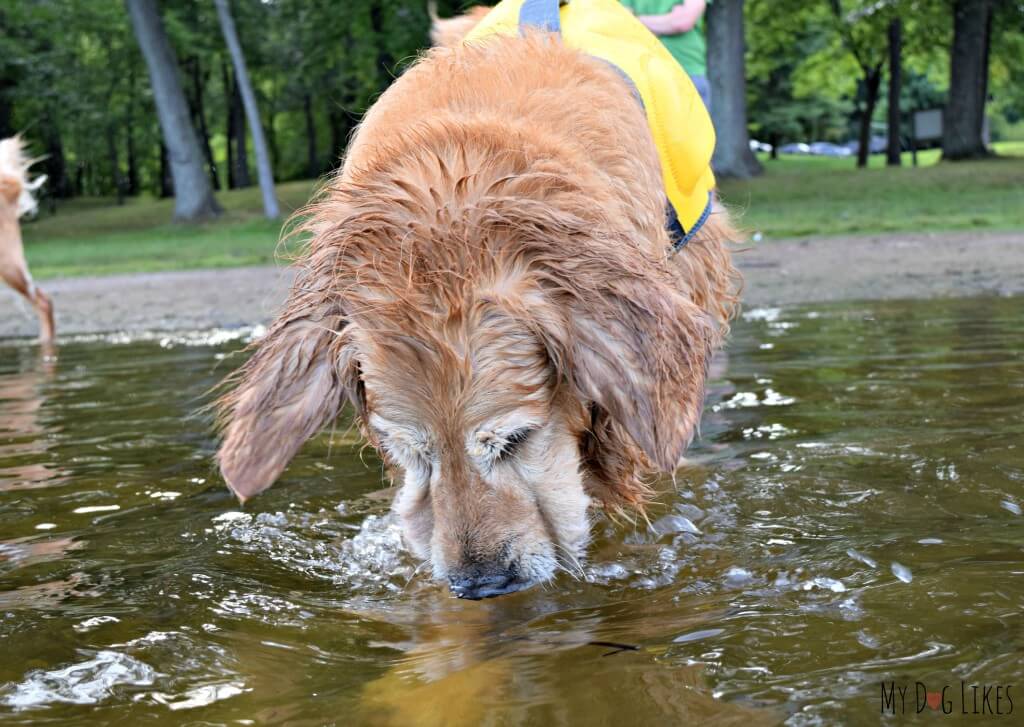 Swimming dogs are adorable, but too often pet parents push their dogs into the water too quickly which can lead to fear of the water. Give your dog the time he/she needs to explore his/her surroundings. While it may take some positive reinforcement like their favorite toys or treats to encourage them, more than anything, they need time to explore, process, and take risks independently!
3. Bring Fresh Water to Drink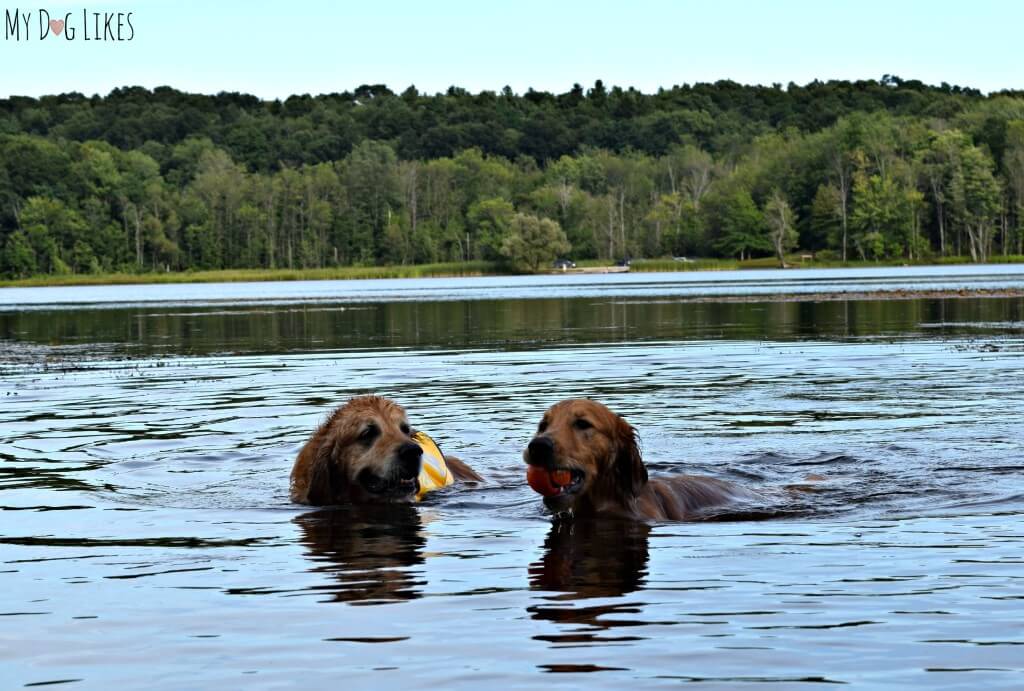 Your dog will naturally be tempted to drink from whatever body of water they are swimming in. Unfortunately, these waters can contain all sorts of potential hazards including bacteria, algae, and even pollutants! One of the most effective ways to put a stop to this behavior is to provide plenty of fresh drinking water for your dogs in between dips. We often fill an extra water bottle and pour water into a collapsible bowl to save on space!
4. Rinse Your Dog after Swimming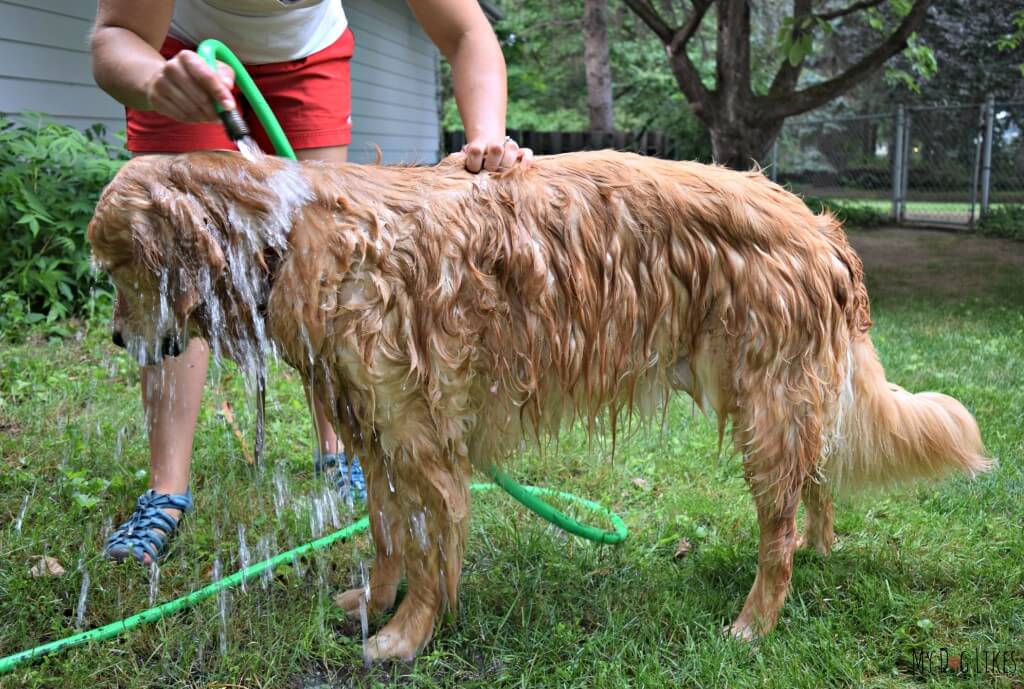 Remember that itchy, scratchy skin we told you about earlier? Well, that could have been prevented had we remembered to rinse the boys with fresh water or give them a quick bath after taking a dip. No matter how clean the swimming area appears, there is no way to know what kind of microorganisms and allergens will be left behind on your dog's coat. These allergens can cause excessive licking, scratching, and itching which can lead to hotspots and skin infections, YUK!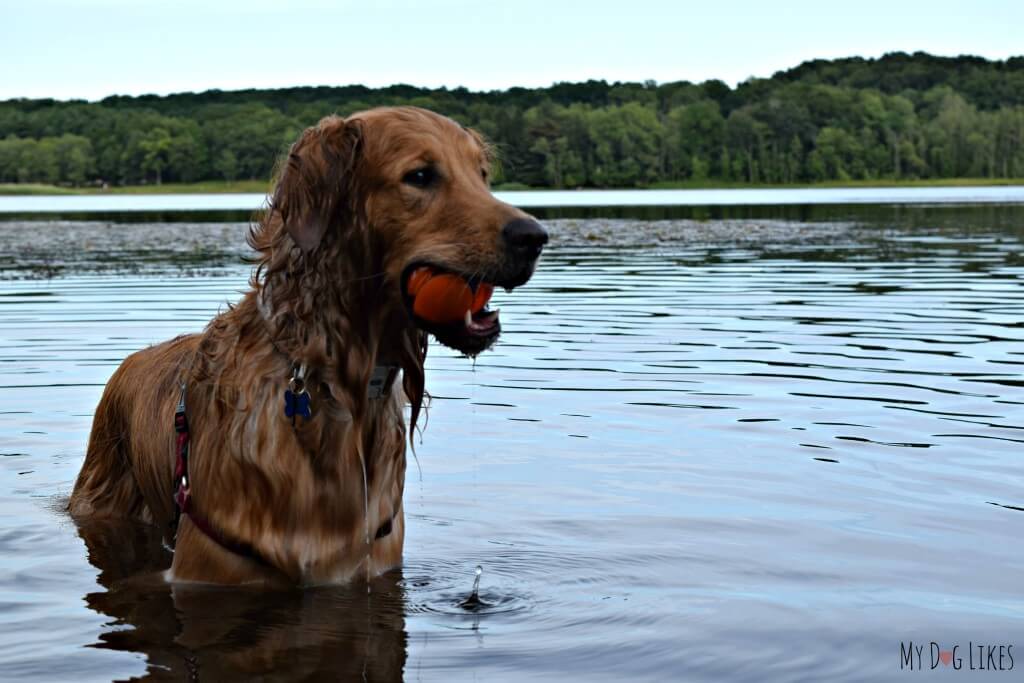 As a general rule, we like to swim water that has a clear source and serves as an estuary into a larger river or lake. One of our absolute favorites is Mendon Ponds Park (above) near Rochester, NY.  If the water is stagnant and warm, your dog is at an increased risk of illness. If you are at all uncertain of the water or would not swim in it yourself, its best to skip it and find a fresher and safer source!
5. Watch those Ears!
It is not only the coat you have to watch out for, but the ears as well. Its not at all uncommon for dogs to get water in their ears while swimming. The problem arises when water gets trapped in the ear canal and fosters the growth of bacteria or when allergens cause inflammation and subsequent overgrowth of naturally occurring bacterial and yeast organisms. Left as is, water and allergens can lead to uncomfortable, sore, and infected ears.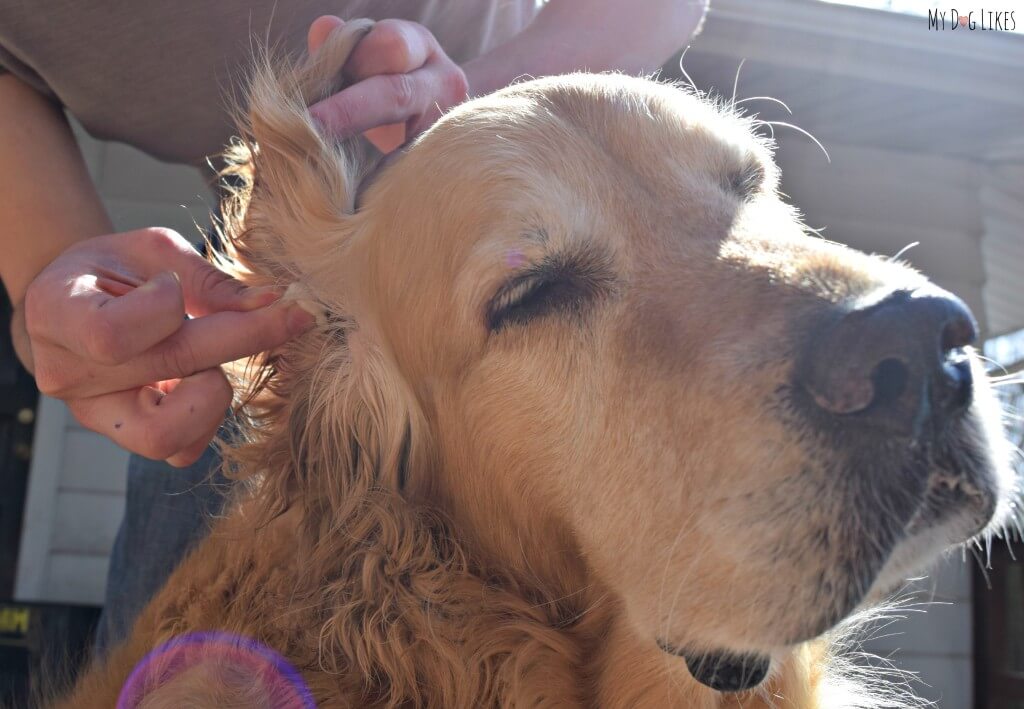 Starting ear cleaning early and doing so often makes it an easy task and goes a long way toward preventing infections. We recommend using an all-natural ear cleaner that helps to dry and clean the ear! Easy Peasy!
Does your Dog Love to Swim?
Please share some of your Summer Dog Safety Tips below!