I think we may have found doggie heaven on earth. Want to know the best part about it? Its only a short drive from our house!
Try to think from your dogs perspective for a moment…
Imagine a place where the swimming is year round.  Where its OK to run, jump, splash and play. Here, even the walks involve water and of course there are lots of friendly people around to give you special attention! Now imagine all of this fun is INDOORS!!

Introducing CoolBlue Conditioning
We recently had the opportunity to visit CoolBlue, a dog fitness and aquatic center just outside of Rochester, NY.  To say that we were blown away would be a huge understatement!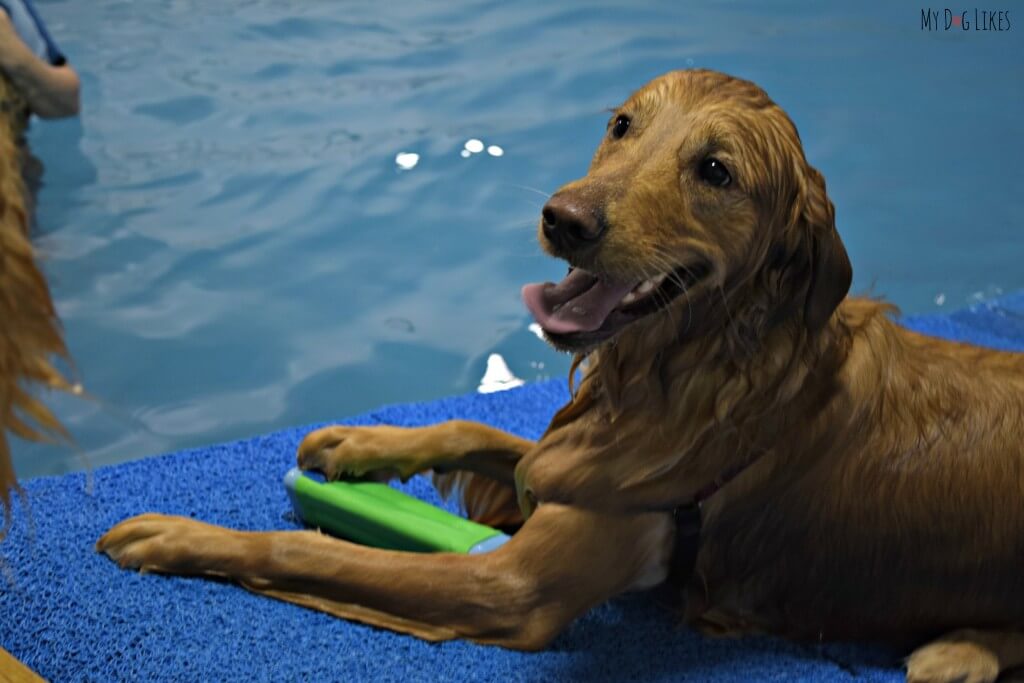 We first heard about CoolBlue Conditioning last year at Lollypop Farm's Barktoberfest.  We were intrigued right away and made sure to stop at their booth to get some information. For a Golden Retriever, there is no greater joy in life than swimming. Unfortunately, living in Rochester, NY this a seasonal activity – and a short season at that!
Cool Blue was kind enough to invite us in for a visit to check things out! Initially we were excited just to have a place to take the dogs swimming in the winter months, but after our visit we realized that CoolBlue is so much more than that.
Their entire philosophy is based upon keeping dogs healthy, fit and active – Or as they like to say "Keeping your Best Friend in Motion."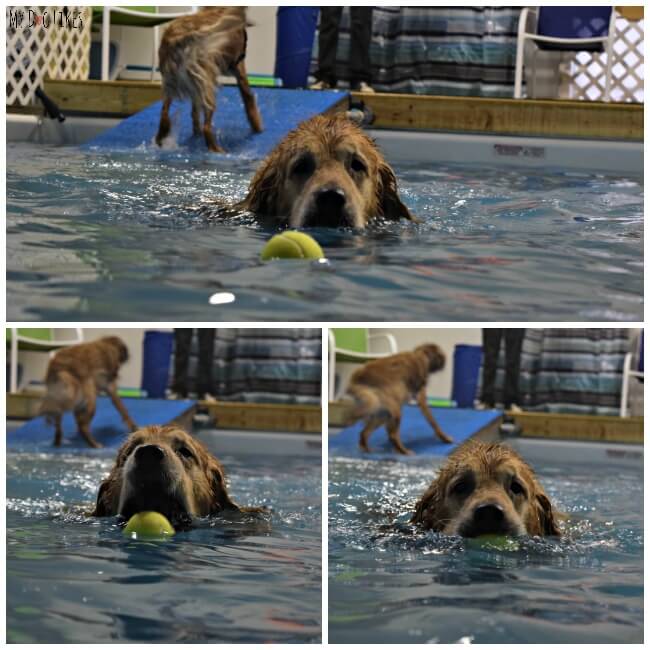 Recently featured in the Democrat and Chronicle
Their Story
CoolBlue was founded by Trish and Mike Wager in the fall of 2014. The idea and namesake came from their beloved dog Blue, who suffered from joint problems nearly all of his life. After trying everything, the Wager's found that water therapy made a huge difference in his rehabilitation and overall fitness. They credited these therapies for helping to slow down his genetic predispositions and with keeping him active later in life. Blue passed last summer at the age of 13 and shortly thereafter the Wager's decided to leave their corporate gigs and pursue their dream to work with dogs.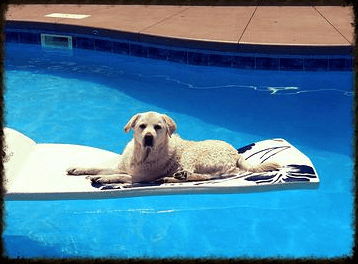 They wanted to create a special place where other dogs would have the opportunity to experience all of the things that made such a difference in Blue's life. Thus CoolBlue Conditioning was born – a health and fitness center for dogs of all ages!
First Impressions
The CoolBlue facilities are top notch – something you will note as soon as you walk in the door. The space is open, clean and the staff is extremely welcoming.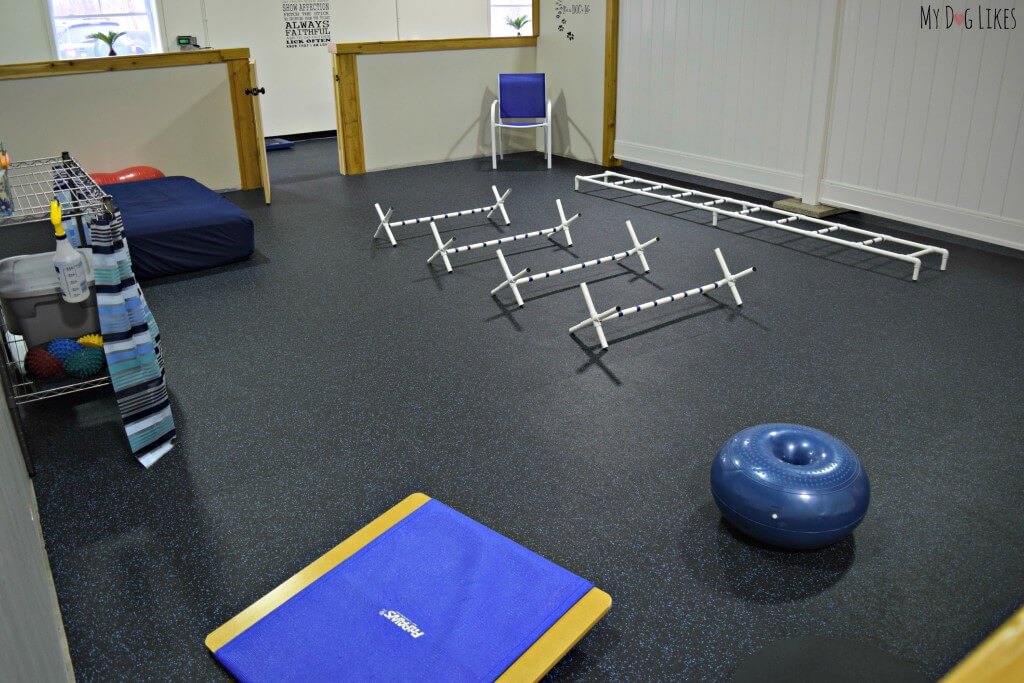 Something for every dog
CoolBlue has a wide variety of services and activities available. First, we will take you through our experience then elaborate on some of the other options available.
Naturally, we had to start things off in the pool!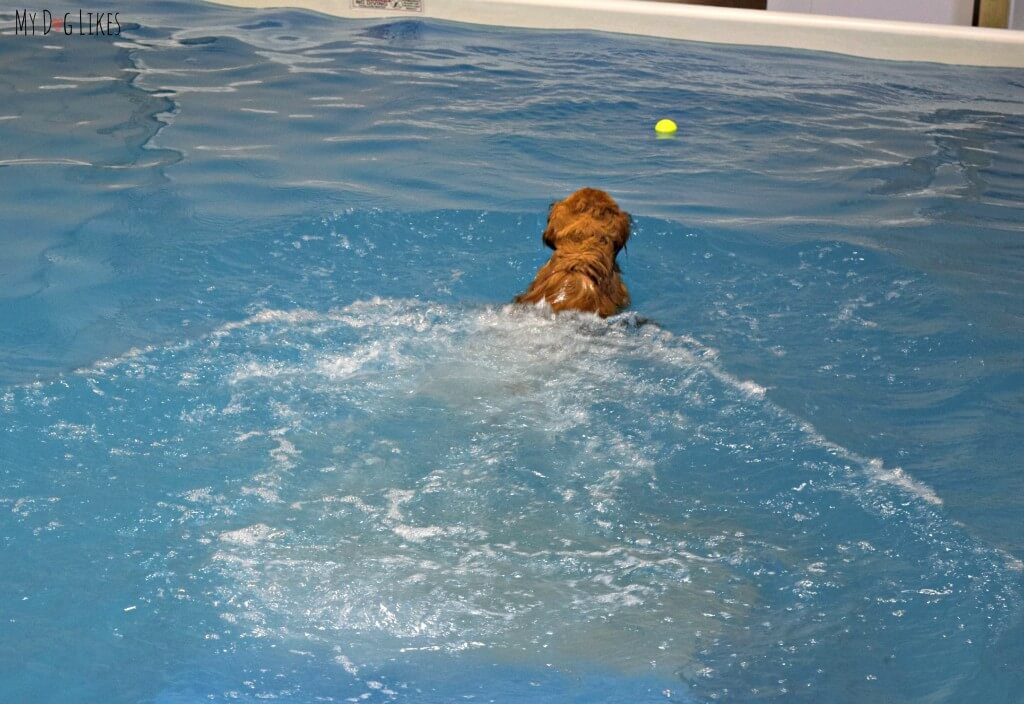 Swimming Pool
The pool at CoolBlue is quite spacious (17' X 30′) and on one end has a deck covered in rubber matting for safety. The deck is also equipped with a crate that you can use. The crate allows you to alternate your pups in/out of the pool if they aren't great at sharing the waterway or simply provide your pup with an activity break. 
How it works
On your first visit a member of the CoolBlue staff will accompany you to the indoor pool for a swim certification. This is to make sure that you can learn the process and that your dog adjusts smoothly.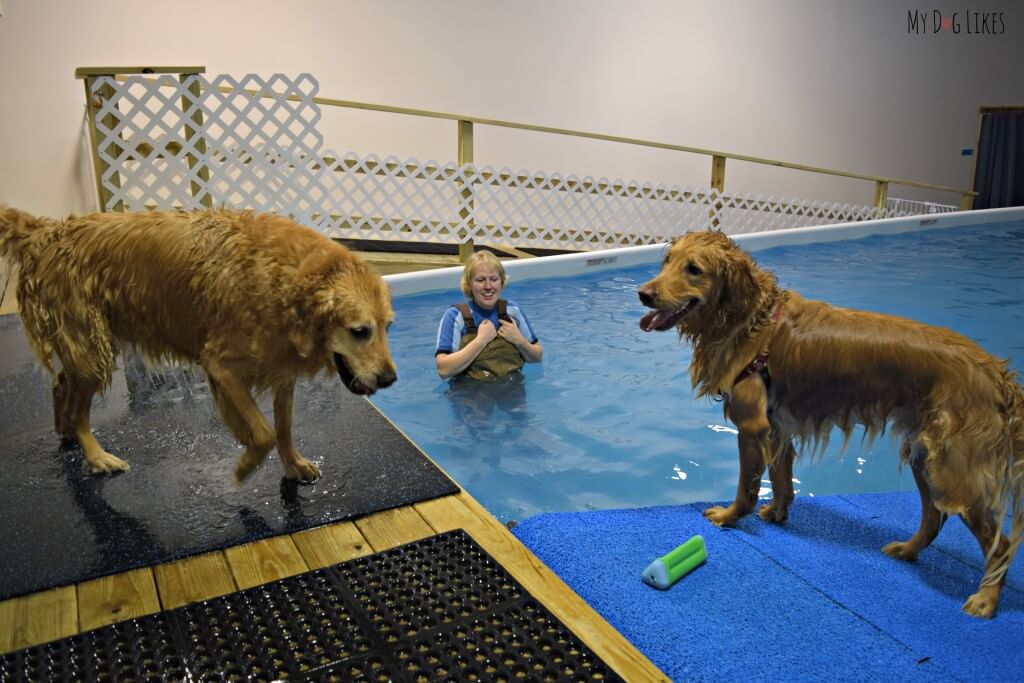 There is a ramp leading into the pool which some dogs are quicker to get the hang of than others. Despite our boys unending love for water, they are quite cautious and needed just a bit of coaxing to walk all the way in.

As you can see below, dogs also need to learn that the ramp is the way OUT of the pool! Like Charlie, they may get excited and try to swim directly to you or climb onto the portion of the ramp that is visible above water. That is why it is so important that a staff member is present to help redirect them.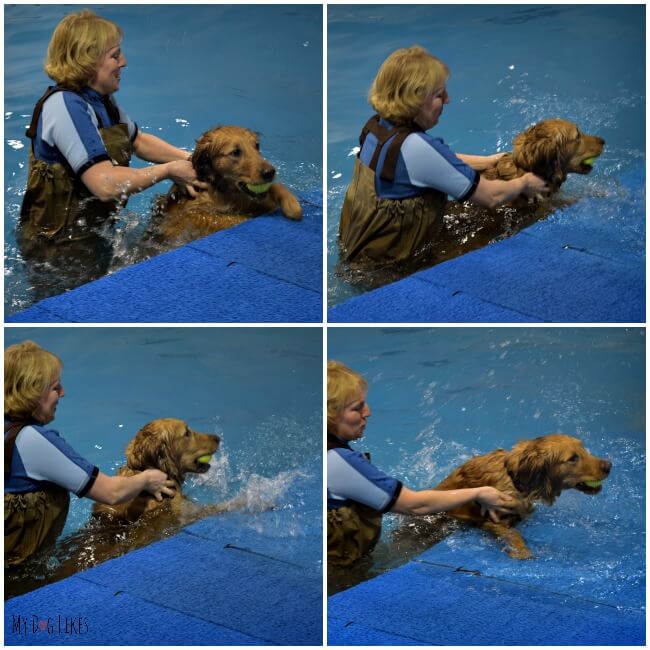 After your dog is acclimated to the pool, the fun really begins! They have a wide variety of floating toys available to fetch in the water or you can bring your own. Our boys were very excited to see some of their favorite Chuckit! toys among the selection!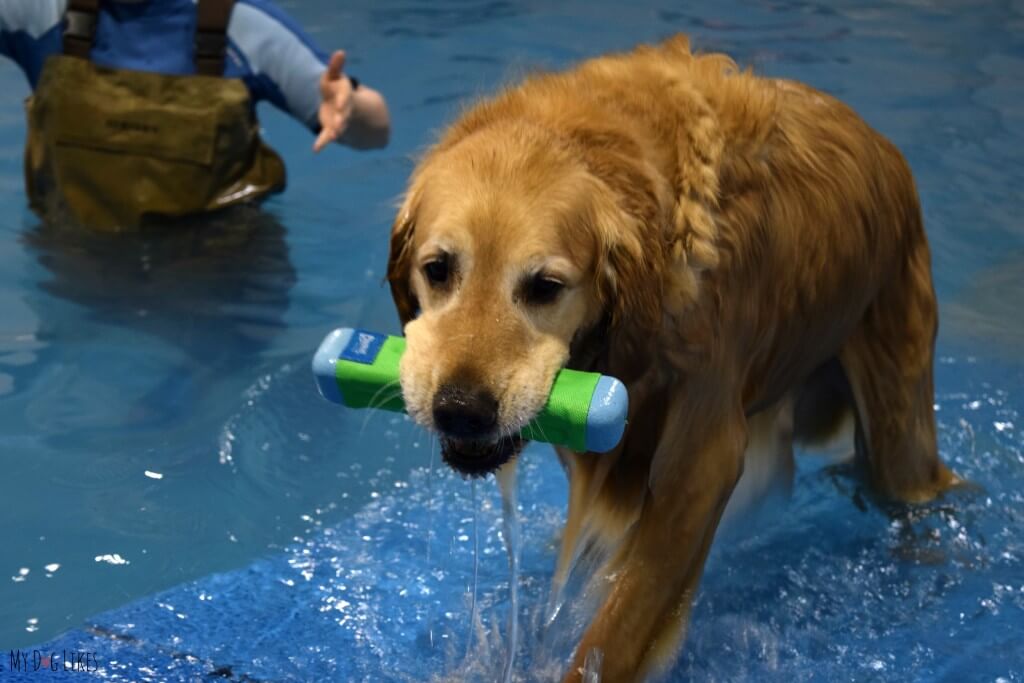 Harley and Charlie had an absolute blast swimming, fetching, and running in and out of the pool. Slightly braver pups can even practice their dock diving skills! Standard swimming sessions are 30-45 minutes long; trust us, the dogs can pack an awful lot of exercise into that amount of time!
Maybe your dog loves the water but isn't a great swimmer? No problem, CoolBlue offers life jackets allowing dogs of all abilities (and sizes) to partake in the fun!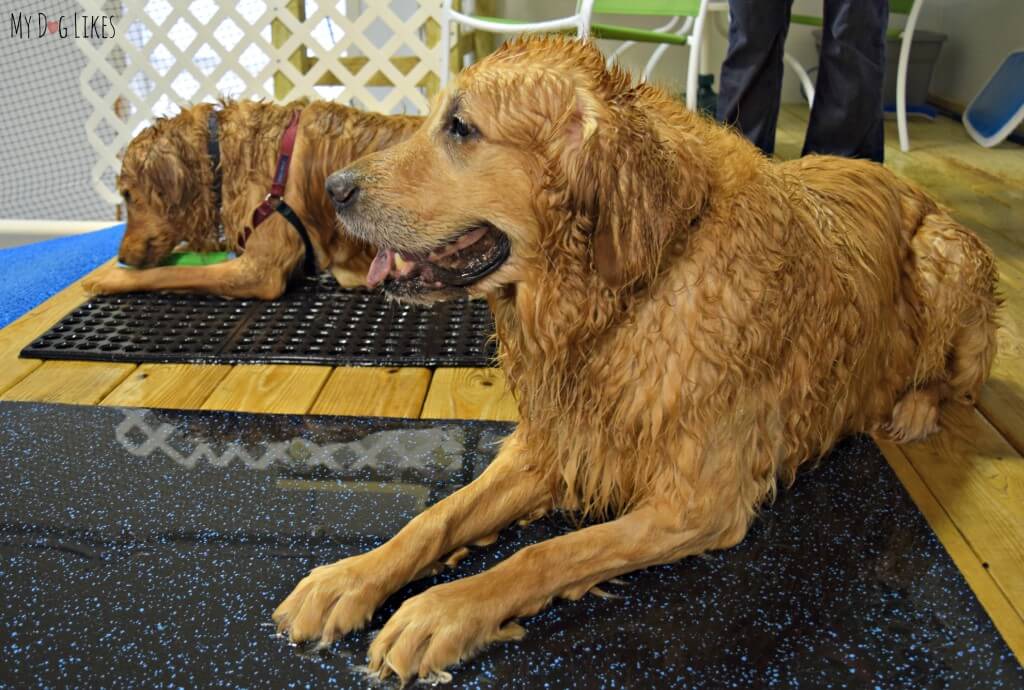 A couple of wet dogs!
Worried about itchy skin post swim? Worry not! CoolBlue offers a showering station to rinse your pups off after their swim session! Thankfully, CoolBlue even provides towels, so you don't have to worry about bringing your own. Unless of course you want to lay some in the car afterwards.  They even have a blow dry station available.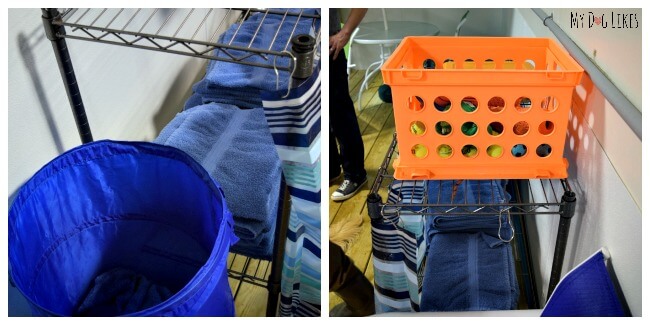 A word of warning – wear something that you don't mind getting wet, or perhaps a change of pants for the ride home! Your dog will almost certainly shake next to you and if they are anything like Charlie, use your jeans to help dry themselves!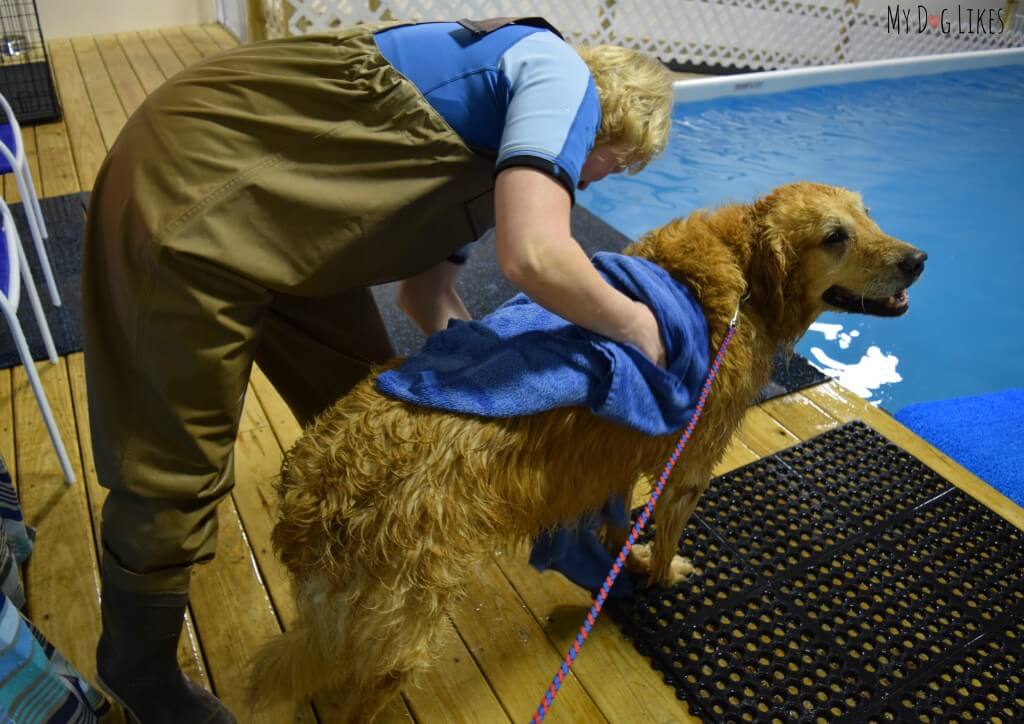 Once your dog is certified, swim sessions can be scheduled alone with your dog. CoolBlue offers great deals on "Buddy Swims" where 2 or 3 certified dogs can share the space. You can even schedule a dog pool party for up to 6 certified dogs!
After our swim, we stepped outside for a bathroom roll in the snow break. Only these two…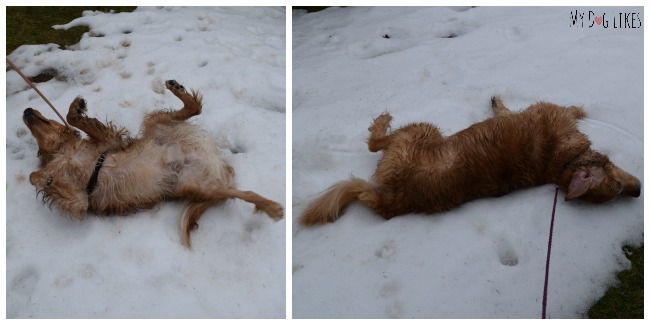 Underwater Treadmill
Our next stop was the underwater treadmill, which can be a great option for dogs of all fitness levels. When the water is raised to chest level, body weight is reduced, providing for a low impact exercise session. This is particularly beneficial for senior dogs or dogs with joint problems.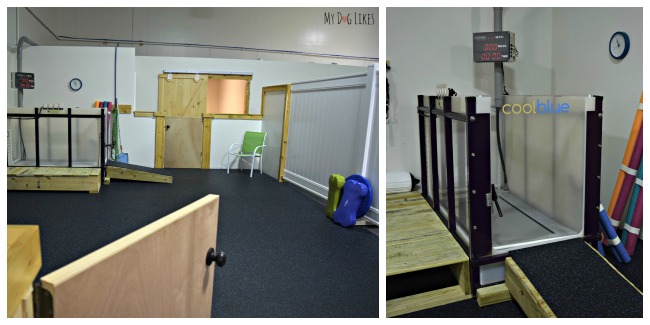 When the water is kept at a lower height (below chest level) resistance is actually increased, providing for a more vigorous, strength building workout.
Harley is a big dog, and as he gets older we have become increasingly concerned about the health of his joints. We were very eager to try an underwater treadmill session with him to see how he adjusted.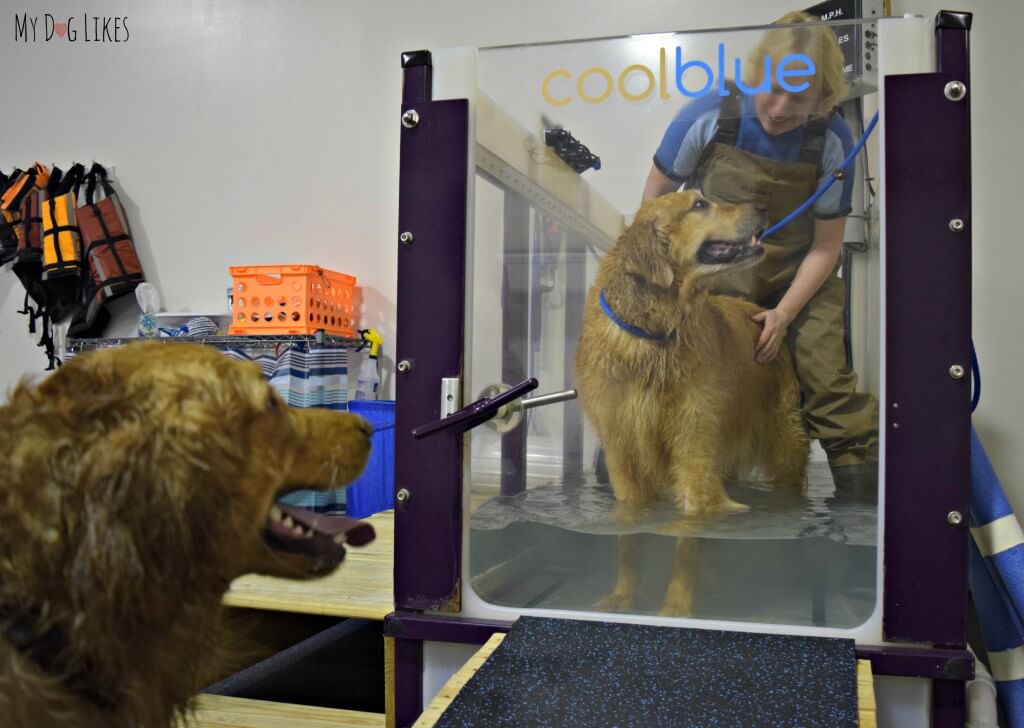 As with the pool, a CoolBlue staff member will accompany your dog to assure their safety and adjustment. Already completely head over heals for the staff, Harley walked right in to the treadmill. When the door closed and the water began to rise he was definitely a bit confused – even more so when the ground beneath him began to move! Don't worry, as you can see he felt plenty safe in Kerri's trusted arms!
It didn't take long for Harley to get the hang of the walking motion at varying speeds.  He seemed to really enjoy himself! This is an activity we will definitely continue in the future.
Other Services
CoolBlue is not a rehabilitation center. Their focus is on keeping dogs in motion and improving their overall level of fitness. In line with that mission, there are several other services offered at CoolBlue which include:
Strength and conditioning for athletes 

Massage and Bodywork to ease pains and increase mobility

Weight Management through customized exercise plans and diet counseling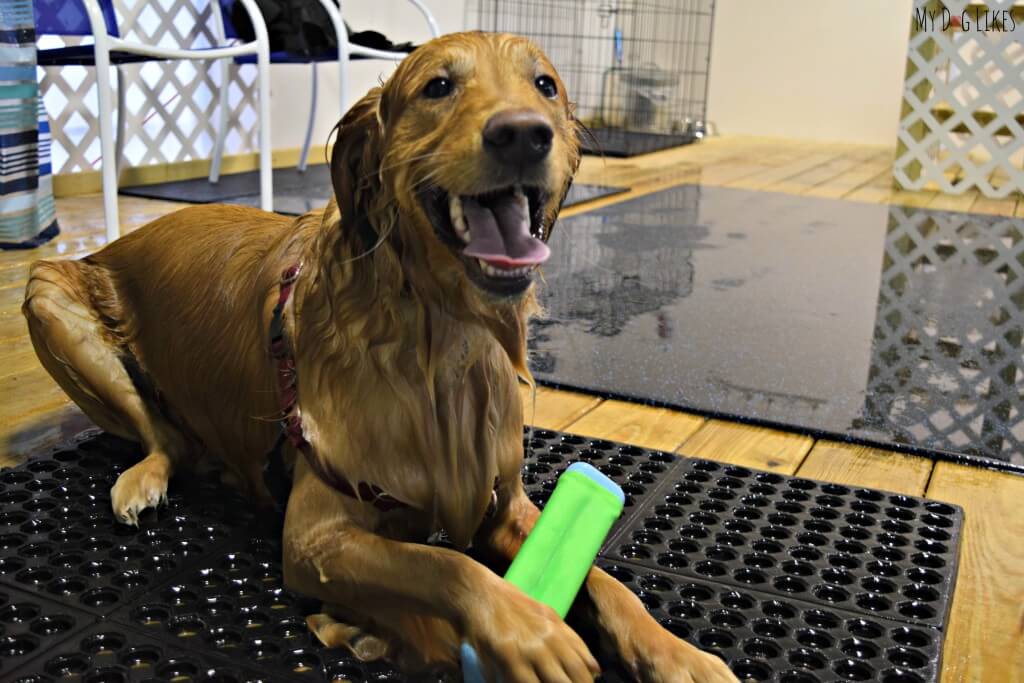 Programs
CoolBlue offers a combination of these services in a variety of standard packages. They will also work with you to cater a specific program to meet the individual needs of your dog.
Water Dog – The perfect introduction to CoolBlue (what we did), this program is a combination of swimming and underwater treadmill.
Crossfit Canine – Want to really give your dog a workout? This program can combine the pool, underwater treadmill, muscle strengthening exercises and even stretching. A total body workout for the real athlete!
Silver Paws – For the senior dog, this program utilizes low impact exercises such as swimming and underwater treadmill. It also incorporates stretching to ease joint/muscle pain and improve mobility.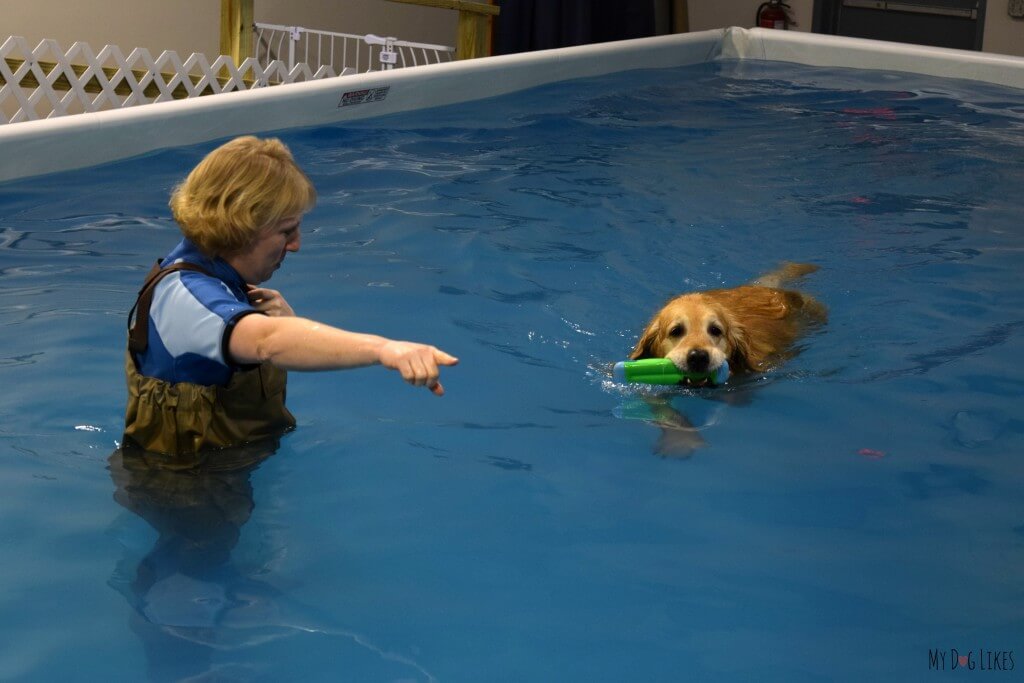 Pudgy Pooch – Perhaps your dog needs to drop a few pounds? This program utilizes the pool, underwater treadmill, targeted exercises and even includes diet counseling.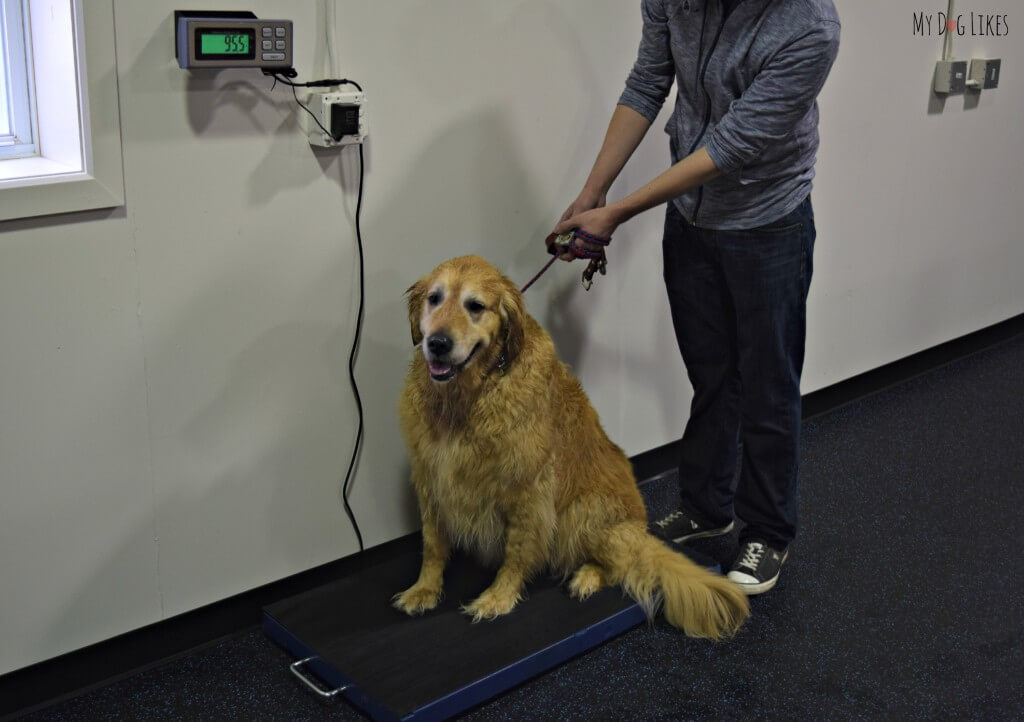 Some Pooped Pups…
As you can imagine, we left with some very tired (but satisfied) dogs!

Why MyDogLikes CoolBlue Conditioning
Clean water
Our dogs love to swim in Rochester's local ponds and lakes. Unfortunately, they sometimes return home with itchy skin and aggravated allergies. In recent years, there have also been concerns with harmful bacteria/algae blooms that can pose serious health risks. At CoolBlue you don't have to worry about any of this! With UV light, ultra low chlorine mineral treatments, and full drain cleans, their water is always safe for your pup.
Clean Facility/Clean Car
Tucked away in a industrial area, CoolBlue offers a clean, safe, and beautifully maintained facility. Upon walking in, you will feel like you have entered a little piece of heaven and this bright and clean facility sparkles for dogs and their people. CoolBlue offers a showering station, blow drying, and all the towels that you might need; so stress not about bringing a wet dog home in the car with you.  
Friendly Staff 
From the moment you walk in, you will feel like part of the CoolBlue Conditioning Family. CoolBlue staff is top notch and incredibly passionate about the work that they do. Our boys were encouraged to take their time getting used to the equipment and had friendly smiles, pets, and baby talk to guide them along the way. Every single person there demonstrated so much love for our boys. While fitness and conditioning is their mission, they don't forget to give lots of lovin' the whole time!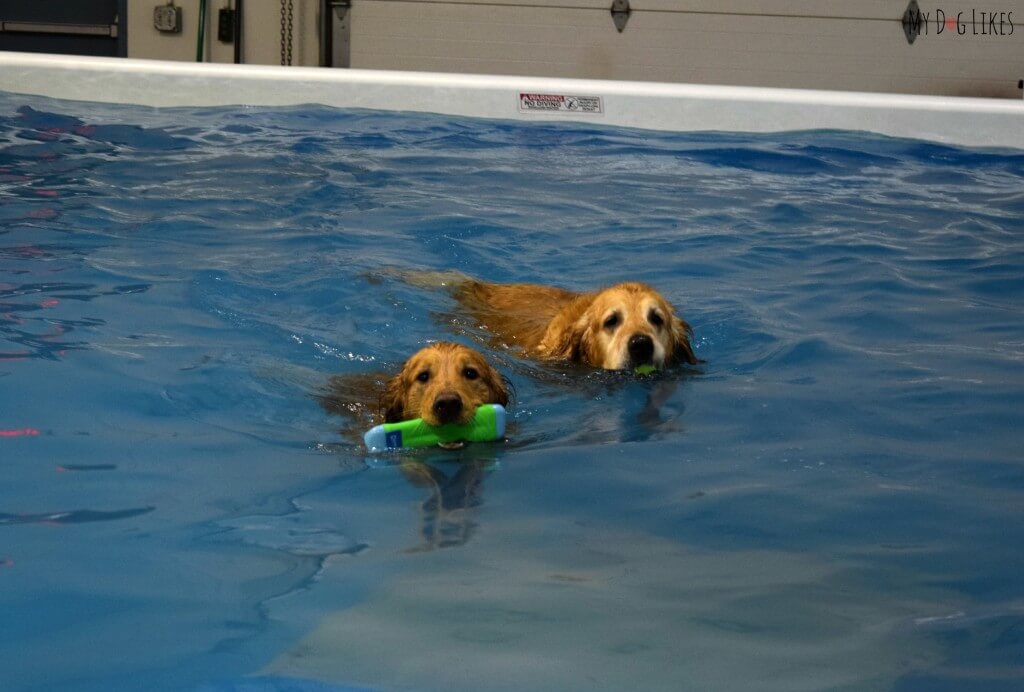 Something for Everyone
With so many programs available, you are sure to find something that could help your dog be a better version of him/herself. Relatively speaking, our best friends have a short life span and health problem such as obesity can shorten that precious time we have. CoolBlue offers programs that are geared toward elite athletes training for agility competitions as well as the senior dog who is trying to stay active and mobile. This is not a rehabilitation center, their goal is to promote a healthy lifestyle that incorporates fitness for all dogs!
If you are in the Western NY area, you need to visit CoolBlue.  If not, we would highly recommend looking to see if their are any similar businesses in your area. Not only will your dog have lots of fun, but you will too!