All dog owners love to plan something special for their best friends. The joy and excitement on a dog's face from even the smallest of surprises really is indescribable. Unfortunately, when busy with work and other commitments we often don't have the time to shop and treat them as much as we would like.
This is why pet subscription boxes are such a cool idea – a specially curated box of goodies delivered to your door each and every month. We have tried a few different dog subscription boxes in the past and are very excited to tell you about another great option today – Surprise My Pet!
Surprise my Pet was kind enough to send us a gift box to try out and are also offering an exclusive deal for our readers!
About Surprise My Pet
Surprise My Pet is a monthly pet subscription box filled with toys, treats, accessories and grooming supplies. Sometimes they even throw in a special gift for the pet lover themselves! Each box contains 5-7 items, that have been carefully selected by their team of experts. Though they began with dog boxes (and that is what we tested out), they recently added cat subscription boxes as well!

Paw for Paw Guarantee
One of the coolest things about these boxes is that if your pet doesn't like something, Surprise My Pet will send an extra item for them in next months box. They understand that despite the quality, not every product is right for every dog. How great is it that?!
Charity
Surprise My Pet donates 10% of their profits to some great animal related charities across the country. You can feel great knowing that you are helping pets in need with every box purchased!
Pricing
Month to Month – $25
3-Month – $69 (At $23/box this is a savings of 8%)
Yearly – $228 (At $19/box this is a savings of 24%)
Cancel at any time or even skip a month if you like.
Surprise My Pet Subscription Box Review – Movie Night!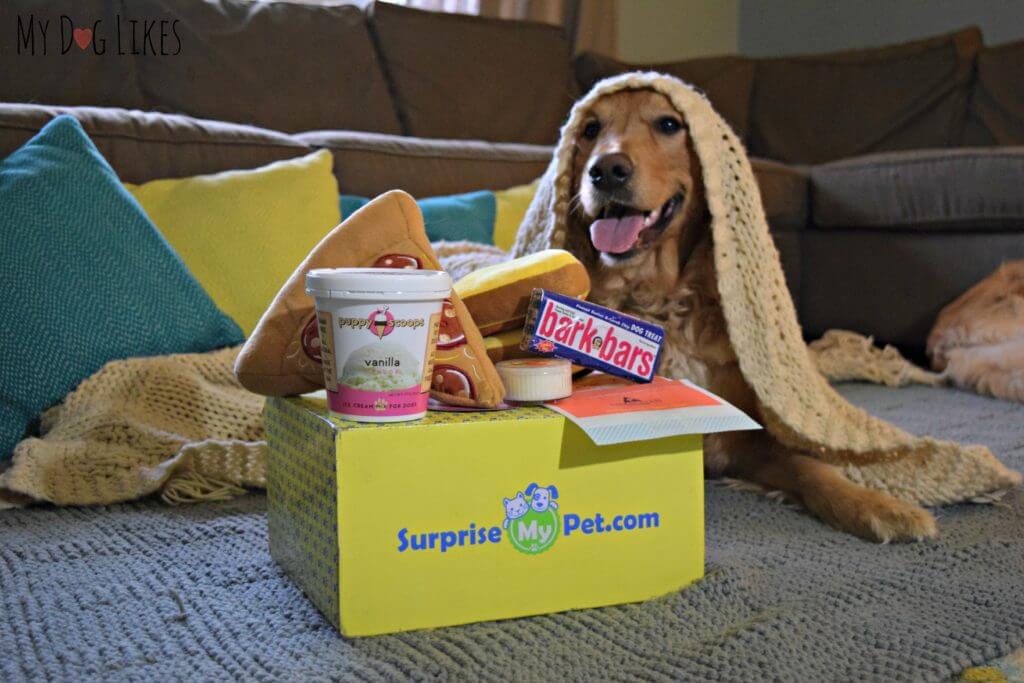 Harley and Charlie couldn't wait to open their Surprise My Pet Box as soon as it arrived. As we lifted the lid, we were thrilled to find that the entire April box had a "Movie Night" theme. This package was loaded up with toys, candy and snacks just for pups. Everything one would need for a perfect night in with the family!
Lets take a quick look at what was inside…
Slice O' Pizza
The perfect start to any night in – a pepperoni pizza! This large plush toy is made by Jeffers and contains an enticing crinkly material AND a squeaker! It is soft enough to be tossed around the house for Charlie but also to be used as a pillow for Harley. Plus it is hilarious to watch your dog carry around the house!
Himalayan Dog Chews Yaky Charms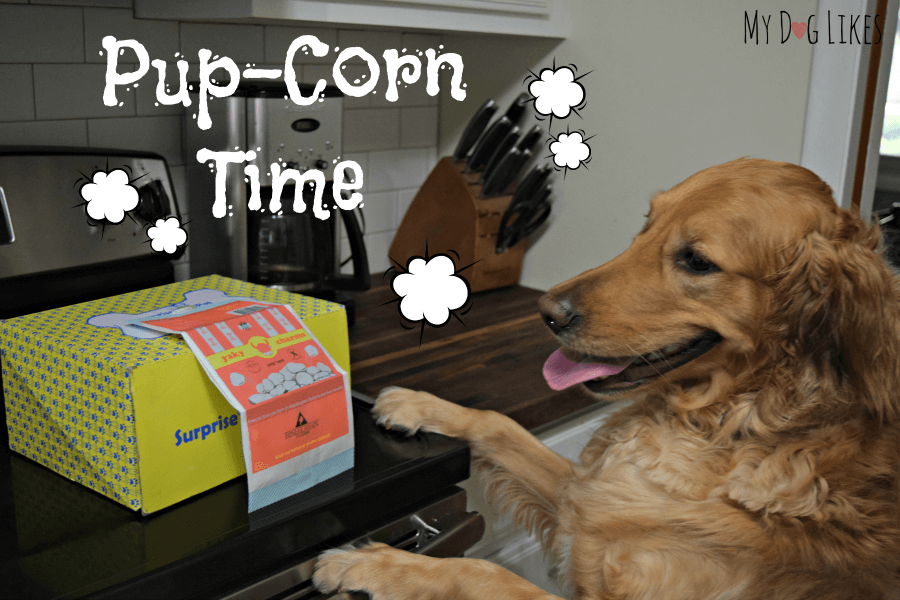 What is a movie night without popcorn? We were so excited to see that familiar shaped bag when we opened the box – but this is no ordinary popcorn. This bag actually contains small pieces of Himalayan dog chew, which is actually a form of hard cheese made from an ancient recipe. You may remember from our Himalayan Dog Chews review, that small pieces of the hard, dense chews can be microwaved and "pop" into a light fluffy treat!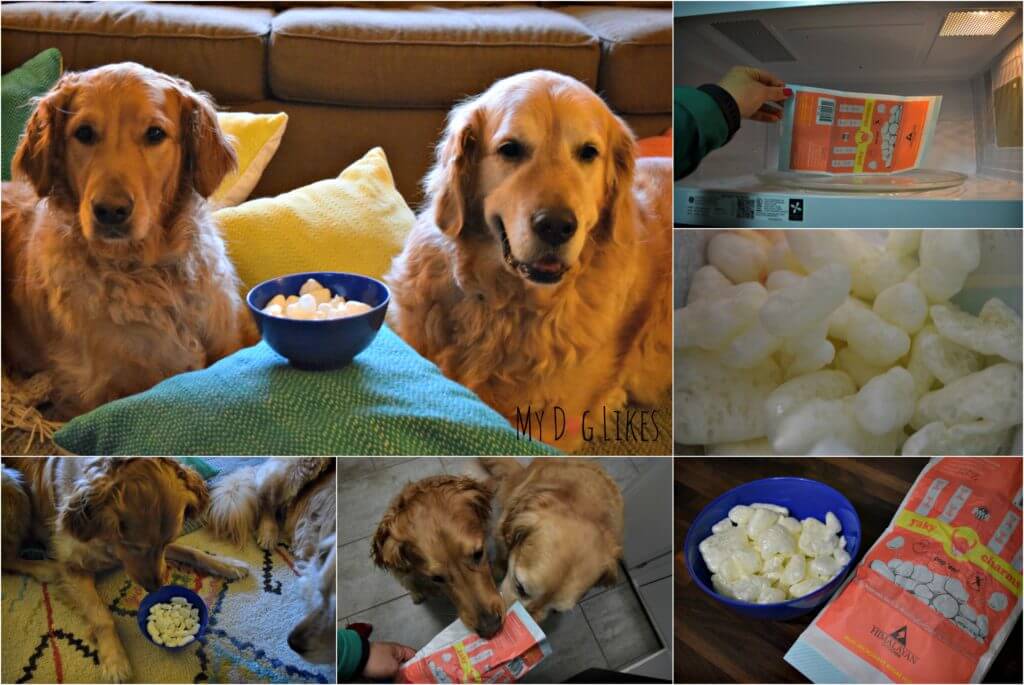 Check out these photos of the popped "corn"! The pieces are light as air and look kind of like packing peanuts. Don't worry, they are 100% natural containing only yak/cow milk, salt and lime juice.
Yaky Charms are a really innovative treat and a ton of fun for both you and your dog. Plus, who doesn't love hearing their dog "crunch crunch" on a treat like this! Our boys took no time at all in devouring the entire bowl!
Bark Bars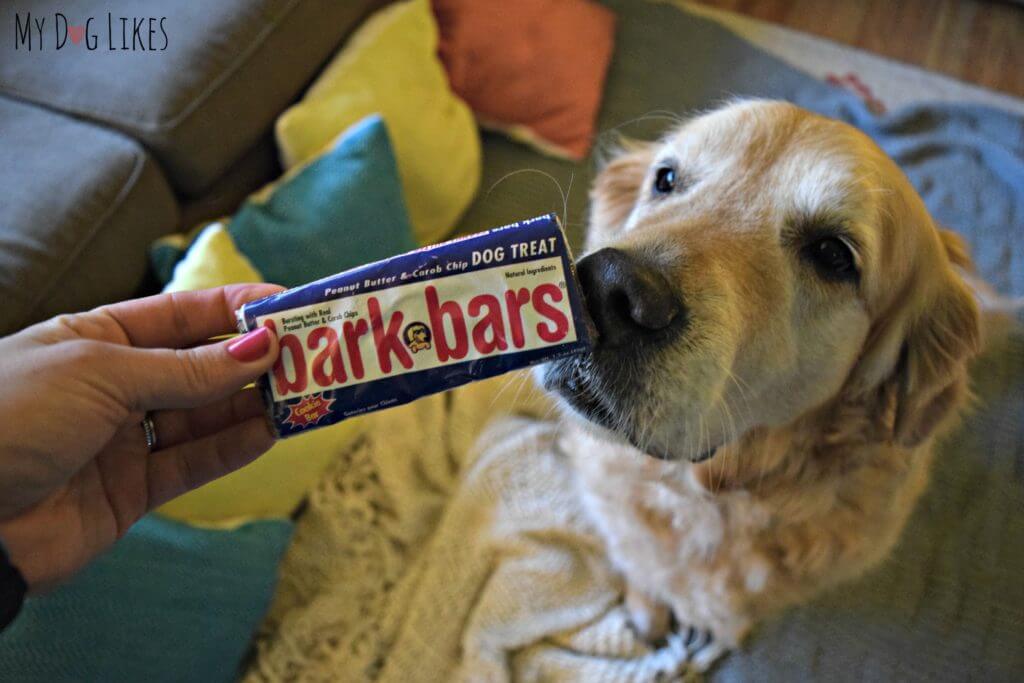 Pining for something a bit sweeter, we pulled out the Bark Bar. Looking kind of like a Nestle Crunch, this is a specially designed cookie bar just for dogs. Ours was peanut butter & carob chip cookie flavored.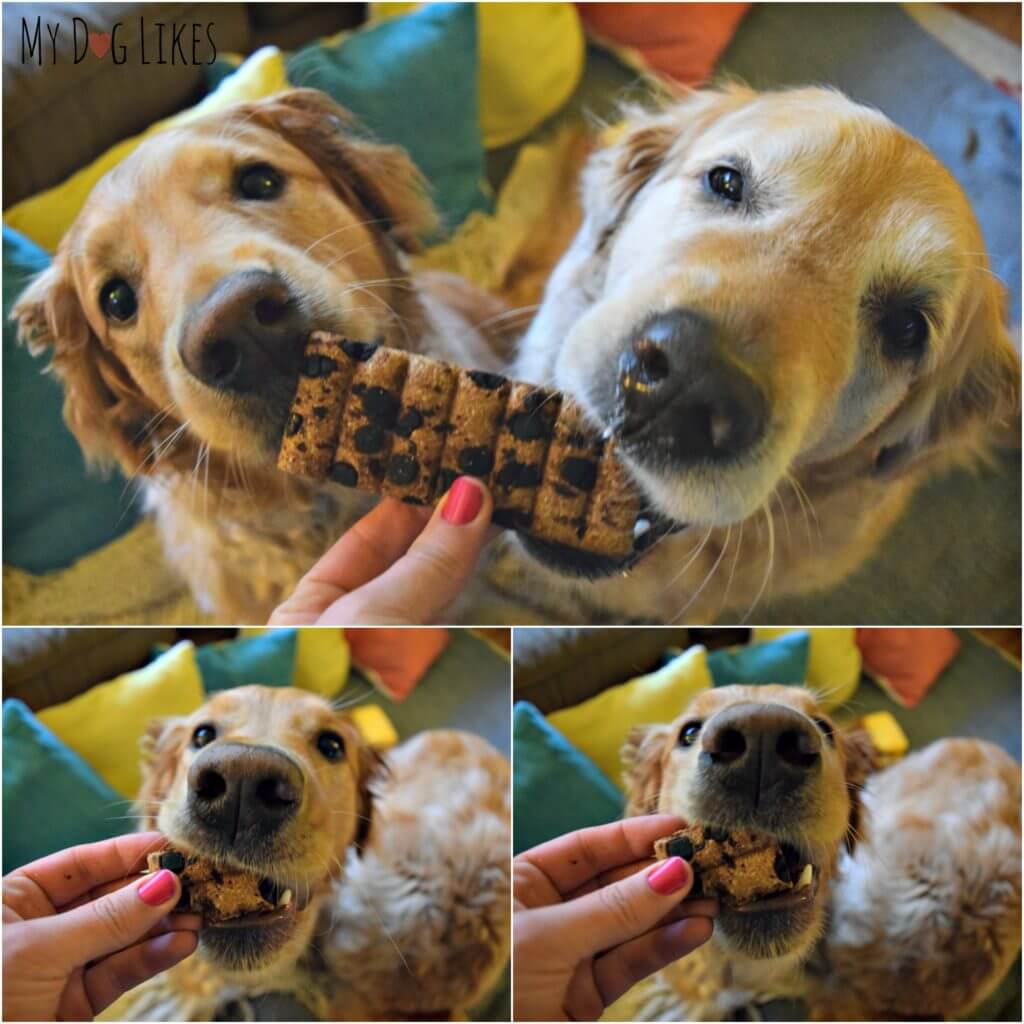 We broke it in quarters and let them each have a piece. As you can see, it went over quite well!
Elvis Peanut Butter & Banana Sandwich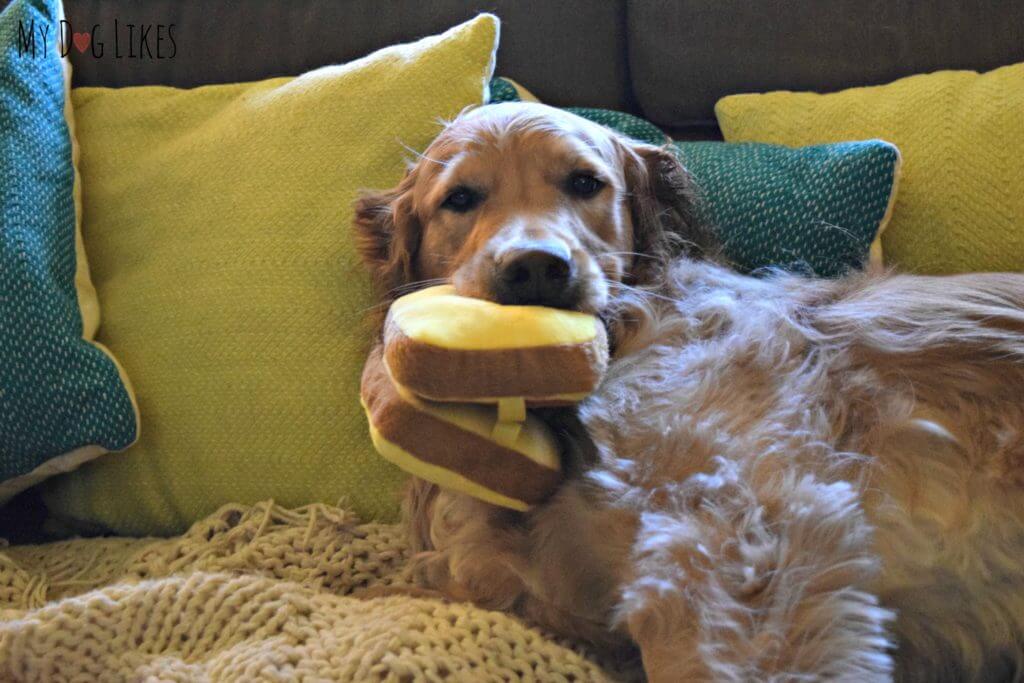 A real indulgence fit for a special occasion. This toy is a stuffed version of the Peanut Butter & Banana Sandwich Elvis made famous. This large toy is made by A Crowded Coop and the best part is that the sandwich comes apart!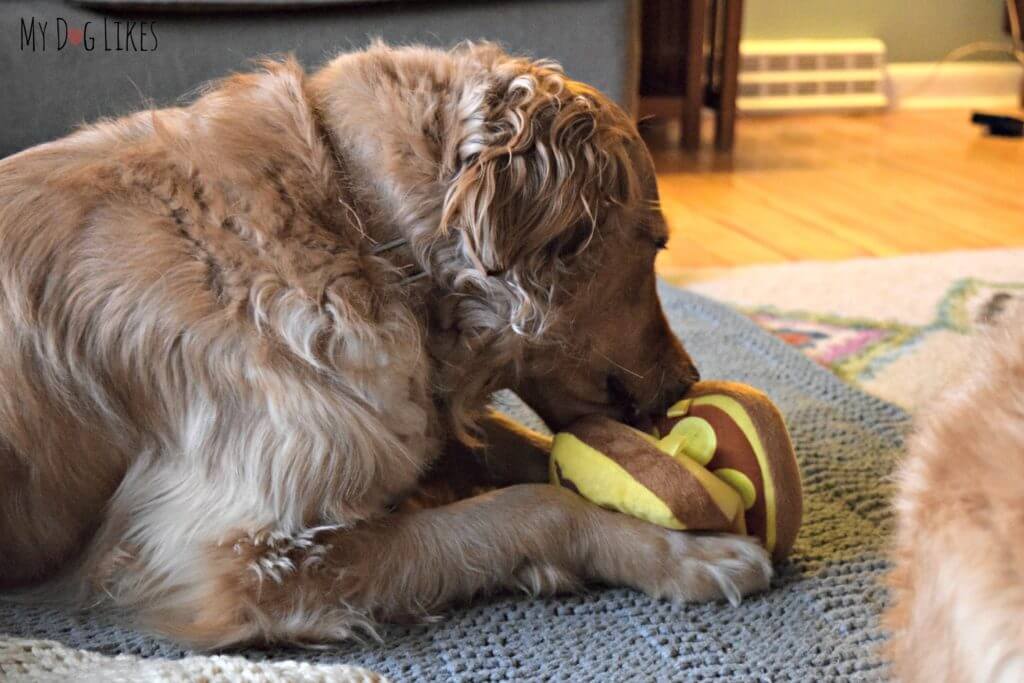 The "bread slices" are connected by velcro "banana slices." We found that being able to pull it apart actually discouraged Charlie from trying to destroy this toy. Separating it into two pieces proved satisfying enough! At that point, there is plenty more fun to be had as one side of the sandwich contains a crinkle material and the other a squeaker.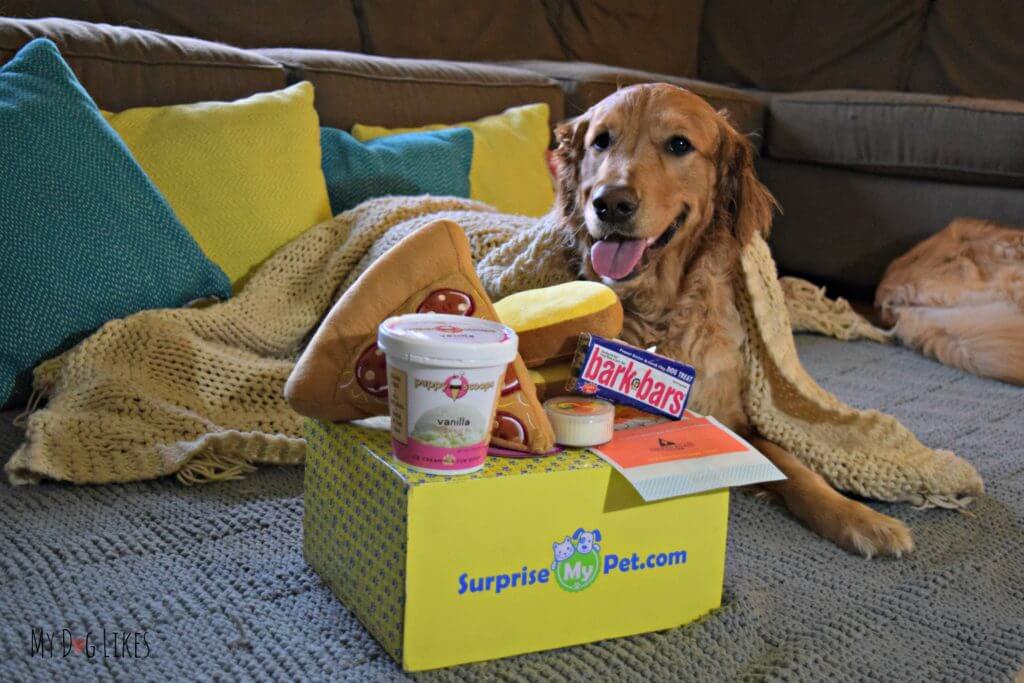 Puppy Scoops Ice Cream Mix
This is a really interesting product that comes in powder form. To prepare simply mix with water, freeze and the end result is a creamy ice cream. Puppy Scoops are all natural, made in the USA and formulated just for dogs.
Let your pup enjoy a frozen treat while you work on that pint of ice cream!
We thought the boys had enjoyed enough treats for one evening (although they did not agree) so we are saving this for another occasion!
One Fur All Pet House Candle
Last but not least, this box included a special gift for the pet parent! A candle specifically designed for pet loving homes. Ours has a great Mango Peach scent, that we can't wait to burn! As anyone with dogs know, sometimes the aroma can use a bit of freshening up!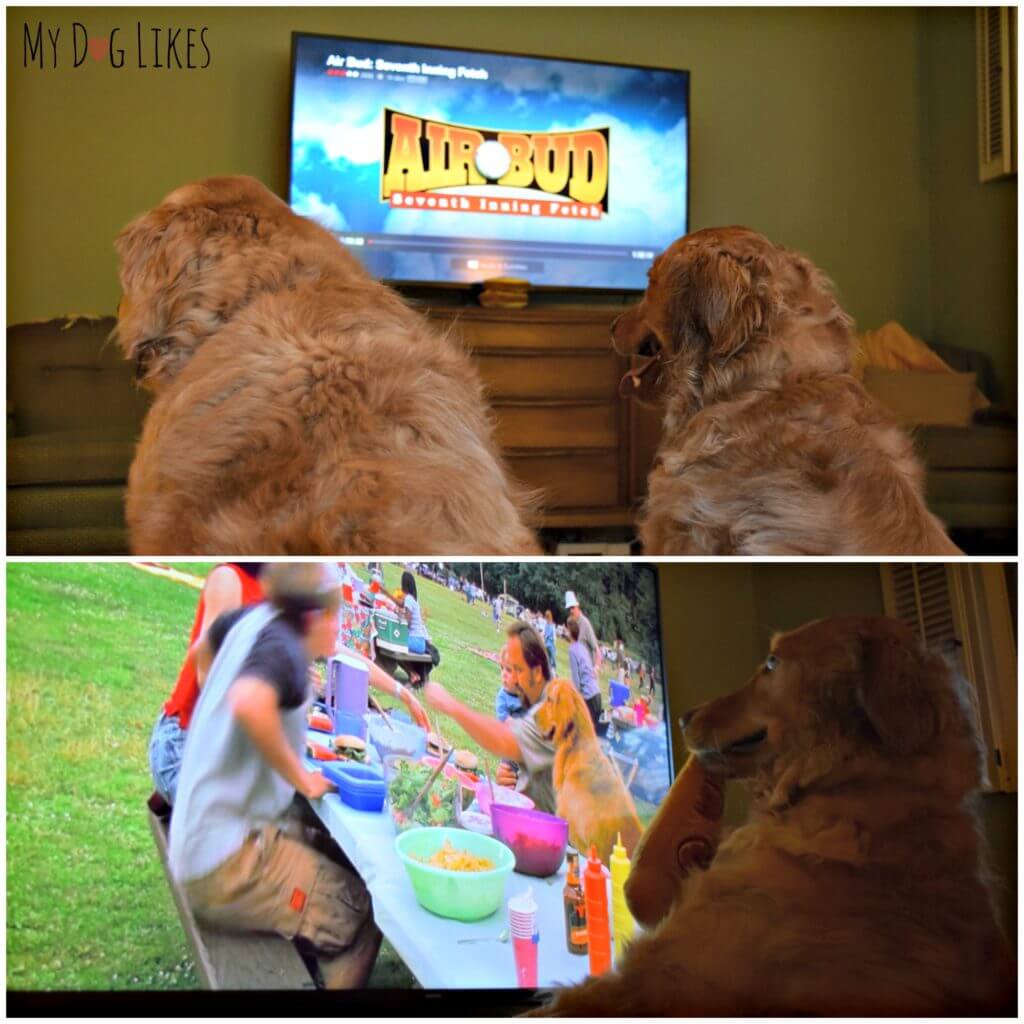 Why MyDogLikes Surprise My Pet Subscription Box
We absolutely loved the theme of this box, and had a great time including the dogs in our night in. You could tell that a lot of thought and care went into creating this special experience, which is something that we very much appreciate. Another aspect that blew us away was the Paw for Paw Guarantee. The fact that they are willing to go to that length (and extra expense) to make sure our dogs were satisfied really means a lot.
Finally, the box itself was an amazing value! Not only is it extremely convenient, but a really great deal as its contents alone would retail for over $40!
We highly recommend that you give Surprise My Pet a try!