What's more fun than giving your dog a treat?
Well, if you feel similarly to us, we say nothing! Seeing how excited they get (and the things they will do for a tasty morsel) is honestly one our favorite parts of each day.
Though we may want to give our dogs treats everyday, the cost associated with keeping those cupboards stocked with treats can really add up, especially if like us, you insist on feeding your pups healthy, all-natural ones!
All you health conscious, bargain hunting, pet parents take notice, we have quite the "treat" for you!
Introducing the Prized Pet Treat Box
Prized Pet is a subscription box that sends out a selection of high quality, all natural treats each month at an AMAZING price! You don't have to drive around to from store to store, shopping sales or settling for inexpensive and low quality treats, the Prized Pet Treat Box is everything you need to meet all of their treating desires!
Prized Pet was kind enough to send us a box to check out, and they are sponsoring this post so that we can help spread the word!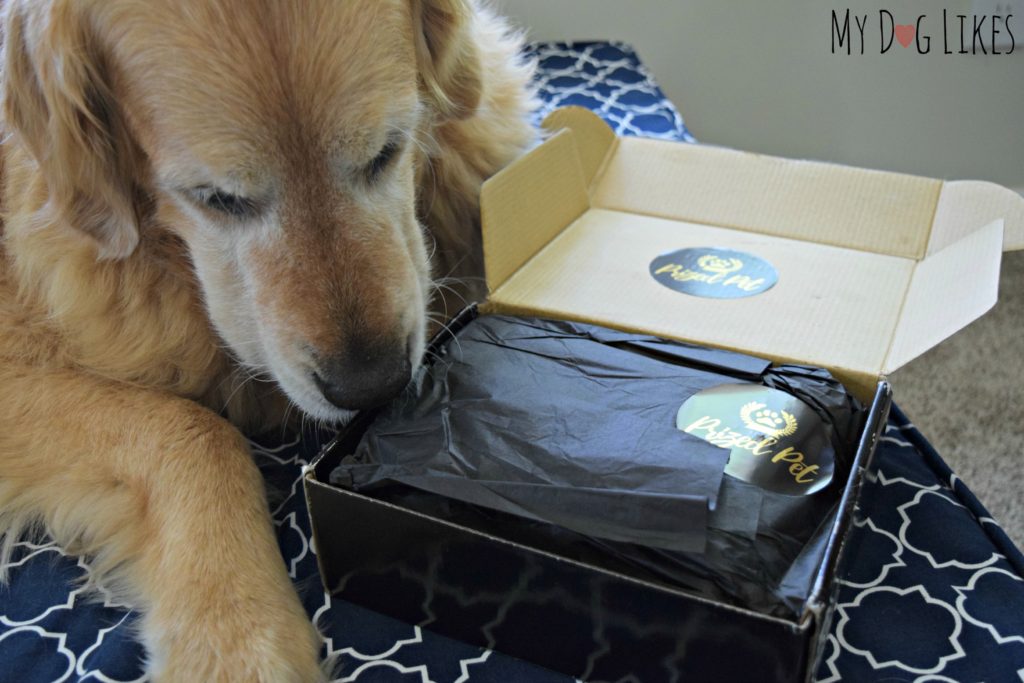 Each box is guaranteed to include:
1 – 8 oz treat
1 – 5 oz treat
1 meat chew or treat
1 surprise treat
Browsing around their site, we love the diversity of offerings. As any experienced pet parent knows, when it comes to treats, its always best to have lots of options to meet your needs. Its not unusual for us to need treats of varying sizes, ingredients, and longevity within the same day, let alone month!
While high quality treats usually come at a premium, each Prized Pet Treat Box is so affordable. Customers can choose from a 1 time order for $18.99 or an
auto-renewing subscription
at $16.99/month. We priced it out – you simply
cannot get this kind of bargain
buying these treats (or treats of this quality) on your own.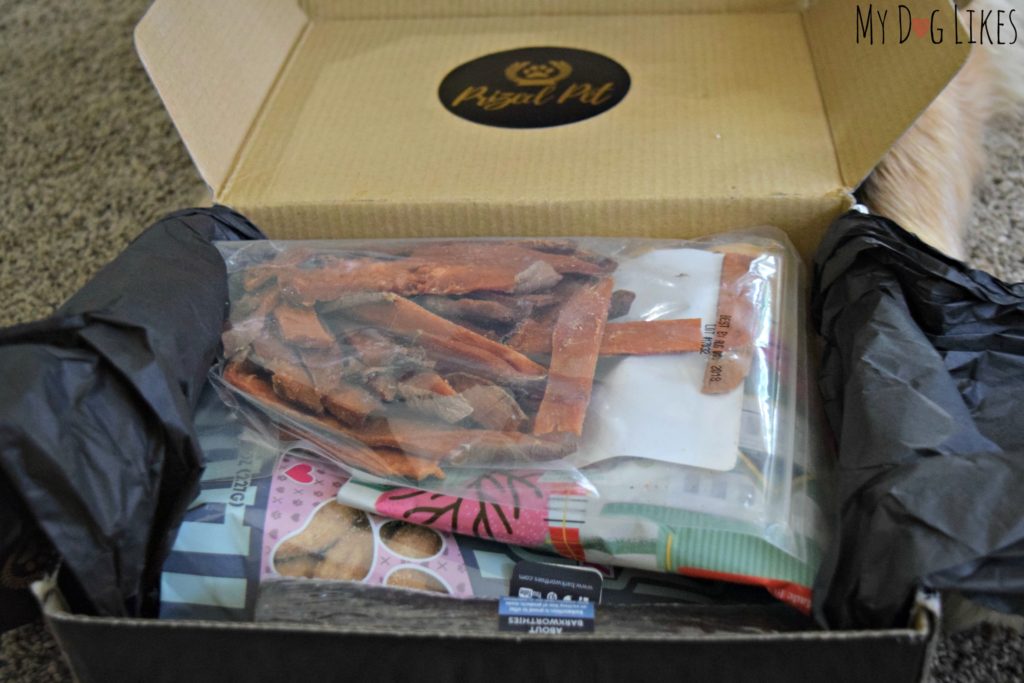 Packed to the brim with goodies!
Unboxing our Treat Box
The Prized Pet Box comes in a sleek black box – perfect for our sophisticated and "prized" pets.  When we first got the box, I was concerned that there was no way that everything that was promised above, could fit inside. I take pride in my ability to pack the car for long road trips, but I've got nothing on this company. The treats were perfectly packed and most importantly not crumbled into 10,000 pieces!
So You are Probably Wondering…Whats in the box??
Treat Simple Sweet Potato Fries
Sitting right at the top of our Prized Pet Box was a 5oz package of Sweet Potato Fries from Treat Simple. This is our first experience with Treat Simple, but we already know that Harley and Charlie are big fans of sweet potatoes!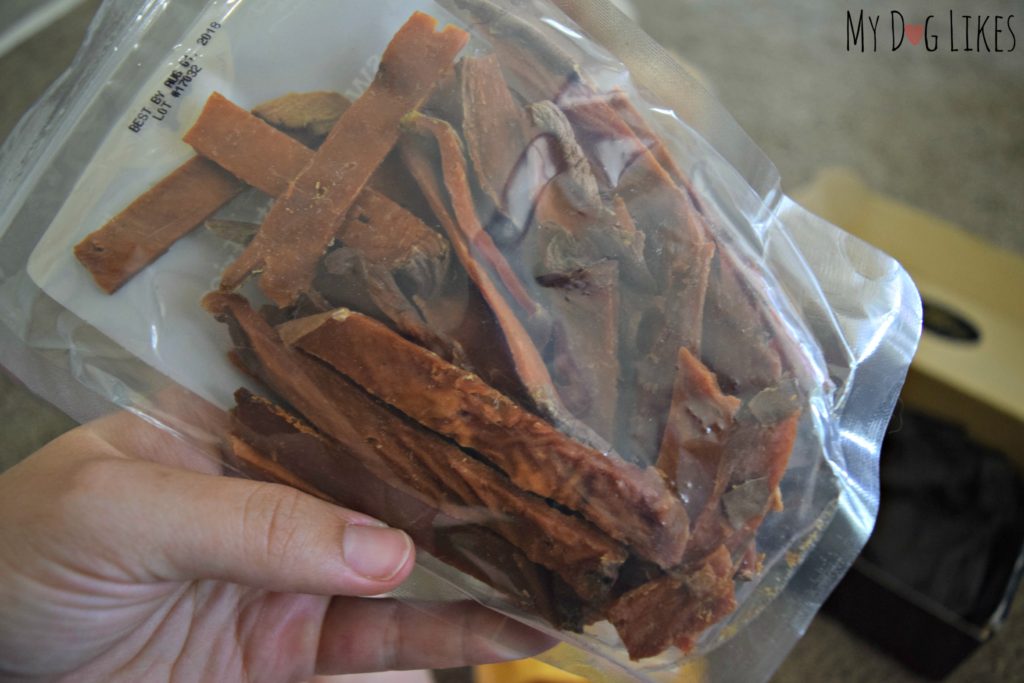 Treat Simple's Sweet Potato Fries are single ingredient, contain no added salt, sugar, or preservatives, and are made in the good ole' USA. While most sweet potato chews come in large pieces, we love that these ones are more bite sized. All of the health benefits with fewer calories! And you know what they say about fewer calories – more treats!
Paws Barkery Bow Wow Snickerdoodles
Next up, came an 8oz bag of treats from Paws Barkery. We were very excited to see these as we have enjoyed their snickerdoodle dog treats in the past. This was several years ago, however, before they spruced up their packaging!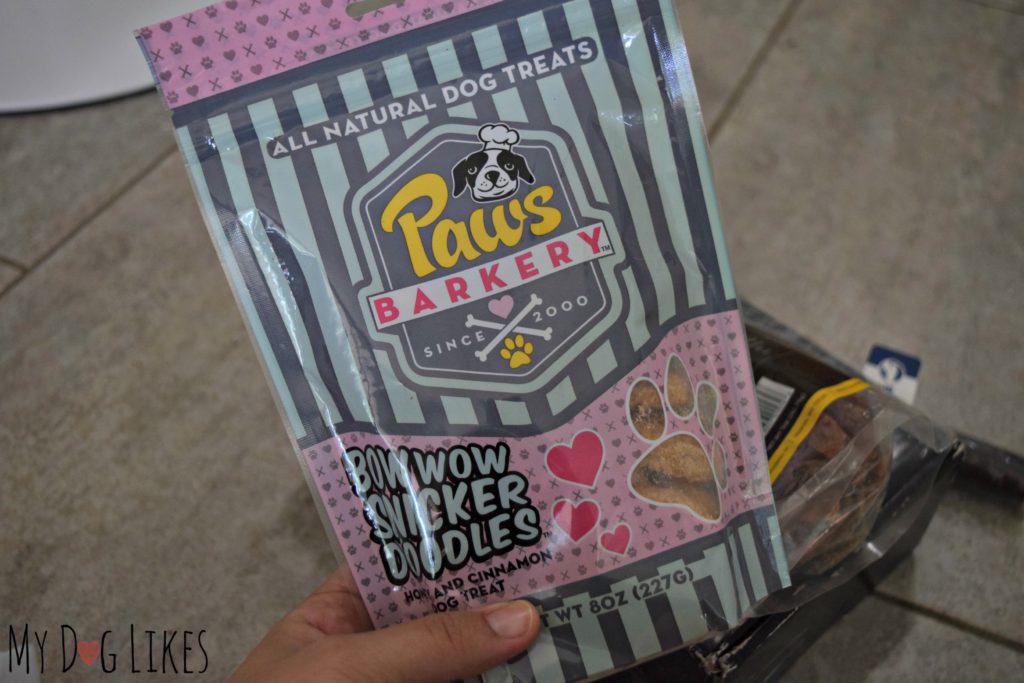 They may have a new look but these treats are just as wholesome as ever. Just as before, Harley and Charlie loved the taste! I'm telling you, one sniff of this bag and YOU will be wondering if you can eat these cookies!
Lucky Dog

Teriyaki

 Beef Bites
The next item in our Prized Pet Box was a package of Teriyaki Beef Bites from Lucky Dog. (You may remember our previous Lucky Dog Treats Review from earlier in the year!)
This 5oz bag of soft-baked morsels are perfect as a training treat! Because they are soft, each treat can be broken down into smaller pieces, however, for most dogs, especially our big guys, they are already a great size.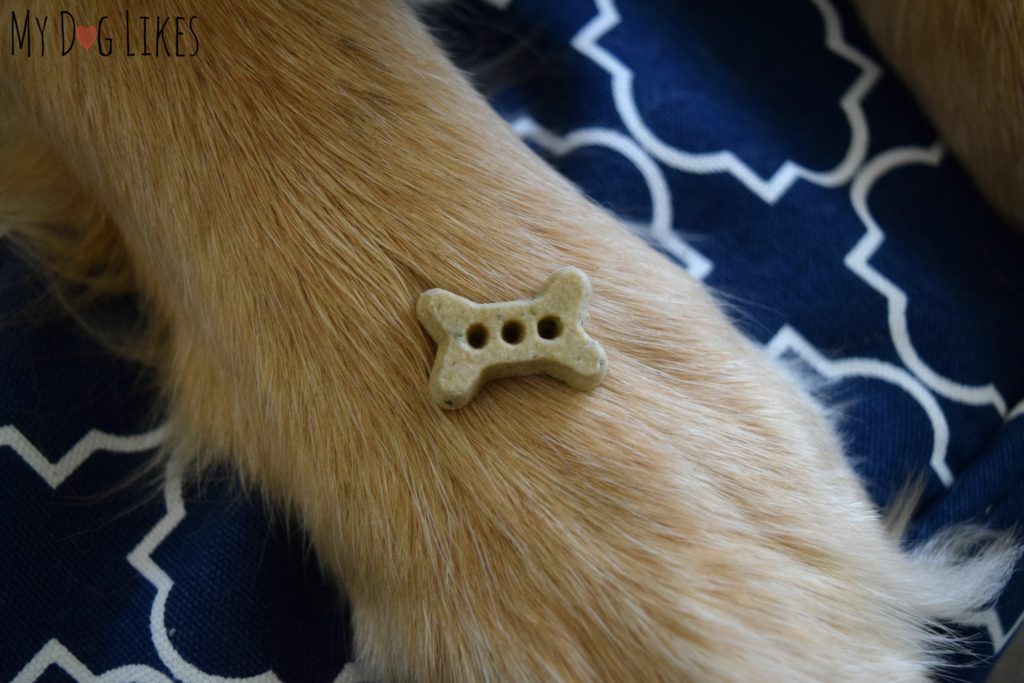 We are always big fans of treats that combine new and unique flavors. While we know the dogs never get sick of eating the same things day in and out, we love that these treats use healthy ingredients like beef, ginger, broccoli, and honey in an all new way.
Barkworthies Rabbit Roll
Last, but not least, in our Prized Pet Box was a Barkworthies Rabbit Roll.
Our boys were immediately drooling over this meat treat, and we were happy to learn that it is sourced from 100% free range, grass feed rabbit!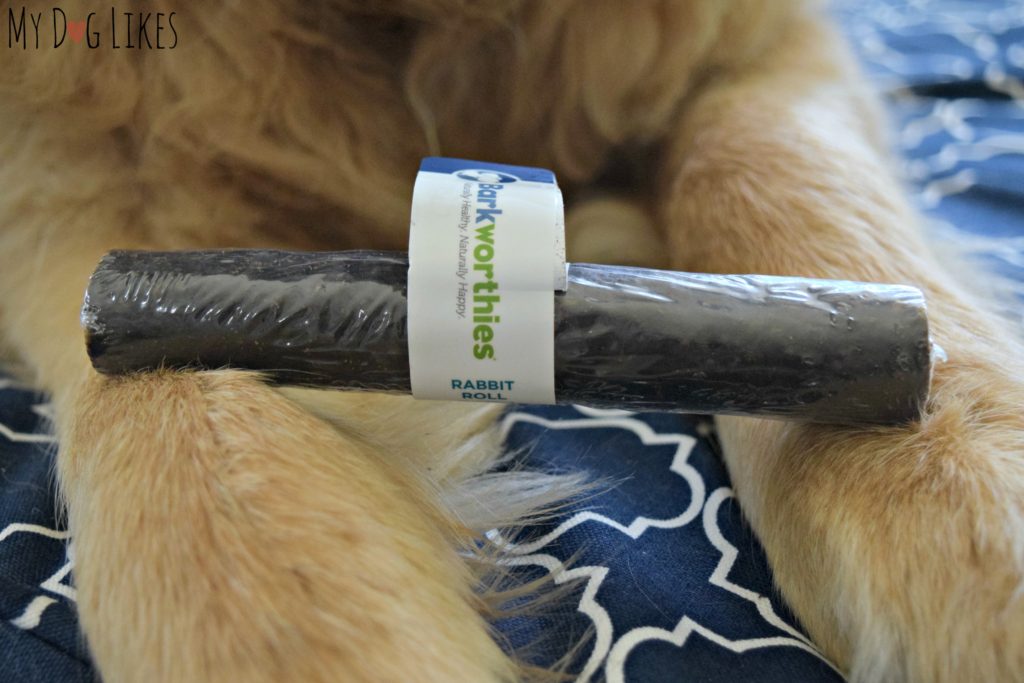 The only problem? Harley and Charlie would have to share! That's OK, as it turns out this treat was surprisingly easy to break in two.
As you can imagine, they both thoroughly enjoyed their chewy treat, and it was a great way to appease them on an evening where they were especially restless!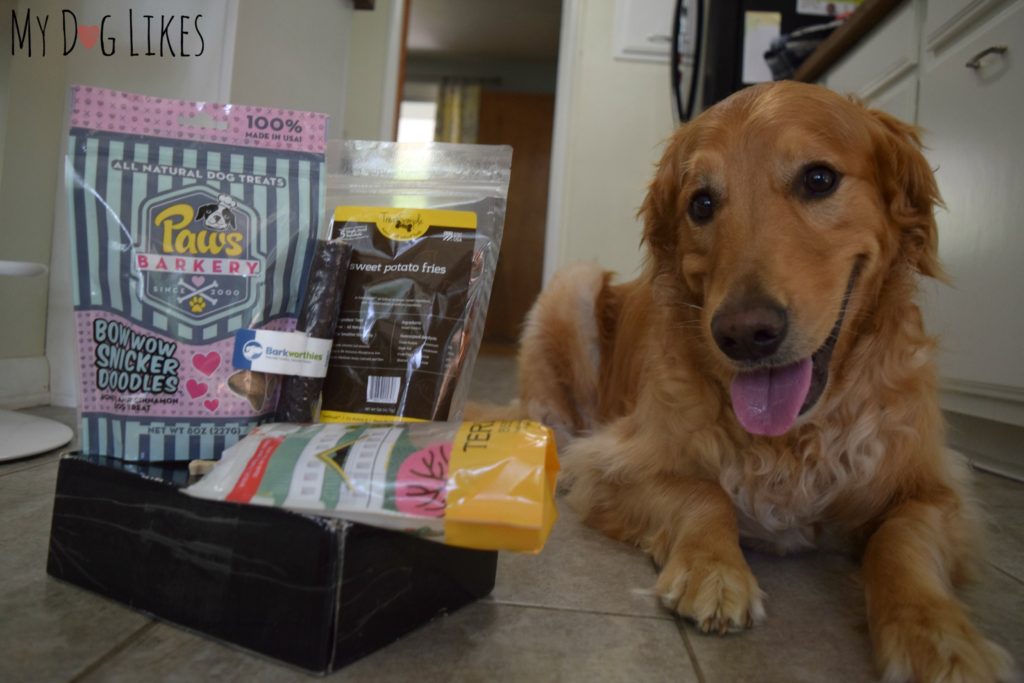 Why MyDogLikes the Prized Pet Box
Not only does the Prized Pet Box allow your dog to regularly try new treats, but you can always be assured of their safety and quality. Plus, you don't have to do the research or the shopping yourself!
Finally, this box is a SERIOUSLY great value. Nowhere could you get your hands on all of these high quality dog treats for even close to this price! (Trust us, we looked!) We would highly recommend this box for all dog owners and it would also make a great gift!
Want to give the Prized Pet Monthly Treat Box a try?
Click the button below for a chance to win and for an exclusive 20% off coupon code!