If we learned one thing on our recent road trip across America, it is the importance of being properly prepared. You can never be sure exactly what is going to happen and have to be ready for everything! Today we are sharing something with you that all pet owners should seriously consider – a Dog Bug Out Bag – prepped and ready to go in case of emergency.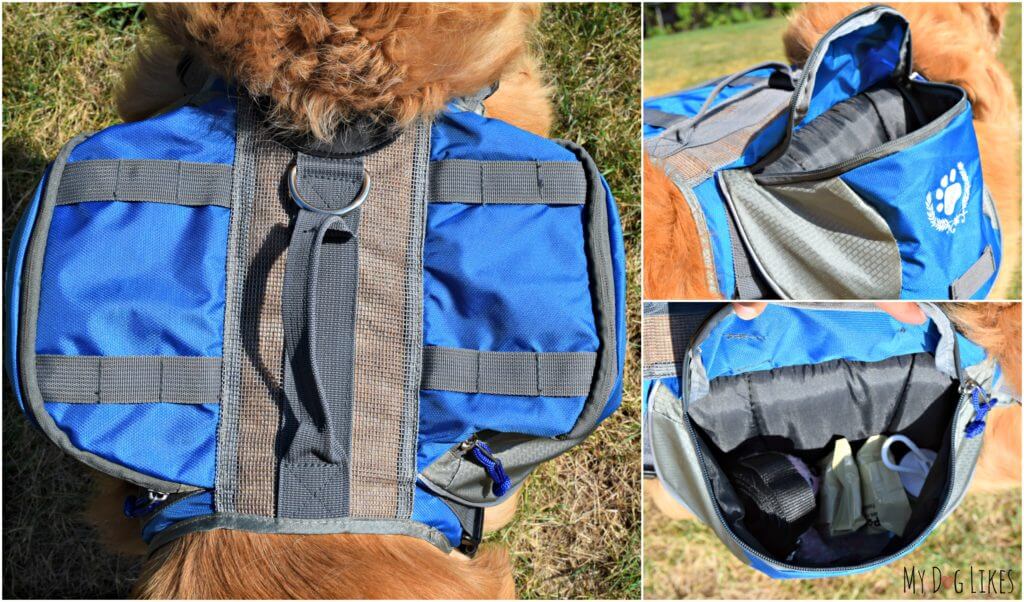 This concept was first brought to our attention by WhyWeWag – an online pet supply store who reached out to see if we would be interested in taking a look at their store and sharing with it our readers. What better way to vouch for a company than to try out the products they choose to carry? We asked WhyWeWag to send us something representative of who they are as a company and they chose their Emergency Bug Out Pack. This concept immediately piqued our interest and we were excited to check it out.

About WhyWeWag Online Pet Store
Founded in 2012 by Cheryl Wilson, WhyWeWag carries products designed to "return to our animal companions, the same unconditional love they share with us."
Browsing WhyWeWag's Online Pet Supplies
WhyWeWag.com carries all sorts of dog equipment, health care supplies, and even a few fun products for dog moms and dads! Just take a look below to see the different kinds of supplies they "stock":
Dog Accessories

Backpacks

Dog Boots

Cooling Vests

Collars
Leashes

Dog Supplies

All natural grooming products

Shampoo
Conditioner
Ear Cleaner
Paw Ointment
Make sure to read all the way through as they are also sponsoring a giveaway for one lucky MyDogLikes reader.
WhyWeWag's Emergency Bug Out Pack
Often times the impact of emergencies and natural disasters on pets is completely overlooked. Think about what you would do if you had to leave your home at a moments notice? You may have some extra supplies on hand, but are they all in one place and ready to go?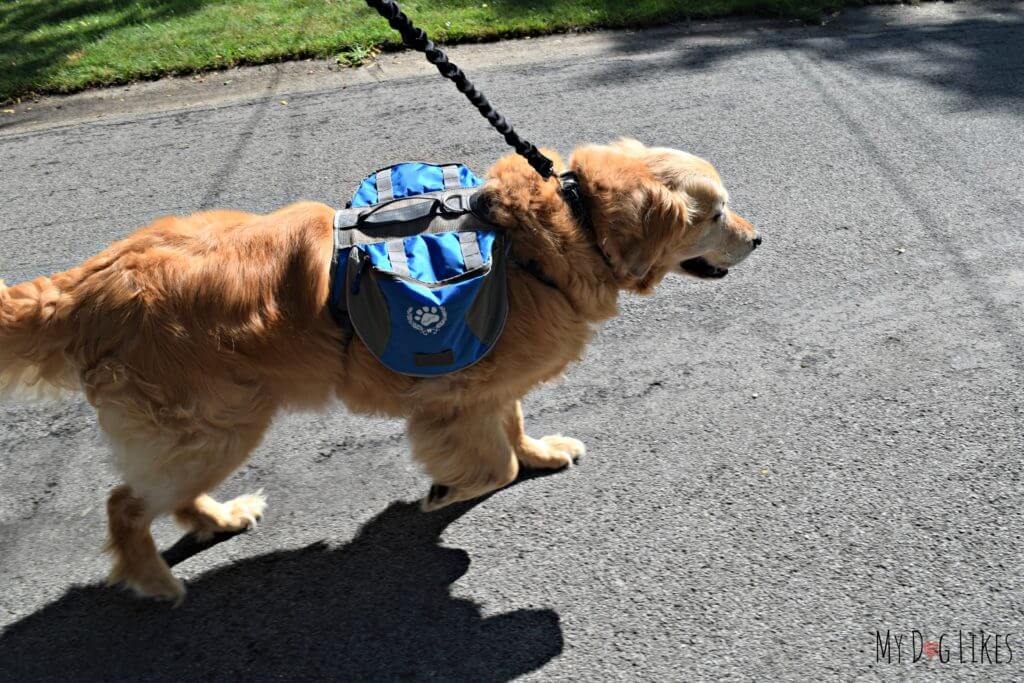 WhyWeWag has done the work for you and compiled a lot of essential items that you would need for your pet in an emergency situation. This Emergency Bugout Pack for dogs retails for $90 and most of the items inside are also available for individual sale on the WhyWeWag website.
What's inside this Dog Emergency Kit?
Backpack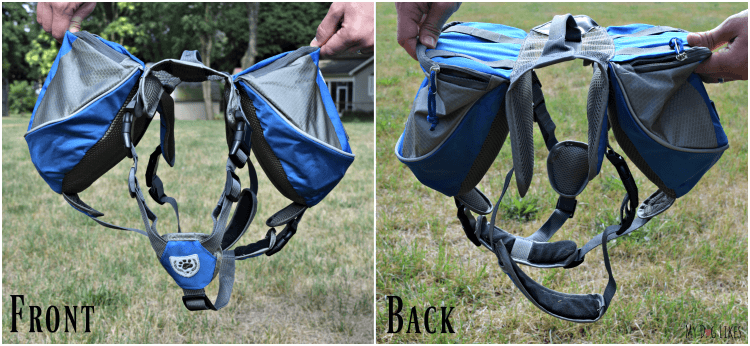 First things first, this supply kit is self contained and can be carried by your pet. It comes in 2 sizes, medium and large, and could comfortably fit a wide range of dogs. This saddle style backpack is easy to attach, very spacious, and lightweight. It has multiple sliding pads for comfort, a back leash attachment, and even a handle for assisting or lifting your pet if necessary. This backpack has 3 buckles (one at the chest, one below the front arms, and one on the belly) which leads to a nice secure fit that doesn't move or slide, side to side. The pack also has several loops that can be used to attach carabiners with extra supplies that might be needed. 
First Aid Kit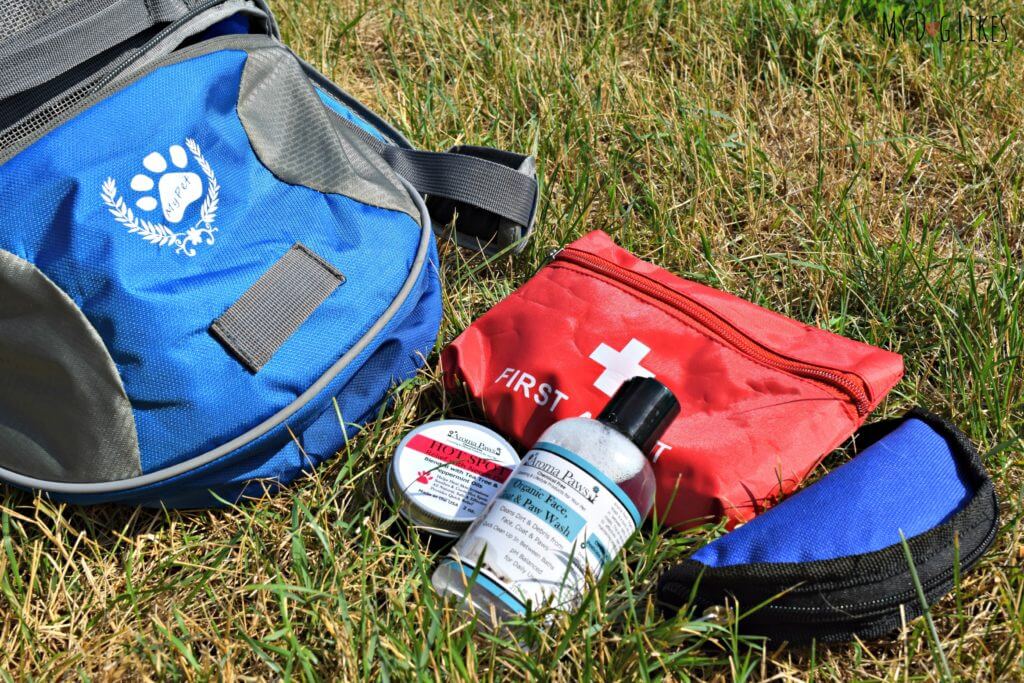 You wouldn't want to be caught without medical supplies in an emergency and this pack has you covered. Inside you will find a compact dog first aid kit with scissors, tape, bandages, gauze and alcohol/iodine swabs. Plus, there is plenty of room to add extra care items you may need.
Hot Spot Treatment
WhyWeWag has included a soothing balm from Aroma Paws to provide treatment for minor skin injuries. This ointment is all natural and contains Neem, Peppermint, and Tea Tree Oils to provide quick cooling relief.
Face Coat & Paw Wash
Dogs always get into things at the worst times. WhyWeWag has thrown in a between-bath wash from Aroma Paws that can be used to clean up your dog as necessary. Just apply this all-natural product on a cloth and give your dog a quick rubdown.
Meal Replacement Bars
Obviously food is essential for any bug out bag. WhyWeWag has included 2 PowerBark bars which are formulated as a complete dog food replacement. This is a very smart, convenient and space saving idea. NOTE: Make sure that you have enough with you based upon the size of your dog! One bar per 30 lbs of dog twice per day. There is plenty of room to add more food if needed! While these are great to have on hand for meal replacement in case of an emergency, these are also great to have on hand during a hike for an extra boost of energy!
F

old-able

 Canvas Bowl
The last thing you would want to be carrying in an emergency is a large stainless steel or heavy ceramic bowl. This backpack contains a fold-able canvas bowl perfect for feeding your pet on the go.
Leash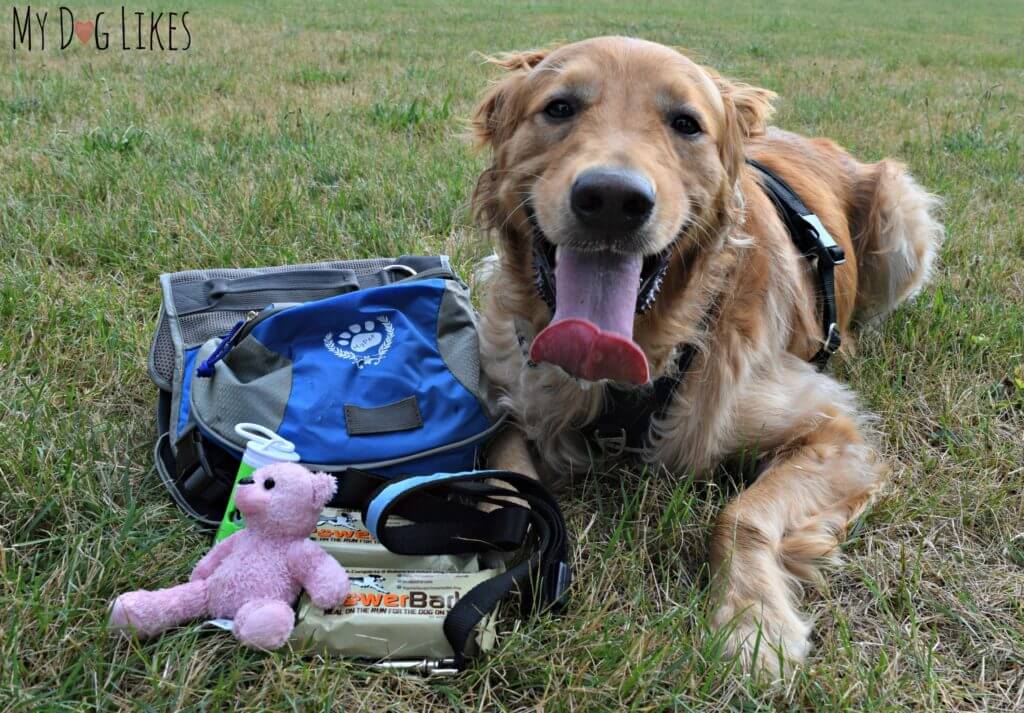 An anxious or scared dog is much more likely to be spooked and run. It is vital that you keep your dog leashed for their safety. WhyWeWag's bug out bag includes a 4 ft. leash meant to help you keep your dog right by your side, safe and secure. This leash even has built in LED's that glow for walking at night and in case of a power outage!
Waste Bags with flashlight
Picking up after your pet is just as important during an emergency. Pet waste contains bacteria that can be harmful to humans – especially if it were to enter a water supply. This is an even more likely scenario in a flood-type emergency. WhyWeWag has included poop bags and a dispenser with a built-in flashlight!
Comfort Toy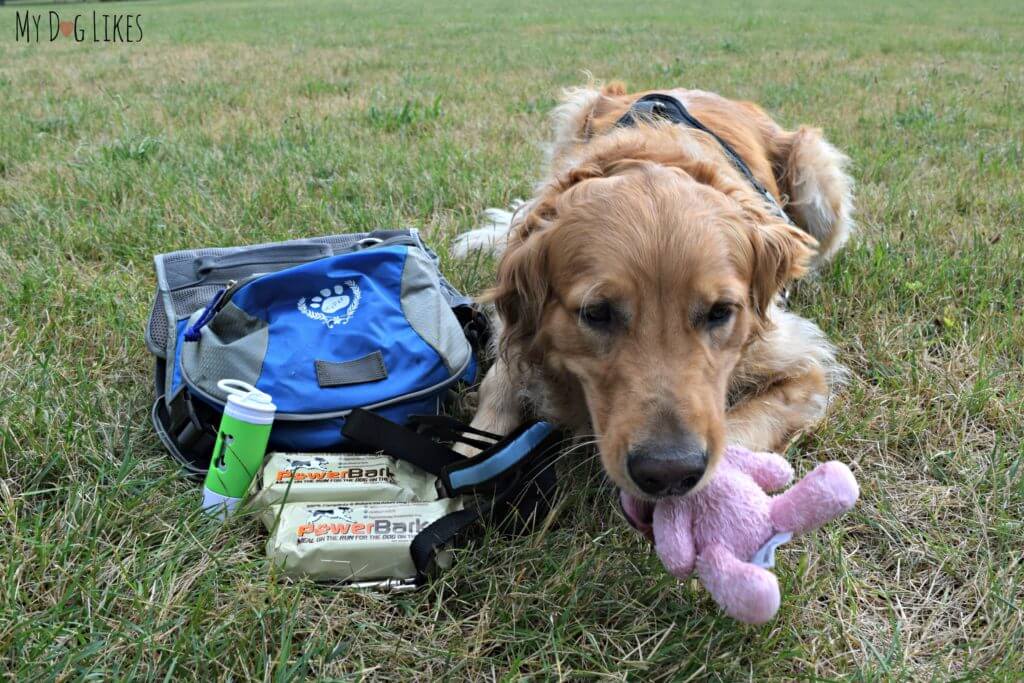 Dogs are like children in many regards and a little touch of home is important in a stressful situation. WhyWeWag has included a small plush stuffed animal to provide a bit of comfort for your dog. As you can see, Charlie took to it right away!
Why MyDogLikes this Dog Emergency Kit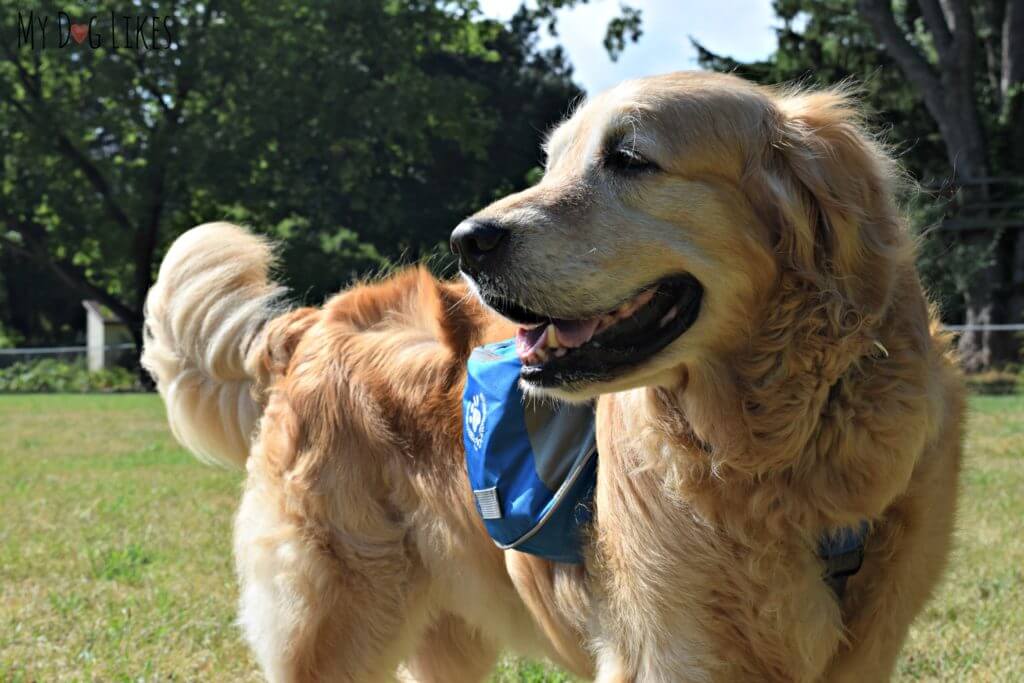 We love the idea of creating a bug out bag for your pet, and think it is something that every family should have on hand. You never know what is going to happen and nothing could be worse than being caught off guard and unable to care for your companion animal. WhyWeWag has put together an excellent pack that is lightweight and takes care of all of the essentials. We also love that there is plenty of room to add other items for your individual pet like medications, supplements or extra food. Every pet is different and has different needs!
Don't forget to prepare your pet just like you do the rest of the family!
Want to get your own Dog Bug Out Bag?