Have you ever wondered what your pets are up to when you are gone?
Of course you have! Like most pet owners, we hate to leave our beloved companions alone, even if its just for the work day! That is why we are so excited to tell you about a product that can help put your mind at ease, and allow you to check up on your precious pets whenever you feel the need.

Vimtag – Video Camera Systems
Vimtag is a manufacturer of consumer video surveillance equipment. They offer a wide variety of different models for indoor and outdoor use – from stationary cameras to ones that can be tilted and rotated remotely. These systems can also be set up with motion sensors to provide push notifications straight to your phone!
Vimtag was kind enough to send us an M1 video camera to review and they are also sponsoring a giveaway below!


Features of the Vimtag MV1 video Camera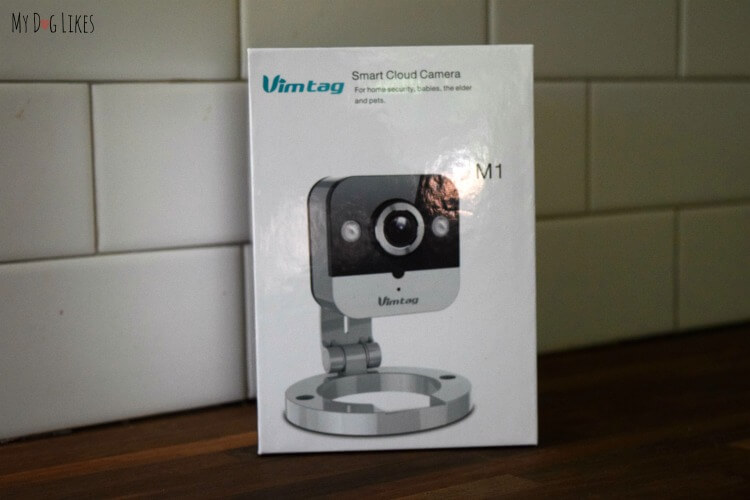 Specs
First things first, this camera is tiny. It measures roughly 2″ X 2″ X .5″ and is very lightweight (only 60 grams!). Not only does this make it extremely easy to set up and manipulate, but it can fit just about anywhere you would like.
Video can be viewed at up to HD720P and 25 fps, which is more than enough to provide a clear streaming picture to your device. The camera also has a built in 4X HD digital zoom to take a closer look if needed. A built in micro SD slot gives you the ability to store up to 32 GB of photo and video or you can opt to purchase a Vimtag Cloudbox for up to 2 Terabytes of additional storage!
Night Vision
We assumed that we would only be able to see what our pets were doing during the day, but the Vimtag MV1's has built in night vision.  Utilizing (2) 940 nm infrared lamps, this camera can provide a clear picture at any hour.
2 way sound
Not only does the Vimtag MV1 allow you to listen to what's going on in the room you are watching, but it allows you to speak through the device as well. That means that should you catch some naughty behavior, you can put a stop to it while it's happening! We tried this feature a few times and it always got the attention of whichever critter was in the room.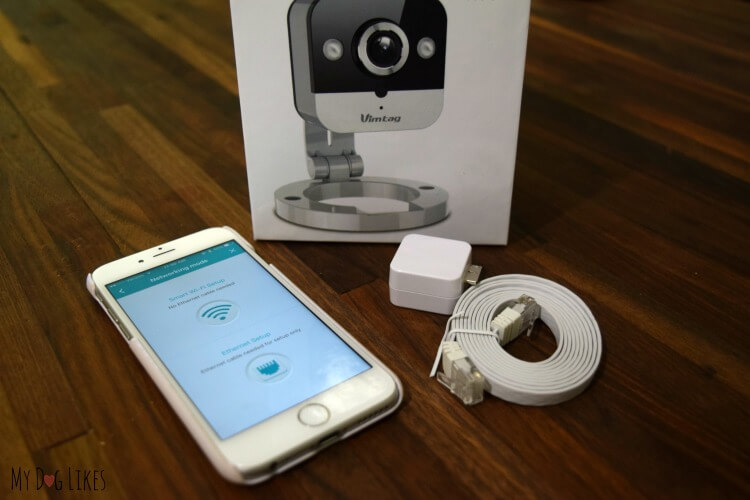 Wifi Enabled
The Vimtag camera sets up in minutes and does not even require a hardwired internet connection to function. Just follow the directions on the quick start guide to connect to a wifi network. Afterwards you can either visit the Vimtag Application page or download the Vimtag App to access your camera. The camera can even be set up for multi-user functionality – so that you and your spouse (or whomever you would like) also has access to the camera.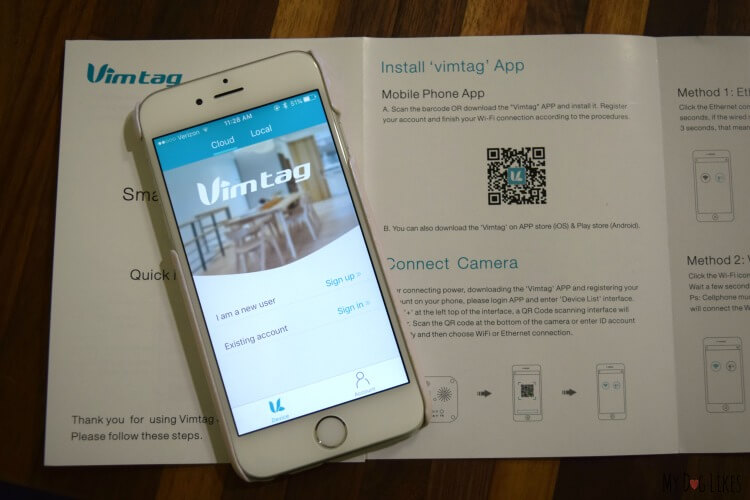 Secure
Perhaps you have heard stories about hackers gaining access to web enabled cameras? Vimtag takes security seriously – Stay tuned for our breakdown of these security features and learn how to protect yourself in the coming weeks…
Setting up the Vimtag VM1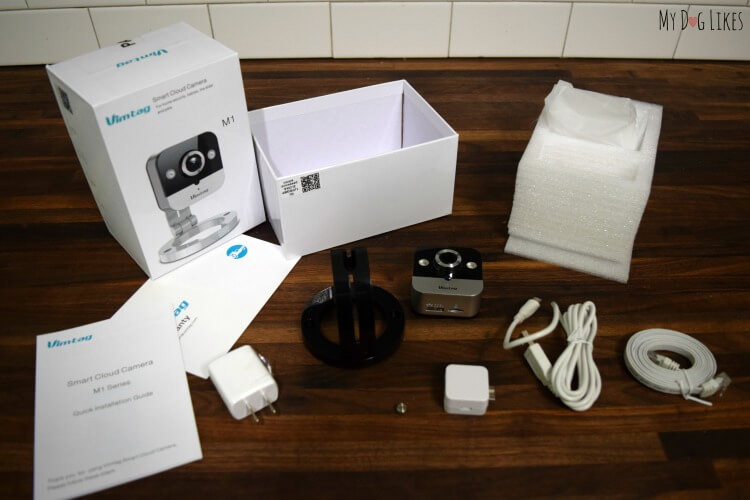 Here is what the mini cube camera looks like upon removal from the box. Included is the camera, a stand, a charging cable with 2 bases, and an Ethernet cable.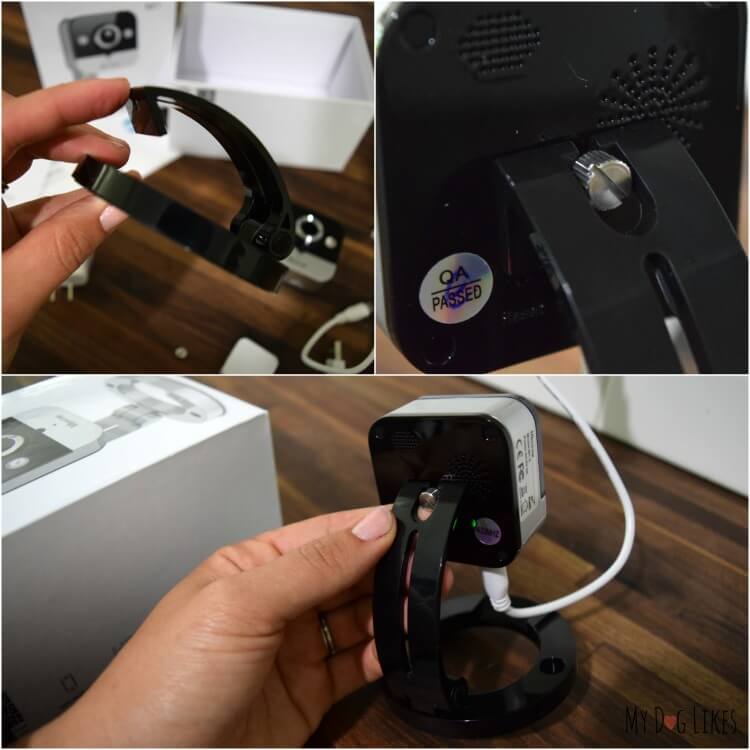 Attaching the camera to the stand is as simple as tightening one thumbscrew. Next, attach the power cord and plug into a wall outlet. At this point your camera will turn on and is ready for activation!
Choosing Where to Place the Camera
You will likely want to place your Vimtag camera in a spot where it can see all areas of a room. Thankfully, the stand has a built in hinge which allows for unlimited adjustments of the camera angle. You can watch the picture live on your phone or computer while you get the direction just right.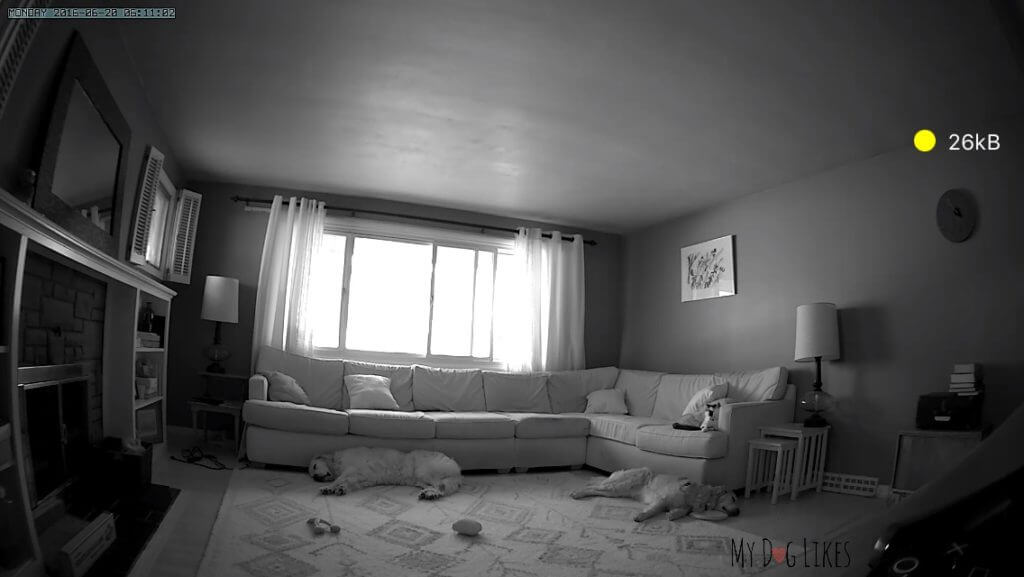 We chose to place the camera in our living room, where the animals spend 90% of the day. The M1's broad viewing angle made it very easy to find a location on the TV stand where we are able to see the entire sectional couch and area rug – which they typically alternate between.
MyDogLikes Vimtag M1 Mini Cube Review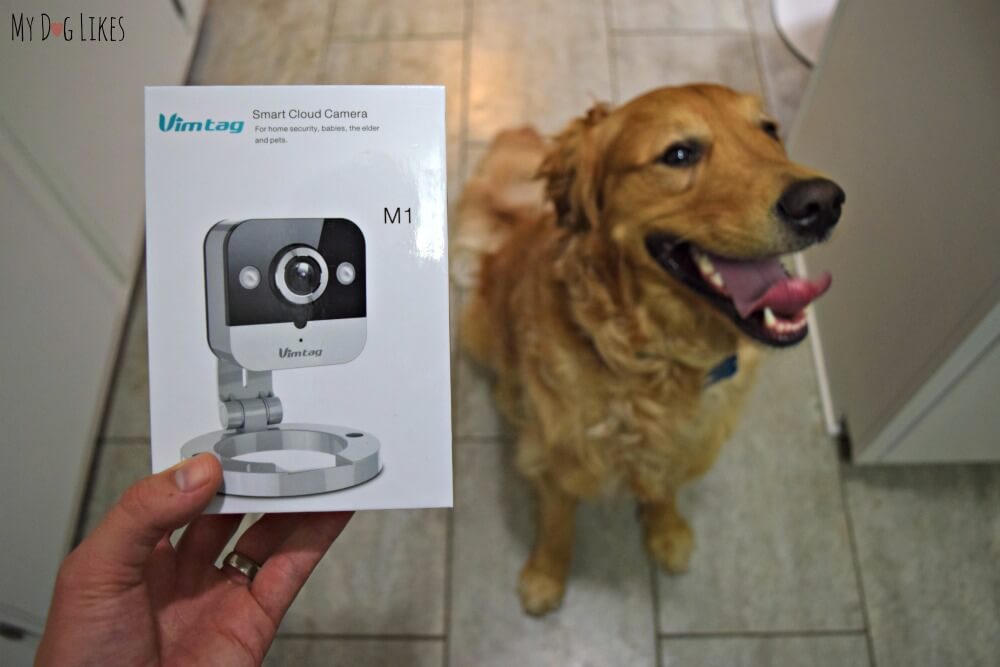 It took us only a few minutes to set up our Vimtag M1 Camera (just as advertised). We had no issues whatsoever getting it connected to our wifi, or paired with the app on our mobile phone. Right away, we were extremely impressed with the definition and frame rate of this camera. We found that the app runs seemlessly on both wifi or cellular data and truly runs in real time. This lack of delay made it extremely easy to position in just the right spot. 
Keeping an Eye on Lucas
Those of you who follow us on social media know that we recently lost our beloved cat Maxwell. This was completely sudden and unexpected at only 6 years old. We have been worried about our other cat Lucas ever since, as he hates to be alone. He gets along fantastically with our dogs which is great, but we have been accustomed to leaving the cats overnight on occasion when we had an event.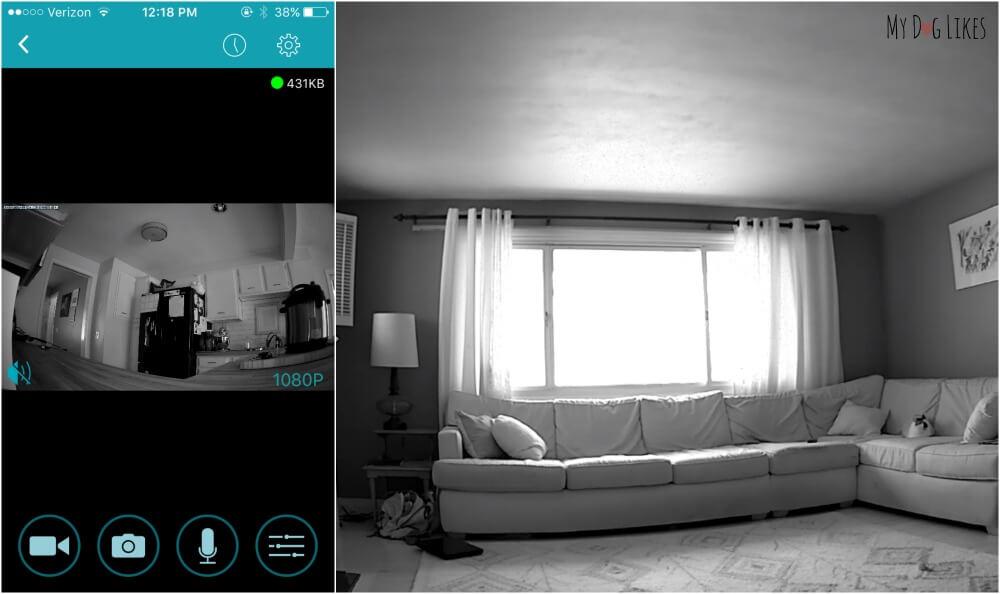 Side by side App and camera view
This past weekend was the first time that we encountered such a scenario where we needed to leave him alone for a night. We have never left Lucas completely alone, and we relied heavily on our new Vimtag camera to keep an eye on him. We felt that the ability to regularly check in on him (no matter where we were) was priceless. Being able to see him snuggled in his usual position of the couch put us very much at ease.
Why MyDogLikes the Vimtag Camera

Caught in the act! Lucas and Charlie cuddling while we're gone!
First and foremost – Piece of Mind! Perhaps your pet is getting older, has a specific health condition, or you are trying to keep an eye on a certain behavior. A web connected video camera is the perfect solution to put your fears to rest. With just the touch of a button on your mobile phone you can be viewing your pet in real-time.
Want to try out the Vimtag M1 Camera for yourself?
Click Here to Purchase the Vimtag M1 on Amazon!