We have spent quite a bit of time lately on pet vehicle safety – and with good reason. This is a majorly overlooked aspect of pet ownership, and the stakes couldn't be higher. What wouldn't you do to protect the lives of your family?
Today we are very excited to be showcasing another car accessory with life saving potential – an SUV cargo divider. Our friends at Travall are sponsoring this post so that we can help spread the word about their products!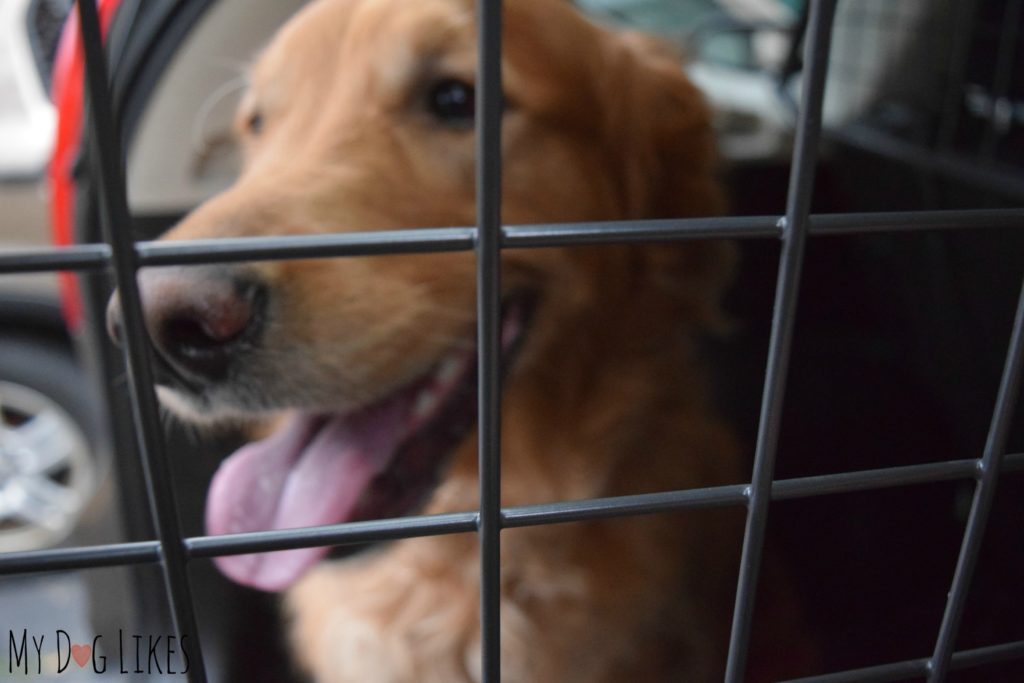 Introducing the Travall Divider
You may remember our recent review of the Travall Pet Barrier? If not, this is a piece of hardware that installs above the backseat of your vehicle to keep your pets where they belong in case of an emergency.
The Travall Divider is an add-on accessory which allows you to split your cargo area into 2 separate compartments. Just like the barrier, it is custom designed for each particular make and model of vehicle so you can be assured of a perfect fit.
Why might you need a Vehicle Divider?
There are 2 main scenarios where having this would be particularly useful for pet parents – transporting multiple animals, or transporting pets AND other gear.
Multiple Pets
We can think of several different reasons where you may want to give each pet their own personal space. Maybe they don't get along…or maybe they get along too well and get rambunctious in the car! Perhaps one needs to be restricted due to a medical issue, or maybe one is in heat.
Regardless of the reason, keeping your pets separate can keep them safe and relieve some stress on you – the driver!
Compartmentalizing 
Those of us who regularly travel with dogs know that space is always at a premium.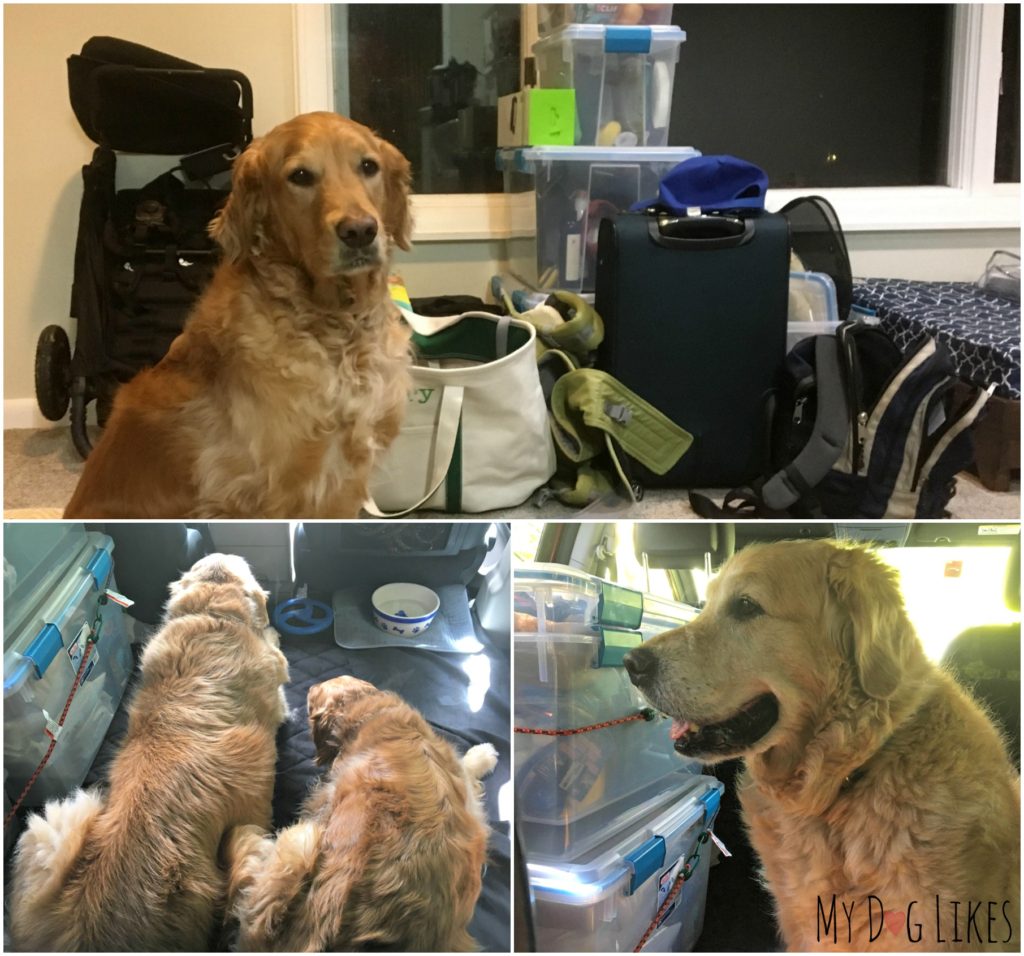 Having the entire cargo area off-limits can really make it difficult fitting everything you need in the car. A divider allows you to safely transport items in the cargo area, without worrying about them moving around and interfering with the safety of your dogs!
Unboxing the Travall Divider
The Travall Divider comes in a flat cardboard box and besides the divider itself, contains a hardware pack and instruction set. No tools are needed for assembly aside from the Allen wrench which is included.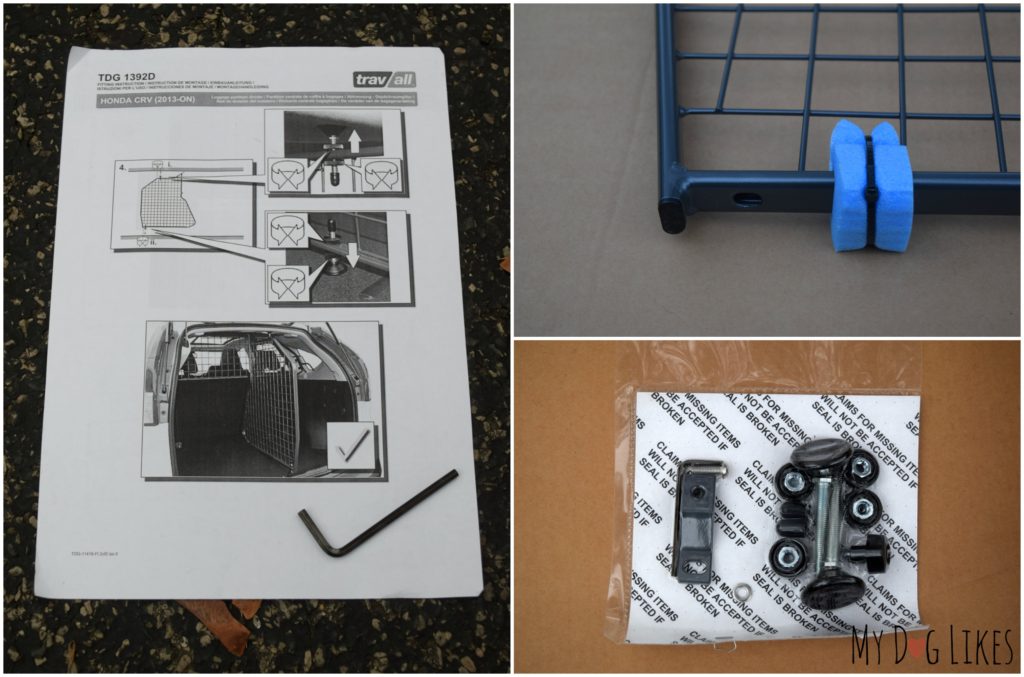 We love that the instruction sets are not generic and include pictures of the exact vehicle in which you are installing your unit! (FYI – We are demonstrating the divider in a Honda CR-V)

The divider itself is constructed of mild steel with a heavy duty powder coating. This gives it a smooth, elegant finish which pairs well with any color interior.
Installing the Travall Divider
It only takes a couple of minutes to get the divider out of the packaging and fully installed into your vehicle. The instructions referenced above make the process a breeze, but we wanted to highlight a few really cool design features…
Horizontal Adjustments
Below you can see where the Travall Divider engages with the Travall Barrier. The Divider has two small nubs which lock in to a set of holes on the upper rail of the barrier, setting its location. In the case of the Honda CR-V this gives you a roughly 2/3, 1/3 split of the cargo area.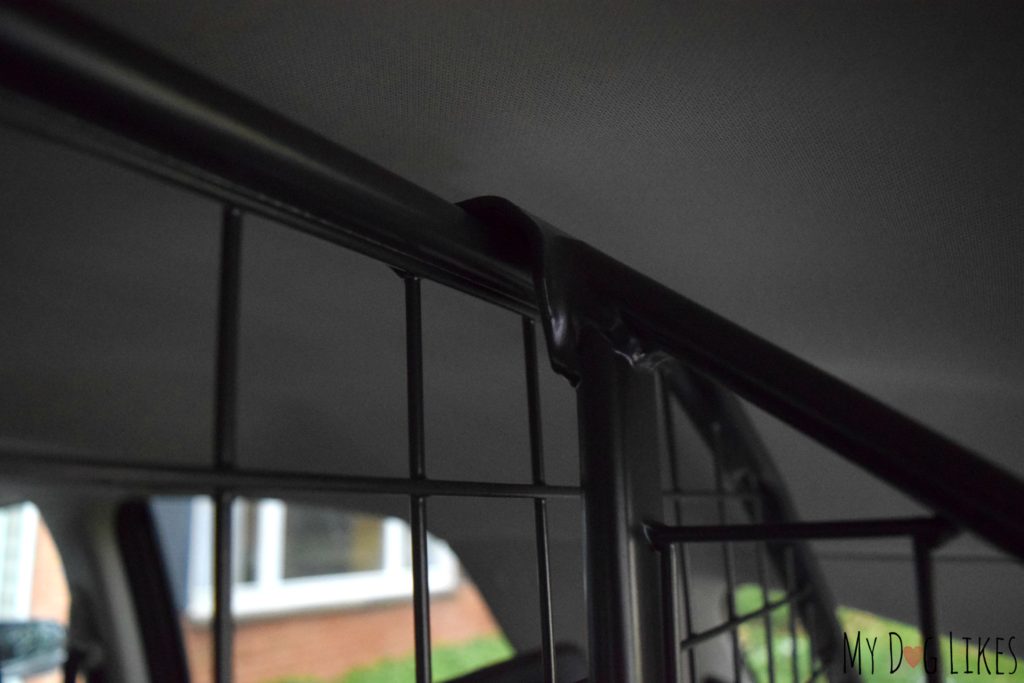 Directly below this point you will find a convenient twist knob which further secures the unit in place.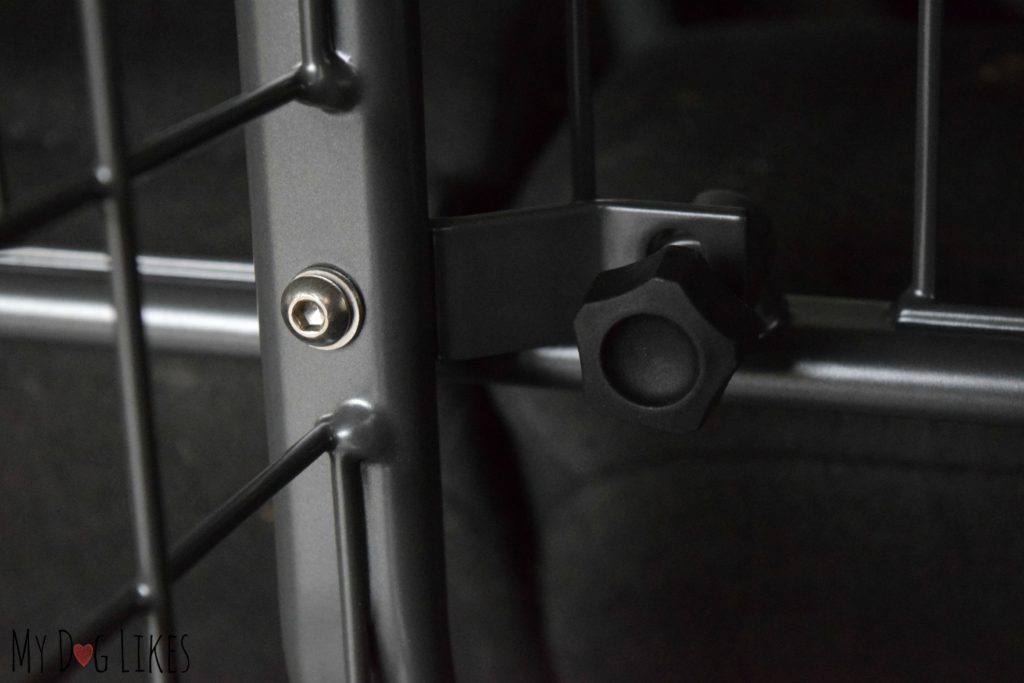 Vertical Adjustments
Next up is tightening the mounting foot which rests against the sealing.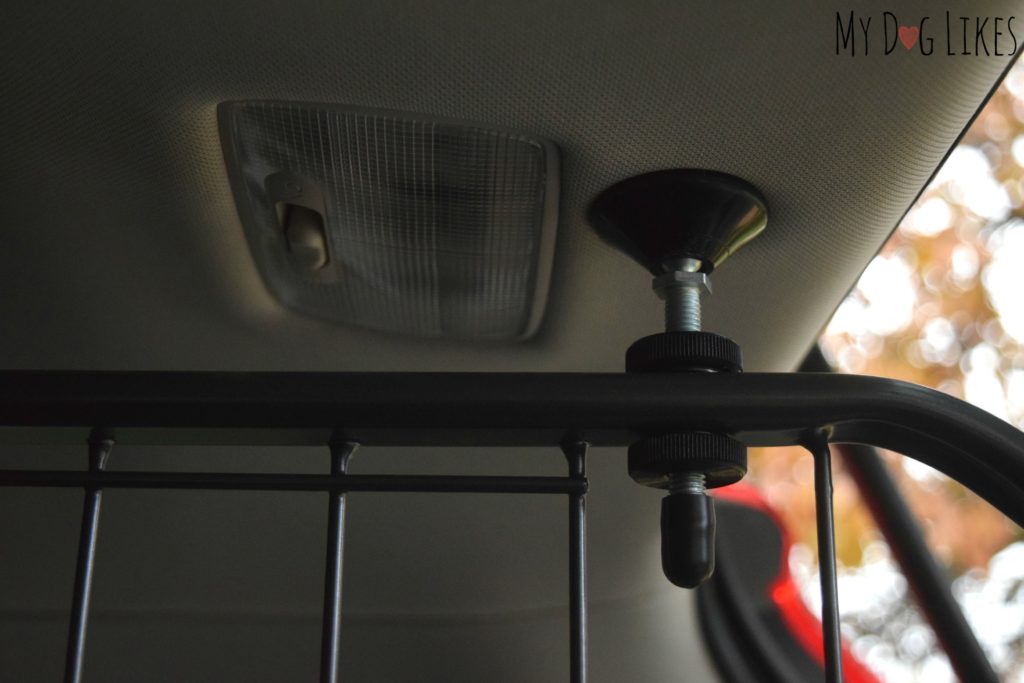 Lastly, you need to tighten the lower foot to really wedge the divider in place. Note the smooth spot in the Travall Cargo Liner below as further proof to how seamlessly these products work together!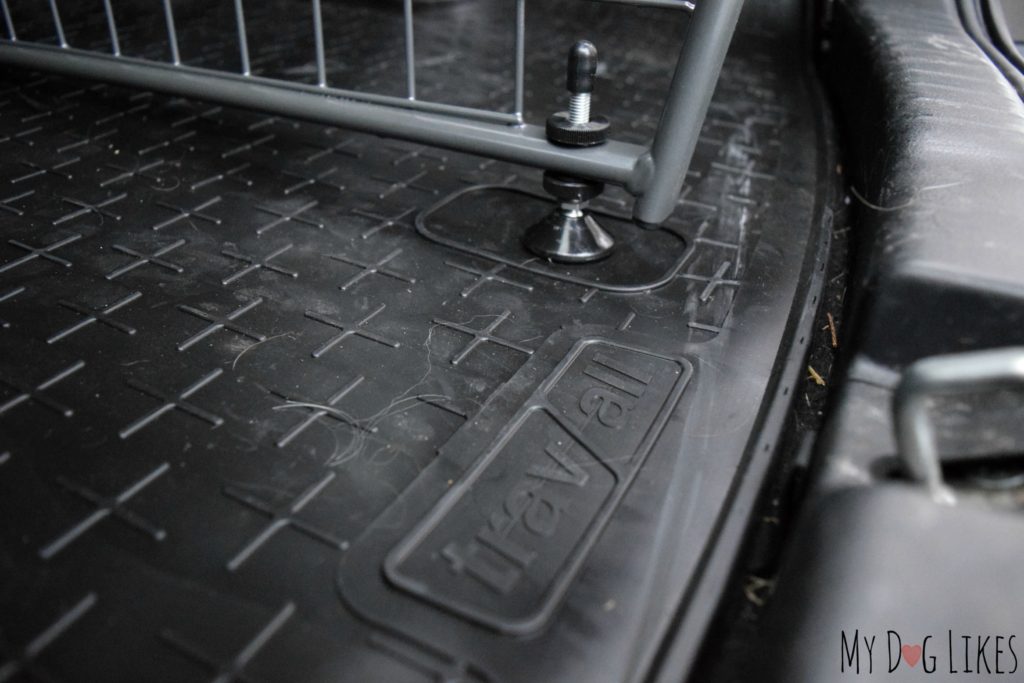 Overall Impression
Once installed, your unit will look like this…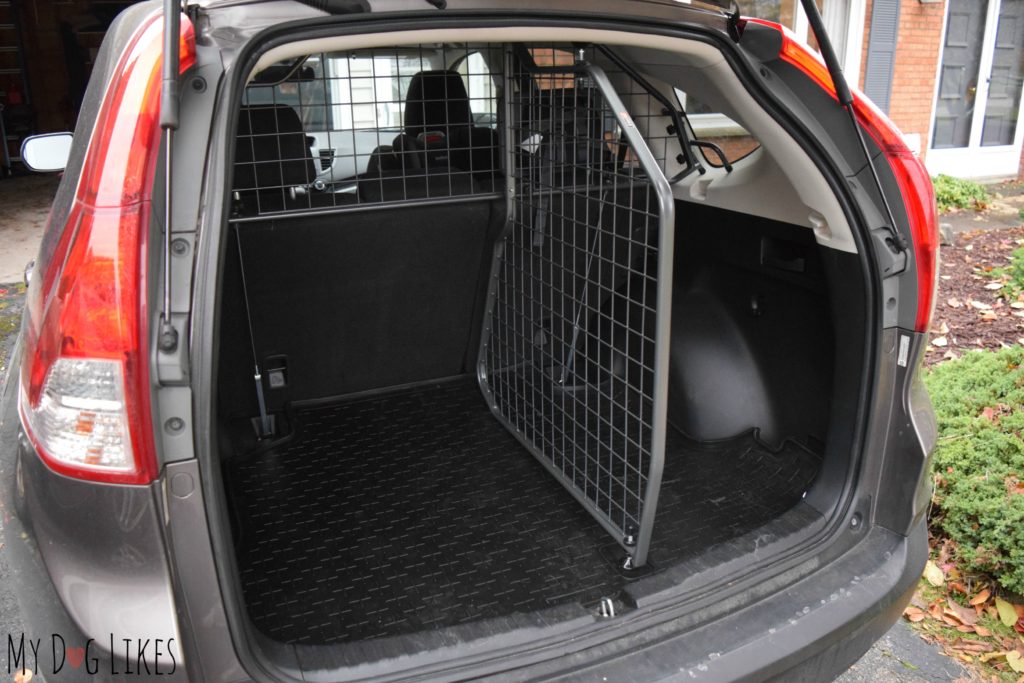 We were amazed at how perfectly everything fit – both within the vehicle and against one-another. Everything feels very rigidly connected making us feel confident about how they would perform in a crash. (Click here for a bit more info on that.)
Charlie jumped right into the vehicle as usual, and did not seem at all deterred by the presence of this new divider. Great sign!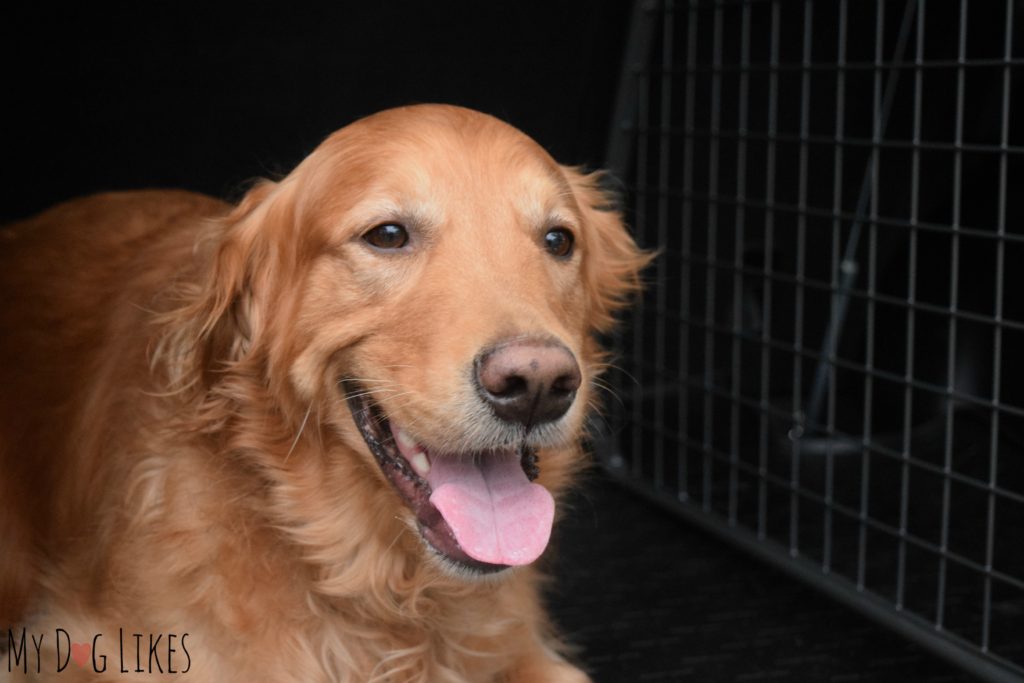 Finally, the divider looks great as well. It doesn't have the appearance of a cheap aftermarket accessory, but instead something that was made specifically for this vehicle – because it was!
Why MyDogLikes Travall's SUV Pet Dividers
As frequent travelers, we can think of SOOO many times where this divider would have really come in handy.
Being able to stick a couple things in the back without worrying about them shifting or falling into the dogs would have been so helpful! Even something as simple as a trip to the grocery store would be made easier – and you don't have to worry about your pups helping themselves on the way home!
While we love them for pet parents, Travall dividers would be really great for non-dog owners as well. Handymen with lots of tools, adventurers carrying lots of gear or anyone who simply wants a better way to organize their vehicle would all find this amazingly practical!
Want to Pick one Up for Your Vehicle?