What is your dog's reaction to the magic word… "walk?"
Chances are they get out of their mind excited, wiggling, jumping and squirming around. With so much movement it can be difficult to get them leashed up and ready to leave the house!
While our old man Harley has no problem keeping himself under control, this is a constant battle we are fighting with Charlie. He lives for his walk/ frisbee time, so curbing his enthusiasm is just not going to happen. This means all sorts of fumbling around (on our part) trying to get the snap of his leash connected to his collar.
Well, we were recently contacted by a company with a new leash which they claimed could solve this problem. We are all about pet products that help to make a pet parents life just a little bit easier, so couldn't wait to test it out!
They were kind enough to send one over and are sponsoring this post so that we could share it with you!
Introducing the Nifti SafeLatch
Have you ever looked closely at the clasp at the end of your leash? Probably not, but it almost certainly looks like this…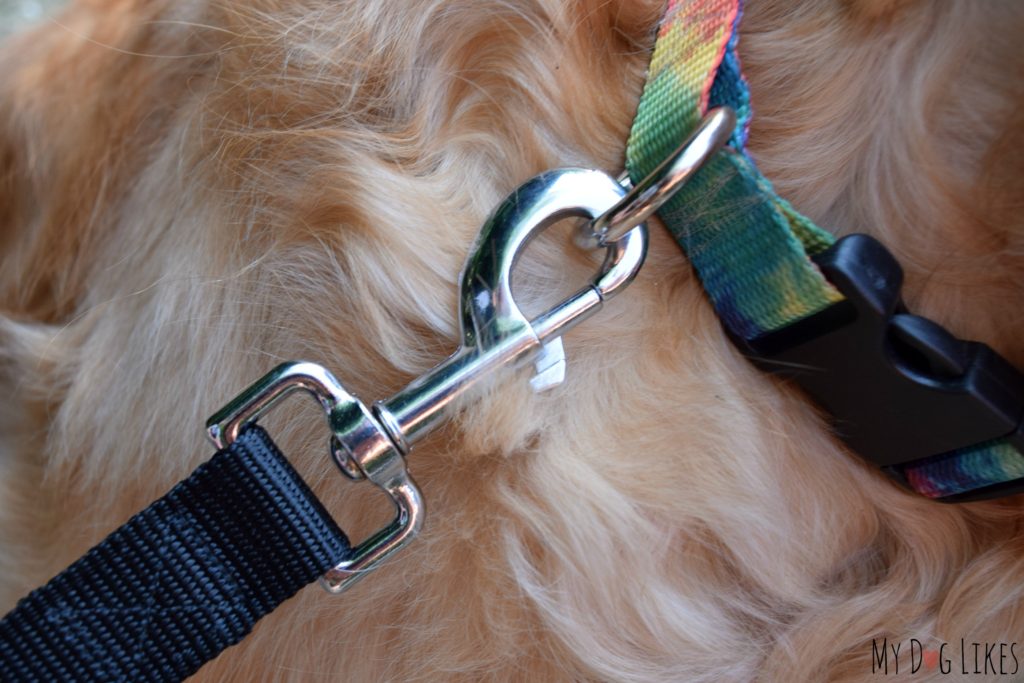 This little mechanism is known as a bolt clasp and it was originally patented in the 1800's. Since then, it basically hasn't changed.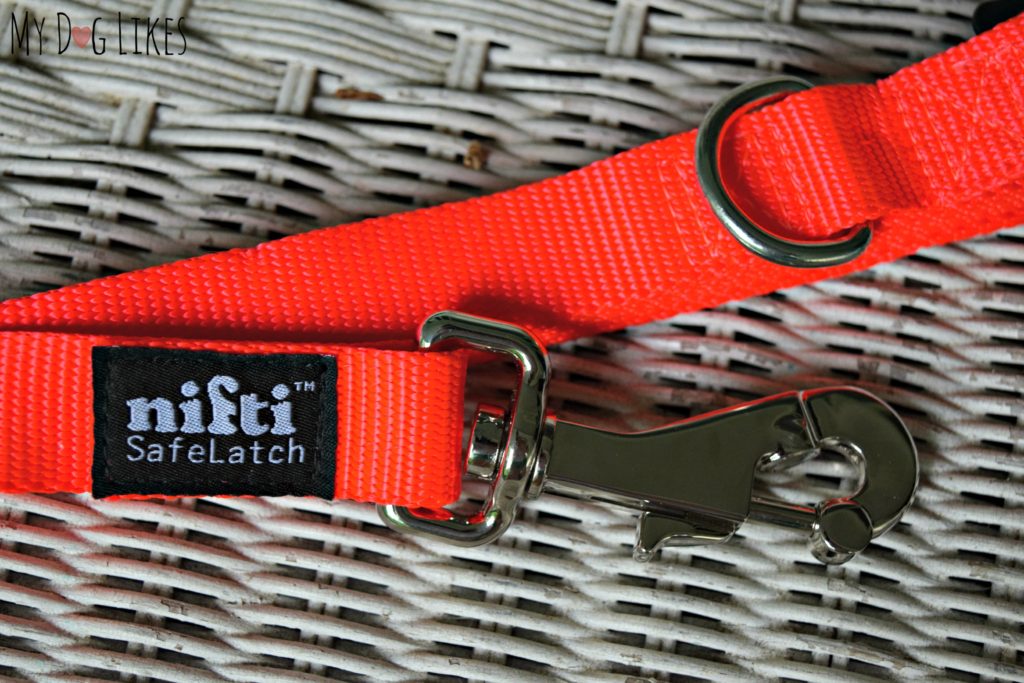 The Nifti SafeLatch is a leash with a redesigned bolt clasp which makes it both easier and safer to use. It comes in a 6 ft. length and is available in black or several different bright colors.
Click Here to Browse their Store!
It may not look all that different at first glance, so perhaps you are wondering what makes this clasp so unique???
SafeLatch Innovations
Self Aligning Magnet
The most obvious feature of the Nifti SafeLatch is an embedded magnet which makes it easier and quicker to connect. This magnet is located opposite the bolt clasp and when brought near your dogs collar will automatically pull the D-Ring in.
What does that mean? One handed leashing! You no longer need to hold the D-Ring in one hand and the bolt clasp in the other to secure your dog! To release the clasp simply pull back the bolt and twist to separate the magnet!
How many times have you wished you had an extra hand when walking your dog?!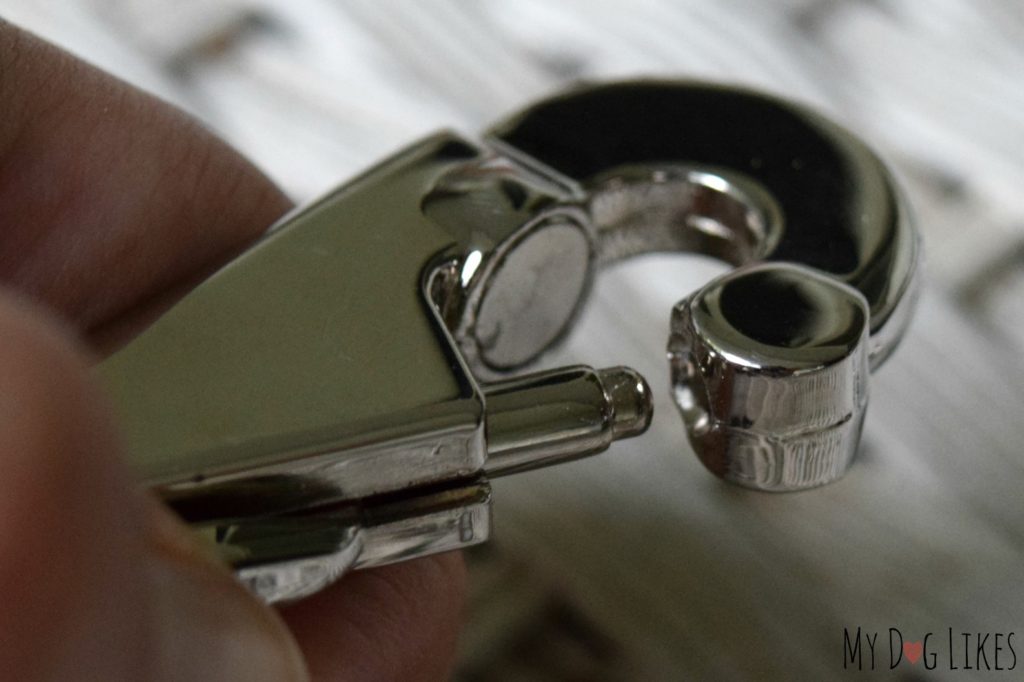 Bolt Recess
If you look closely at a standard clasp, the bolt only rests against the metal on the opposite side. This makes the connection basically only as strong as the spring keeping it closed. If the D-Ring is pulled at just the right angle it is possible for it to slip through! Since D-Rings are almost always round, it makes it even more likely that a force in just the right direction would force it to open.
The Nifti SafeLatch on the other hand has added a recess opposite the spring which the bolt fits into. This makes the connection significantly stronger and means a failure won't occur until the metal itself does. In fact, it has been independently tested to withstand a pulling force of over 660 lbs!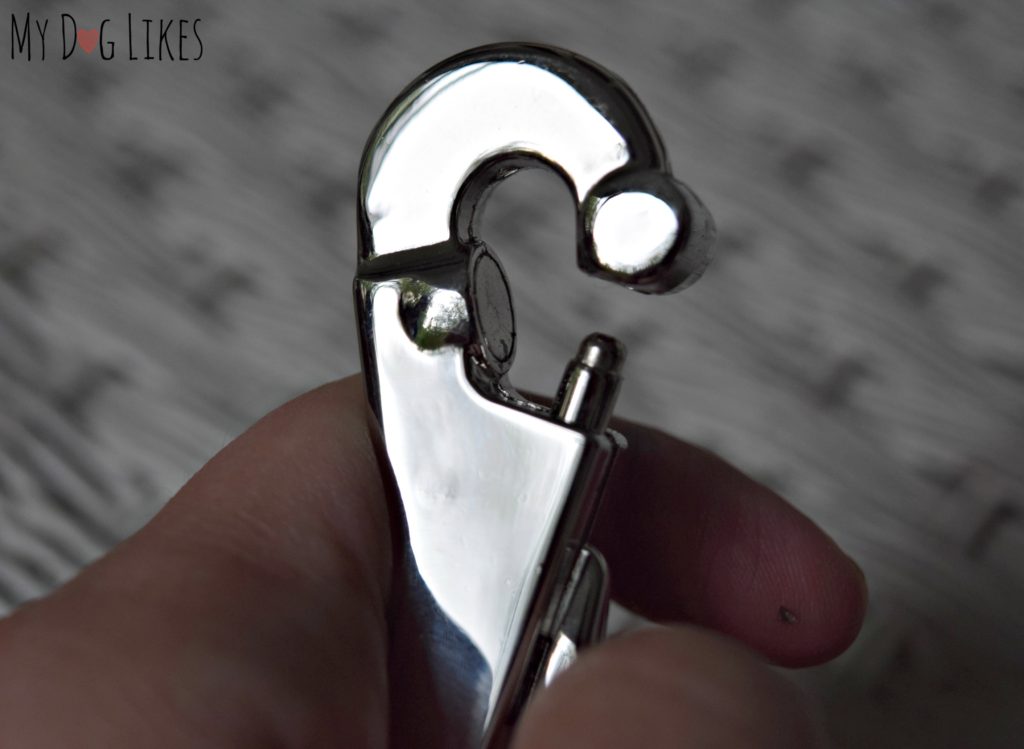 Ergonomic Release
Last but not least, the SafeLatch has completely reshaped the release on the bolt. This new design fits better with your thumb and brings it further away from the touch point. What's that mean? Lower chance of a pinched finger!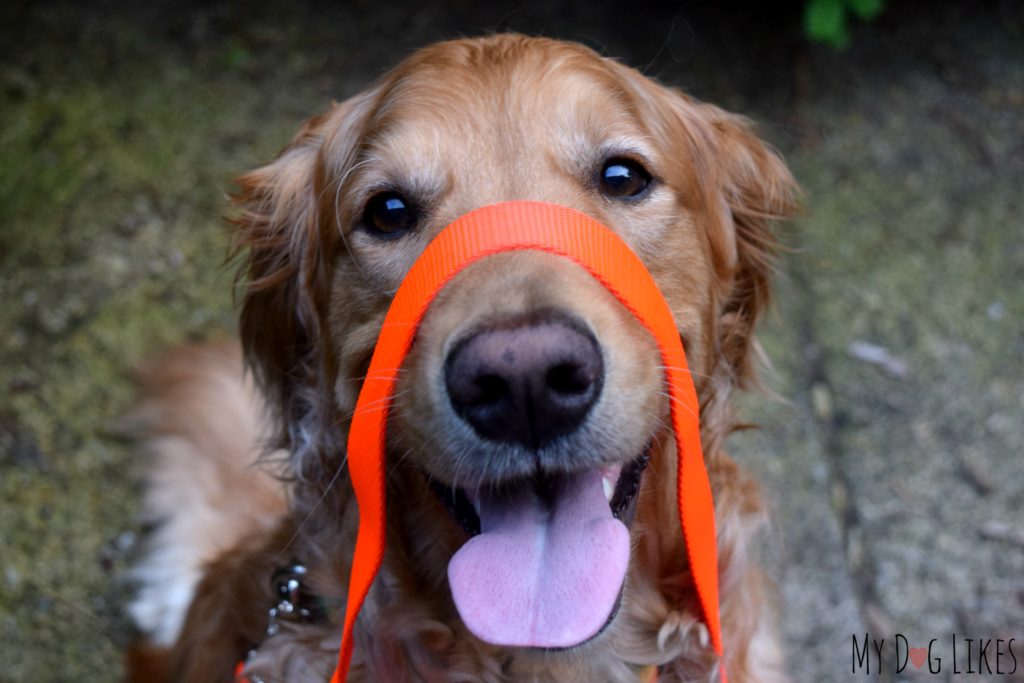 Testing it Out (Our Nifti SafeLatch Review)
As we mentioned above, we were very excited to test this leash out with our little wiggle worm (Charlie). When we opened up the package, we were immediately impressed with the thickness of the metal. This hardware is clearly high quality and built to last.
We engaged the bolt action a few times and found it to slide easily despite the powerful spring inside. Now, to see how the SafeLatch performs in action…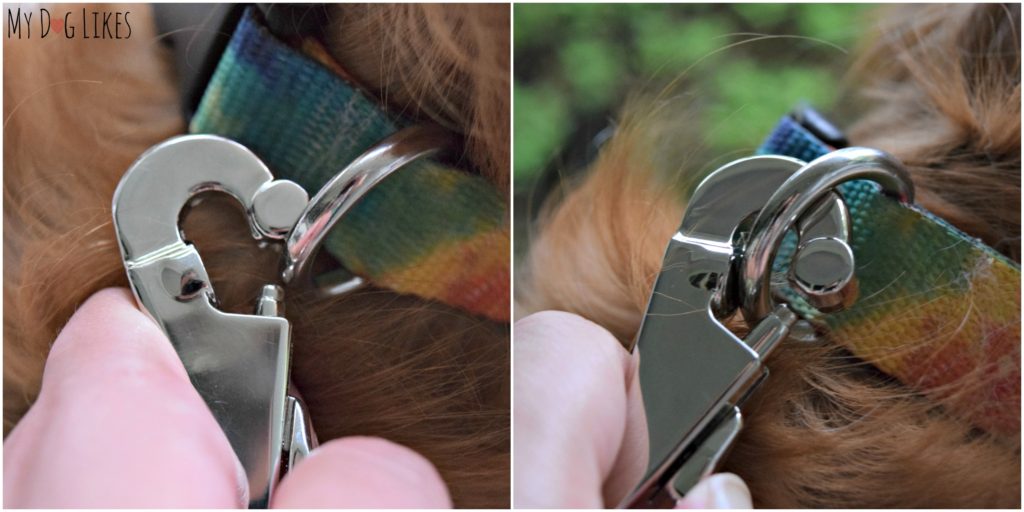 The photos above show us making our very first connection. We were very impressed with the strength of the embedded magnet – which was plenty powerful to pull the D-Ring into place by simply bringing it close.
One handed connection, just as advertised!
When releasing the tab, you can hear the bolt clicking into place. This sound is reassuring and makes you feel that your dog is truly secure. Every owners worst nightmare is a loose dog, so this peace of mind is very important.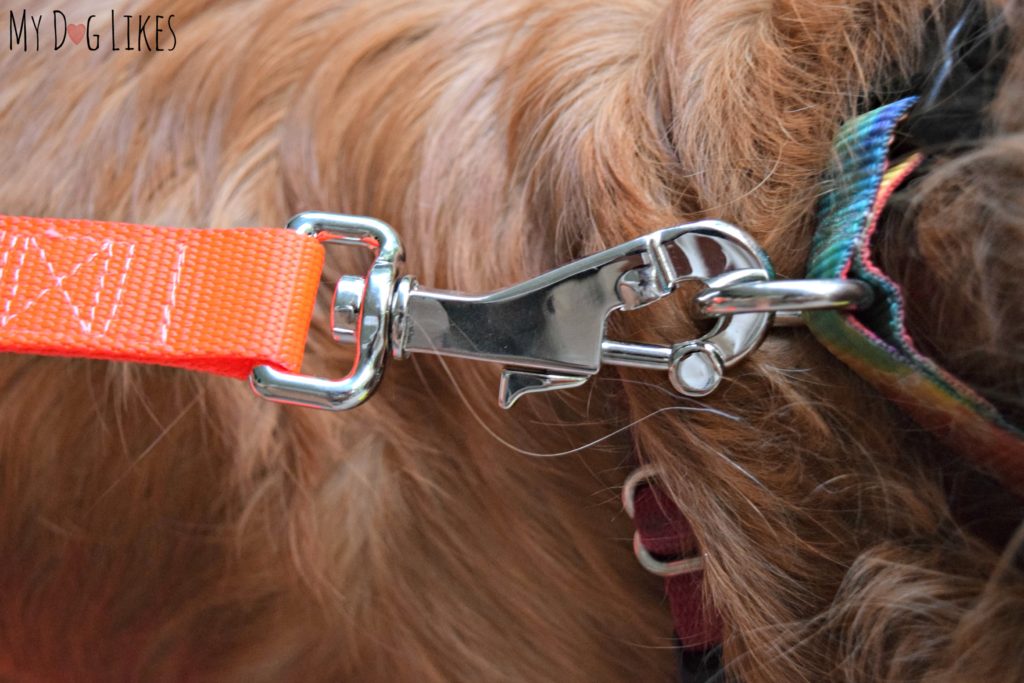 As you walk you may hear the D-ring clicking as it touches and separates from the magnet. No worries, the magnet is not what is holding the leash to your dogs collar, just designed to make connecting the two easier.
The leash itself was comfortable in our hands and a nice weight for daily use. One cool feature is an extra D-Ring up by the leash handle so that you can connect your keys!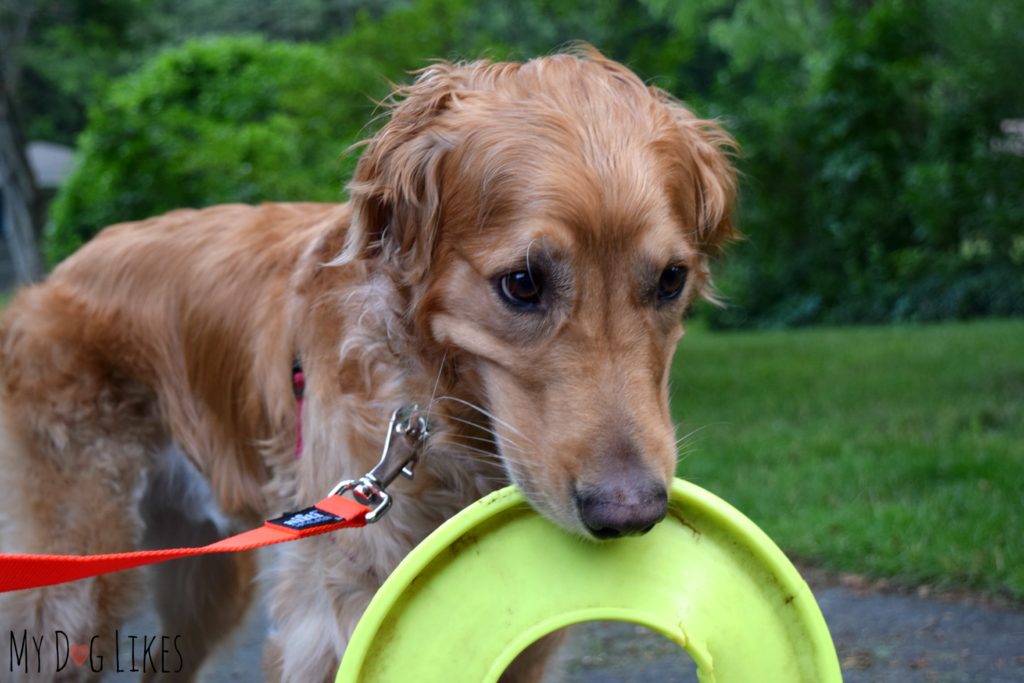 At the end of our walk we found the clasp just as easy to disconnect. All you need is to open the bolt and make a simple twisting action to separate the ring from the magnet.
Regular readers will know that we recently added a baby to our crew so our hands are more full than ever! For that reason, we are very excited about this leash and how much easier it is going to make getting Charlie ready for our daily walks!
Why MyDogLikes the Nifti SafeLatch
Believe it or not, we have tried another magnetic dog leash clasp before. Known as the Magic Latch, it was a 2 part system also designed to make connecting your dog to their leash much easier. While we did find the system easy to use, we experienced a release failure which of course scared us greatly! Because of this, we have not used it since!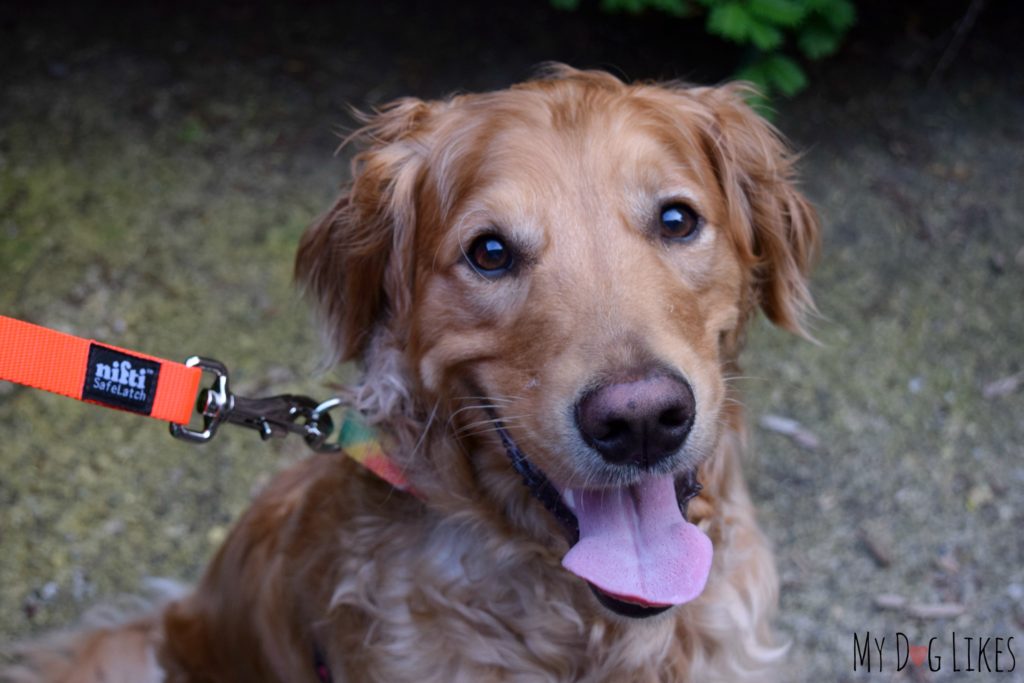 In our minds, the Nifti SafeLatch is a much simpler, safer and more effective system. It can be used with any (steel) D-Ring and due to the familiar shape, all dog-owners will instantly understand how to use it. Most importantly however is that it is extremely unlikely to fail – in fact, less likely than the standard bolt latch.
Pair that with the fact that it can be aligned and secured with only one hand? I think we have a winner here!
Want to pick up a Nifti SafeLatch for yourself?
Use promo code "MYDOGLIKES" for $8.00 off your leash AND free shipping! (US ONLY)