Winter in Western NY can be a messy time of year…
While the fields and yards may be coated with a pristine blanket of white snow, the roads, driveways and sidewalks (where our dogs take their daily stroll) are a completely different story! A combination of snow, salt, sand, and dirt turns these areas into slushy, slimy messes. Not exactly the type of thing you want to have dragged into your car!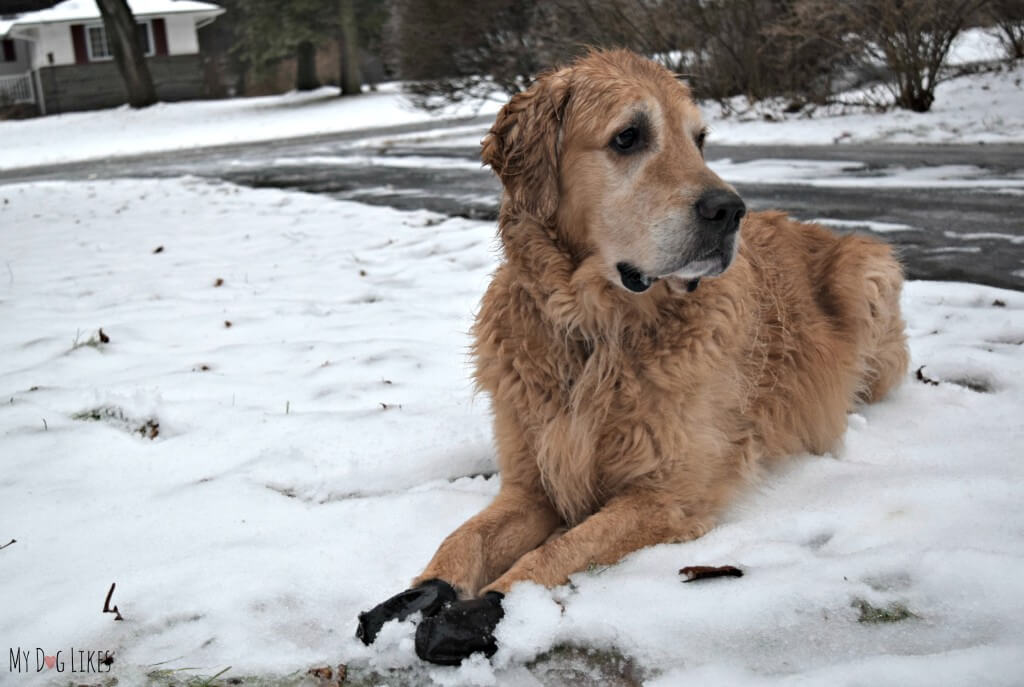 Most of us have winter mats to protect the floor of our vehicles, but our dogs don't walk or sit on those! Are you doing anything to protect the seats themselves? 
We encourage ALL dog owners to invest in a quality dog car seat cover – to protect their vehicle from messy paws, sharp claws and unforeseen circumstances!
Introducing the Plush Paws Bench Seat Cover
We were recently contacted by Plush Paws Products out of Cordova, Tennessee to see if we were interested in checking out their bench seat cover. We are always looking for products that make pet parents lives easier, so we excitedly agreed!
Plush Paw Products was kind enough to send over one Luxury car seat cover for us to test and they are also sponsoring a giveaway below!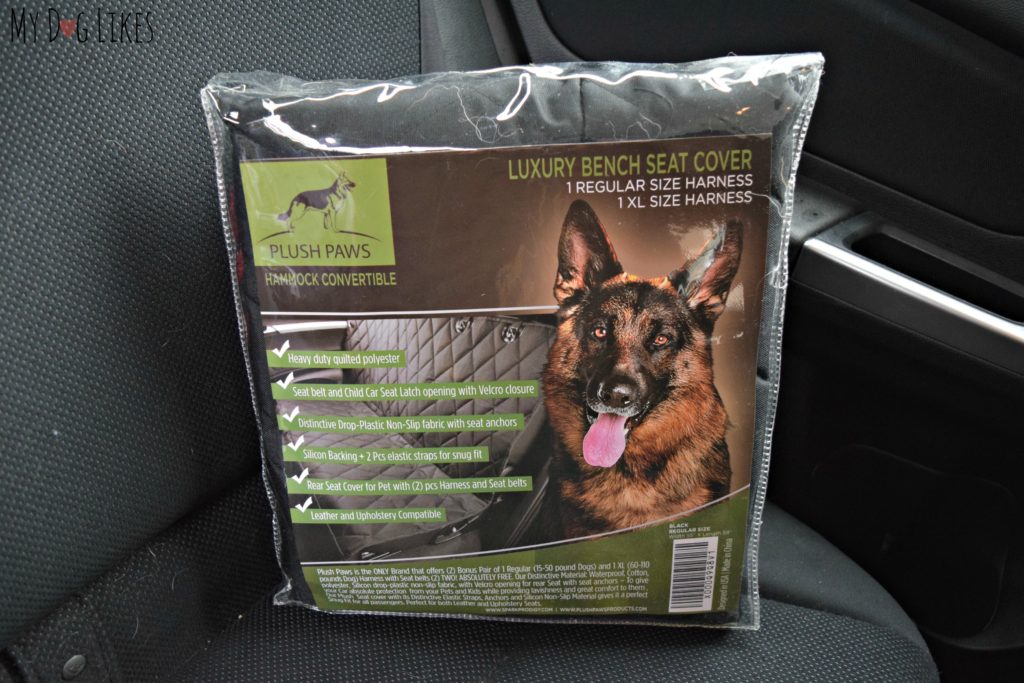 Save 20% on this cover with code "DOGLIKES"
Features of the Plush Paws Pet Seat Cover
This Plush Paws cover is LOADED with features that make it both easy to install and easy to use. We will take a quick look at these below before diving into the installation and review…

Unfolding our brand new dog seat cover
Seat anchors – Slide into the crack between the seats to keep the back and bottom of the cover in place
Elastic straps – Secures the cover around the base of the seat to prevent it from lifting up
Built in Side Flaps – Protects the sides of your seats (particularly important for when dogs are entering and exiting the vehicle)
Velcro slots – Allows easy access to seat belts, or child car seat anchors
Silicone Backing – Helps keep the cover from sliding around on the seat
Waterproof – Durable polyester forms the outer layer to protect the seat below
Adjustable Straps – Mount around head rests and buckle for a perfect fit
Multiple Configurations – Can be used as a standard or hammock style seat cover
BONUS: Dog Car Seat Belts and Harnesses Included! Every Plush Paws Seat Cover includes 2 seat belts and harnesses for your dog!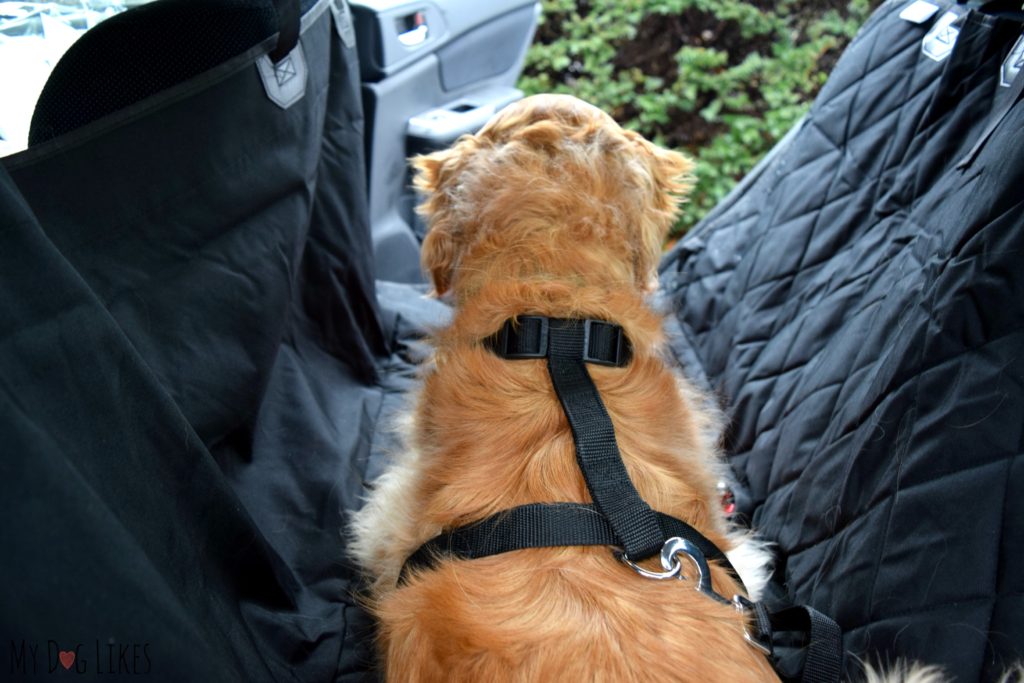 Installing your Dog Car Seat Cover
Getting your Plush Paws Seat Cover installed and ready to go takes less than 5 minutes. They make it pretty intuitive (and also include a handy guide with each purchase) but we wanted to document the steps to show you just how easy it is.
First things first, make sure to orient the cover such that the tiny silicone dots are facing down, and the white plastic seat anchors are facing toward the crevice of the seat. The silicone bumps should be resting against the bottom portion of the seat, as they help to prevent the cover from sliding around as your dog moves around on top of it.
Next up, you will want to slide the white plastic anchors into the crack between the top and bottom seat. Don't forget this step as they do a GREAT job of keeping the cover in place!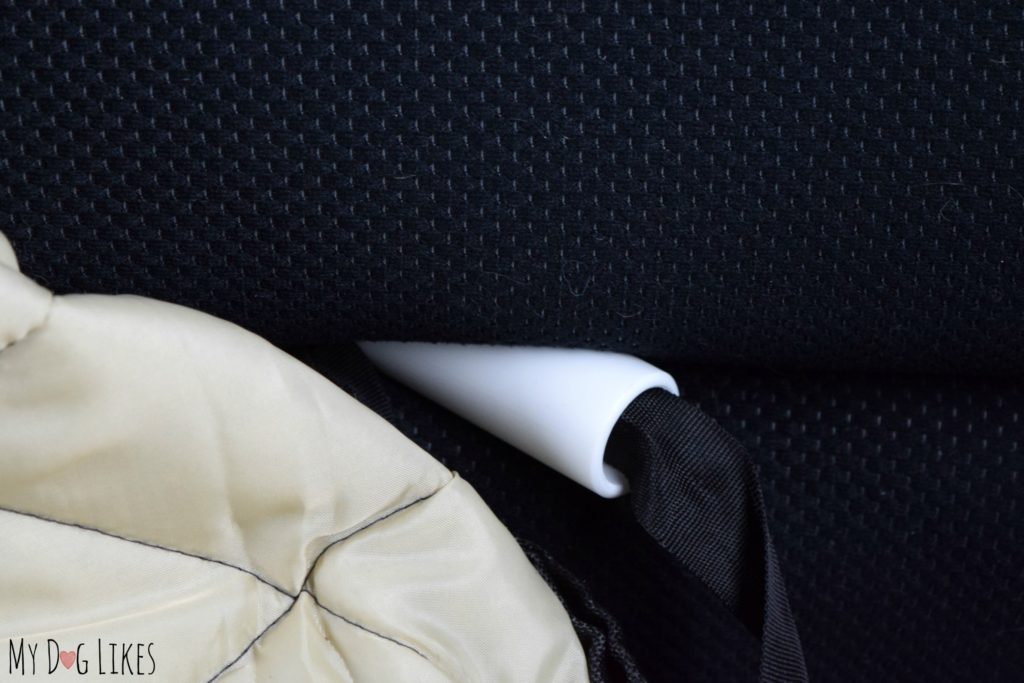 After the anchors are inserted, go ahead and lift up the back portion of the seat cover to attach it to the seat headrests. Plush Paws makes this easy with adjustable straps and buckles. It should only take a minute or two to get the perfect fit.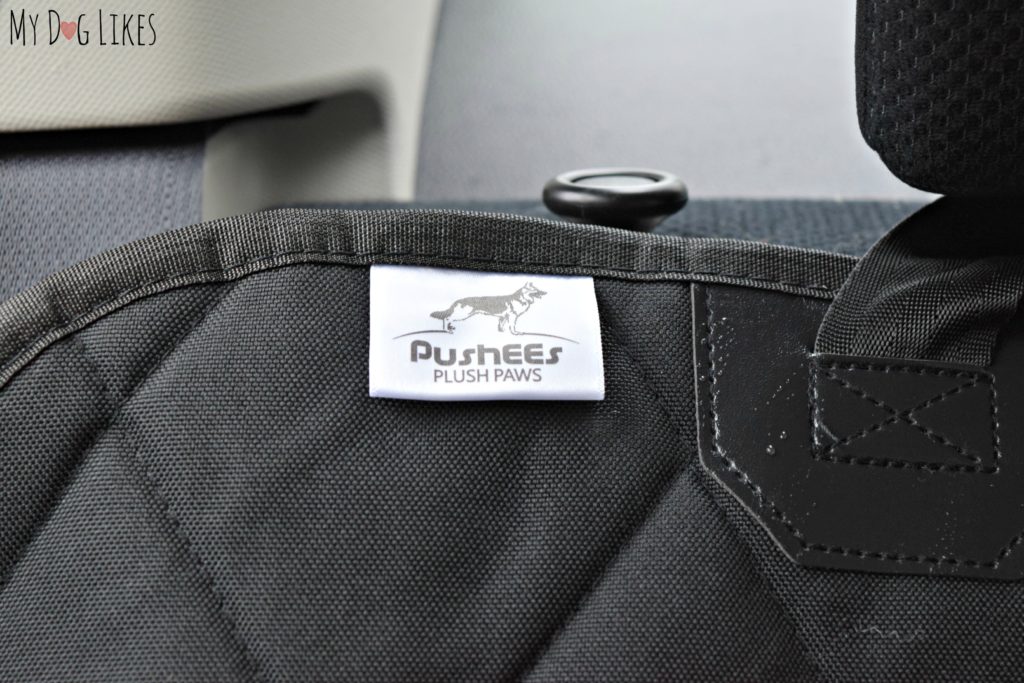 Once the back of the cover is properly secured, pull the elastic seat straps around the bottom corners of your seat. This may or may not be possible depending on the style of your bench. For example, we installed the cover in a Subaru Impreza in which the seat is solid down to the floor.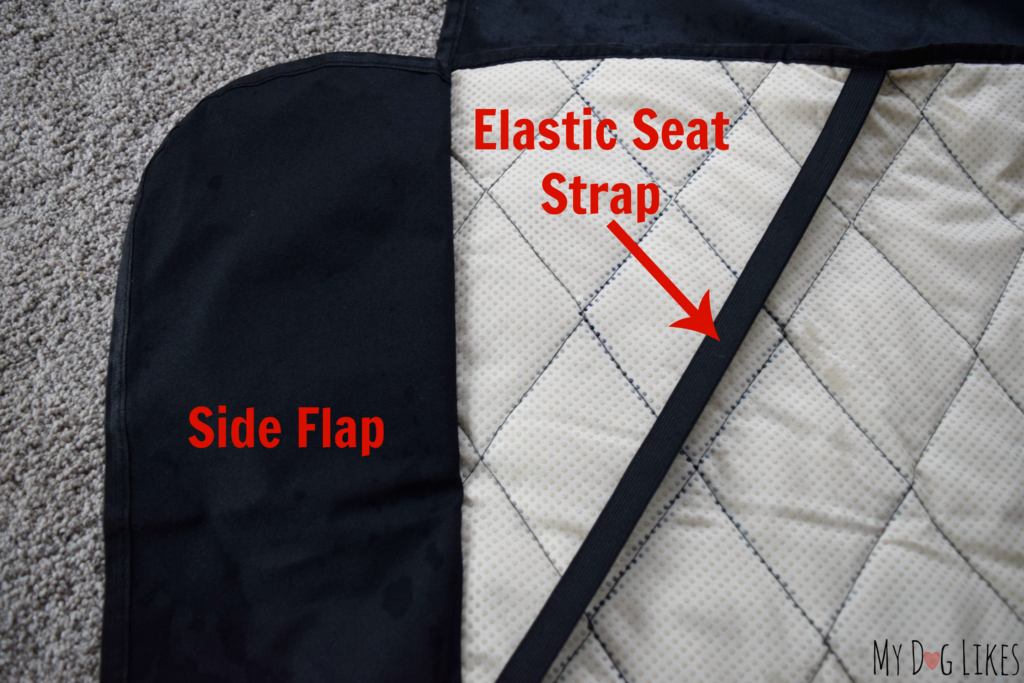 Next, flip over your side flaps to make sure that they are protecting the edges of your seat.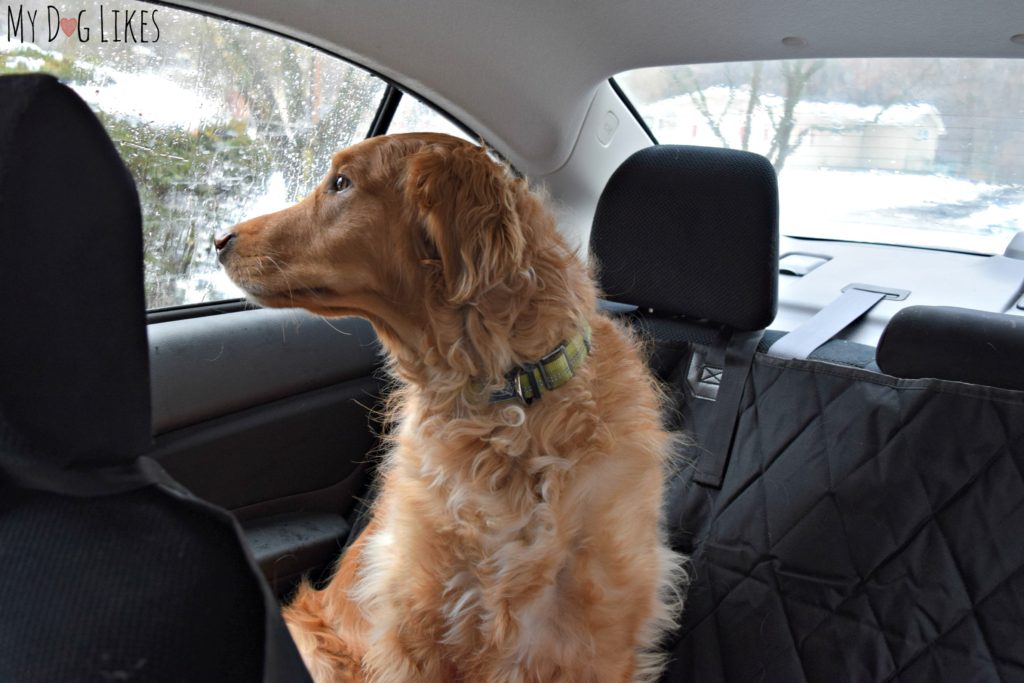 If you are leaving your cover as a traditional bench seat, that's it – you're done.
If you would prefer using it in a hammock style, just lift up the extra material on the bottom and attach to the head rests on the seat in front!
Plush Paws Pet Seat Cover Review
From the moment we slid the cover out of the packaging, the quality was apparent. Plush Paws seat covers are quilted and diamond stitched for comfort and durability. The buckles and straps also appear to be well constructed and designed to last.
It only took us a couple of minutes to install and the process very simple. The fit was absolutely perfect in my sedan and should work in just about any vehicle's bench seat.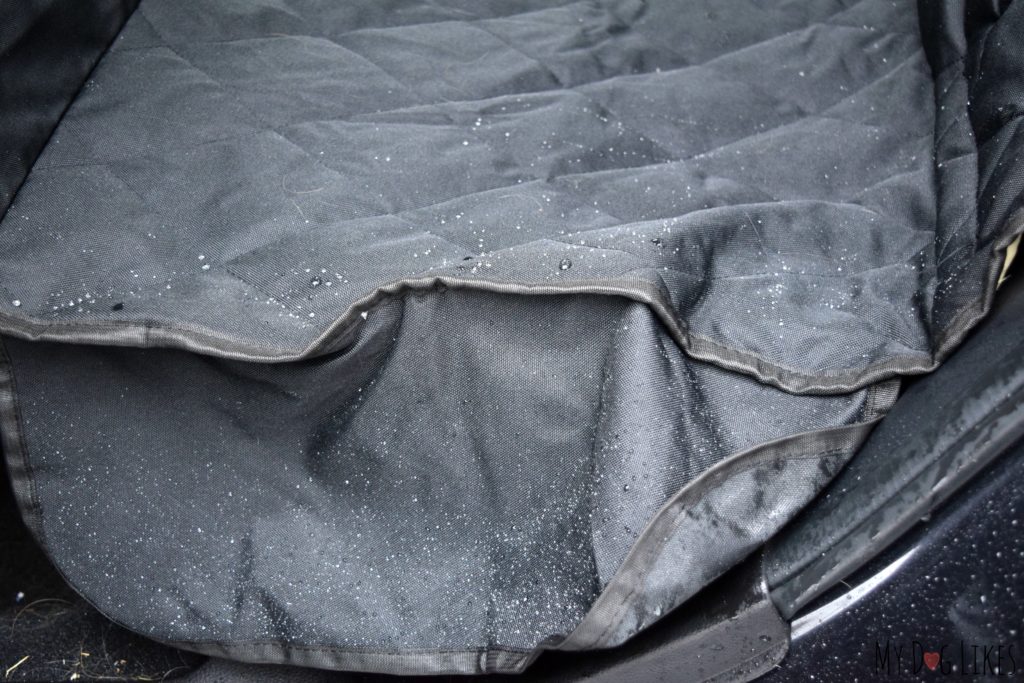 If you want to know how it performed, just take a look at the image above! The water beads right up on the polyester fabric and can be simply wiped away. This cover is easy to vacuum, can be scrubbed with a wet rag or even tossed directly into the washing machine if it gets too dirty!

As we mentioned above, each Plush Paws seat cover also comes with 2 dog harness and seat belts. One Regular size (for dogs 15-60 lbs) and one Extra Large (for dogs 60-100 lbs).
In order to get your dog strapped in for safety, just adjust the harness, clip on the seat belt, and click it into your car's current buckle. What I thought was particularly cool about these seat belts, is that they can be attached to any harness you already have. They are also adjustable so that you can give your dog an appropriate amount of slack to get up and turn around, while still keeping them secure.
For as much as we travel with the dogs, we are a bit ashamed to admit that we have never had a safety harness for them. We are SO GLAD that we do now, and that our dogs will be better secured in case of an emergency.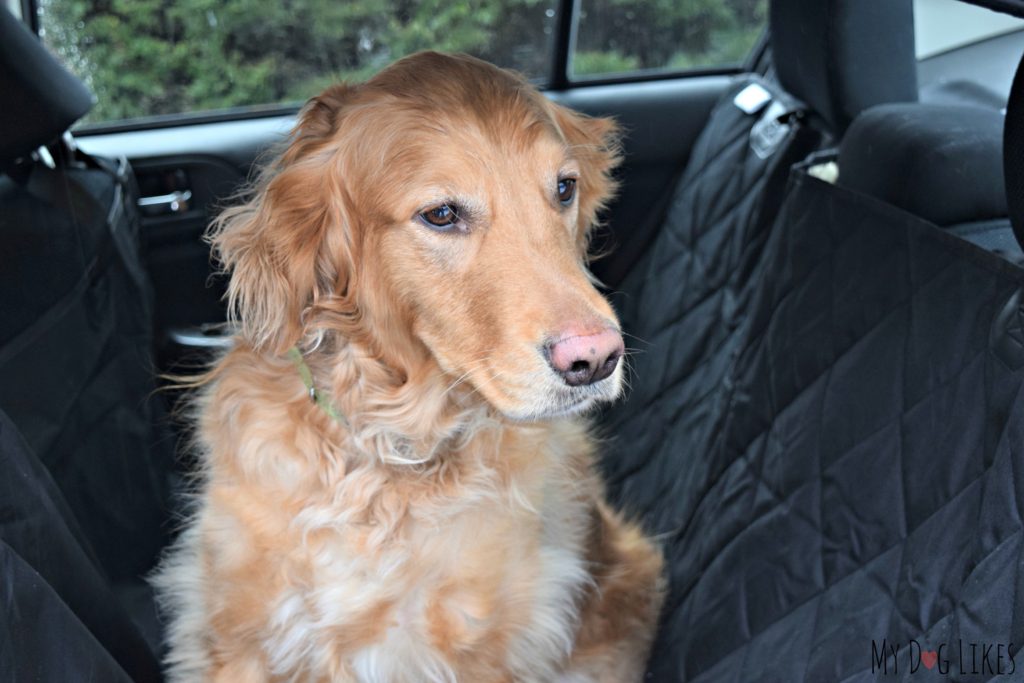 Why MyDogLikes the Plush Paws Luxury Seat Cover
Regular readers will know that we are huge proponents of getting out and exploring with your dog. It is a truly amazing way to bond with your furry friends and we would never want potential messes to deter you from doing it!
The Plush Paws dog car seat cover is well designed and well made. I really can't think of anything that I wish this cover had that it does not! It is already coming in handy for the wintry weather mix that we have been seeing as of late, and will be perfect for protecting our vehicle year round. It will also be great for containing messes from our soon to be human addition!
Last but not least, Plush Paws offers a LIFETIME Warranty for all of its wide selection of vehicle covers – so why not give them a try!
Click Here to Browse their Amazon Store
or Enter the Giveaway Below!