Harley and Charlie are both "working dogs."
OK, so maybe not in the traditional AKC sense, but we do make them earn their keep around here as Sr. and Jr. Product Testers, nonetheless.
Overall, they are excellent employees – Willing to work tirelessly under all sorts of conditions…as long as they are being properly compensated.
Now since a dog has no use for human money, they have both opted for payment in dog treats. The only problem is that it has been quite some time since our last dog treat review. Nearly 4 months as Harley and Charlie have been "politely" reminding us! The company "accounts" have been running dangerously low!
Thankfully, we were recently contacted by a new (to us) company wondering if we might be interested in giving their dog treats a try. Talk about the nick of time! We were about to have a strike on our hands!
Introducing Lucky Pet Brands
Located in Northern Illinois, Lucky Pet Brands, is dedicated to creating wholesome, all-natural treats that pets will love. These treats consist of whole foods only and no fillers like wheat, corn or soy. Not only that, but they are free from salt, sugar, artificial coloring and preservatives as well. Last but not least, all ingredients (with the exception of palm oil*) used by Lucky Pet Brands are sourced and processed right here in America, in an FDA approved facility.
*Palm oil cannot be grown in the United States, but is instead imported from South American farmers who are approved by the Roundtable On Sustainable Palm Oil. This oil is then processed here in the US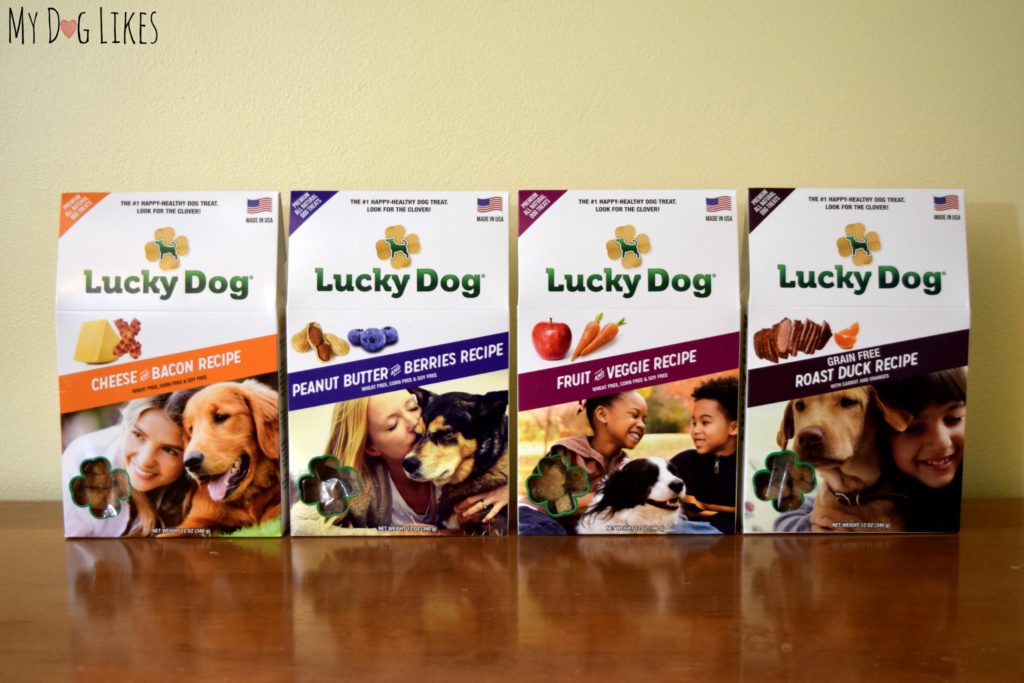 That is just the type of oversight we like to see in our dog treats!
Lucky Pet Brands was kind enough to send us a large assortment of their Lucky Dog Treats to try. They are also sponsoring a giveaway below for 3 lucky readers, so make sure to read through til the end!
Lucky Dog Treats
These biscuit style dog treats come in 6 different flavor options, each of which is sure to grab your pups attention! We have outlined them all below, and highlighted a few of the key ingredients as well:
Grain-Free Roast Duck – Duck, Carrots and Peas
Grain-Free Captains Choice – Whitefish, Smoked Herring, Carrots and Peas
Cheese and Bacon – Dried Cheddar Cheese, Flaxseed and Natural Bacon Flavor
Fruit and Veggie – Sweet Potato, Pumpkin, Apples, Carrots and Flaxseed
Peanut Butter and Berries – Real Peanut Butter with Dried Blueberries, Cranberries & Flaxseed
Low Fat Pumpkin and Sweet Potato – Pumpkin, Sweet Potato & Applesauce
Click Here to Shop Lucky Dog Treats on Amazon!
Each variety is baked in a base of either oatmeal or potato/pea/tapioca flours. No wheat, corn or soy as mentioned above!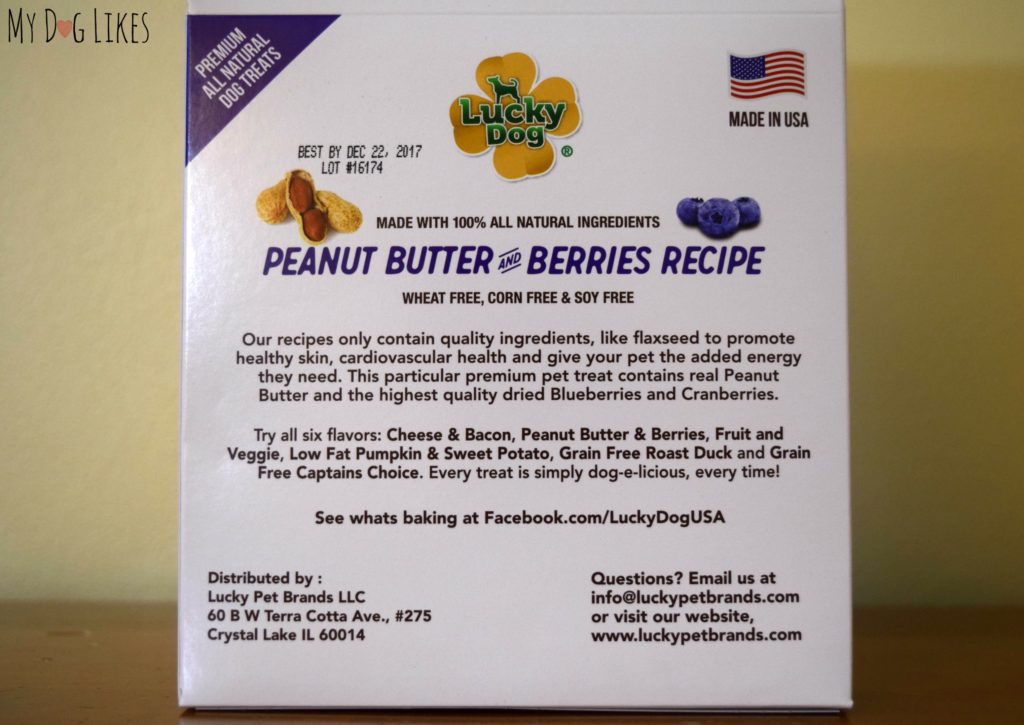 Even though Lucky Dog uses no artificial preservatives, these treats actually have an 18 month shelf life! That is because the product has been dehydrated and sealed before shipment.
Initial Impressions
Harley and Charlie expect that every package arriving at our door is for them – and they are usually correct. As soon as I opened our shipment of Lucky Dog Treats, they both had their noses jammed inside the box!
Unfortunately for them, we needed to grab some photos before digging in…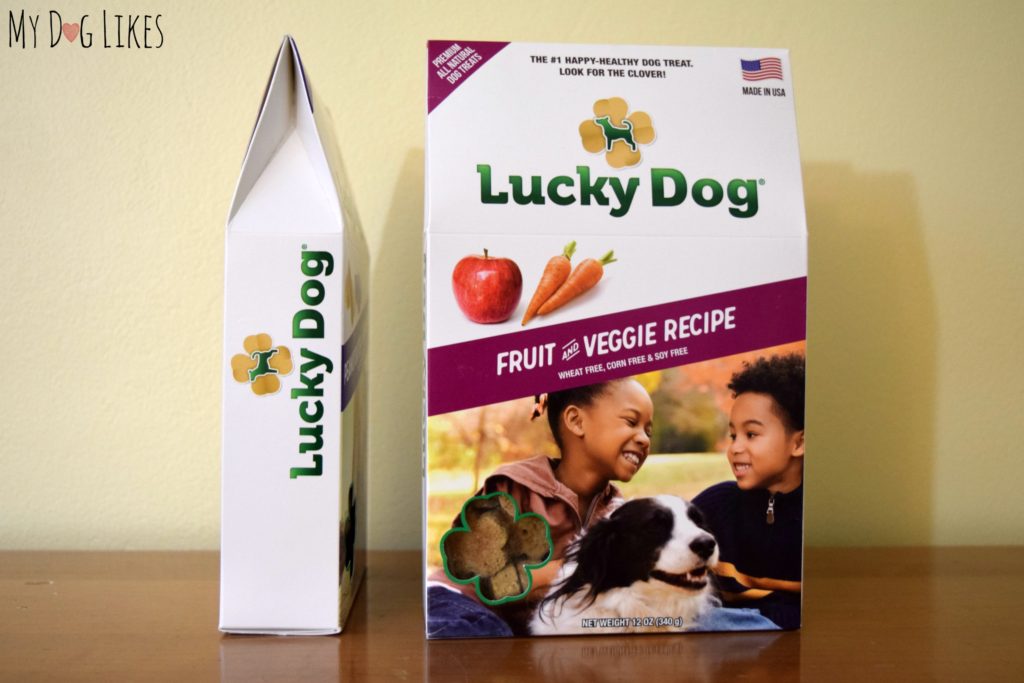 Lucky Dog Treats come in 12 oz. cardboard boxes with a tapered top. I liked the sleek look of the packaging and that the artwork depicts the "real food" within. Each box has a sealed plastic bag inside containing between 55-60 individual treats.  In our opinion that seems like a great value – There is nothing worse than plowing through an entire bag of treats in just a couple of days!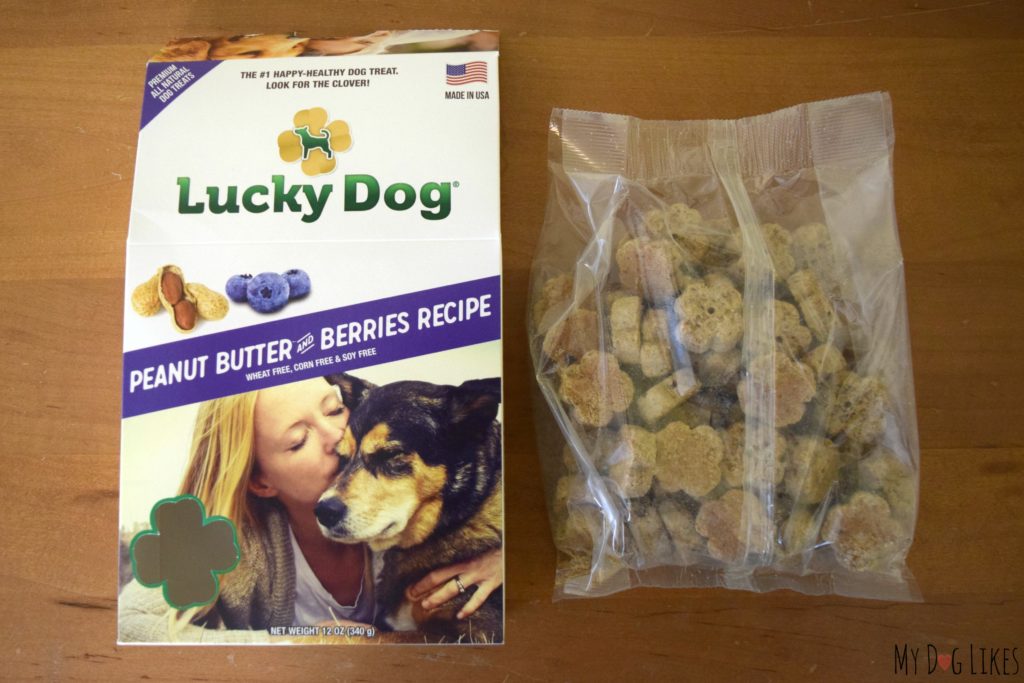 The treats themselves are clover shaped and when you take a closer look it is clear to see some of the whole food ingredients inside.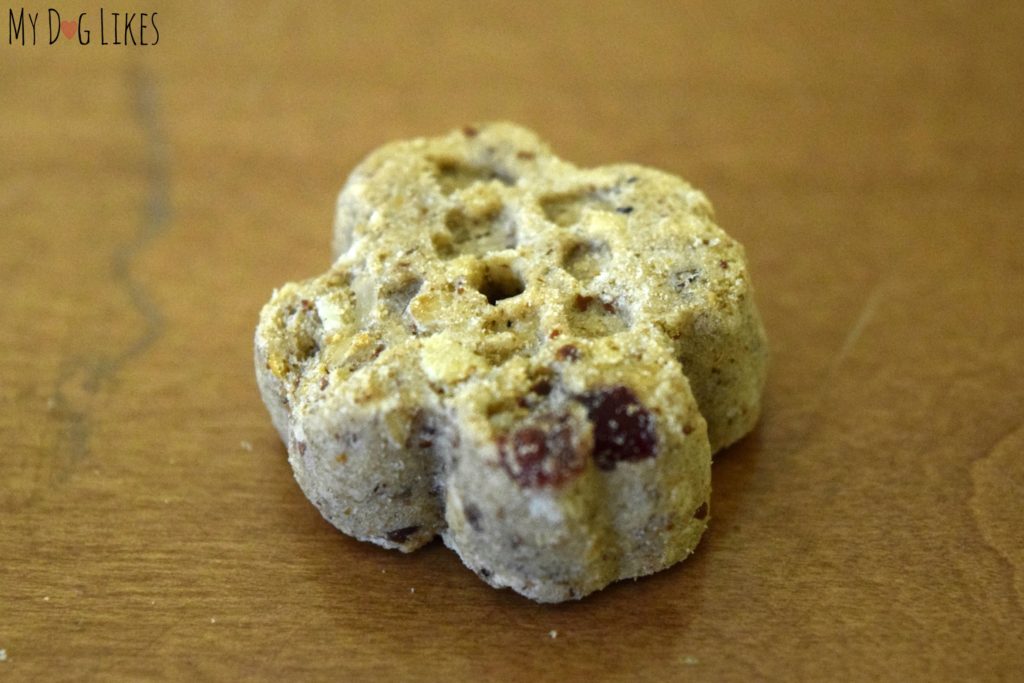 They had no noticeable odor to us, unless you brought them right to your nose. The dogs, on the other hand, certainly knew what we were keeping from them!
Time for the Taste Test – Our Lucky Dog Treats Review
After all this inspection and photography, we had two drooling Golden Retrievers on our hands. The real test was about to begin, when these discerning palate's got their first taste!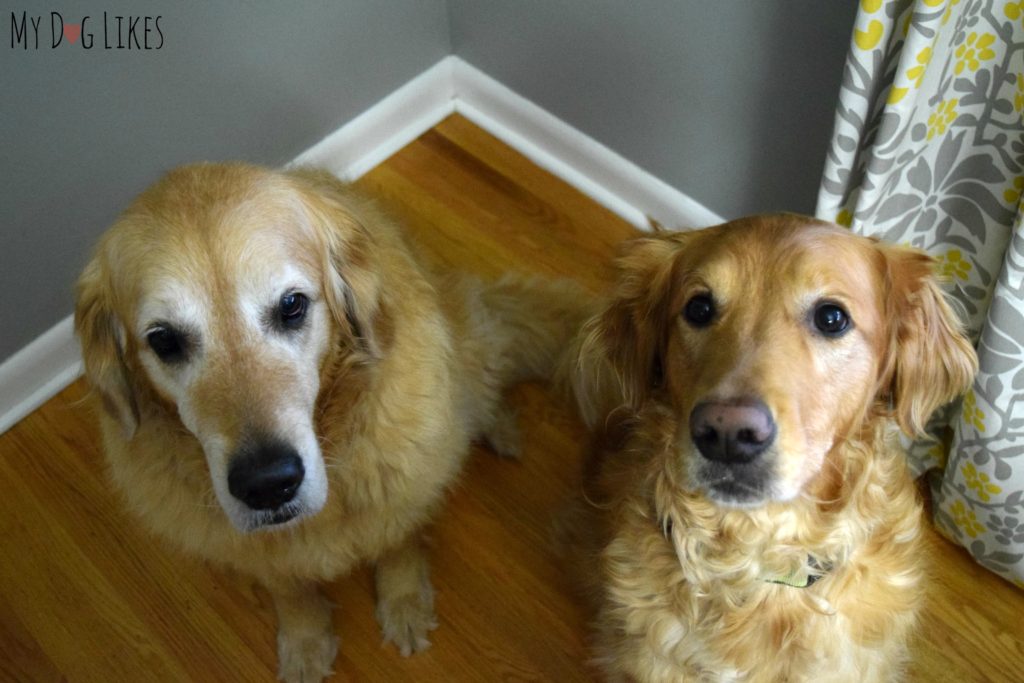 We broke out the peanut butter flavor to start as that is always a big hit. This flavor includes blueberries, cranberries and honey as well to make it especially enticing!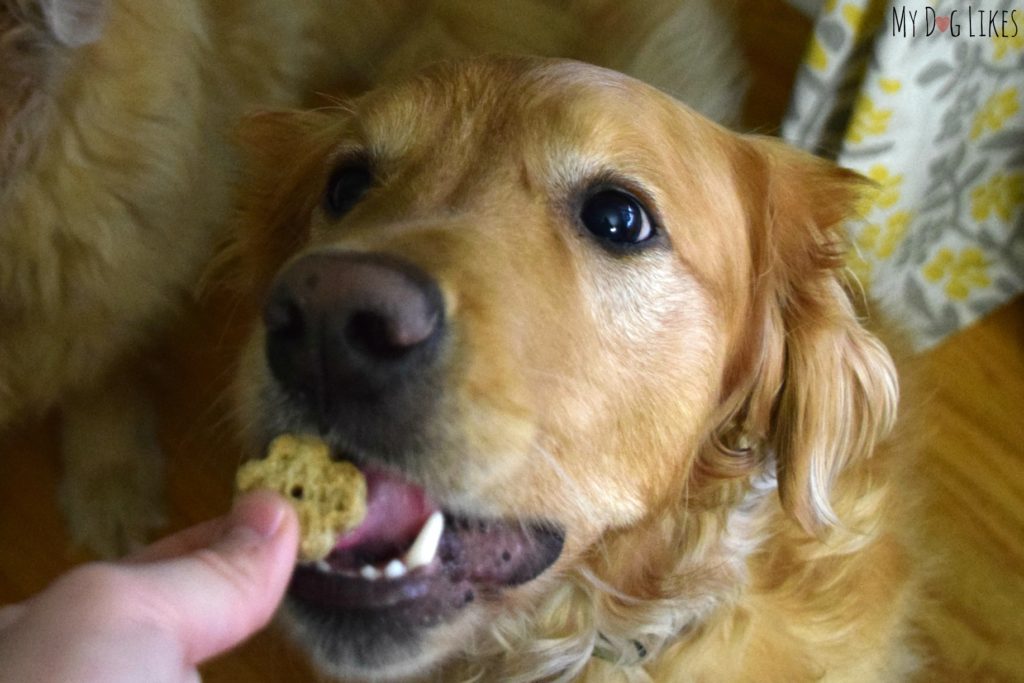 Both Harley and Charlie gobbled them up with no hesitation and were immediately ready for more. They make a great crunching sound while being eaten – which is something that we always appreciate as well!
Our dedicated crew was willing to put in some extra time, so we sampled several other varieties, which were all met with similar levels of enthusiasm!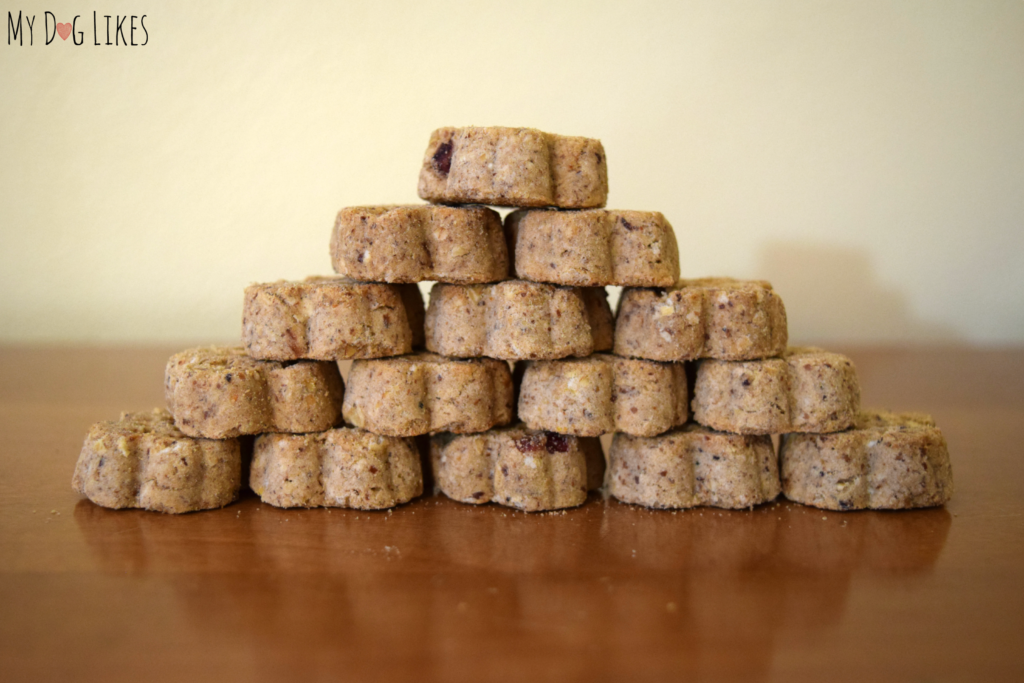 Harley and Charlie loved the taste of these treats – but lets be honest, that is rarely an issue with these two. Where Lucky Dog Treats really stand out is the quality of their ingredients – which are as good as you will find in a biscuit style treat.
Each piece is roughly 20 calories, which is perfect for being a satisfying snack without having to worry about packing on the pounds.
Why MyDogLikes Lucky Dog Brand Dog Treats
Between a strict homemade diet, daily exercise, and plenty of water, we try to do whatever we can to keep our dogs strong and healthy. Why would we waste all of that time and effort by feeding them garbage treats?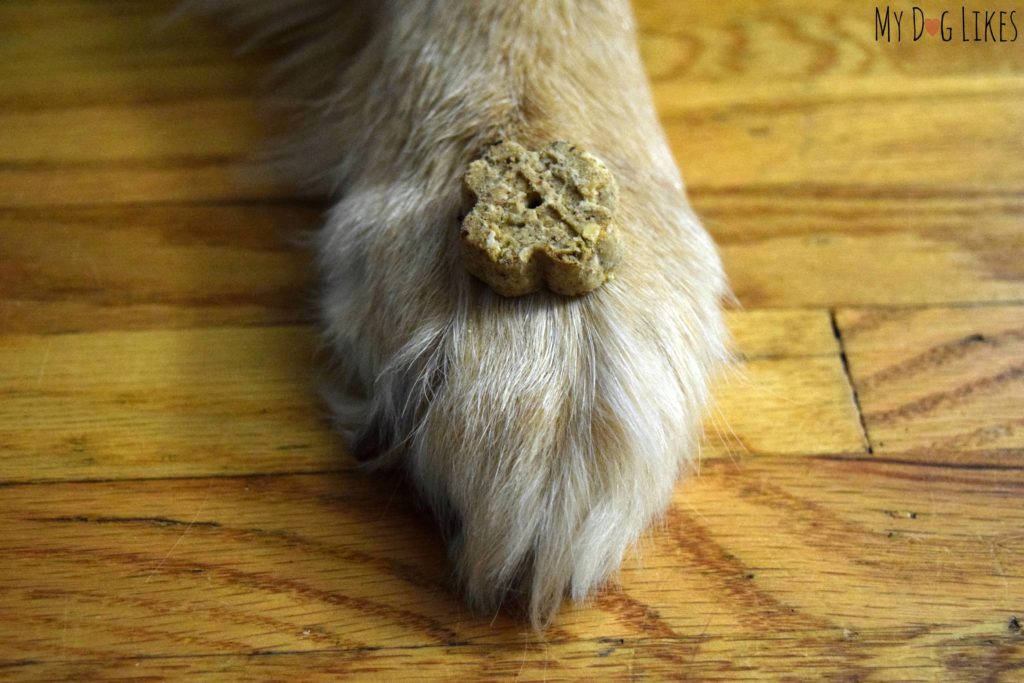 Dog's do not digest like we do, and there is simply no need for fillers like corn to be present in anything that they eat. It is possible to give dogs something that they crave, while also remaining healthy at the same time – something that Lucky Dog proves hands down. We also appreciate their commitment to sourcing and processing all ingredients right here in America – where the standards of safety and quality are so much higher.
So, if you are looking for a dog treat with whole food ingredients, and plenty of unique flavors that dogs love, we highly recommend Lucky Dog Treats!
Click Here to Pick up Some of these Treats on Amazon!