Harley and Charlie have had a real hankering for seafood as of late. So naturally, they headed down to the local stream to see what they could catch…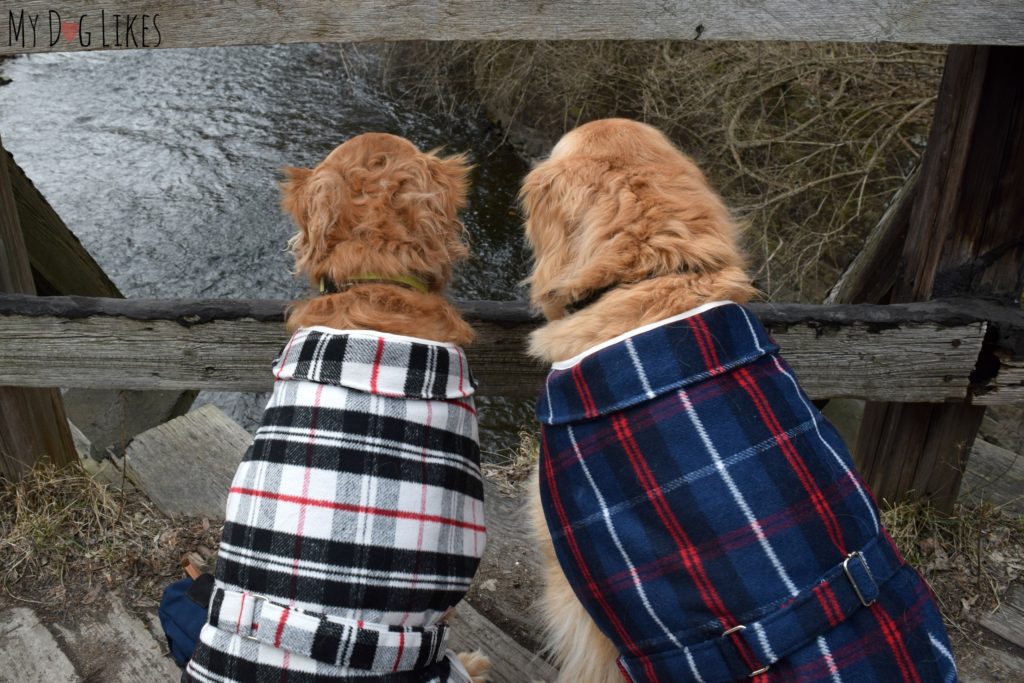 Well, I guess the fishing business is harder than they thought, because after several hours of patiently waiting, this is all the poor guys could come up with! 🙁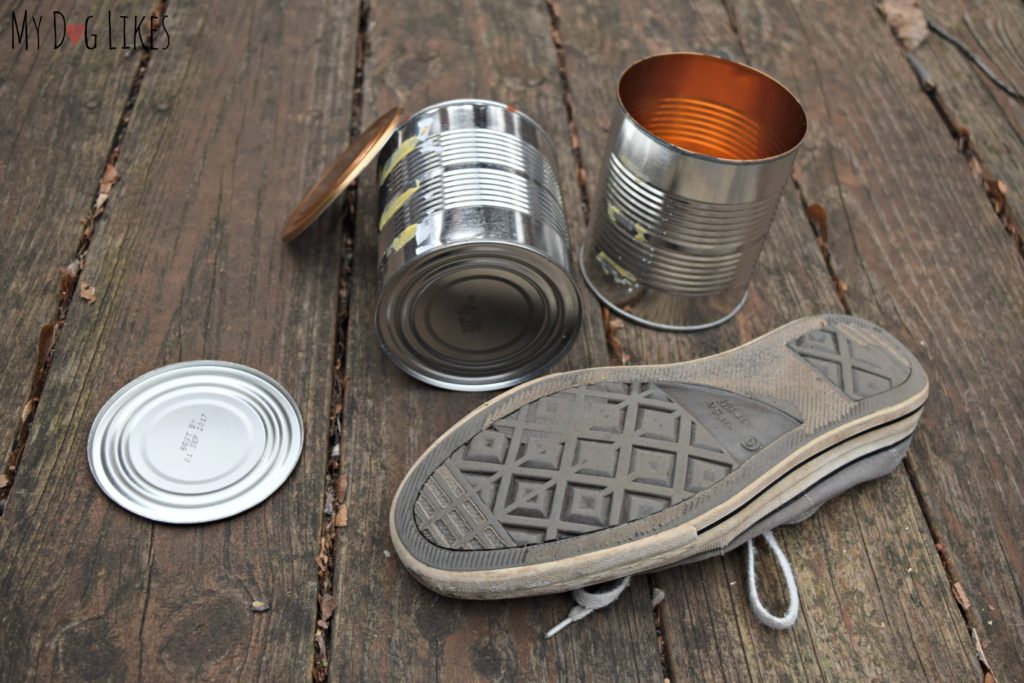 That simply won't do! So, being the resourceful big brother that he is, Harley hopped online to get some real seafood – shipped straight to our door from way up North!
Alaska Wild Salmon Dog Treats
After more than 20 years in the business of supplying wild seafood to humans, Great Alaska Seafood recently decided to branch out into the pet world, launching Alaska Wild Treats.
Located in Soldotna, Alaska (on the Kenai peninsula), their mission is to create premium quality single ingredient snacks for pets – sourced right off the Alaskan coast!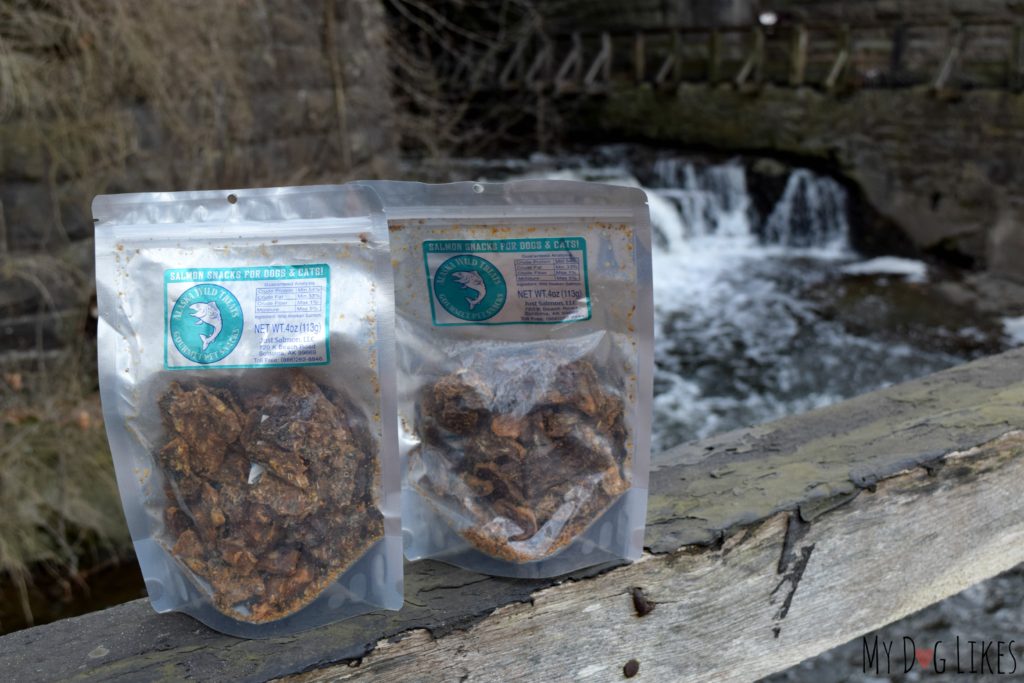 Alaska Wild was kind enough to send us a few bags of their premier offering – Wild Salmon Dog and Cat Treats to get the opinion of our resident experts! They are also sponsoring a giveaway and offering a special discount below, so make sure to read through to the end!
Why Salmon for Dogs?
Salmon is an excellent source of healthy Omega 3 fats, which provide a whole host of health benefits for dogs. These are including but not limited to:
Improved cardiovascular health
Anti-inflammatory properties
Promoting a healthy skin and coat
Improved brain and cognitive function
Retinal development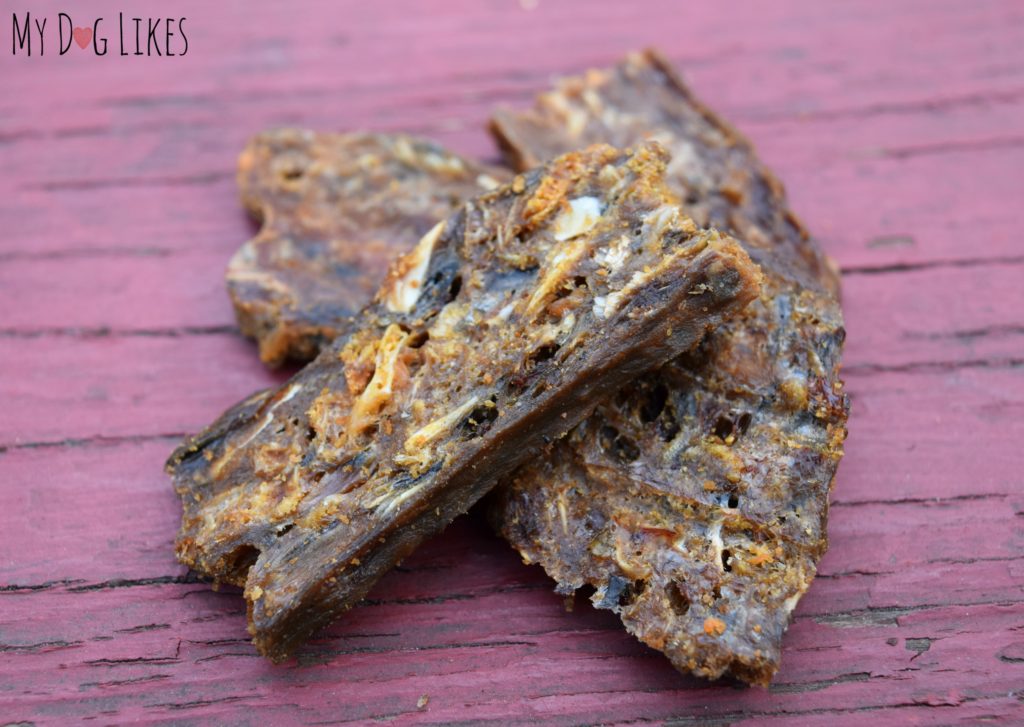 What's Inside?
Alaska Wild Treats consist of only 1 ingredient – pure Alaskan Salmon. You won't find any fillers or preservatives here – the salmon is simply dehydrated to be shelf stable and maintain freshness!
Click Here to Visit Alaska Wild Treats
These treats are between 1″ and 4″ long (making for a great snack), but are easy to be broken up for training as well. They are available in 2oz. or 4oz. resealable packages.
A Note about Sustainable Fisheries
Alaska Wild is committed to maintaining the longevity of our oceans, and works hard to ensure that their products are certified as sustainable by the Marine Stewardship Council. This helps to protect these waters from overfishing, pollution, and damaging the surrounding habitats.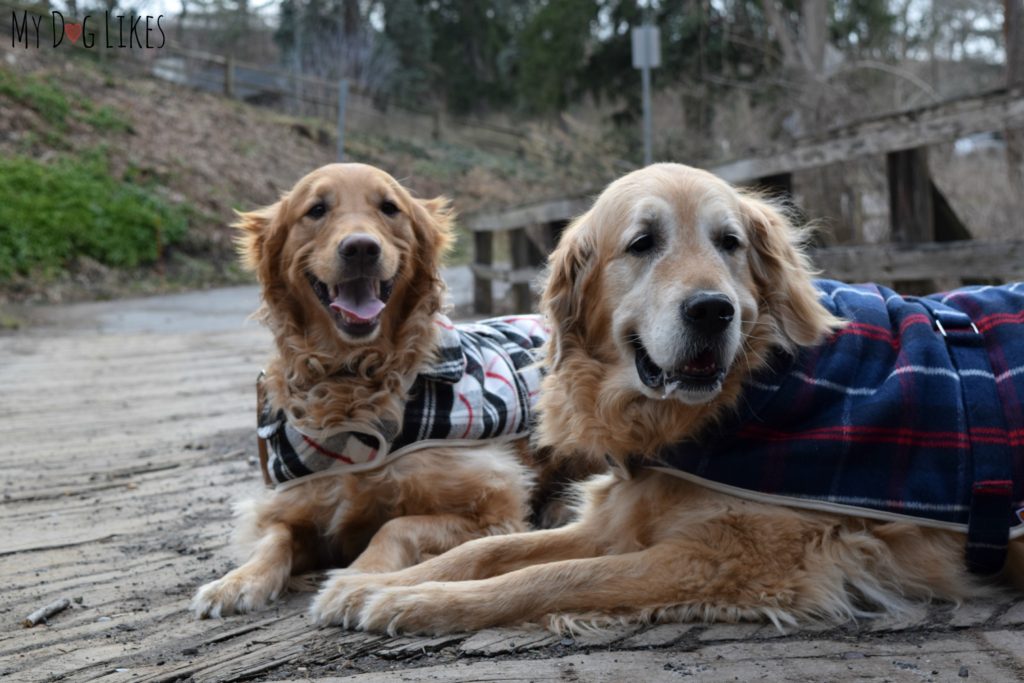 Back to our Disappointed "Fishermen"…
As soon as our Wild Alaskan treats arrived on the mail, Harley asked us if we minded taking Charlie back down to the stream again so they could "give it another shot!" With his bag already full, he was going to be sure that this was a more positive experience for his little brother!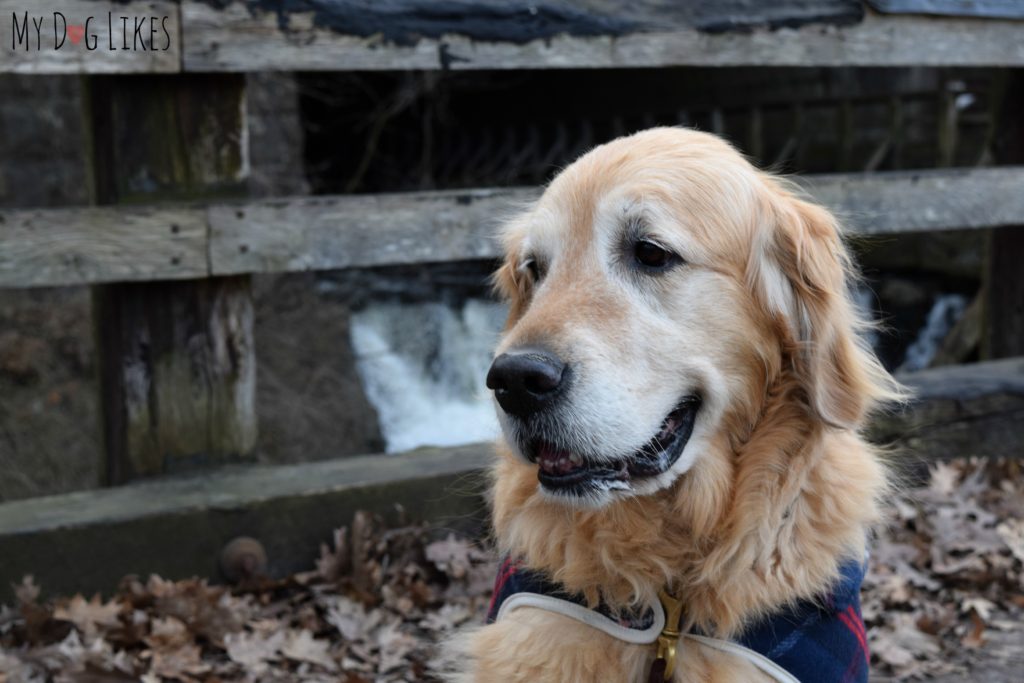 Plus he figured "Charlie will never suspect that these tasty snacks were not caught by my skilled paws!"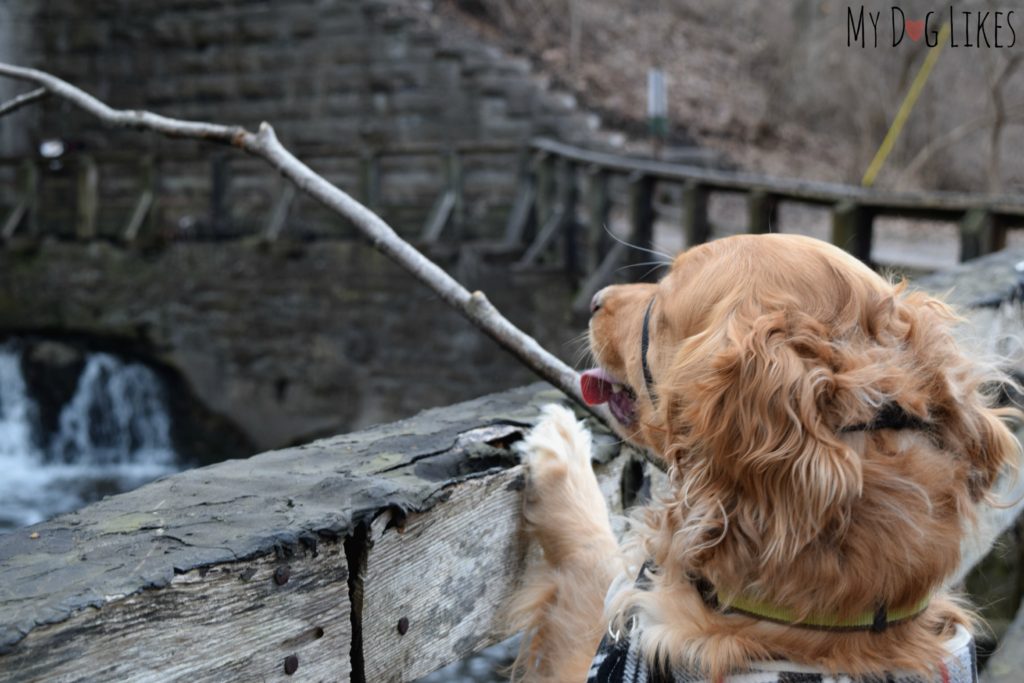 So after setting up shop and waiting for Charlie to grow a bit impatient (this doesn't take too long), Harley sneakily hooked a few treats onto his line.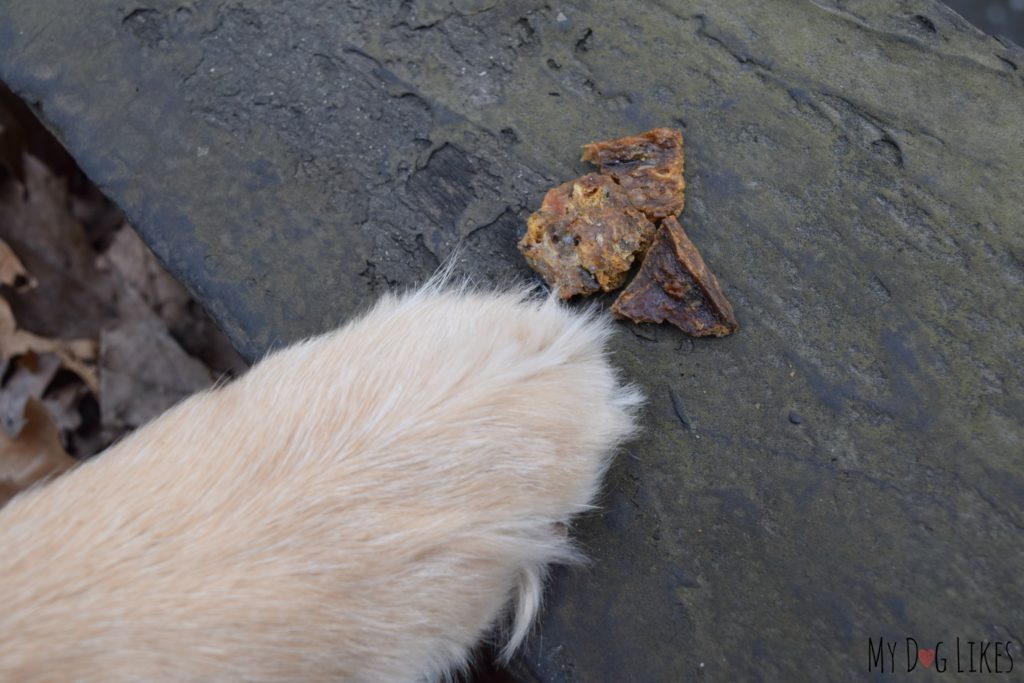 Little Charlie took the bait! Just look at how enamored he was with the prowess of his older brother! It looks like Harley's big plan had come together!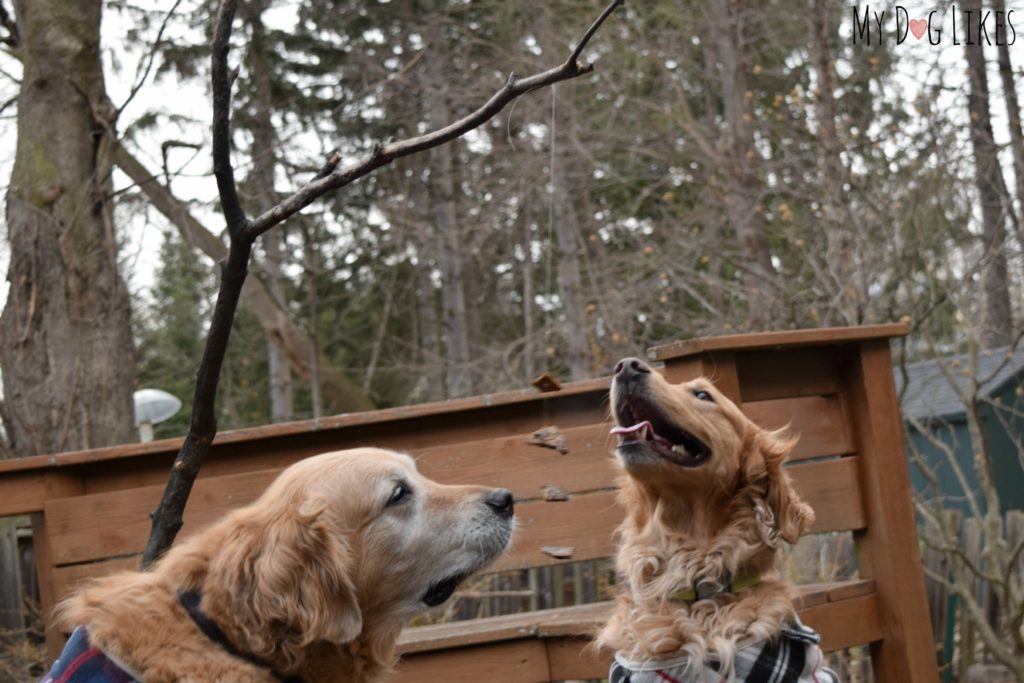 By this point both Harley and Charlie were more than ready to reap the "rewards" from their days on the shore.
Time for the Taste Test! (Our Alaska Wild Treats Review)
As soon as you open up a bag of Alaska Wild Treats, you will get a nice whiff of salmon. They aren't overly stinky, but have just the right amount of scent to grab your pups attention. We had a crowd around us in just a moments time!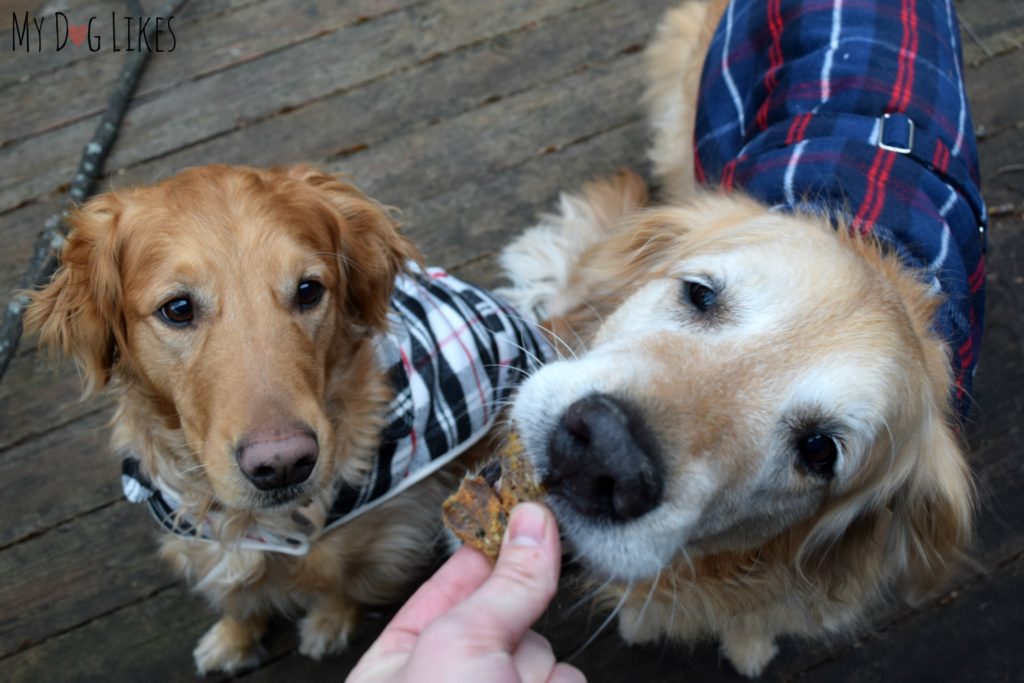 Both Harley and Charlie devoured these treats and were quickly begging for more. As a matter of fact, after we returned home Harley climbed onto a chair in the living room (something he NEVER does) because he realized I left a few pieces in my pocket!
That alone should convince you just how tasty these treats are!
Because these treats are dehydrated, they are also very lightweight and we felt comfortable giving our boys whole strips at a time. If you have a smaller dog or are going to be using them for training however, they are very easy to break apart as well.
We love any food or treat where you can easily tell what's inside, and these meaty chunks of pure salmon certainly fit the bill!
We almost forgot!
Alaska Wild Salmon also offers this treat as a lightly ground food topper! Your dog (or cat) would LOVE to have some of this tasty goodness sprinkled on top of their dinner!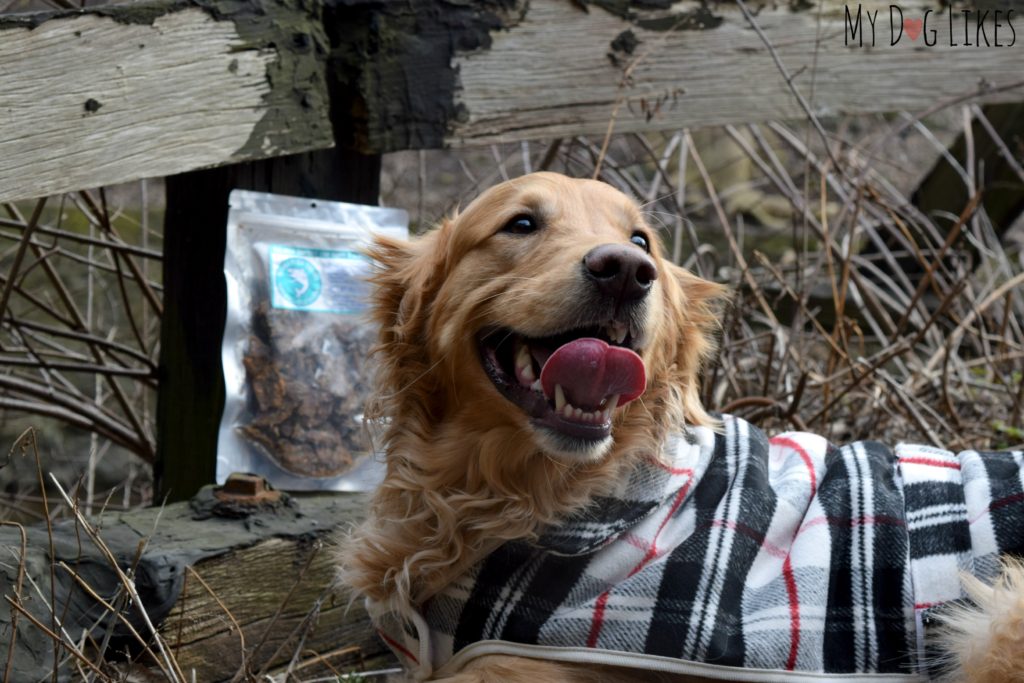 Why MyDogLikes Alaska Wild Salmon Treats
We are firm believers in keeping things simple.
There is no reason for our dogs food or treats to be packed full of ingredients, fillers, artificial flavors and colors. Alaska Wild Treats understands this, and as a result has left their Salmon as pure as nature intended. Both of our dogs were crazy about these treats, and we loved knowing that we were giving them something that was good for them at the same time.
On top of that, we are always happy to support companies who are doing things the right way, and committed to keeping our resources sustainable for future generations.
Want to try out some of these treats for yourself?
Place your order by phone, (866-262-8846) and mention "My Dog Likes" to receive a free shaker bottle with purchase!