We know that many pet parents who consider making their own dog food have one major hesitation – leaving out something important that could adversely impact the health of their pet!
Well, did you know that our friends and sponsors at Dr. Harvey's have a whole line of supplements to help assure that your best friends are getting EVERYTHING they need in their new diets?
Today we are going to be sharing with you a product that has made a huge difference in Harley's life – and one that we think would be beneficial to all dogs, but seniors in particular.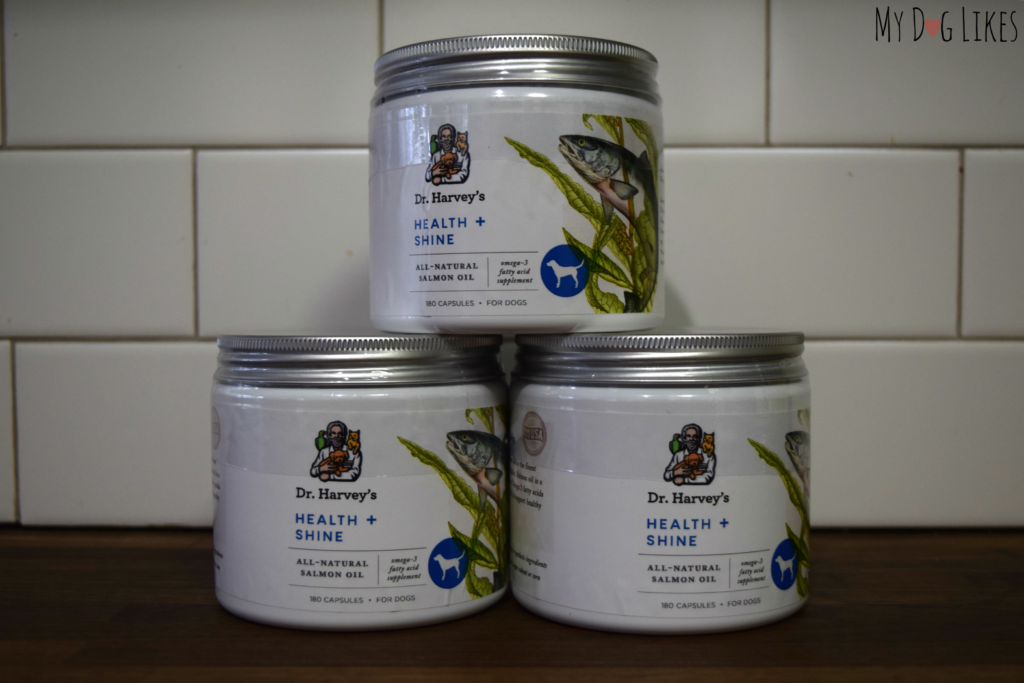 Introducing Dr. Harvey's Health and Shine
Health and Shine is a fish oil supplement for dogs consisting of pure salmon oil. This is naturally rich in both EPA and DHA Omega 3 fatty acids.
Dr. Harvey's Health and Shine is available in a capsule form in counts of 90 or 180.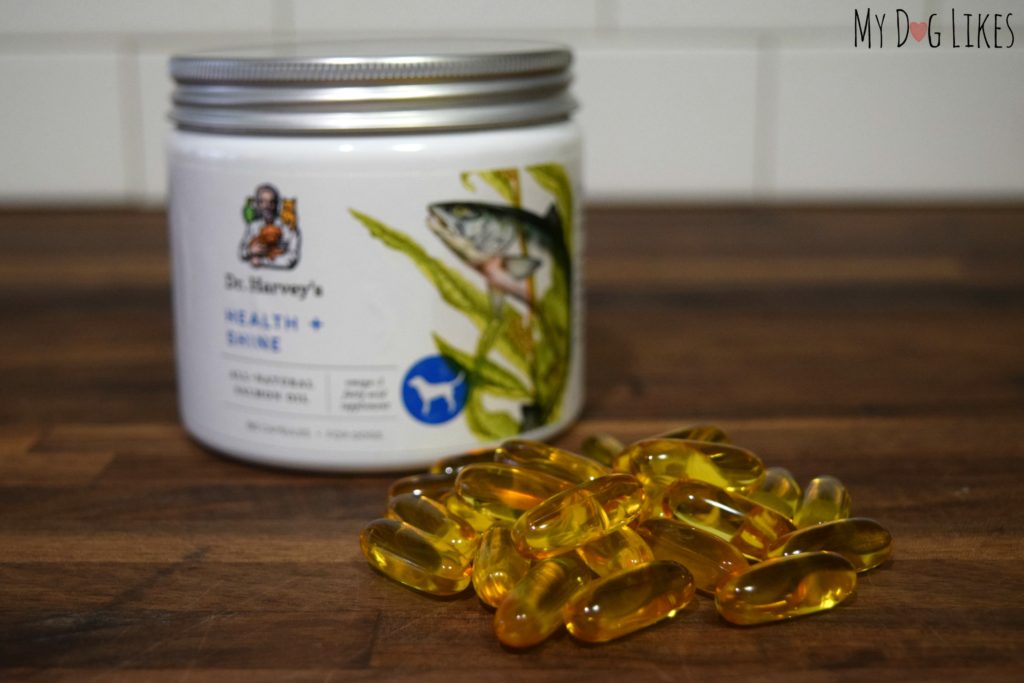 What are the Benefits of Fish Oil for Dogs?
Aside from being a great source of healthy fats (which is an important component of any diet) fish oil has been shown to provide a wide variety of other health benefits as well.
Reducing Inflammation – EPA is an anti-inflammatory and can help to relieve inflammation of the heart, kidneys and joints.
Improve Allergies – Can help to tame over active immune responses (a root cause of allergies)
Heart Health – Can help lower heart rate and blood pressure
Great for the Skin and Coat – Helps to promote a healthy, shiny coat and reduce shedding.
Promotes Brain and Eye Development – Fish oil has been shown to improve cognitive performance in both puppies and senior dogs.
What's Inside? – Taking a Closer Look at the Ingredients
Dr. Harvey's Health and Shine is about as simple as it gets – consisting of fish oil and only what is required to form it into capsules (Which by the way is very important!).
Why is Fish Oil Best in Capsules?
Fish oil is extremely sensitive to oxidation, after which is not able to be readily utilized by the body. Oxygen can also lead fish oil to quickly become rancid – a situation that nobody wants to deal with in their home! Keeping fish oil in capsule form is the best way to prevent it's exposure to oxygen until it is ready to be ingested by your dog.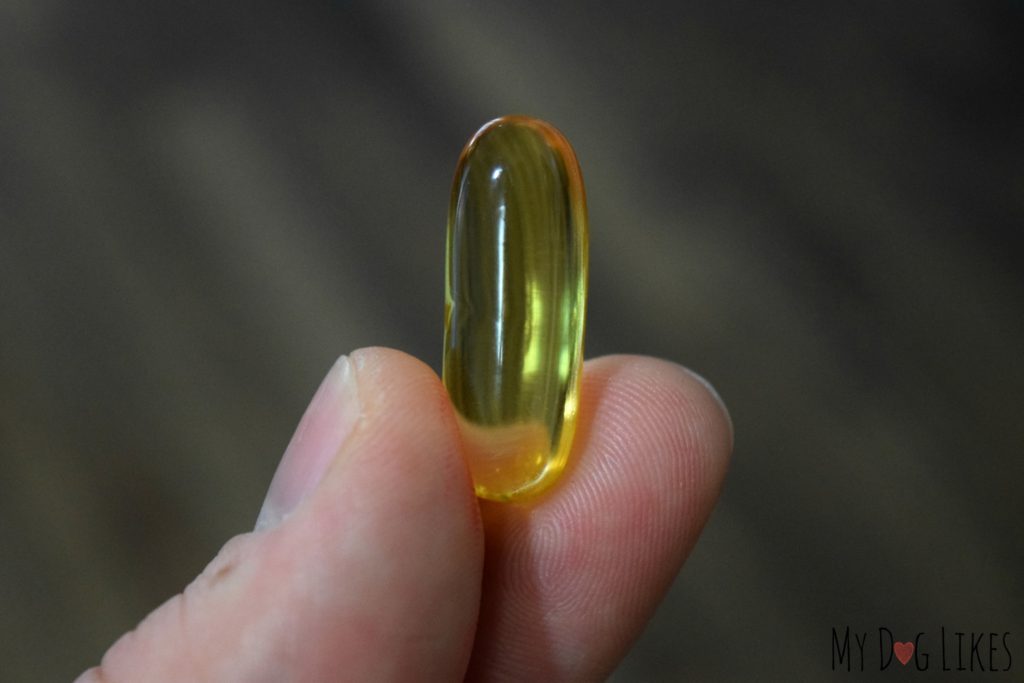 Health and Shine Full Ingredient List:
Salmon Oil

Gelatin

Vegetable Glycerin

Water
Our Experience – Dr. Harvey's Health and Shine Review
According to the instructions on the packaging, dogs should be given one capsule per 20 pounds of body weight per day. That leaves us giving Harley 4 capsules and Charlie 3 capsules per day.
As we mentioned above, Health + Shine is available in jars of 90 or 180, so even with 2 big dogs the large container lasts us nearly a month! We find this to be a really great value, especially taking into consideration the results we have seen!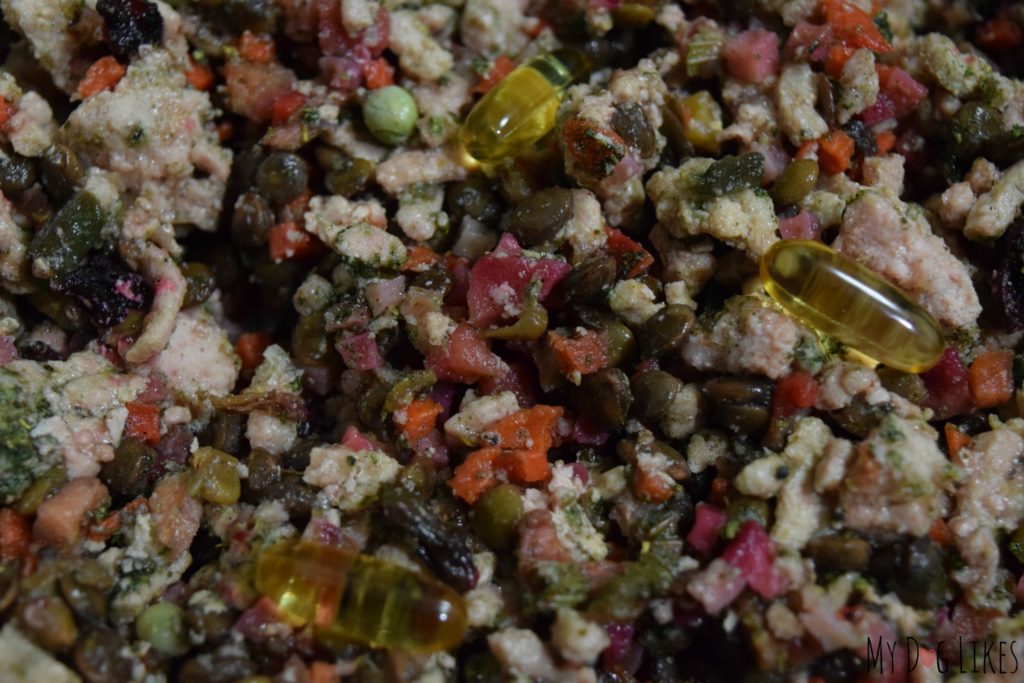 We love how these capsules have no discernible odor whatsoever. If you have ever dealt with fish oil in the past (even capsules), you will know that this is not always the case! Neither of our dogs are picky eaters and will ingest these capsules whole by simply tossing them on top of their food.
TIP: If your dog is more prone to pick things out of their food, you may want to try poking the capsules with a pin and pouring the oil onto their food instead.
So how are they doing?
Both Harley and Charlie are doing great since adding this supplement to their diet about one year ago. While many of the benefits of fish oil are difficult to confirm from the outside, they do regularly get compliments on the texture and sheen of their coats!
But there is one other thing in particular we have noticed that means so much more to us…
Harley's Arthritis
Like most dogs his age, Harley has been showing some signs of arthritis for a few years. That being said, we have seen a MASSIVE improvement in symptoms since making the switch to Dr. Harveys. Most days he is able to go about his normal life – which includes a moderate to long walk without any ill effects.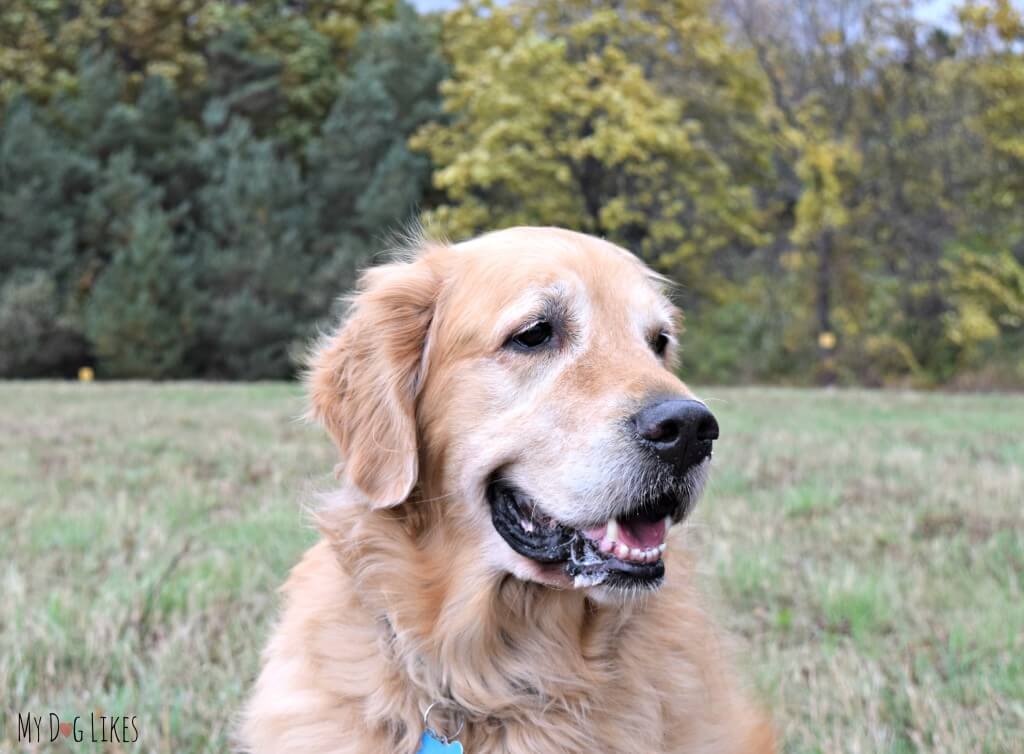 A short while back however, we ran out of Health and Shine. For about a week we added other oils into Harley and Charlie's food, and didn't really think much of it. That is until we began to see those old signs creeping back into Harley's life…
Shaky leg while urinating or stretching
Hesitance to jump up into the SUV
Pausing and whining at stairs
Only when we took a moment to investigate what had been different in his life and diet, did we begin to suspect that the absence of fish oil was having a detrimental effect. Sure enough, we re-upped our supply and Harley was back to normal within 3 days.
Why?
Well, arthritis is first and foremost an inflammatory disease. Swelling and pain in the joints can have many different causes including abnormal rubbing, trauma, or simply deterioration of the cartilage between joints due to age. No matter what the reason for it, as an anti-inflammatory, fish oil can work wonders at reducing the pain and discomfort of this condition.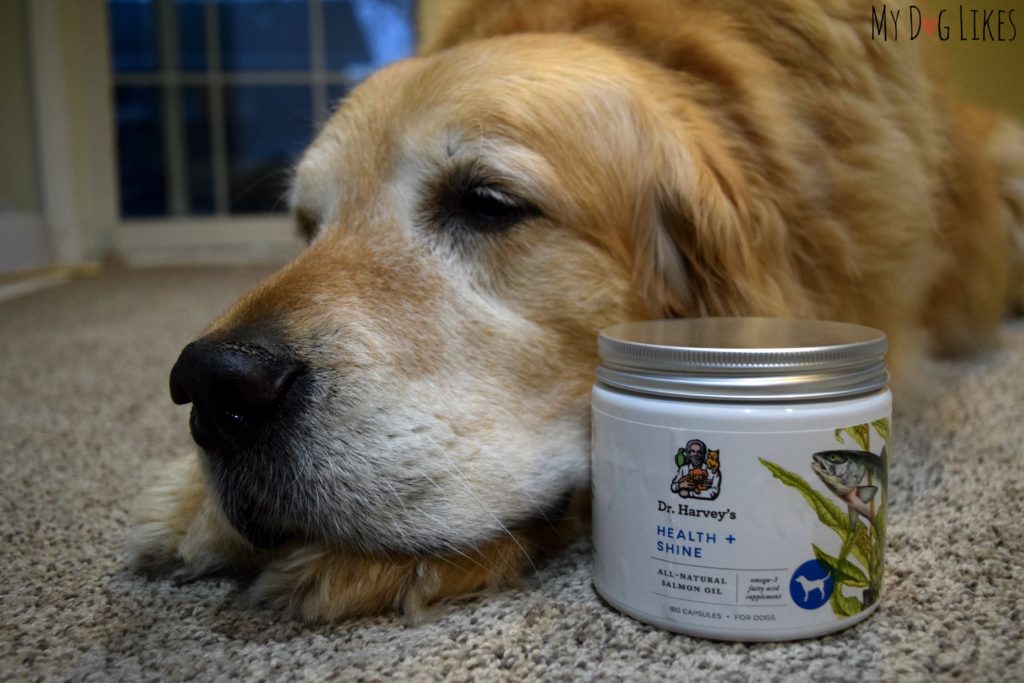 Why MyDogLikes Dr. Harvey's Health and Shine
Health and Shine is an extremely simple and convenient way to add fish oil to your dogs diet – offering a whole host of benefits that go way beyond a healthy skin and coat!
Combined with Dr. Harvey's Ortho-Flex, we have been amazed at the difference these supplements have made in Harley's arthritis and overall mobility! While Charlie doesn't yet have any mobility concerns we still use Health and Shine to be proactive with his health and to keep his coat puppy soft!
Want to try out Health and Shine for yourself?