When it comes to dog treats, simplicity is a good thing.
Just as you are selective in choosing your dogs food, you should also take into consideration what is in their treats. Thankfully, the pet industry has made great strides in the last decade and it is possible to find healthy dog treats. Even those that are COMPLETELY free of fillers, artificial flavors, colors and preservatives!
Below is a list of some of our favorite single ingredient dog treats – broken into categories for easy browsing
Dehydrated Dog Treats Jerky Dog Treats Freeze Dried Dog Treats
Dehydrated Dog Treats
Dehydration is a preservation process that involves removing moisture from food. This is achieved with a combination of heat and dry, moving air. By lowering the water content, it is much more difficult for bacteria, yeast and mold to grow – which in turn causes food to spoil. Just about any food can be dehydrated, making it shelf stable for an extended period of time. 
We love dehydrated dog treats because they do not require the use of any preservatives. Furthermore, they retain the look of their ingredient (albeit a bit smaller), and also a savory smell. Below are a few of our favorite dehydrated dog treats – ones that your dog is sure to love!
Dr. Harvey's Coconut Smiles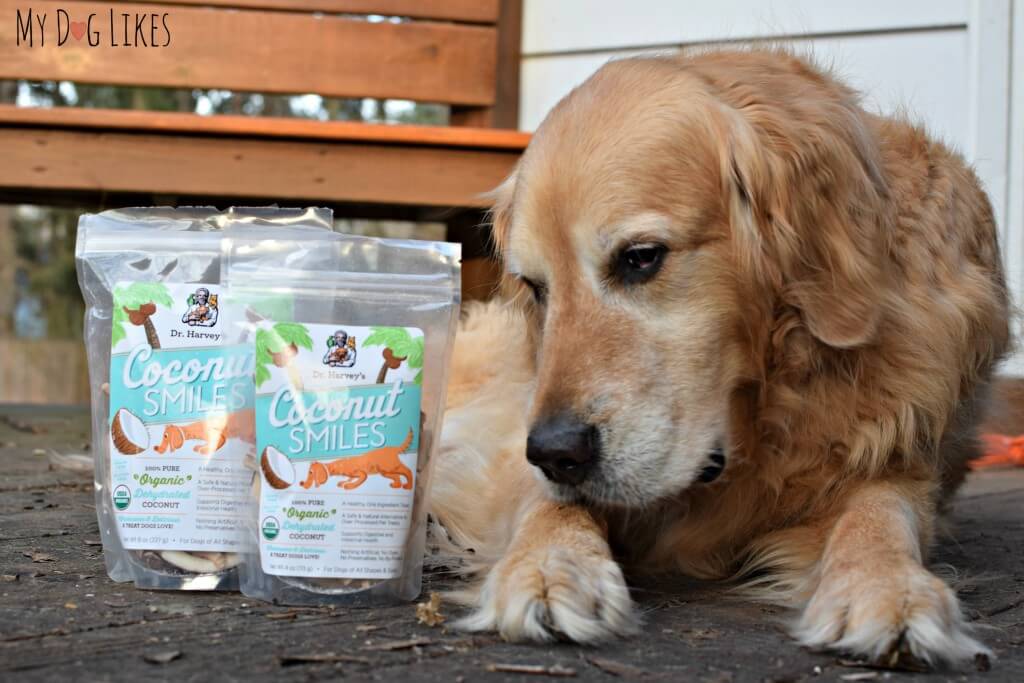 Did you know that Coconut is great for dogs? We didn't either – until recently!
Coconut is high in fiber and healthy fats and has been shown to provide a whole host of health benefits, including:
Supporting digestive and intestinal health
Improving nutrient absorption
Promoting healthy and glossy coats
Reducing the risk of cancer and other degenerative conditions
Improving cholesterol levels and helping to fight heart disease
and much, much more!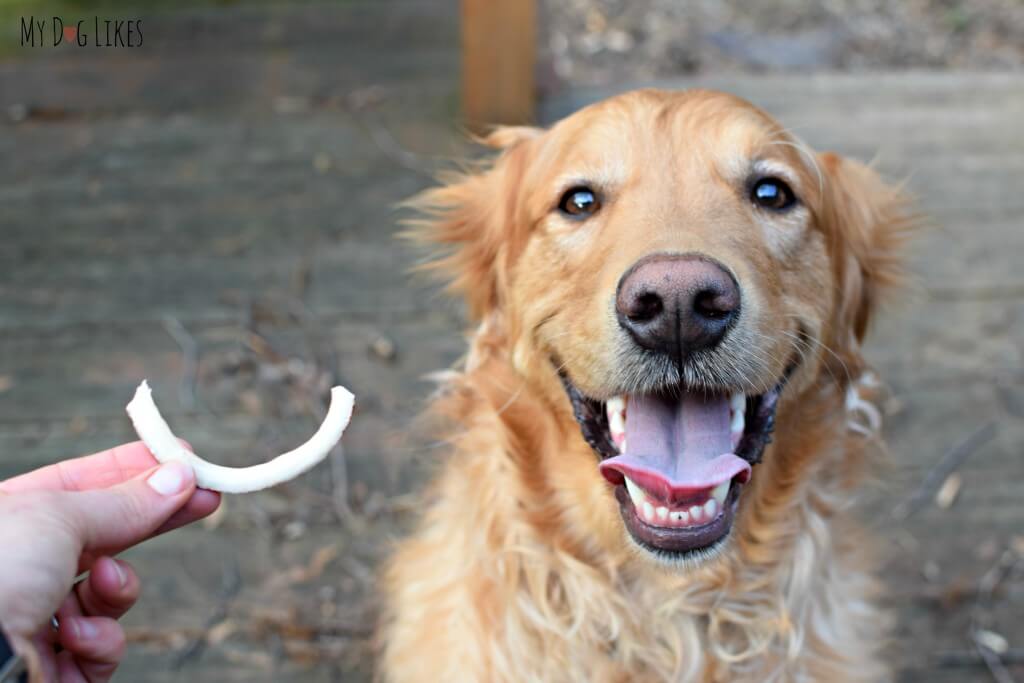 Dr. Harvey's Coconut Smiles contain only 1 ingredient – organic coconut. This coconut is sliced and dehydrated into small strips as seen above. Each piece is stiff but still easy to break into smaller pieces if desired.
Our boys loved the taste and crunch of these treats, and we always enjoy treating them with something healthy. We also found Coconut Smiles to be a great value as there are dozens of pieces in each and every bag.
Save 10% on Coconut Smiles with code MDL1231
Dr. Harvey's Sweet Potate'r Chews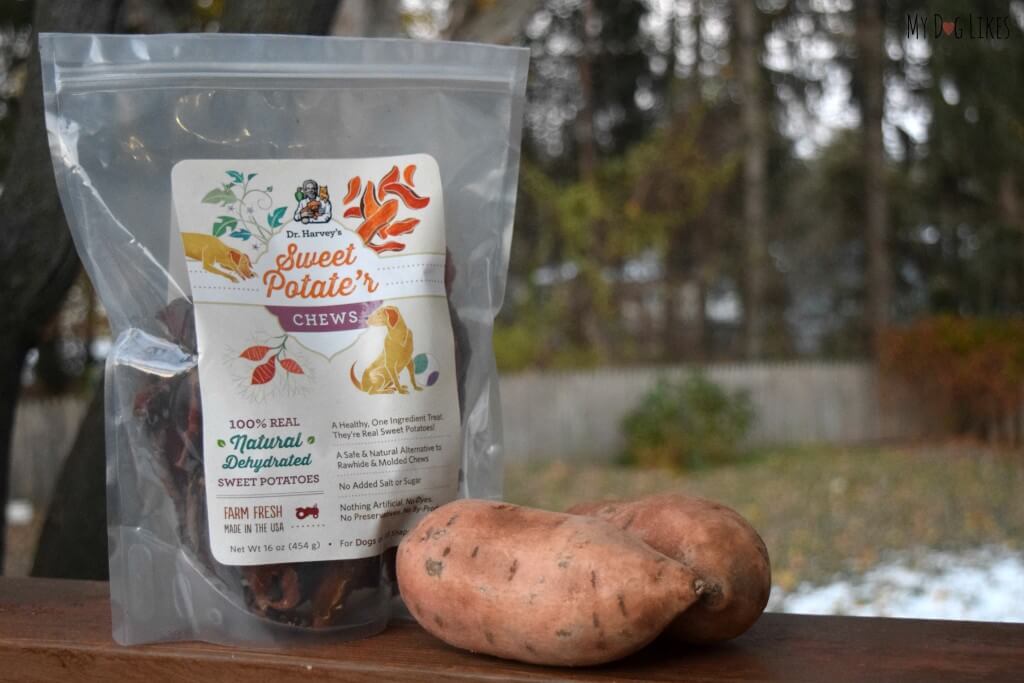 Just like coconut, sweet potato is another "superfood" that has a great deal of health benefits for dogs:
The pigments that give sweet potatoes their beautiful orange hue are known as Carotenoids. These powerful antioxidants help to boost immune function, improve night vision and even maintain a healthy lining of your dogs digestive tract, respiratory tract and skin.
Sweet Potatoes are also high in soluble fiber which helps to absorb water in the digestive tract. This can help regulate digestion and prevent loose stools.
Finally, sweet potatoes are high in Vitamins A, C and B6.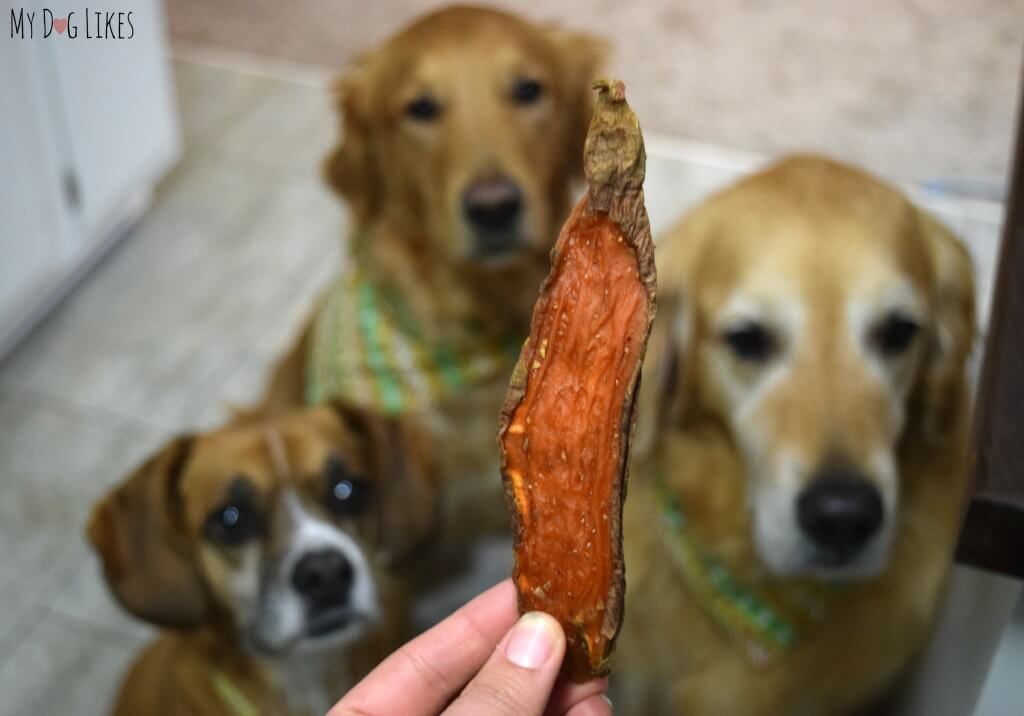 Dr. Harvey's Sweet Potato chews consist of 100% sweet potato, grown and dried right here in the United States. They have a flexible but chewy consistency that dogs love, making them a great SAFE alternative to rawhide.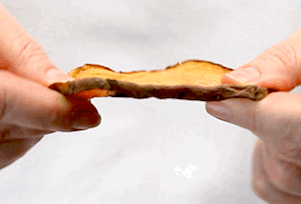 While our dogs can eat these in ~15 seconds, smaller dogs may enjoy them for several minutes. Click here for our full Sweet Potate'r Review!
Save 10% on Sweet Potate'r Chews with code MDL1231
Curious about making your own?
As you might imagine, these types of treats are also quite easy to make yourself. This can be done using the sun, an oven, or a dedicated dehydrator (You can purchase a highly rated one from Amazon  for between $60-200).
[mks_icon icon="fa-hand-o-right" color="#000000″ type="fa"]For more information, make sure to visit Kol's Notes. Our friend Jodi has shared a wealth of information on making your own dehydrated dog treats.
Jerky Dog Treats
Jerky treats consist of thinly sliced lean meats which have been dried (dehydrated) for preservation. Sometimes additional preservatives are used to expand their shelf life, but if you search carefully you can find options without them. Below are a couple of our favorite dried meat dog treats.
Evanger's Beef Tripe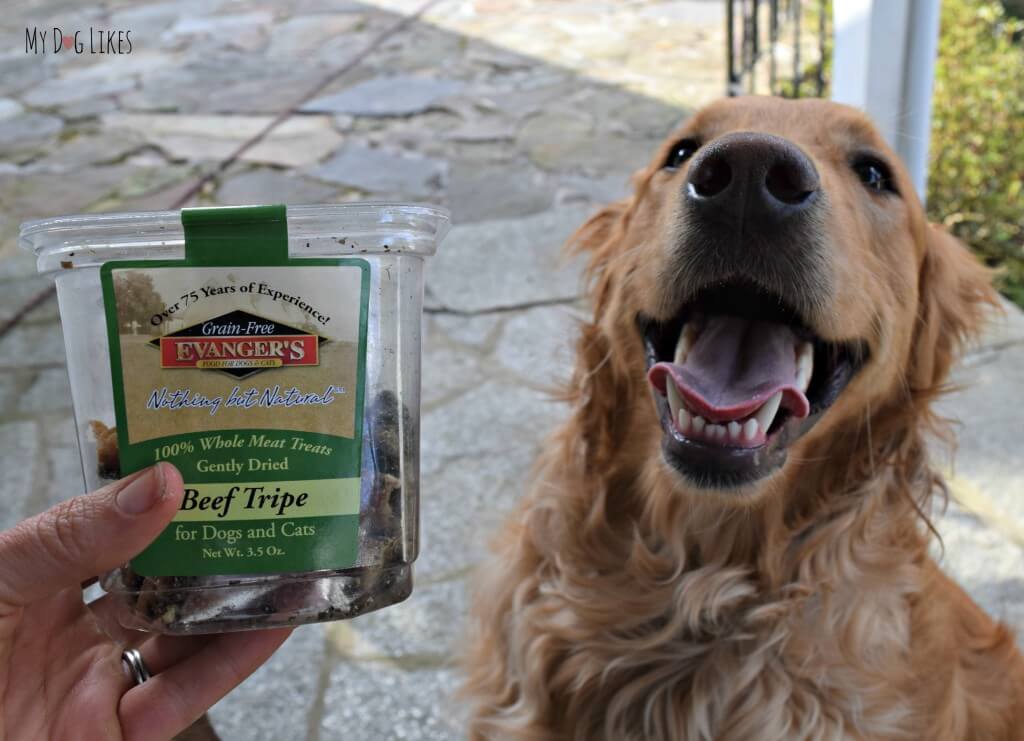 Evanger's has been making high quality pet food for over 75 years, and their Beef Tripe dog treats are no exception. In case you did not know, Tripe is the stomach of a grazing animal – typically cow, buffalo or sheep. While this may seem gross to you, it is great for dogs. Since these treats are only "gently dried," they still contain important digestive enzymes and are rich in fatty acids.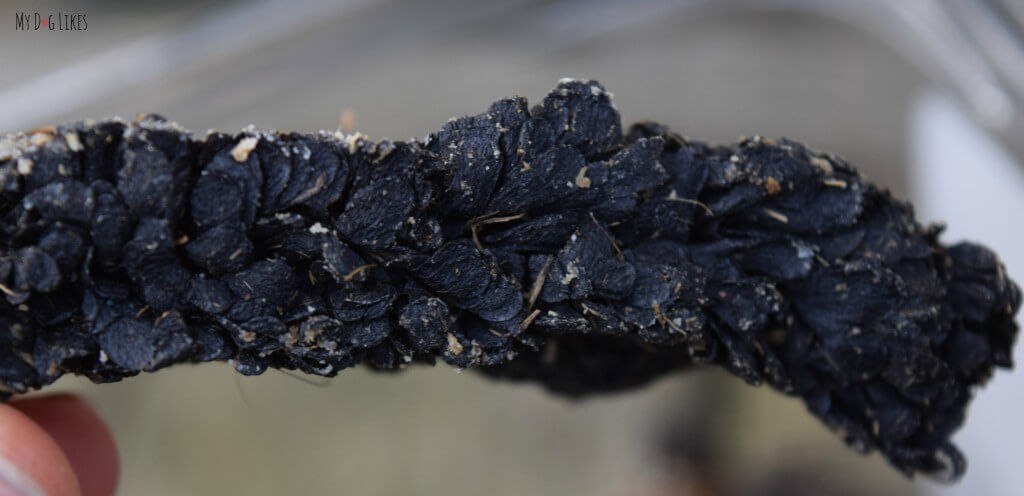 A word of warning: These treats are STINKY! But don't let that discourage you! While you may not appreciate the smell, your dog will go crazy for it! 
Click here to purchase Evanger's Tripe Dog Treats on Amazon
Best Bully Sticks Kangaroo Jerky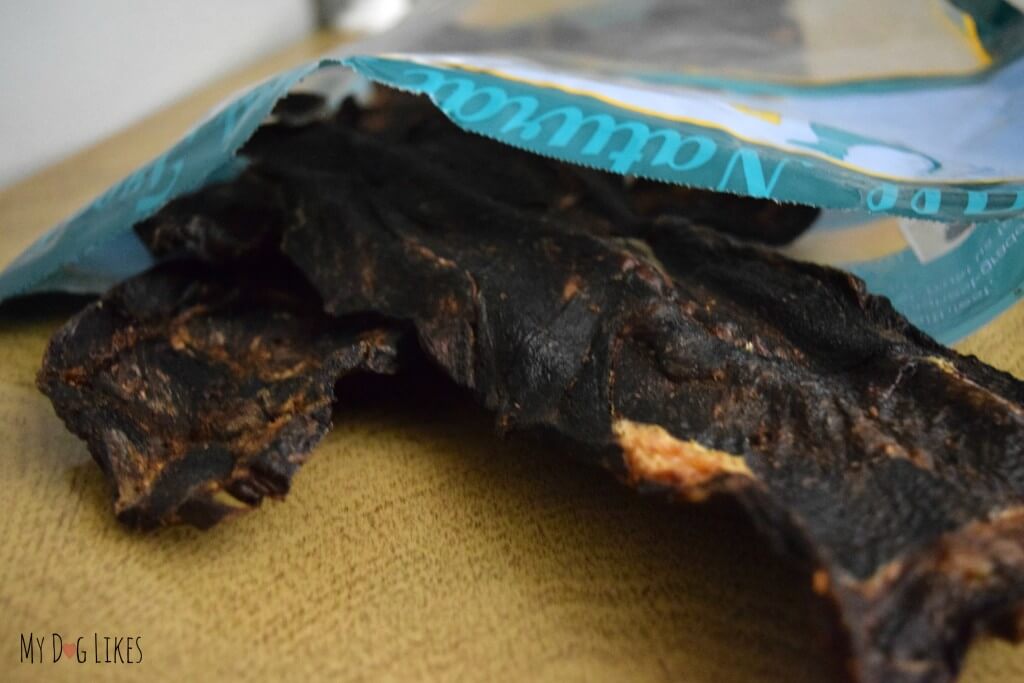 Kangaroo? Yes, you read that correctly!
Exotic proteins like kangaroo are a great option for dogs with allergies or food sensitivities. Kangaroo is 100% digestible and can promote healthy teeth and gums. It is also loaded with antioxidants which help fight diseases, boost immunity, and even repair damaged cells.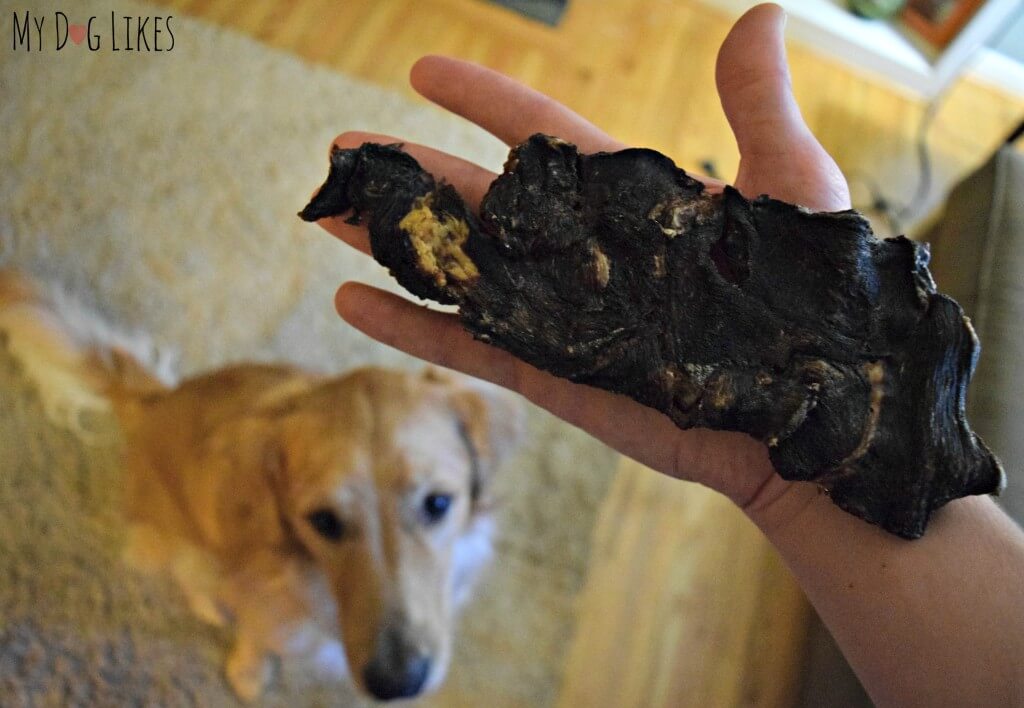 Best Bully Sticks Kangaroo Jerky is comprised of 100% Australian Raised Kangaroo and is free of any fillers or preservatives. For this reason it is recommended that they are stored in the freezer or refrigerator to retain freshness.
As you can see, some of the pieces are quite large making for a substantial snack, or they can be torn in half for smaller dogs or just a treat. Read more about what our dogs thought in our full Kangaroo Jerky review!
Click here to purchase Kangaroo Jerky from BestBullySticks.com
Freeze Dried Dog Treats
Freeze drying is a unique process in which ingredients are flash frozen in a specialized vacuum chamber. Small ice crystals are formed which evaporate as the pressure is dropped and low levels of heat are applied. This solid to gas phase change is known as sublimation and removes nearly all the moisture from the product, while retaining most of the nutrients.
Brave Beagle Freeze Dried Liver Treats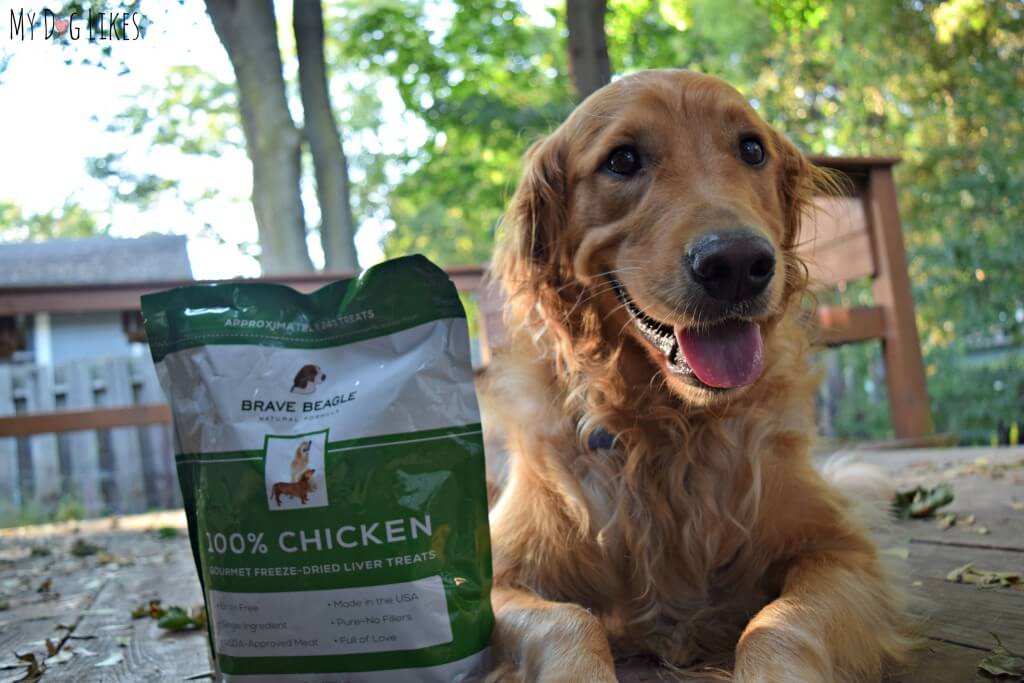 Brave Beagle dog treats are comprised of 100% freeze dried chicken liver. All of their meat is raised in the USA and inspected by the USDA.
Liver is well known to be nutritionally dense and the freeze drying process leaves much of the nutrition and flavor intact.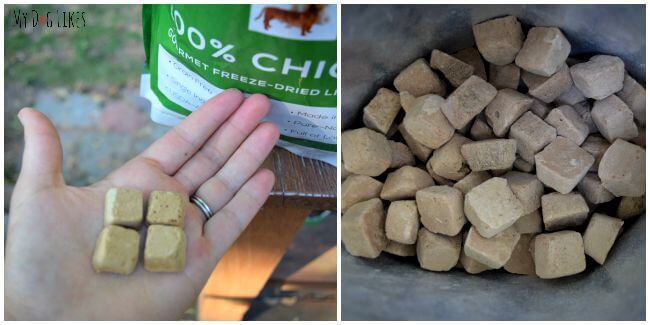 Each bag contains roughly 240 treats – and at only 4 calories a piece make a great choice for training! The large resealable bag is a huge plus as well.
Brave Beagle's treats are lightweight, easy to crumble and can even be used as a food topper. We reviewed these treats last fall and they have become a go-to ever since!
Use Code "HARLEY16" to save 20% on these tasty treats!  
Whole Life Dog Treats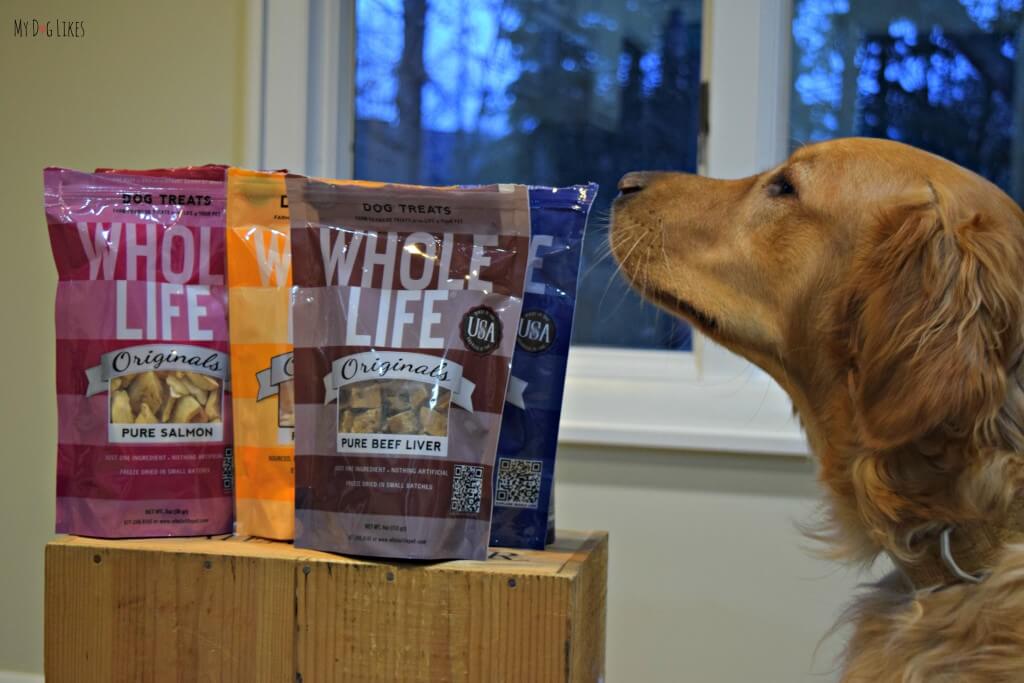 We first learned of Whole Life at Backers Total Pet Expo a couple of years back and boy are we glad we did. Whole Life's "Farm to Friend" philosophy ensures that all of their ingredients are sourced from farmers, ranchers and fishermen that they know personally. There treats are then processed in-house at their Massachusetts facility. This type of oversight is refreshing and serves as a guarantee of quality.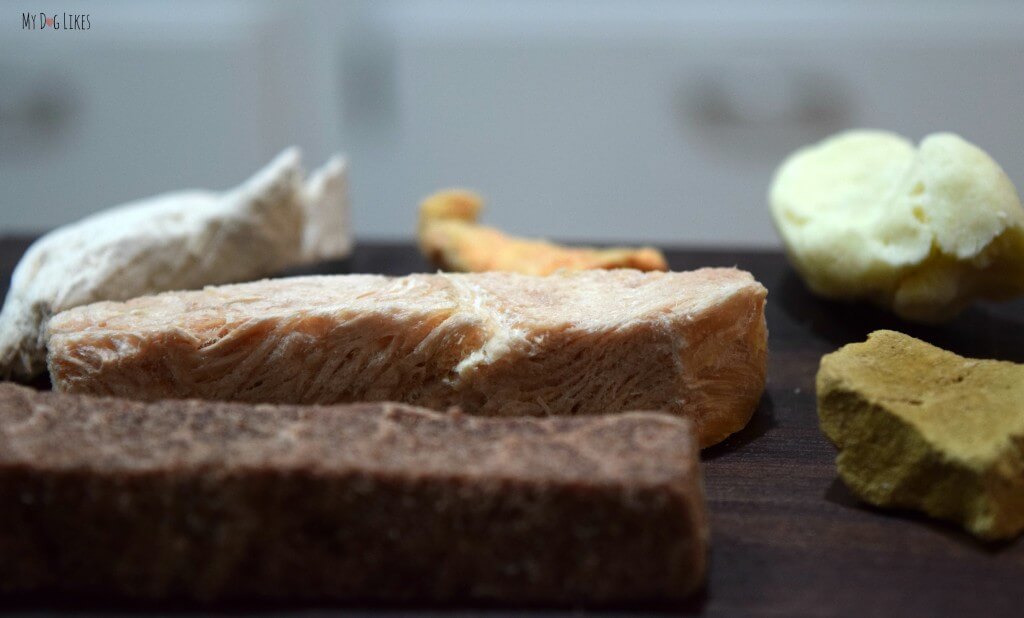 We reviewed their extensive line of one ingredient dog treats which come in the following flavors:
Beef
Beef Liver
Chicken
Chicken Liver
Turkey
Salmon
Duck
Cod
The quality of these treats is clearly displayed in the picture above. Note that you can even still see striations in the meat. This is just the kind of thing we like to see – natural ingredients that have not been messed around with!
  Click here to purchase Whole Life Dog Treats on Amazon!
Dr. Harvey's Power Pops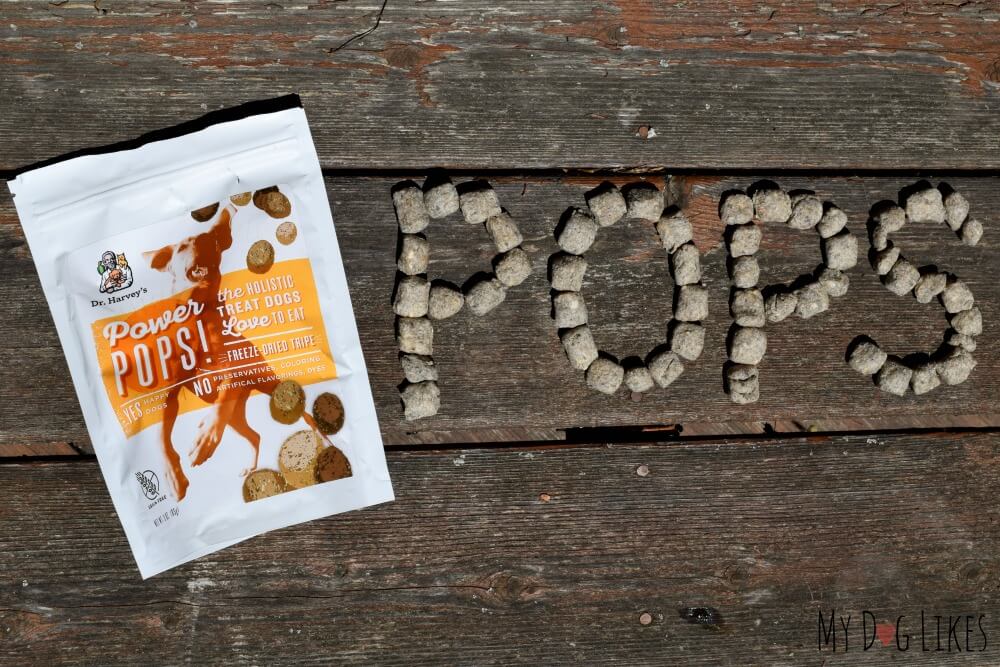 Another great option in the freeze dried category is Dr. Harvey's Power Pops. These treats consist of 100% green tripe which has been shown to have a ton of health benefits. Most notably of these is the fact that green tripe is packed with probiotics which help to optimize the digestive health of your pet.
Due to their small size and light weight, Power Pops also make a great training treat for dogs!
Save 10% on Power Pops with code MDL1231
What did we miss?
Let us know your favorite single ingredient dog treats in the comments below!