A couple of weeks ago, Rach and I made the somewhat spontaneous decision to attend our first pet industry conference! Our readership has been growing rapidly over the last several months, and we are working very hard to make MyDogLikes a valuable resource for pet owners.  We love to share innovative new products with our readers, so what better way to keep up to date then by attending a trade show?
We registered for press badges, called upon our go-to dog-sitting friends and off we went to Chicago! Here we spent the day at one of the premier conferences in the pet industry – Backer's Total Pet Expo. There were hundreds of exhibitors showcasing their newest and most popular products. 
As you might guess from the photo above, it was a bit overwhelming at first! We ended up having a great time and were so thankful to have had  the chance to talk to so many passionate pet-people! We learned a lot  and look forward to sharing our knowledge with you, our readers!
So here is a brief look at what we saw, and what you can look forward to hearing more about in the coming months!
Tuggo Dog Toy

The Tuggo was one of our favorite new toys at the show.  In essence, it is a large plastic ball with a rope going through the center.  This rope can move freely from side to side, creating a fun tugging experience.  The coolest thing about this toy is that it is designed to be filled with water (up to 20 lbs!).  
The water inside makes the ball move unpredictably, creates a unique sloshing sound and provides resistance for exercise. We had the opportunity to speak to its inventor, Adam Harrington, and get a demonstration of how it works.  We also saw first hand how it would hold up to a very aggressive chewer. 
This is an EXTREMELY tough toy!
Click here to read our Tuggo Dog Toy Review
Jones Natural Chews

When we saw all that purple we knew we had stumbled across the Jones Natural Chews booth.  Our boys have recently fallen in love with their hooves chews! We were excited to see what other natural treats they have to offer….As you can see above, there are TONS!
We also had the chance to speak with their resident blogger Flea who showed off some of their fun holiday treats, like the Halloween-Bow Wow Boo Bucket! 
Zuke's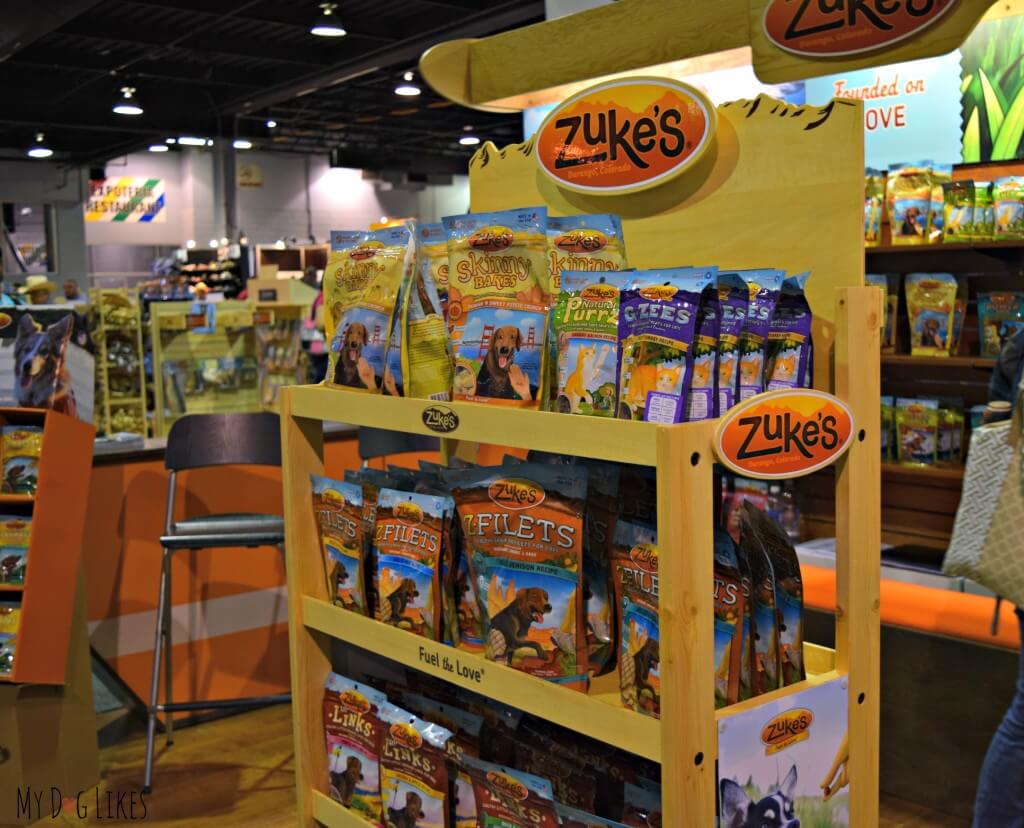 We have been big fans of Zuke's products for many years and were very excited to see them at the show.  With Charlie in training classes every week, we seem to purchase their mini-naturals training treats by the case. We shared that they need to sell them in "bucket" size! 
Click here to read our Mini Naturals Review
Hyper Pet

Walking past the Hyper Pet booth, a collection of dog slingshots and cannons caught my eye.  Now that we have a retriever who actually retrieves (Charlie), we can look forward to testing out some of these ball launching devices!  Whether these would be more fun for me or the dogs is unclear, but I'd still love to try.
EarthBath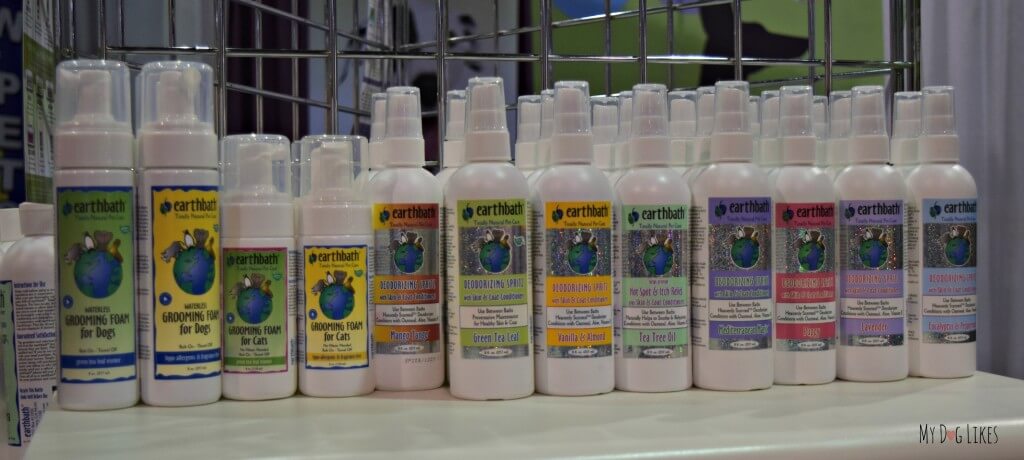 We loved EarthBath's line of natural pet shampoos.  They contain no parabens, harsh soaps or artificial fragrances.  Extremely important if your dog has sensitive skin like Harley.
Pawz Dog Boots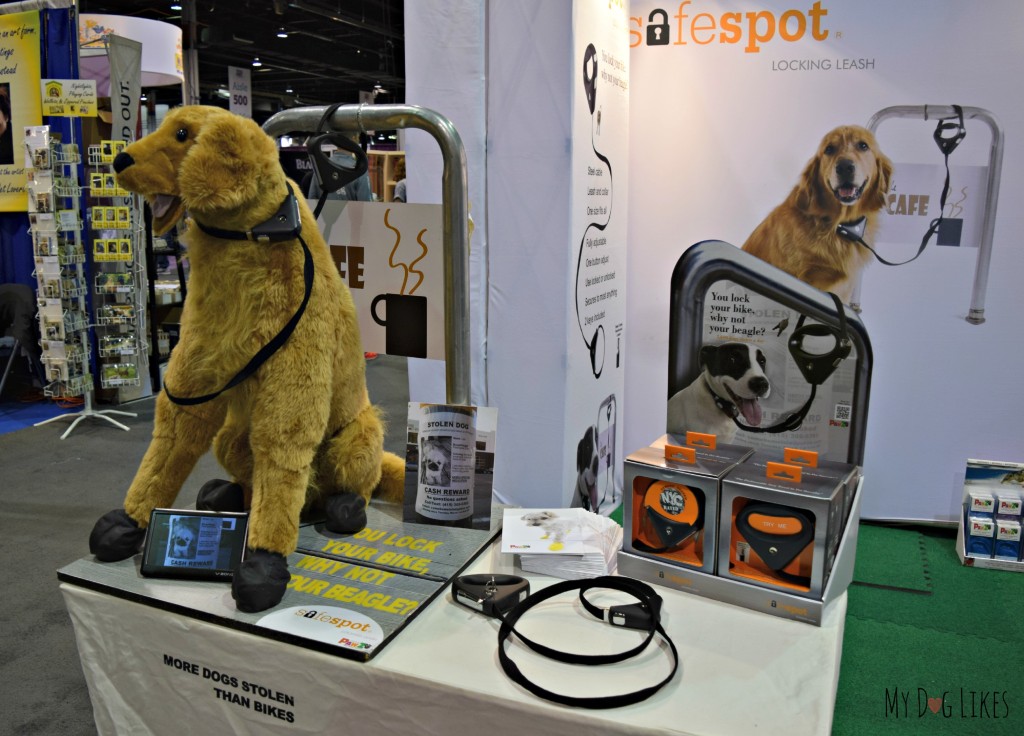 We spent a lot of time at the Pawz booth where we were able to speak with Pawz president Michael Friedland. Their dog boots have been a long time favorite of ours. Look closely above and you might see the huge surprise that Michael revealed to us….size large boots now come in black! No longer will Harley have to patrol the neighborhood with purple feet!
Click here to read our Pawz Dog Boots Review
Michael also showed us a new product of theirs – the SafeSpot leash.  He also shared with us a very disturbing statistic – more than 2 million dogs are stolen every year. The SafeSpot leash has a steel core and offers a locking feature for those times when you must briefly leave your dog unattended.
Molly Mutt

These dog beds are really cool.  Molly Mutt makes duvets that are designed to be stuffed with scrap or old clothing and turned into a dog bed. These beds can be disassembled and are machine washable. Not only are these beds adorable, but we loved their mission of re-use!
Click here to read our Molly Mutt Duvet Dog Bed Review
Bow Wow Couture 

Wouldn't the boys look sharp in these neck tie dog collars? In addition, they had a wide array of bow-ties for a sophisticated look! How about for the ladies? Don't worry, they didn't forget about you…there were lots of pretty flowers and collars! Everything was adorable!
Auburn Leathercrafters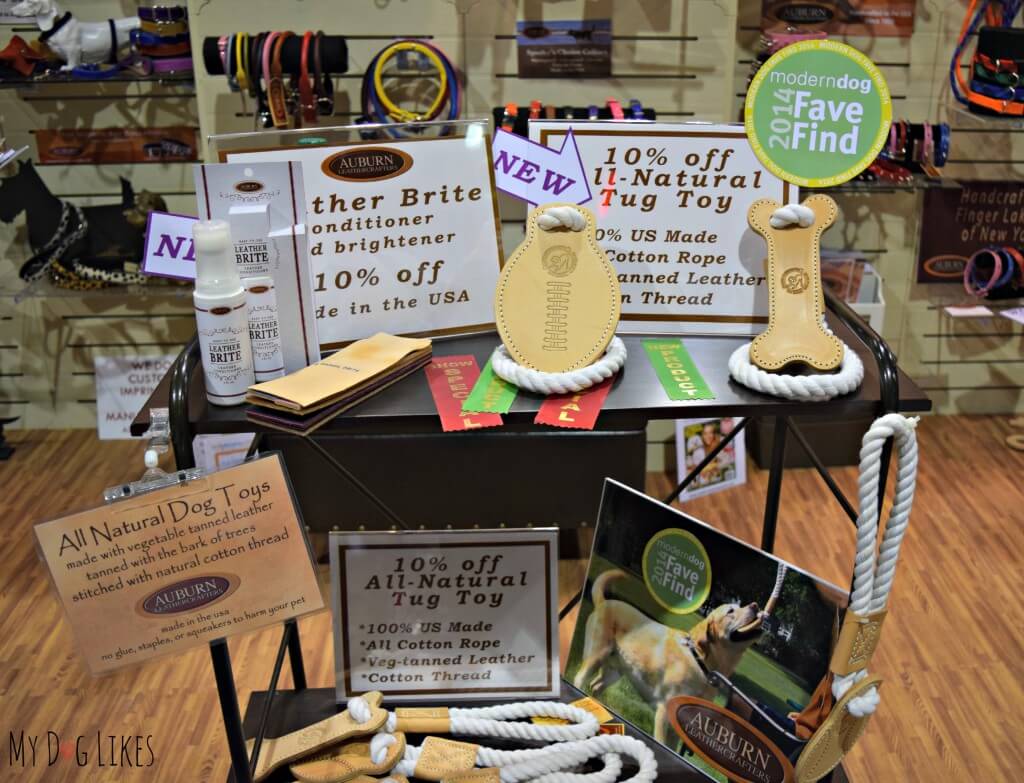 We noticed several years ago that Harley loves leather.  In fact, any time we have the football out we catch him licking it! We thought that these tug toys by Auburn Leathercrafters were really cool.  They are all natural and appeared very durable!
Loopies Dog Toys

We love durable plush toys so you can imagine our excitement when we came across Loopies.  They have a wide variety of stuffed toys, but their Doggie Stoggie's in particular caught our attention.  These seem to have the perfect balance of stiffness and "squish" and we are certain our boys would be interested in testing out!  They have some really cool looking toys!
ThunderWorks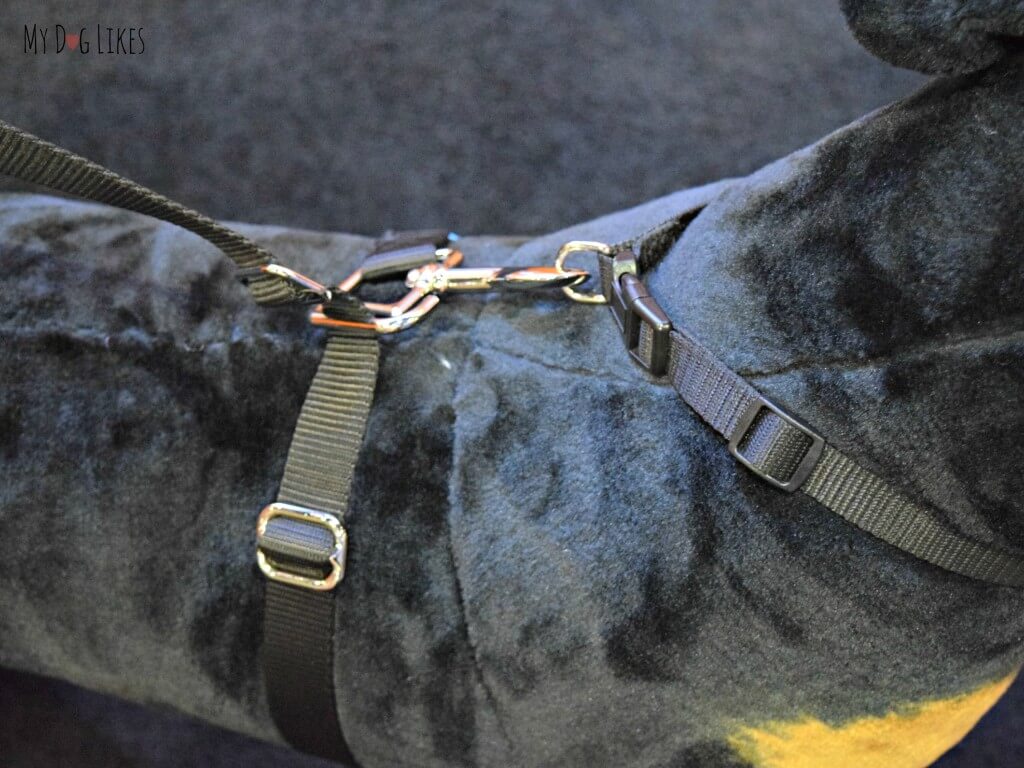 You've likely heard about the ThunderWorks Company from their mega-successful product, the ThunderShirt – a tight fitting shirt that helps to calm dogs who suffer from anxiety. We have heard great things about them but haven't yet had a need to try one out. We stopped by their booth to say Hello and learned of another product of theirs – the ThunderLeash. While it looks like a standard leash, it can be turned into a no-pull harness in just a few seconds. This sounds great to us as Charlie's current "no-pull" harness is not getting the job done!
Aussie Naturals

We stopped by the Aussie Naturals booth after spotting the water buffalo horns that have recently shown up at our local pet store. We spoke with the owner of the company who was kind enough to give us a rundown of their product lines and we were completely blown away by the variety and quality.
Yellow Dog Design

With two Golden Retrievers in the house, we are often dealing with wet dogs.  If we don't take off their collars after a swim, their skin can get irritated.  For this reason we thought the Elements line of collars was really cool. These are waterproof collars that come in tons of cool and colorful patterns. These collars don't absorb water so they dry in no time at all!
Jax and Bones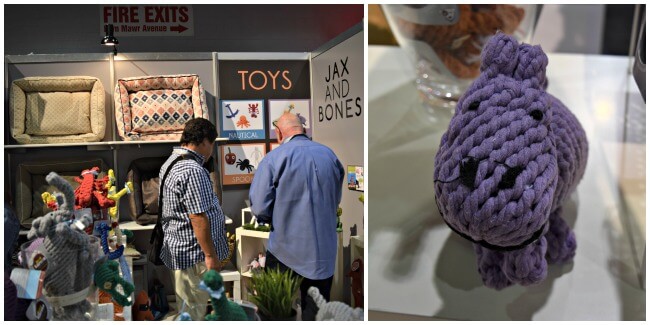 We have been looking for a bed for Charlie and really loved these by Jax and Bones.  They have tons of fabric options and look so cozy.  They also had some great looking plush toys at their booth.
Hip Doggie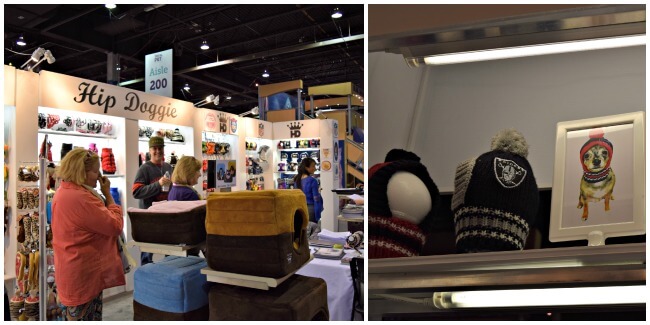 Harley and Charlie are well known football fans, so the Hip Doggie booth grabbed our attention right away.  They offer a wide variety of NFL dog gear including some adorable hats with earholes! Go Bills! 
Gwen Gear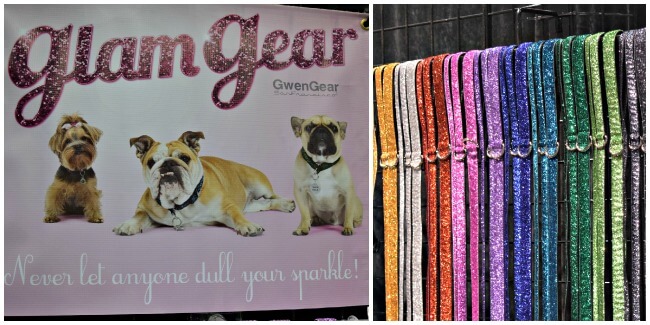 You couldn't walk past the Gwen Gear booth without noticing.  These leashes and collars sparkle like none we have ever seen! While our boys don't live the razzle-dazzle lifestyle, their best dog friends can appreciate some extra bling! We just knew those black beauties would look stunning in some Glam Gear!
Whole Life

Whole Life takes the health conscience pet treat to the next level, with their line of freeze dried treats. All of their single ingredient treats are sourced from their own network of hand selected farmers, ranchers and fishermen. We pay close attention to where are food comes from, and we love that Whole Life has broadened this philosophy to include our best friends as well.  
Click here to read our Whole Life Dog Treats Review

It can't be a pet event without pets right?  Backer's Total Pet Expo had plenty of dogs roaming around, taking in the sights and perhaps taking advantage of the abundance of dog lovers and available treats! Above you'll see one of a group of colorful dogs that we stumbled upon during the day!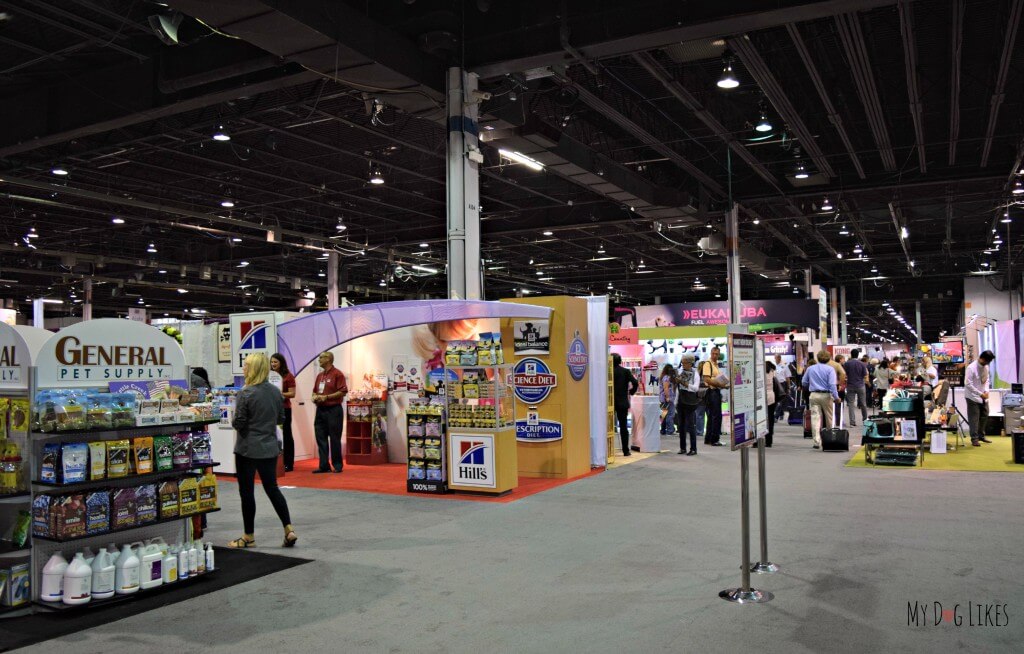 So what did we think of Backer's Total Pet Expo?
Although it was a whirlwind trip (there and back in a day) we are so happy that we went.  We got to meet tons of interesting people, hear about some truly innovative companies, and see lots of amazing products.  We were also able to set up LOTS of reviews and GIVEAWAYS for our readers in the coming months!  We have been so happy to see the health conscience direction that the pet industry has taken in the past few years, and Backer's Total Pet Expo was a great preview of what is to come!