Prior to deciding to add a second dog to our family, Kev and I were a bit nervous about adopting a rescue pup. Though Harley was adopted at age 2, he had come from a family member and we knew a little more about his background and history (the good and the bad).
However, as soon as we met Charlie, the 6 month old-wiggle butt, he quickly erased any fears about rescue dogs being damaged or broken. One look into those big brown eyes and we knew this sweet boy was going to be the perfect complement to our family.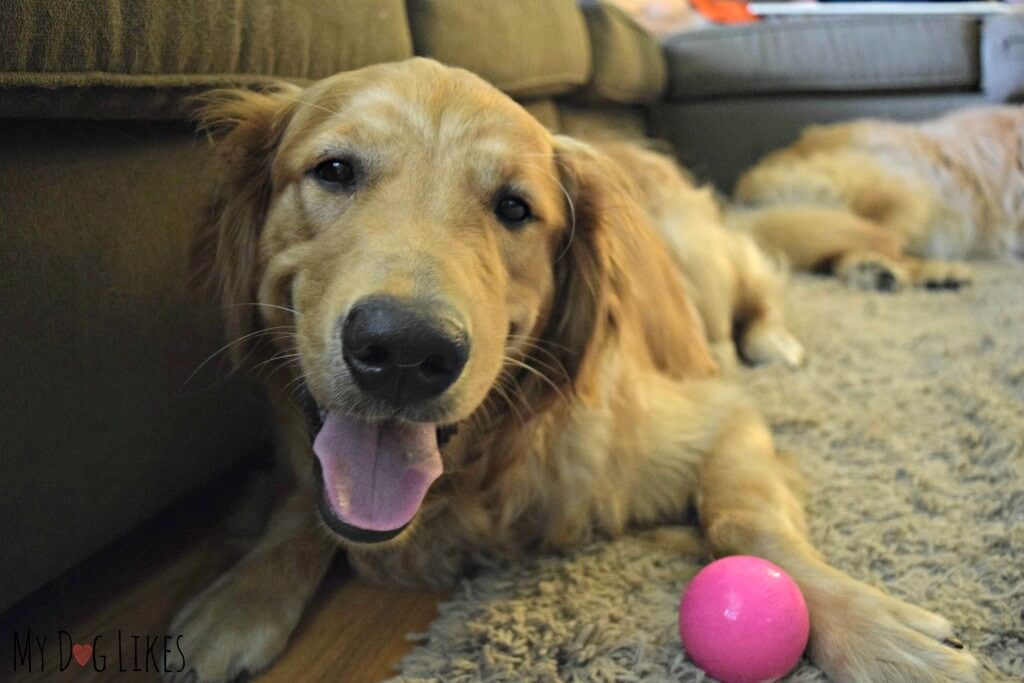 Though Charlie was the sweetest little puppy in the world, we knew that we would have to put in some work to make sure he would integrate well into our family's lifestyle. Charlie didn't have any major destructive habits, but he certainly had a playful puppy brain that needed to learn a few manners!
After settling in to his new forever home, we enrolled Charlie in teen puppy class, followed by intermediate manners, and most recently, our little puppy friend earned his AKC-Canine Good Citizen designation.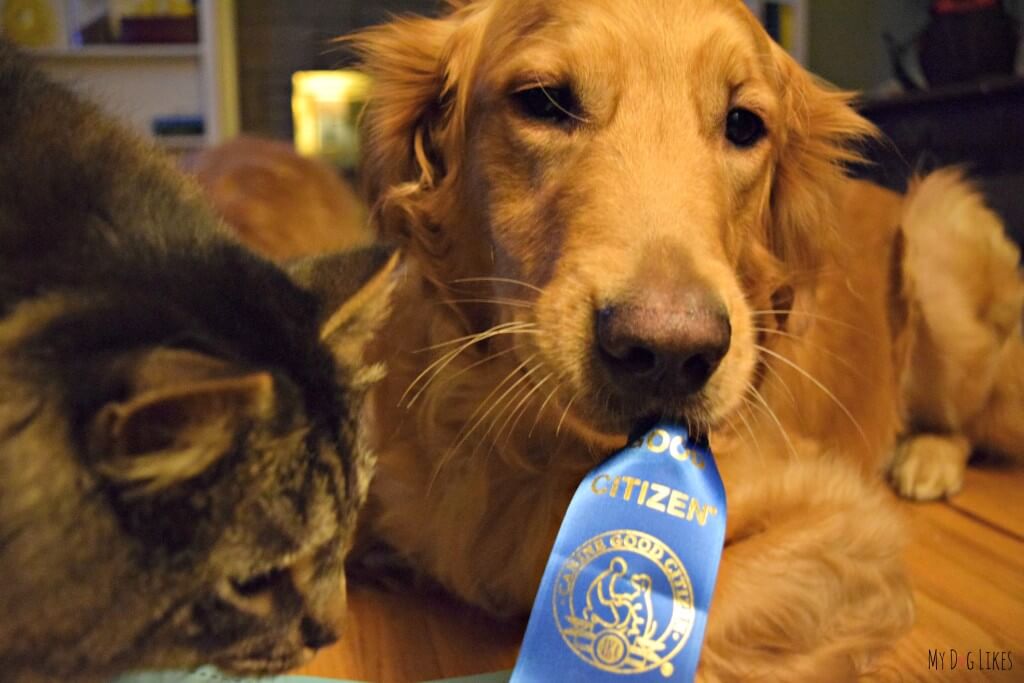 After learning his basic manners we wanted to explore something new! Now, we are on to bigger, more exciting, and if you ask Charlie, scarier things….Agility!
Charlie-Practicing "The Tunnel" for Agility Class
So what's the secret to Charlie's obedience (and hopefully agility) success?
Introducing Zukes Mini Naturals

The Beginning
Zuke's was founded nearly 20 years ago by Patrick Meiering and inspired by his dog Zuke.  While enjoying a mountain hike together, Patrick noticed that Zuke was fatigued and gave him a piece of his energy bar.  After seeing his reaction, Patrick realized that dogs needed healthy, energy boosting treats just as much as humans do – Zuke's was born!


The Zuke's Philosophy
At their core, Zuke's believes in living an active lifestyle – for both our pets and ourselves.  Adventure and exploration can be found everywhere if you take the time to look.  Making this a priority is one of the best things we can do to further our connection with our pets.
What better way to fuel that lifestyle than with healthy and natural treats?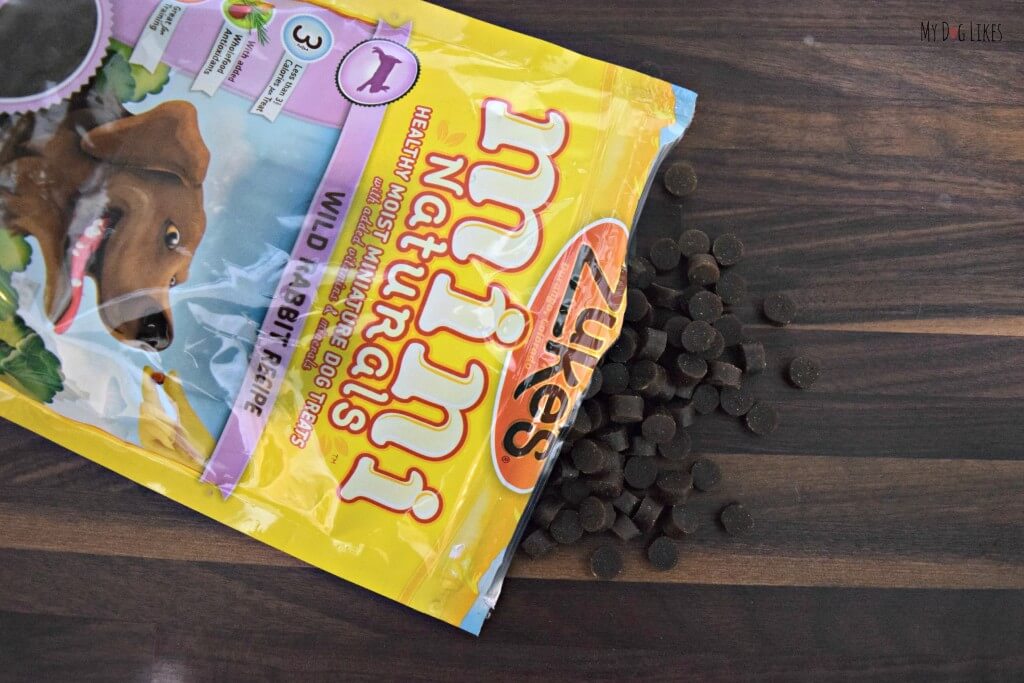 The Treats
Since their early days of making energy bars, Zuke's has expanded into a wide variety of treat options while keeping with their core values. You will find that all of their treats are wholesome and nutrient rich. They are made and sourced in the USA aside from rabbit and venison which come from New Zealand.  Their line now also includes dental chews, jerky treats, low calorie and grain free options, and of course training treats.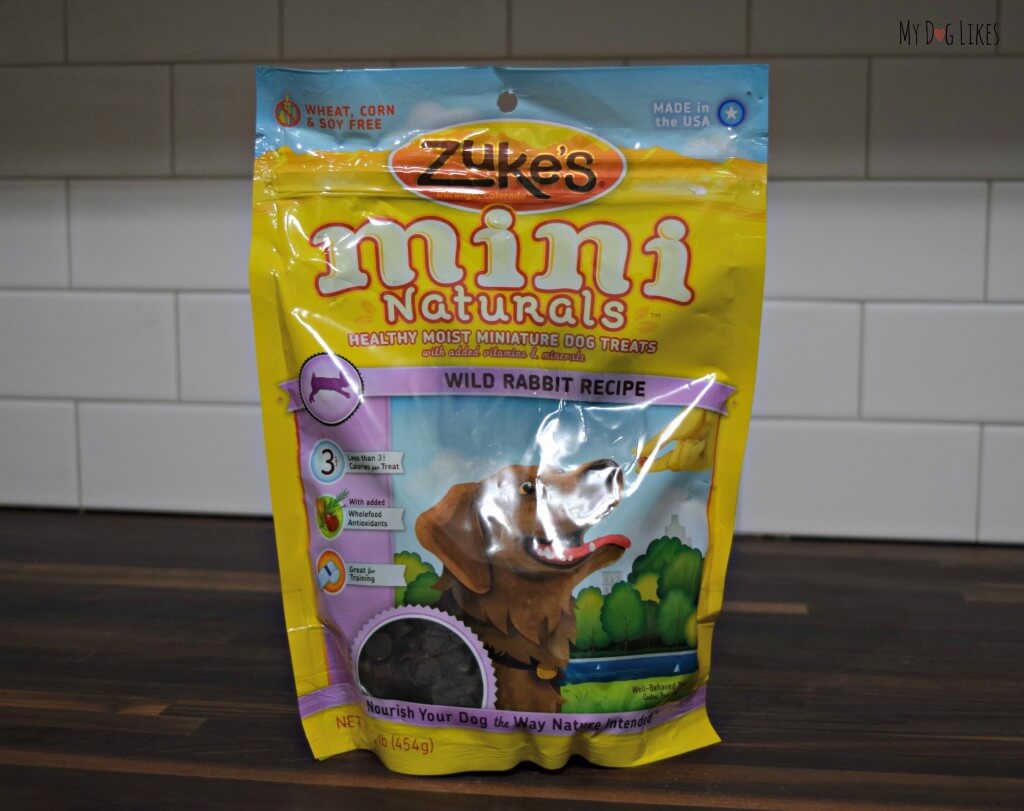 Zuke's Mini Naturals – The Perfect Training Treat?
Mini Naturals are small cylindrically shaped treats specifically designed to be used as a reward during training. Their 30% moisture content elicits a strong (but not offensive) odor, making them especially appetizing to your dog. They come in several flavors including Duck, Pork, Wild Rabbit, Salmon, Peanut Butter and Roasted Chicken.
All Mini-Naturals are Soy, Corn, and Wheat free – only wholesome ingredients allowed! They also contain antioxidants such as cherries, rosemary, and tumeric! At only 3.5 calories a piece, they are perfect for the repeated treating needed for training sessions.
Click Here to Purchase Zuke's Mini Naturals on Amazon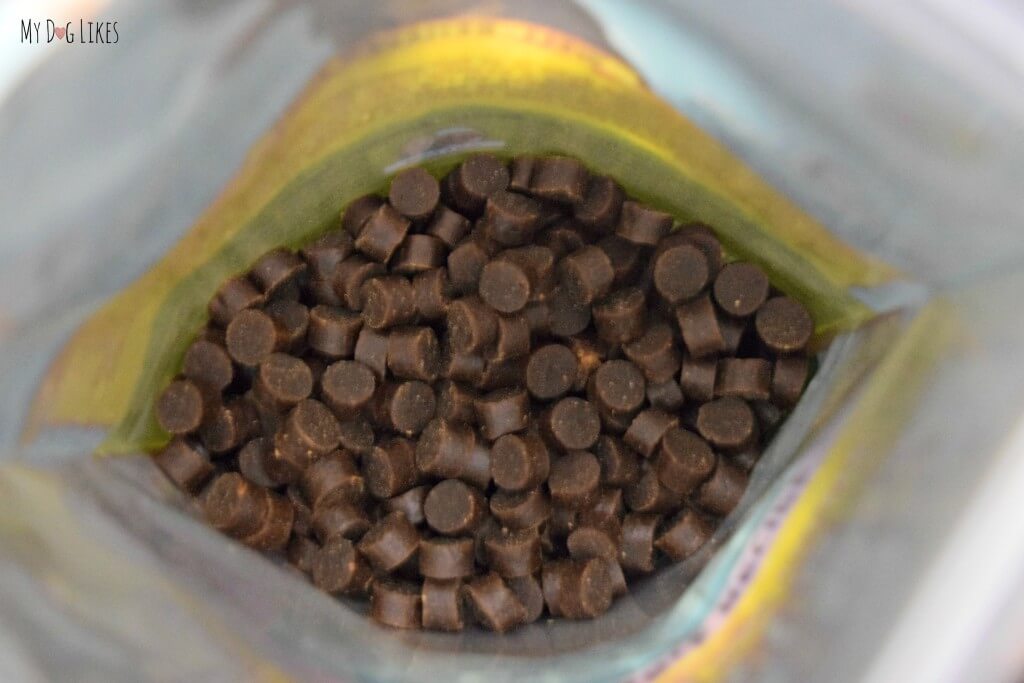 We had the opportunity to speak with a Zuke's representative at this years Backer's Total Pet Expo and share with them how much we love these treats.  As you can see, the bags come packed with hundreds of treats but we still seem to fly through them with our eager student Charlie!  After suggesting they begin to sell a bucket sized containers, they were kind enough to give us a large bag on the house!  Thanks, Zuke's!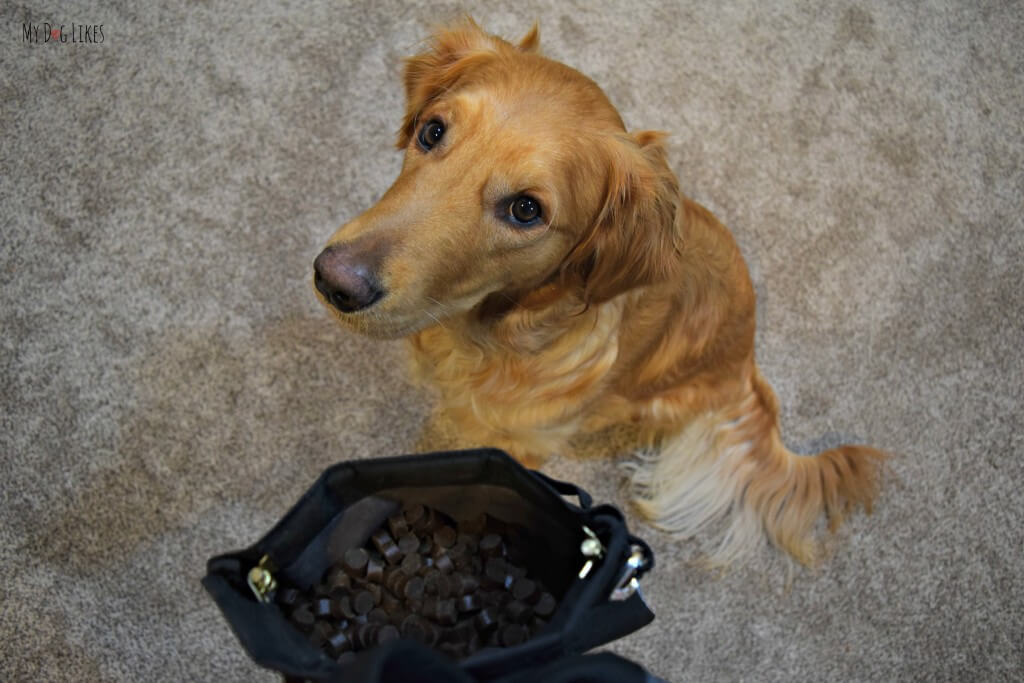 So what do we think….
The conventional wisdom when training dogs it to provide a high value treat; something they really WANT to work for. When we first enrolled Harley in CGC classes years ago, that high value treat was hot dogs. Not that there is anything WRONG with hot dogs per say, but I did worry about all the "stuff" that comprises them.
Though I lacked some awareness about the healthiest options for dogs at the time, I personally had concerns about the quantity of hot dogs that I was feeding Harley every week. Eating 4-5 hotdogs a week certainly didn't fit into any healthy eating plan I could find out there!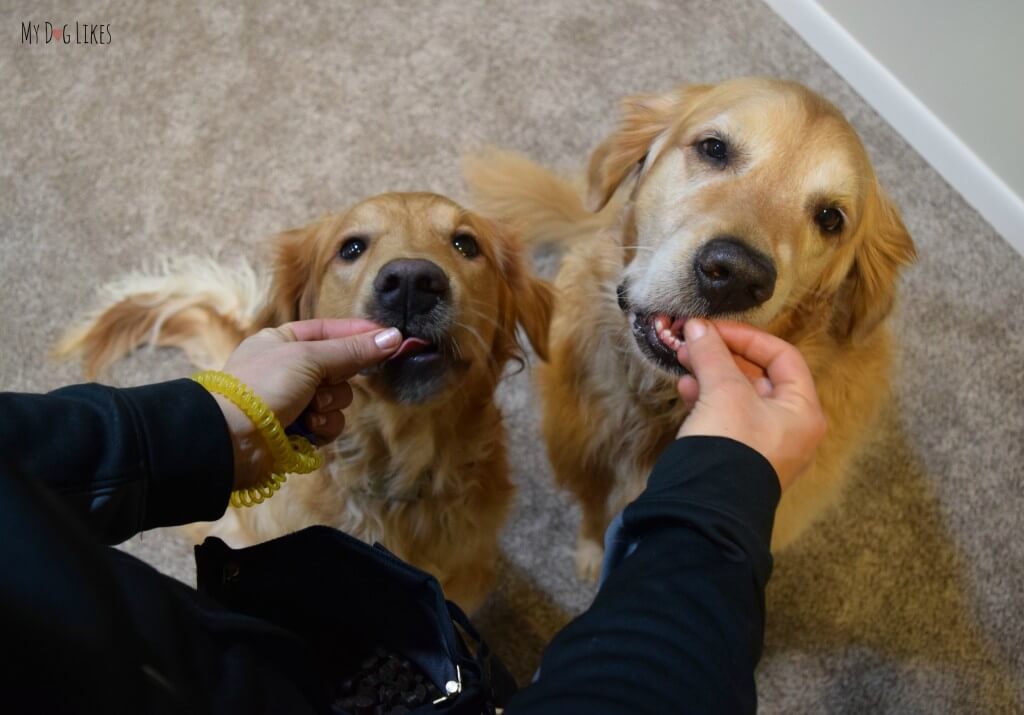 In the search for a better answer, we came across Zuke's Mini Naturals. Not only were these low-calorie training treats made from wholesome and healthy ingredients but Harley was obsessed with them! Yummy (Check)…High Value (Check).
Zukes was the first company that we noticed who really emphasized what was (or better yet – what was NOT) in their treats.  In fact, we credit Zuke's for helping to open our eyes to what our dogs were eating and snacking on.  Knowing that Golden's are so often afflicted with cancer (I lost my childhood Golden, Abby to cancer), Zuke's founding mission and philanthropic #fuelthelove campaign, which donates part of proceeds to the Dog and Cat Cancer Fund, was all I needed to seal the deal and become a lifelong customer.
Needless to say it didn't take long for Zuke's to become our go-to training treat.
Whats to love? Whats NOT to LOVE!?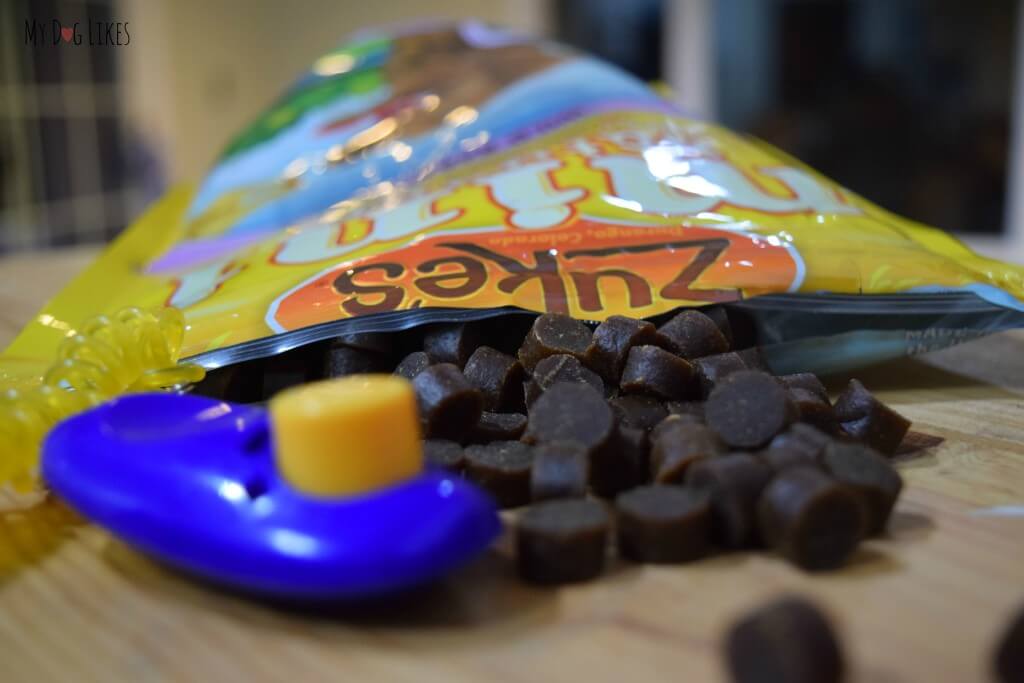 Whether you take your dog to behavioral classes or are working on some skills at home, we are huge proponents of teaching your dog what is expected of them. Not only is it a bonding experience, but it provides a language for communicating with your dog and exercising their brain and body!
Without further adieu…here is our list of what we LOVE about Zukes Mini Naturals:
Ingredients – By now, you know how we feel….We feed the boys high quality food and we think their treats should be no different. We love that there are so many different varieties/flavors to choose from, every one just as healthy as the other! Also, we love that these are made in the good ole' US of A! In fact, we know of a regional machine shop that actually creates the molds for some of Zuke's products!
Low calorie – Anyone who has ever worked with their dog on a skill (no matter how simple or complex) knows how many trials are required to elicit the behavior that you are looking for.  Learning a new skills require LOTS of repetition and for more complex commands, lots and lots of trials as they approximate the behavior that you are looking for.  Each Zuke's Mini Naturals treat is only 3.5 calories meaning that you don't have to worry about your active pooch putting on extra unhealthy weight!
High Value – Each variety has a strong odor that makes these treats every bit as enticing as the human food we often use to reward our dogs.  We have used these treats with Harley, who is not very food motivated and Charlie, who definitely is food motivated (and always hungry?) with equal success. Our dogs have demonstrated food sensitivities over time and I would MUCH rather give them something formulated for their bellies rather than human food, like cheese or deli meats, that could cause digestive upset!
Hold their form – Even when thrown in a treat pouch, these training treats hold their form. Don't even think about opening the bag and seeing crumbled pieces…not gonna happen! These treats hold their shape despite shoving my hand in the bag repeatedly (and often in a hurry). They have flat sides with rounded corners allowing you to toss the treat and let it roll or lay it flat and have it "stay".
Size – Zuke's Mini Naturals are the perfect size for training. Big enough to know they are getting a treat, but not so big that a lot of chewing is required. I have used these the Mini Naturals in class for dogs of all sizes. Even our little Shitzu friend, Teddy, could eat them right up!
Why MyDogLikes Zuke's Mini Naturals
Whether we are at class, or practicing at home, we always use Zuke's Training Treats! The price is right, the ingredients are right, and we feel good knowing that we are treating our dogs and practicing their obedience/tricks in a healthy way!!!
Interested in giving Zuke's Mini Naturals a try?