Whether you have a puppy who is learning the basics of obedience, an adult dog participating in agility, or you just love to teach your dog party tricks; a high value treat is necessary to reinforce behavior during training sessions. While human food like cheese, deli-meat, or hot dogs can be used, the following products are our favorites because of their convenience, cleanliness, and high quality ingredients:  
The Best Dog Training Treats
Zukes Mini Naturals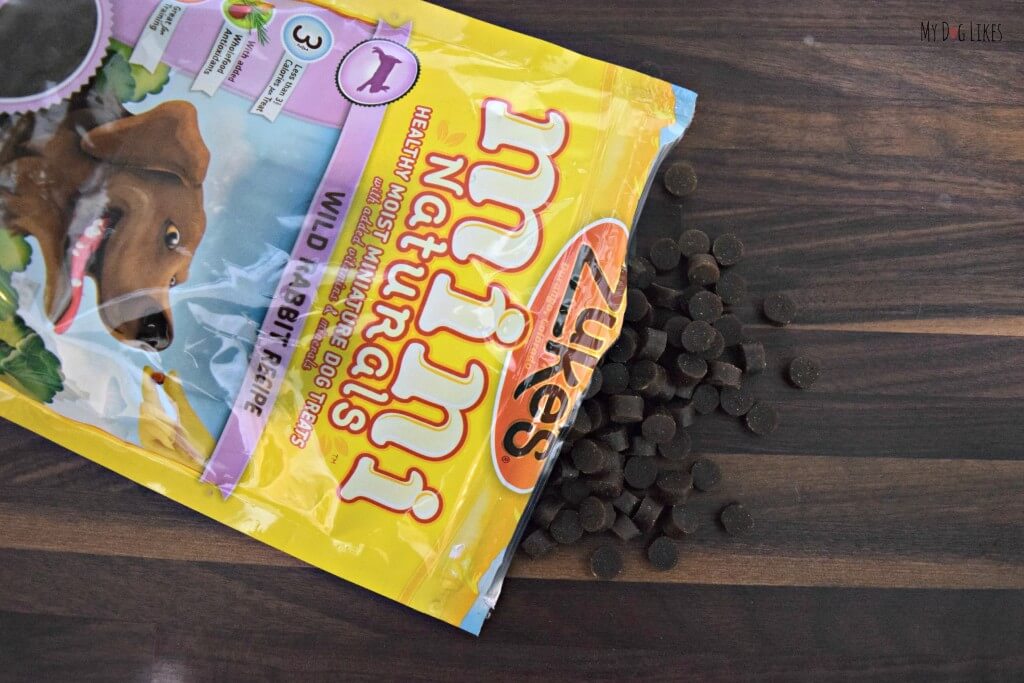 Zukes Mini Naturals are small cylindrical shaped treats specifically designed to be used as a reward during training. They come in several varieties which include: Duck, Pork, Wild Rabbit, Salmon, Peanut Butter and Roasted Chicken. All Mini-Naturals are Soy, Corn, and Wheat free and made with only with the most wholesome ingredients; perfect for dogs with allergies! Zukes Mini Naturals also contain antioxidants such as cherries, rosemary, and tumeric! At only 2.7-3.5 calories a piece, they are perfect for the repeated treating needed for training sessions. See our full review, here.
Click here to grab these treats on Amazon
Merrick Power Bites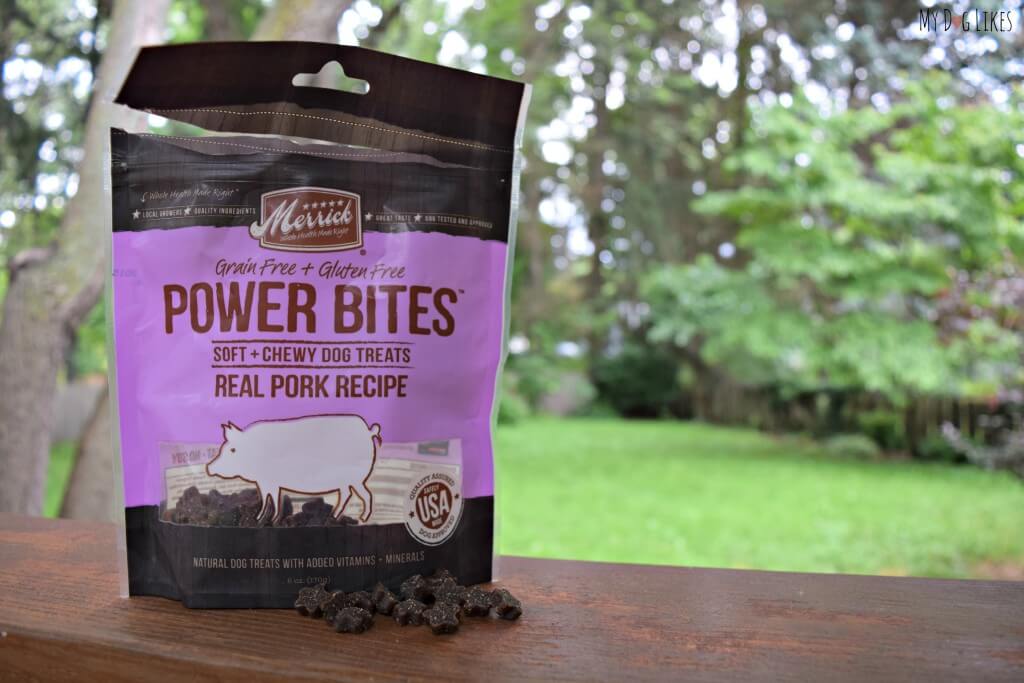 Merrick Power Bites are soft and chewy, all-natural, protein packed treats. These small star-shaped treats come in lots of different varieties which include: Chicken, Pork, Salmon, Texas Beef, and Turducken. Grain free and gluten-free, Power Bites start with real deboned meat as the first ingredient and contain fresh fruits and vegetables. We have tried many Merrick treats and love the quality and care that go into each and every one. One of the things that we love the most about these treats is the star shape, which prevents them from rolling away when tossed or placed on a flat surface! This was one of our favorite features since we often need to toss treats to Charlie in class when working on skills like "place" or when setting treats on a target! 
Click here to purchase from Amazon
Primal Chicken Nibs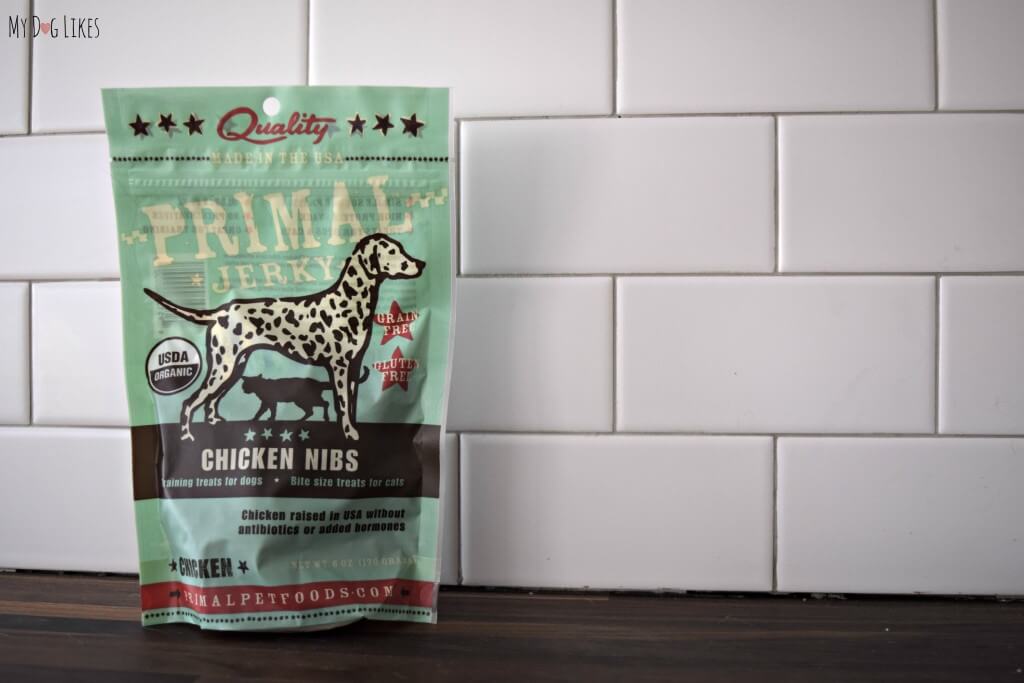 The Primal Pet Foods treat line was created for dogs and cats with the goal of providing wholesome, human-grade snacks containing no preservatives, gluten or grain. Primal Chicken Jerky Nibs are produced using USDA meats, poultry and game raised in the United States and New Zealand without antibiotics or added hormones. Although, they don't come in only one protein source, these treats contain only a few organic ingredients: chicken, honey, and sea salt! These treats are not as soft as the other training treats we have highlighted but have a strong scent and are easily consumed on the go. We found these treats to be especially high value, when working with Charlie on releasing his prized possession, his Frisbee. The irregular shape of these treats prevents some rolling, though not as much as the star-shaped Power Bites. See our full review, here. 
Click here to pick up on Amazon
Dr. Harvey's Power Pops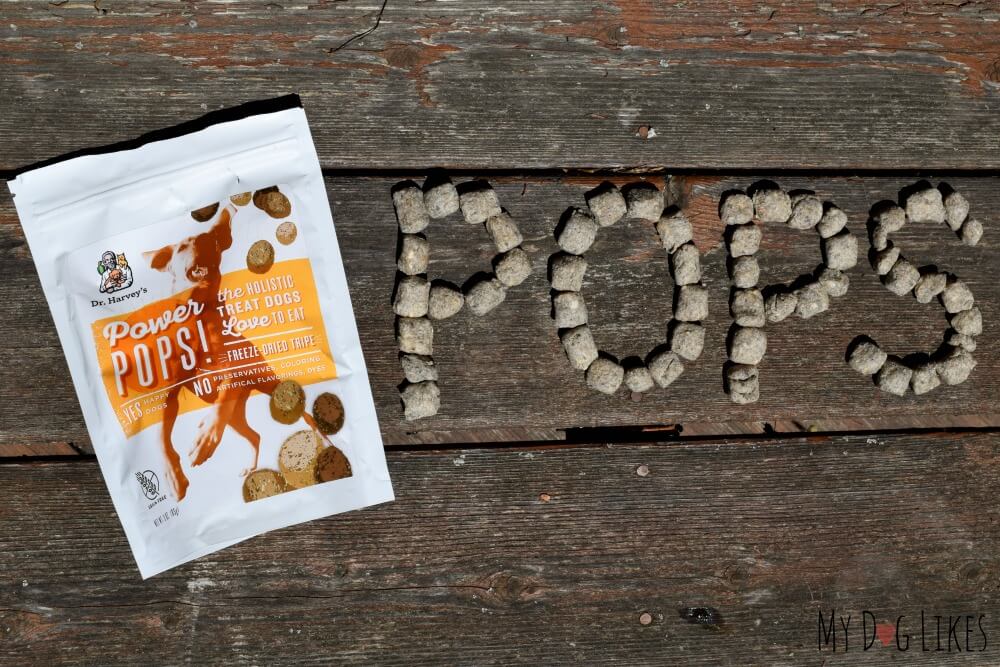 Power Pops are a freeze dried dog treat consisting of 100% green tripe. This immediately caught our attention since we LOVE single ingredient dog treats around here! Tripe is packed with probiotics (healthy bacteria) which work to improve the bacterial composition of your dogs gut. This can help to improve a wide variety of digestive issues such as gas, diarrhea, and constipation.
Power pops are small, lightweight and have just the right amount of scent to entice a working dog!
Save 10% on Power Pops with code MDL317
Why MyDogLikes Dog Training Treats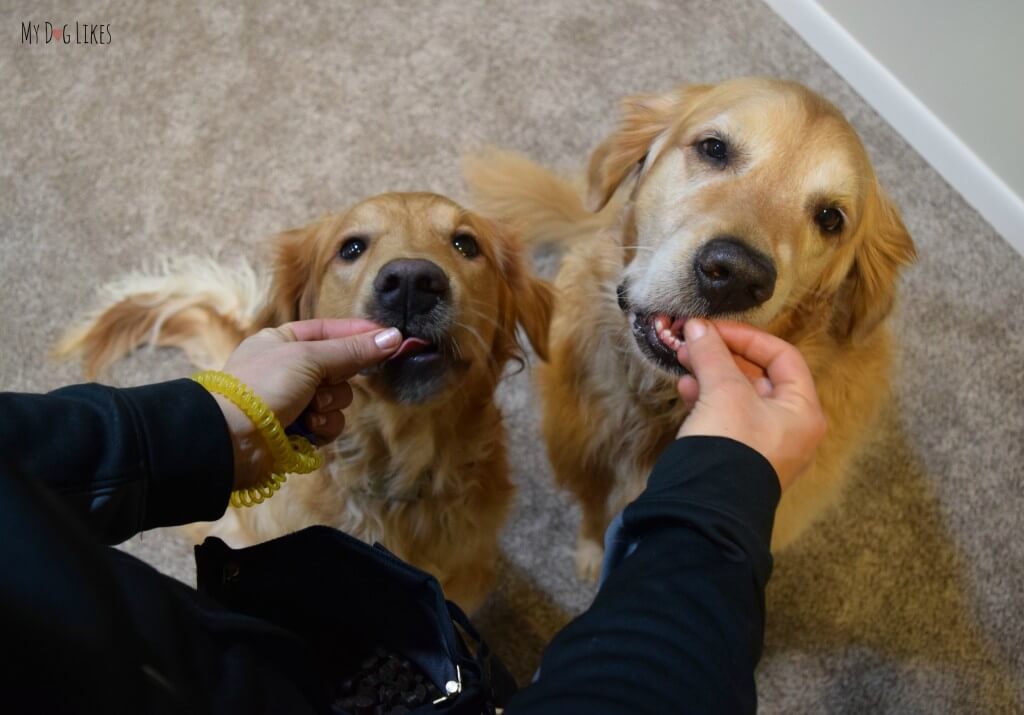 Training treats are a great way to reinforce appropriate and desired behavior in your dog. Each of these training treats provide a high value reward that makes your dog really work for it without packing the pounds on! While human foods also are a high reward treat, we like these treats because they are soft and have a strong smell, but don't leave an offensive odor or "juice" on our treat bag. Most importantly each of these treats can be purchased last minute on the way to class for a busy dog-Mom or Dad! 
| | | | |
| --- | --- | --- | --- |
| | Zukes Mini Naturals | Merrick Power Bites | Primal Chicken Jerky Nibs |
|  Ingredients | Grain, Gluten, Soy, Corn, Wheat Free, USA Made | Grain, Gluten, Soy, Corn, Wheat Free, USA Made | Grain, Gluten, Soy, Corn, Wheat Free, USA Made, 99% Organic Ingredients (Chicken, Honey, Sea Salt) |
| Shape/Roll | Round, Roll Easily | Star Shaped, Stay Put | Irregularly Shaped, Roll Less |
| Varieties | Duck, Pork, Wild Rabbit, Salmon, Peanut Butter & Roasted Chicken | Chicken, Pork, Salmon, Texas Beef, & Turducken | Chicken |
| Calories | 2.7-3 Calories Each | 5 Calories Each | 170 Calories per oz, 6 oz/bag |
Any that we missed?
What are your favorite training treats for dogs?