Buffalove
Both Kevin and I were born and raised outside of Buffalo, NY.
Buffalo (Chicken) Wings put us on the map, but natives of Buffalo know that this is only the tip of the culinary iceberg!
As one of Buffalo's oldest culinary establishments and the birthplace of so many of the area's best loved foods, the Broadway Market is staple in the community. Easter is one of the busiest times of year at the market and my Mom, Great Aunts, and Great Grandmother always made the trip and purchased a butter lamb along with pierogi and fresh polish sausage. You don't have to be Polish (we aren't) to love this amazing food. As silly as it may sound, fresh polish sausage and pierogi smothered in caramelized onions represents one of my favorite childhood memories. After losing my Great Grandmother in February, I knew we had to keep the tradition going.
To Market to Market
Carrying on the family tradition, my Mom headed to the Market and surprised us with all the fixings needed to create our very own Easter celebration.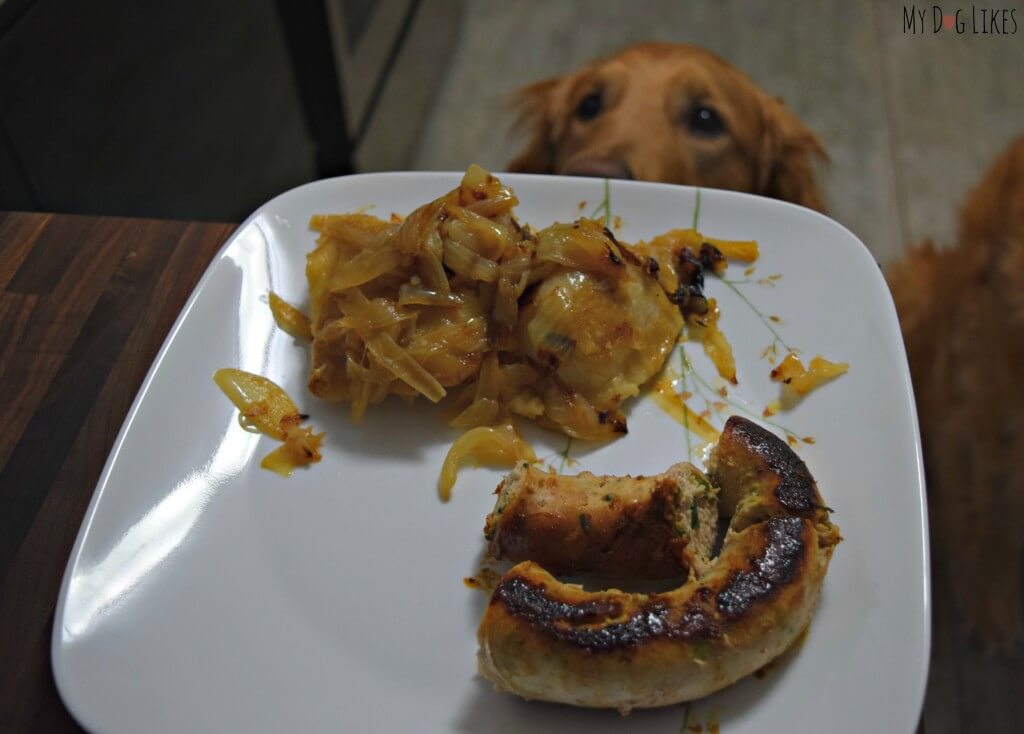 Oh no! Poor doggies!
It is awfully difficult to say no to those faces, after all they are family and share in all of our traditions. As much as I love those faces, I know that part of being a responsible pet owner (and selfish, food hog) means saying no…what we eat is not always the best choice for our dogs.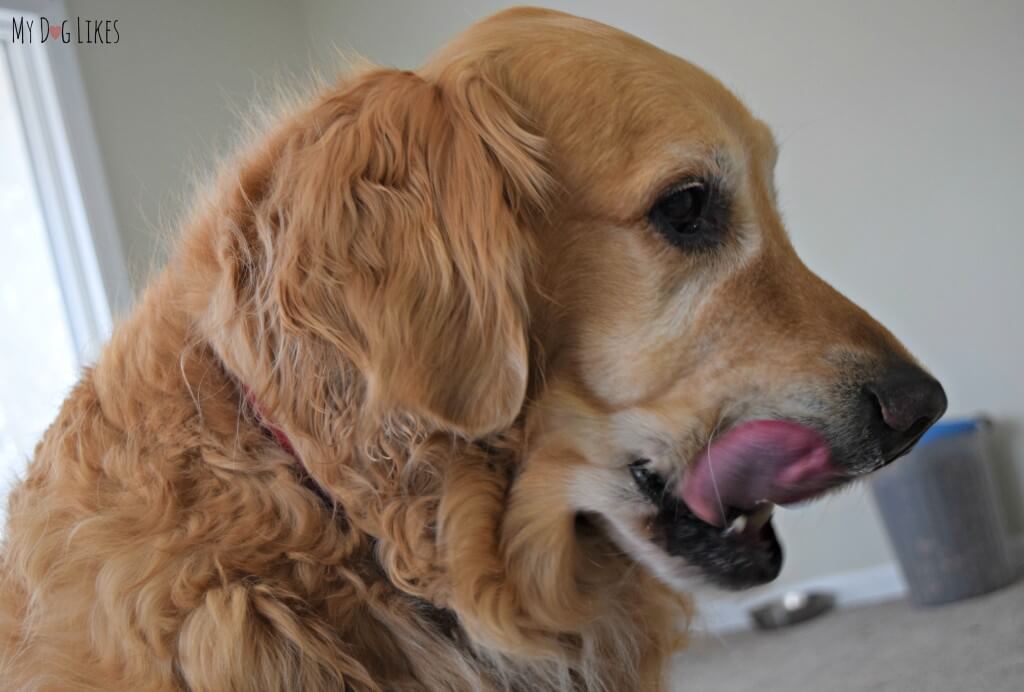 Leave it to Merrick to make sure the dogs aren't left out of the holiday fun!
Merrick understands that our dogs are an integral part of our families and as pet parents, we want them to be a part of any celebration. For this reason, they have created a whole line of treats reminiscent of those special home cooked meals that make the holidays so special. Best of all, these treats are natural, wholesome, and specially formulated for a dogs diet!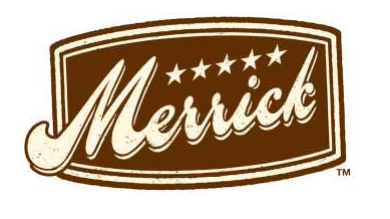 Introducing Merrick Kitchen Bites Brauts-n-Tots
While not exactly the Polish meal we were having, we thought the boys would enjoy some sausage and potatoes just the same! These treats are inspired by the traditional German meal of Bratwurst and Potatoes.  We knew the boys would be excited to bring a little culture into their lives and learn all about the culinary traditions of Germany!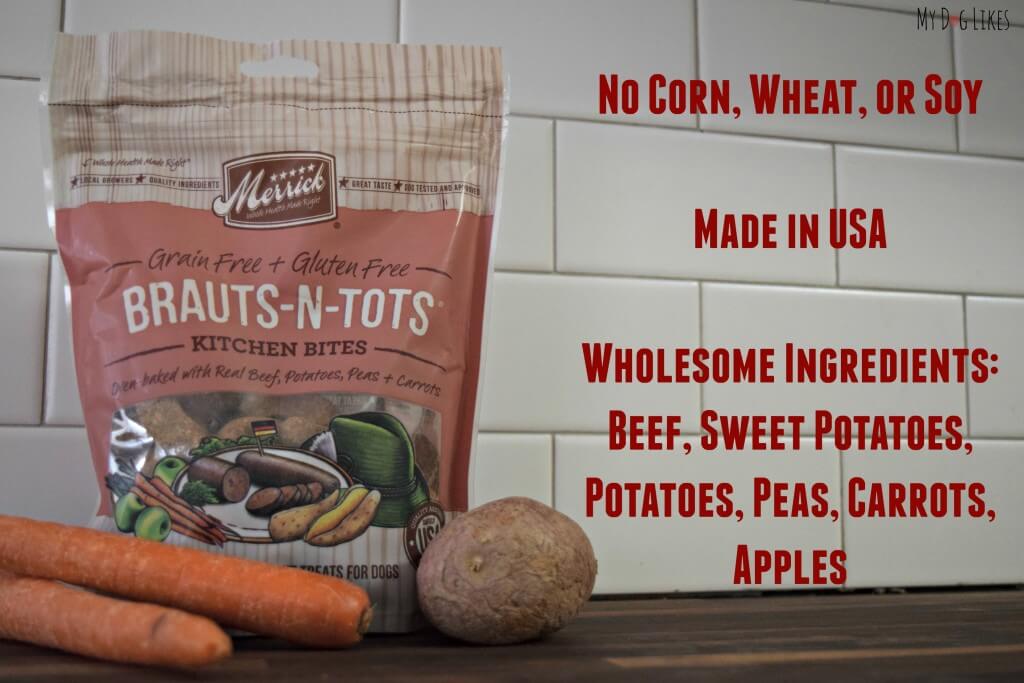 True to form, Merrick has no poor quality or questionable ingredients in these (or any of their other treats). Merrick's Brauts-n-Tots are made with real beef, potatoes, peas and carrots. The crunchy, Bratwurst shaped biscuits are unlike many of their peers in that they are both grain free and gluten free. You also won't find any corn or soy!
  Click Here to Buy Merrick Dog Treats on Amazon
Brauts-n-Tots are just one of Merrick's Kitchen Bite line of wholesome "family dinner" inspired dog treats. Other variations include: Cowboy Cookout, Grammy Pot Pie, Turducken, and Wingalings! YUM!
Time for a Taste Test
With their mouths already salivating from the smells of sausage permeating our house it was not difficult to grab the boys attention. When we pulled out the bag of Merrick treats, they gathered around right away.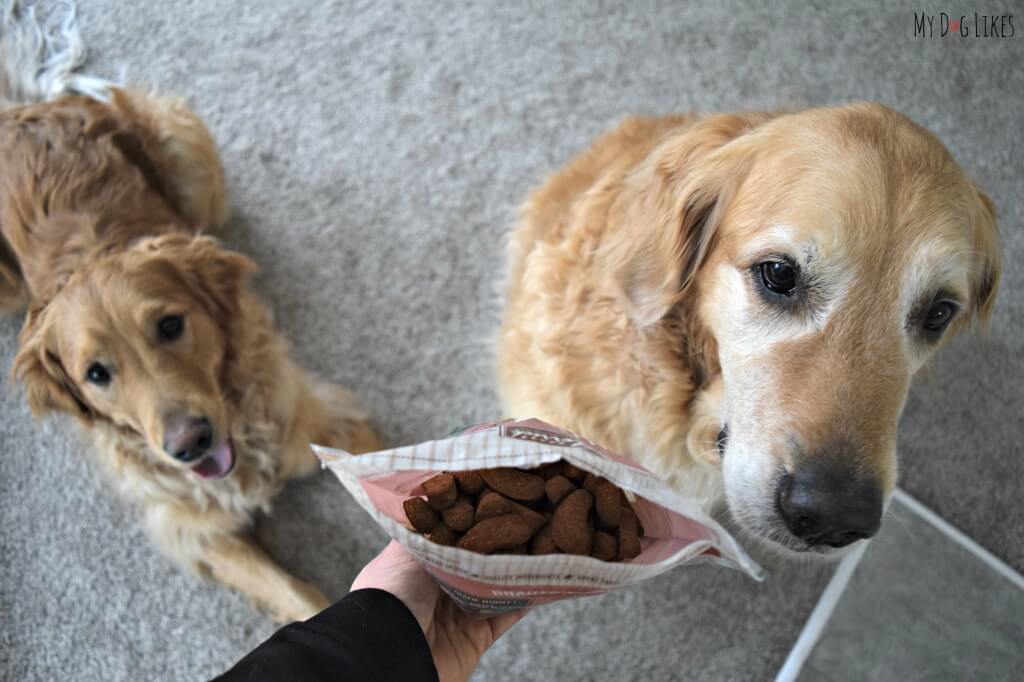 And when we opened the bag to give them a whiff….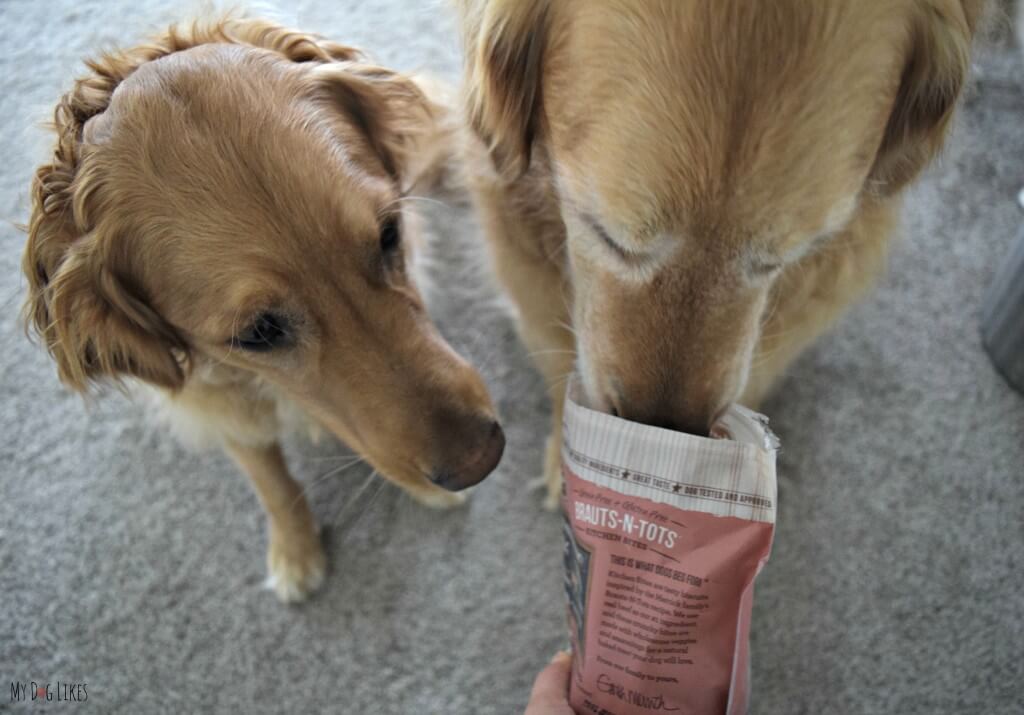 …they may have even helped themselves!
So how good were these treats?
Well, apparently good enough for Harley to reach deep into his bag of tricks to perform an old classic – BANG-BANG! 
Charlie tried his best…We've got work to do Chuckie Duck!
Why MyDogLikes Merrick Brauts-n-Tots
Our dogs are a part of our family. As a pet parent, you understand when we say that it feels wrong to partake in holiday feasting without our dogs! I'm sure that you have also seen what can happen when we actually allow our dogs to try some of the holiday food off of our plates. That is why we are so glad that Merrick developed this line of Kitchen Bites complete with the flavors of some family inspired favorites!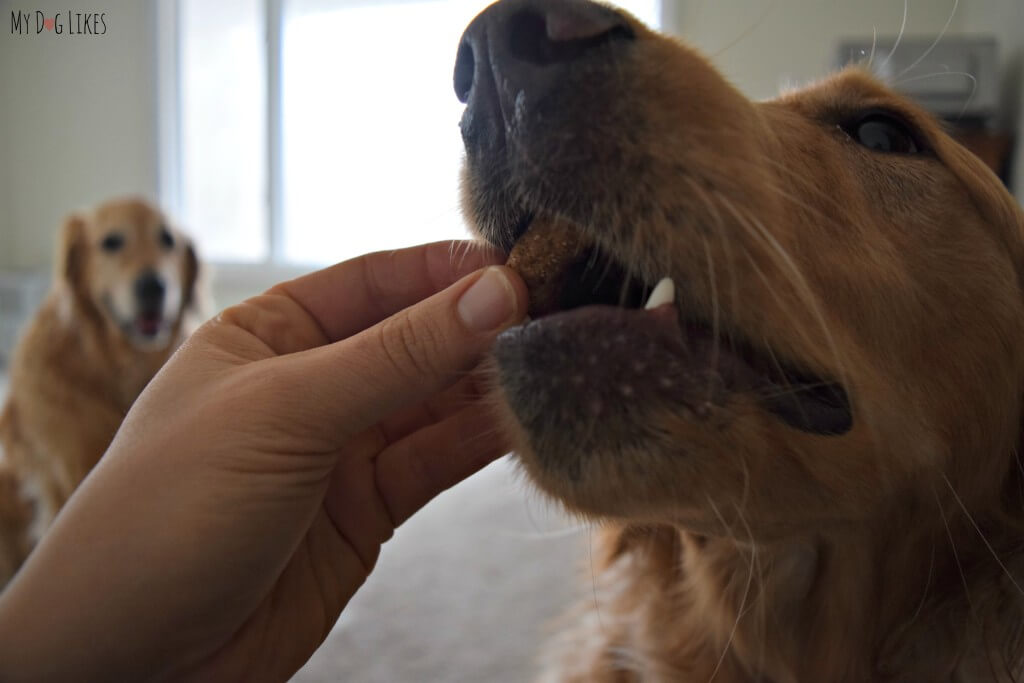 Whether the boys realize it or not, it feels awesome to be able to feed them a special treat similar to what we are eating! As an added benefit, it's nice to know that we can feed them something fun without having to worry about the potential digestive fallout of serving table scraps.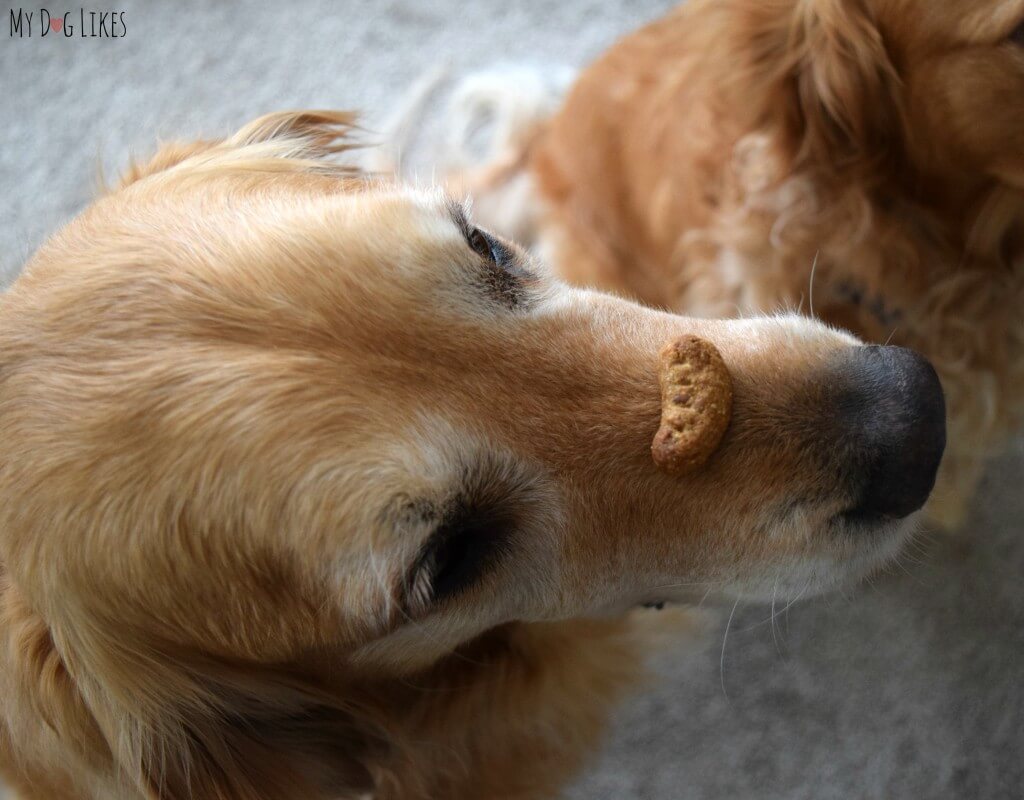 We love this crunchy, bratwurst shaped biscuit because its fun but in all fairness that is only half of it. Merrick does not ignore nutrition and quality for the sake of a holiday treat and these treats are top notch. Rarely do we find a treat that comes in a biscuit form and is also grain free, gluten free, and contains no fillers like corn or soy! We are happy to keep these biscuits around the house! Whether for a special family meal or a daily treat, Merrick's Kitchen Bites are healthy and fun! 
Interested in giving these tasty treats a try?
Merrick is giving away a bag of Brauts n Tots to 10 lucky MyDogLikes readers! Enter below!
Unfortunately this giveaway has now ended!
  Click Here to Buy Merrick Dog Treats on Amazon